This week I learned a couple of amazing lessons from Meryl Streep.
During the Into the Woods event, we had the opportunity to interview Meryl Streep and she was truly amazing. My first life lessons from Meryl Streep started just before the interview and continued through out the event.
About 10 minutes before our scheduled interview with Meryl Streep I ran to the bathroom thinking I would have more than enough time to get back in the room before the interview. As I came around the corner from the bathroom I had a moment of panic. You see Meryl Streep was 10 minutes early for our interview and I wasn't in my seat. I looked at the other blogger who was with me and we just shook our heads. What were we to do?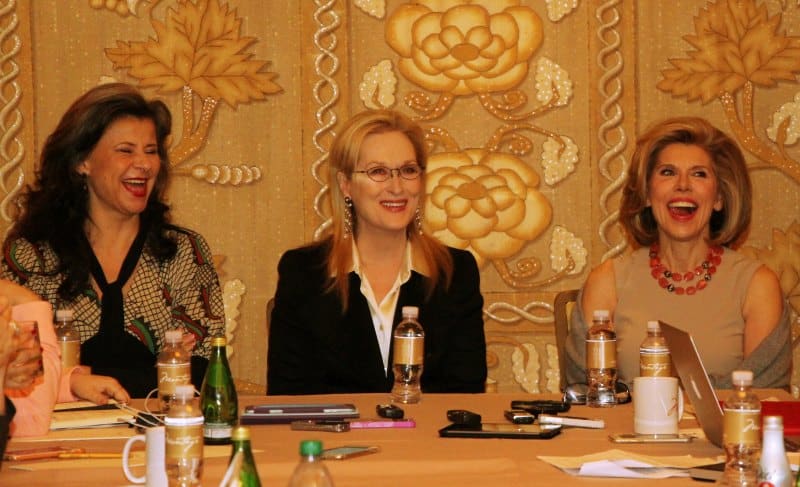 What I learned from Meryl Streep this week
We decided to power walk down the hall and get to the interview room as fast as we could. We figured jogging in a Beverly Hills hotel might be frowned upon 🙂
As we got closer and closer to the room Meryl Streep noticed us and smiled as we approached. She greeted us with a friendly smile and asked how we were doing.
We told her we were sorry if she had to wait and that we would get right in the room. She smiled and laughed and said not to worry about a thing. She was incredibly gracious and friendly during our interactions.
After we took our seats we had the chance to interview not only Meryl Streep but also Christine Baranski and Tracey Ullman. All 3 ladies are wonderful friends and it shows in their behavior. I will be sharing details of the interview later this week.
During the interview, it could have easily been the Meryl show with her taking front and center stage but this didn't happen. The interview was equally spread among the amazing ladies and they each praised each other for their friendship and performance in Into the Woods. They were all so happy and joyful to be sharing the moment together.
Once the interview was complete we had the opportunity to take a group picture with Meryl Streep, Christine Baranski, and Tracey Ullman. We all took our places around a couch and had them sit on the couch. The pictures took a few minutes and then the most amazing thing happened. Meryl Streep turned and talked to each of us shaking our hands and thanking us for meeting with her.
As I was standing there I felt like life lessons were hitting me right and left. Here was an Oscar award-winning actress who could have just walked away after our interview and been done for the day but instead she took the time to thank each of us. She shook our hands and was so genuine to talk with.
We heard from many different cast members and costume designer Colleen Atwood how wonderful Meryl Streep is. Colleen Atwood told us that Meryl Streep makes a point to thank each of the people working on the costumes from the ladies sewing the costumes on up.
It was so refreshing and humbling to see someone who could quite easily be high maintenance be the opposite of everything you hear about Hollywood actors and actresses. Meryl Streep showed us that no matter what position you hold or who you are that nothing is as important as being a real, genuine, human being. Someone who is thankful for the opportunities they get, someone who is thankful for the people they work with, and someone who is a genuinely nice person.
I am so thankful for the small amount of time I got to be in the presence of Meryl Streep. It really hit me how important it is to say thank you, be caring, and be nice to each person we meet in our lives.