Friendship, Love, Caring, Motherhood, Joy, Inspiring and Blessed!
These are the words that I wrote at the bottom of my notes after interviewing Meryl Streep, Christine Baranski and Tracey Ullman for Into the Woods. The friendship that these three ladies have is truly amazing and so much fun to see in person. From their teasing each other to the moments where they got in their stories and just paused to reminisce for a second our entire interview was amazing.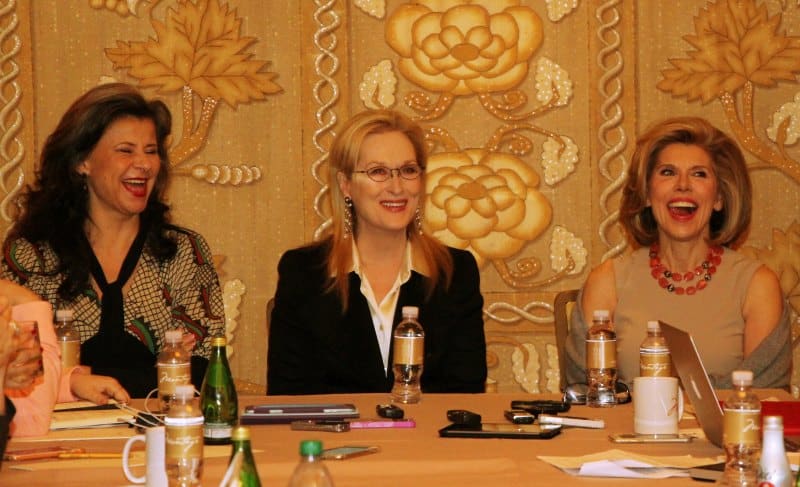 Into the Woods interview with Meryl Streep, Christine Baranski and Tracey Ullman
I wasn't honestly sure what to expect with interviewing three of Hollywood's leading actresses at one time. I knew they were friends but would there be a power struggle to get their voice heard?
Would one person dominate the conversation? Would we need to tiptoe around certain subjects or have questions handed to us ahead of time?
Thankfully none of these questions came true! These ladies were nothing but amazing.
From the moment they walked into the room with smiles and laughter you could tell this was going to be a fun interview. I shared this weekend the lessons I learned from Meryl Streep during this interview. Today I want to share what we learned about Into the Woods, motherhood, real-life, and aging gracefully.
First impressions mean a lot these days and my first impressions of Meryl Streep, Christine Baranski, and Tracey Ullman were as good as they get. These ladies greeted each other and those around them with friendly smiles and hugs.
You could tell how excited they were to see each other and spend time together. Plus they all carried in their own purses to the interview. I know this seems like an odd thing to notice but I think it shows how real they are.
When asked how their friendship began and evolved to today the ladies smiled and giggled a bit as they looked at each other.
Each of them has kids about the same age and they had parallel lives as working moms. Meryl and Tracey met when Tracey was just 21 and they worked on a film called Plenty together.
They giggled and shook their heads recalling a trip to Tunisia that sounded like quite an adventure. They broke down in the desert, then as they were flying back the engine went out on their plane over the Mediterranean.
Meryl said it was amazing but they stayed together in spite of it all.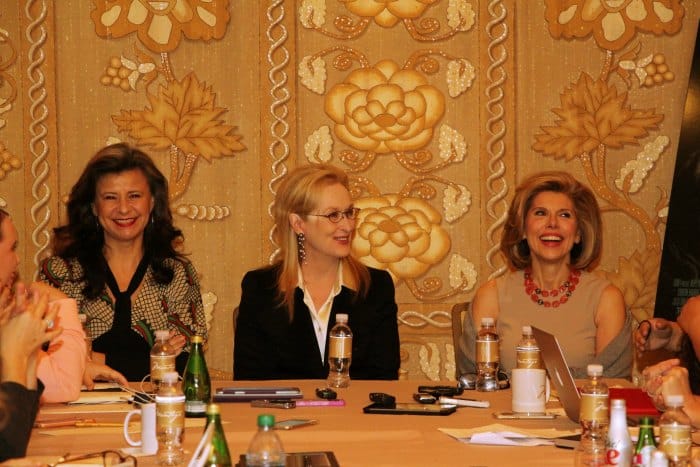 Christine and Meryl met in Greece on the set of Mama Mia. Christine described the duo as dynamos, hanging out together and doing a lot of "research" for their parts.
One of the things that Christine said really stuck out to me during the interview. She said that "It's a trick, being an actress, wife, and mother, and having that longevity. That's a real achievement, not just in career, but holding your life together."
When Christine said this both Meryl and Tracey were nodding and they all praised each other and their Husbands for their amazing careers and longevity.
I wish you all could have been in the room to see the friendship and love these ladies have for each other. They praised each other and were so excited to talk about Into the Woods. The love for this movie was almost tangible as they spoke about it.
They spoke to us about how it is harder and harder to keep the world out and protect your kids in towers. Meryl talked about how there was some worry about Into the Woods being a bit dark for kids. Yet kids know so much, they are so resilient, and innately hopeful.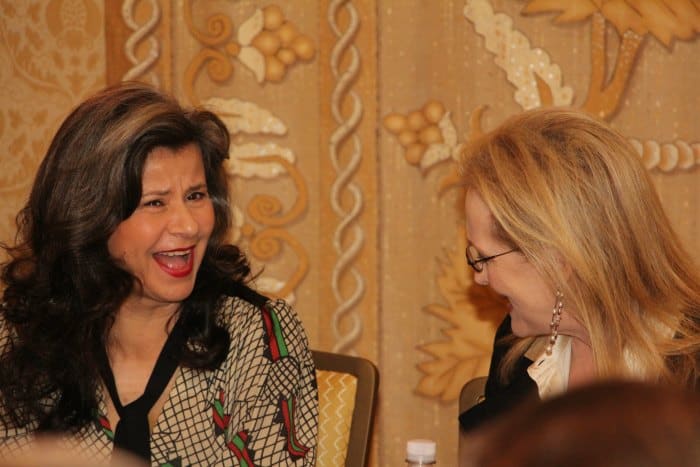 The love for their kids was a deep theme of our conversation. How they raised them and how they protected them while still teaching them about the world.
Christine Baranski told her kids that there was such a thing as the world of imagination. That "you're safe. If you're in the world of imagination, you can go anywhere, and you all come back from that, so you're safe.
We will read this book and it'll take you places, but don't worry. You will come back."
Christine raised her kids in Connecticut without a television.
I will let that one sink in for a second. Yes no TV! She literally hauled the big TV out the door and raised her kids without a television.
She decided that if she couldn't protect them from turning the channel with a click of a button and seeing something disturbing than she would remove it completely.
They each talked about how hard it is to control what kids see these days with all of the new technology around us. They offered the advice that we should all have quiet time without electronics to just spend time together.
We asked each of them if they have a favorite role to play and Meryl's response brought goosebumps to my arms.
Meryl said that each person you play deserves their own voice in the world. So many different women, so many different stories deserve their voice.
This rang true to me about so many aspects of our lives! That each of us deserves their own voice and to be able to tell our own stories! Another life lesson from the amazing Meryl Streep!
Christine Baranski said that she looks at projects and if they are contributing, as an actress who has an opportunity in their work to maybe move the culture forward, and show women in a deeper, more complicated way. Meryl said "each role is this helping? or is this hurting? Everything makes a mark on our culture, everything you do, every actress has a choice what they are putting into the world and I think it matters."
As the interview continued each of these amazing actresses continued to praise each other and the rest of the amazing ensemble that is in Into the Woods.
There truly is a feeling of love, friendship, caring, joy, and being blessed among each of the actors and actresses in this movie.