During our trip to Branson Missouri, we were treated to dinner at the Dolly Partons Dixie Stampede Family Christmas. The show starts as soon as you pull into the parking lot. The theater and horse corrals are decorated in holiday finery. There is a festive holiday mood as you walk towards the main entrance.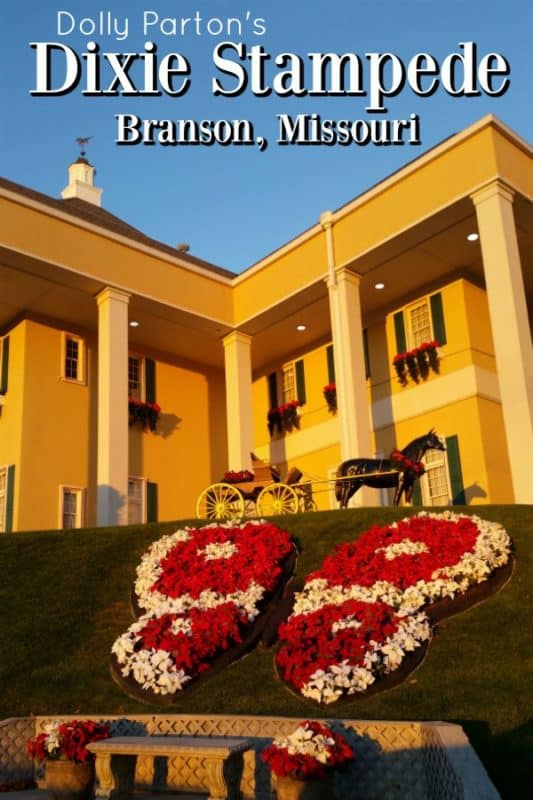 Family Christmas Dolly Partons Dixie Stampede - Branson, Missouri
Make sure and give yourself enough time to enjoy the walk to the theater. You have the opportunity to pass by the amazing horses that star in the show. There is information on each horse above their stalls. I am not really a horse person but found myself in awe of the beauty and size of the horses. They are absolutely gorgeous to look at.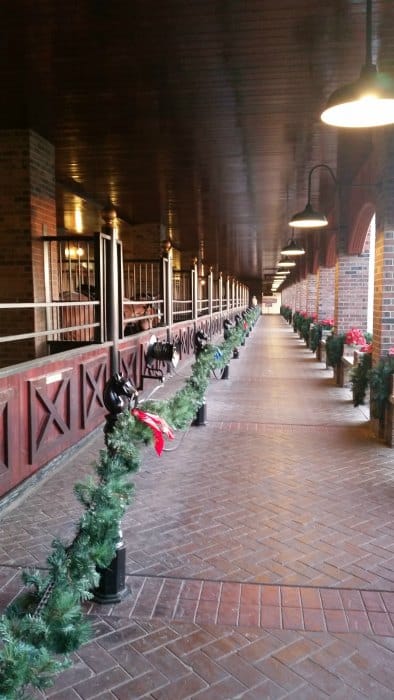 When you enter the main entrance you are greeted by the incredibly friendly staff. They make sure you have your tickets and answer all of your questions. You have the opportunity to take a quick family picture that they will bring around during dinner to show you. The picture we had was really cute with a holiday fireplace background. During our show, the photo package was $30 and included multiple size photos and a special ornament to hold your holiday picture.
There is a pre-show in the carriage room that includes a great fun comedy show. There is a couple of beverage areas set up where you can purchase a specialty drink in a boot mug, Pepsi, and Water. They also have fresh roasted peanuts for sale. The pre-show is a great free show that gets you in the mood for the main event.
After the pre-show, you are guided into the main theater. The seating is by row so make sure you have your entire family together when you walk into the arena. It will make it a lot easier to sit together and get into your chairs.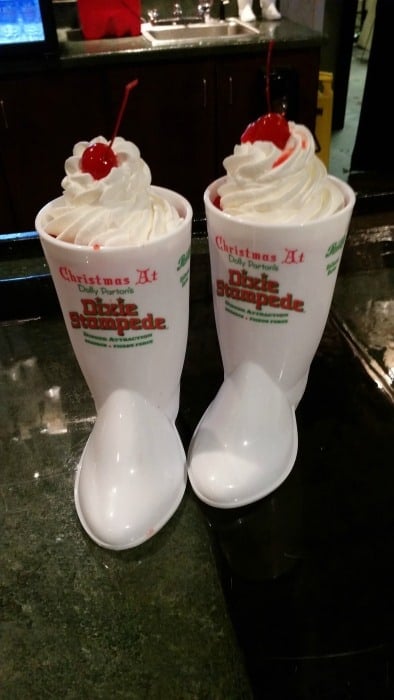 Once you are seated the fun begins! Get ready to get into the holiday spirit and enjoy a show that includes horses, camels, pigs, chickens and so much more.
We were really impressed with the show. It instantly put us into the holiday mood and ready for great holiday music. The snow falling from the sky was the perfect addition to the show. One of my favorite parts of the show which is totally random but oh so cute was the pig races. I don't know what it is but seeing the little piggies jump the gates and run for the finish line had me cheering with the rest of the crowd. I am happy to say our South Pole side won the race!
Oh yes, you are in a competition while at the Dixie Stampede Family Christmas. You are either on the North Pole or South Pole side so choose wisely when you book your tickets. Which side do you think has it to win? The arena is set up with seats on both sides so you really can't go wrong in choosing your seat. The most important decision is which side you want to root for 🙂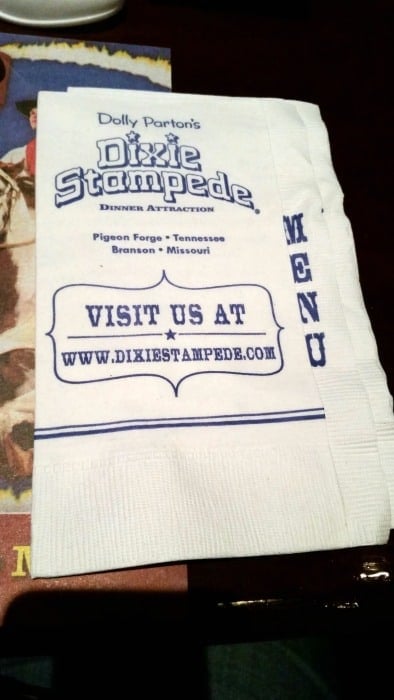 During the show you are presented with a feast! WOW! So much food it is amazing. John looked at me and was full before the entire feast was presented. This is a dinner show to come hungry to. The food was great. Here are the options available for dinner
Included in your meal:
A Mouth-Watering Tender Whole Rotisserie Chicken
Delicious Hickory Smoked Barbecued Pork Loin
Dixie Stampede's Original Creamy Vegetable Soup
Scrumptious Homemade Biscuit
Hot Buttered Corn on the Cob
Tasty Herb-basted Potato
Dixie's very own Specialty Dessert
Unlimited Coca-Cola®, tea or coffee
If you are vegetarian like me don't worry they have options for you!
Vegetarian meal includes:
Country Garden Vegetable Pasta
Dixie Stampede's Original Creamy Vegetable Soup  **I was told by our waitress that the soup is cooked with chicken broth so make sure and ask before you order it**
Scrumptious Homemade Biscuit
Hot Buttered Corn on the Cob
Tasty Herb-basted Potato
Dixie's very own Specialty Dessert
Unlimited Coca-Cola®, tea or coffee
*Please notify us when making reservations if you wish to receive a vegetarian meal
 Both John and I really enjoyed our meals. The vegetarian pasta had a lot of veggies in it and was served with corn, potato, and roll. I was told that if you get the side of steamed veggies instead of the soup that you do not get a roll. I am not sure why you don't get a roll but it is good to know when you order.  As I mentioned above our waitress told me the vegetable soup is made with chicken stock. This is good to know as a vegetarian so you can decide your comfort level in ordering it.
The show ends with some audience participation that I know you will enjoy. I am not going to give away the secret but be ready to be part of the show 🙂
When you exit the show you can take a few moments to enjoy the super cute shopping area before the exit. You can pick up Dixie Stampede Creamy Soup Mix and Dixie Stampede Chicken Rub along with other great items. If you have kids with you that love horses be prepared for the shopping area. It is a horse lovers dream come true.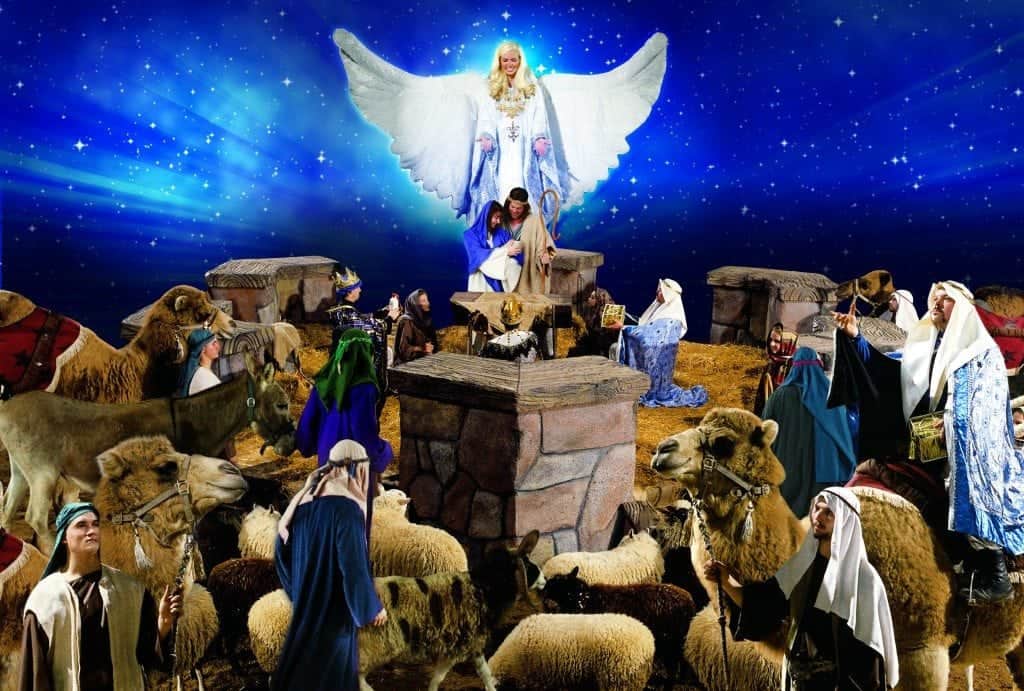 Travel Tips
Cameras and video equipment are not allowed in the theater.
Make sure and purchase tickets as soon as you know what date and time you want to visit. The shows sell out quickly.
Arrive early enough to get your tickets and enjoy the pre-show.
If you are allergic to horses or farm animals this may not be the show for you. The show does a great job keeping the dust from the arena down but you are in an arena with live animals as part of the show. If you are allergic you may not have the best experience.
If you have a peanut allergy they do serve peanuts during the pre-show
If your child is nervous around horses you may not want front row seats. The horses are a few feet away but may seem closer to a small child.
If you want to sit as a group it is best to walk in together and make sure that your tickets are for the same row of seats. There are no specific seats assigned but the row of seats is assigned.
About Christmas At Dixie Stampede
 Children under the age of 3 are free only if they sit in a parent's lap and eat from their plate. If you wish for your child to receive a seat or a meal, a regular children's admission will apply.
 The Carriage Room Opening Act begins 50 minutes prior to our exciting show. Plan ahead so you don't miss our fabulous opening act!
 Each Dixie Stampede Show Ticket includes general admission, a fabulous four-course feast, and a spectacular show.
 Our facilities are fully accessible for individuals with special needs. Please advise us if members of your party have a wheelchair, hearing assistance or other special needs and we will gladly accommodate you.
 The Dixie Stampede Dinner Attraction involves live animals, dramatic lighting, sound, and pyrotechnics. If you or anyone in your party has allergies or medical conditions, please be advised to take the necessary precautions prior to entering the facility.
Christmas At Dixie Stampede runs October 30th, 2014 through January 3rd
One ticket price includes a unique holiday dinner and show experience set in a giant 35,000-square-foot arena featuring 32 magnificent horses,  thrilling horsemanship, romance, and audience participation, all showcased in a friendly rivalry between the North Pole and the South Pole, complemented by a fabulous four-course holiday feast.
For more information regarding showtimes and ticket prices, call 1-800-520-5544 or visit online at www.dixiestampede.com.
Additional Branson, Missouri Articles
Top things to do in Branson, Missouri
We were provided with our admission to the Dixie Stampede. All opinions expressed are our own.