You just can't go wrong combining Guinness and chocolate together in a sweet treat. The flavors just work and taste amazing.
This week we are sharing a delicious Guinness Chocolate Cake Recipe! Perfect for any St. Patrick's Day party or really any day you want a delicious chocolate treat!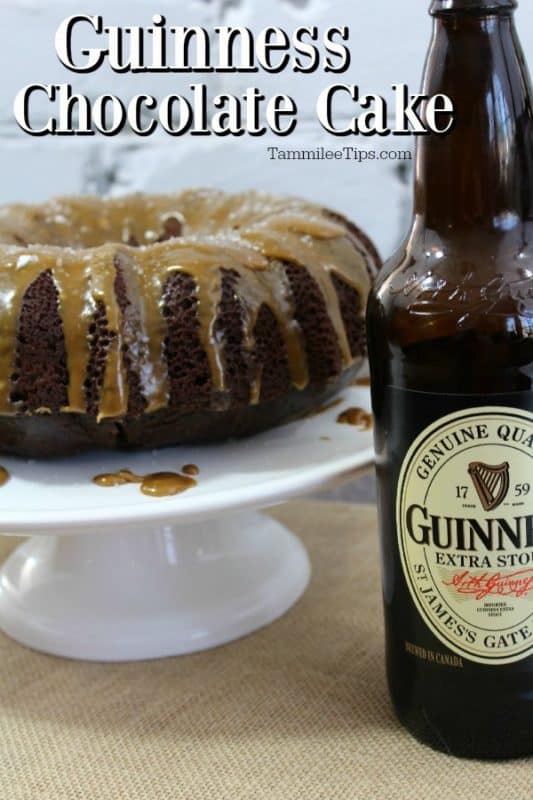 Guinness Chocolate Cake Recipe 
Ingredients
Cake
2 cups Guinness Stout
4 sticks Butter
1 ½ cups Unsweetened Cocoa Powder
2 cups Flour
2 cups Sugar
1 tablespoon Baking Soda
1 ½ teaspoons Salt
4 large Eggs
1 ¾ cup Sour Cream
1 teaspoon Vanilla Extract
Salted Caramel Sauce
5 tablespoons Butter
½ cup packed Dark Brown Sugar
⅓ cup Heavy Cream
Pinch Salt
¼ teaspoon Vanilla Extract
⅔ cup Powdered Sugar,sifted
Directions 
1. Preheat oven to 350
Spray or butter bundt pan
Using a medium saucepan using medium heat, bring the Guinness and butter to a light boil then add the cocoa powder using a whisk until smooth it is smooth. Remove from heat and place to the side
4, Then a large bowl, you will need to whisk flour,sugar,baking soda and salt
Now get even another LARGE bowl, I used an electric mixer to beat together the eggs, sour cream and vanilla together
Now add the butter-Guinness  to the sour cream  and using a hand mixer mix until fully combined about 1-2 minutes on med. speed . You will now begin to add the flour mix and beat until just combined. Use a rubber spatula, lightly fold the batter to make sure there are no pockets of flour
Pour into bundt pan
Bake for 60 minutes, always do a bake check by sticking a toothpick in the cake if it comes out clear free of wet batter the cake is done
MUST cool in pan for 10 minutes before removing the cake from the bundt pan. After that remove the cake and then cool completely on rack
Salted Caramel Glaze
1. Using a medium saucepan, add the butter, dark brown sugar, heavy cream and salt to a boil, stirring constantly. Keep it at a boil for ONE minute, stirring constantly
Remove from heat, stir in vanilla extract
Add about ½ cup of the powdered sugar and whisk until smooth
Continue to whisk in powdered sugar by the tablespoon until you reach your desired consistency
Decorating the cake by placing the cake plate and pour the salted caramel glaze over the top
Great Guinness Recipes
Check out all of our favorite Guinness Recipes 
Do you love recipes? Check out our copy cat recipes, dessert recipes, and our Crock Pot Recipes.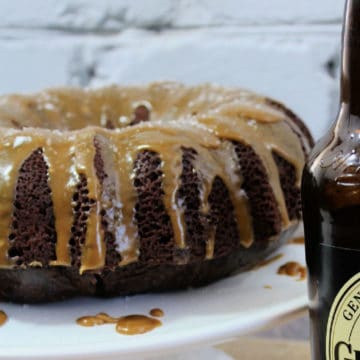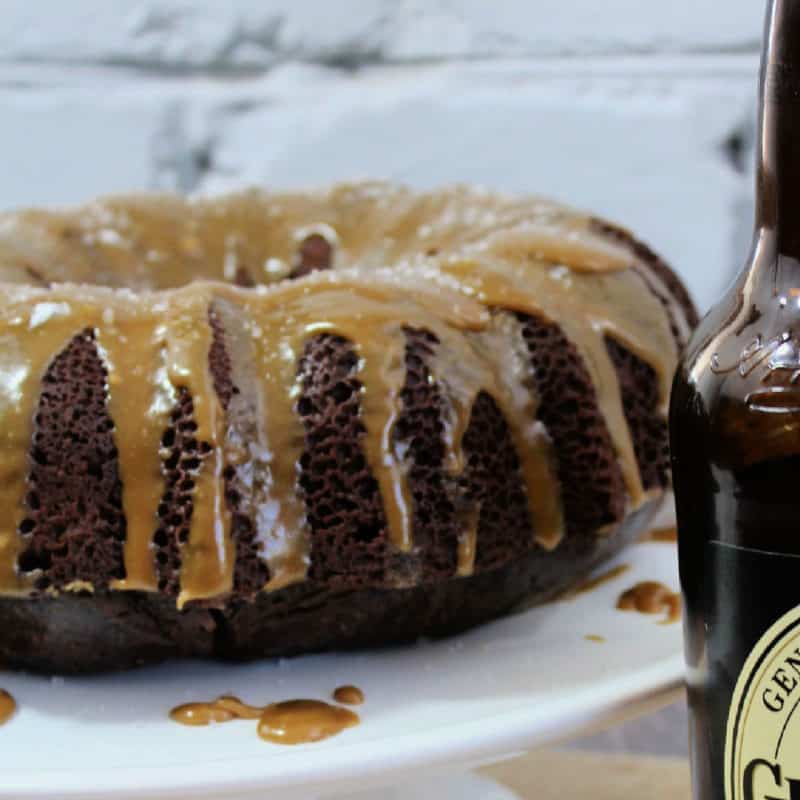 Chocolate Guinness Cake Recipe
How to make delicious moist Chocolate Guinness Cake.
Print
Rate
Instructions
Directions

Preheat oven to 350

Spray or butter bundt pan

Using a medium saucepan using medium heat, bring the Guinness and butter to a light boil then add the cocoa powder using a whisk until smooth it is smooth. Remove from heat and place to the side

4, Then a large bowl, you will need to whisk flour,sugar,baking soda and salt

Now get even another LARGE bowl, I used an electric mixer to beat together the eggs, sour cream and vanilla together

Now add the butter-Guinness  to the sour cream  and using a hand mixer mix until fully combined about 1-2 minutes on med. speed . You will now begin to add the flour mix and beat until just combined. Use a rubber spatula, lightly fold the batter to make sure there are no pockets of flour

Pour into bundt pan

Bake for 60 minutes, always do a bake check by sticking a toothpick in the cake if it comes out clear free of wet batter the cake is done

MUST cool in pan for 10 minutes before removing the cake from the bundt pan. After that remove the cake and then cool completely on rack

Salted Caramel Glaze

Using a medium saucepan, add the butter, dark brown sugar, heavy cream and salt to a boil, stirring constantly. Keep it at a boil for ONE minute, stirring constantly

Remove from heat, stir in vanilla extract

Add about ½ cup of the powdered sugar and whisk until smooth

Continue to whisk in powdered sugar by the tablespoon until you reach your desired consistency

Decorating the cake by placing the cake plate and pour the salted caramel glaze over the top