Is your pizza stone looking rough with burnt spots and greasy spots? Check out how to clean your pizza stone so you are ready to use it again.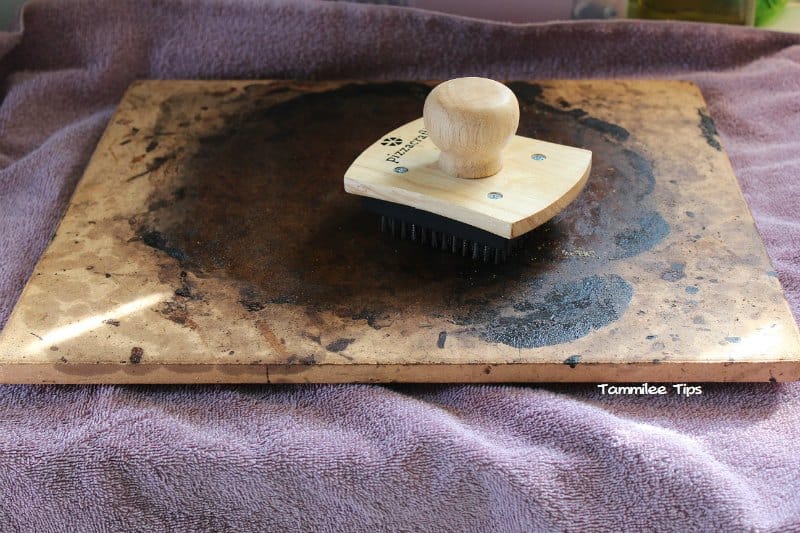 How to Clean a Pizza Stone
We use our pizza stone all the time. We have a large Pizza Stone
in the oven and Mini Pizza Stones
for the barbecue. Over time the pizza stones absorb grease and start to get a build-up on top of them.
It is really important to know how to clean a pizza stone often and carefully.
The porous stone can break if you get water in it and heat it up, you also do not want to use soap since it can be absorbed in the stone and your pizzas will start tasting/smelling like your favorite dish soap.
I did some research to find out the best way to clean a pizza stone.  A few of the methods made me nervous so I am skipping those.
The main one I am skipping is using the oven cleaning cycle to clean your pizza stone.
When the notes for this method include the fact that a large amount of smoke may pour out of your oven I decided to skip it.
I also read that if your stone catches on fire to make sure you do not open the stove because the stone can crack. Hmm personally if there is a fire I am not going to worry about my pizza stone cracking.
I think I would rather have a cracked stone than a burned down the house.
I also do not like the submerging method of cleaning your pizza stone. I prefer to keep my stone as dry as possible to prevent any likelihood of it cracking.
I use a combination of Pizza Stone Scrubber Brush
 and Pizza Dough Scraper
 to clean the bits and pieces off of my stone.
If I have a hard to remove stain I will make a paste of baking soda and a bit of water to soak up the stain. I then scrub it off of the stone or use the scraper to remove it.
I place a towel under my stone to catch all of the bits and pieces that are coming off. This makes clean up so much easier and you do not find bits all over your counter.
One tip is to always make sure your stone is warm when making pizzas. I leave my stone in the oven most of the time except when I am baking. The stone will harden over time and use.
You do not want to remove the stone until it has fully cooled down. Removing a hot stone and placing it on a cold surface can cause it to crack.
Great Pizza Recipes
Additional cleaning resources
Check out how to clean your dishwasher!
Daily house cleaning checklist
Tips for cleaning with vinegar
How to set up a home filing system