My Facebook Page was hacked...I still can't believe that this happened! I really hope that this post helps anyone who may be going through the same situation I went through get it handled.
I wish I could say that I handled having my Facebook Page hacked by being calm cool and collected but that is exactly opposite of what truly happened. It had been one of those days that you just can't believe when we realized that the page was hacked. Our security alarm decided to go off well before 7 am for no apparent reason. Then the security console didn't like a single one of our passwords and kept getting louder and louder to the point that we ended up having to disconnect wires to get it to stop.  I was already frazzled, exhausted and just having one of those days.
Then I started getting emails that someone from Pennsylvania was trying to access my Facebook account and I needed to change my passwords. I confirmed the emails were from Facebook and started changing passwords. The emails kept coming in every 20 minutes all day long. I ended up changing my password more times than I could even count. Finally, in the afternoon, I thought everything had calmed down and we were in the clear...
Then my husband John came home and said that he received an email that he was no longer an admin on the Tammilee Tips Facebook Page. We were on our way to run errands when he told me this. He thought it was a mistake and didn't realize something had happened. I quickly grabbed my phone and went to access the Facebook page only to realize it wasn't showing at all. The entire page was gone and I couldn't find it.
This is the point when I broke down and just sobbed and lost it a bit. I couldn't believe this was happening and didn't honestly know how to move forward on a Sunday night to get it fixed. We quickly headed home and started searching for how to get the page back.
Facebook has a contact page that lets you report that your page has been hacked. I attempted to report that the page was hacked and it didn't show for me at all. When I clicked on the link Tammilee Tips was not an option to report. Thankfully John is also an admin for the Facebook page and was able to report that the page was hacked.
Here is my first piece of advice - Make sure you have multiple admins on your Facebook page so you can hopefully always have someone who can report an issue
Once you report your page hacked you have to sit and wait for a response...trust me this is not fun and you may want to scream. We did not get a response until the next day when we received a message on John's report saying they had investigated the report and Facebook was giving us access back to the page.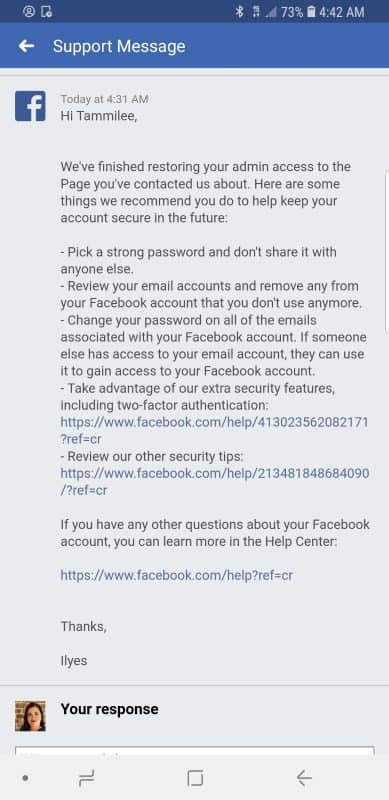 I honestly thought that we were good to go and I could start posting again. When I logged onto the Tammilee Tip Facebook Page I realized that the hackers had deleted over a year's worth of content and started posting recipes to a random site I had never heard of.  They deleted my profile photo, header photo and all contact info to our website.
While I was crazy upset over losing the content I was so overjoyed that we had access back I figured life was good!
I truly wish I could say that this is where the story ends and we lived a fairy tale Facebook romance from then on....but sadly that was not the case.
The day after we received the emails that everything was good to go and we were admins again we received an email that Facebook had reviewed the case and could not confirm we owned the page. Our access was gone again and the page was gone. This time I was able to report the page as being hacked and started sending emails and asking friends for contacts they might have for Facebook.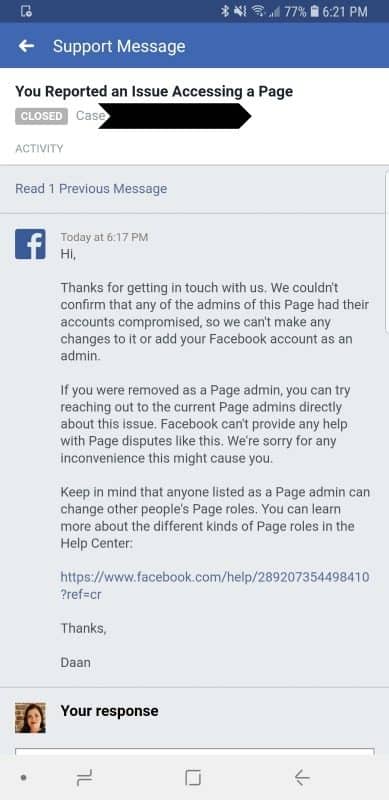 I honestly think this was a mistake on Facebooks part. They looked at the page after we were given access back so everything looked like it was supposed to.
I have never been so happy to have a Facebook ad account! I was able to go into my Facebook ad account and send them a message asking for help recovering my page. This was the 1st time I was able to "talk" with a person. The FB Ad manager said she would look into the issue and get back to me.
I then had to wait again for a response. At this point, I had lost pretty much all of my patience and kept sending follow up emails and requests hoping that something would get fixed. Hours later we were still in a holding pattern.
I then started emailing contacts at Facebook that fellow bloggers and writers had to see if I could get any help. Over 24 hours later I finally received an email that we were given access back to the Facebook page and everything should be resolved. I was so nervous and scared that something would change that I didn't touch the page or announce we had it back for 48 hours.
It has now been almost a week and we are back in business. Though it truly feels like we are starting from scratch. We have 0 engagement metrics because the hackers deleted a year's worth of content. We are pretty much starting over but thankfully retained our followers and have the opportunity to build the page again.
This was a long story to get to the point of telling you what I learned from having my Facebook page hacked but I wanted you to know what to expect.
What to do if your Facebook is hacked/How to hopefully prevent your Facebook from being hacked
Have multiple admins on your Facebook page so you can have someone report issues if you are not able to access the page. Make sure these are people you trust to have full access to your page.
Facebook sends emails from Facebookmail.com when it comes to security issues
There is NO phone number to contact Facebook. The numbers we found online looked like they were other hackers trying to get peoples info
Set up two-factor authorization for logins! I know this is a total pain in the ass to wait for a text to come in so you can sign into Facebook but it is better than dealing with your page being hacked.
Go to settings & privacy -> Settings -> Security and Login to see all of the places you are currently logged into your Facebook page. Closeout any places you do not know or are not actually signed in at.
Set up extra security by getting alerts when there are unrecognized logins.
Choose 3 to 5 friends to contact if you get locked out of your personal page. Facebook will send them a code that you can use to get access to Facebook again.
If you get an email from Facebook you can check to see the recent emails sent before opening the email or clicking on it. At the bottom of your security page, there is a tab that you can click to show all recent emails from Facebook.
Check to confirm which email accounts are attached to your Facebook page.
CHANGE YOUR PASSWORDS! I know it sucks to have to think of a new password but if you think you have been hacked make sure you have a new password and it is strong.
Check to make sure you do not have a virus or keylogger program running on your computer. Run antivirus software and make sure your computer is safe
If you are a blogger/Facebook Page owner make sure you have a way to prove your ownership of the page. Can you show that you legally own your Facebook page and the name?
I was able to tell Facebook that I have the name trademarked, we are an LLC, and that I have legal and tax documents proving our ownership.
Make sure you have a way to prove you are who you are and that you are the owner. This event also made me realize that I need to have my face on our page more often. This may sound crazy but I want to be able to send over my driver's license or photo identification and have it match the photos and videos on my page. I don't want there to be a question that I am the page owner and I have been the one working on the page.
If you are reading this article please take a few minutes today to secure your accounts and make sure you have as many security processes set up as is humanly possible. I know that it is a total pain in the ass to have to have two-factor authorization and confirm everything but trust me the stress and tears that come with having your Facebook page hacked are much worse!!!!
This situation made me realize how important it is to not have all of your eggs in one basket. I realized just how much of my business relies on Facebook and how easy it was to possibly lose it.  This has been a truly eye-opening situation that I wouldn't wish on anyone!
If you have a second please visit Tammilee Tips on Facebook and interact with a post or two. We are trying to start fresh and build our engagement again. I truly hope that we come out of this stronger than we were when it all started.
Tammilee