During my trip to Stillwater, Oklahoma I was so impressed with the food scene! There are so many restaurants to visit in Stillwater, Oklahoma that I feel like I need to go back a few more times to check them all out. I also loved the t-shirt culture of Stillwater Restaurants.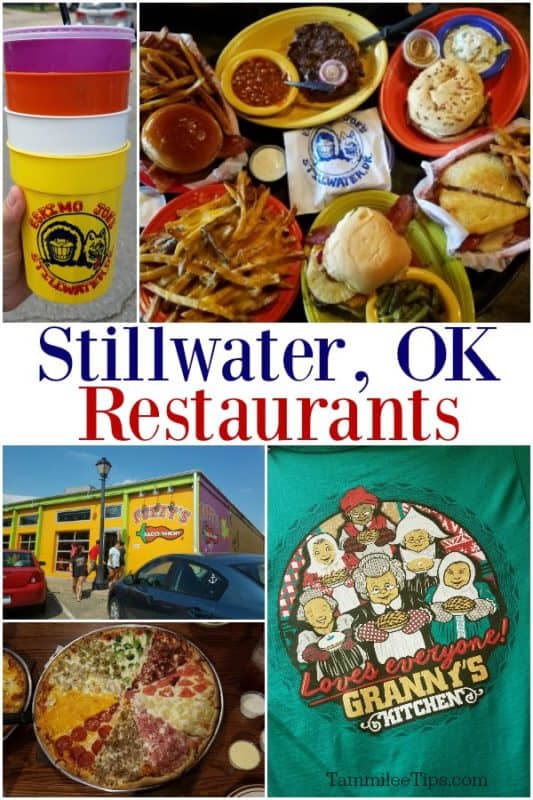 Stillwater Restaurants
Most of the restaurants have t-shirts for sale, and they are all pretty darn amazing. What started with Eskimo Joe's iconic t-shirts has transformed into a city-wide culture. When I flew into Stillwater, I never could have imagined that I would be doubling maybe tripling the number of clothes that I would bring home with me. Granted part of that was due to flight delays and running to the store just in case my bag never made it from the airlines, but the rest was all really cool t-shirts.
Today I am excited to share the first set of restaurants to visit in Stillwater, Oklahoma. I feel like this is the first set because I saw so many other restaurants in town that looked fantastic, and I didn't have a chance to get to them during this trip.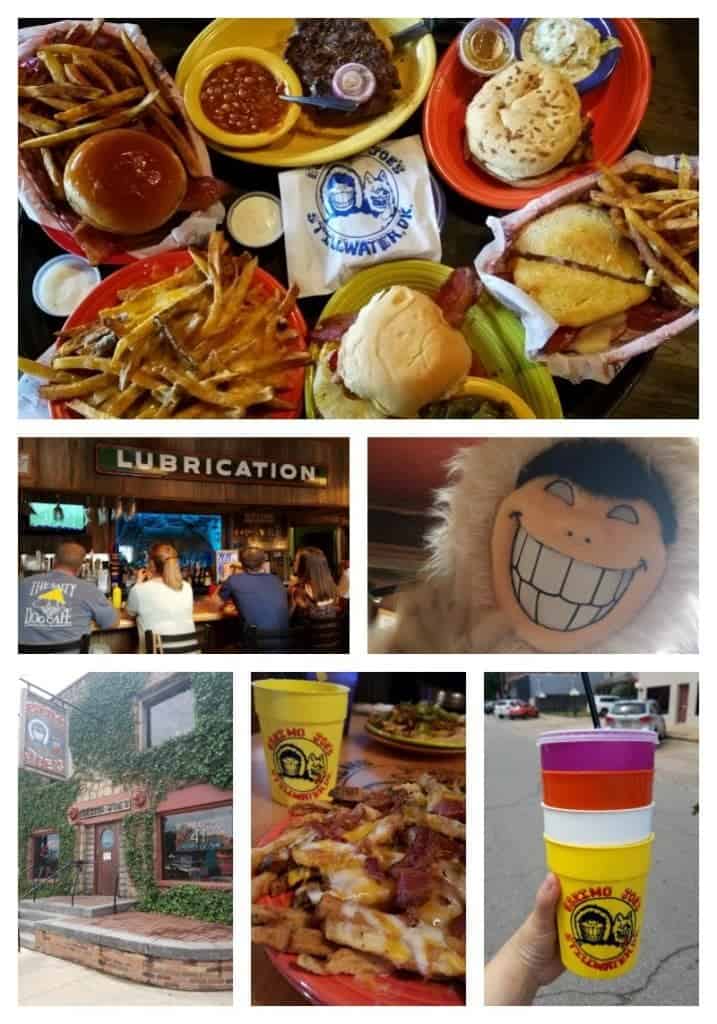 Eskimo Joe's
Celebrating 41 years in business Eskimo Joe's truly is a landmark in Stillwater. Started by Stan Clark and his then partner Steve when they were in their early 20's after graduating college. They decided it would be fun to start a bar that had great music and cold beers.
Fast forward a few years and the drinking age changed in Oklahoma from 18 to 21. All of a sudden their profit margins changed, and they needed to make some changes. They decided to start serving food and that was the beginning of today's restaurant. Stan bought out Steve and became the sole owner of the restaurant. During my time in Stillwater, I had the pleasure of meeting Stan and enjoying lunch at Eskimo Joe's with him.
If you get the chance to interact with Stan, make sure and do it! During my time with him, I learned so much about business, customer service, and a passion for running your own business. I wish Stan would have been one of my professors for my MBA classes. His passion for Eskimo Joe's shows in everything he does. He greeted customers, knew the staff by name, and made sure that we had the best lunch we possibly could have. When there was a spill on the table, and we were about to take a pic he made sure it was wiped up, and everything looked great. His love for the restaurant shines through in the food!
Make sure and order cheese fries and a milkshake. I know you are thinking that it doesn't sound like the healthiest of lunches but trust me they are so good! Add in Joe's classic burger, Joe's famous fowl thing, or really anything on the menu and you will not be disappointed.  All of the sauces are made in house!
Actually, you should probably order at least 2 plates of cheese fries for the table! They are so good that you can't stop eating them and all of a sudden the plate is empty!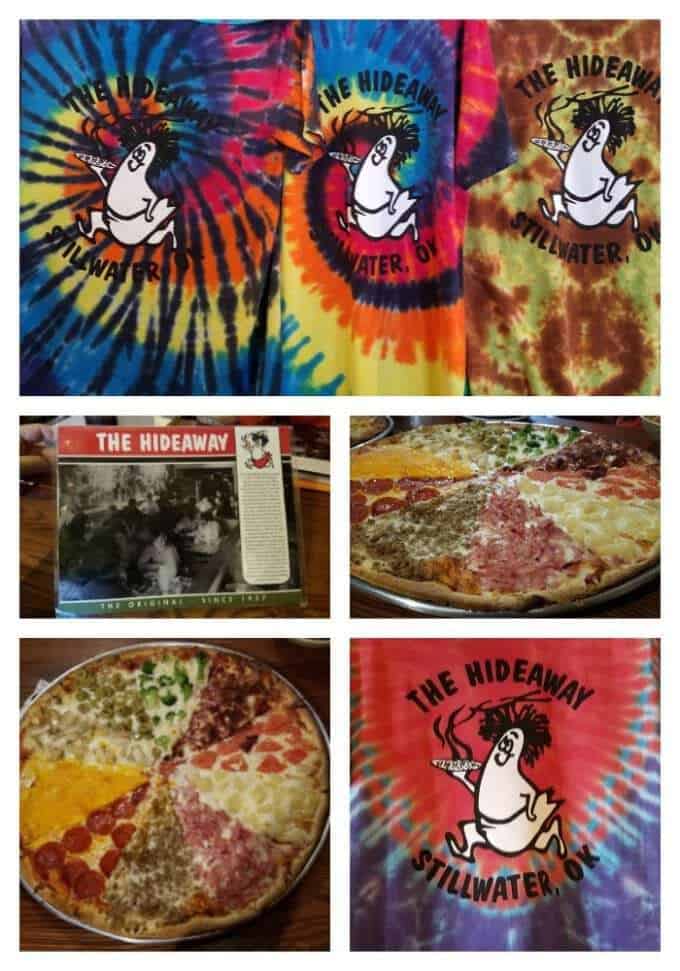 Original Hideaway Pizza
First I should mention that I love pizza! It is one of my favorite things to get while traveling. The Original Hideaway Pizza was the 2nd pizza restaurant opened in Oklahoma. The restaurant started out small and grew to become a Stillwater favorite. The Original Hideaway Pizza has a pizza unlike any I have seen anywhere in the world. The Hideaway Special has a different topping on every slice of the pizza. I learned that the toppings are never the same and all depend on who is making the pizza.
One of my favorite things about the Original Hideaway Pizza is the tye-dye t-shirts that are available for sale. I learned that one of the restaurant's past employees still dyes each of the t-shirts by hand, so they are all unique. I picked up a cute purple shirt that I love! You can't help but smile while wearing it.
Also, don't miss the fried mac and cheese and the fried mushrooms! They are delicious and quickly disappeared during our lunch.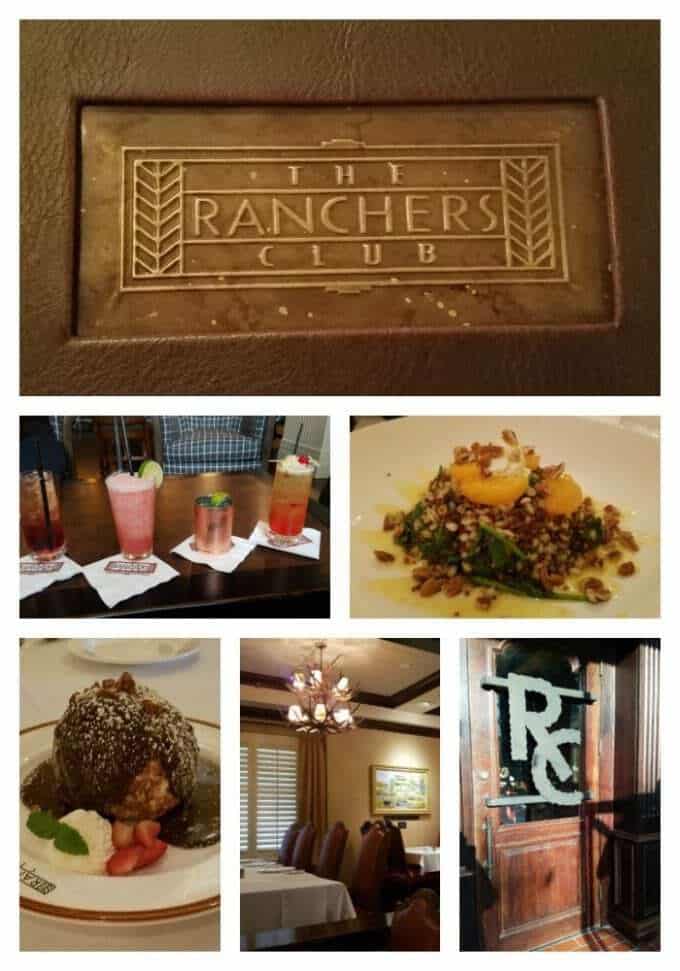 The Rancher's Club at the Atherton
I will be sharing more about The Atherton soon! But first I have to share about the Rancher's Club at the Atherton! This upscale restaurant is one of only two restaurants in Stillwater that serves the Vegas Strip Steak. This cut of steak was created/founded in Stillwater! A must try while you are in Stillwater! The restaurant has a great menu with a variety of choices from Filet Mignon served with marinated shrimp to a delicious grain salad. The pecan ball dessert it about 4 times larger than you expect it to be so order one for the table unless you are super hungry for dessert.
I love that OSU students can use their dining card at The Rancher's Club. I heard that it is a favorite place for students to bring dates. Plus they have a great lunch menu with really nice prices for the meals that you get to enjoy. If you are staying at The Atherton, make sure and check out the breakfast buffet! The fresh pastries are beyond Delish!!!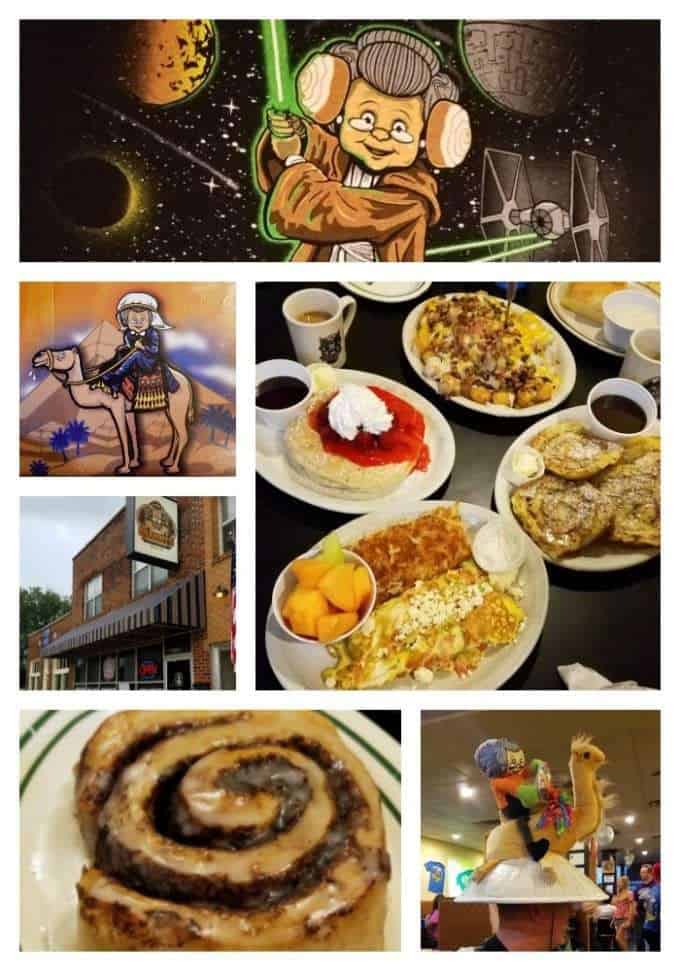 Granny's Kitchen
You have to enjoy breakfast at Granny's Kitchen mainly so you can have a cinnamon roll or maybe two! Hello yum! Granny's is a must-visit anytime you are near Stillwater. Honestly, if you are within an hour of Stillwater and it is near breakfast make your way to Granny's! Their menu is fantastic and quite hilarious at the same time! Don't blush too much when you order a Nasty Granny!
Plus make sure and order the cinnamon roll french toast. I know you already enjoyed at least one cinnamon roll but trust me this french toast is worth the calories.
Also, make sure and wander around the restaurant checking out their t-shirts. SOOOOOO FUNNY! I brought home two t-shirts, and I already wish I would have bought a few more. On my flight home, I kept thinking about certain t-shirts and who they make perfect gifts for. The next time I am in Stillwater, I will be doing some Christmas shopping at Granny's.
One thing I loved about this restaurant is how much love you could feel between the staff and the customers. Everyone felt like family and was smiling and having so much fun. We celebrated a "birthday" at our table, and it was beyond fantastic! Other customers kept walking by wishing our birthday guy happy birthday. It was so cute. If you have someone in your group with a birthday soon make sure and tell your waitress. The camel hat is pretty darn amazing!
Additional Oklahoma Travel Articles
Top Things to do in Stillwater
Check out all of our Oklahoma Travel Guides