I am so excited to share with you the best restaurants in OKC by district. During my visit to Oklahoma City, I was amazed at the quality and variety of restaurants we experienced.
We went into our trip with a list of goal restaurants we wanted to eat at and left with an even bigger list of places we still need to visit. Just driving around town it is amazing how many super cool restaurants there are.
The cool thing about restaurants in Oklahoma City is they offer a great mix of southern food with a tex-mex twist. Many chefs are putting their own spins on comfort food.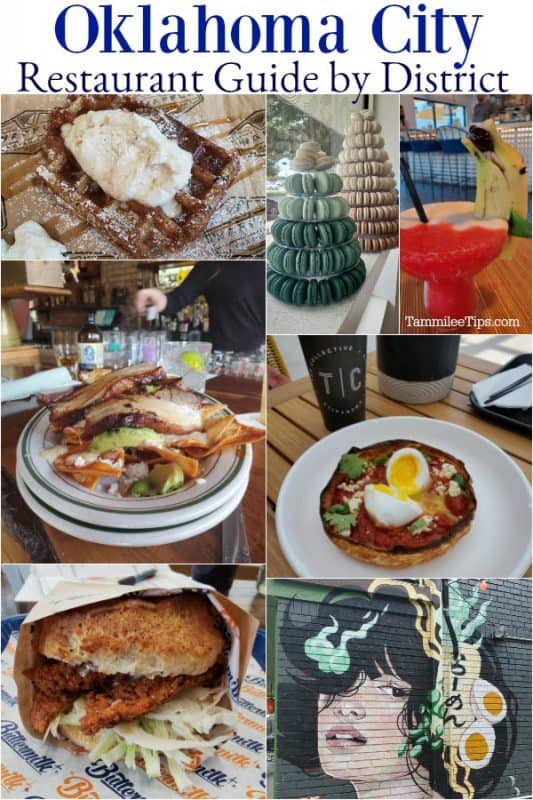 Best Restaurants in OKC
When it comes to the best restaurants in Oklahoma City there is some serious competition between restaurants! It is hard to place any specific restaurant in the number one spot because so many of them are producing epic food that you don't want to miss out on.
We are breaking out the restaurants by OKC district to make it easier to plan your visit. I suggest checking out these great things to do in OKC so you can plan your visit to each of the districts.
Restaurants Downtown OKC
Make sure and check out the Visit OKC Specials page for discounts on great restaurants!
Adventure District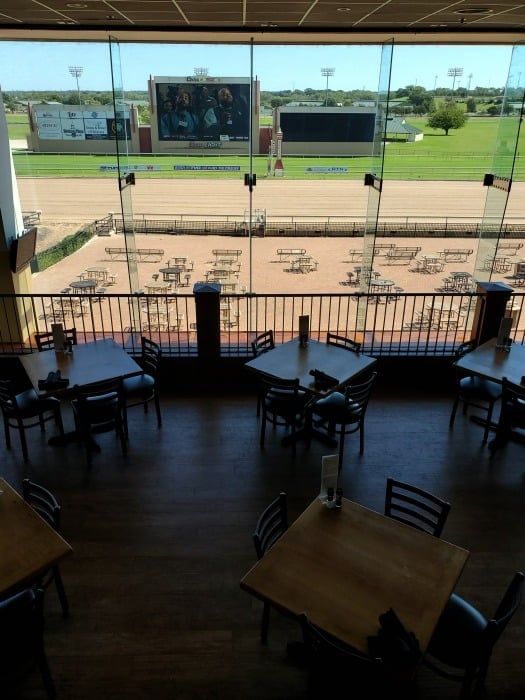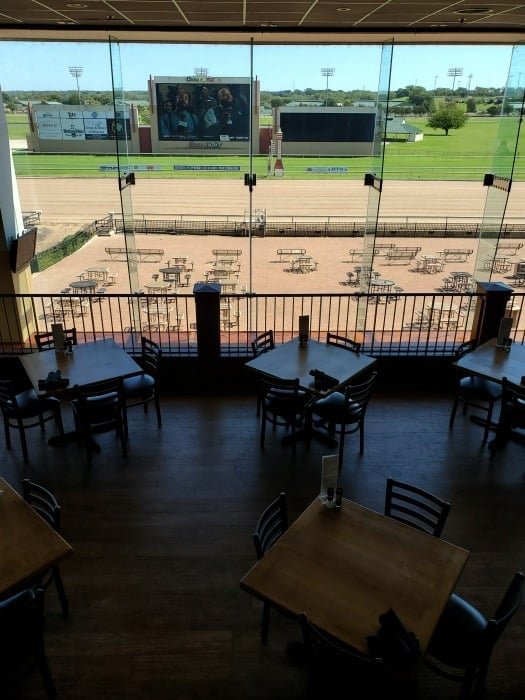 Bricktown Brewery at Remington Park
If you have ever wanted to watch a horse race while enjoying a killer meal this is the restaurant for you! We sadly visited on a day there wasn't a horse race but we still had a great time.
Their menu has a huge variety of options including fried okra, green chili and chicken mac and cheese and sea salt caramel fries.
We both went with the grilled cheese and tomato soup and it was delicious. Our server said we had to try the sizzling apple crisp because it was the most popular dessert and we were very happy we had it!
They also have smores pretzels which are a mix of salty and sweet you just have to try.
Because this Bricktown Brewery is located inside Remington Park guests must be 18 to enter
Address: 1 Remington Pl, Oklahoma City, OK 73111
Phone: (405) 419-4449
Automobile Alley Restaurants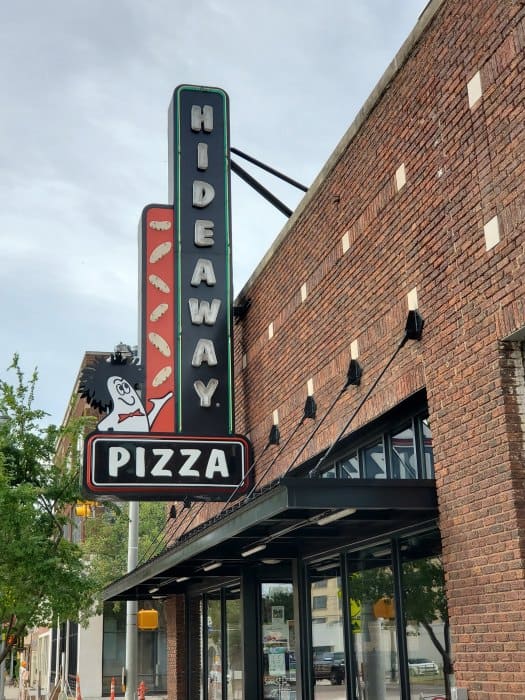 Hideaway Pizza
Hideaway Pizza was one of the restaurants in Stillwater, OK that I loved during my last visit to Oklahoma! I was so excited to see the sign in Automobile Alley and find great pizza.
To start I suggest the 50/50 appetizer with fried mushrooms and fried mozzarella. If you are dining with a group that likes all different types of pizza check out The Hideaway Special which has Hideaway Red Sauce, Mozzarella, and a Different Topping on Each Slice!!
They also have locations in Edmond, Moore, on West Memorial Road in OKC, and on Western Avenue.
Address: 901 N Broadway Ave #5810, Oklahoma City, OK 73102
Phone: (405) 796-7777
Arts District OKC Restaurants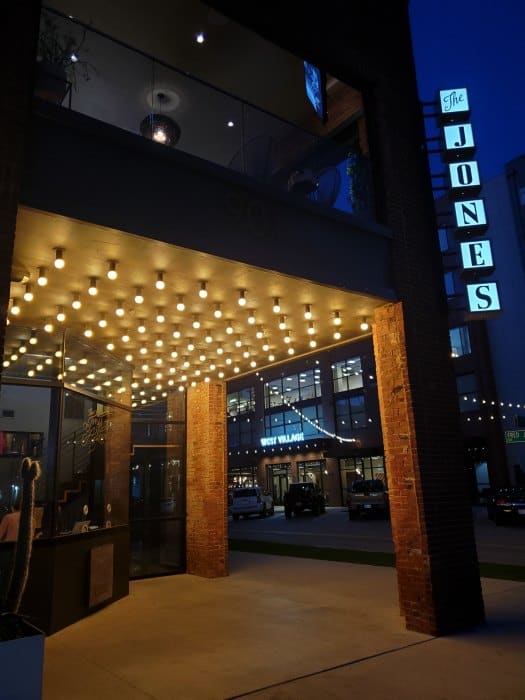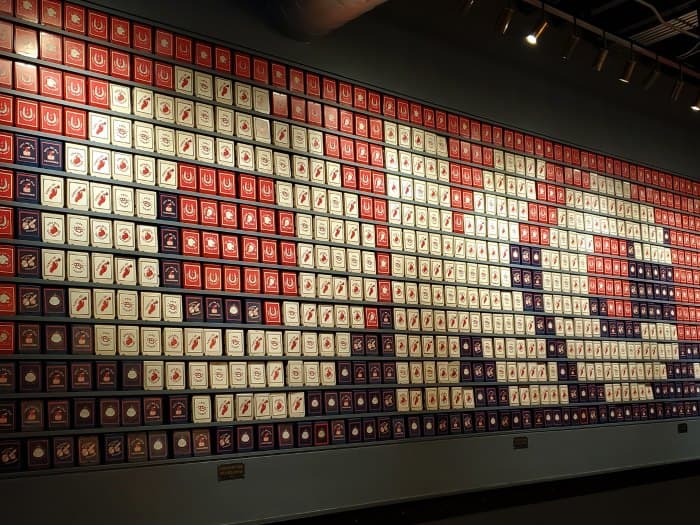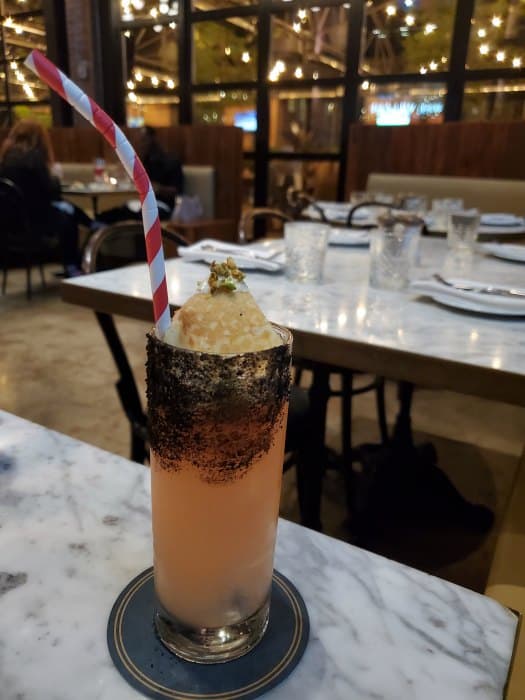 The Jones Assembly
The Jones Assembly is housed in what used to be a Model T storage area next to the manufacturing plant. The restaurant is one part industrial one part a flashback of my childhood with 80s movies playing on the big screen.
The waiter said the 80s movies were retro and that felt like a stab to the heart but thankfully the food and cocktails more than made up for feeling my age.
With a menu that is described as refined regional cuisine, you can expect to find southern comfort food with an Oklahoma twist. We started with the scratch biscuits with honey butter and they were melt in your mouth delicious!
The cocktail menu is inspired and delicious! The Dagwell Dixie is their take on an old fashion! It includes roasted pecan infused George Dickel rye, laird's applejack, simple syrup, hella orange bitters, Jerry Thomas own decanter bitters.
For a sweeter drink check out the I Love You Gelato cocktail that includes olmeca alton reposado tequila, limoncello, Aperol, lime, fluffy orange juice, lemon curd, pressed lemon oil.
Their wood-fired pizzas were beyond mouth-watering good. My Margherita pizza tasted like it had been flown in from Italy. Fresh tomato sauce, mozzarella, basil, and Grana Padano cheese melted together into a delicious pizza.
If you like spicy then you will love the Hot Rod pizza that has habanero pork sausage, pepperoni, mozzarella, caramelized onions, jalapeño, spicy chicharrones,  and a hot honey drizzle.
We were so full we skipped dessert but it looked absolutely amazing.
If you are looking for a fun speakeasy vibe head upstairs to The T Room!
The Jones Assembly also has live music concerts so make sure to check their social pages for dates of upcoming events!
Address: 901 W. Sheridan, Oklahoma City, OK 73106
Phone: 405.212.2378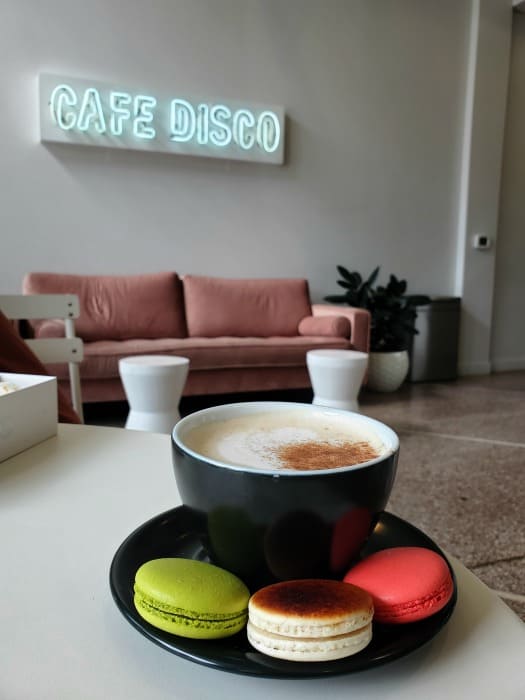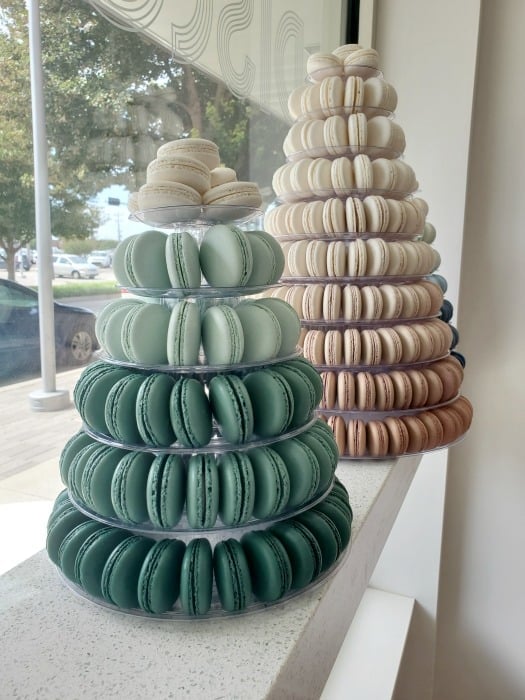 Cafe Disco
If you love macarons and good coffee/tea you are going to LOVE Cafe Disco!
This tiny cute coffee and macaron shop is the perfect place to relax with a friend on a sunny afternoon.
I highly recommend the Creme Brule macaron that is torched with vanilla bean buttercream and centered with caramel.
They offer single macarons up to 220 macaron towers of goodness!
Address: 629 W Main St Suite 103, Oklahoma City, OK 73102
Phone: (405) 594-2496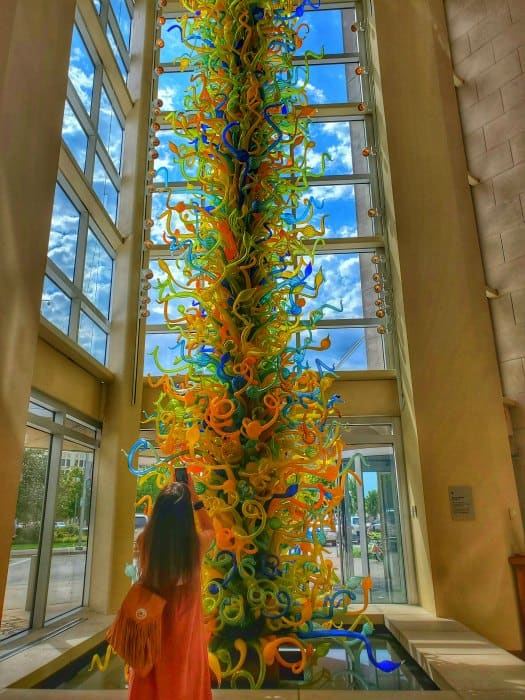 Oklahoma City Museum of Art Cafe
Tucked inside the OKC Museum of Art the cafe offers French-inflected Modern American Cuisine with lunch, dinner and brunch menu.
I can't wait to try their baked brie with crispy artichokes, tomato confit, dressed rocket lettuce, grilled sourdough. We did not have a chance to stop at the cafe when we visited the museum but have heard it is fantastic.
The Chihuly exhibit is one of our top things to do in OKC that you don't want to miss! Having lunch or dinner at the museum cafe is the perfect place to relax and talk about all of the art you just enjoyed.
Address: 415 Couch Dr, Oklahoma City, OK 73102
Phone: (405) 235-6262
Bricktown OKC Restaurants
The restaurants in Bricktown OKC range from casual to sit down dining. You can find local favorites like Fuzzy's Taco Shop, Bricktown Brewery, and Jazmo's Bourbon Street Cafe.
There are also national chain restaurants including the Melting Pot, IHOP, Zio's Italian Kitchen, and McDonald's.
Toby Keith's I Love This Bar is located on the edge of Bricktown.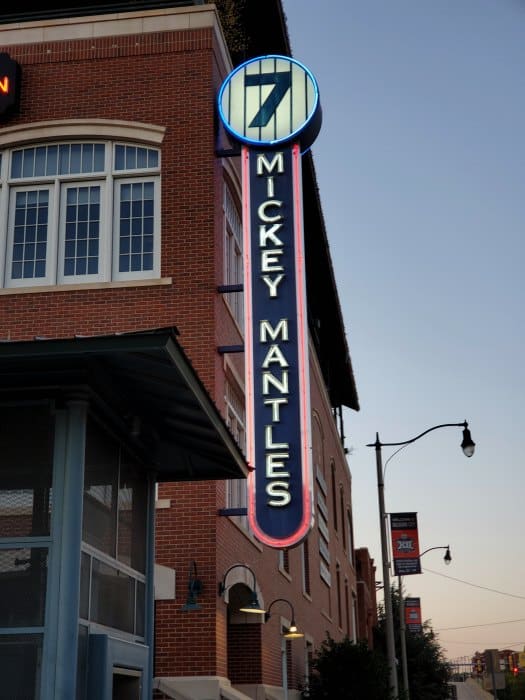 Mickey Mantle's Steakhouse
Mickey Mantle's Steakhouse is located directly across from the Chickasaw Bricktown Ballpark. You can enjoy dinner and drinks before heading to a baseball game or after the game.
Make sure to try the Boursin Cheese Dip and fried pickles! They were amazing. We were honestly pretty full after having the appetizers.
The Caprese salad was large and quite good.
The restaurant has a large variety of entree options including many different cuts of steak. We heard that the steak and lobster is epic from friends.
Address: 7 Mickey Mantle Dr.
Phone: 405-272-0777
City Center OKC Restaurants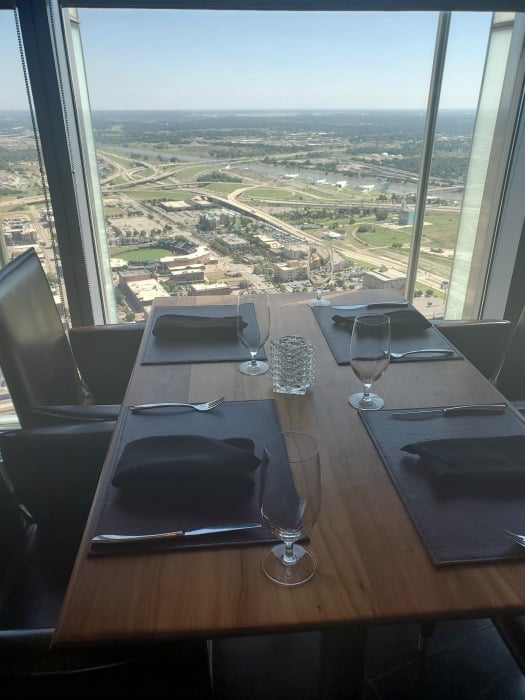 Vast
Located 726 feet above street level dining at Vast provides epic views of Oklahoma City and beyond. You honestly feel like you can see all the way to Texas (Yes, I know that probably isn't possible but it really does feel like it.)
We enjoyed lunch which is served as an upscale buffet called the daily table. Each week the menu is changed with two types of meat at the carving stations, a fish dish, salad bar, and decadent desserts.
I am in awe that lunch is only $19.95 a person! The view alone I would pay for let along being able to enjoy upscale food and a great atmosphere.
This would be an amazing romantic restaurant OKC for a date night or special event. They have small private dining rooms that can be reserved for special occasions. We heard that many proposals happen in the private dining rooms.
Vast has earned the AAA's prestigious Four-Diamond award and you can tell why after dining there.
Address: 49th & 50th Floors of The Devon Tower.
Phone: 405.702.7262
Website / Instagram / Facebook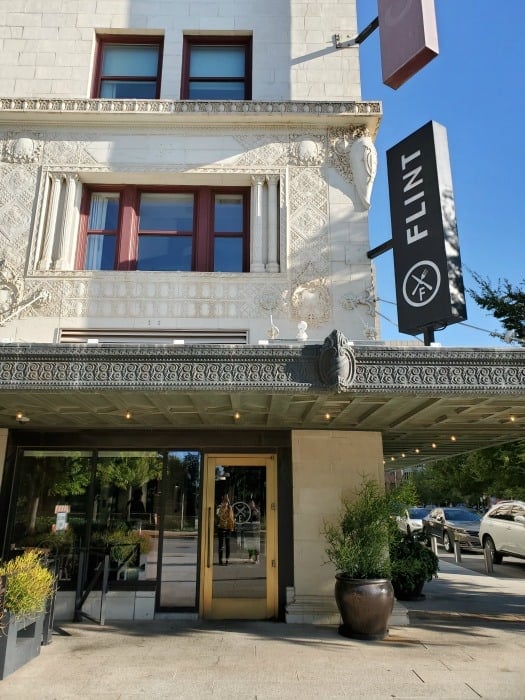 Flint
Flint is located in the historic Colcord Hotel in the City Center. We enjoyed an amazing breakfast at Flint.
I really enjoyed the Frint breakfast biscuit with a side of bourbon candied sweet potatoes.  Seriously just the sweet potatoes are worth a visit.
Amy had the eggs benedict and it looked amazing.
Address: 15 N. Robinson Avenue, Oklahoma City, OK 73102
Phone: 405.605.0657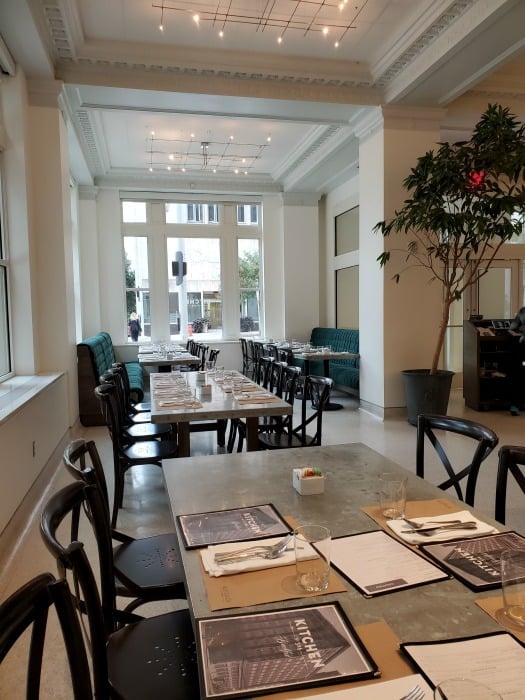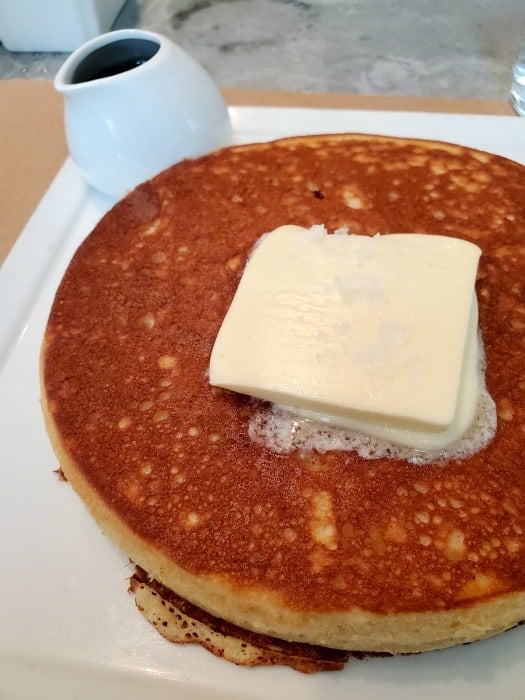 Kitchen No. 324
Kitchen 324 serves what may be the largest thickest giant buttermilk pancake I have ever had with a giant slice of salted butter on top!
Their menu is equal parts comfort food and healthy options. They serve locally sourced organic sustainably farmed products whenever possible.
The Breakfast Bowl with brussels sprouts, sweet potato, McCabe's bacon, kale pesto, avocado, sunny side up eggs was a favorite during our visit.
You can't go wrong with the great food, craft bakery and killer coffee bar at Kitchen No. 324
Address: 324 N Robinson Ave, Oklahoma City, OK 73102
Phone: (405) 763-5911
Midtown OKC Restaurants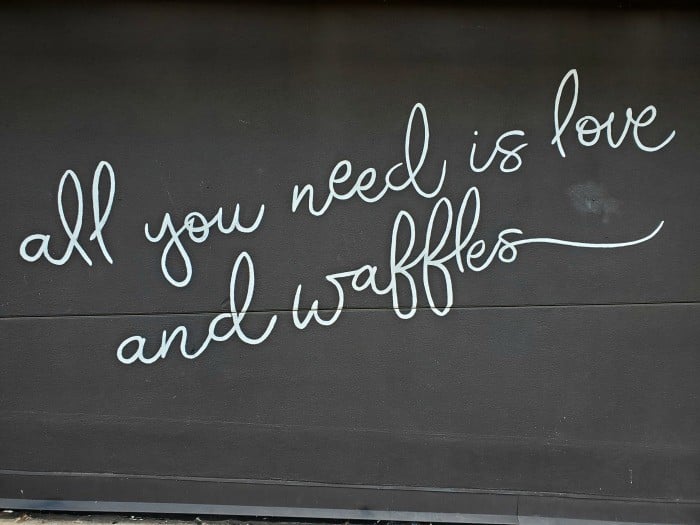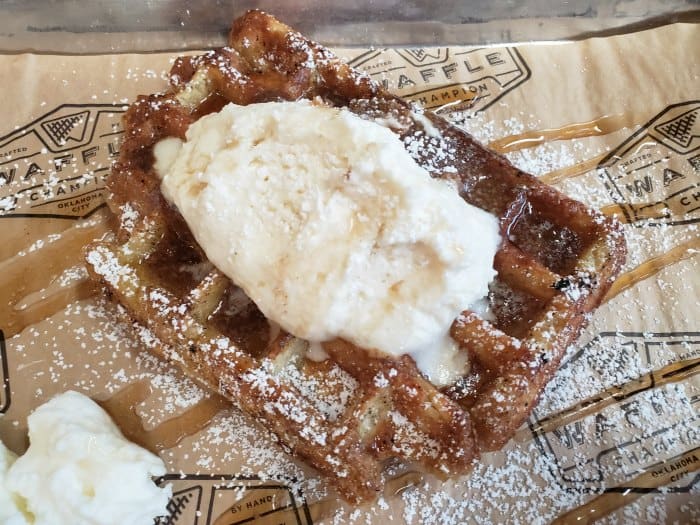 Waffle Champion
Going into our trip to OKC all I heard was how amazing Waffle Champion was and how it had to be on our must-visit restaurant list. I also heard that we needed to get there EARLY because the line can be around the corner.
Knowing all of this I was a bit worried if the restaurant would live up to all of the hype. Thankfully it not only lived up to the hype it tasted amazing!
I ordered the cinnamon roll liege waffle with the pecan crumble on the side. It was sweet without being over the top.
Next time I want to try the Waffle French Toast with cinnamon cream cheese syrup and fresh strawberries..hello yum!
Address: 1212 N Walker Ave #100, Oklahoma City, OK 73103
Phone: (405) 525-9235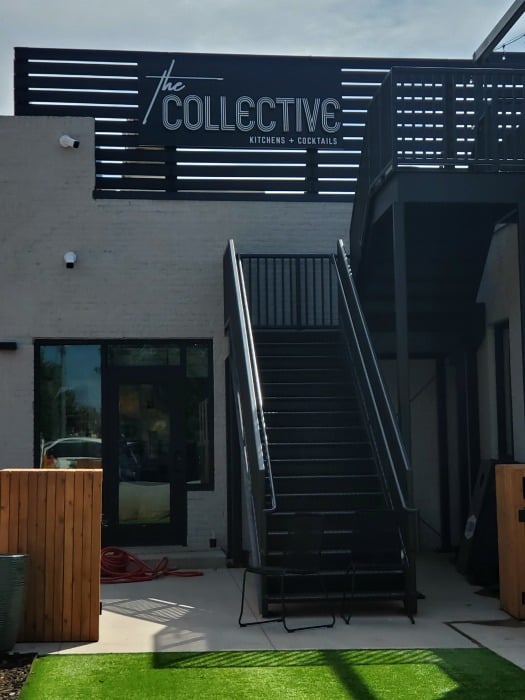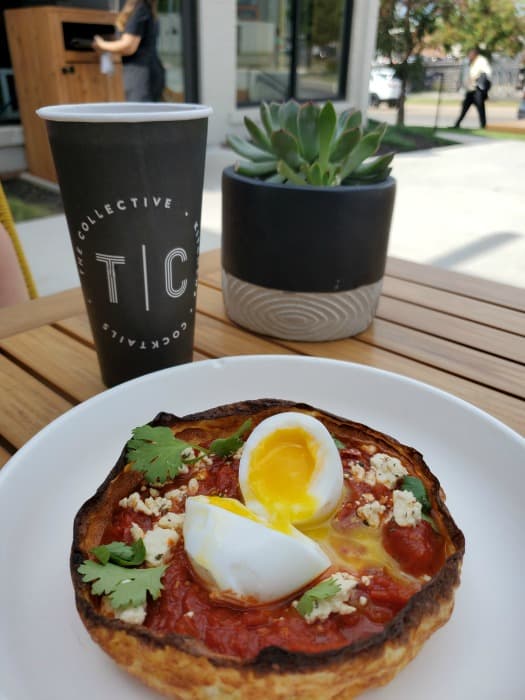 The Collective
The Collective features 11 different kitchens, a 40-foot bar with crafted cocktails and 32 rotating taps, indoor and outdoor seating, and a killer atmosphere.
This is the perfect choice for a group of friends who all love different food but want to hang out together. This is also perfect for having so many options it can be hard to decide what you want to enjoy!
We decided to try Oh Baby! for their epic dutch babies! The Shakshuka Dutch Baby reminded me of being in Isreal.
The Shakshuka Dutch Baby is a tomato, bell pepper, onion, seasoning goodness that you don't want to miss.
The Strawberry and Cream is a sweet treat you don't want to miss! Macerated fresh strawberries served over vanilla pastry cream, powdered sugar, topped with whipped cream and a mint leaf...yum!
Oh Baby also has a crazy BBQ Pulled Pork Dutch Baby, Banana Fosters Dutch Baby and more!
Other kitchen options include The Flying Pig (BBQ), Press Waffle Co, Local Homa (Contemporary American Cuisine), The Fried Taco, Shaka (Hawaiian Fusion), Black Cat (healthy well-balanced craft food), Cae Dr L'asie (Asian Fusion with a Twist), Theo's Doughnuts, and Okie Pokie.
Make sure and visit the restrooms and check out the messages on the back of the stall doors 🙂
Address: 308 NW 10th st, Oklahoma City, Oklahoma 73103
Phone: (405) 437-0959
Instagram / Facebook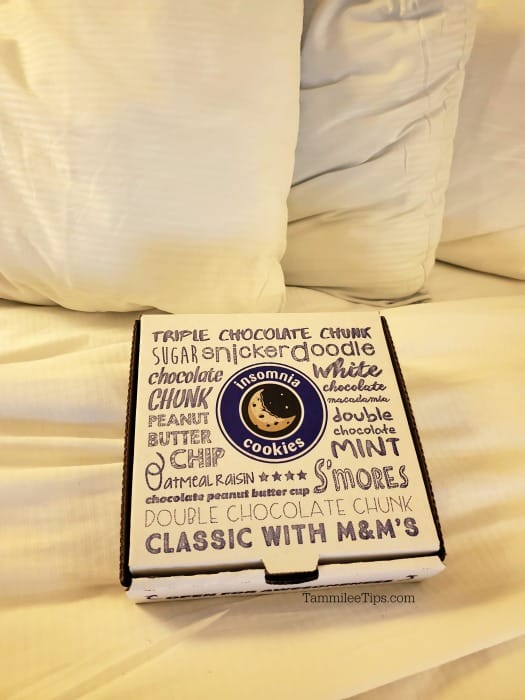 Insomnia Cookies
While Insomnia Cookies is based in Midtown OKC you don't have to visit their location! They will deliver to your hotel room or wherever you are staying!!!
Seriously! You can have warm cookies delivered to you until 3 am. We had cookies delivered to our hotel room at the Skirvin and it was magical and amazing.
The happiest knock on a hotel room door when they are delivering warm chocolate chip and snickerdoodle cookies at 11 pm!
They offer classic cookies including chocolate chip, snickerdoodle, double chocolate chunk, oatmeal raisin and more! Plus they have specialty cookies including smores, triple chocolate, and seasonal varieties.
Address: 1131 N Walker Ave, Oklahoma City, OK 73103
Phone: (405) 300-5720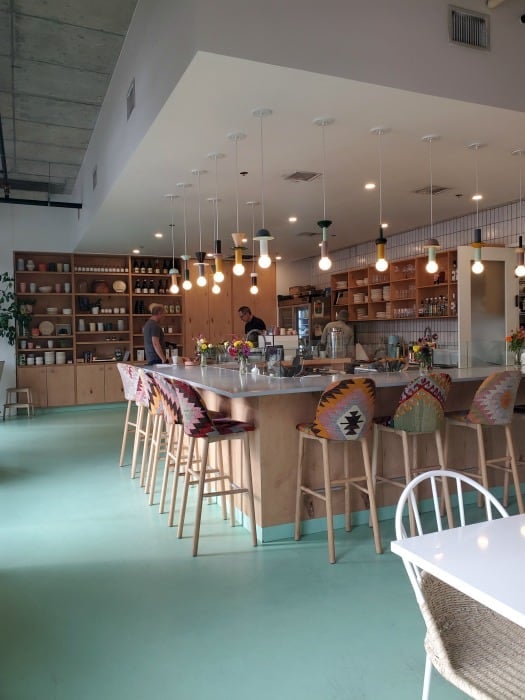 The Kitchen at Common Place Books
I would like to live in Common Place Books!
From the moment you walk in the door you just feel comfortable and relaxed. The kitchen offers options on greens, on toast, and on tortillas. They also have a killer cocktail and coffee menu.
The Sunday Brunch menu looks amazing and I have to go during my next visit to OKC.
How can you go wrong with Tres Leche (Crunchy sugared toast soaked in infused tres leches sauce) or Quinoa Chorizo & Potato Tacos (House-made vegetarian quinoa chorizo and roasted potatoes, cashew crema, pickled onions, salsa, and cilantro).
Address: 1325 N Walker Ave #138, Oklahoma City, OK 73103
Phone: (405) 534-4540
Menu / Instagram / Facebook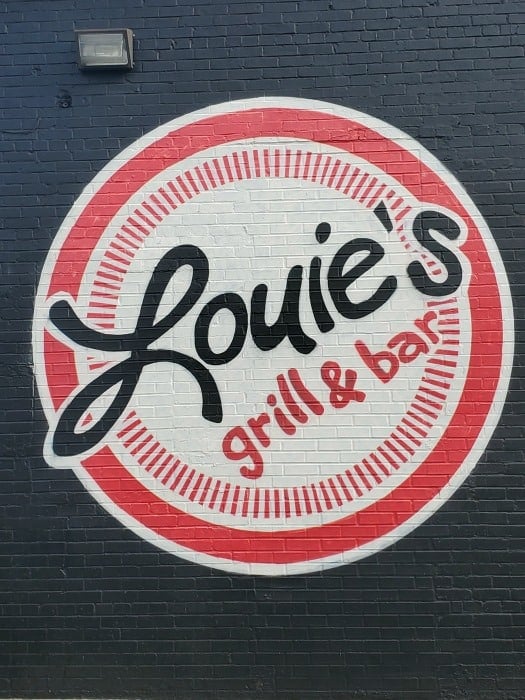 Louie's Grill & Bar
Louie's Grill and Bar is a casual restaurant with everything from wings, pizza, burgers, rice bowls, cocktails, and more.
This is a casual neighborhood restaurant that serves all the American classics. Their poppin fried cheese basket is great but does have some kick to it. They have great pizzas and so much more.
With locations in Edmond, Highland Park OKC, Lakeside OKC, Western Ave, Stillwater, Tulsa and Yukon, Oklahoma.
Address: 1215 N Walker Ave, Oklahoma City, OK 73103
Phone: (405) 230-1200
Paseo OKC Restaurant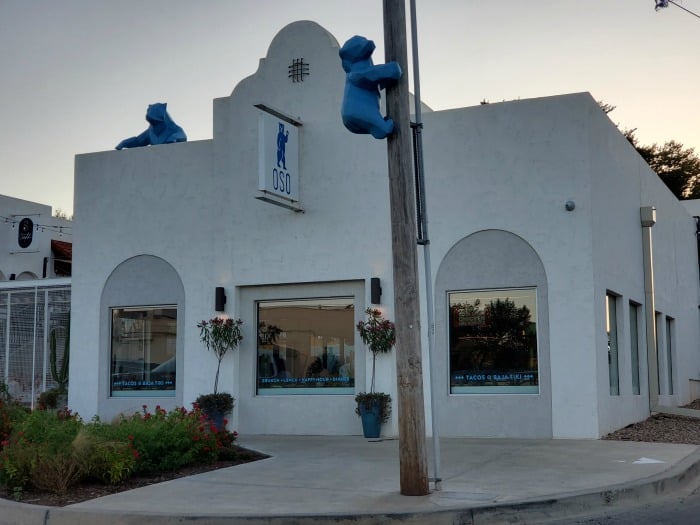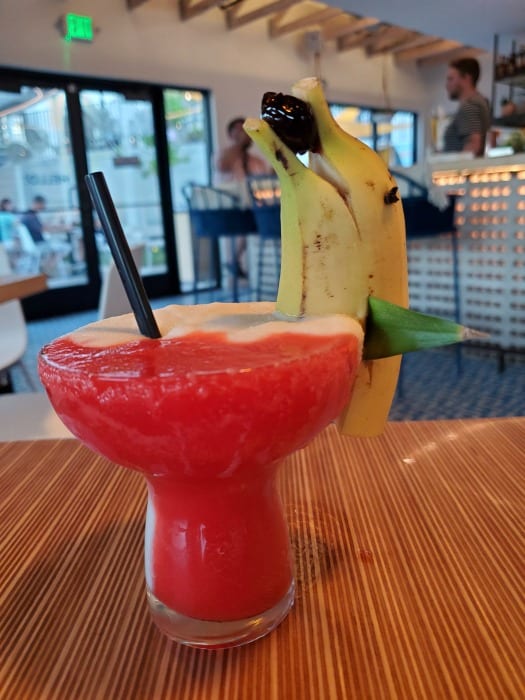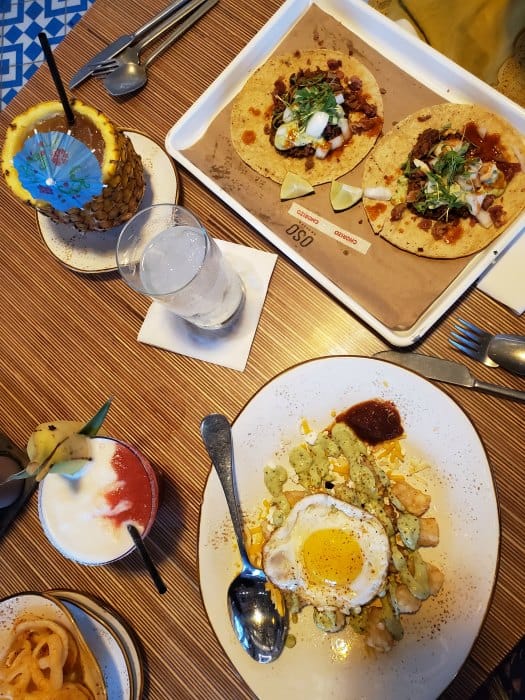 Oso on Paseo
If you love fruity tiki cocktails with a twist, a killer restaurant atmosphere and amazing food you will love Oso on Paseo!
You can't go wrong with the Miami Vice cocktail that has a banana dolphin served on the side of the glass! Yes you read that right...a banana dolphin!
The Montezuma Cocktail is served in a hollowed-out pineapple with orange and lemon juices, dark rum, white tequila, simple syrup, and grenadine.
I enjoyed the Tater Tots with goat cheese, cheddar - jack, avocado crema, and sunny side egg. You can have this with red chili butter and bacon but I left them off. This dish was sooooooo good! It is listed as a shareable for the table but I had it for dinner and it was perfect.
You can also order individual street tacos by type and how many you want.
For dessert don't miss the churros with chocolate sauce and vanilla soft serve ice cream.
On my next visit, I really want to try the vegan enchiladas with black bean- agave puree, potato rajas, roasted corn, mozzarella, in a corn tortilla.
Address: 603 NW. 28TH ST. OKLAHOMA CITY, OK 73103
Phone: 405.309.TACO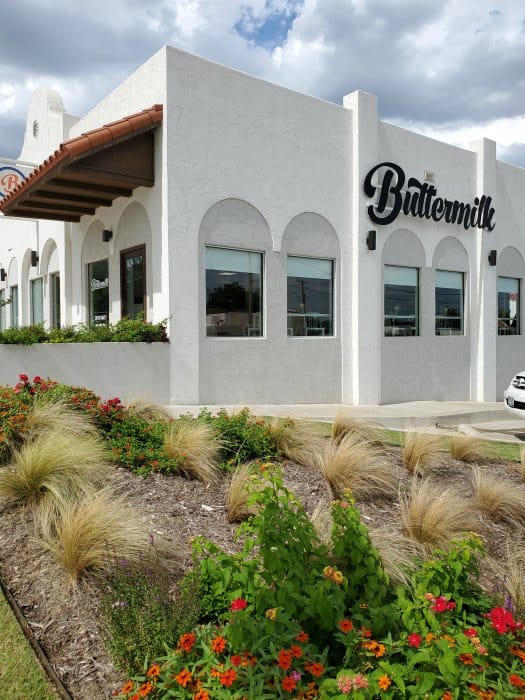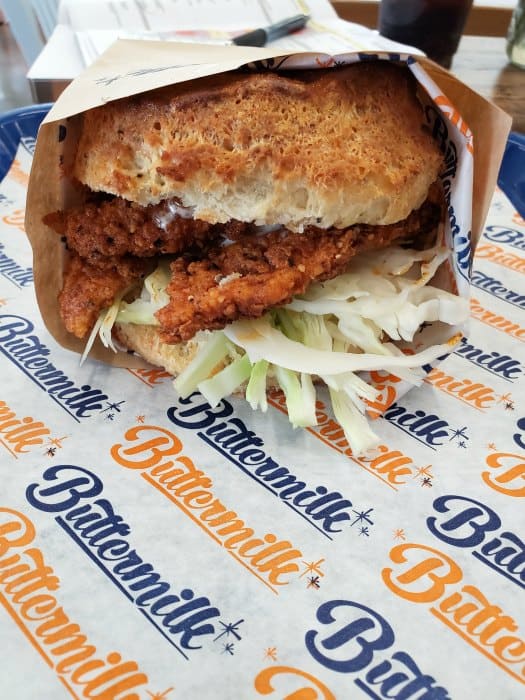 Buttermilk
Buttermilk is located in the heart of the Paseo Art District. Open from 7 am to 2 pm you don't want to miss their buttermilk biscuits!
They even have Bonuts...biscuit donuts with raspberry and cream cheese syrup. Yes please!
The brunch bowl with hashbrown bites, cheddar soft scrambled eggs, avocado crema, griddled ham, and tomatoes is amazing.
Buttermilk has smoothie bowls, salads, superfood oats, and other healthy-ish options if you want to balance out your meal a bit.
Address: 605 NW 28th St Ste A, Oklahoma City, OK 73103
Phone: (405) 605-6660
Plaza District Restaurants OKC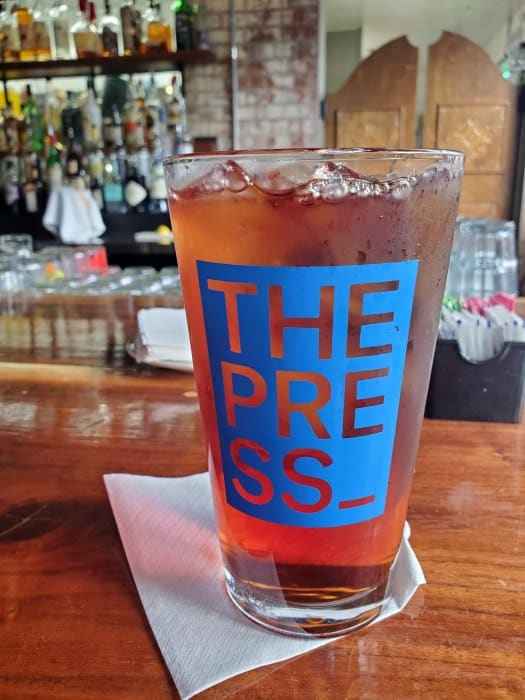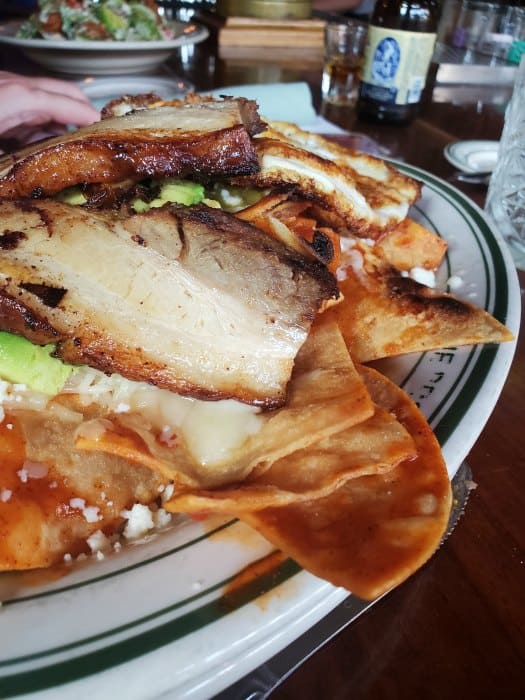 Press
Press is located in the heart of the Plaza District. The restaurant has both indoor and outdoor seating available. We enjoyed an amazing lunch at Press and had more than enough food that we ended up skipping dinner.
The restaurant is casual with a fun vibe that makes you want to hang out with friends and relax with a killer cocktail.
Their menu is described as Southwestern Comfort Food with an Oklahoma twist.
Don't miss the sweet potato fritters! They taste like Thanksgiving in a bowl. Fried sweet potato balls topped with a cinnamon icing and powdered sugar!
Yes, they are super delicious! We shared an order of them and had more than enough.
One of the benefits of visiting for lunch is you can also enjoy the brunch menu. Amy from MomSpark enjoyed the Chilaquiles with pork belly bacon...oh my! This dish includes tortilla chips topped with red chili sauce, green chili sauce, jack cheese, avocados, and an over-easy egg! The dish was huge and so filling!
I enjoyed a great Beyond Burger on a Hawaiian Bun. I switched out the vegan chili for epic waffle fries.  These may have been the best waffle fries I have had in a really long time.
Address: 1610 N Gatewood Ave, Oklahoma City, OK 73106
Phone: 405.208.7739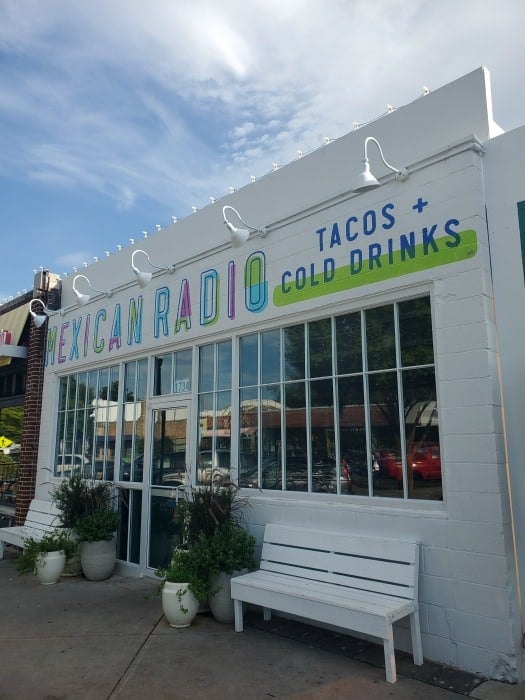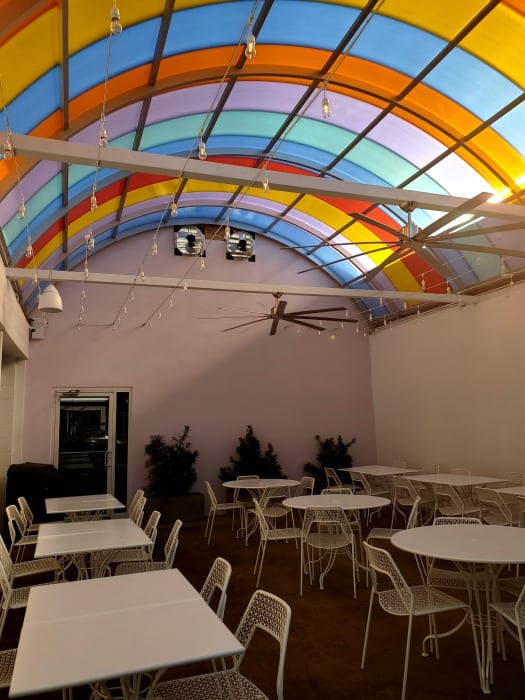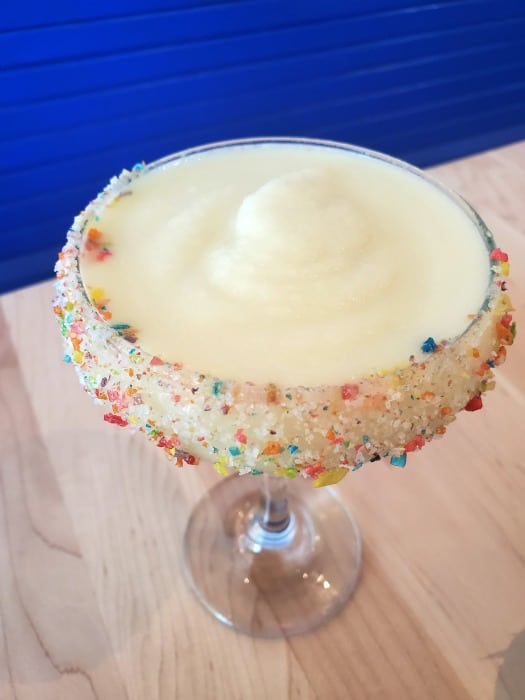 Mexican Radio
If you are looking for an epic Instagrammable meal than look no farther than Mexican Radio. From the colorful outdoor seating to the beautiful cocktails this restaurant is an Instagram photo waiting to happen.
Dole Whip Margarita with Blanco tequila, pineapple, banana du brésil, coconut cream, agave, lime, fruity pebble-salt rim.
Spiked Chai Tea with house spiced chai rum, vanilla-chai syrup, almond milk
Address: 1734 NW 16th St, Oklahoma City, OK 73106
Phone: (405) 900-5608

Roxy's Ice Cream Social
Ice cream, floats, cookie sandwiches and more! That is what you can expect when you walk into Roxy's Ice Cream Social. The salted caramel ice cream is supposed to be what dreams are made of.
Address: 1732 NW 16th St, Oklahoma City, OK 73106
Phone: (405) 521-1300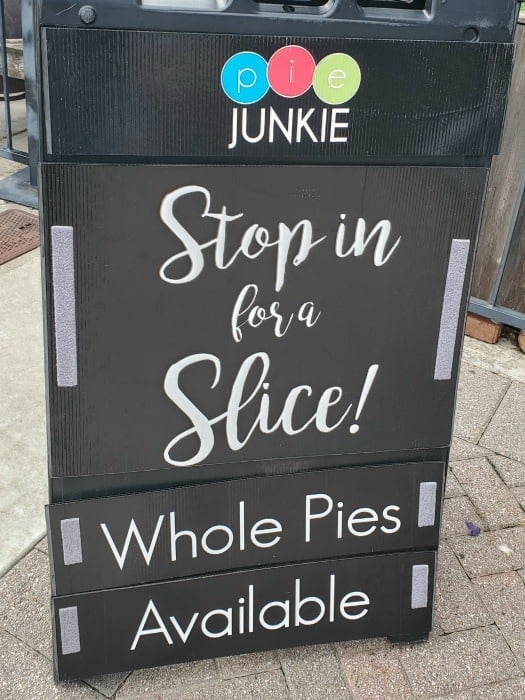 Pie Junkie
You can celebrate Pie Day not just on March 14 by stopping in at Pie Junkie! Grab a slice or an entire pie to indulge in scratch-made pies that are made daily in house.
If you are hoping for a specific type of pie I would suggest being there when they open or call ahead! These pie slices are super popular and go quickly so get in there and get a slice or three.
The shop is open Tuesday-Thursday 10 am-7 pm and Friday-Saturday 10 am-9 pm.
Address: 1711 NW 16th St, Oklahoma City, OK 73106
Phone: (405) 605-8767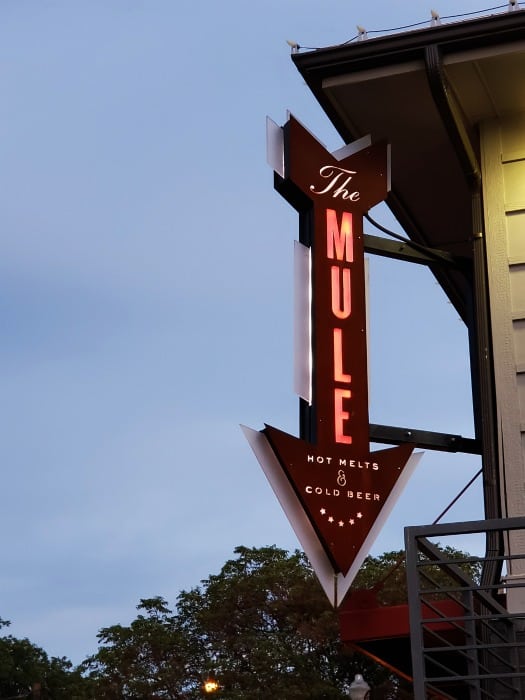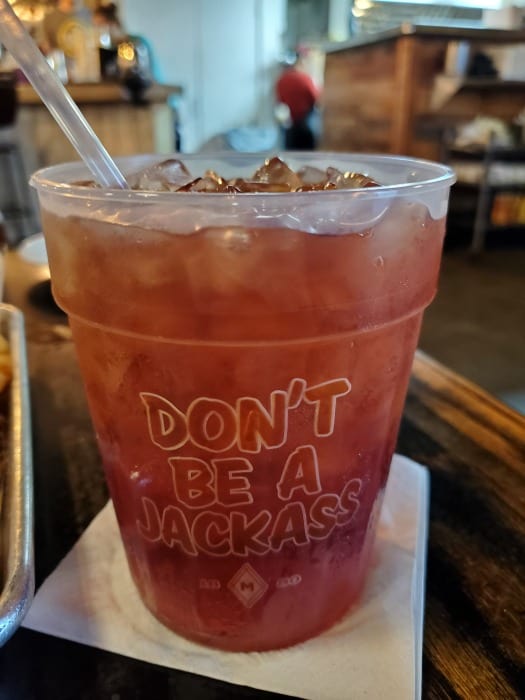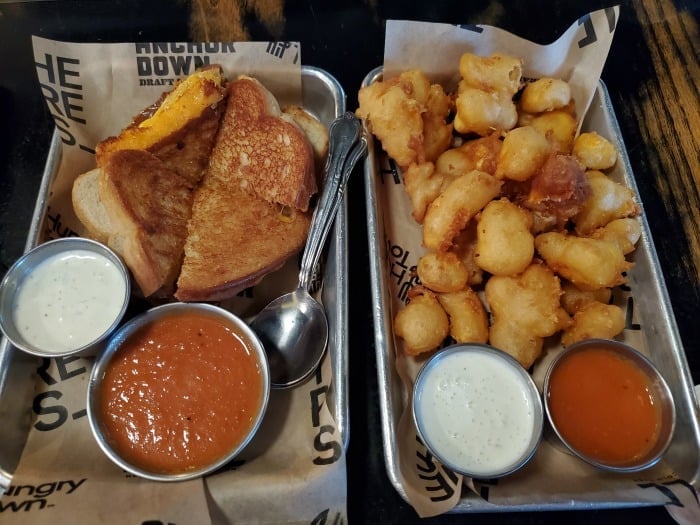 The Mule
The Mule offers cold beer and hot melts that include two of my favorite things...grilled cheese and cheese curds. LOL!
I mean seriously look at the size of those cheese curds! They are Watonga Cheese Curds Beer Battered and Fried with a Side of Marinara and Ranch.
Plus they have classic grilled cheese served with tomato soup dipping sauce and of course ranch. Because you will learn quickly that everything is served with ranch dressing in OKC!
They also have what may be the best to go cup I have seen in a really long time! You know I am loving my jackass cup at home thinking about returning to OKC.
Address: 1630 N Blackwelder Ave, Oklahoma City, OK 73106
Phone: (405) 601-1400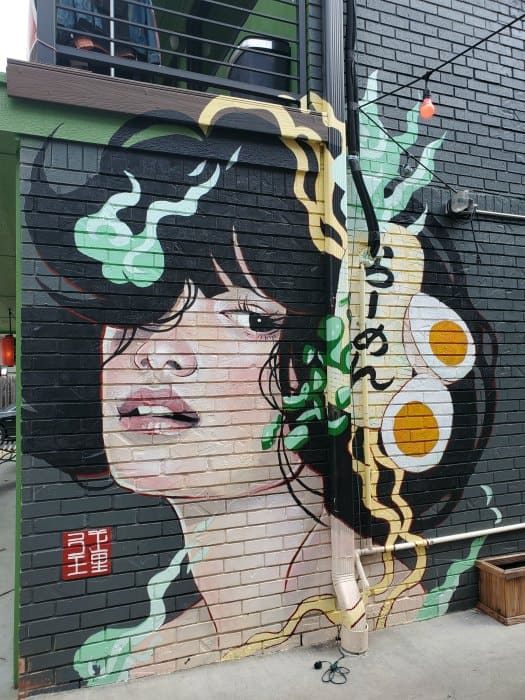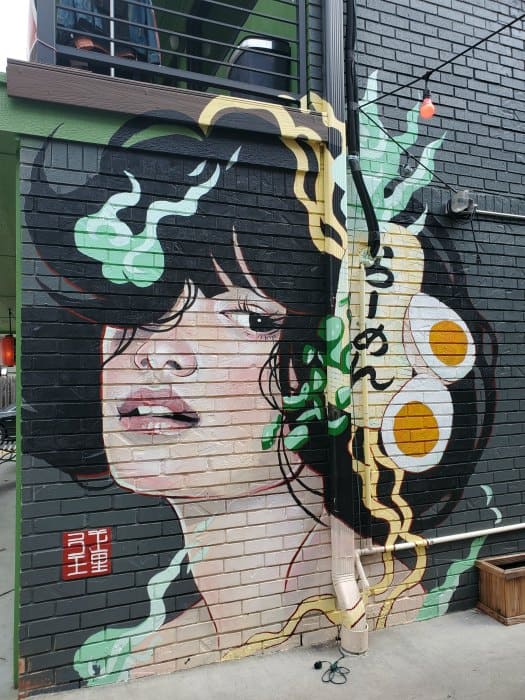 GORŌ RAMEN
Goro Ramen started as a pop-up dinner series called Project Slurp. It was so popular that it sold out every time.
The team behind the pop-up dinners decided to open Goro Ramen in the Plaza District to showcase not only their ramen but their menu inspired by the chef's travels around the world.
They have vegan and vegetarian snacks and ramen available including Yasai Ramen with vegan broth, tofu, roasted tomatoes, mushrooms, fried shallot, and Negi.
If you are looking for meat-based ramen check out the Tori Paiton with rich chicken broth, pork belly, menma (bamboo shoots), fried garlic, ajitama (seasoned eggs), and Negi (type of leek/spring onion).
Address: 1634 N Blackwelder Ave #102, Oklahoma City, OK 73106
Phone: (405) 606-2539
I hope this post helps you decide on which epic restaurants in Oklahoma City you want to check out! Please let us know which ones you try and which restaurants we have to visit next time we are in OKC!
I have to send a huge thank you to Visit OKC for hosting me during my last visit and giving me the chance to hang out with my amazing friend Amy from Mom Spark!
Additional Oklahoma Travel Articles
Atherton Hotel at Oklahoma State University
Things to do in Stillwater, Ok
Check out all of our Oklahoma Travel Guides