Homemade Apple Cinnamon Rolls are truly as amazing as they sound! These do take a bit of prep time but would make a great fall weekend breakfast!
As a bonus your house is going to smell ah-mazing! I wish I could bottle the scent of these baking! It would make the perfect Fall candle or scent.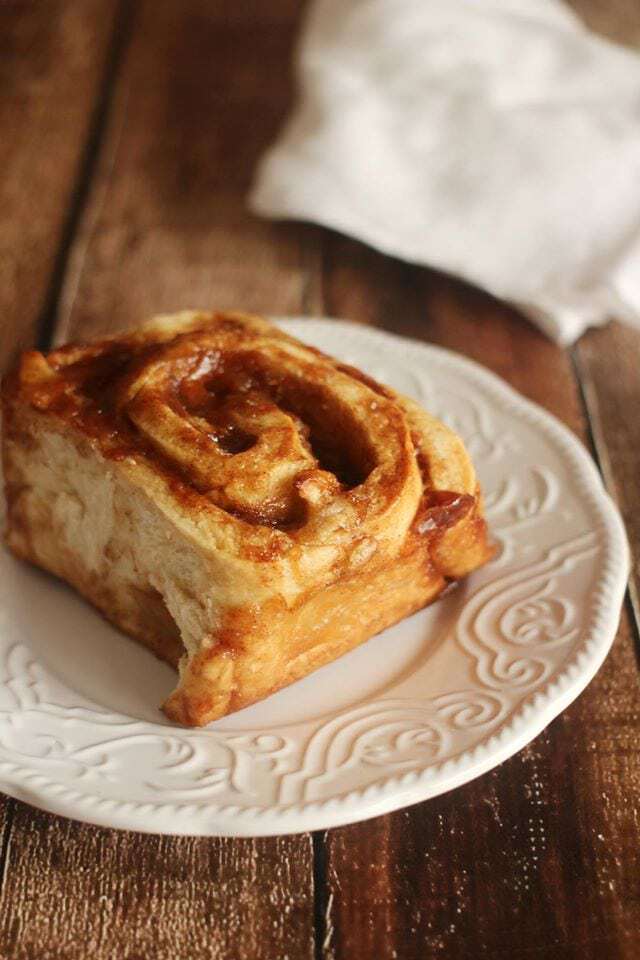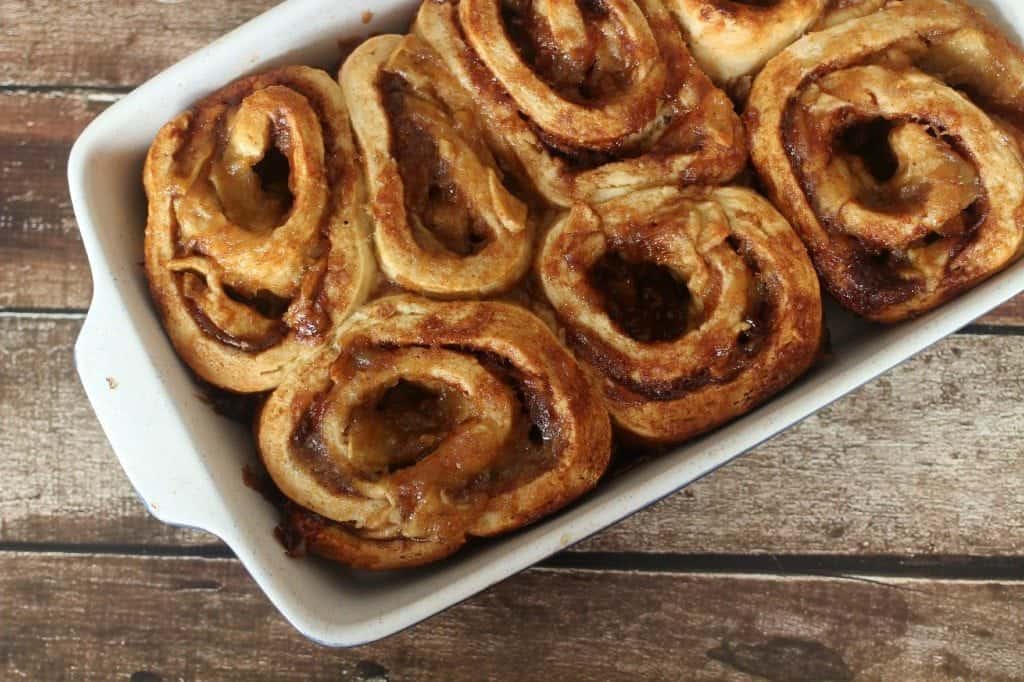 Homemade Apple Cinnamon Rolls
Favorite fall apple recipes:
Super Easy Crock Pot Apple Dump Cake
Caramel Apple Biscuits
Copy Cat Boston Market Cinnamon Apples
What is your favorite apple recipe?
Ingredients:
For The Cinnamon Roll Dough:
1 package Active Dry Yeast (2 ¼ tsp)
½ cup water, lukewarm
½ cup + 2 teaspoon sugar
½ cup milk, lukewarm
⅓ cup butter, melted
1 egg, room temperature
2 teaspoon salt
4 cups all-purpose flour
For the Apple Filling:
5-6 Medium Apples, peeled and chopped
2 Ttbsp Lemon Juice
½ cup Brown Sugar
½ cup Sugar
¼ cup Cornstarch
1 teaspoon Cinnamon
½ teaspoon Nutmeg
Salt
2 cups Water
4 tablespoon Butter, softened
1 cup brown sugar
2 tablespoon ground cinnamon
For the Icing Which Can Be Optional:
1 Cup Powdered Sugar
1 tablespoon milk
1 teaspoon vanilla extract
Directions
In a small bowl, stir together the yeast, water and 2 teaspoon sugar and let it sit until it foams up, about 10 minutes.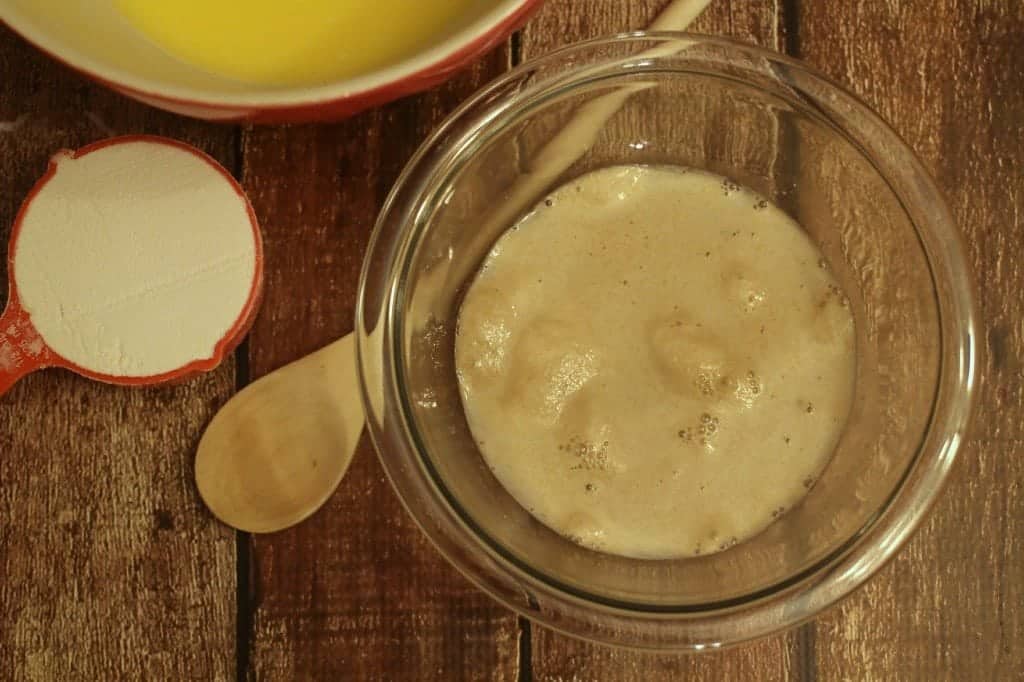 In a large mixing bowl add the milk, melted butter, egg, sugar, and salt and mix until well combined.
Add about half of the flour and mix until smooth then mix in the yeast mixture.
Slowly add the remaining flour until combined, if using a mixer you will have to switch to using your hands or a wooden spoon.
Remove the dough to a lightly floured surface and knead for about 5 minutes.
Put dough into a greased bowl, cover with a tea towel, and set aside to allow the dough to rise, about 2 hours.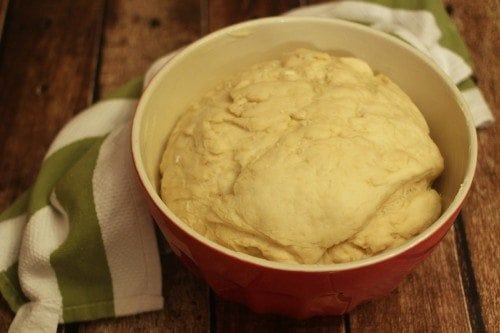 Meanwhile Toss the apples in a large bowl with lemon juice to keep them from browning and set aside.
Pour cornstarch into a large saucepan and slowly whisk in water to prevent the cornstarch from getting lumpy.
Mix in the sugars, cinnamon, nutmeg, and a pinch of salt and bring mixture to a boil over medium-high heat.
Allow to come to a hard boil, stirring constantly for 2 minutes.
Add the apples and bring back to a boil then reduce the heat to medium low and simmer for 15 minutes or until apples soften to the desired texture.
Remove from heat and set aside.
When dough has risen punch the dough down and remove from the bowl.
Roll the dough out on a well-floured surface into roughly a 16x24 inch rectangle
Spread the softened butter over the dough.
Mix the brown sugar with the cinnamon and sprinkle evenly across the butter.
Spread the apple mixture over top of the the brown sugar.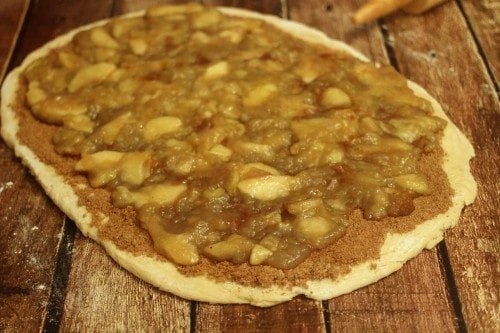 Roll into a log, starting lengthwise; the log should end up approximately 24 inches long.
Slice evenly to create the seperate rolls.
Line a 9x13 baking pan with parchment paper and place the cinnamon rolls in the pan, making sure they are not touching.
Cover with a clean dish towel and allow the dough to double again, about 2 hours.
Preheat the oven to 375°F.
Bake the rolls for about 22-25 minutes.
If a glaze is desired, mix powdered sugar, milk, and vanilla together with a whisk.
Drizzle the glaze over top of the cinnamon rolls and serve.