Oklahoma City is the largest city in the State of Oklahoma! There are so many amazing things to do in Oklahoma City that you will want to plan a return trip.
I-35, I-40, and I-44 all converge in Oklahoma City making it very easy to reach the city for a weekend getaway or vacation! In this post, we are highlighting some of the amazing Oklahoma City Attractions you do not want to miss during a visit.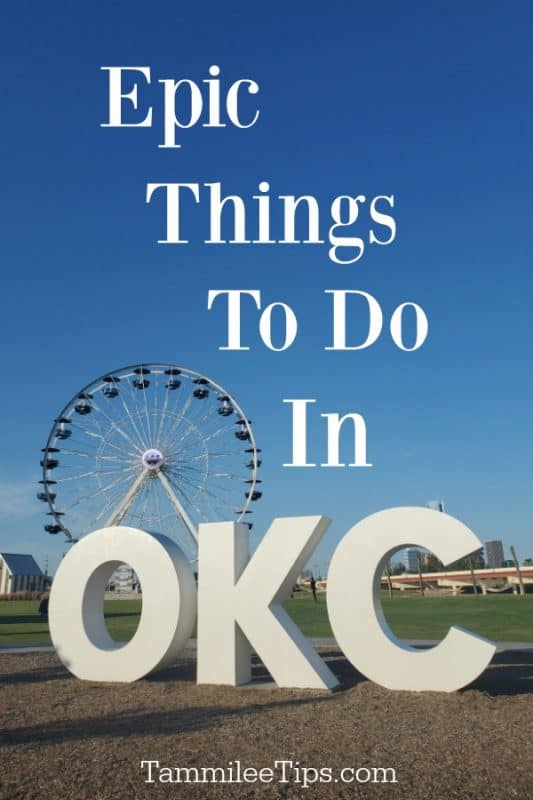 Things to do in Oklahoma City
When it comes to what to do in Oklahoma City make sure you plan to come hungry! There are so many amazing restaurants in OKC you will not go hungry!
Oklahoma City averages more than 300 days of sunshine per year so it is the perfect place to head to year-round!
On hot summer days, you can cool off at Riversport. If you happen to be in the city during one of the few non-sunny days you can soak in the tropical atmosphere in the Myriad Botanical Gardens.
You can also plan an epic romantic getaway in the heart of the city. There are truly so many amazing things to do in OKC it is hard to put them all in one post!
I had the chance to experience more of OKC with the help of Visit OKC who hosted me and my amazing friend, Amy, from Mom Spark who lives in Oklahoma for a girlfriends getaway. I am so excited to share with everyone all of the epic Oklahoma City things to do including amazing art murals, museums, sporting events and so much more!
Getting to OKC
Will Rodgers World Airport, offers nonstop service to and from 22 airports across the US.
OKC is within a day's drive of many other major metropolitan areas:
105 miles south of Tulsa, OK

162 miles south of Wichita, KS

205 miles north of Dallas, TX

353 miles southwest of Kansas City, MO

501 miles southwest of St. Louis, MO

680 miles southeast of Denver, CO
You can also ride Amtrak service via Oklahoma's Heartland Flyer which runs a 418-mile round trip between Oklahoma City and Fort Worth, Texas, daily, with stops along the way.
Gettings Around OKC
You can easily maneuver between all of the amazing Oklahoma City things to do by car, riding the OKC Streetcar, or taking a relaxing boat ride on the Bricktown Water Taxi. You can also jump on an EMBARK fixed route bus, rent a Spokie bike, or wander on foot.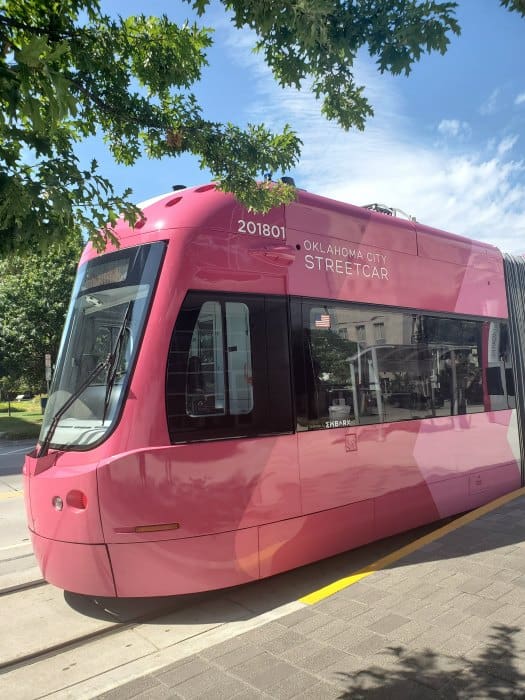 Oklahoma City Streetcar
The OKC Streetcar is an attraction in itself! For only $3 a day you can check out the top Oklahoma City Attractions! Running throughout Downtown, Bricktown, Automobile Alley, and Midtown. the streetcar connects the city's most popular districts! Park your car and spend the day exploring this vibrant city.
The Oklahoma City Streetcar is the most extensive streetcar in the United States covering six miles of tracks.
Website - OKCStreetcar.com
Parking close to the streetcar route can be found at parkingokc.com.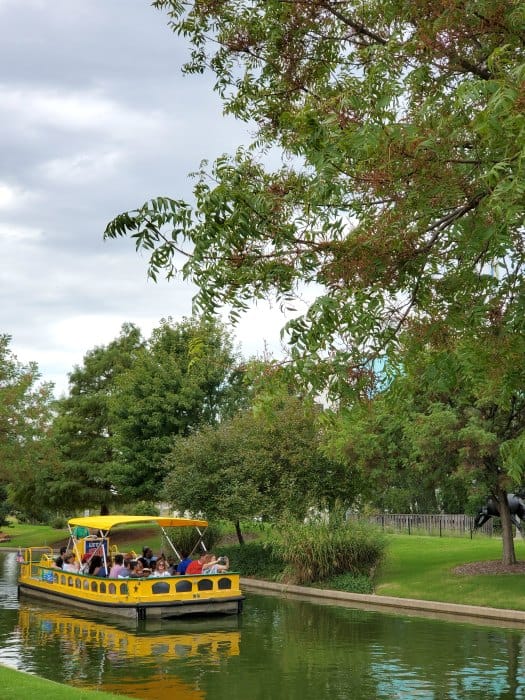 Bricktown Water Taxi on the Bricktown Canal
Need to take a break and give your feet a rest? Check out the Bricktown Water Taxi which runs through Bricktown Entertainment District down to the Boathouse District.
It takes 40 minutes to ride roundtrip and learn all about OKC's history and what is happening in town now. Boats run continuously every 10 to 15 minutes and tickets are good all day.
Website - BricktownWaterTaxi.com
Driving in OKC
I rented a car at the Will Rodgers Airport for my trip. I found it was super easy to maneuver my way through the city with my phone GPS. You will definitely want to use google maps or a GPS service to find your way in and out of the districts.
There is a ton of parking spots available around town for a couple of dollars an hour. Make sure and take a photo of your license plate so you have it when you go to print a parking pass. Many of the parking spaces are only available for two hours so you will want to set an alarm on your phone or remember how much time you have.
If you do not want to have to worry about the two-hour street parking limit there are parking garages available around town.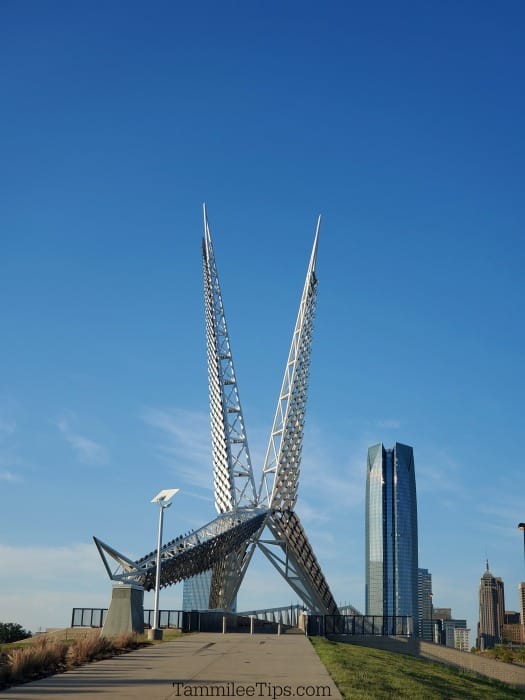 SkyDance Pedestrian Bridge
Inspired by the "sky dance" of Oklahomas State Bird the Scissortail the SkyDance Pedestrian Bridge is one of OKC's great unique attractions. You can walk over the 380-foot-long pedestrian bridge near Robinson Avenue south of downtown Oklahoma City. The bridge can be accessed at Western Avenue or Robinson/Shields Avenue.
SkyDance Bridge is next to the new Scissortail Park! It is also close to Hubcap Alley which is an area of town that is being developed into the second portion of Scissortail Park. In 2021 another 30-acres of green space is scheduled to open in this area.
The SkyDance Bridge is amazing at night when it is all lit up.
Oklahoma City Districts
There are 14 unique districts that make up Oklahoma City. Each of the districts offers amazing places to eat in OKC, cool attractions, fun shopping, and more. I am going to break down the 14 main districts and what you don't want to miss while visiting each one.
One thing to know is the districts are part of Downtown Oklahoma City. When you ask about Downtown OKC you will most likely get sent to a specific district.
Adventure District
The Adventure District is home to the National Cowboy & Western Heritage Museum, Oklahoma City Zoo and Botanical Gardens, Science Museum Oklahoma and more. This district is filled with great family fun!
Arts District
Are you looking to experience an up and coming district in the heart of downtown Oklahoma City? If you answered yes you will love the Arts District. It is home to film row, the Flashback RetroPub, 21c Museum Hotel and more.
Asian District
The Asian District is home to some of the best Asian restaurants in OKC. From traditional Vietnamese noodle soup to Pho you can find great food options here. Also, look for the Milk Bottle Building which is listed on the National Register of Historic Places. The Milk Bottle Building is along old Route 66 and was built in 1930.
Automobile Alley
North of Downtown OKC the Automobile Alley district used to be home to the city's car dealerships. You can still see many of the dealership neon signs that hang from the buildings.
Boathouse District
The Boathouse District sits along the Oklahoma River and is a hotspot for outdoor recreation. You can enjoy the thrill of whitewater rafting at RIVERSPORT Adventure Park.
You can climb to new heights on the 80-foot SandRidge Sky Trail then zip line across the Oklahoma River or free fall from the Rumble Drop.
Bricktown
Bricktown is a short walk from downtown OKC and is filled with restaurants and entertainment fun! This is the place to enjoy a ride on the Bricktown Water Taxi, check out an Oklahoma City Dodgers game at Chickasaw Bricktown Ballpark or enjoy a play date at Brickopolis.
Bricktown has more than 45 restaurants, bars, and shopping destinations. This area was originally Oklahoma City's warehouse and distribution center which has now turned into a 24/7 entertainment area.
City Center
This downtown district is filled with some of OKC's top attractions including the Oklahoma City National Memorial and Museum,
Deep Deuce
Located just north of Bricktown the Deep Deuce District was the heart of Oklahoma City's African-American neighborhood in the 1920s and '30s. During this time the district was known for its jazz music including famous jazz musicians Jimmy Rushing and Charlie Christian who called this area home.
Midtown
Midtown is located on the northern edge of downtown just west of Automobile Alley. The district is filled with a mix of local restaurants, pubs and fun unique shops. Don't miss Dust Bowl a 12-lane bowling alley that has retro-inspired decor perfect for your next Instagram photo.
Paseo Arts District
This small neighborhood just north of downtown is home to nearly 80 working artists and 20 art studios. Don't miss the First Friday Gallery Walk each month on the first Friday of the month from 6 to 10 pm.
Plaza District
Named for the historic Plaza Theater that was built in 1935 this part of town is hip, cool and filled with fun.
You don't want to miss the plaza walls which are epic murals painted along an entire alleyway. There are great restaurants and super cute boutiques along 16th street. Parking can be a bit interesting but if you go a block or two off the main street you can find street parking.
Stockyards City
Stockyards City is home to all things Western! From clothes to the food you can experience it all. Home to the world's largest feeder and stocker cattle market the Oklahoma National Stockyards. You can also dine at the oldest continually operating restaurant in Oklahoma City the Cattlemen's Steakhouse.
Uptown
If you are looking for a local favorite then you definitely do not want to miss the Uptown District. Great OKC Restaurants can be found in this area.
Western Avenue
If you are looking for great shopping along with fun dining options you will love Western Avenue. You can find everything from fancy to local dives along Western Avenue.
Oklahoma City Attractions
Make sure to check the Visit OKC Deals page for discounts to some of the great attractions in Oklahoma City!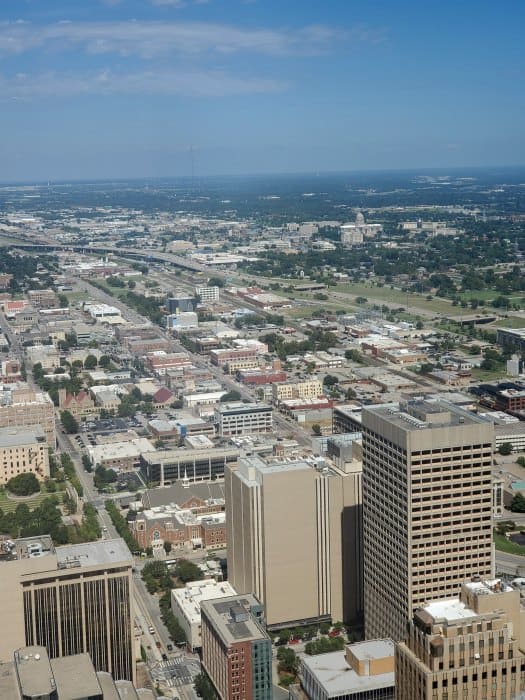 Dine at Vast
If this is your first time to OKC or you love checking out epic views you need to check out Vast restaurant in the Devon Energy Building.
The restaurant is 726 feet above ground level. You can enjoy epic views that feel like you can see to Texas. Though I know that is probably not true.
At lunch, they offer an upscale buffet called the daily table for only $19.95! We went on my first day in town and it was amazing.
I loved being able to figure out where the different districts and attractions in OKC are. You can see the state capitol building, Myriad Gardens, Scissortail Park and so much more. Plus the food was honestly delicious.
How can you go wrong with key lime pie and creme brulee available for dessert? YUM!
This was one of my favorite OKC Restaurants we visited. The view alone makes it worth visiting and then the food was also amazing.
Address: 333 W Sheridan Ave 49th Floor, Oklahoma City, OK 73102
Inside the Devon Tower. There is a separate entrance for Vast. Keep an eye out for the signs in the main lobby area.
Make a Reservation: 405.702.7262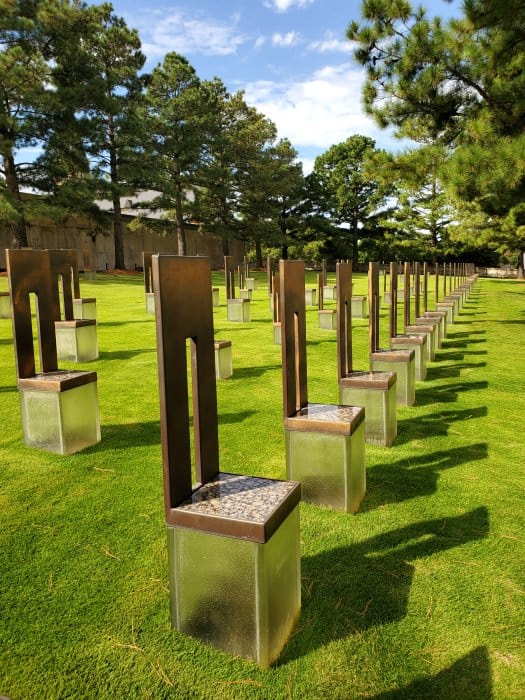 Learn more about the events of April 19, 1995, when the bombing of the Alfred P. Murrah Federal Building occurred. The Oklahoma City Memorial recently underwent a $10 million dollar renovation which included upgrading the museum with state of the art technology, new artifacts, and hands-on exhibits.
You can see detailed information on the investigation into the Oklahoma City Bombing including the vehicle Timothy McVeigh was driving when he was pulled over and arrested. There is also a new 40-foot glass overlook that was added to the museum creating a connection between the museum and the memorial.
I will tell you to plan more time than you think the museum is going to take. We talked to people who thought they would be there for an hour or two and left four hours later. The museum is filled with information and videos.
I honestly wasn't sure how I was going to feel during our visit. I remember the OKC bombing happening while in college and I thought visiting the museum might be overwhelming. What I found was a museum that is built to showcase the Oklahoma Standard.
The Oklahoma Standard core tenets are Service, Honor, and Kindness. These tenets were seen when the Oklahoma City Bombing happened. People ran towards the Alfred P. Murrah Building to help.
Today you continue to see residents of OKC living the Oklahoma Standard tenets.
Address: 620 N. Harvey Ave., Oklahoma City, OK 73101
Website: OklahomaCityNationalMemorial.org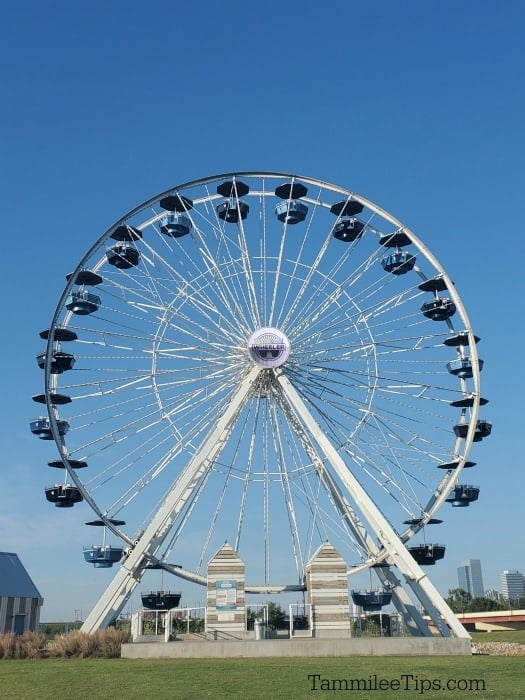 Wheeler Ferris Wheel
Can you imagine buying a Ferris Wheel on eBay? That is exactly what happened in 2008 when the Wheeler Ferris Wheel was purchased. Originally located at Pacific Park on the famed Santa Monica Pier the Wheeler Ferris Wheel was bought and moved to the south shore of the Oklahoma River.
The Ferris Wheel stands 100 feet high and offers epic views of the OKC skyline and sunsets. Over $1 million was invested to refresh and refurbish the Wheel.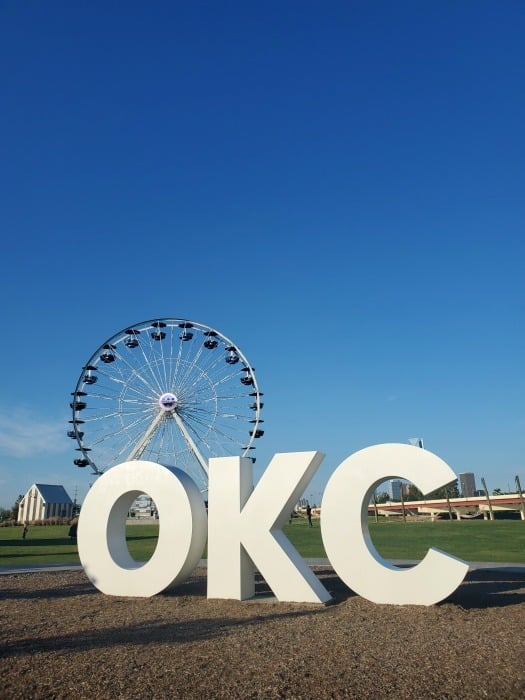 Don't miss the iconic OKC Sign perfect for Instagram shots!
There are lawn games, picnic tables, and a fun mural painted on shipping containers near the ferris wheel. The covered pavilion looks like a great place to relax for a picnic or catching up with friends.
Address: 1701 S Western Ave, Oklahoma City, OK 73109
Myriad Botanical Gardens
Myriad Gardens is a 15-acre public park located in downtown Oklahoma City. You can enjoy Twilight Concerts all summer long. On Wednesday nights during the summer you can bring a blanket and picnic and enjoy outdoor movies.
Located in the Myriad Botanical Garden don't miss the Crystal Bridge Tropical Conservatory. It is 224 feet long and covered by 3,028 translucent acrylic panels. You can experience two climate zones including 1,200 varieties of plants from every continent in the world except Antarctica including more than 2,500 orchids and a waterfall.
I did not have a chance to visit Myriad Gardens during my visit but it is high on my list for when I head back to OKC. I did hear that it can be very humid inside the gardens. You may want to plan for warm humid air when planning your visit.
Address: 301 W. Reno Ave., Oklahoma City, OK 73102
Website: oklahomacitybotanicalgardens.com

Scissortail Park
Scissortail Park is an epic new space in Oklahoma City! Scissortail Park includes an outdoor bandshell, water features, outdoor roller rink, enclosed dog park, boathouse, children's playground, gardens, a lake and more!
You can rent paddleboards and other water activities, there are multiple gardens spread around the park, tons of events including food trucks and yoga classes and so much more.
Scissortail Park is for everyone and you will love it! Pack a picnic and hit the park for a great time under the sun!
Address: 301 W. Reno Ave., Oklahoma City, OK 73102
Website: scissortailpark.org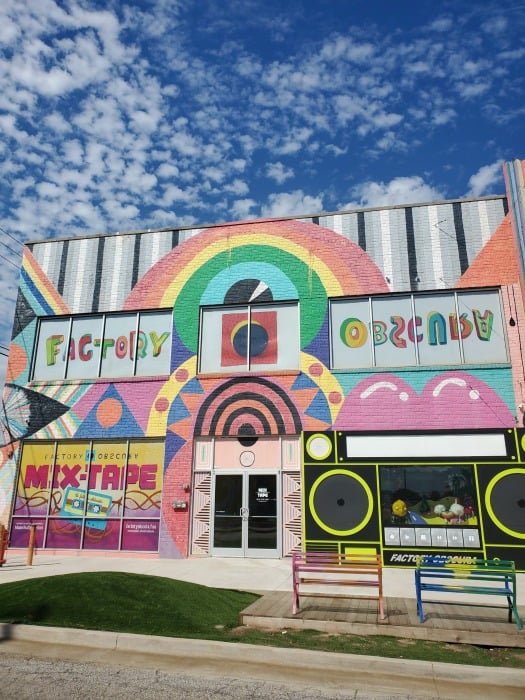 Factory Obscura
The new installation at Factory Obscura opened on September 21st, 2019! This immersive art experience is located in "The Womb" which is an art venue developed by Flaming Lips front-man Wayne Coyne.
If you are looking for fun Instagram photos in OKC this is the place to go!  I was blown away by how much fun we had exploring Factory Obscura. We went on a weekday during the middle of the day and were able to explore the entire exhibit without a huge crowd.
Trust me when I say you want to plan time to explore and take photos in the exhibit spaces. They are immersive and so dang cool! Truly you never know what you are going to see around the next corner.
We giggled our way through while taking a ton of fun photos! I would happily go back, again and again, to see how they are changing and updating the exhibits.
I will share more photos in the future but don't want to give away all of the surprises before you visit!
If you have anyone in your group that has sensory issues you may want to have someone walk through the exhibit first. There is music, flashing lights, and a lot to see and absorb in the space. We had the place almost entirely to ourselves and there were a few moments I had to close my eyes and take a deep breath.
It is truly an amazing experience but one you will want to be prepared for if you have any sensory responses.
One of the employees told us that they plan to double in size in the upcoming years. They are also working to be fully accessible including adult changing tables and incredibly accessible bathrooms.
Address: 25 NW 9th St, Oklahoma City, OK 73102
Website: factoryobscura.com
Oklahoma City Zoo
Get wild at the Oklahoma City Zoo! You can enjoy seeing wildlife from around the world. The zoo also offers VIP Safari Tours, an Elephant Express Tram, a giraffe feeding platform, sea lion presentations, 1863 replica train, one-of-a-kind carousel with 42 endangered animals, children's zoo barnyard, ask a keeper shows, and more!
The Elephant Express Tram is a lifesaver on a hot sweaty humid day or when your feet are just done. It is $6 a person and takes you on a leisurely ride through the park while learning more about the exhibits.
It was HOT the day we visited the zoo and honestly this Spokane girl is not used to humidity so the elephant express tram was a huge blessing for my tired body. We got to learn a ton about the exhibits in the park while resting our feet and enjoying a cool breeze as we went around the zoo.
The Elephant Express Tram is $6 person with children two and under are free with paying adult.
One tip is to make sure and check the OKC Zoo experiences page before your trip to the zoo so you know what time each activity is scheduled. The Giraffe Feeding Platform is only open twice a day so you will want to plan ahead for these experiences.
If you are interested in the zoo's history as one of the oldest zoo's in the country make sure and check out the Patricia and Byron J. Gambulos ZooZeum. This one of a kind museum is housed in a historic 1935 Works Projects Administration building near Sanctuary Asia.
This is truly one of the Best Zoos in the United States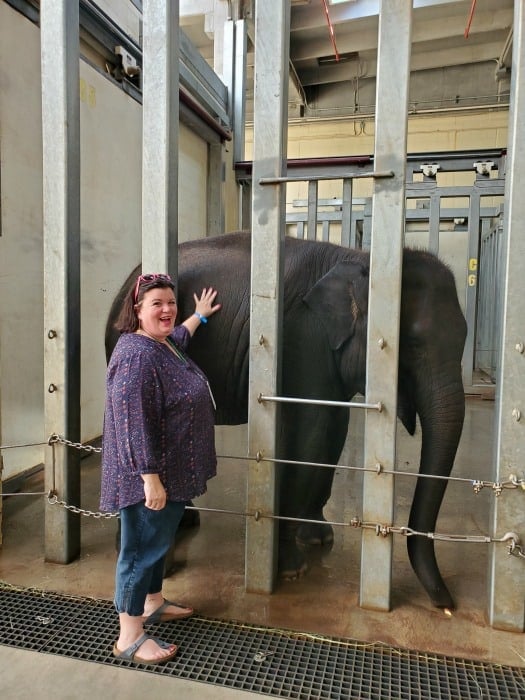 OKC Zoo Elephant Experience
Have you ever wondered what the rolls on an elephant feel like? Have you ever wanted to go behind the scenes and learn about the work zookeepers do with the animals? If you answered yes to either of these you will love the OKC Zoo experience program.
Amy and I had the chance to do the Elephant experience and it was honestly amazing!!! I mean seriously I got to give Achara who is almost five years old a massage and it was pretty darn epic.
The zookeepers were amazing at answering our questions and handling our sheer joy over getting to meet Achara.
You can book behind the scenes zoo experiences with the grizzly bears, flamingos, elephants, rhinos, Galapagos Tortoises, and sea lions. I am going to admit that I would like to sign up for every one of these and spend an entire day just doing zoo experiences and learning more about the animals.
Address: 2000 Remington Place, Oklahoma City, OK 73111
Website: OKCzoo.org
The Zoo is open daily from 9:00 a.m. to 5:00 p.m. except for Thanksgiving and Christmas.
Orr Family Farm
Have you ever dreamed of staying in a Conestoga Covered Wagon? Orr Family Farms recently added 13 historic Conestoga wagons for overnight stays! You can live your Oregon Trail dreams in Oklahoma City.
Orr Family Farms offers a ton of family-friendly activities including a fully-restored 1974 vintage carousel, pony rides, giant jumping pillows, fishing, a petting farm and more.
Address: 14400 S. Western Ave., Oklahoma City, OK 73170
Website: orrfamilyfarm.com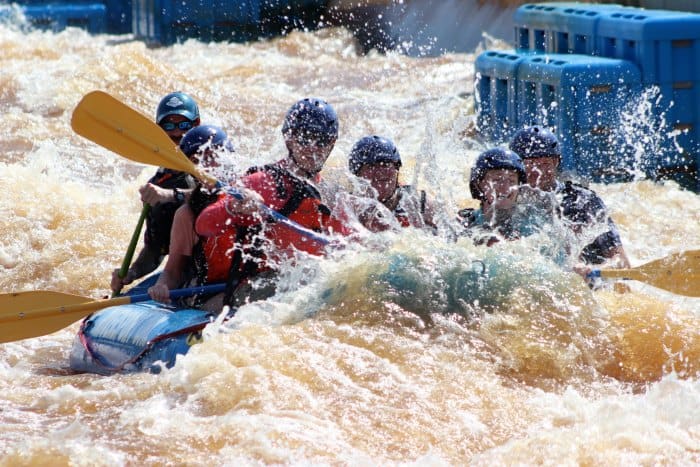 RIVERSPORT
Soon you will be able to take surfing lessons in Oklahoma City! While we wait for the new Flowrider to be built you can still get wet and wild enjoying white water rafting in OKC! Spend the day taking on Class II-IV whitewater rafting in the heart of Oklahoma City at RIVERSPORT Rapids.
White Water Rafting
We had the opportunity to experience Riversport and I still can't believe I went white water rafting in the heart of Oklahoma City!
There are so many things I want to tell you about this experience. lol! I am going to admit that I did a few pre-prayers that I wouldn't fall out of the raft during our experience. I honestly might have been praying the entire rafting trip while also laughing like a crazy person because it was so much fun.
You have to wear closed-heel shoes for the experience so make sure you pack a pair of tevas, chacos or tennis shoes you do not mind getting wet. I would suggest wearing a swimsuit with a pair of shorts. Many people who went while we were there had on gym clothes and tennis shoes. If you want to wear glasses or sunglasses you will need to have a strap that holds them to your head.
Plan to bring a bag to hold your wet clothes because you are going to get WET! Trust me when I say that there will not be many spots on your body that are dry after you take the rapids.
You will need to wear a life jacket and helmet during your rafting experience. If you are plus size the life jackets extended pretty large and were actually comfortable. The guides can help you make sure the jacket is on properly and sitting correctly. I did not have any problems fitting into the life jacket or the helmet.
Don't forget to put on sunscreen like I did. You will want to make sure you are coated before your trip since you are about to spend an hour out on the water in the OKC Sunshine. My poor cheeks and nose were hot pink after our trip. Oops!
Riversport does take reservations which are highly recommended. If you want to be with your friends in the raft make sure and sit together for the safety briefing and let the guide know how many are in your group. We broke into groups of 6 people for each raft.
Our guide Ron was fantastic he made us feel very comfortable during our rafting trip.
I would suggest doing Riversport towards the end of your trip to OKC. I was definitely sore the few days after our trip. My body reminded me that I do not normally raft or attempt to paddle a raft very often and my poor muscles were not happy. I was so happy we went the day before I flew home so I just had to deal with sore muscles on my flight and once I was home relaxing.
Don't worry about not having any photos of your white water adventure. There is a photographer on site who will take pics during your rafting trip. You will be able to access them online and choose if you want to download them.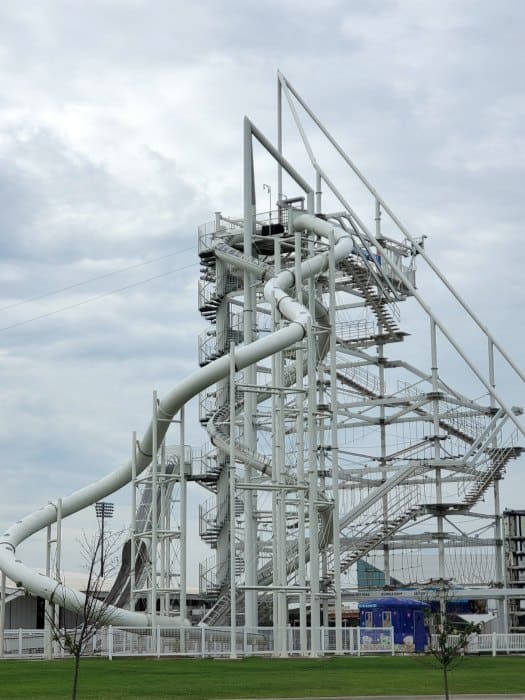 SandRidge Sky Trail
If you love adventure you are going to love the SandRidge Sky Trail! It is the tallest adventure course of this type in the world! As you climb higher and higher the obstacles get more difficult.
There are six levels of challenges spread over the 80-foot structure. You can even slide down the 72-foot sky slide, zipline across the Oklahoma River or drop to the ground 80-feet with the Rumble Drop.
You can purchase adventure park passes that include both white water rafting and the SandRidge Sky Trail along with the climbing wall, sky tykes, kids zip, cloud bounce and more.
The Riversport complex can be a complete day worth of fun!
Address: 800 RIVERSPORT Drive, Oklahoma City, OK 73129
Website: riversportokc.org
Frontier City Theme Park
Oklahoma's only amusement park features over 40 acres of family fun! In 2019 Frontier City introduced the all-new Timber Town zone dedicated to young thrill-seekers. You can enjoy the brand new Frankie's Mine Train, Billy's Frog Hopper, Rocky's Ranger Planes, and Sheldon's Sea Adventure in this new zone!
Address: 11501 N. I-35 Service Rd., Oklahoma City, OK 73131
Website: sixflags.com/frontiercity 
Oklahoma State Capitol
The Oklahoma City Capitol is the only state capitol in the nation with a working oil well on its grounds. You can also see the Oklahoma Veterans Memorial on the north side of the capitol complex.
Address: 2300 N. Lincoln Blvd., Oklahoma City, OK 73105
Oklahoma City Water Parks
White Water Bay is becoming Six Flags Hurricane Harbor Oklahoma City with the new name comes new rides in 2020!
Check out these great Indoor Water Parks.
OKC Ale Trail
There are more than 40 licensed breweries in Oklahoma with Oklahoma City being at the heart of the beer culture. A few of the breweries you don't want to miss include the Angry Scotsman, Anthem Brewing Company, Twisted Spike, Stonecloud, Elk Valley, and Coop Ale Works. These are just a few of the great Oklahoma City Breweries.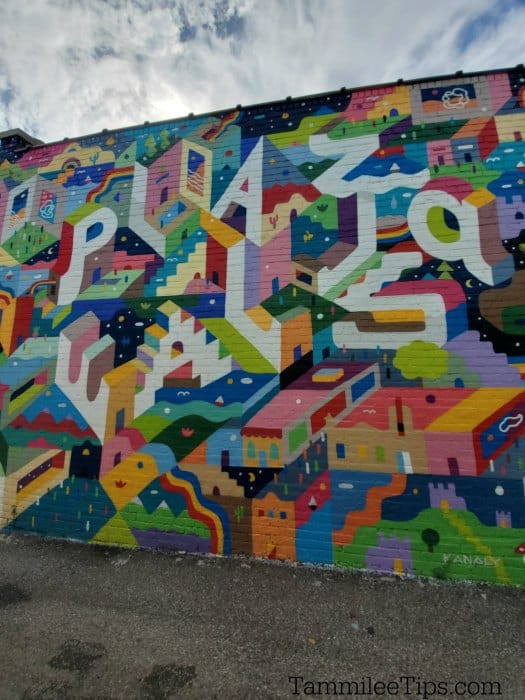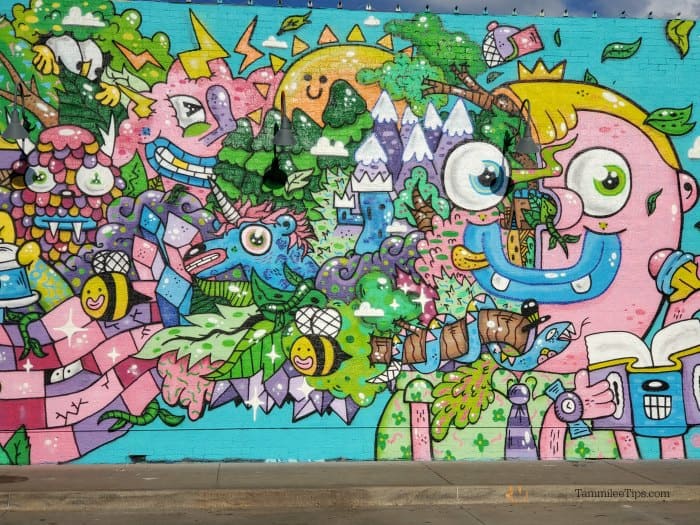 Plaza Walls
If you love murals and outdoor art you will love the Plaza Walls in the Plaza District. There is an entire back alley of buildings covered in epic murals.
The entire block of buildings is covered in murals that are changed out quarterly and sometimes yearly by local artists. In September during Plaza District Festival the walls are updated and there is a killer street festival.  We had so much fun watching the artists take spray paint and turn it into epic huge murals.
Make sure to plan time to wander around the Plaza District checking out all of the murals and super cute boutiques filled with local OKC merchandise.
There are also great Plaza District Restaurants OKC including Press, The Mule, Pie Junkie, and more!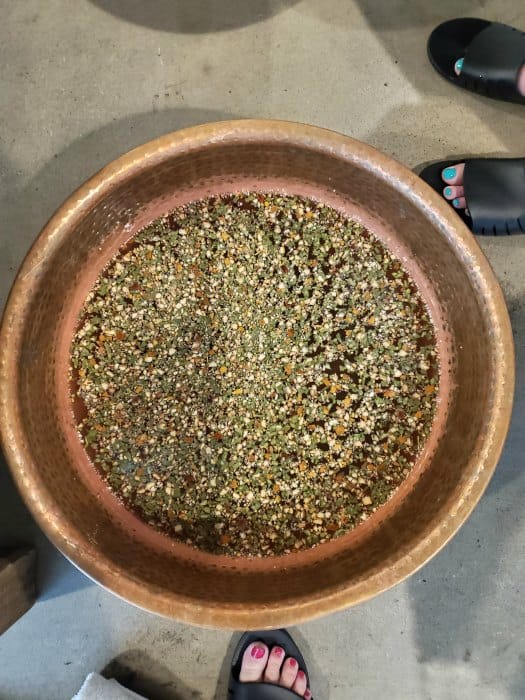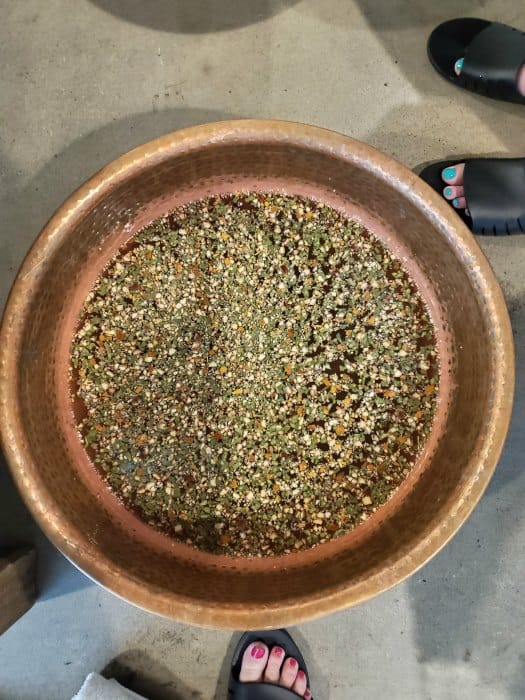 Udånder
Udånder translates to "exhale" in Danish and you can take a deep breath and relax at this day spa in the heart of OKC.
One thing that always seems to happen when exploring an amazing city is my feet get sore and I just want to soak them until they feel better. Enter in Udander in the heart of Downtown OKC.
You can book an hour or longer appointment to enjoy a foot soak, eucalyptus steam room, and aspen cedar sauna. They also offer amazing facials, soaking tubs and massages.
We had the chance to choose which blends of natural oils and herbs we wanted in our foot soaks. I went with the geranium, eucalyptus, and orange peel soak. The sheet said that this soak helped to re-energize and soothe sore muscles, uplift your spirits and help with pesky allergies.
I could have spent all day soaking my feet and been super happy. I did notice that they have gorgeous bathtubs that you can also schedule a soak in and may have to make that happen during my next visit. Plus they have horoscope facials which I really want to experience. You tell your aesthetician your birthday, time of birth, and location and they tell you more about your astrological sign while you relax during your facial.
Udander hours are split each day so they are open specific hours for women and separate hours for men. These hours change daily so you will want to check their website and make a reservation.
Address: 131 Dean A McGee Ave #105, Oklahoma City, OK 73102
Website: udander.com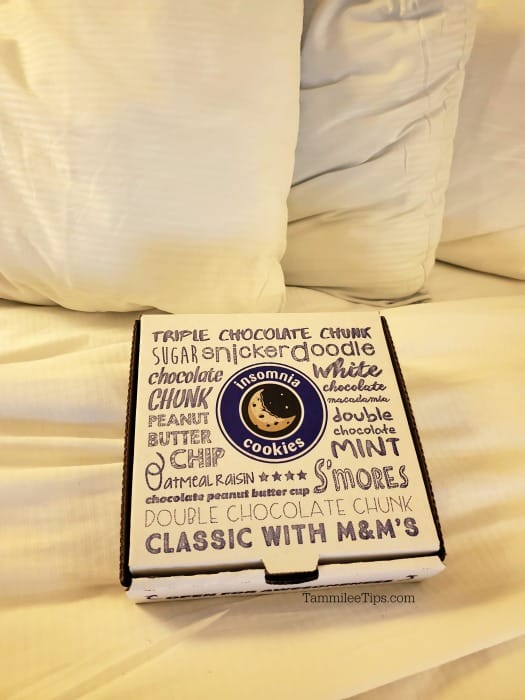 Insomnia Cookies
You guys I have the coolest thing that you have to do while in OKC!!!! I am so in awe of how fun this was and how great they tasted. You HAVE to order insomnia cookies delivered to your hotel. You can order online and choose from a ton of different cookie options.
Insomnia Cookies bakes the cookies when you order them and they are delivered to your hotel room. Our cookies were still semi-warm which is amazing considering they had to drive them to the hotel.
I had the snickerdoodle and chocolate chunk cookies and honestly would happily ship these to my house in Spokane. They were so dang good! The specialty cookies look amazing. Next time I can't wait to try the chocolate peanut butter cup or the smores cookies.
They deliver until 3 am so this is the perfect late-night treat while traveling!
Address: 1131 N Walker Ave, Oklahoma City, OK 73103
Phone: (877) 632-6654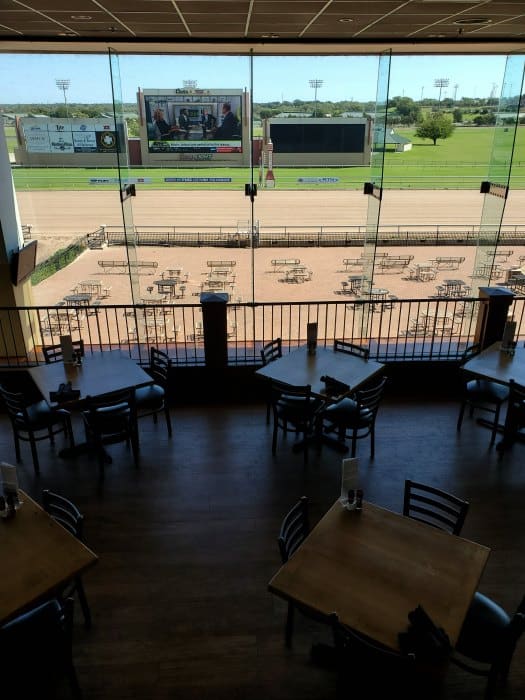 Remington Park
Remington Park has an onsite casino and horse racing track along with a great Bricktown Brewery location. We had lunch in the Bricktown Brewery and it has killer views of the race track. We did not get to see a horse race sadly but I did win $63 at the casino.
During the year Remington Park has two horse racing seasons including American Quarter Horses in the spring and Thoroughbreds in the fall.
There is free valet parking next to the casino entrance along with free general parking.
Address: 1 Remington Pl, Oklahoma City, OK 73111
Phone: (405) 424-1000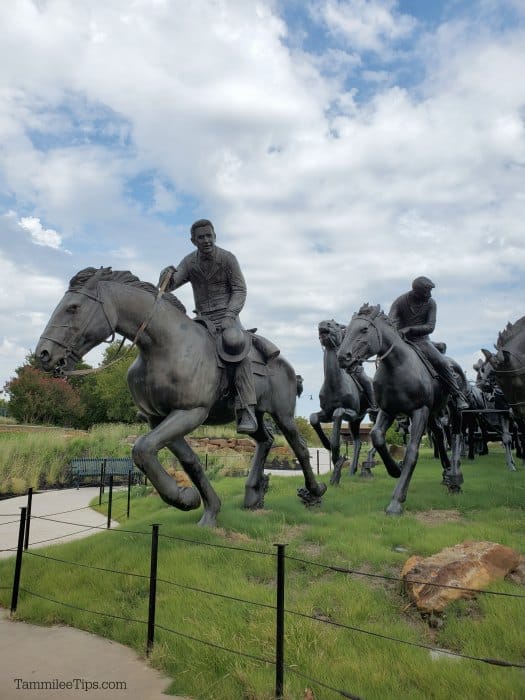 Oklahoma Land Run Monument
The Oklahoma Land Run monument includes 45 large sculptures that commemorate the 1889 Land Run in Oklahoma. The figures depict people racing to claim new homesteads.
This monument is huge! You can see it on a Bricktown Taxi tour or by walking through the city park that surrounds the monument.
Address: In the back of the Bass Pro Shop parking lot at the end of the Bricktown Canal
Museums in OKC
When I started researching museums in Oklahoma City I was so excited to see so many amazing and unique museums! It is not often you see a banjo museum, rattlesnake museum and telephone museum in the same place.
There is truly a museum for everyone within OKC. You could spend days diving into all of them and learning more about some truly unique history.  I know that not all of these museums are probably your thing but I am hoping you find one or two that interest you.
American Banjo Museum
At the American Banjo Museum, you can check out the largest collection of banjos on public display in the world.  Learn more about the banjo from its roots in African music to how it is currently used in music.
The American Banjo Museum is 21,000 square feet world-class museum honoring the history and spirit of the banjo. The museum has more than 300 instruments which are the largest collection of banjos on public display in the world.
Some of the instruments you can see include replicas of primitive banjos developed by African slaves in the Old South. Instruments fro the 19th century, and ornately decorated banjos made in the United States during the 1920s and 30's jazz age.
Address: 9 East Sheridan Avenue, Oklahoma City, Oklahoma
Website: americanbanjomuseum.com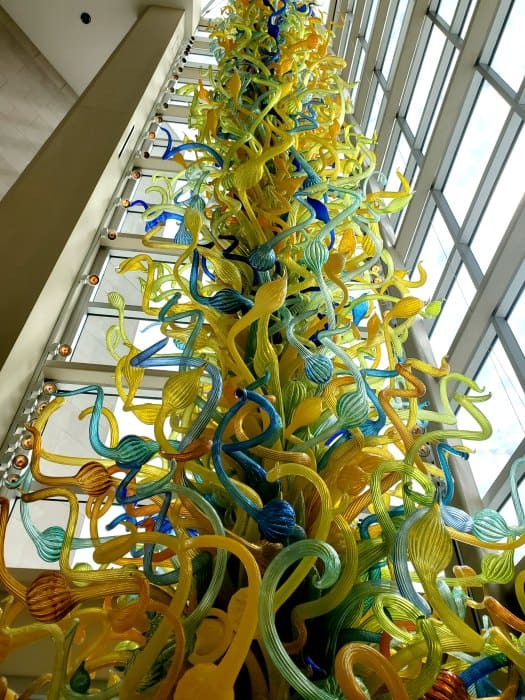 Oklahoma City Museum of Art
The OKC Museum of Art houses one of the world's most comprehensive collections of Dale Chihuly glass! You don't want to miss the 55-foot Eleanor Blake Kirkpatrick Memorial Tower in the museum atrium. It is truly awe-inspiring.
There are over 110,000 square feet within the museum of art that are divided into 15 exhibition galleries, an education center, 250-seat theater, store, cafe and library/resource center.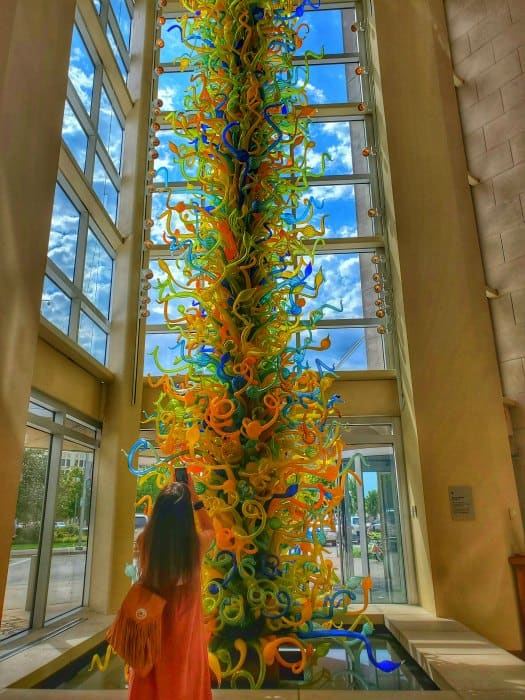 You will want to plan time to truly dive in and explore the museum. The Chihuly exhibit is breathtaking. We could have easily sat on a bench and just stared in awe at the glass boats and feature pieces.
The Oklahoma City Museum of Art has fantastic backpacks set up to help young kids explore the museum. You can find them on a rack on each level of the museum.
Address - 415 Couch Drive, Oklahoma City, OK 73102
Website - OKCMOA.com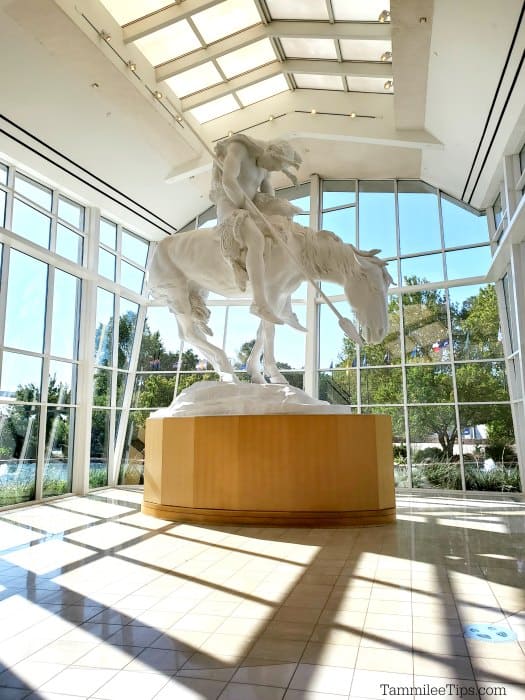 National Cowboy & Western Heritage Museum
Founded in 1955, the National Cowboy & Western Heritage Museum is America's premier institution of Western history, art, and culture.
The museum is filled with classic and contemporary Western art. You can view works by  Charles Russell, Frederic Remington, and the End of the Trail 18-foot sculpture.
Plan for at least an hour or more to visit the museum. If you are really into western heritage and art you could easily spend the entire day exploring the museum.
There are a lot more exhibits than I thought there would be. It feels like you are wandering a maze of art and exhibits. Around every corner is something new and a fun surprise.
There is no way to see everything in a single day! Thankfully there are museum docents and hosts to help you make the most of your time in the museum.
A few exhibits not to miss include the Native American Gallery, Western Performers Gallery, and the Frontier West Gallery.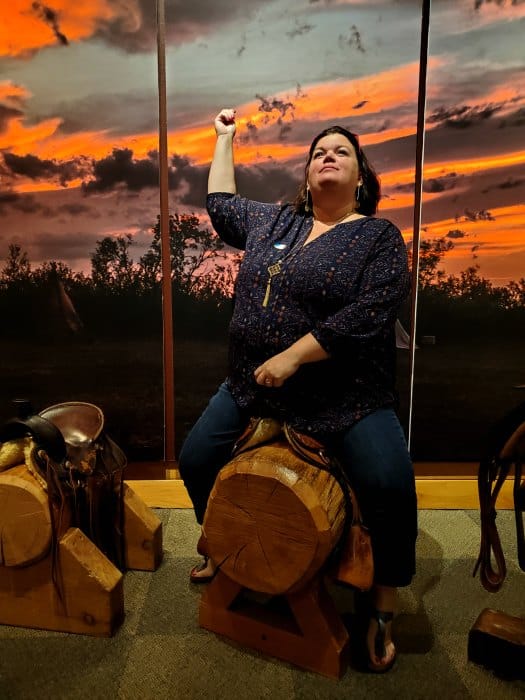 The museum has great designated selfie spots for fun photos.
A new hands-on learning area called Liichokoshkomo', the Chickasaw phrase for "Let's play" will open in Spring 2020. This new area will encourage children and families to explore Western heritage.
After I visit I learned there is a large outdoor garden and sculpture area that looks amazing. The outdoor area also includes the graves of infamous rodeo bucking bull Tornado and famous bucking horses Midnight and Five Minutes to Midnight.
Address: 1700 NE 63rd St., Oklahoma City, OK 73111
Website: nationalcowboymuseum.org

Science Museum Oklahoma
Science Museum Oklahoma has eight acres of hands-on science experiences that are fun for the entire family!
The museum is the perfect place to enjoy hands-on science and fun. You can play in the 20,000 square foot CurioCity, check out the planetarium shows, live science shows, and let your inner-child run wild.
If you have always wanted to get your hands and mind deep into science this is the museum for you!
Address: 2020 Remington Place, Oklahoma City, OK 73111
Website: ScienceMuseumOK.org
45th Infantry Museum
Depicting the military history of Oklahoma and the 45th Infantry Division the 45th Infantry Museum is the nation's largest state-operated military history museum.
The museum includes the world's largest collection of items once owned by Adolf Hitler along with the country's third-largest collection of historic U.S. military firearms.
Address: 2145 NE 36th St., Oklahoma City, OK 73111
Skeletons: Museum of Osteology
Do you have kids who are fascinated by skeletons and bones? The Museum of Osteology is a 7000 square foot museum filled with bones and skeletons of animals that live today. While you won't find any dinosaur bones you will find over 300 skeletons from all corners of the world.
Address: 10301 S. Sunnylane Rd., Oklahoma City, OK 73160
Website: skeletonmuseum.com
Harn Homestead & 1889ers Museum
Step back in time and learn about territorial life in Oklahoma at the Harn Homestead and 1889ers Museum. The museum sits on a 10-acre historic homestead that was claimed during the Great Land Run of 1889.  The homestead is listed on the National Register of Historic Places.
Address: 1721 N. Lincoln Blvd., Oklahoma City, OK 73105
Website: HarnHomestead.com 
OKC Rattlesnake Museum
Have you ever wanted to see a rattlesnake up close? You will find the OKC Rattlesnake Museum fascinating if you like snakes (I will be skipping this museum).
This free museum runs off of donations and offers you the chance to see venomous snakes from Oklahoma along with around the world.
Address: 1501 S Agnew Ave, Oklahoma City, OK 73108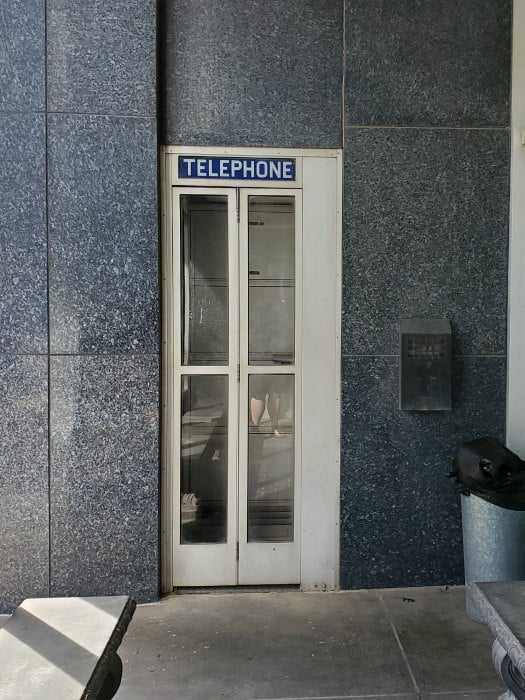 Oklahoma Museum of Telephone History
Located in the AT&T building you can learn about 100 years of Oklahoma telephone history. There are displays of vintage phones and telephone company memorabilia.
We did not make it into the museum but I loved seeing the old school telephone booth outside.
Address: 111 Dean A. McGee Ave., Oklahoma City, OK 73102
Phone: (405) 236-6153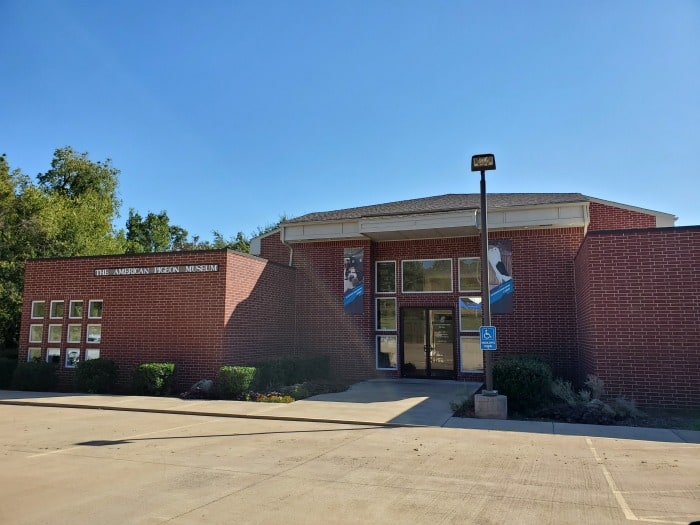 The American Pigeon Museum and Library
I am a total bird nerd so I thought it was pretty cool there is a full-on American Pigeon Museum in OKC. We missed going in for a visit but now I know that it is close to the OKC Zoo and Science Museum.
The museum has twelve different breeds of pigeons, exhibits on pigeon racing, pigeons during war times, and more! If you are interested in the history of pigeons this is the museum for you!
Address: 2300 NE 63rd St., Oklahoma City, OK 73111
Phone: (405) 478-5155
Oklahoma History Center
The Oklahoma History Center dives into Oklahomas unique transportation, geology, culture, Native American heritage and so much more. The museum is a Smithsonian Affiliate and is accredited by the American Alliance of Museums.
With over 215,000 square feet of learning and exhibits, this museum truly dives into the history of Oklahoma.
Address: 800 Nazih Zuhdi Dr, Oklahoma City, OK 73105
Phone: (405) 522-0765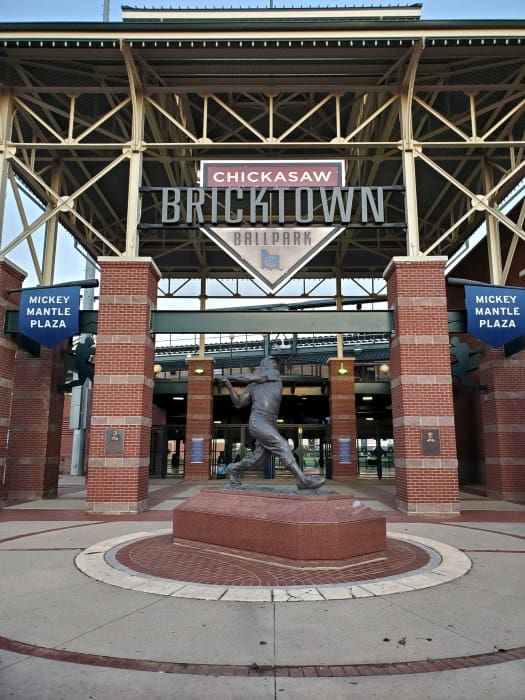 Oklahoma City Sports
Oklahoma City Thunder
You can enjoy an NBA Oklahoma City Thunder Game at the Chesapeake Energy Arena in OKC! For tickets check out OKCThunder.com/tickets to see what is available for upcoming games.
Oklahoma City Dodgers Minor League Baseball
The OKC Dodgers is a Triple-A affiliate of the L.A. Dodgers. They play in the Chickasaw Bricktown Ballpark stadium.
Oklahoma City Energy Football Club
The Oklahoma City Energy Football Club is part of the USL Championship League, the second division of the American soccer league system. They play at the historic Taft Stadium.
USA Softball Hall of Fame Complex
Home to the NCAA Women's College World Series through 2035 you can catch a softball game at OGE Energy Field.
Oklahoma Sports Hall of Fame (Bricktown)
The Oklahoma Sports Hall of Fame and Museum highlights Oklahoma's greatest athlete, Jim Thorpe and the distinguished members of the Oklahoma Sports Hall of Fame.
Address: 20 South Mickey Mantle Drive, Oklahoma City, Oklahoma
Website: oklahomasportshalloffame.org
Where to stay
Hilton Skirvin
During my girlfriend's getaway to Oklahoma City, we stayed at the Skirvin Historic Hotel. Located in the heart of OKC staying at the Skirvin is perfect for exploring the city. I was really impressed with how easy it was to get in and out of the hotel.
I did hear before my trip that the Skirvin was haunted and to be careful. I am happy to say that I did not have any ghostly visits during our trip. I did fall all in love with the historic hotel and the amazing renovations it has undergone.
The hotel is the perfect mix of a Historic Hotel of America and pure luxury. The lobby is beyond impressive.
The black chandeliers, comfy chairs, and piano music in the evenings make you feel like you have stepped back in time. The hotel was originally opened in 1911 and has gone through many reinventions and renovations. The hotel actually sat vacant for many years before being renovated from 2005 - 2007.
Check out this video of the room we stayed in at the Skirvin.
Address: 1 Park Ave, Oklahoma City, OK 73102
Phone: (405) 272-3040
I have to admit that even after spending a week diving deep into Oklahoma City there are still so many places I want to visit. My to-do list grew exponentially as I explored the city.
It was so cool finding out from our servers what their favorite places are in town. One thing I can say about OKC is the people who live here are passionate and excited about the revitalization of the city.
They will happily tell you about the MAPS project tax program that was created to help revitalize the city and how much they love it.
Additional Oklahoma Travel Articles
Atherton Hotel at Oklahoma State University
Things to do in Stillwater, Ok
Check out all of our Oklahoma Travel Guides
We were hosted in Oklahoma City by Visit OKC. All opinions expressed are our own.