Oh my gosh these seriously cute Honey Bee Beehive Cupcake Recipe is just so dang cute!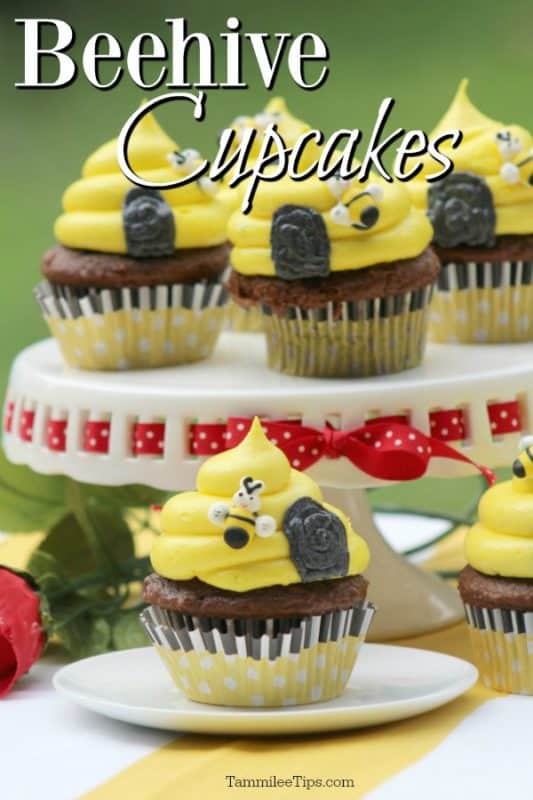 Honey Bee Beehive Cupcakes
I just love how they turned out. I was looking on Amazon to see what other honey bee items I could find and oh my gosh there are so many cute things. Seriously this Bumble Bee Pinata
 makes me want to throw a bumble bee themed party.
I had no idea there were so many cute bumble bee items available. Now I am thinking about throwing a party just so we can get the cute stuff on Amazon. I know that is a crazy reason to throw a party but heck if it means we can invite friends over and enjoy the gorgeous summer weather for as long as possible I am in.
Cupcake Ingredients: 
Flour

Sugar

Cocoa

Baking Soda

Baking Powder

Salt

Eggs

Whole Milk

Oil

Vanilla


Boiling Water
Honey Bee Frosting: 
Frosting Ingredients: 
Unsalted butter

Powder sugar

Heavy whipping cream

Neon Yellow gel food coloring
Royal Icing Ingredients:
Egg whites

Powder sugar

Cream of tartar

Black  gel food coloring
Honey bees...
-You can make the bees yourself or you can buy the Bumblebee Icing Decoration
on Amazon or at a local bakery store or craft store
These Bumble Bee Cupcake Topper Rings
would also look great on the cupcakes
-Use the black royal icing as door to the beehive.
Here are a couple of cute cupcake holders that would be perfect for these Honey Bee Hive Cupcakes - Grass Shaped Baking Cups
or maybe Black Polka Dot Bake Cups
These Bumble Bee Dessert Plates would be so cute for serving the cupcakes.
Can you tell I am having a lot of fun with Bumble Bee items! So dang cute!
Do you love recipes? Check out our copy cat recipes, dessert recipes, and our Crock Pot Recipes.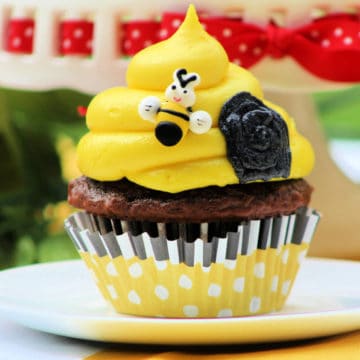 Ingredients
Honey Bee Frosting Ingredients:
Instructions
Cupcake Directions:
-Preheat oven to 350 degrees.

-Mix the flour, sugar, cocoa, baking soda, baking powder, and salt in a bowl.

-In a separate bowl add the eggs, whole milk, oil, and vanilla.

-Add the bowl containing the eggs, whole milk, oil, and vanilla to the bowl holding the dry ingredients.

-Mix all together until fully incorporated.

-Beat for 3 minutes on medium.

-Slowly add the boiling water starting with a small amount then pour in the remaining boiling water.

-The batter may be a little runny.

-Scoop batter into cupcake paper liners until ¾ full.

-Bake at 350 degrees for 20-25 minutes.

-Remove from oven and allow to cool for 10 minutes.

-Take baked cupcakes out of the cupcake pan.....place on a wire rack to cool completely.

Frosting Directions:

-Cream the butter and powder sugar until it looks light and creamy.

-If it doesn't cream add several drops of the heavy whipping cream until it creams.

-Test to see if the frosting can form and hold a stiff peak by taking a spoonful of frosting and turning the spoon upside down. If the frosting stays on the spoon it is ready if not then....

- Add more powder sugar ½ C at a time.... mix well.

-Test to make sure that the frosting can make and hold a stiff peak.

-Add the neon yellow gel food coloring.....mix well.

-If ready scoop the frosting into a pastry bag with a large tip.

-Twist the open end of the pastry bag to push the frosting to the tip.

-Begin frosting on the outside edge of the cupcake working your way into the center of the cupcake.
Icing Directions:
-Combine all ingredients in a mixing bowl mixing on medium speed for 4 minutes. (except your food coloring)

-If icing is not stiff enough add ¼ C powder sugar.

- Spoon the icing into a bowl.

-Add several drops of black gel food coloring in the large bowl of icing ... stir well to mix the color.