A couple of days ago I shared our amazing tour of Skywalker Ranch with everyone. Today I am sharing our interview with Strange Magic Executive Producer and Creator George Lucas!
YES George Lucas!
George Lucas is an icon, an innovator, a creative genius and the music lover behind the creation of the movie Strange Magic. George was nice enough to sit down with us at Skywalker Ranch in the Stag Theater to talk with us about the new movie Strange Magic.
We screened the movie in the theater right before the interviews. I still can't believe I watched a movie with THE George Lucas in his custom build amazing state of the art theater at Skywalker Ranch! EEK!  Someone pinch me! Crazy dreams do come true!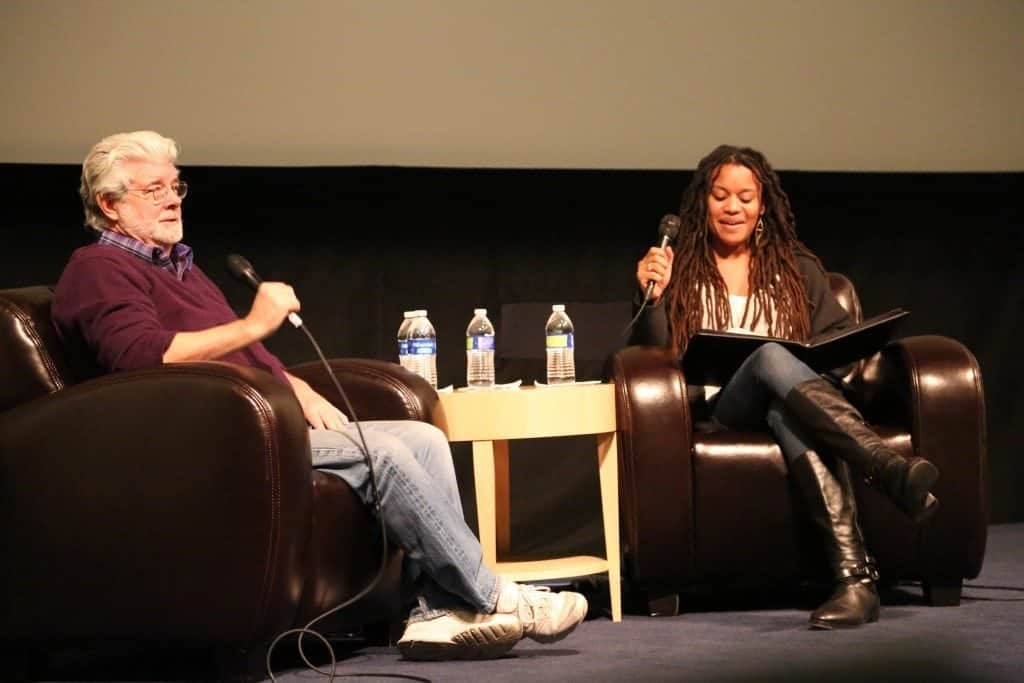 During the interview we learned that George Lucas started creating the idea for Strange Magic over 15 years ago. He is a huge fan of music and loves creating musicals. He wanted to combine his love of musicals with his passion for great music.
He wanted to do a film that he could get his hands dirty with and really be involved in the entire process.
One word that came out multiple times during our interview was Love. This word really is the key theme of the entire Strange Magic movie and the reason why George Lucas was so passionate about creating the movie.
His love for music, his love for movies and his passion for creating a film that showcased that everyone deserves to be loved.  George also wanted to make a movie that showed there is a difference between being infatuated and being really in love.
You don't want to be married to infatuation you want to be married and spending your life with your true love.
The movie is about real relationships and the life lesson that it is not always the cutest guy in the class who is the perfect love match. Your perfect love match is the person you have the most in common with under the surface.
George Lucas talked about his relationships, marriage and his new 18 month old baby girl.  Here is a bit of the transcript from the interview. I love how George Lucas is so open and honest about himself and his relationship.
No it's never gonna happen to me, I just will never find anybody, and I found somebody who doesn't look at all like me, doesn't, you know, I'm a 60's radical, government unhappy, Wall Street-hating, person from San Francisco, and I ended up meeting a woman who's a head of a big investment management firm who's on Wall Street who doesn't look like me, doesn't you know?  Is the last person you would figure would fall in love with the bald king and or I'd fall in love with her since I am not into princesses.

But ..a beautiful princess too actually.

Yeah, now I got a princess and I got a little princess.  And my other princesses who have gone on to bigger and better things but so as time went on it became more meaningful to me because I realized that in the end, like with my wife and stuff, we fell in love because we were exactly alike inside.  You know, it's like the movie, you know first you say well, I hate this stuff, well that's interest, you know?

It surprised you! You realize that you have so much in common that you would never have thought of on the surface, and it's the same thing again. Like Roland (character in Strange Magic) which is, you know the classic pretty boy and, you know that story has been told over and over and over again but at the same time it needs to be retold.
One thing I really appreciated during our interview was how open, real, and caring George Lucas was. You could feel his love for his family as he talked about them. His passion for telling a story that will transcend multiple generations and remind each of us that real love really does matter and needs to be the core of our relationships.
George Lucas told us that the story of real love needs to be told every generation. We have to make sure kids don't slip through the cracks and we don't miss a generation.  Young girls need to know they can be brave!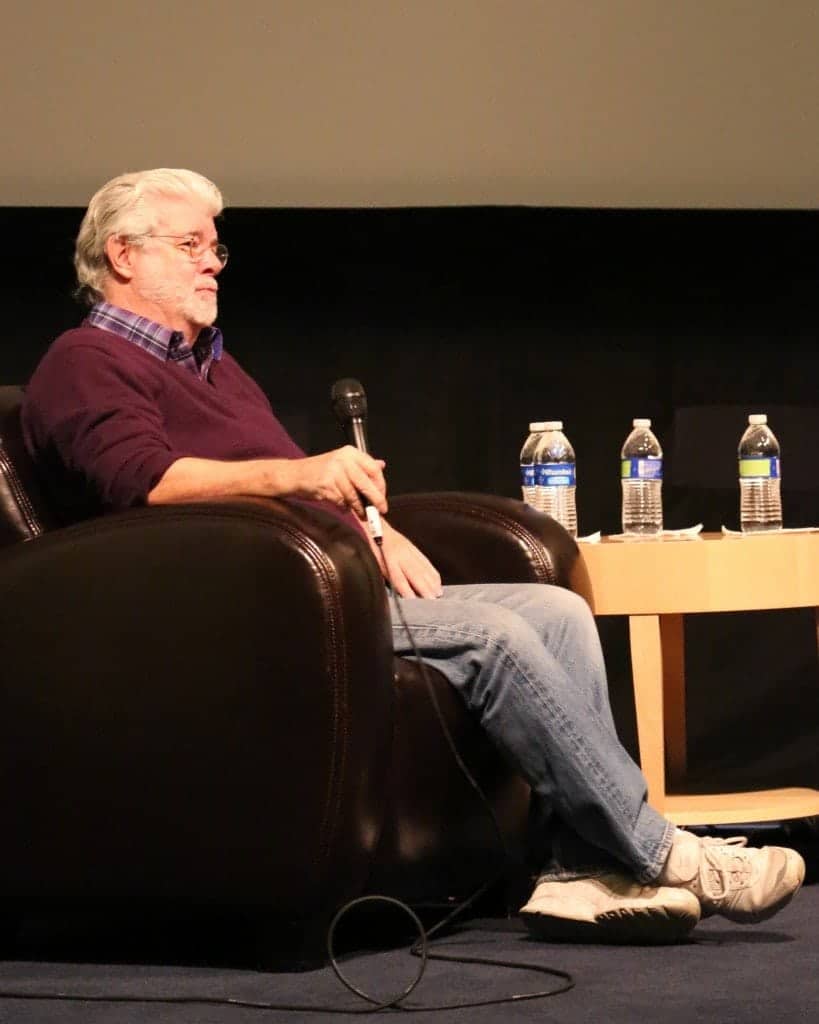 George told us that movies can help teach our children about life, friendship and so much more!
 To me adolescence is a key period in a child's life, and to make movies that say look, these are the issues, they may seem obvious to us 'cause we've been through it, maybe your parents have told you about this, maybe they haven't but you need to know the story of why you have friendships and what a friendship means, why there are things in the world that are bigger than you are, why, you know your complicated feelings with your parents and all these kinds of things are not unusual, they're not just you, this is something that everybody goes through. ~George Lucas
Want to know something fun about the movie Strange Magic? George Lucas is such a fan of music that the movie started with over 100 songs picked out. George said he could make a 5 hour musical if he could get away with it.
GEORGE LUCAS: Well things like you know, you could go to the Beatles catalog and anything that's got love in the title is something we had in there.  And All You Need Is Love, All, you know?  But again there's a real world and that real world, this is a relatively inexpensive movie, small, very small, and so, just like American Graffiti I couldn't afford to put Elvis Presley in there.  So I didn't but I survived you know, it's like everything else you have to kinda be strong, be brave and sometimes trim some of the things you really love.
When asked what his favorite song in the movie was George told us the song I Can't Help Falling In Love which is the opening song was also the 1st song picked.  The story that George told us as he talked about I Can't Help Falling in Love was amazing!
You know it's, again, I grew up under the tutelage of Elvis, and my wife says I still have that pompous pompadour.  But at the same time, you know, it's been recorded several times, each time it's recorded it's better and better, and it to me was the inspiration to say this is what this movie's about.  You know, wise men say only fools fall in love.

In my experience with love as I was dating for those 20 years, I was with some, I had some girlfriends who I knew weren't right, I knew were I would say high maintenance, difficult, all the things you don't want.  Yet I fell in love with them.

And ultimately the only thing I can say is there's no accounting for love, it's just no matter how rational you think you're being, you say well I'll never do that, you do it.

Yeah it didn't last but we both tried, we, neither one of us wanted to fall in love and we both did and we knew that ultimately it wasn't gonna actually work, but you try anyway.
At the end of the interview I sat in awe for a few moments just absorbing the moment and place I was in. Being able to interview George Lucas was truly something I never dreamed would happen. George Lucas was funny, open, comfortable, creative, deep and showed so much love for his family.
Strange Magic comes out on January 23, 2015 and is an amazing movie for the entire family! Later this week I will be sharing our interview with Elijah Kelley who plays Sunny in the movie and our review of the movie!