Carnival Miracle
Carnival Miracle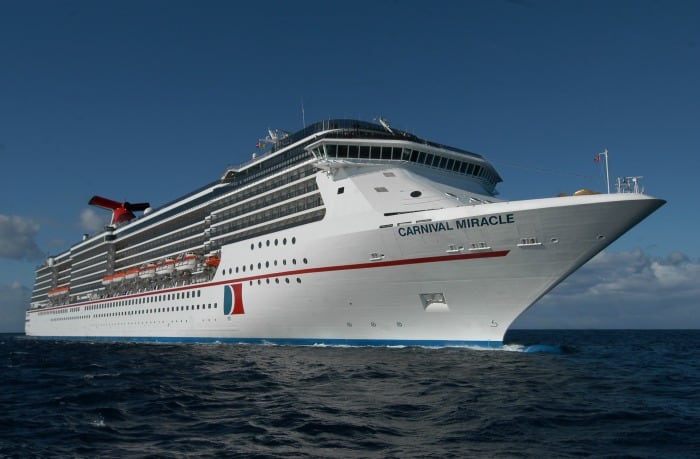 The Carnival Miracle cruises in the Bahamas off Freeport (Photo by Andy Newman/CCL)Carnival's first-ever schedule from San Francisco kicks off March 19, 2020, aboard Carnival Miracle, and will include four-day long weekend voyages to Ensenada departing Thursdays and returning Mondays throughout the spring and summer, as well as five-day and six-day cruises to Ensenada, Catalina Island and San Diego in the spring.
The ship will also offer a summer schedule of 10-day Alaska cruises round-trip from San Francisco featuring a variety of popular destinations throughout the Last Frontier, including Juneau, Skagway, and Icy Strait Point as well as opportunities to visit Sitka and cruise Tracy Arm Fjord.  There's also a special one-time 11-day Alaska cruise departing Aug. 9, 2020.
A 15-day Carnival Journeys Hawaii cruise round-trip from San Francisco departs April 16, 2020, calling at awe-inspiring destinations across the Aloha State, including Maui (Kahului), Honolulu, Hilo, Kona, and Kauai, as well as a stop in Ensenada.
Prior to its West Coast deployment, Carnival Miracle will offer a 17-day Carnival Journeys Panama Canal transit March 2-19, 2020, calling at Santa Marta and Cartagena, Colombia; and Limon, Costa Rica prior to the Panama Canal transit followed by calls at Puntarenas, Costa Rica; Puerto Quetzal, Guatemala; and Cabo San Lucas, Mexico.
Following tremendous response to Carnival Cruise Line's first-ever cruises from San Francisco, the line is adding five voyages from the port to Carnival Miracle's previously announced inaugural schedule in 2020.
Including the five new voyages, Carnival Miracle will now offer a total of  27 voyages within the wide-ranging program which includes four-day long weekend sailings to Ensenada, Mexico, 10-day cruises to Alaska and 15- and 16-day voyages to Hawaii from March to September 2020. All voyages are now open for reservations.
Carnival Miracle's five new voyages from San Francisco include:
Aug. 20, 2020, and Sept. 3, 2020: four-day sailing to Ensenada, Mexico;
Aug. 24, 2020, and Sept. 7, 2020: 10-day sailing to Alaska throughout the Last Frontier calling at Juneau, Skagway and Icy Strait Point;
Sept. 17, 2020: 16-day Carnival Journeys sailing to Hawaii calling at Maui (Kahului), Honolulu, Hilo, and Kauai.
Carnival Journeys cruises offer unique local culinary and entertainment experiences as well as special activities, including a 1980s-themed Throwback Sea Day.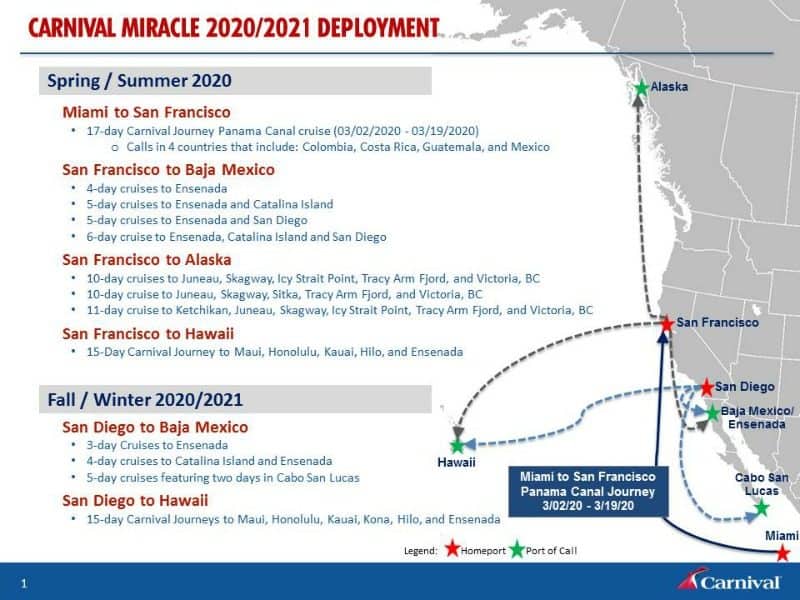 Winter Schedule from San Diego
Carnival Miracle will operate a winter schedule of voyages from San Diego beginning Oct. 4, 2020.  The program includes convenient three-day getaways to Ensenada, four-day sailings to Ensenada and Catalina Island, and five-day departures that spend two full days in the Mexican resort town of Cabo San Lucas.
Also offered are four 15-day Carnival Journeys Hawaii cruises round-trip from San Diego departing Oct. 16 and Nov. 28, 2020, and Jan. 9 and Feb. 20, 2021.  Featured ports include Hilo, Kona, Kauai (Nawiliwili), Maui (Kahului) and Honolulu, as well as a stop in Ensenada, providing guests with a variety of landside experiences in this tropical Polynesian paradise.