Let's talk tequila....more specifically the Blue Iguana Tequila Bar on Carnival Cruise Ships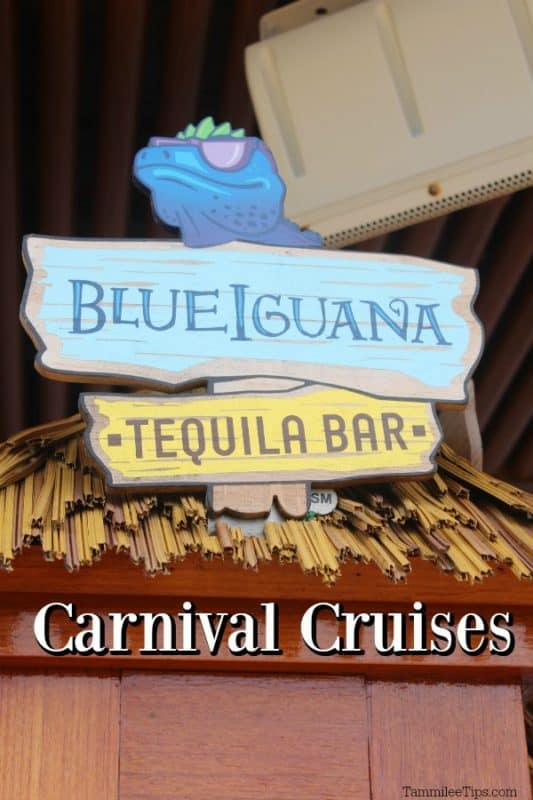 Blue Iguana Tequila Bar
Yes! It's true there is a bar on the Carnival Breeze just for tequila lovers!

Well, I guess anyone can visit the Blue Iguana Tequila Bar but tequila fans are really going to LOVE IT!
If you love tequila, fruity cocktails made with tequila, tequila served in a monkey glass, tequila served in a fish glass, or just plain tequila straight up in a shot glass this is the place for you.
The Blue Iguana Tequila Bar is located right on the main pool deck. You can jump out of the pool, grab a fruity cocktail, and lounge in the amazing Caribbean sunshine all within feet of each other.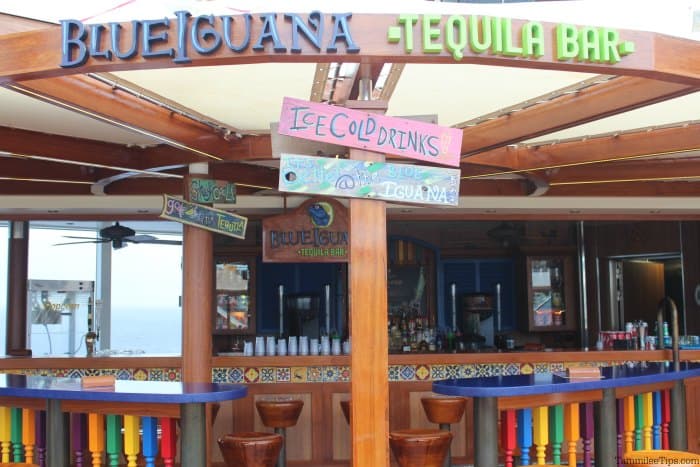 Each day of your cruise the Blue Iguana has a special drink they prepare. If you are looking to have a really really really good time check out the 101 ounces Presidente Tube oh Fun!
I would not have been able to walk for the rest of my cruise if I tried it so I stuck with just watching others share it.
I did enjoy a couple of fruity cocktails from the Blue Iguana . I have to tell you these guys know how to mix a fruity drink!
There is ample seating around the Blue Iguana Tequila Bar on the Carnival Breeze!
Tip- If the sun is getting to you this is the perfect place to grab a seat and watch all of the action on the pool deck without being in the direct sun!
The Blue Iguana Tequila Bar is a happening place during sea days!
Check out the super cute parrot cups in the cupboard to the left of the bartender. I bought a green one and love it! It is my new pen holder on my desk! I giggle each time I look at it and wish I was back on the Carnival Breeze with a fruity cocktail.
Check out the current menu
What ships is the Blue Iguana Tequila Bar on?
Carnival Breeze
Carnival Conquest
Carnival Dream
Carnival Ecstasy
Carnival Elation
Carnival Freedom
Carnival Glory
Carnival Horizon
Carnival Legend
Carnival Liberty
Carnival Magic
Carnival Miracle
Carnival Panorama
Carnival Paradise
Carnival Pride
Carnival Sensation
Carnival Spirit
Carnival Splendor
Carnival Sunrise
Carnival Sunshine
Carnival Valor
Carnival Vista
Additional Carnival Breeze Resources
Balcony Stateroom photos and video