Are you ready to relax and enjoy some great music, amazing beer, and pure relaxation? That is how I would describe an evening at the Red Frog Pub. The Red Frog Pub has a Caribbean and Key West vibe, great music, small bites, and so much more.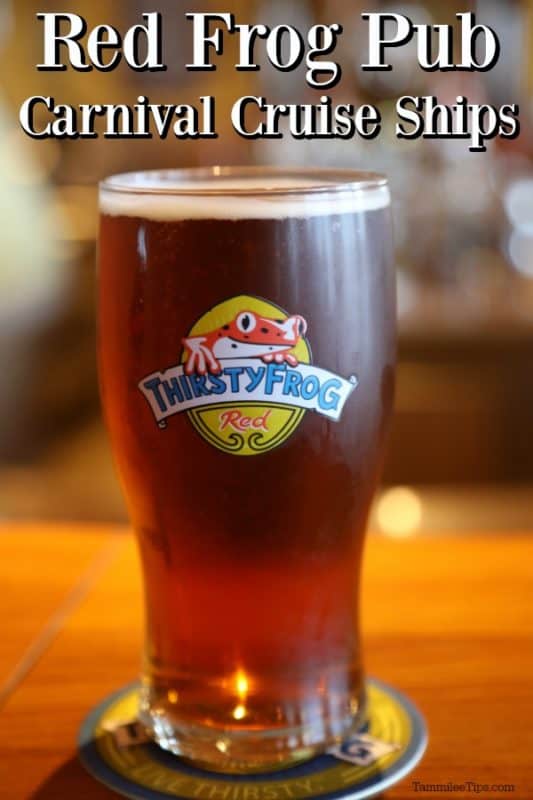 Red Frog Pub
I have to send a huge thank you to Carnival Cruise Lines for hosting us on board so we could get the full Red Frog Pub Experience. When it comes to enjoying a tropical Carnival drink, chill vibes, and great food we love spending time at this great pub onboard twelve different Carnival Cruise Ships.

John was trying to be the new mascot for the Red Frog Pub while we were on the
Carnival Breeze
. When you walk into the Red Frog Pub you are invited to Live Thirsty!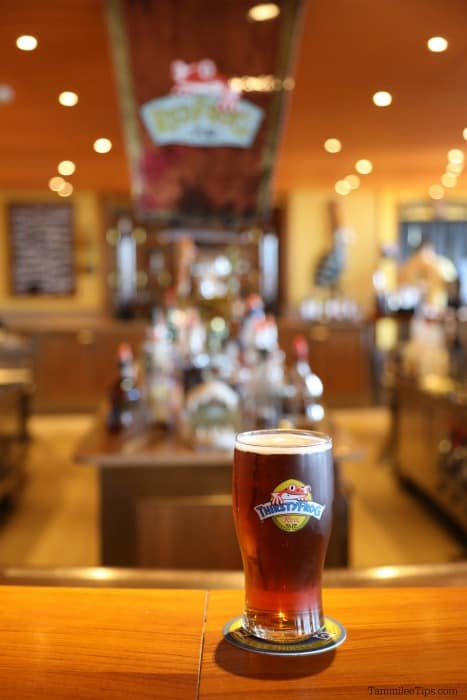 I definitely suggest arriving at the Red Frog Pub thirsty and ready to enjoy a beautiful cocktail or beer. The bartenders know how to mix up one heck of a good frozen cocktail.
I wish I could remember the name of the cocktail I enjoyed while relaxing in the Red Frog Pub. I guess I was a bit too relaxed and just soaking up the atmosphere. I asked the bartender to make me a frozen fruity drink and boy did he deliver. This drink was smooth, fruity, and oh so delicious!!! Make sure to check out the Ting Mojito
You can get individual size drinks or go for a fishbowl and share with friends. If you are really really thirsty you can order a 101oz beer.  The Red Frog Pub offers appetizers and other food for a minimal charge. The coconut shrimp platter was less than $5 when we were on the Carnival Breeze. The restaurant also has a seriously yummy dessert menu filled with Caribbean flavors.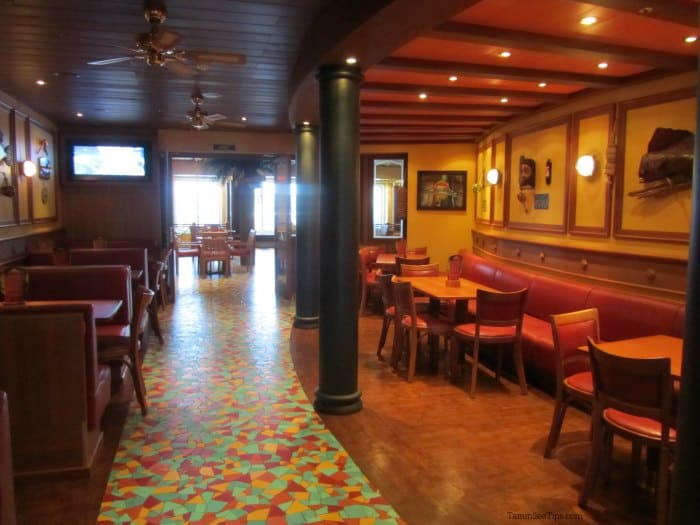 During the afternoon and evenings, there is live music in the Red Frog Pub. The singer pictured above was absolutely amazing. I could have sat and listened to her great voice for hours and hours.
There is ample seating available in the Red Frog Pub. You can sit at the bar or enjoy one of the comfortable tables in the pub. If you are traveling with a group there are tables available that will fit a group. We stopped into the Red Frog Pub multiple times before the comedy shows at the Limelight Lounge. On one of the nights, one of the comedians joined the singer and played on stage at the Red Frog Pub.
The staff at the Red Frog Pub is fantastic! They were all really friendly and a lot of fun to talk with. They were very easy going and truly fit the relaxed Caribbean vibe of the Red Frog Pub.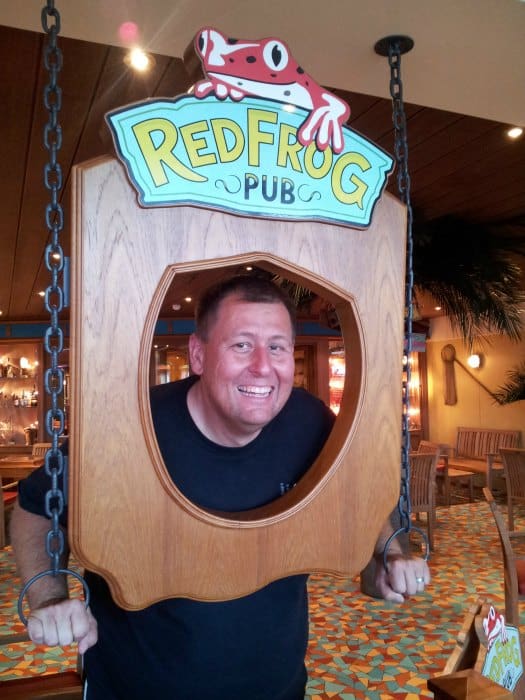 What ships have a Red Frog Pub?
Carnival Radiance - Coming Soon
Carnival Spirit
Carnival Valor
What is the difference between a Red Frog Pub and the Red Frog Pub & Brewery?
Only the Carnival Vista has a Red Frog Pub & Brewery currently. This Red Frog Pub has a brewery on the ship that was the first-ever brewery at sea.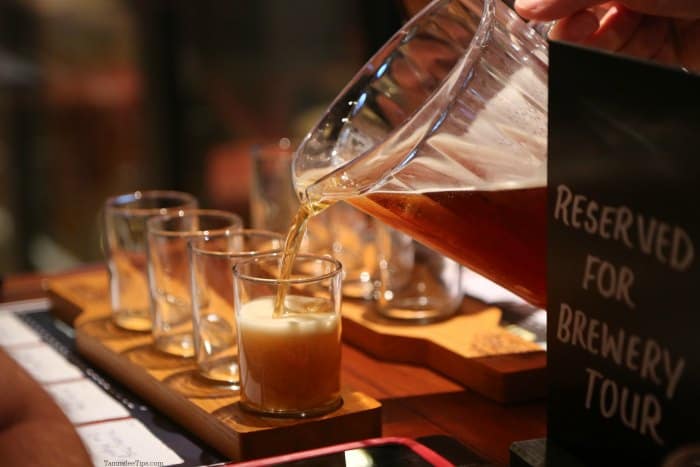 Carnival Vista Red Frog Pub & Brewery
The Carnival Vista set sail for the first time in May 2016 and added something never seen before on a North American Cruise Ship. The time had come to have a microbrewery at sea! Carnival decided to put an actual working microbrewery onboard. Carnival also decided that if they were going to take on this project that they had to do it right and make it a star attraction.
The first order of business was to build on the ThirstyFrog Brand giving Carnival's guests a wide variety of options to choose from. Carnival has partnered with Miami's Concrete Beach Brewing for years delivering the ThirstyFrog Red. This lager style beer is sold exclusively on Carnival Cruise Lines and has been a huge success onboard its ships sailing out of Florida heading to the Caribbean. Lagers are the preferred beer in the Caribbean with its smooth drinkability and hot summer days. I have enjoyed many ThirstyFrog Red's over the years sailing on Carnival!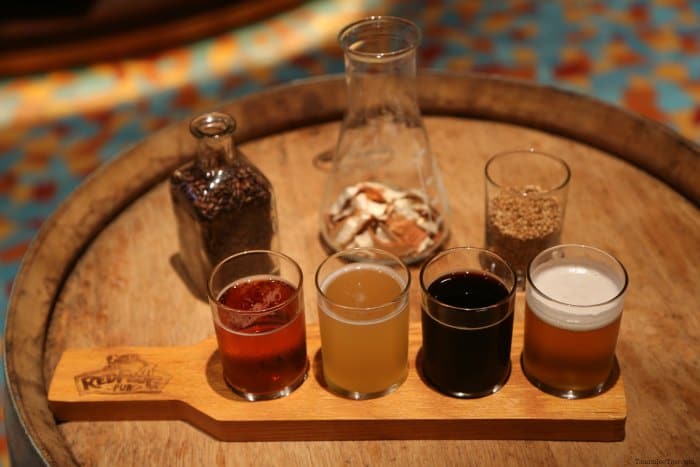 The new Redfrog Pub brewery on board the Vista is now brewing three new options for its guests including the ThristyFrog Caribbean Wheat, FriskyFrog Java Stout, and the Thirsty Frog Port Hoppin` IPA. I have been a big fan of IPA's for years and I personally loved the ThirstyFrog Port Hoppin` IPA! It was a very well balanced citrus flavored IPA, not overpowering and very drinkable. I may have ordered 1 or more pitchers all in the name of research. We were with friends that also raved about the FriskyFrog Java Stout and the ThirstyFrog Caribbean Wheat!
I was also very excited to see pub food available. There is a small fee but was well worth having Coconut Prawns and hamburger sliders to go with my beer. There were other pub favorites too!
Carnival dedicated both indoor and outdoor seating and greatly expand the overall size of RedFrog Pub from all other ships. This extra room has allowed for more seating and space for games while creating that at home feeling of any local microbrewery.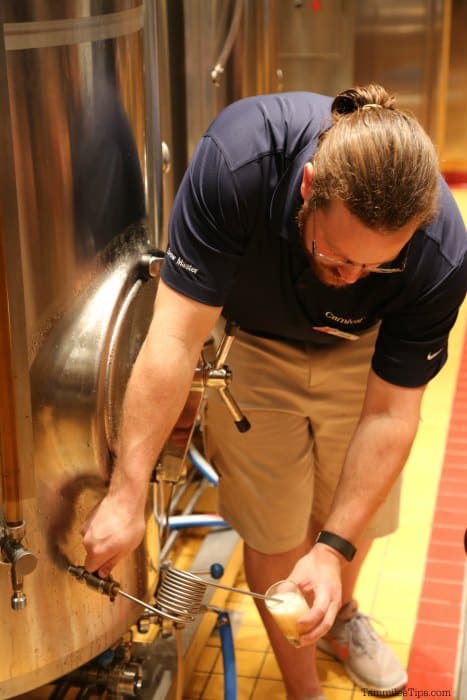 Having a brewery on board gives guests fresh quality beers. There are even taps at some of the tables where you can pour your own beer at the table. There is no need to wait for a server, simply run your cruise card and pour your glass. Did I mention that these taps are connected directly from the source?
We all have free time during the day on sea days. Why not sign up for a brewery tour! You will get to meet the brewmaster, try all four ThirstyFrog beers, and see how and where this beer is made. It's great fun with friends and family plus you get to meet other guests onboard.
I have to admit that this was one of my favorite places onboard the Carnival Vista. It had the laid back Caribbean lifestyle with great beers. The staff working here share the same passion for beer and helped put me in that island state of mind! I could have easily spent a week here alone and had a great vacation.
Check out the Red Frog Pub Menu here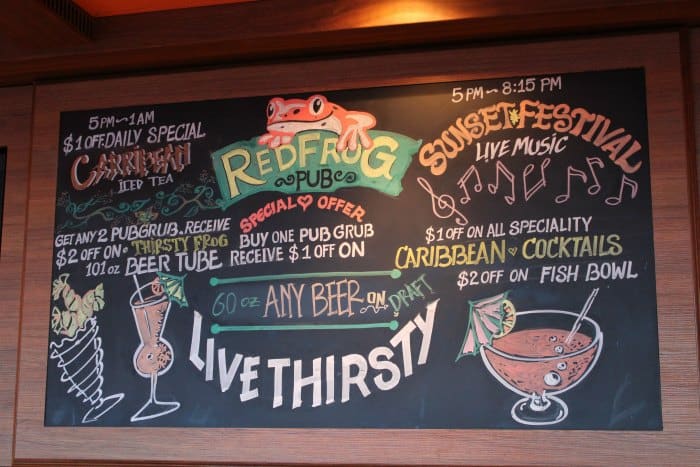 Additional Carnival Cruise Resources