Epic Carnival Miracle Alaska Cruise Experience sailing out of Seattle! What it is like to cruise in 2021 to Alaska.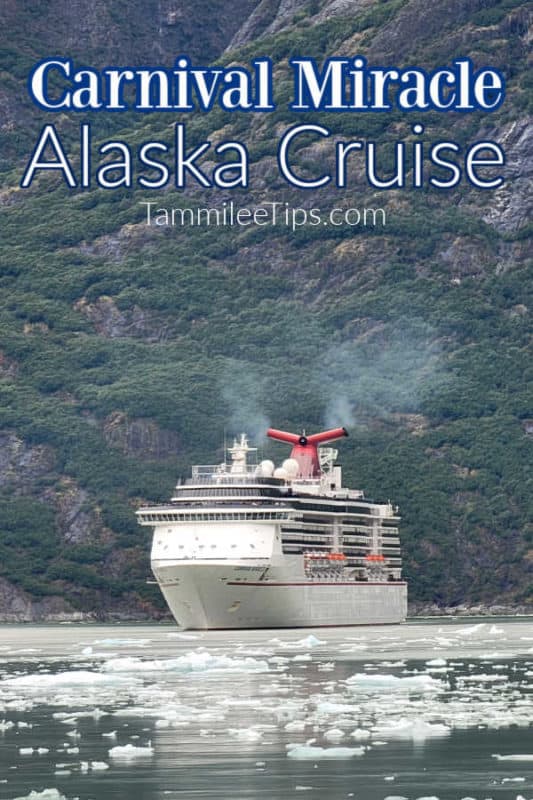 Carnival Miracle Alaska Cruise 2021
I am so excited to share our Alaska Cruise on the Carnival Miracle. My husband John knew I needed a break and a cruise ship nap in my life. He booked us on the Carnival Miracle to celebrate my 45th Birthday!
Talk about the most epic birthday gift. I know that the trip was a vacation and not specifically a work thing but you know I have to share with you all the things that we loved about cruising to Alaska and the Carnival Miracle.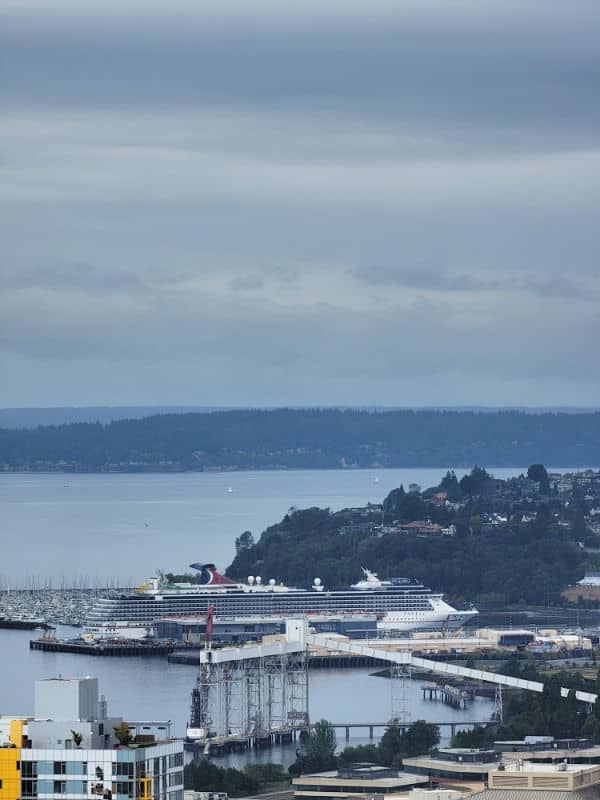 Pre-Cruise preparation
As we all know, 2021 is not a normal cruise season. This year has been filled with changes and health updates pretty consistently.
Going into our first cruise in 18 months since we were on the Carnival Panorama, we knew that we needed to prepare for anything to happen.
About a week before our cruise, we received an email from Carnival that all guests on Carnival Cruises would need to get a covid test 1-3 days before cruising, and all guests would need to wear a mask on the ship when not in their rooms.
This was actually a relief to us, and we are so thankful that Carnival is taking the health and safety of its customers so seriously. We happily went for a Covid test on Saturday before our Tuesday departure for the Alaska Cruise.
Carnival also asked us to fill out a health and safety form before boarding the ship. This health and safety form asked if we had any specific symptoms in the past 14 days if we had been exposed, and a few other questions.
It took maybe 2 minutes to fill out for each of us, and we were ready to cruise!
We stayed in Seattle the night before our cruise to ensure we didn't have any problems en route to the port.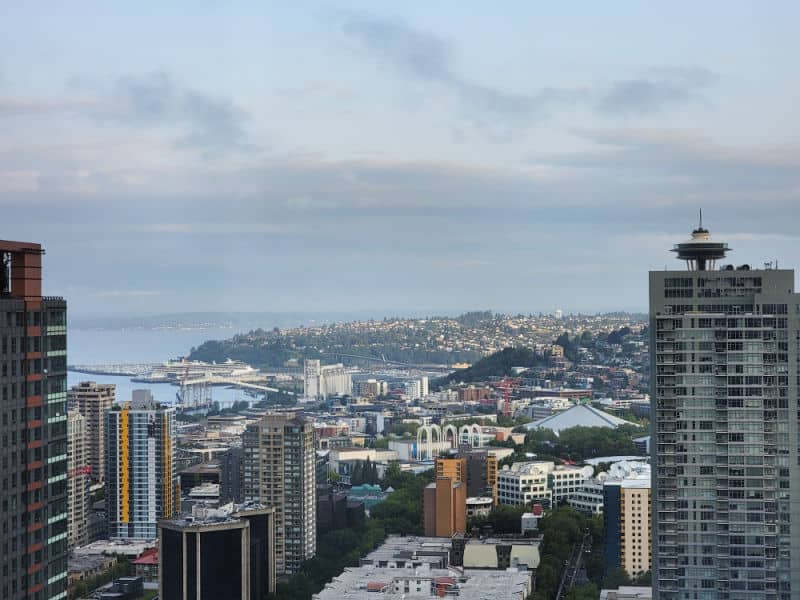 I have to admit waking up to seeing the Carnival Miracle docked in Seattle from our room at the Westin made me so dang excited!!!
It finally felt real that we were about to board a new to us Carnival Ship and head back to one of our favorite places in the world...Alaska.
A few tips before heading out on a Carnival Cruise to Alaska:
-Make sure to download the Carnival Hub App prior to your cruise.
-Set up your cruise planner and excursions early to make sure you get the Alaska cruise excursion you really want.
-Fill out all paperwork online ahead of time and bring copies of your covid test results, your vaccination cards, and info with you to the port.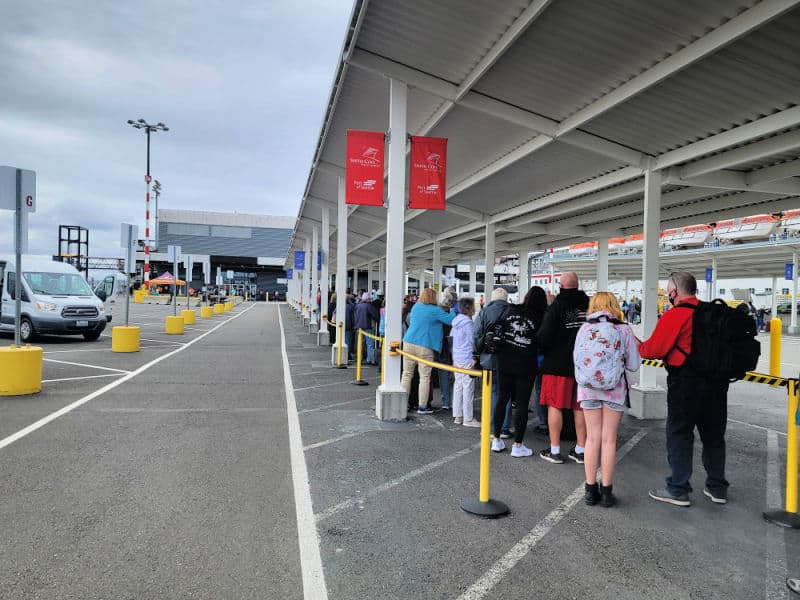 Embarkation/Boarding the Ship
Boarding the ship has a few new steps right now due to Covid. You will want to be prepared with your test results, boarding pass, photo ID, and information.
We parked in the cruise terminal parking and took the shuttle over to the Smith Cove Terminal. Prior to your cruise, you will need to sign up for a boarding time so you know what time to arrive at the port.
We had an 11 am boarding time and arrived at 10:55 am. There was a line forming when we arrived.
The first step in boarding after sending your bags off with a luggage porter is passing through the health screening.
You will need to have your covid test results that were done 1-3 days prior to the cruise. We saw multiple people having to get secondary tests because they took their tests on the wrong day.
You will also need to show your original Covid Vaccine Cards, photo id, and boarding pass. This process took us maybe 2 minutes since we had all of our paperwork out and ready.
The next step was heading up to the terminal to pass through security and get our carry-on luggage x-rayed. Then we had our boarding passes checked with our photo IDS, pictures taken for our cruise cards and we were ready to board the Carnival Miracle.
Our boarding process took about an hour and a half from reaching the terminal to stepping on the ship. If you have any mobility restrictions, are unable to stand for an extended period of time, or need assistance make sure you let someone know at the terminal.
They had wheelchairs available and an ADA line so there were options for quicker boarding.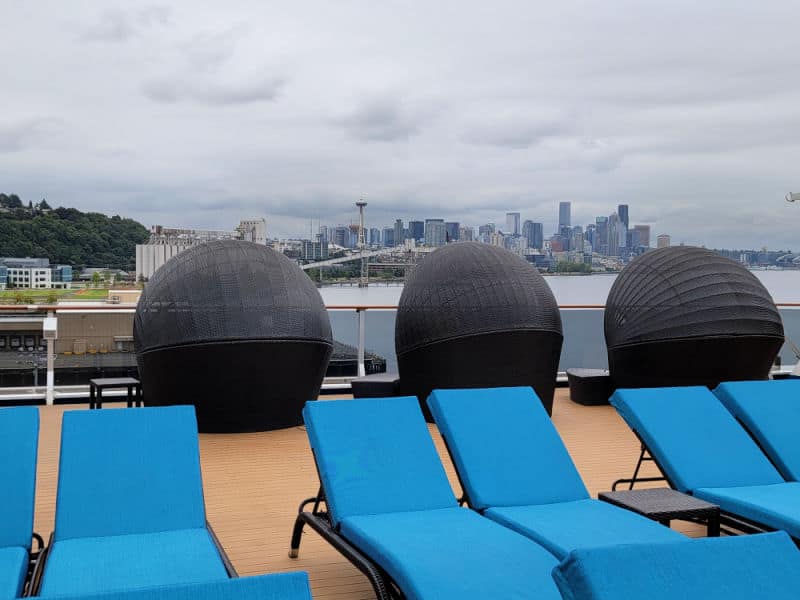 Boarding the Ship
There is nothing quite like the feeling of walking up the gangway and boarding the ship. You know you are in for an amazing vacation!
As soon as we boarded the ship they pointed us towards our muster station. We went through a couple of minute presentations of how to put on a life jacket and then we were free to explore the ship.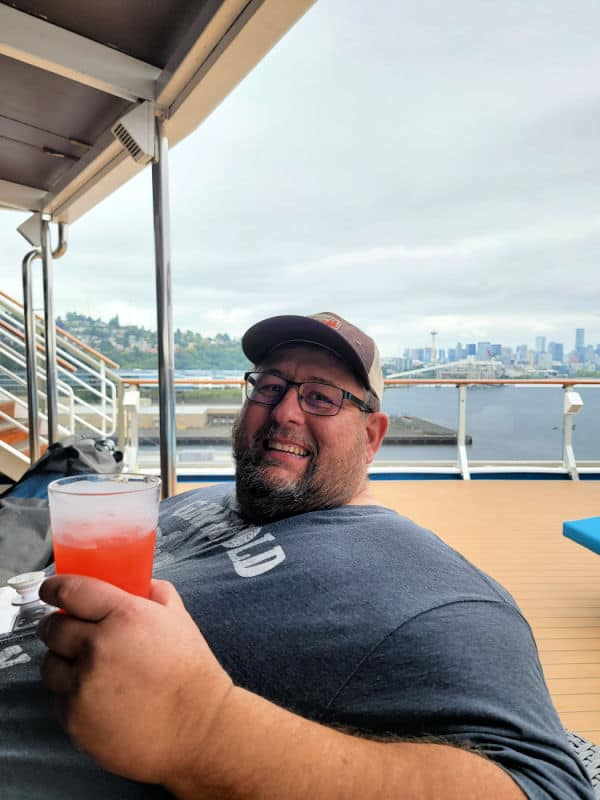 Our stateroom was not ready yet since we boarded so early so we headed to the Serenity Deck to relax and take in the Seattle skyline.
We might have enjoyed a Bahama Mama and a Carnival Cruiser Cocktail to cheers to kicking off our week cruise to Alaska.
The cruise package we purchased included the Cheers Drink Package. This is the 1st time we have signed up for the Cheers Drink Package so it will be fun to see what all it covers.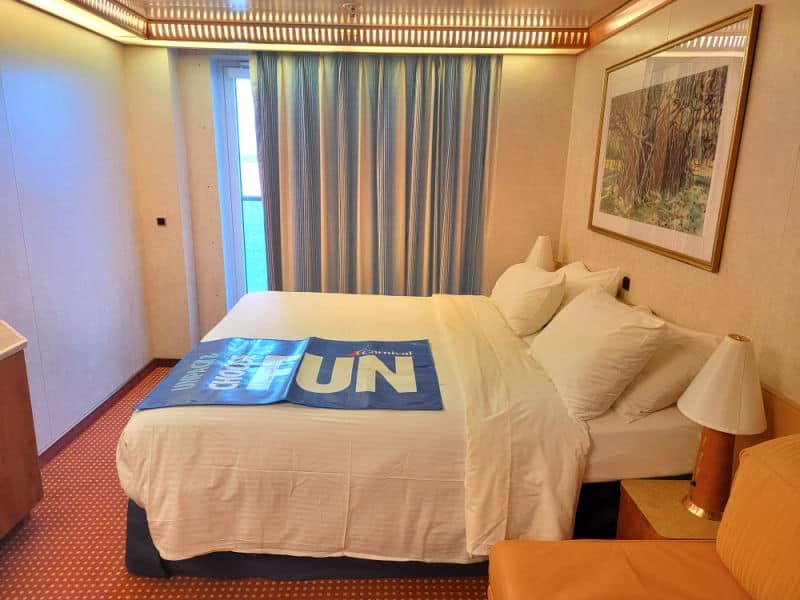 Our stateroom was on deck 6 towards the back of the ship. We paid for an extended balcony stateroom to see how big of a difference it would make for space.
We were really impressed with the additional space and ability to stretch out on the balcony. The stateroom had everything we needed for the week.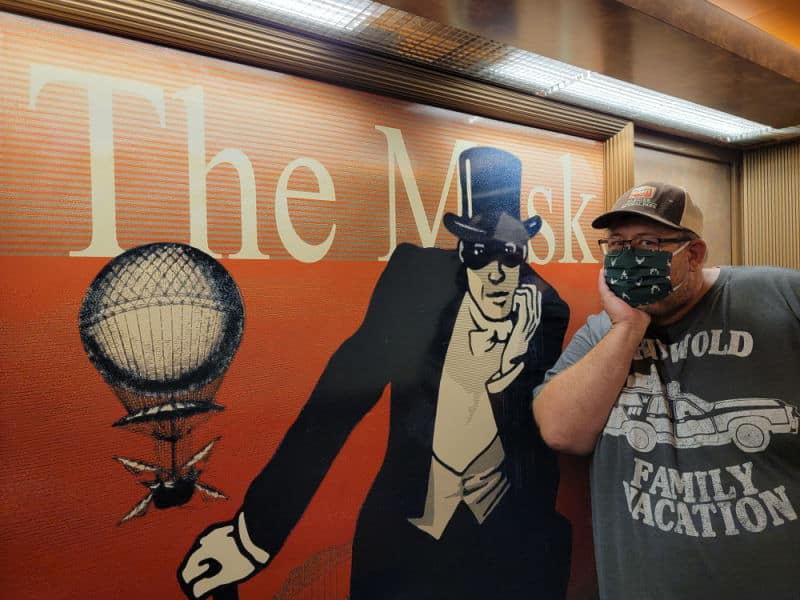 Night One
One of the really cool updates that have been made to the Carnival Hub App is the ability to check in when you are ready for dinner.
We always sign up for any time dining so we can enjoy dinner when we are ready instead of at a set time. With the new ability to check-in, it is quick and easy to add yourself to the waitlist and get an alert when your table is ready.
The app signals your phone that your table is ready and to head to the restaurant. When you arrive they have a line set up for guests who have tables and you are led directly to a table.
Dinner was amazing! I am going to admit to indulging in two bowls of my favorite Strawberry Bisque Soup for an appetizer. It is one of my favorite dishes on any Carnival Cruise.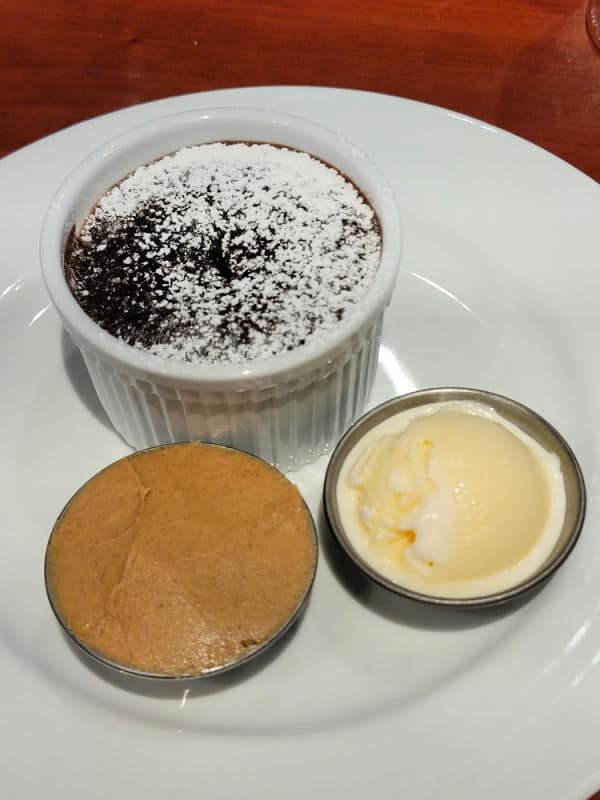 John had a great steak and potatoes for dinner and then it was time for dessert! Hello YUM! Chocolate Melting Cake is always my go-to dessert on night one.
After dinner, we walked over to the Alchemy Bar to relax and have a delicious cocktail or two. One of the cool things about having the CHEERS package is you don't have to stress about how much you have spent on drinks during your cruise.
The CHEERS package is a flat rate for the entire cruise so you know going into your cruise how much you are going to spend. There are taxes on drinks when the ship is in port plus tips for the crew but that is it.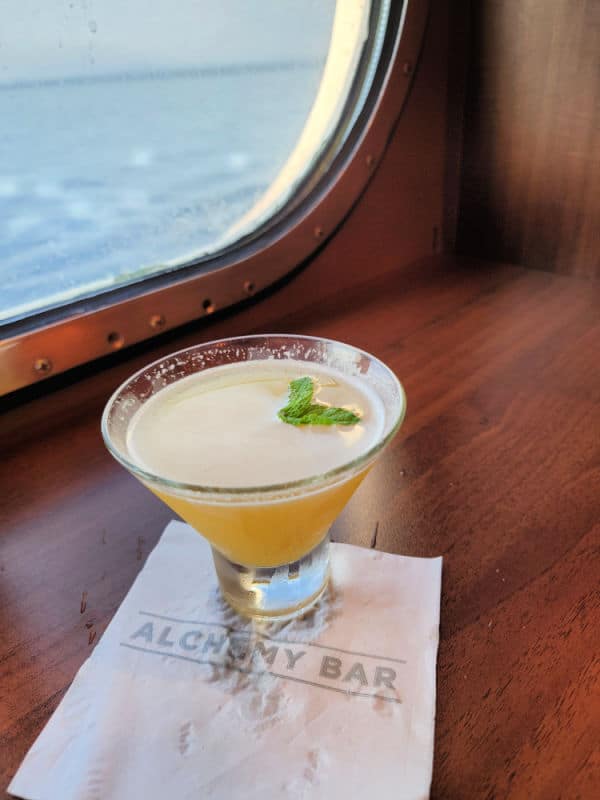 We started off with a Martini Seduction and a Spicy Chipotle Pineapple Martini while relaxing at the Alchemy Bar.
The Alchemy Bar on the Carnival Miracle is huge! There is an entire seating area filled with leather sofas, wingback chairs, and other comfy chairs perfect for lounging and relaxing.
We spent the rest of the evening relaxing at the Alchemy Bar. I just love the bartenders and how excited they are to make craft cocktails.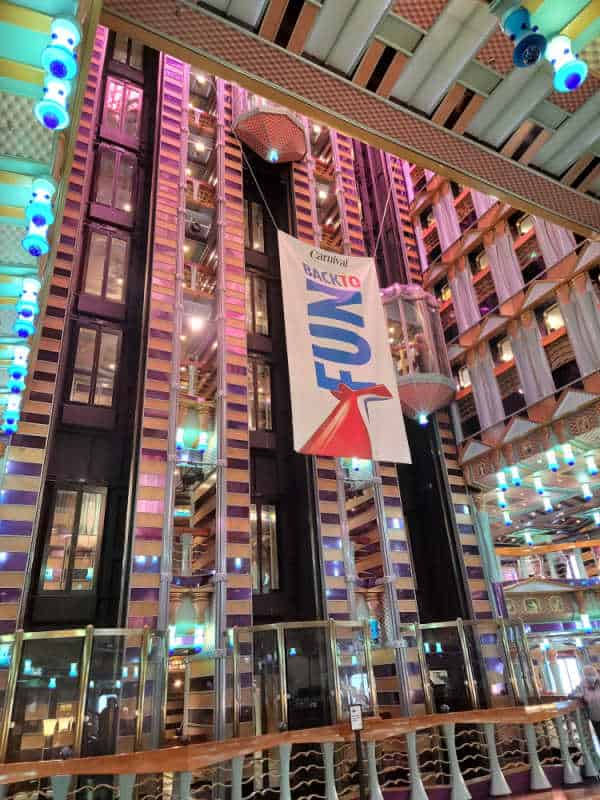 Sea Day
Sea Day = Happy chill Day!
I love a sea day! It is the perfect time to do whatever makes you happy. For us, it was sleeping in a bit and then heading to Sea Day Brunch in the Bachhaus Dining Room.
After a breakfast of Eggs Benedict, and chicken and biscuits it was time to explore the ship for a bit. The Carnival Miracle is a smaller ship compared to some of the new ships like the Mardi Gras and Panorama.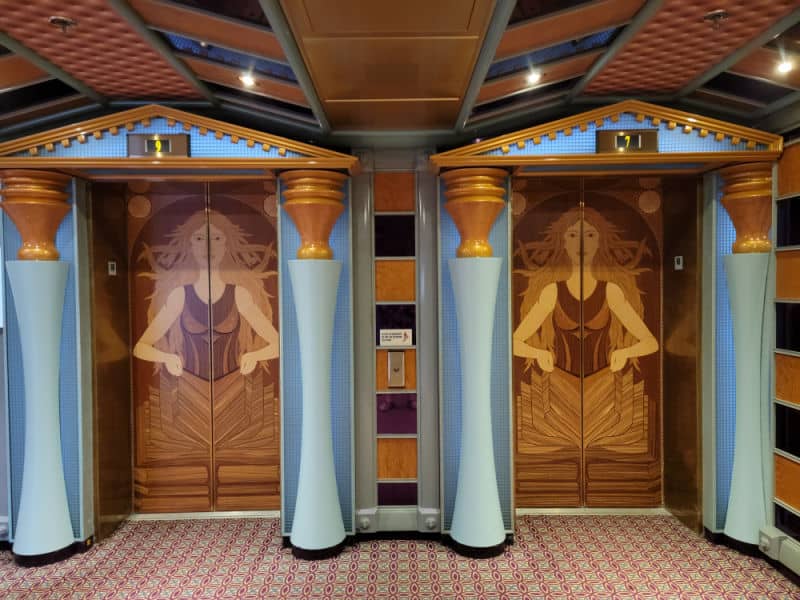 One of the things I love about this class of Carnival Cruise Ships is how unique the decorations are. This ship is filled with funky fun art and things to see.
Everywhere you look on the Carnival Miracle there is a new piece of art to check out or something fun.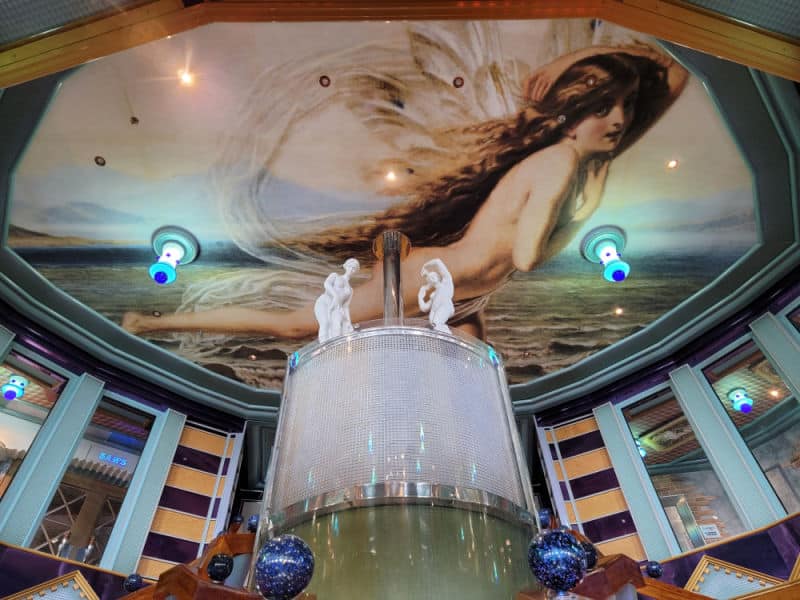 After exploring for a while it was time for my favorite sea day activity....a cruise ship nap!
I am going to admit that I have been counting down the days to savoring a cruise ship nap with no stress oversleeping mid-day. There is just something about the gentle rocking of the ship and quiet cabin that makes it the perfect nap.
Our afternoon was spent napping, watching the world go by on the balcony, and napping some more. It was the perfect sea day!
We skipped formal night and instead wore comfy clothes and got pizza delivered to the room. You can now order food delivery to your room on the Carnival Hub App.
It was $5 a pizza for delivery and so worth it! We curled up and watched a movie and it was blissful.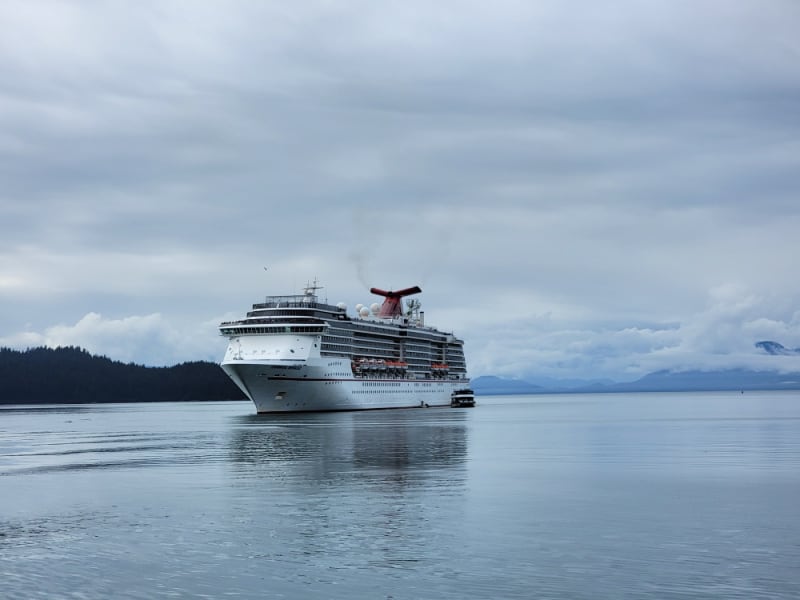 Tracy Arm Fjord
Good morning from Alaska!!!!
There is nothing quite like waking up and looking outside to see mountains covered in snow and calm waters.
Sailing from Seattle to the Inside Passage of Alaska can be a bit bumpy at times so it feels blissful to get to the calm waters of the inside passage.
We started the day with my favorite breakfast burritos from Blue Iguana Cantina on the Lido Deck. Hello Yum!!!
I love the salsa bar and being able to customize the breakfast burritos with the flavors you love.
Next up was an excursion I think everyone needs to book! The Tracy Arm Fjord & Glacier Explorer excursion! This is one of our favorite Alaska Cruise Excursions.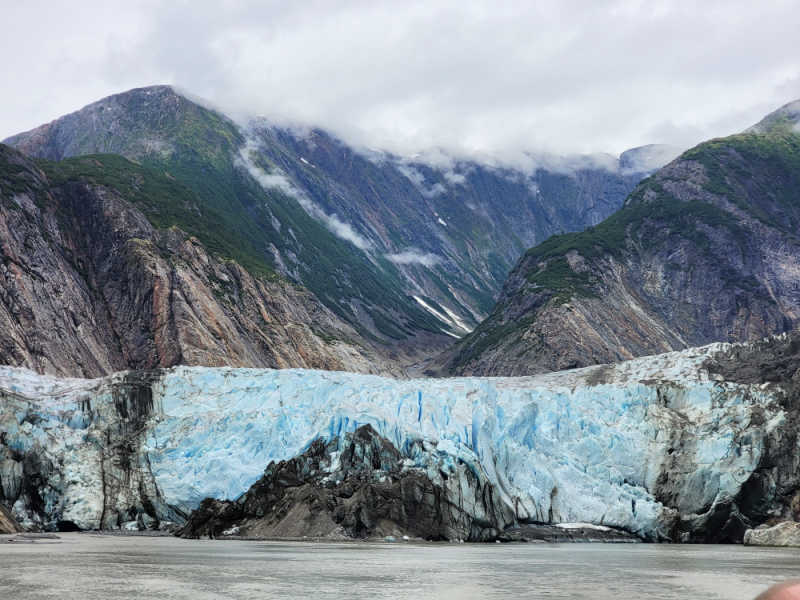 While the Carnival Miracle slowly made its way through the Tracy Arm Fjord we hopped on a small excursion boat and whipped ahead to get a close-up look at the North and South Sawyer Glacier.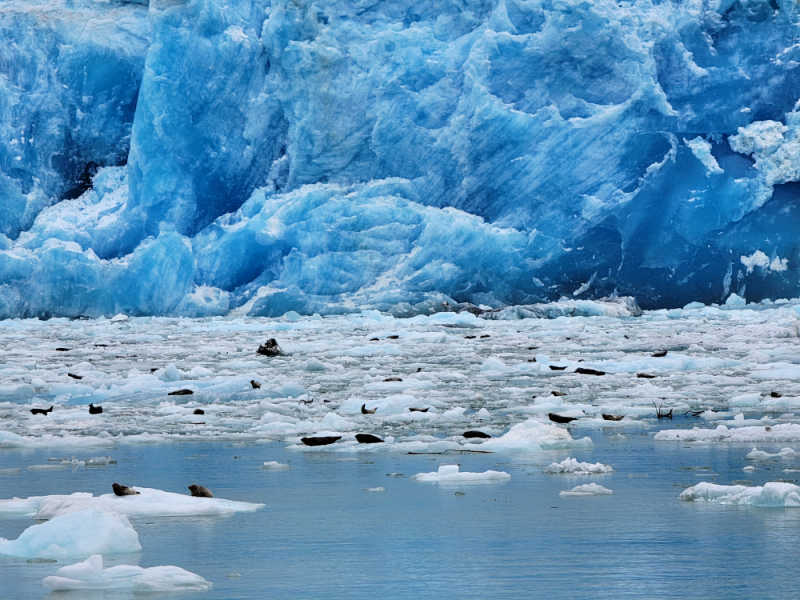 I might have squealed with sheer delight when we arrived at the South Sawyer Glacier and realized that all of the icebergs were covered with hundreds of harbor seals.
It was amazing!!!! While we didn't see the glacier calve on this excursion we did see it the last time we were there.
The excursion also gives you the chance to take epic photos of the Carnival Miracle sailing in the Tracy Arm Fjord.
The Tracy Arm Fjord Glacier Excursion lasts a few hours and takes you right back to the ship. We were able to also see the glacier from our balcony once we were back on board.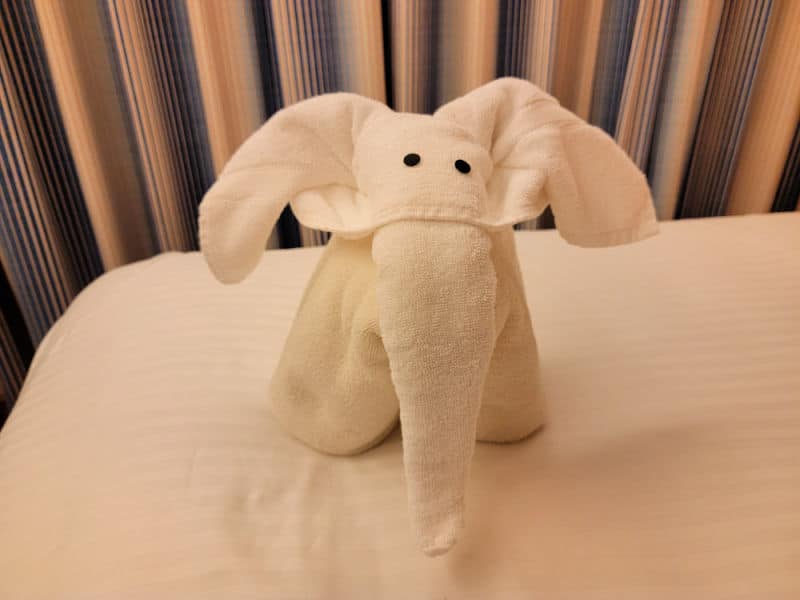 I had planned to be able to tell you all about the Red Frog Pub and Piano Bar on the Carnival Miracle this night but I have to admit something...
The seriously comfy bed was too comfortable and I might have fallen asleep and slept for 10+ hours until early the next morning right before we arrived in Skagway. OOPS.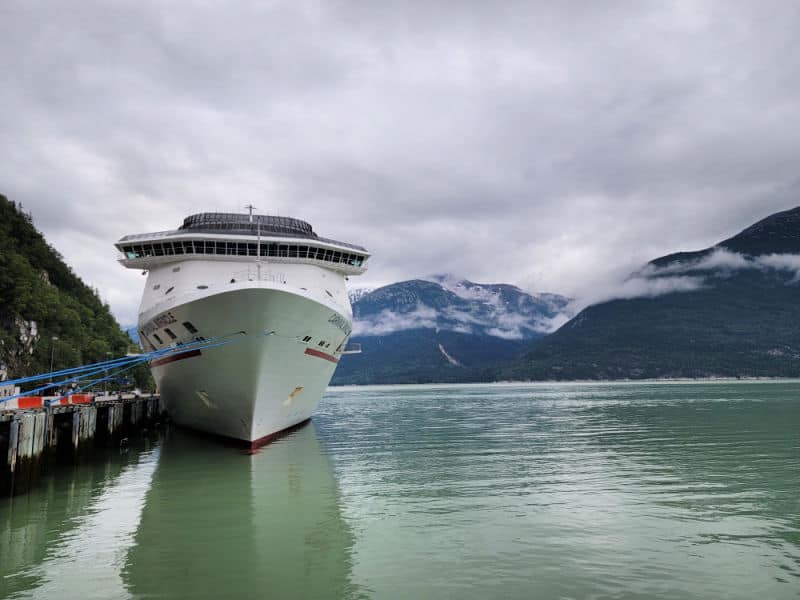 Skagway, Alaska
Skagway is a really easy port to get on and off the ship. Most of the time this is a long day in port with almost 12 hours to explore.
You can easily book a morning and/or afternoon excursion if you want to fit in a couple of adventures. We chose to walk off the ship and explore Klondike Gold Rush National Historical Park and wander through town.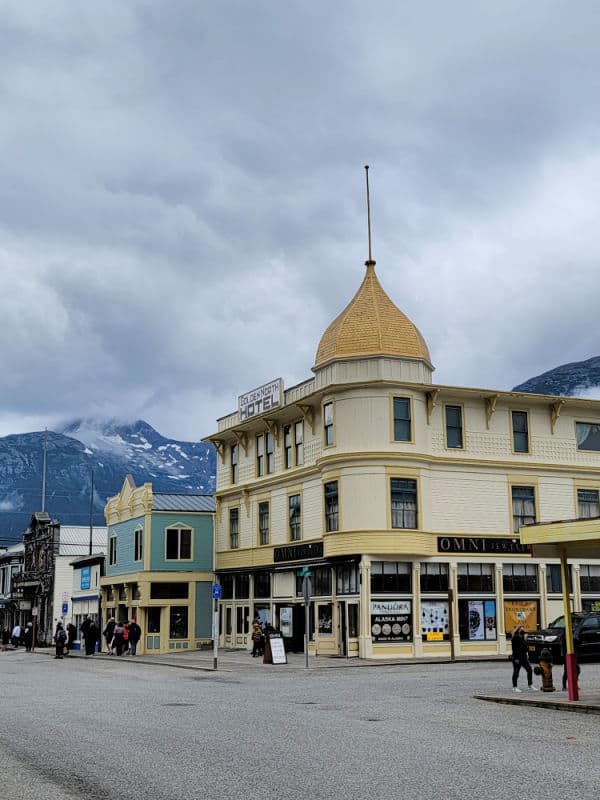 There is a great Smart Shuttle System that picks up right outside of the cruise terminal gate. You can pay $2 for a one-way shuttle ride or $5 for all day if you want to go back and forth from the ship into town.
This helps cut down on the walking if you have any mobility restrictions. Once in town, it is so easy to wander and check out the stores, local restaurants, and fun historical sites.
Klondike Gold Rush NHP has a great visitor center with a museum and park movie right in the heart of town. There are additional exhibits spread throughout town including the really fun Mascot Saloon.
Kids can become Junior Rangers and learn more about the park and the gold rush.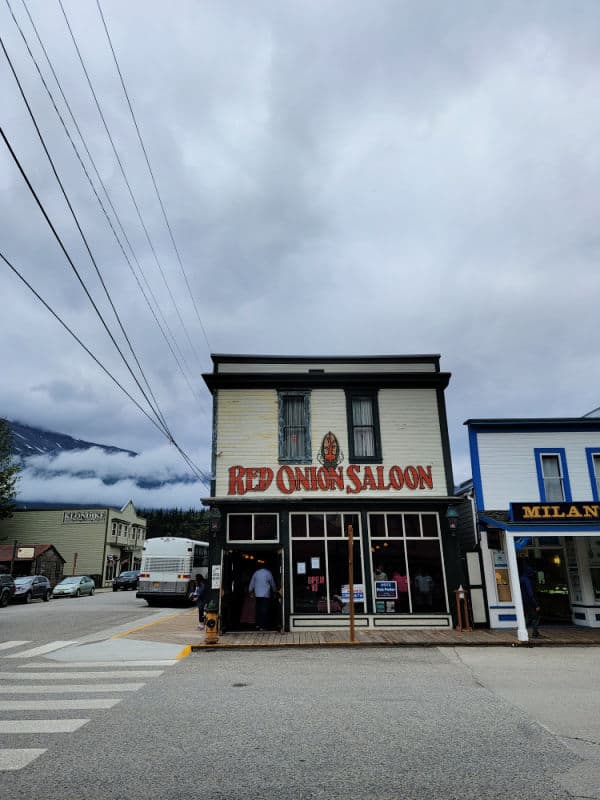 For lunch, we headed to the always popular Red Onion Saloon! They have fantastic themed cocktails including a reindeer fart shot that I am going to have to try and recreate.
Skagway is a great port to pick up a few souvenirs and gifts. There are a ton of shopping options ranging from jewelry stores to local crafts.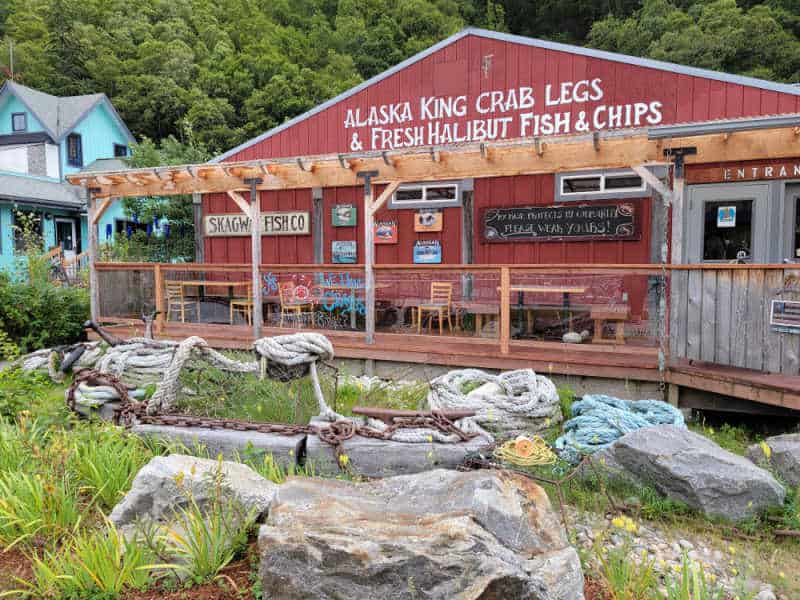 One stop we always make while in Skagway is visiting the Skagway Fish Company! You can't miss this bright red restaurant located just down from the cruise terminal.
My husband says they have the best halibut fish and chips he has had anywhere! John decided it was finally time to try some Alaska King Crab Legs and I am happy to say he loved them.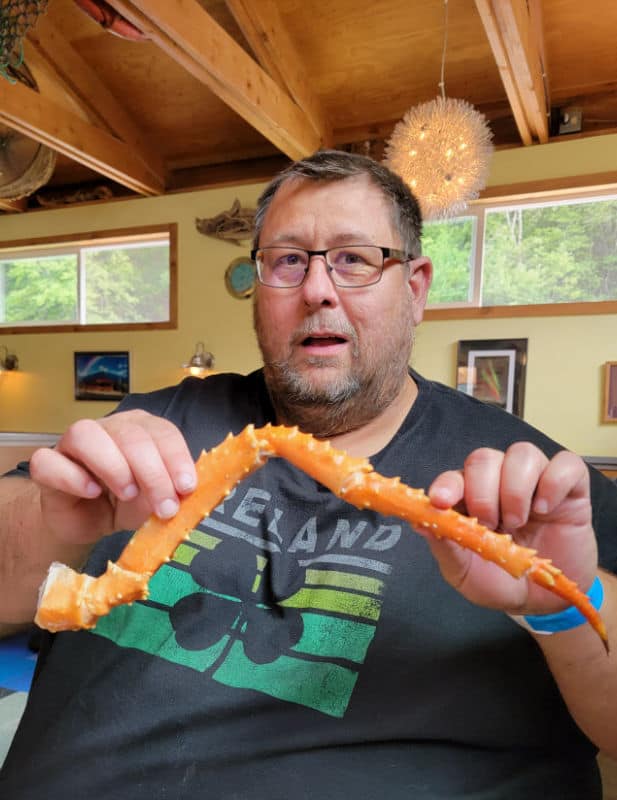 It is crazy to imagine just how big the King Crab is when you see how long their legs are. We watched many seasons of the Deadliest Catch while home this past year so it was a lot of fun to try one out.
After a full day in Skagway, it was time to head back on board and get ready for dinner. We decided to enjoy the Bacchaus dining room again specifically so we could have Chocolate Melting Cake for dessert.
They also have a great wine selection by the glass that is included in the Cheers Drink program.
We relaxed after dinner since we knew we had an 8 am excursion meeting time in Juneau.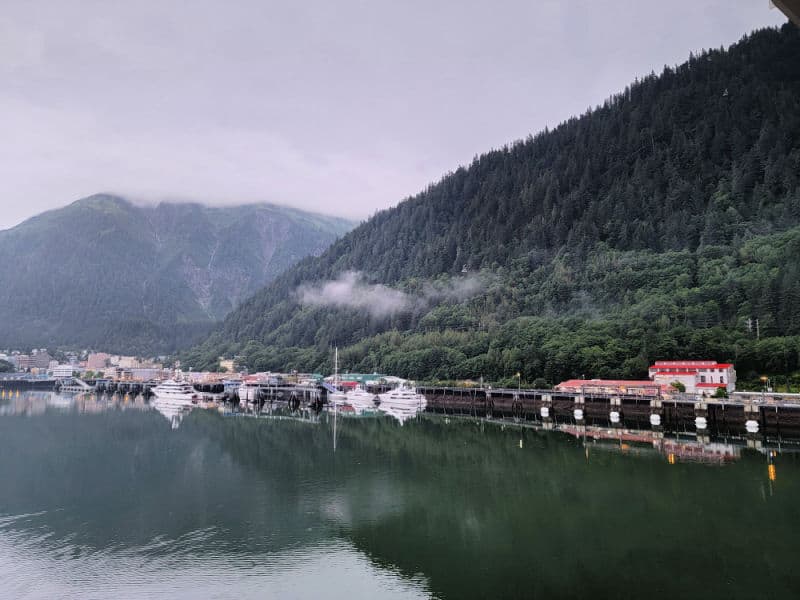 Juneau, Alaska
We arrived in Juneau early in the morning and it was gorgeous! The water was calm and so pretty as we slowly sailed into port.
Our excursion met at 8:15 am on the pier so we knew we needed to set 2 alarms and not let the comfy bed convince us to sleep in.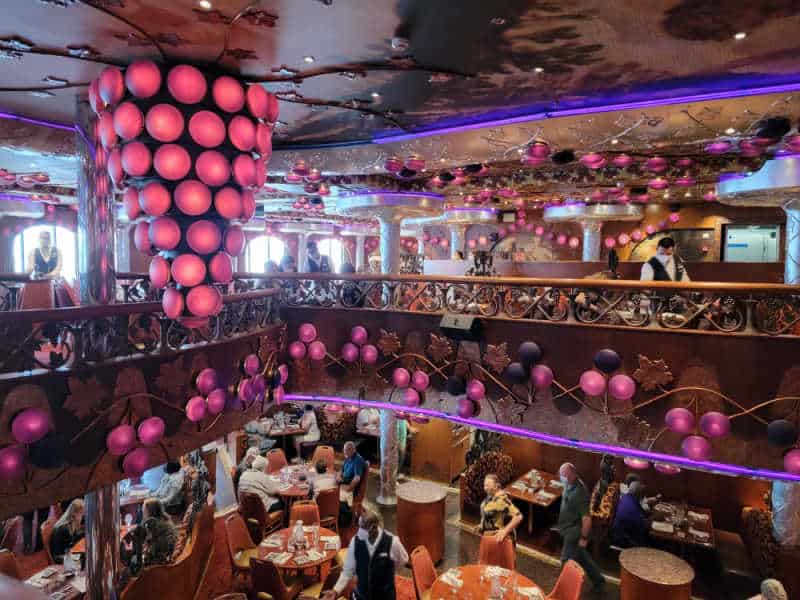 The main dining room has a great sit-down breakfast menu that is perfect for starting the day off. I find that most guests rush up to the lido deck for the buffet or to Blue Iguana Cantina for a breakfast burrito and forget about sit-down dining.
The menu has everything from eggs benedict to a great bacon and eggs breakfast sandwich. We like being able to start the day with a sit-down breakfast that includes coffee and tea along with a great meal.
We booked the Discover Alaska's Whales tour and it was so amazing. This excursion only has space for 20 guests so you want to book it as soon as possible.
On our way to the whale watching boat, we stopped at a viewpoint to check out the Mendenhall Glacier.
The excursion is on a small boat that fits the 20 guests, a guide, and the captain. One of the best parts of the boat is you are low to the water so the whales are close by.
When I say close I mean close! We had a mom and calf humpback swim within 10 feet of the boat and it was epic!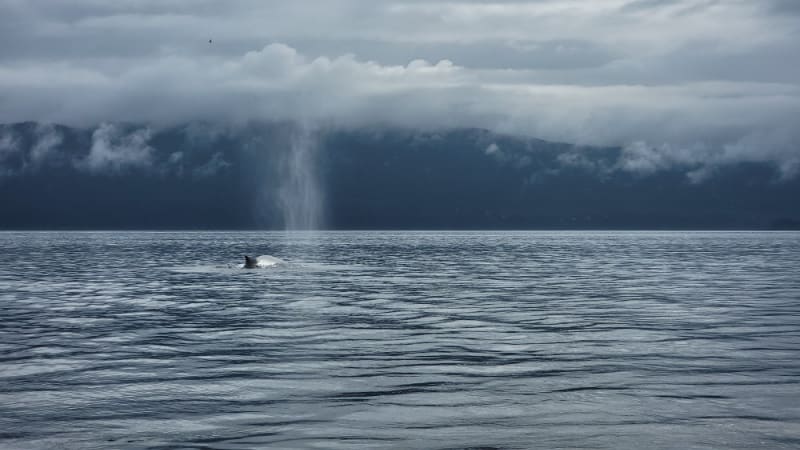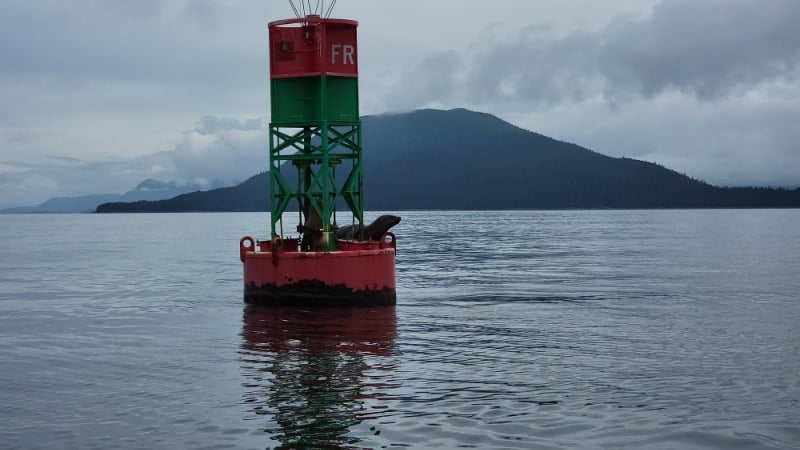 We saw at least 15 Humpback Whales during the excursions plus Stellar Sea Lions. It was fantastic!!!
I would do it again tomorrow if I had the opportunity.
The tour gives you the option of being dropped off in Juneau near the Red Dog Saloon so you can enjoy a couple of hours in town depending on the time of your excursion.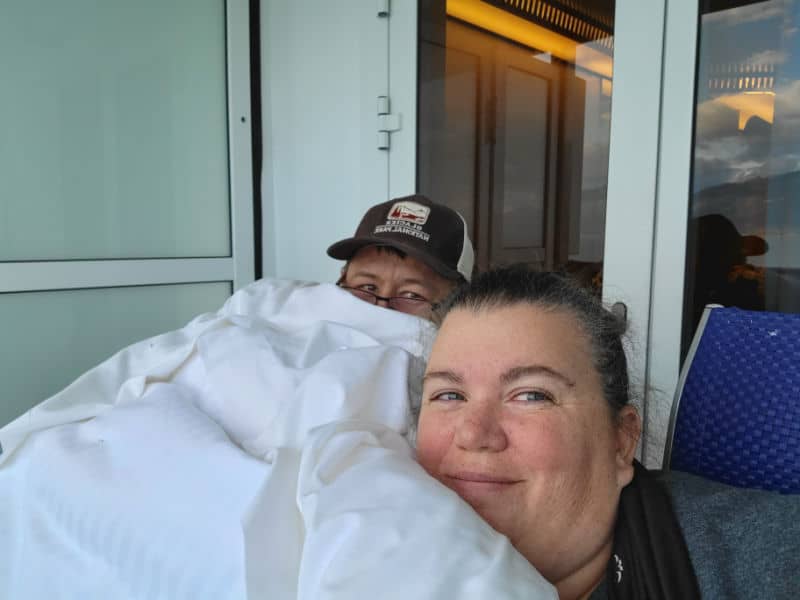 After a full day of whale watching, we headed back on board to relax and chill on our balcony. We spent 6 hours sitting on our balcony watching for humpbacks.
Of course the moment one of us would get up to run to the bathroom the humpbacks would show up. LOL!
At one point I started playing solitaire in hopes of the whales showing up since I wasn't paying attention.
We had the most amazing time watching a baby humpback continually breach and smack its little tail on the water. It went on and on putting on a show for us.
Everyone on their balconies was cheering for the baby humpback yelling "go baby go". It was one of those cruise moments you just can't plan for.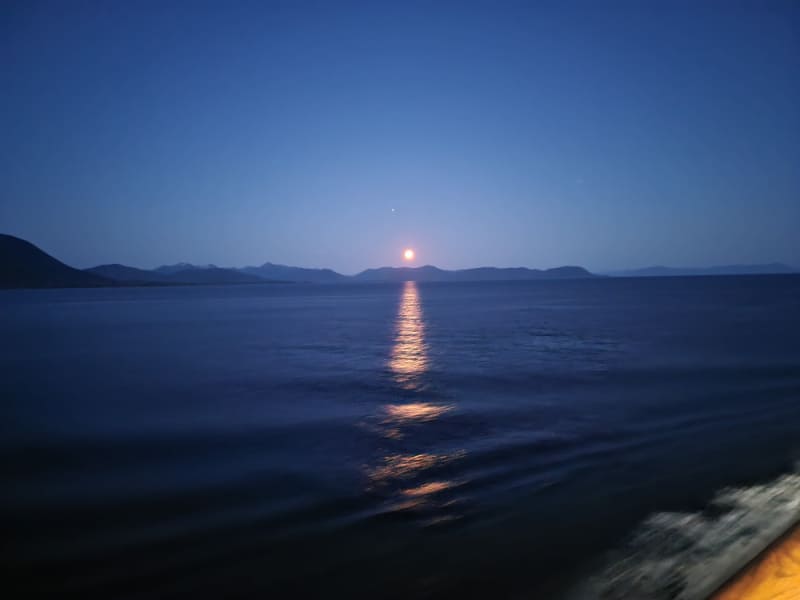 We had dinner in the main dining room and I tried a Carnival Cosmo for a new dinner cocktail. Check out the epic full moon we enjoyed. It was truly spectacular.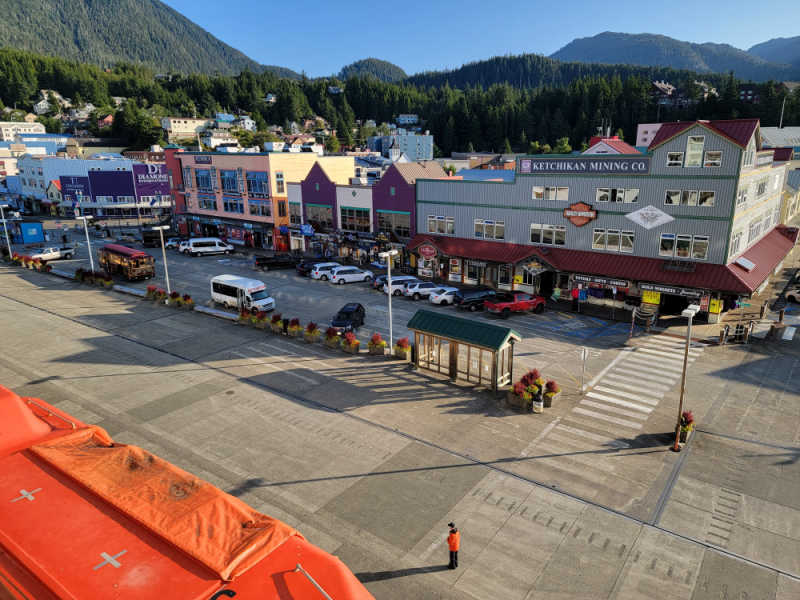 Ketchikan, Alaska
The first thing I have to say about sailing into Ketchikan is to make sure you close your curtains if you happen to sleep in things you don't want others to see.
The ship docks right next to town and you may get up and end up putting on a show for the people in town depending on what you are wearing or not wearing.
I love docking in Ketchikan it is such a gorgeous view as you pull into town.
Since we have been to Ketchikan a few times on previous Alaska cruises we decided to wander town and see what was new to explore.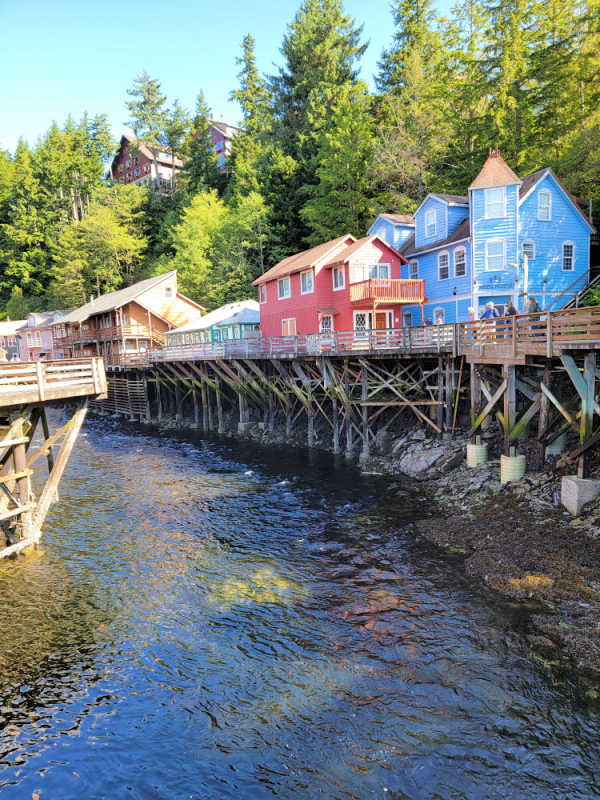 One of our favorite things to do in Ketchikan is to wander over to Creek Street and take photos. It is such an epic Alaska photo.
This year the salmon were spawning up the stream so it was fun to watch them and also the seals that were trying to grab them for breakfast.
Ketchikan is the perfect port to pick up souvenirs and gifts! The ship is so close you don't have to carry the bags very far. Plus a lot of the stores give you a free cute Ketchikan shopping bag.  We picked up great gifts for the family while in town.
After relaxing in town it was time to get back on board the Carnival Miracle and head for our balcony. We spent hours again watching for humpback whales and dolphins.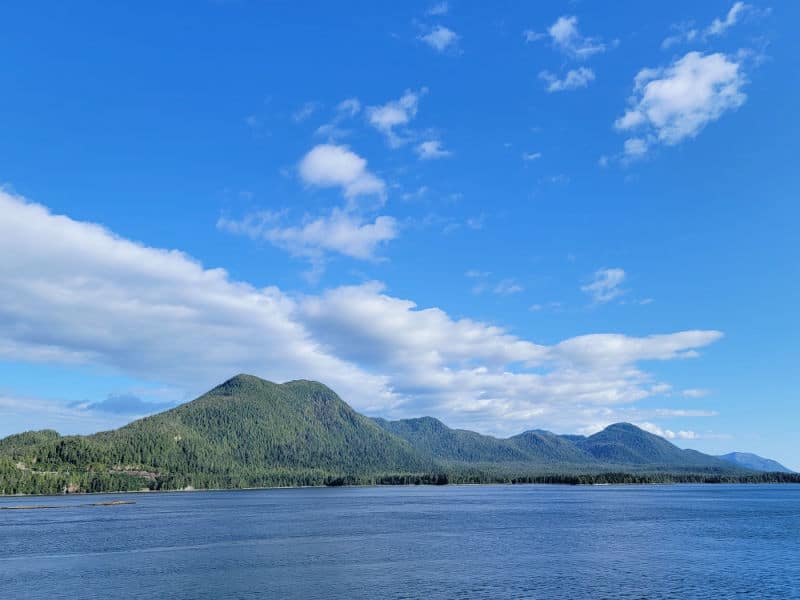 The views sailing out of Ketchikan are truly gorgeous. It is so relaxing and feels like you are tucked away in a safety bubble while relaxing on the balcony.
We didn't have to worry about anything except cuddling under the comforter we might have dragged off the bed and relaxing. These moments on the balcony of pure relaxation are exactly why we book cruises.
Being able to take a deep breath and just relax without any stress is so needed.
Before we headed to dinner we stopped by the Alchemy Bar for a couple of cocktails. You can never go wrong with a Cucumber Sunrise and a Purple Sunset.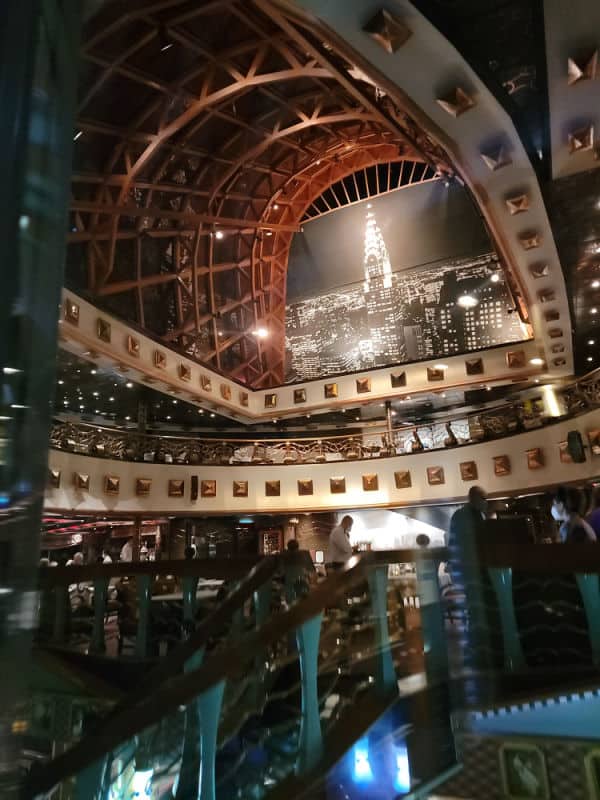 John booked us on the ultimate cruise ship date night at Nick and Nora's Steakhouse which is located on deck 11 right under the Carnival Funnel.
The Carnival Miracle is the only ship we have been on where the red Carnival Funnel is partial sunlight that lets the light in. Nick and Nora's Steakhouse is located directly under the funnel and offers a fine dining steakhouse experience.
It is an additional $38 per guest but you get an epic steakhouse meal. Even as a vegetarian they make sure you are happy and get an amazing meal.
My Husband John always looks forward to steakhouse night. He says the Carnival Onion Soup is the best he has had anywhere in the world.
John will also happily talk about any of the epic steaks available at the steakhouse. He is such a fan of Fahrenheit 555 and loves what Carnival offers with USDA Prime Beef that is aged for 28 days.
I will happily tell you about the epic desserts including Art at the Table which is a chocolate art piece, the chocolate bomb, and the huge piece of cheesecake that is available at the steakhouse.
After dinner, we were so stuffed but decided we would relax at the Alchemy Bar for a bit. The Alchemist Ismail and Zora are amazing and mix epic martinis and cocktails.
We realized we only had one more full day on the ship so it was time to soak in everything we could.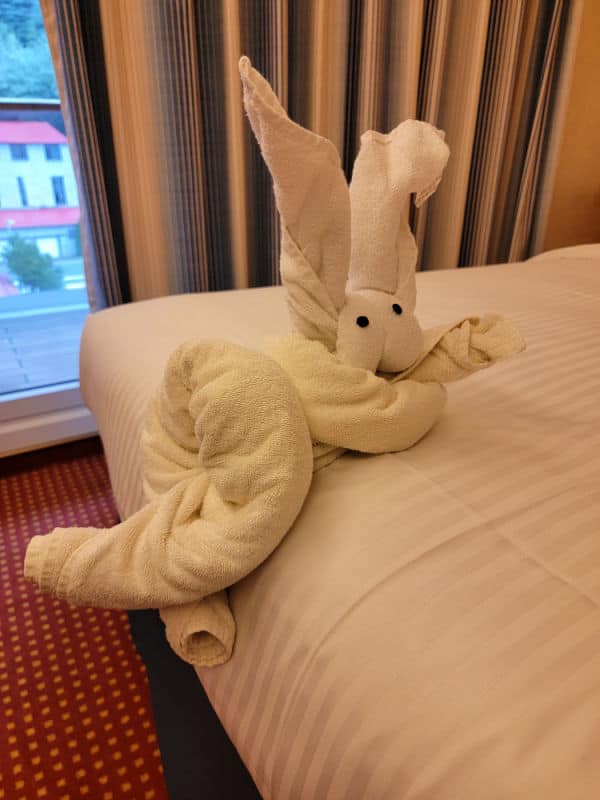 Sea Day
Did I mention I love Sea Days! When we first started cruising we would book our sea days packed with activities because we were so worried about missing out on all the fun.
Now that we have done 20+ cruises we are much more laid back and love sleeping in, enjoying sea day brunch, and just going with the flow.
After a delicious Sea Day brunch eggs benedict and John enjoyed a Pancetta Scramble we made our way over to the Java Blue Coffe Shop for an epic coffee made by the amazing Christian.
You guys Christian at Java Blue on the Carnival Miracle is truly hilarious and so much fun! He makes the perfect chai latte and whipped up John an iced caramel coffee that was beyond good.
He also made us laugh like crazy so much so that we ended up sitting next to the Java Blue Cafe for an hour just to hear Christian having so much fun.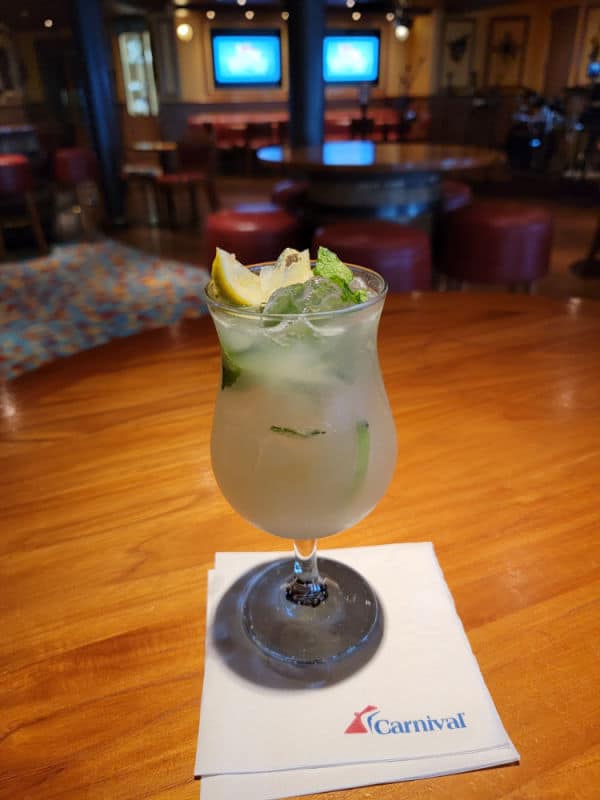 A quick stop at the Red Frog Pub to enjoy a Ting Mojito and a Rum Jumper along with attempting to learn how to play shuffleboard.
I am going to admit that neither of us has a clue how to play shuffleboard but we had a great time making up our own rules and trying to beat each other.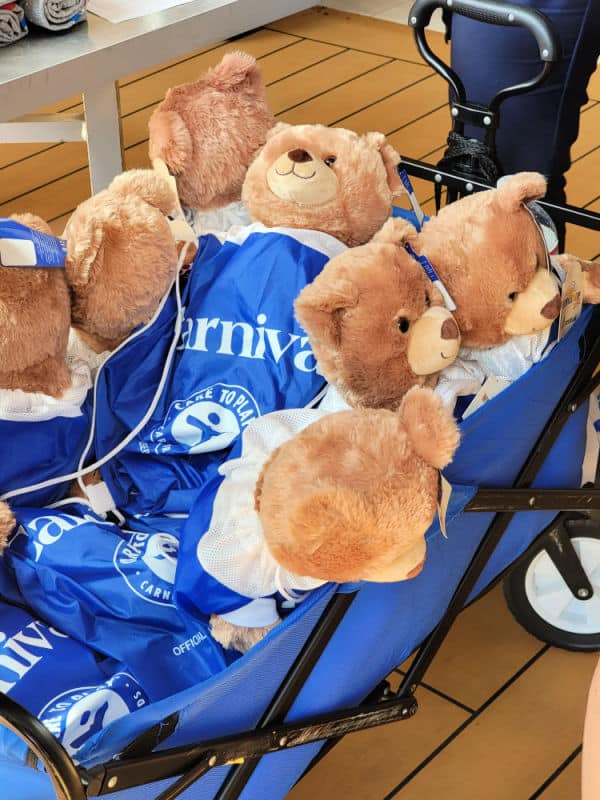 One of my favorite things on Carnival is being able to Groove For St. Jude. Carnival has an amazing partnership with St. Jude Children's Research Hospital in Memphis.
A few years ago I was blessed to fly to Memphis and help support Carnivals Day of Play at St. Jude. This weekend in Memphis was life-changing and we have donated a portion of our yearly profits to St. Jude since this weekend.
We highly suggest supporting St. Jude while on your Carnival Cruise! It is a fun and easy way to help families.
The rest of our sea day was spent relaxing and watching for whales off the balcony. We did drop down to the Alchemy Bar to see Zora and Ismail one more time. I had to get my last Carnival Cruise Cocktail in before we needed to pack.
Sadly our week cruise to Alaska was coming to an end! BOO!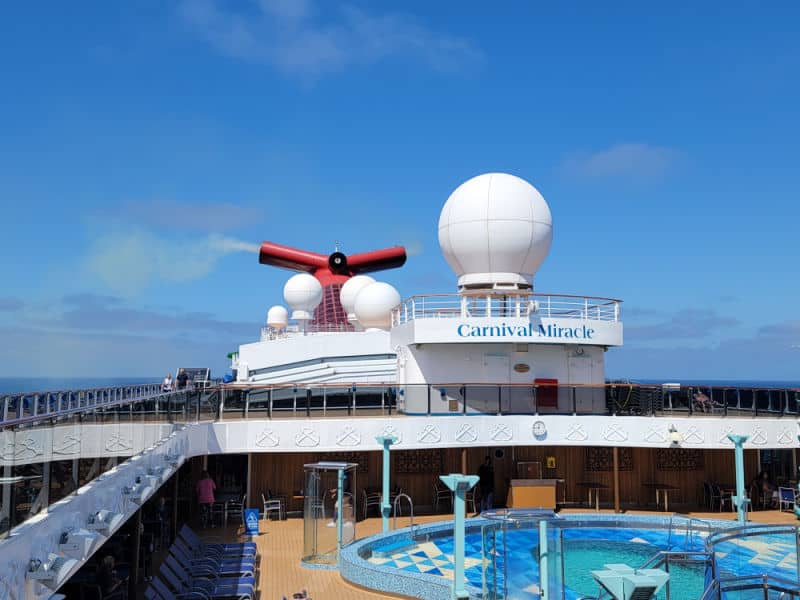 Disembarkation
Leaving the ship was way too easy! There were no delays or reasons why we needed to spend more time on the ship.
We walked down to the dining room where platinum guests could relax before disembarking and realized that our number had already been cleared. We walked out of the dining and down to the gangway and off the ship in less than 2 minutes.
It was so fast and easy. It literally took minutes to get off the ship, find our bags, and walk out to hop onto the parking lot shuttle bus.
As we were leaving the parking lot looking longingly at the Carnival Miracle wishing we had another week onboard we were already talking about when we could hop on another Carnival Ship.
After 18 months at home and not cruising it felt amazing to spend a week at sea exploring Alaska. The Carnival crew members were amazing and truly provided epic customer service and brought fun to the ship.
This trip was a reminder of why we love cruising and how important it is to take time to relax and enjoy time together.