During my trip to the Philippines, I experienced some crazy adventures, hilarious moments, a few scary moments, and just plain craziness. During my entire trip, I kept thinking about all of these things I didn't know I needed to experience in life until I went to the Philippines. Some of these are amazing and some of these I would be just fine not doing again.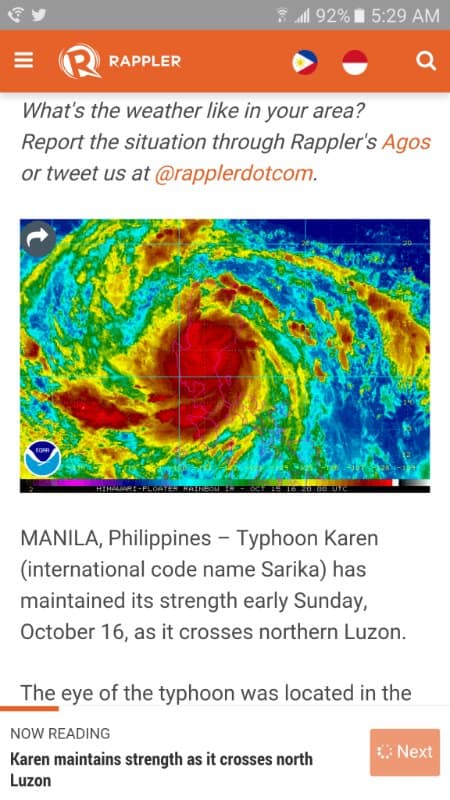 Things I didn't know I needed to experience in life until I went to the Philippines
Going through 2 typhoons including a super typhoon
Experiencing a typhoon was not on my life goal list! I would happily have gone through life without living through or experiencing a typhoon but that was not how the trip was meant to happen. The first typhoon happened while I was staying in Manila. It hit in the middle of the night and woke me up but other than that we didn't have any issues. It was just odd to be in a hotel room knowing that there was a typhoon hitting the country. During this night I realized by watching social that a 2nd typhoon that was considered a super typhoon was also due to hit the country later in the week.
I was on the island of Palawan and Lagen for the 2nd typhoon. We got the tail end of the storm and were not hit with the full brunt of the storm. We did get "Stranded" at the hotel on the private island during our stay. Our island tours and events were canceled due to small craft warnings on the sea. There was a small craft warning for no boats to be able to be out on our way to the island but they waved us through so we could make it to the hotel. That turned into quite an adventurous wet ride to the hotel.
Check out my post about Typhoon Karen.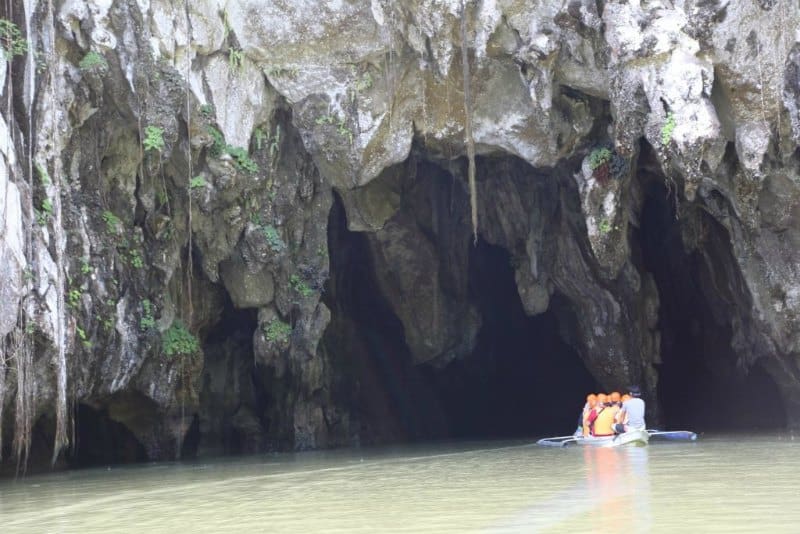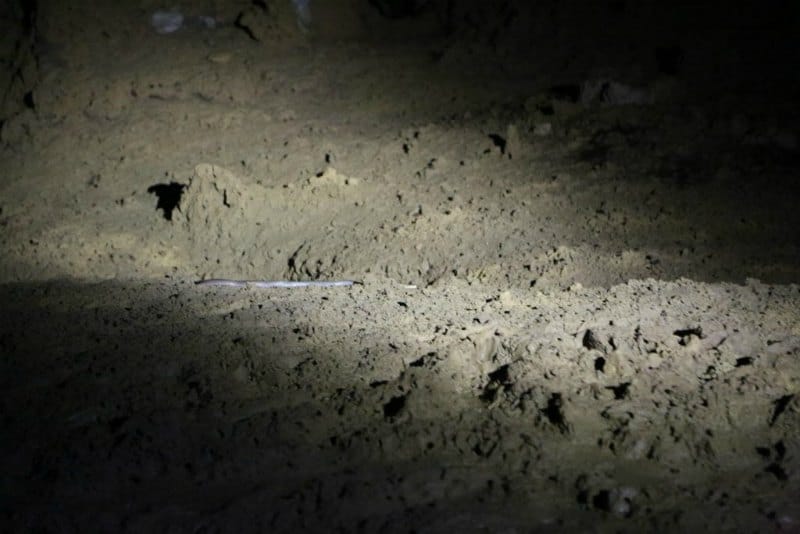 Go 1.5km into an underground cave and see a poisonous water snake and thousands of bats
We have talked many times about my thoughts on caves...not a fan in case you missed any of my previous posts. I get super claustrophobic and do not like the idea of not knowing how to get out of the cave. So when my trip included a trip into a cave that is a UNESCO World Heritage Site I had to take a deep breath and go for it.
Total squishing my fears and trying to just meditate the entire time. Of course, once we were in the cave the tour guide finds a translucent snake and asks if we want to see it.
My lovely boatmates were all HELL YEAH while I was just trying to breathe in and not freak out.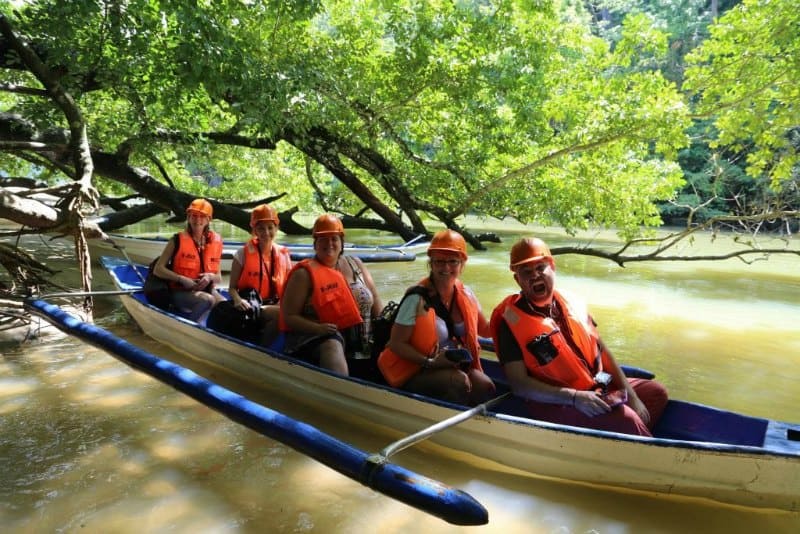 Have 3 sister wives and an adopted travel husband
Ok, keep your mind out of the crazy and let me explain. During the trip, I bonded with 3 of the ladies on the trip and 1 guy who became my travel husband.  The nice thing about having a travel husband is I get to have them try my food to make sure it is vegetarian and won't make me sick.
My sister wives had me laughing all day long. While we were stuck on the island we all enjoyed mango daiquiris together and did mini photoshoots to pass the time. Oh did I mention that Stef brought a blow-up flamingo for the pool (more on this later)
Check out my Sister Wives and Husbands websites
Evo and Sheila can be found at - The Opportunistic Travelers
Stef can be found at - Everyday Steph
Jean can be found at - The Traveling Honeybird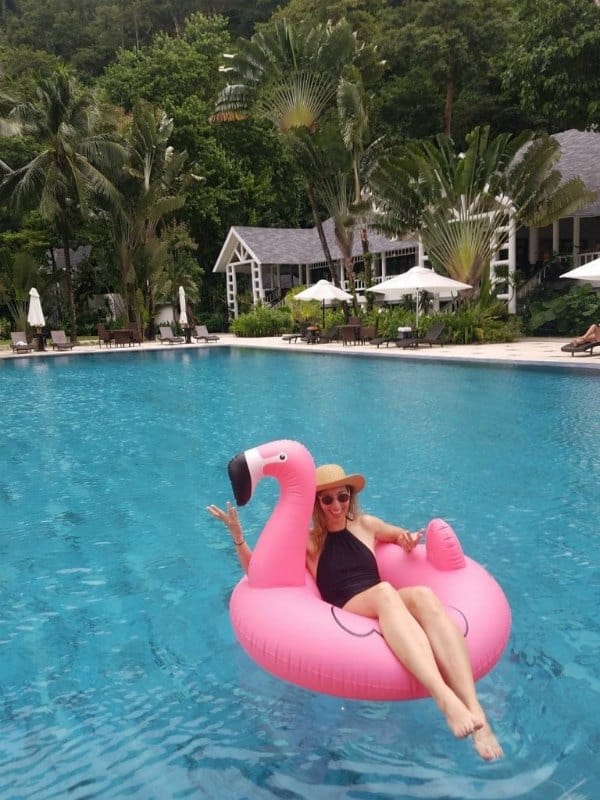 Spend time with a flamingo named Lady Boy
While stuck on the island Stef brought out a blow-up flamingo which we promptly named Lady Boy.
He became our mascot and drank mango daiquiris with us, lounged in the pool, and provided some serious comic relief.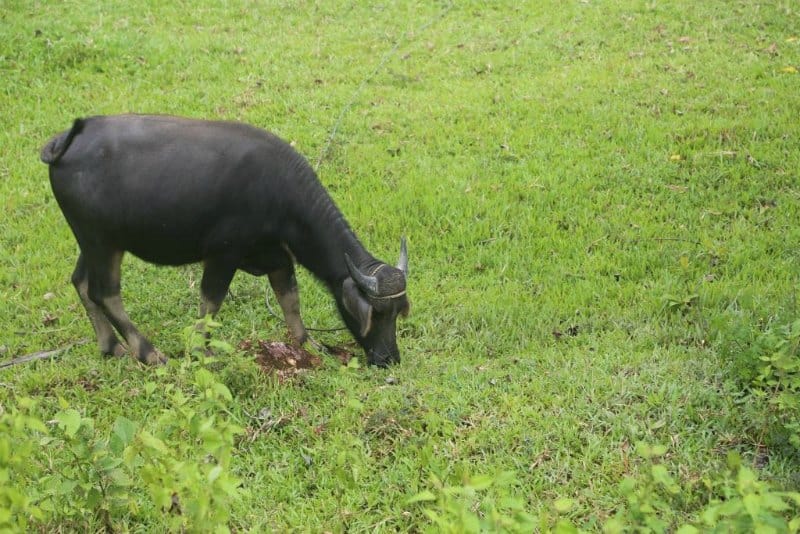 Hug a water buffalo
Funny things happen when you are in a van for over 5 hours on windy curvy roads in the rain. You start to focus on anything that makes you giggle.
For us, it was the idea of hugging a water buffalo. We even asked our guide if water buffalos liked to be hugged. I am pretty sure he thought we had lost our minds.
I ended up taking more photos than I should admit of water buffalos out the window of the van. Sadly we never had the chance to actually hug one.
Have a chocolate spa treatment and be inspected in the shower by my masseuse
There are no photos for this one thankfully! During my stay in Manila, I decided to treat myself to 5 hours worth of spa treatments including a chocolate scrub, a chocolate mask, and then a massage.
After my chocolate mask that was applied all over my body, the masseuse told me to rinse off in the shower. As I was rinsing off I thought she was bringing me a towel when the shower door opened...I was wrong she was there to make sure I had removed all of the chocolate from my body.
She had me do a full 360 in the shower pointing out any areas I might have missed with chocolate.
This was definitely not an experience I ever thought I would have in my life.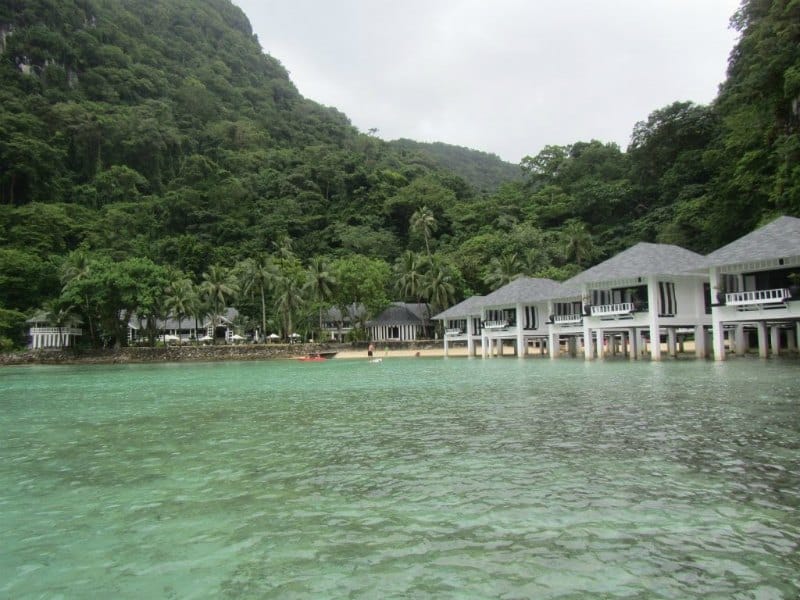 Be stranded on a private island
Not to get all Gilligan's Island on you but being stranded on a private island was definitely not something I thought I would experience in my life. It helped that we were at a seriously gorgeous resort, the El Nido Lagen Island Resort, surrounded by lush tropical rainforest and there was a buy 1 get 1 happy hour on mango daiquiris.
We ended up spending our days reading, drinking chai tea, having mini photoshoots, and just passing the time watching the rain.
Overall my time in the Philippines was filled with crazy adventures, so much laughter, and pushing past my fears. I have so many photos and stories to share with you all in the upcoming weeks!
A huge thank you to the Philippines tourist bureau and TBEX for setting up this trip and taking such good care of us.
Additional Philippines Travel Resources
Things to do in Puerto Princesa
Check out all of our Philippines Travel Guides