We absolutely love cruising! There is just nothing quite like boarding a cruise ship and exploring a new part of the world. We have traveled the world on cruise ships and wanted to share our Cruise Vacation Tips with everyone.
These are lessons that we have learned through taking multiple cruises and talking with other passengers. Please let us know if you have any great Cruise Vacation Tips! We love sharing tips for a great cruise vacation and want to make sure everyone has a great cruise vacation.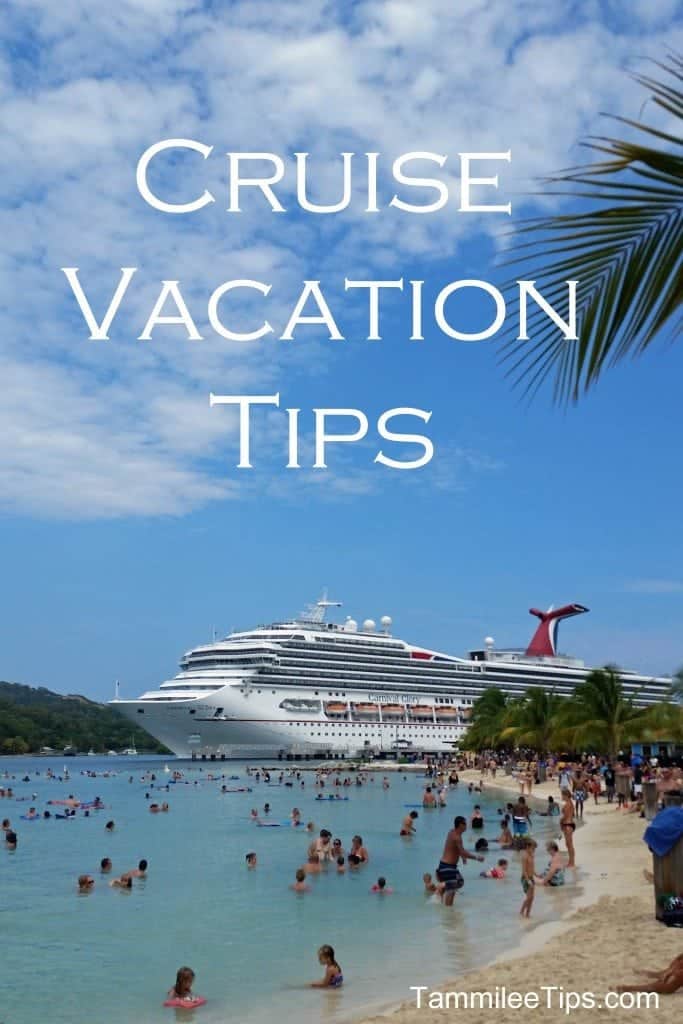 Cruise Tips
Gift Shop Purchases
Keep an eye out for sales at the ship gift shops. Many cruise lines will have special sales during your cruise including discount t-shirts and other gifts.
Princess Cruise Lines has a huge sale on the final sea day with great discounts on products.
Specialty Dining
Make reservations for specialty dining early in your cruise. Many of these restaurants are completely booked by mid-cruise.  Some cruises offer a bonus bottle of wine or other item for booking a specialty restaurant on the first night of the cruise.
Dining
Don't rely on just the buffet for meals. Most ships offer a great sit down breakfast and lunch. The food is wonderful and it is a lot less crazy than the buffet lines
Packing
Don't forget to pack!
~Large Ziploc bags
Make sure you pack multiple large 1-2 gallon Ziploc bags. These can be used for wet swimsuits, souvenirs when the shops don't have bags, dirty clothes and so much more
~Travel Mug & Water Bottle
~Soda/Bottle water
Check with the boat to find out how many each passenger can bring on board. This is a great way to save money on vacation.
~Champagne/wine
Many ships allow you to bring a bottle on board with you. You may have to pay a corkage fee if you ask them to open it in the restaurant but you can enjoy it in your room for no cost.
~Bottle Opener
If you plan to enjoy a beverage in your room make sure you pack the appropriate bottle openers
~First Aid Kit
~Pack a change of clothes in your carry on
In-Cabin Tips
~Check and see if suitcases will fit under the bed to save room in closets
~Pack a nightlight to help find the bathroom easier. The rooms are not large and it is easy to bounce off of things
~Let the cruise ship know if you would like 2 single beds or a double. The room can be configured how you like it
Misc Tips
Keep your cruise daily newsletters to refer back to as you go through pictures. These are a great way to know what day you did what on the ship and label pics correctly.
Make sure and enroll in the cruise email when you book your cruise. Many times past passengers receive great discounts on future cruises
Don't be afraid to ask questions! Ask your server, cruise staff, and other guests their favorite things to do in port. This is a great way to learn what to see and do from people who have been to the port before.