Epic 7 Day Holland America Alaska Cruise on the ms Eurodam out of Seattle. I am so excited to share with you our Alaska Cruise that visited Glacier Bay National Park, Sitka, Icy Strait Point, Juneau, Ketchikan, and Victoria.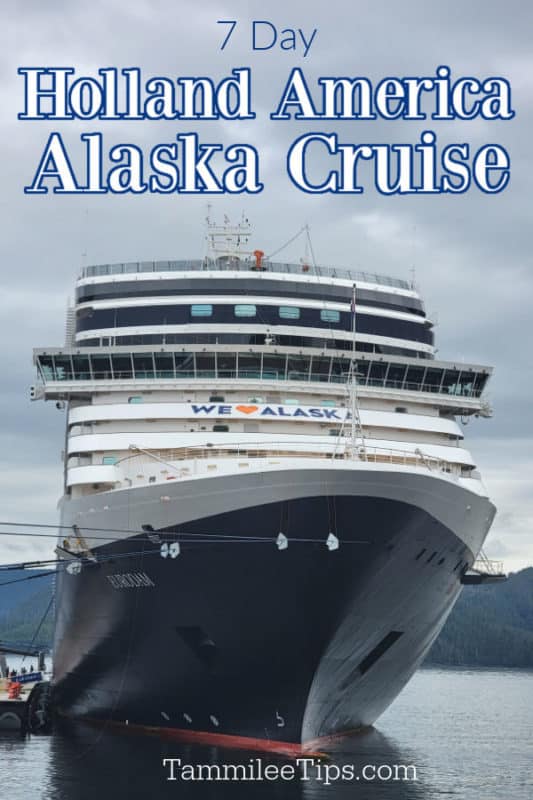 7 Day Holland America Alaska Cruise
Pre-Cruise
I love getting set up for a new cruise! It makes me so happy to fill out all of the paperwork knowing we will soon board a new cruise ship.
This is our first time sailing with Holland America Line so we made sure to get everything filled out as soon as we could.  We toured the Holland America Westerdam a few years ago but have not sailed with Holland America before.
A couple of days prior to our cruise we had to do a covid test and show the negative test results at boarding.
We have been using the Abbot e-med tests that you can do with your phone from home.
It always feels so good when the tests come up negative and you know that you are cleared to cruise.
Packing for an Alaska Cruise is always a process. Even though it is July and warm at home it definitely can be a different story in Alaska.
We have learned after multiple Alaska Cruises to pack for every weather opportunity. It can be sunny one minute and cold and rainy the next.
I had to dig out all of our winter gear that I hid in the closet hoping it would delay the return of winter in Spokane. LOL!
We booked this cruise last minute when we saw an epic deal and the itinerary was perfect! While this cruise did not go to Tracy Arm Fjord we were ok with that since we love any chance to be in Glacier Bay National Park.
This will be the first time we will visit Icy Strait Point and Sitka, Alaska. We are so excited to visit Sitka National Historical Park.
This Alaska Cruise vacation is so needed and I can't wait to see wildlife, hopefully, a ton of whales, and relax with the epic views that are everywhere on inside passage cruises.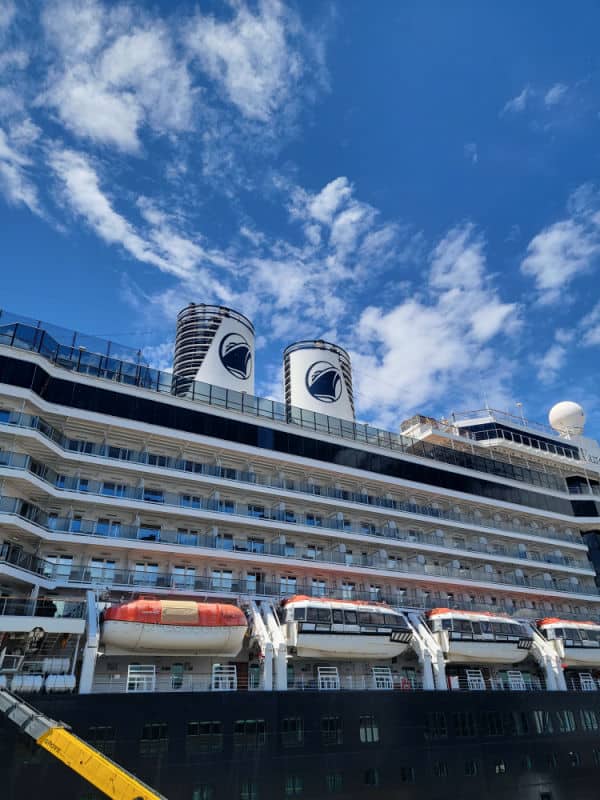 Itinerary - Cruise roundtrip from Seattle
Embarkation - Seattle, Washington - Sailing Puget Sound
Day 2 - At Sea
Day 3 - Scenic cruising Stephens Passage and Juneau, Alaska
Day 4 - Glacier Bay National Park and Icy Strait Point, Alaska
Day 5 - Sitka, Alaska
Day 6 - Ketchikan, Alaska
Day  7 - Victoria, British Columbia, Canada
Disembarkation - Seattle Washington
Cabin - STATEROOM: VQ10027
Deck 10 - Panorama Deck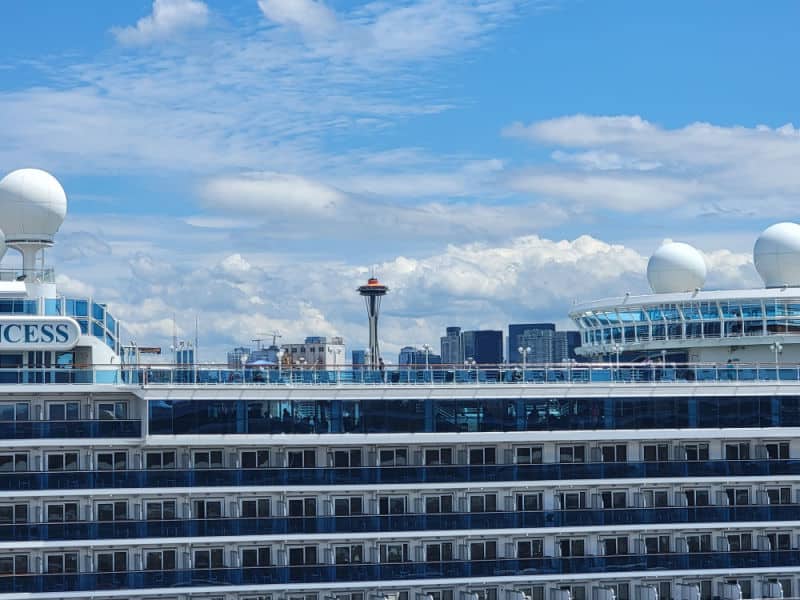 Check out epic cruise deals on Expedia
Embarkation - Seattle, Washington
Depart: 3:00 PM
We had a 1 pm boarding time so we enjoyed a lazy morning at our hotel in Issaquah before driving over to the port.
Parking at the Seattle Port is super easy. There is a really friendly parking attendant there who helps with the machine. You pay for the full 7 days when you arrive and then park in the lot.
There is a free shuttle bus that comes around and picks everyone up and drives you directly to the port terminal. Once at the port terminal you will want to be prepared for a LINE!
Depending on the time you are boarding and how many people have shown up the line can be long. If you have any mobility restrictions or are unable to stand for a length of time make sure to tell one of the employees working the line.
They can try to help make the process smoother for you if possible. The other way to help the line is to make sure you have all of your paperwork ready to go.
We were unable to sign up for verifly with Holland America because I missed the deadline for getting our info in. If you have an upcoming cruise I would highly suggest taking this step and filling out the information.
Guests who had their verifly info confirmed were able to skip the line and walk right through. It was amazing.
Once we passed through the health screening and security x-ray screening it was a breeze getting onto the Eurodam.
The bonus of not boarding until around 2 pm was we were able to walk on and head right to our room. Our balcony stateroom is on deck 10 at the front of the ship so we headed to the room to take a deep breath and start our Alaska cruise vacation.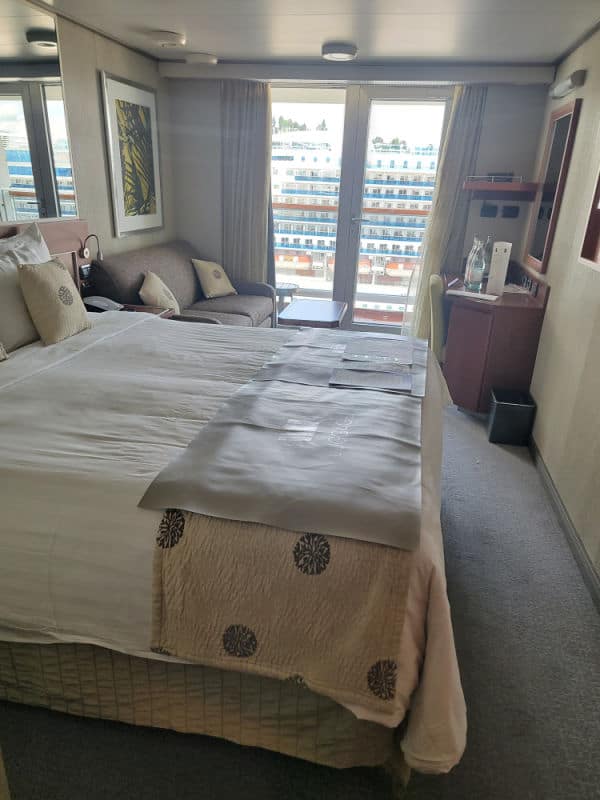 The muster drills have changed a bit in the past few years for the better. Now you just have to watch the safety video on the tv in the stateroom and visit your muster station to confirm where it is and how to put on a life jacket.
The past few cruises we have been on it has been this way and I love it! No more lining up with a ton of people waiting for a presentation.
Now it is quick and easy and you are ready to start your cruise vacation.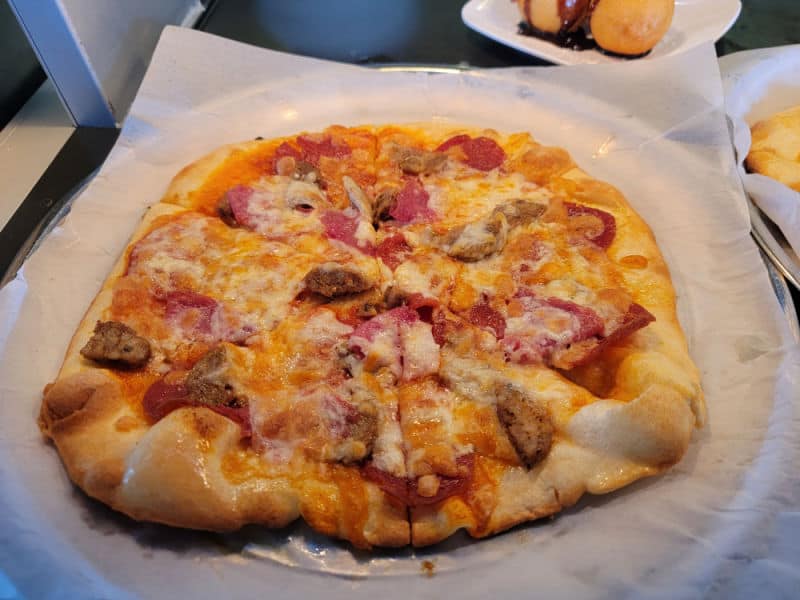 Our goal for this Alaska cruise is to relax and have a super chill trip. We decided to grab some New York Pizza on the Lido deck and check out the lido buffet for a late lunch/dinner.
I have to tell you I am in awe of the salad bar on the Eurodam. It is huge and has so many fresh options. Plus the salad bowl is not a tiny little bowl that holds 2 pieces of lettuce it is a big bowl with more than enough space for an epic salad.
We loaded up a salad bowl with so many fresh veggies it was the perfect pairing to balance out our pizza.
One thing to note if you are plus size is a lot of the chairs on the ship have arm rails that are not very big. You may have to walk a bit to get into the lido buffet to find a bench or space that is comfortable to sit on.
We did not find any chairs on the lido deck that didn't have arms that were not the most comfortable.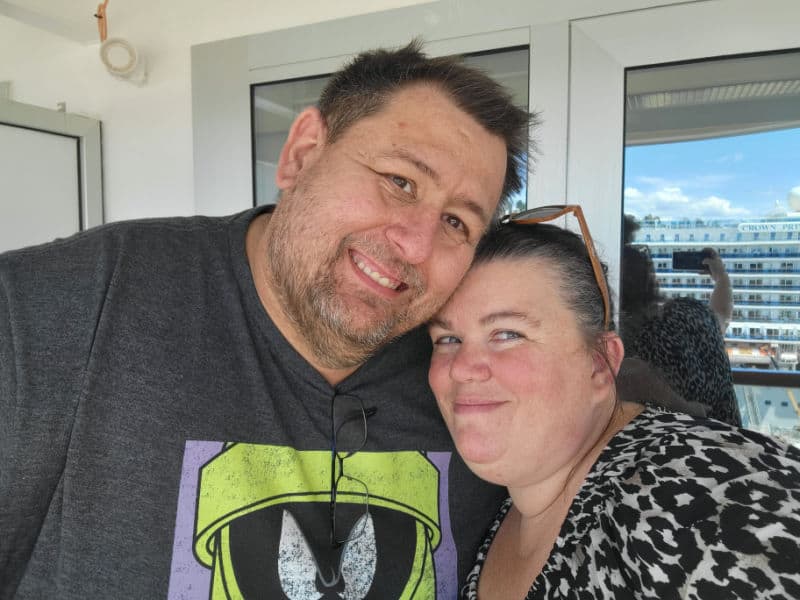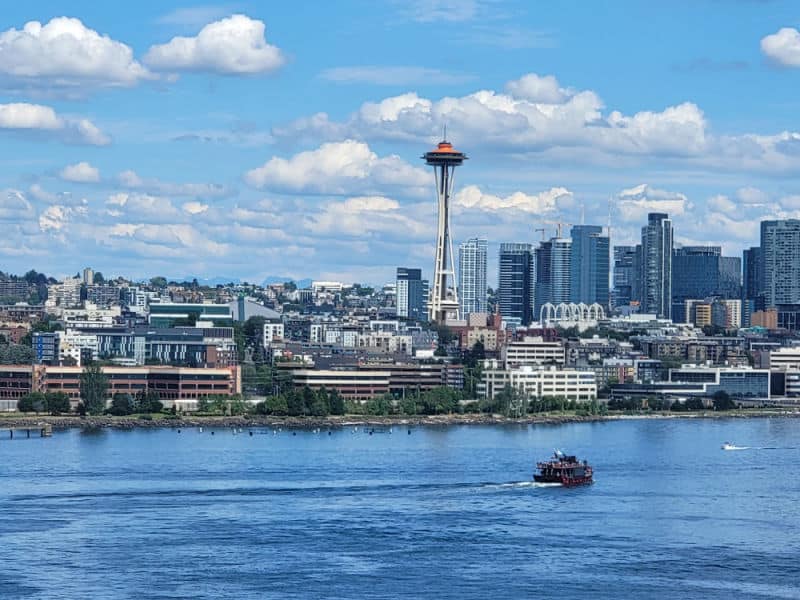 After dinner, we headed to the room to unpack and watch the world go by on our balcony. The views leaving Seattle are some of our favorites.
One really great bonus is Holland America has deck blankets so you can cover up while hanging out on the balcony.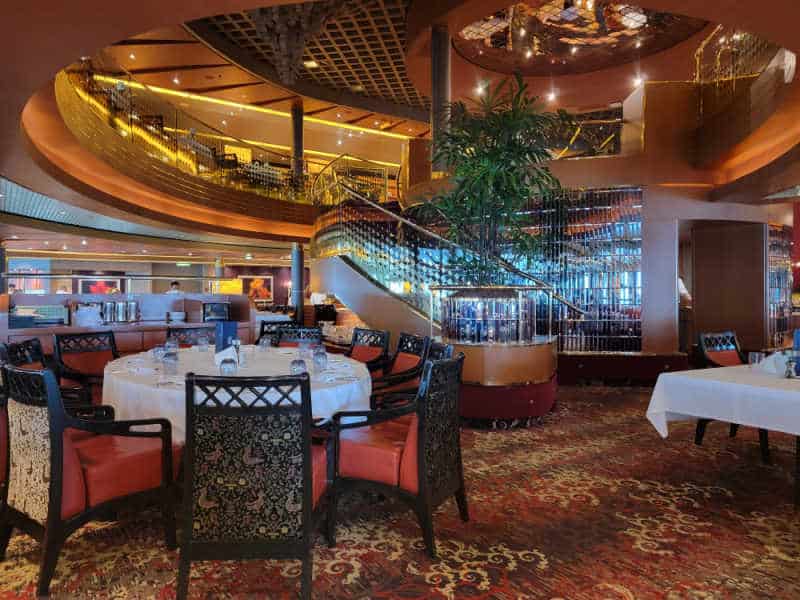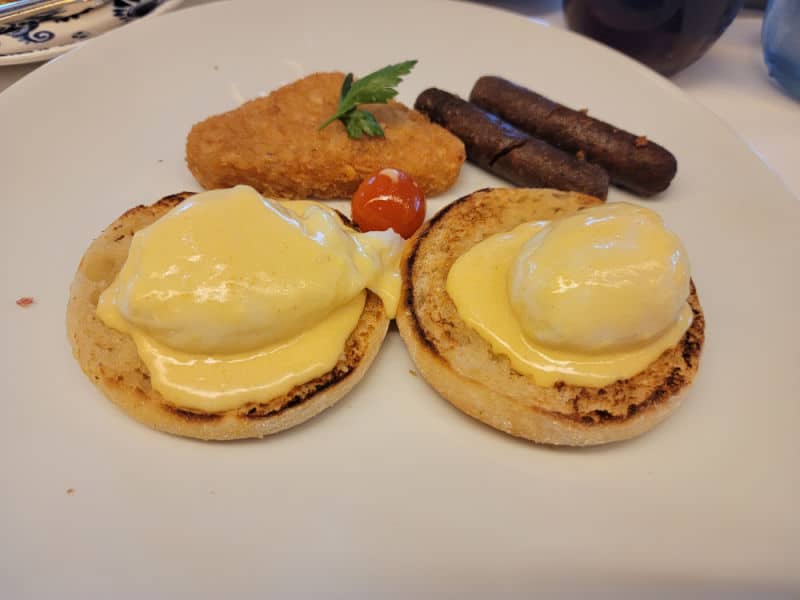 Day 2 - At Sea
We woke up early and headed to the main dining room for breakfast. I was counting down the minutes to an epic eggs benedict breakfast and it did not disappoint. Hello yum!
The eggs benedict was perfection.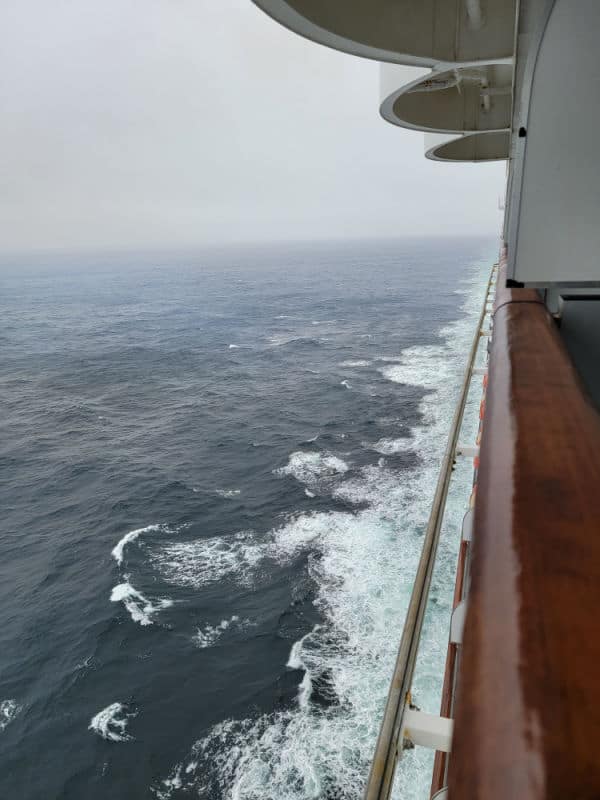 Cruising up to Alaska the seas got a bit rough. I have to admit for the first time in over 20 cruises I ended up seasick. I was not a happy cruiser most of the day.
Our sea day turned into a movie day in our room curled up in bed. I did crawl out to get a veggie burger at the Dive In burger restaurant but that was my only excursion from the room.
Being seasick was not fun I have to admit. I am also going to admit that I didn't pack any of the seasickness bands we have or the anti-nausea meds because I assumed after 20 cruises of never having seasickness we would be fine.
Life lesson learned always pack the basic essentials and then just hope you don't need them.
One thing that has really impressed me about the Holland America Eurodam is the sheer number of movies available on demand in the stateroom.
They are free and included in the cruise. Movies that we just saw playing at the theater a couple of months ago are available on board.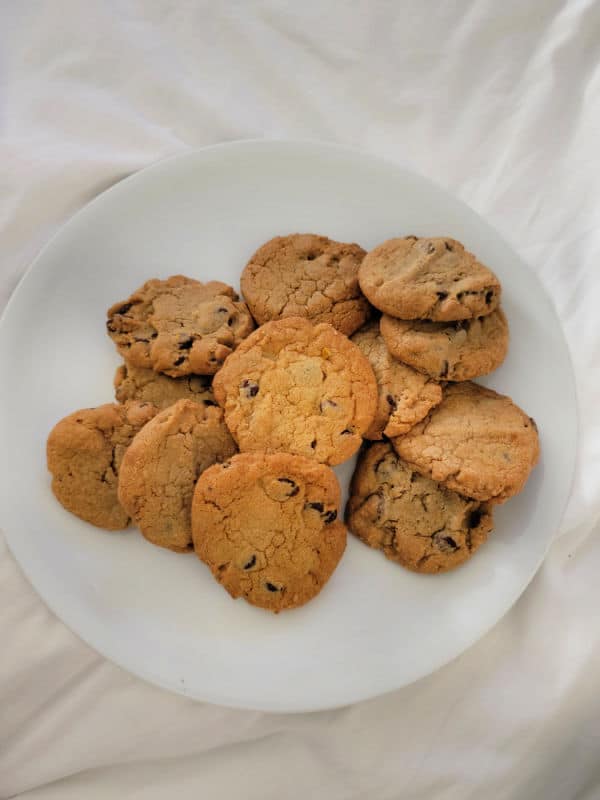 We ended up watching 4 epic movies and ordering room service for dinner. When you book a Holland America cruise you NEED to order the chocolate chip cookies from room service.
I am going to out myself and say that I may have called in a 2nd order right after the 1st order arrived. They are the best chocolate chip cookies we have had on any cruise line.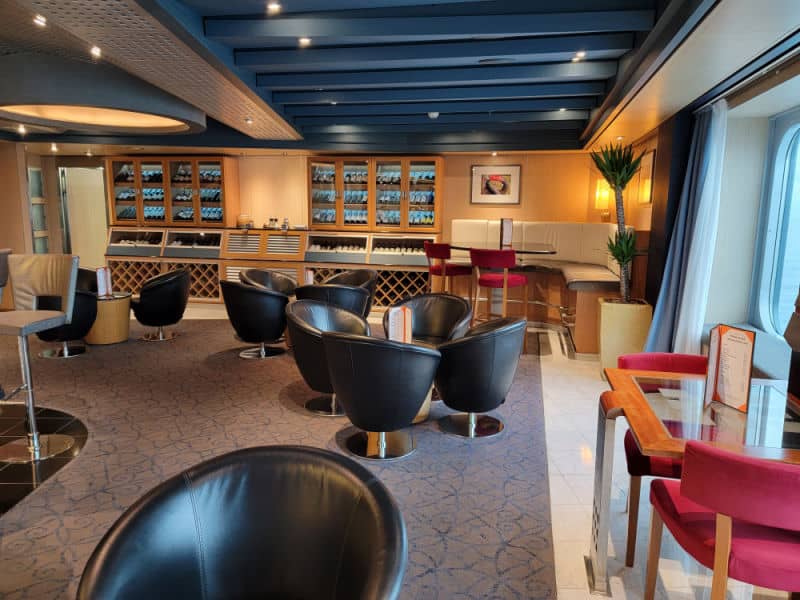 Day 3 - Juneau, Alaska
Arrive: 1:00 PM Depart: 10:00 PM
We woke up early after spending the entire sea day napping and watching movies.
Thankfully the Pinnacle Bar on deck 2 was open and we were able to get coffee and an epic chai tea before the dining room opened.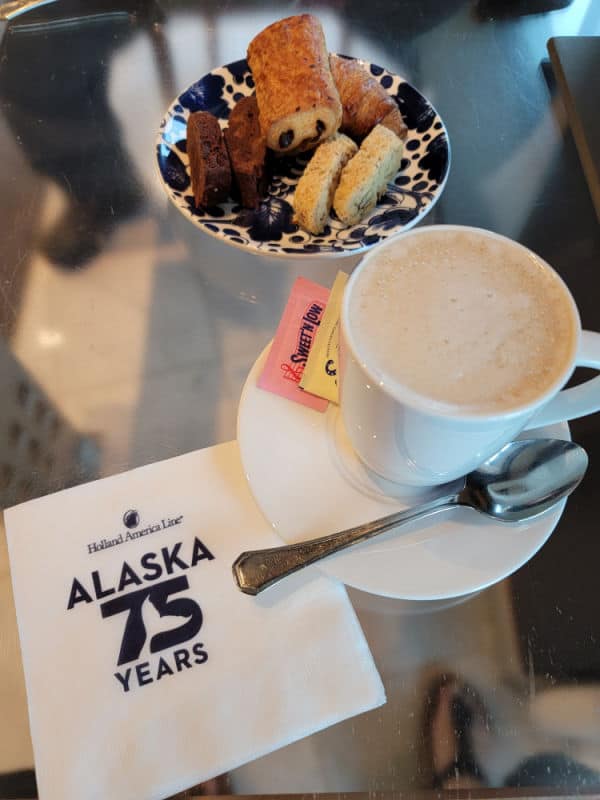 I have to say it was the best chai tea latte I have had on any ship. The presentation, the flavor, and the amazing staff all combined to make it unbelievable.
We will definitely be starting each day there from now on. Plus the amazing barista brought us a small plate with a chocolate breakfast pastry, a croissant, and biscotti on it.
My amazing husband scooped up the chocolate pastry before I could get a bite and said it was divine. LOL.
Breakfast in the dining rooms is one of our favorite ways to start the day. It is calmer than the lido buffet and the food is amazing.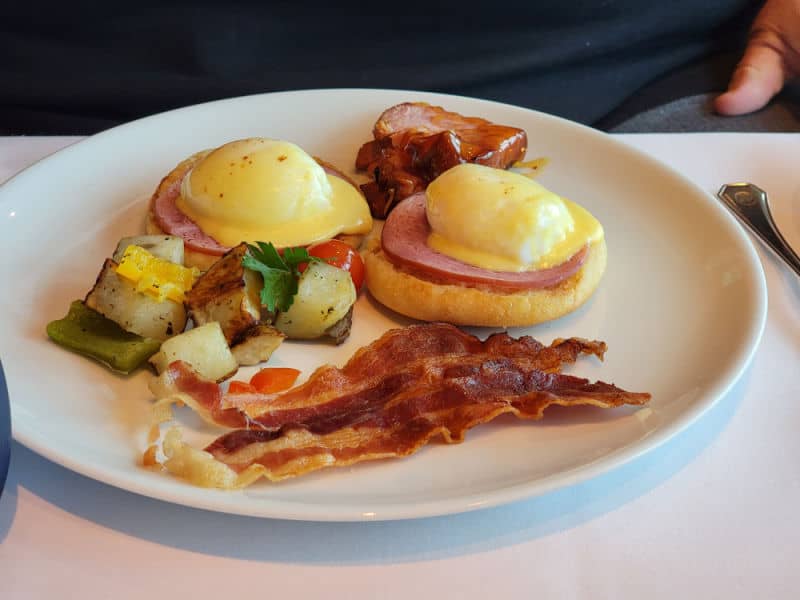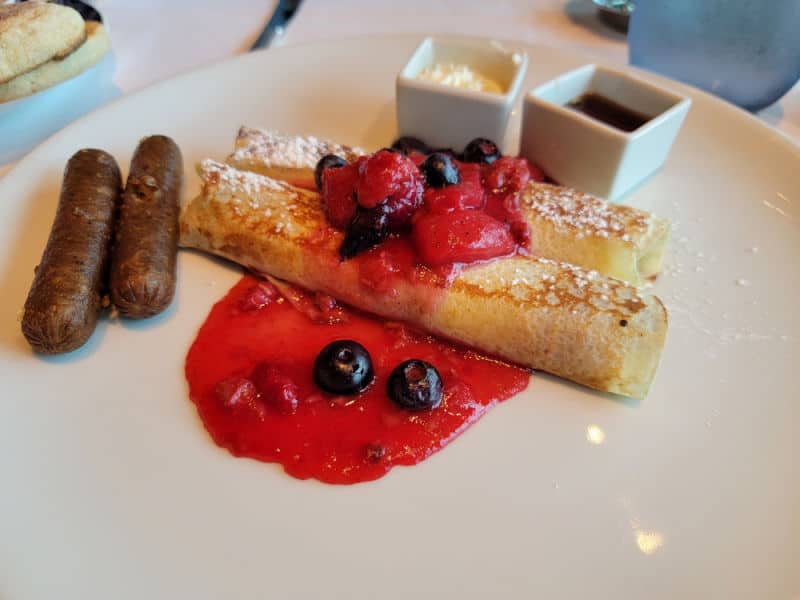 Plus this morning we were given a table at the back of the ship right next to the windows. We saw our first humpback whale while enjoying breakfast.
I don't think you can ask for much more on an Alaska cruise … an epic eggs benedict, a humpback whale nearby, and crazy good views.
Now that the ship is in the channel heading to Juneau the water have calmed down and it is one of our favorite times to look for humpbacks.
We decided to skip Mendenhall Glacier on this trip since we have been there before and book one of our favorite cruise shore excursions.
The Juneau Whale Watching and Wildlife Quest is one of our favorite Alaska Cruise Excursions. We have done the small boat tour also but tend to enjoy the Allen Marine bigger boats a bit more.
The Whale Watching Tour did not disappoint even in the rain. We were maybe 10 minutes into our tour when we saw the first humpback whale in the distance.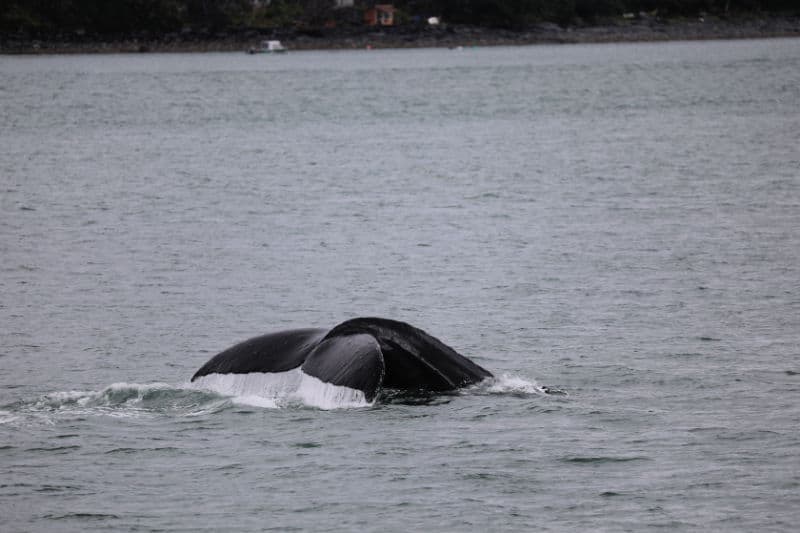 From that moment on it felt like we were surrounded by epic Humpback whales. They were all around the boat in every direction.
One thing I really enjoy about this excursion is the onboard naturalist who provides great info on the whales and why they are in Alaska.
I didn't realize that you rarely see Humpbacks breach in Alaska because this is a mating activity so it is done more in Hawaii and Mexico.
If you see a Humpback Whale breaching in Alaska it is most likely a juvenile having fun.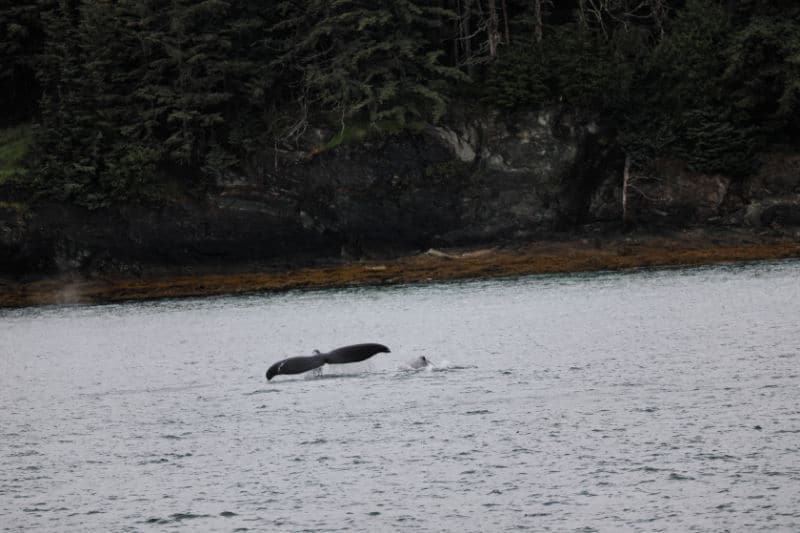 We were really lucky and had a couple of whales come fairly close to the boat making for epic video and photos. I love hearing everyone on the whale watching tour ooh and ahh as the whales swim by and then show their tails.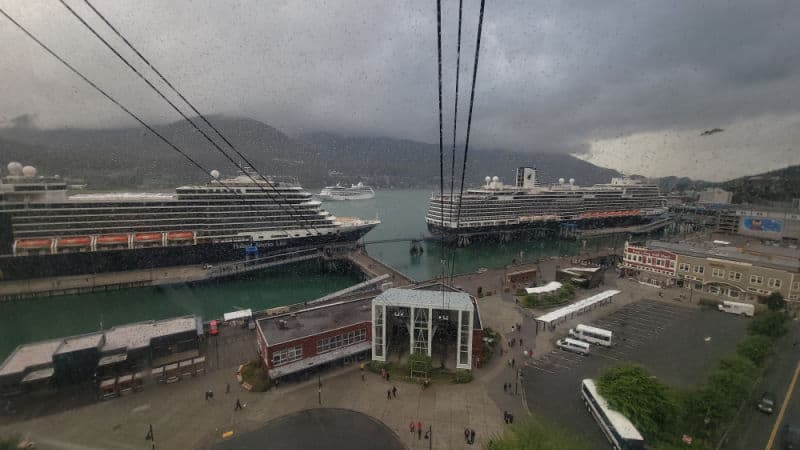 After our tour, we headed back into Juneau and decided to finally go on the Mount Roberts Tramway. Our Holland America ship was docked right next to the entrance to the tram which felt like a sign we needed to finally take it.
I have to tell you it is so worth the $$$! It was amazing! The ride up takes a couple of minutes and you get the most amazing view of Gastineau Channel and Juneau from the tram.
At the top of the tram, you can enjoy a great restaurant, a raptor center with Lady Baltimore a rescued Bald Eagle, totem carving, a great gift shop, and tons of hiking trails.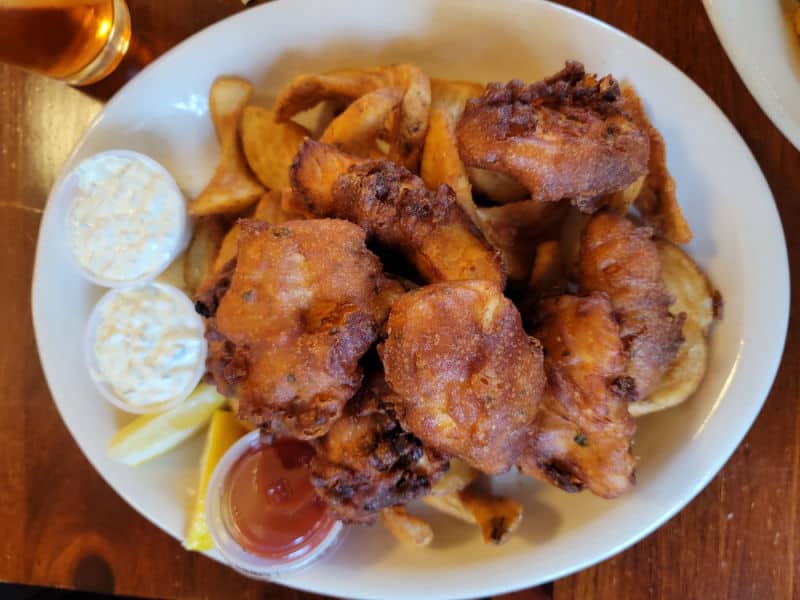 We had dinner at the restaurant and my husband loved the halibut and chips. It was a huge portion and tasted super fresh.
There are epic views all around!
I am hoping on our next Alaska Cruise the weather will be a little better so we can enjoy some of the nature trails and spend a bit more time outside exploring.
It is a quick and easy ride back down on the tramway. We headed to bed early knowing we would wake up in Glacier Bay National Park and wanted to enjoy as much time as possible viewing the epic scenery.
Day 4 - Glacier Bay National Park & Icy Straight Point
Arrive: 7:00 AM Depart: 4:00 PM
There is nothing quite like waking up and realizing you are already in a National Park. We had plans to try and be up to see the National Park Service boat pull up to the ship but the gently rocking of the ship meant that we slept in way longer than we had planned. oops!
Now that the ship is in the Inside Passage we have been sleeping like it is our job. Once we sit in the bed we are out. The bed is semi-firm which we normally do not go for but I have to say it has not stopped us from sleeping 8-10 hours every night.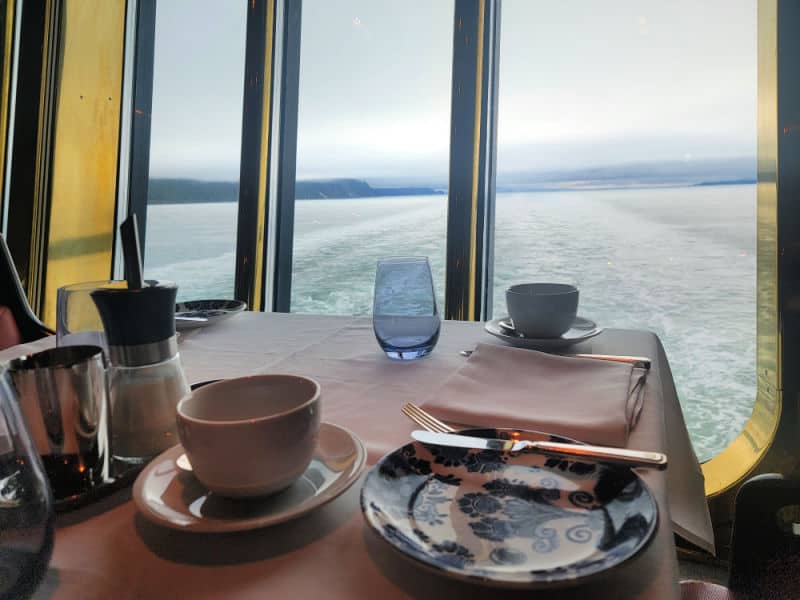 We headed to breakfast in the main dining room and lucked out with an epic table next to the back window. Breakfast with views of Glacier Bay NP is one heck of a way to start the day.
The sit-down breakfast is amazing and I wish we were on board longer than a week so I could try more things off the menu. The eggs benedict is so good I feel like I have to have it daily. I did try the Texas Toast French toast and it was fantastic.
My husband thinks everyone needs to have a fresh butter croissant with Nutella. They are made fresh daily and you can tell.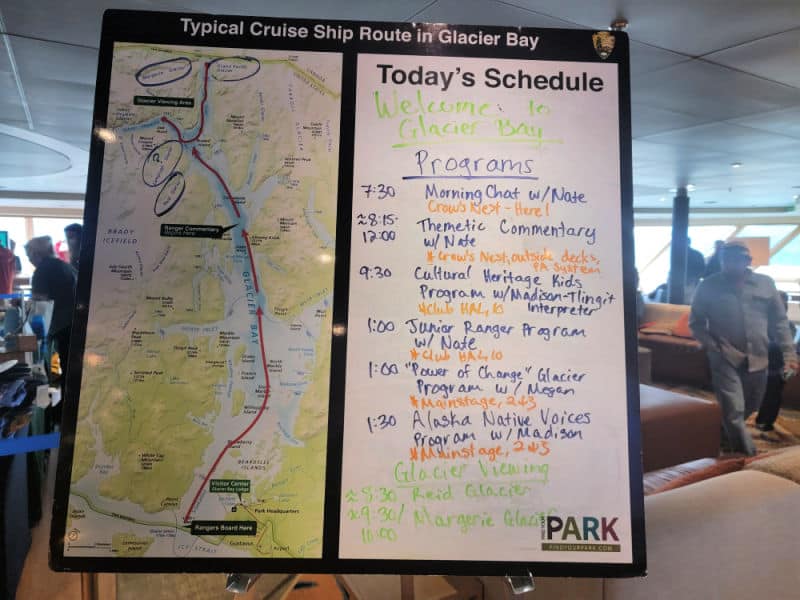 After breakfast, we headed upstairs to the Exploration Café to check out the National Park Service tables and get our National Park Passport Stamp.
They had a great notepad available with a cruise ship and Glacier Bay on it for the stamp so you don't need to bring your National Park Passport Book with you unless you want to stamp right into the book.
There is rangers commentary throughout the day detailing the glaciers and what the ship is passing by. There was also a National Park ranger available in the Exploration Café to answer questions.
I will say if you want to get a seat in the café make sure to arrive EARLY! Guests were very comfortable in their chairs by the windows and set up to spend the day there.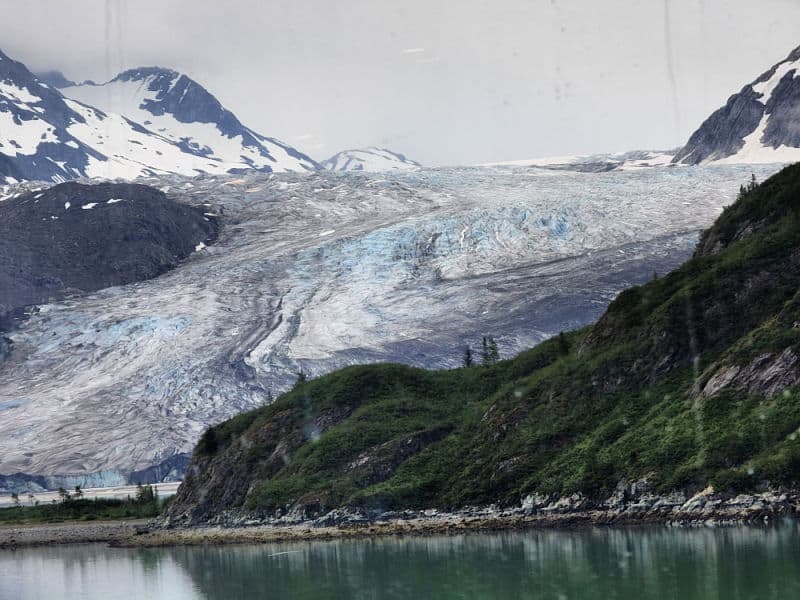 We decided to head back to our balcony so we didn't take up space from someone who might have had an inside cabin.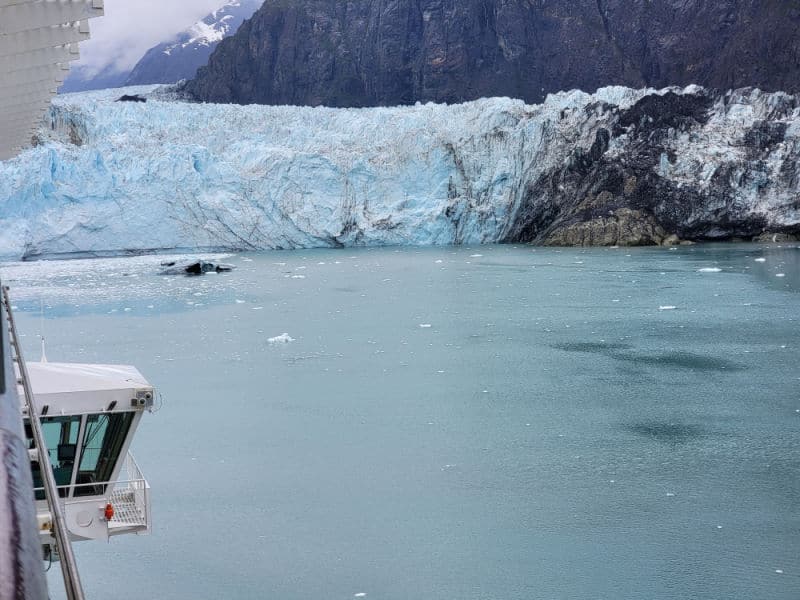 Sitting on the balcony watching glaciers and epic scenery is one of the best reasons to book an Alaska Cruise asap.
We saw a bald eagle riding on an iceberg at one point which is a new bucket list moment we didn't know we needed.
One thing that amazed me was how much time we spent at Margerie Glacier in Glacier Bay NP. We were there so long I started to wonder if the ship was having problems.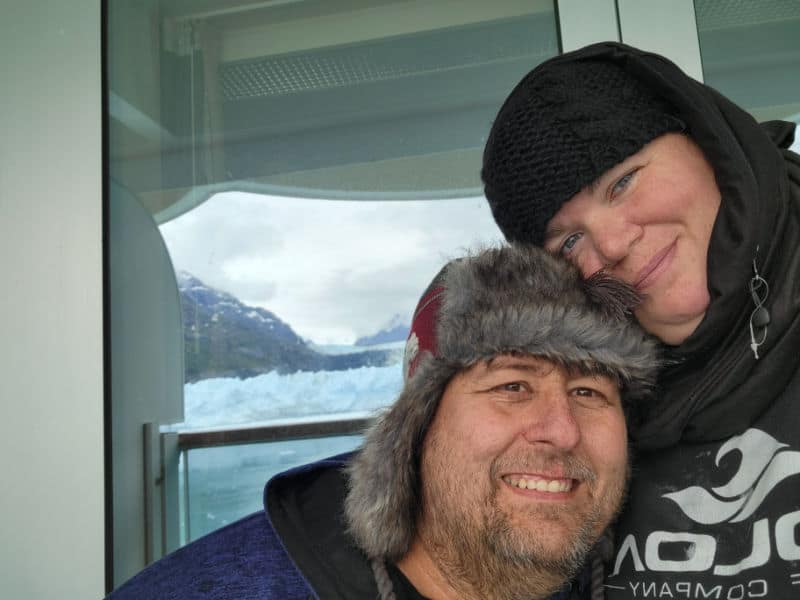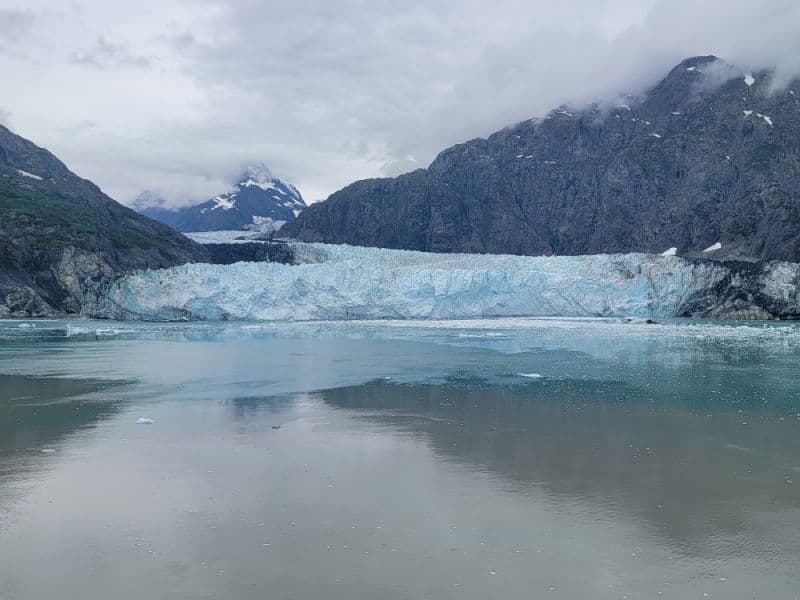 It was honestly amazing how much time each side of the ship was given to see the entire glacier. We have been on a few other Glacier Bay cruises and they did not spend that much time making sure everyone had a view. It was truly amazing.
I forced myself out of the room at one point to grab burgers at Dive In burgers on deck 9. This worked out great because Holland America had an epic area filled with Glacier Bay gifts set up right on the pool deck.
I surprised my husband with a few books about Glacier Bay NP knowing he would geek out over them.
Dive In Burgers were amazing again! I truly love that they have Beyond Burgers available for vegetarians and you can customize what you want on your burger.
As we headed out of Glacier Bay heading to Icy Straight Point it was the perfect time for a cruise ship nap with a view. At one point I woke up and looked outside to see a humpback whale just passing by.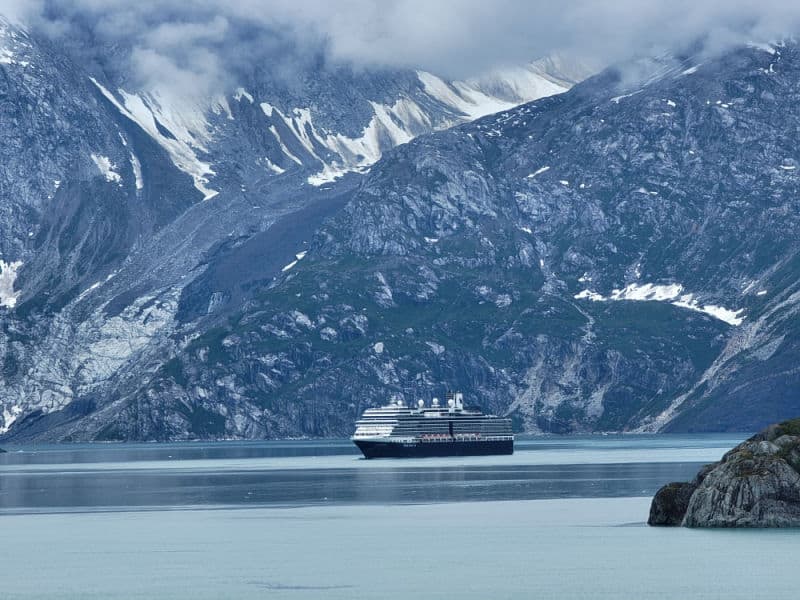 Icy Strait Point, Alaska, US
Arrive: 6:00 PM Depart: 10:00 PM
This was our first time in Icy Straight Point so I wasn't sure what to expect. I have to tell you we were so impressed with this Alaska cruise port.
The Eurodam was the only ship in port so it felt like we had a private island for just our ship. There is a small walk from the ship to the main area. If you have any mobility restrictions they have a cart that will come by every 10 to 15 minutes to drive guests around the port terminal.
We did not sign up for any excursions so we would have time to explore the port. It was pouring rain during our time in Icy Straight Point and it was still amazing.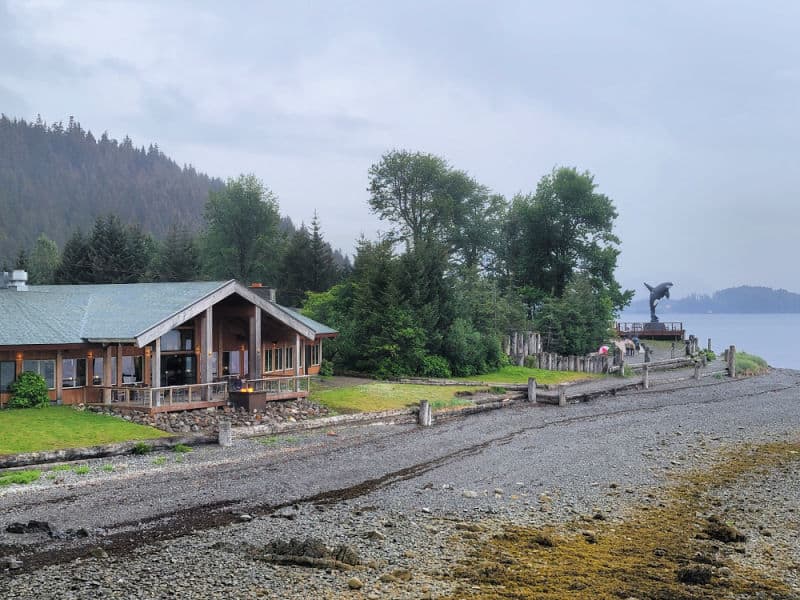 There are easy-to-follow pathways that lead visitors to the historic salmon cannery that is now a museum and gift shop area. There are also a few different restaurants and fun activities available.
We headed to the crab shack so my husband could try fresh Dungeness crab. He tried King Crab the last time we were in Skagway and figured why not try something new here.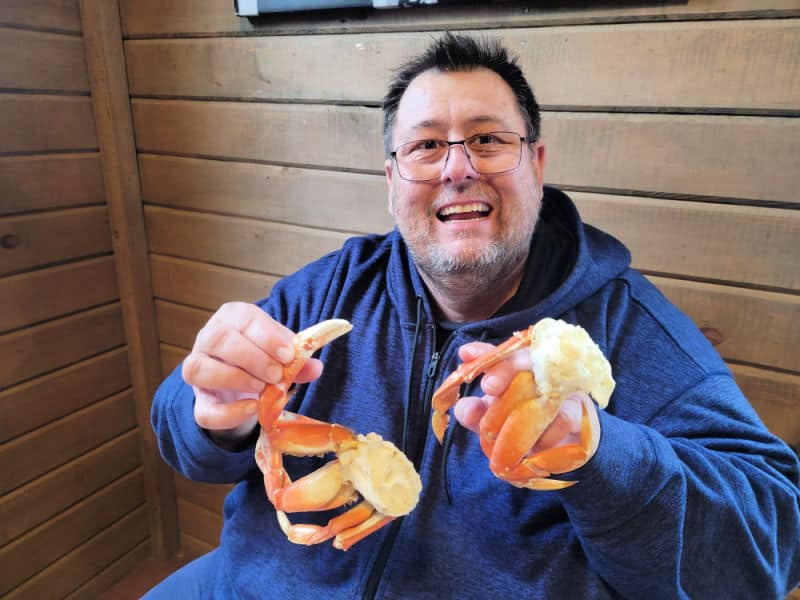 He said it was fantastic but would tell everyone to get a bowl of the reindeer chili. The crab was good the reindeer chili was epic.
You can ride a 4-minute each-way gondola to the other side of the port terminal for free. It is a quick fun ride through the forest and provides great views of the area.
We learned that there is a high density of grizzly bears in the area but we sadly did not see one during our visit.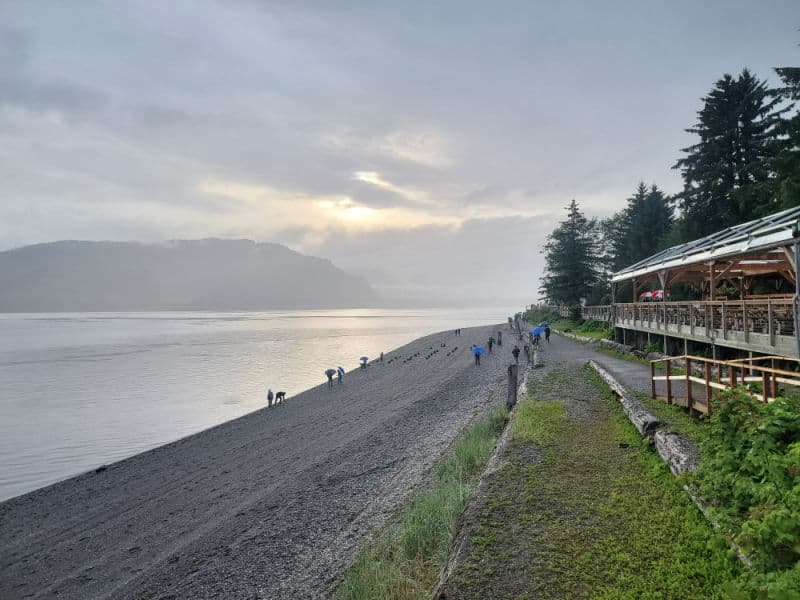 We are already talking about needing to do another Alaska Cruise with hopefully better weather so we can take the gondola ride up the mountain to get views of the entire area.
All aboard was at 10 pm so we closed out the night watching Bald Eagles from the balcony as we pulled out our Icy Point Straight headed for Sitka, Alaska.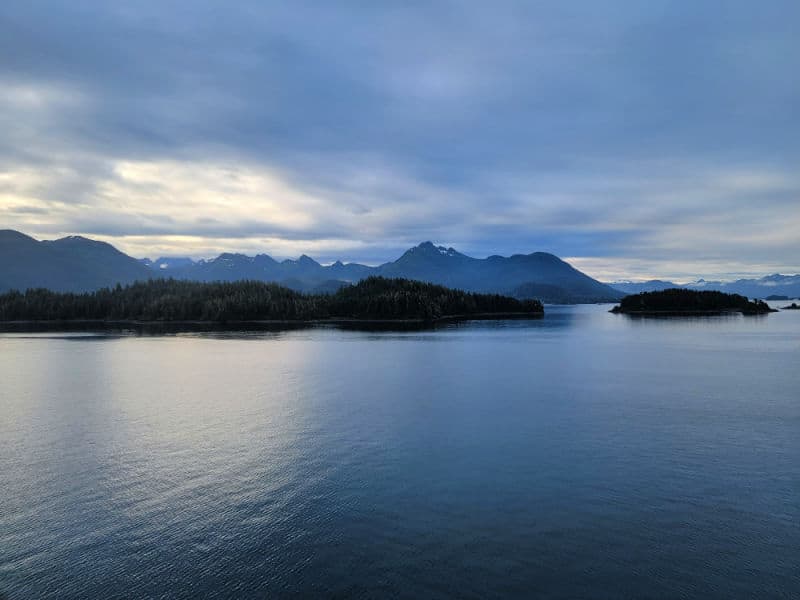 Day 5 - Sitka, Alaska
Arrive: 8:00 AM Depart: 4:00 PM
We woke up surrounded by islands and calm water as we headed into Sitka, Alaska. It was absolutely gorgeous!
The main dining room was the perfect way to start the day before heading into town. Another morning of perfect eggs benedict.
I would love to find out how the chef gets absolutely perfect poached eggs every single time. They are some of the best poached eggs we have had anywhere in the world.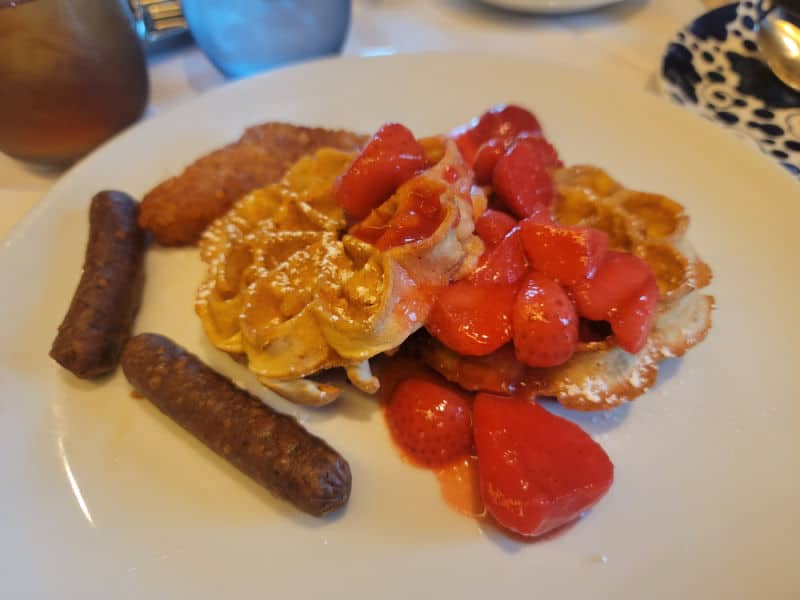 I also tried the Belgian Waffles and they were cute and tasty.
After breakfast, it was time to head into Sitka and explore. Our goal for the day was to spend time in Sitka National Historical Park.
The 275ish National Park Site we have visited together.
The Holland America Eurodam docked in the old cruise port outside of town. There was a bit of a walk to the port area and then a free shuttle into town.
We decided to hire a taxi to reach the visitor center and it turned out fantastic. Our taxi driver took us through town to an overlook so we could see where the Tinglit tribe battled with Russia.
He gave us an amazing history lesson all while driving to the park.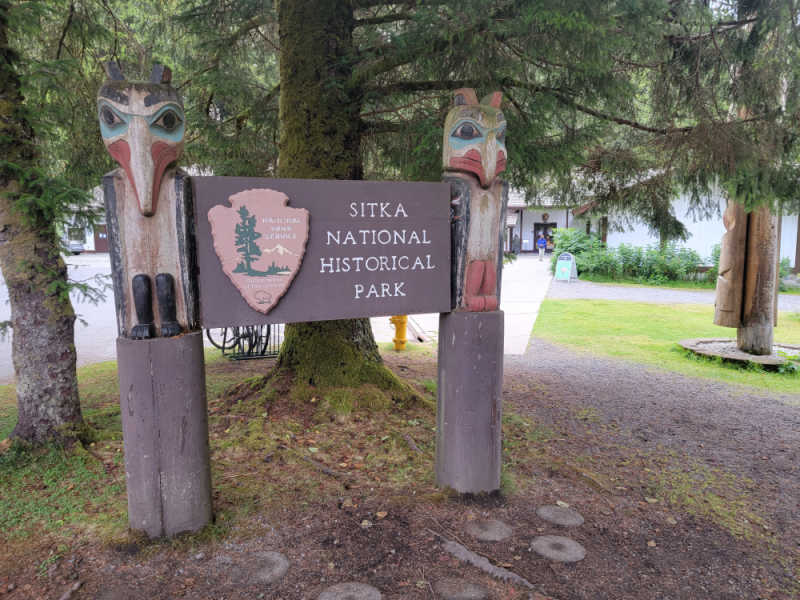 The park is a must-see while visiting Sitka! It honestly blew our minds and we would happily return to see it again.
Make sure to plan time to explore the park and walk along the Totem Trail. It is now one of our favorite walks in the National Park Service.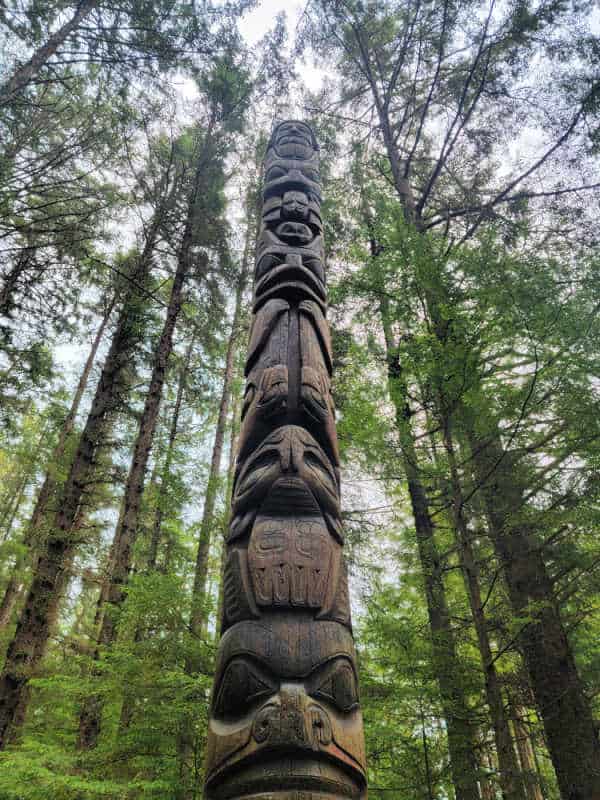 Truly a bucket list moment as you sit surrounded by totem poles watching Bald Eagles fly around near you. We lost track of the number of Bald Eagles we saw while walking through the park.
We did not see any bears but we heard that they can be found within the park so you want to be bear aware during any visit.
After spending a few hours exploring the park we took a taxi ride back into town to visit the Russian Bishop's House which is a part of the historical park.
It was a quick and easy walk through the first floor of the house before heading back to take the free shuttle bus to the port terminal.
We did learn that the main shopping area of Sitka is blocked off from traffic making it easier for visitors to wander between the shops and enjoy their time downtown Sitka.
It looked like a lot of cruise guests were enjoying fun shopping while in town. During our next trip, we definitely want to plan time to visit the Raptor Center and the Fortress of the Bears to learn more about the wildlife rehabilitation work that is being done.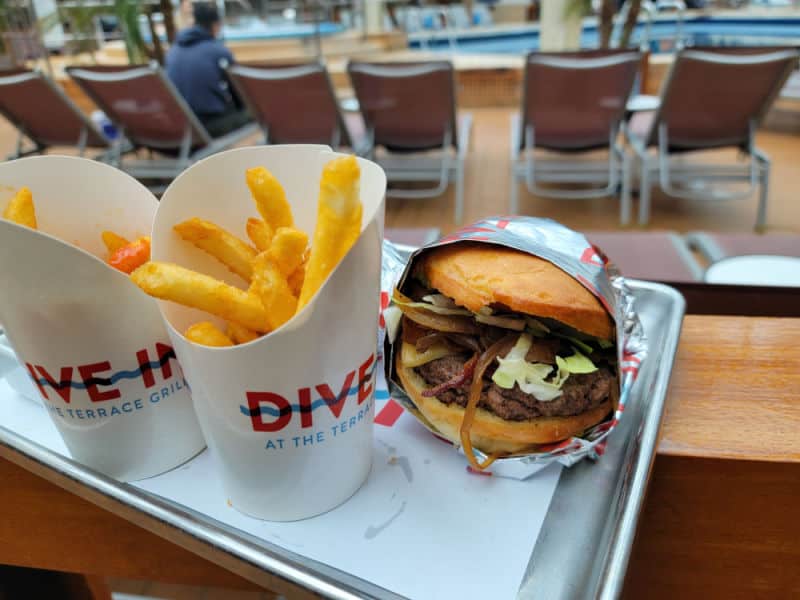 Once we were back on board the Eurodam we ended up getting Dive In Burgers again for lunch. If you are planning to enjoy Dive In Burgers make sure to plan between 20 to 30 minutes for your burgers to be ready.
This is not a super quick service restaurant so you don't want to show up hangry and then have to try and wait patiently. There were a few very grumbly upset guests when they heard it would be at least 25 minutes before their burgers were ready.
I don't know if there is a cheese shortage or if it is just a thing for the restaurant but most of our burgers have only come with a half slice of cheese. If you really want to taste the cheese on your burger or love it a lot you may want to ask for double cheese.
I am not sure why the cheese is only half of the slice but some burgers have come with half slices and some have been missing the cheese altogether even when ordering a Beyond Burger Cheeseburger.
The restaurant has been about 50% on making the customization requests we have asked for. Thankfully the Beyond Burgers have stilled tasted amazing and been worth the wait.
After lunch, it was time for one of our favorite cruise ship vacation activities...a cruise ship nap!
We were still in port when we fell asleep. LOL! I have to admit to being startled when the horn started going off as we left Sitka.
I was so out of it that I was confused for a second about where we were. This Alaska Cruise has been just what we needed for catching up on sleep and truly relaxing.
The weather has been rainy and grey which has helped us feel like cocooning in the room watching movies and truly relaxing.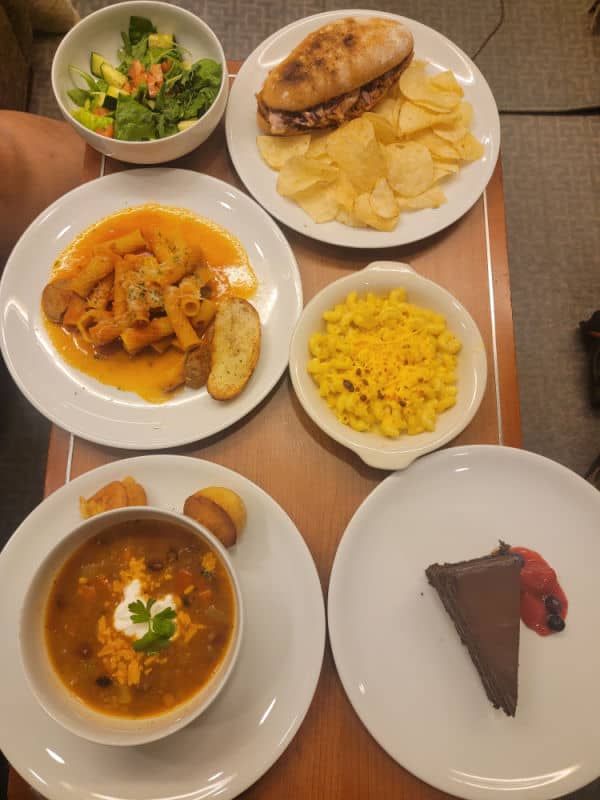 Dinner ended up being room service and relaxing for the rest of the night. We keep talking about needing to make it to the BB Kings Blues Club and to see the Lincoln Center presentations but honestly keep falling asleep before we get there.
Day 6 - Ketchikan
Arrive: 7:00 AM Depart: 12:00 PM
We arrived in port to rain, rain, and more rain! It was truly a Southeast Alaska rainy grey morning.
We decided to head to the main dining room for breakfast and decide if we wanted to head into Ketchikan or spend the day relaxing.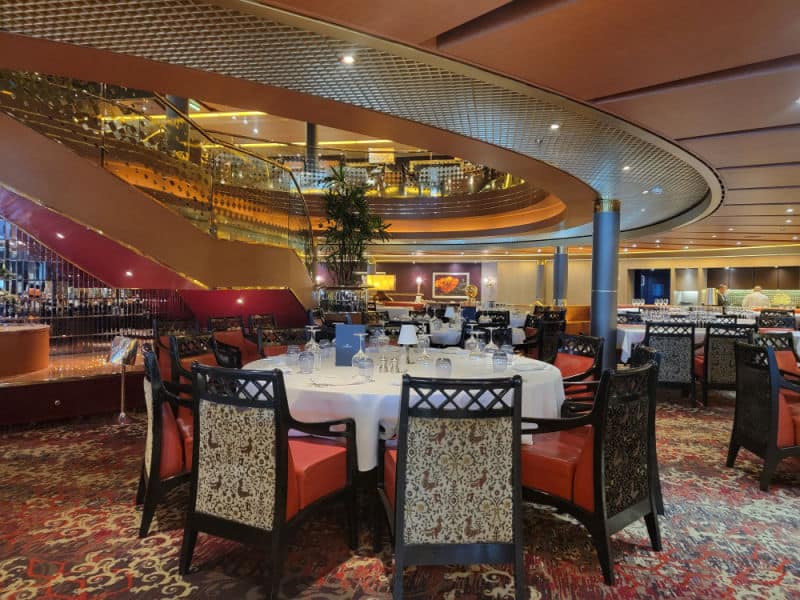 Breakfast was again ….amazing! I honestly am in awe of how perfect the eggs are poached every single day with the eggs benedict.
It is true perfection. I also tried the banana bread French toast this morning. It was super strong in flavor but really unique.
I hadn't seen an oatmeal crust added to French toast before.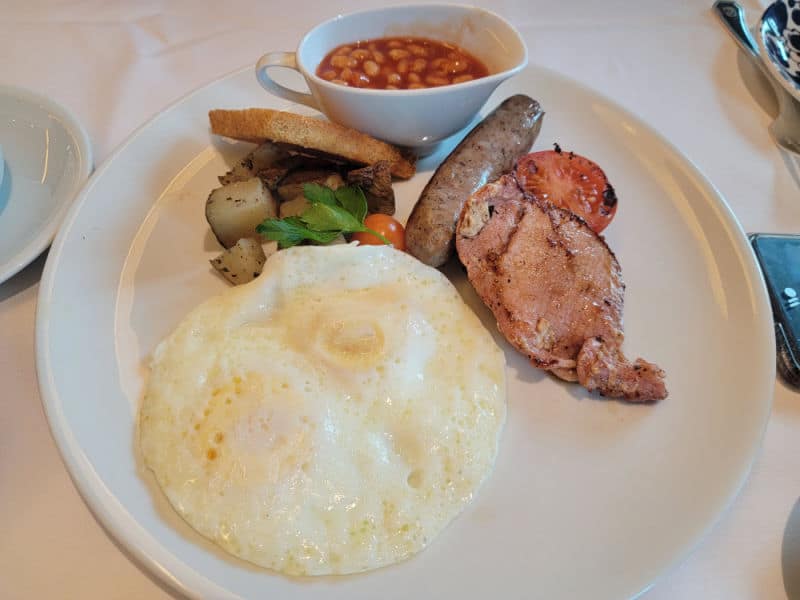 John tried the full English Breakfast and loved it. It was filling and tasted amazing.
When we left the dining room we could feel the cool damp weather coming in from the open gangway. We looked at each other and decided to skip heading into town.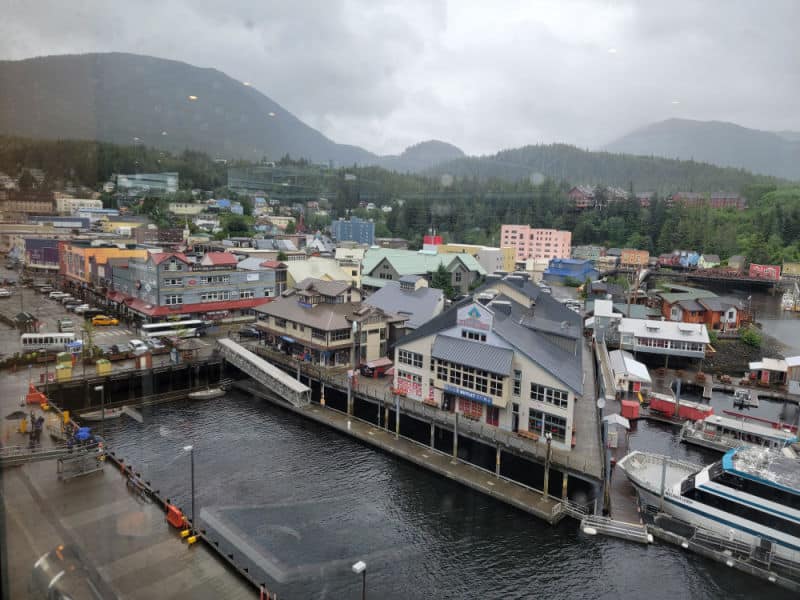 We have thankfully been to Ketchikan a few times and while we love the city we didn't feel like getting wet and cold to start the day.
The day passed in a blur of relaxing, finishing a great book, and watching the boats go by outside our window.
The balcony window is huge so you can lay in bed and just watch the world float by you.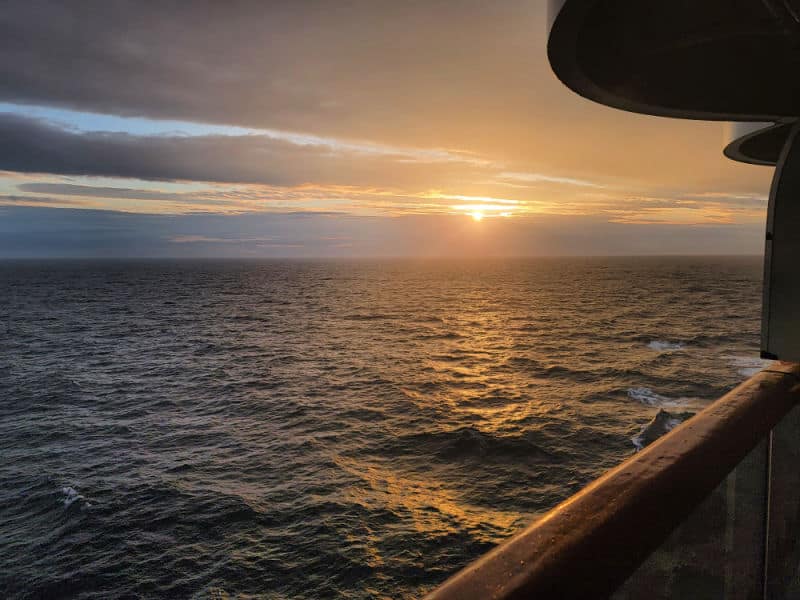 Day 7 - Sea Day & Victoria, British Columbia
Arrive: 8:00 PM Depart: 11:59 PM
I am going to admit that we missed the memo that the ship clock moved forward an hour from Alaska Time to Pacific Time.
We barely made it to sit-down breakfast before they closed. The crazy thing is we were sitting in the room counting down the minutes until we thought the restaurant was going to open.
Oops! It had been open an hour by the time we got there. I am just thankful we were able to get in for breakfast and enjoy another epic eggs benedict breakfast.
Yes, I have had the same breakfast every single morning of the cruise...it is that amazing! Honestly the most amazing poached eggs I have experienced anywhere.
When we got back to our room from breakfast we had a super fun gift waiting for us from Holland America. Since this was our 1st cruise with Holland America we are now part of their Mariner program.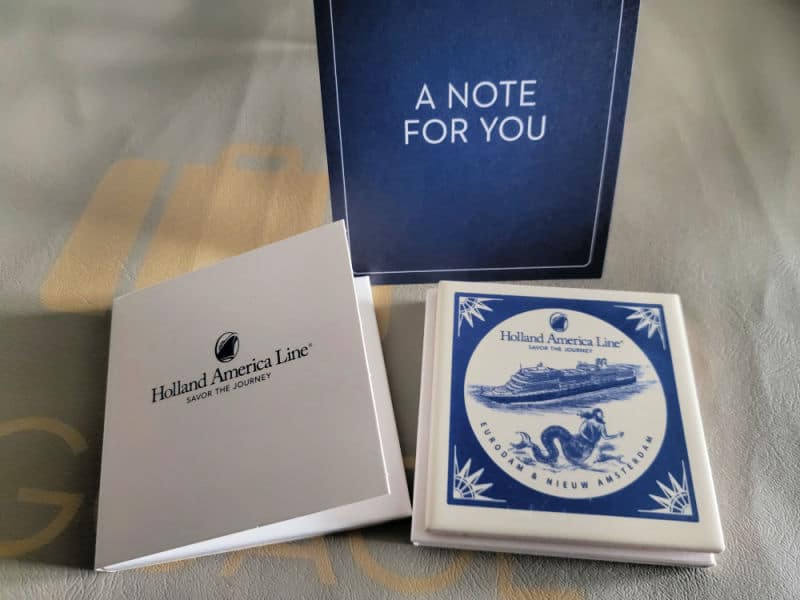 There were 2 Delft ceramic coasters left with a welcome to the club card. The coasters have a great picture of the ship on them.
I am excited to use them on our desks as a reminder of how great this cruise was.
The weather is still grey, rainy, and a bit dreadful so we spent the day getting a bit of work done, napping, and watching more movies.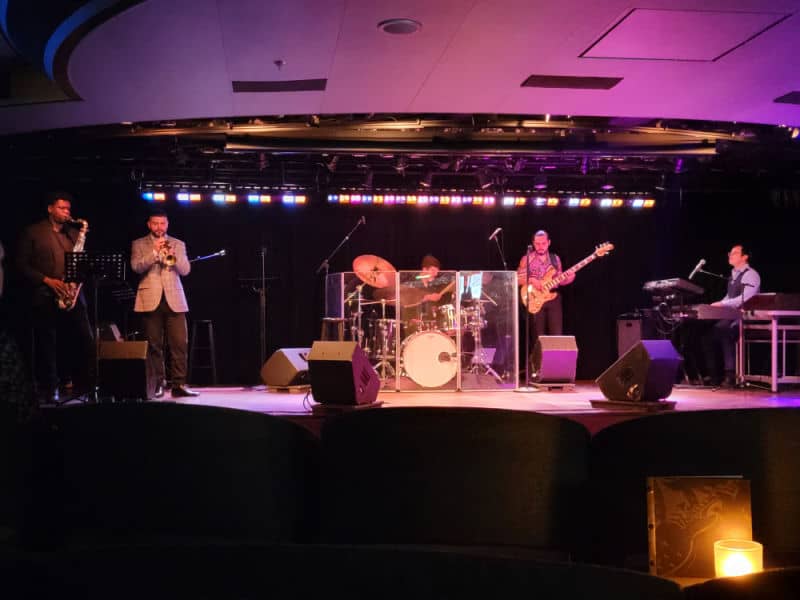 We finally made it out of the room to check out the BB King Blues Club. We had so much fun we sat through 2.5 performances before heading to the Pinnacle Grill Steakhouse for a date night onboard the Eurodam.
The Pinnacle Grill was fantastic! My husband would tell you to go just for the bacon appetizer.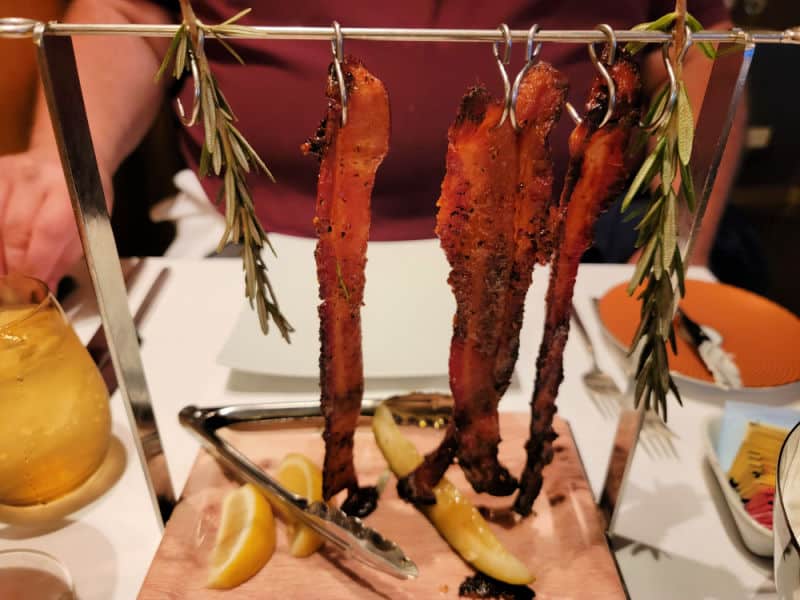 The sigh of pure joy that he expressed when he took his first bite of candied bacon was pretty amazing. He told me the entire dinner was worth the price just for the bacon.
I was excited to try the Beyond Burger Ground Steak that was on the menu for vegetarians. Going into the meal I really was not sure what to expect.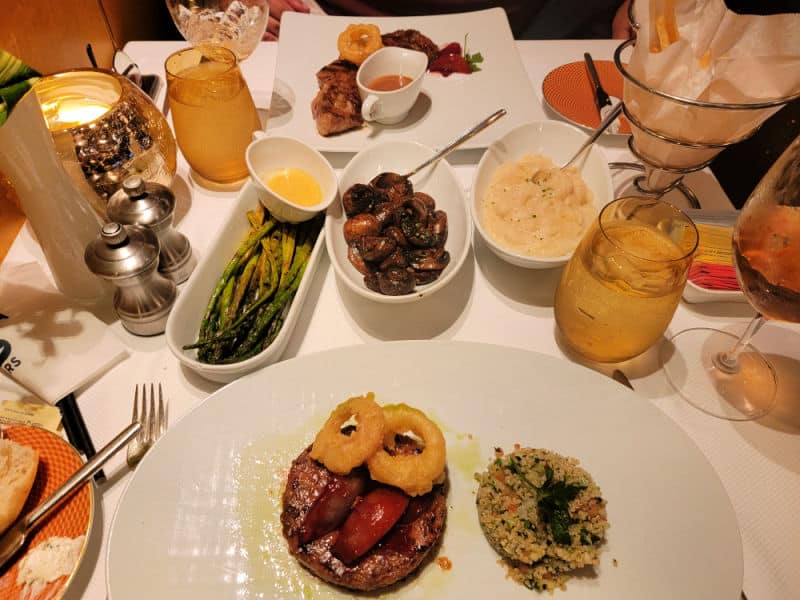 I have to tell you I honestly did not picture a giant Beyond Burger on a fancy plate with some red onions. Don't get me wrong it tasted fantastic and I will happily eat a veggie burger daily it just surprised me what it looked like.
The highlight of our Pinnacle Grill dining experience was dessert. Oh my goodness the desserts!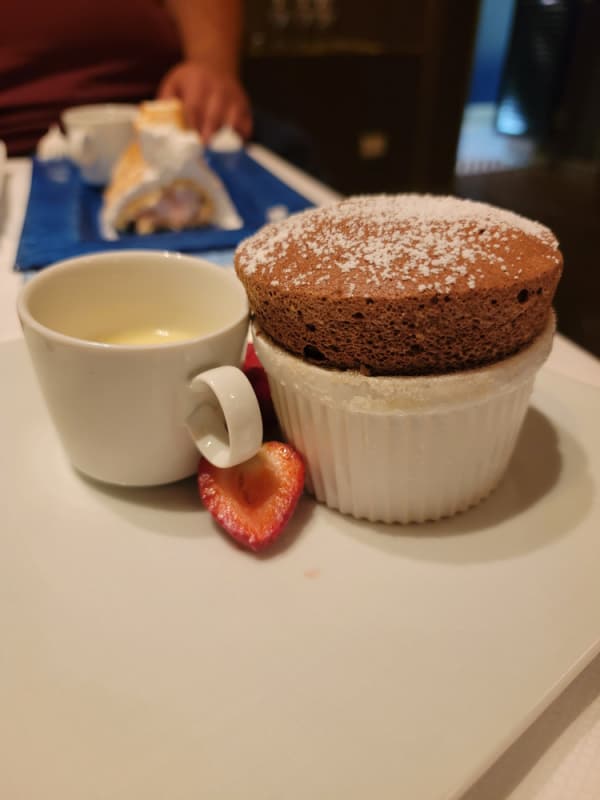 I have always wanted to try a Jacques Torres Chocolate Dessert after spending many hours watching him on Netflix's Nailed It while home the past few years. The Pinnacle Steakhouse has a Jacques Torres Chocolate Souffle....yes please!
I am going to admit to closing my eyes and just melting into my chair it was that good. Oh my goodness I would get back onboard just for another bite of the chocolate souffle.
AND The dessert course started with small chocolate truffles and there were white chocolate passion fruit truffles that were so good I asked the waiter if I could take the last couple back to the room with me. There was no way I was letting them be thrown away.
The entire Pinnacle Grill meal was fun with the appetizers and desserts being the absolute highlights.
After dinner we slowly made our way back to the room since we were so full from dinner and made sure everything was packed and ready for the morning.

Disembarkation - Seattle, WA
Arrive: 7:00 AM
We arrived in Seattle early and we took advantage of self-assist disembarkation. This is our favorite way to disembark quickly knowing we have a 4.5 hour drive home from the Seattle Cruise Port.
Will self-assist you have to be able to move all of your luggage and items on your own. This was not a problem for us since we had packed fairly lightly for the cruise.
It was quick and easy to scan our cruise card to disembark the ship, walk through customs and hop on the shuttle bus to the parking lot.
If only the long drive home was that quick and easy. I will say it was so worth it to experience our 1st cruise with Holland America and spend a week relaxing with epic views of Alaska.
Holland America Alaska Cruises leave from both Seattle and Vancouver, Alaska some itineraries visit Tracy Arm Inlet or Endicott Arm, Hubbard Glacier, Skagway, Misty Fjords, Prince Rupert, not counting add on land tours to Denali National Park.
While this was our first time sailing with Holland America we have sailed with multiple other cruise lines including Carnival, Princess, Royal Caribbean, and more!
Check out all of our cruise articles for tips on not only Alaska Cruises but Caribbean Cruises, Mexico Cruises, Baltic Cruises, and more!
Check out epic cruise deals on Expedia