When we went on our first Alaska Cruise we went super last minute and I did not have a ton of time to really plan out what to pack. I was more worried about packing all of our camera equipment and did not really think about what we would need on the trip. Unfortunately, my non-thinking made our Alaska cruise a very cold trip. I want to save all of you the issues that we ran into so I created this ultimate Alaska Cruise Packing List!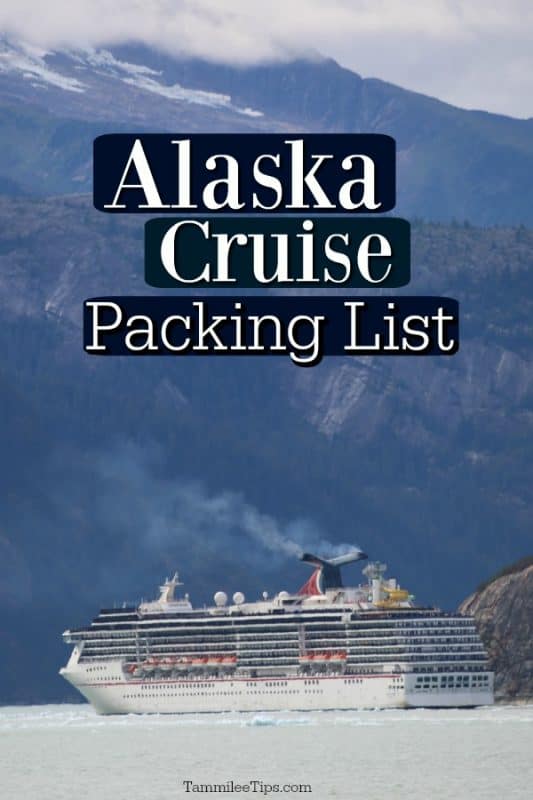 What to pack for Alaska Cruise
When it comes time to pack for an Alaskan Cruise you will want to make sure you have a wide variety of options. Traveling to Alaska even in the summer can mean being prepared for all four seasons in one day.
Warm Clothes! These are the items that I somehow managed to forget to put in our suitcase. I highly suggest packing 2 sets of gloves, scarves, and hats. There is a chance they will get damp and wet while you are out exploring.
If you have 2 sets you can let the first one completely dry before having to use it again. Trust me a cold wet hat is not fun to put back on your head while looking at Glacier Bay. I thought my hair was going to freeze off of my head at one point when the wind picked up and my hat was still damp.
My biggest packing tip for a trip to Alaska is to plan on dressing in layers!
I do suggest carrying a carry on bag onto the ship if you are checking your luggage. This way you know you have your documents, meds, and other essential items.
I really hope this Alaskan Cruise Packing List makes your cruise a lot warmer and less stressful than our first cruise. We have learned a few things from taking multiple cruises heading to Alaska and hope our tips really help.
Note: This post contains affiliate links. If you click a link and make a purchase, I may receive a small commission.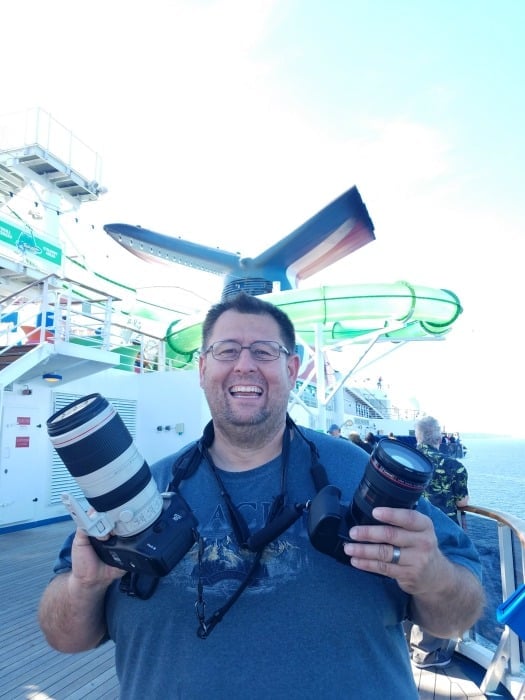 Alaska Cruise Packing List - Clothes
I find that Alaska Cruises are a bit more casual than what we find on a Caribbean or European cruises. People still get dressed up for dinner but it is normally not quite a fancy as we have seen on other destinations. This may depend on which ship you are sailing on.
When we did a Princess Cruise to Alaska they had a huge selection of cold-weather clothes because so many guests had forgotten them. If you need an excuse or are wanting new winter clothes you may be able to buy things on board but they will be sold at a premium price.
One thing to remember when creating your personal Alaska Cruise packing list is to look at what time of year you are cruising. If you are cruising during April, May and September you may get cooler weather than June, July, and August.
If you are cruising mid-summer you will hopefully end up with some really nice days that having a t-shirt and a light jacket is enough. Even with this being the case you may also run into days with rain and freezing temps.
Warm hat - We definitely suggest packing two winter hats. That way one of them can dry while you are wearing the other one.
Gloves - Make sure to pack gloves that are comfortable to wear and still use your camera or phone.
Scarves - A scarf that wraps around not only your neck but your face is a really great idea!
Jacket - If you have a water-resistant jacket I would pack that one. Definitely make sure it is comfortable and can keep you warm during rain, snow, and wind.
Rain Jacket - I know it is horrible to hear but you will most likely have at least one rainstorm during your Alaska Cruise. Being prepared with a Rain Jacket! or one of these cute travel rain ponchos is always a good idea.
Comfortable shoes for walking - Many of the cruise ports are walkable from the cruise ship. You can easily take an excursion or hop off the cruise ship and wander into town on your own.
Sweater - for on the boat and walking between things.
Swimsuit - There is nothing quite like watching whales and glaciers while relaxing in the hot tub. Just make sure to bring a robe or towels because getting out of the hot tub can be chilly!
Nice outfits for dinner - I would check your cruise to see if they expect you to dress up for dinner in the dining rooms. Each cruise line has their own expectations on how guests dress. I like to pack a black skirt and then some cute tops I can also wear with jeans.
Formal night - Cocktail dress or fancier dress clothes. Definitely check your cruise line to see how people dress. I have looked on Instagram for the specific cruise ship I am sailing to see what pics past guests posted for the formal night to get an idea of how dressy people tend to be.
Comfortable clothes - Depending on the cruise you are on you will spend quite a few days at sea. We found ourselves lounging a lot in comfy chairs looking out at the scenery during these days. The last thing you want to pack is your super cute but super painful jeans and then end up sitting in them for 8-10 hours trying to be comfortable looking at the amazing scenery. Yes, I am speaking from experience and trust me it is not a fun way to spend a day.
More ideas on what to wear.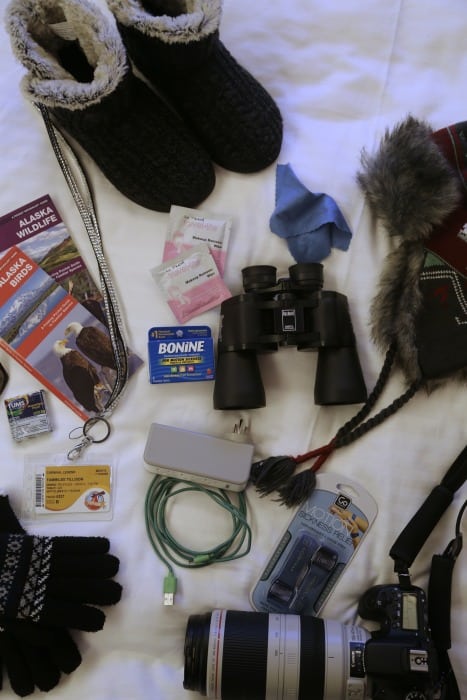 Alaska Cruise Packing List - Camera/Tech Gear
When it comes to what camera and tech gear to have on your Alaska cruise packing list my best advice is to bring your best camera gear and lenses. As for tech, it is really up to you. Having your laptop can be great for looking at photos if you want to on the cruise along with being able to check your emails and post pics to Facebook.
Camera - Phone photos are great for some things but if you have a digital camera I would bring it with you.
We shoot with a Canon 5D Mark IV which is a pretty big DSLR. We also bring a smaller digital camera and our phones for when we are wandering around the ship.
Telephoto Lenses - If you have a telephoto lens for your camera BRING IT! Trust me you are going to want to zoom in on the humpbacks, seals, Bald Eagles and other wildlife.
We carry a Canon EF 100-400mm f/4.5-5.6L IS II USM Lens with us on all of our cruises. I will admit that this is a big lens to handhold but the photos we are getting more than makes up for how much it weighs. 
Binoculars - We ended up buying a pair of binoculars on our last cruise because we forgot ours at home. I love having a pair of binoculars for watching wildlife and the glaciers while cruising.
Backup phone charger - I wish we would have known this Alaska Cruise Tip on our first cruise! My phone was dead half the cruise.
Extra camera batteries and SD Cards 
Outlet adaptor - One thing about cruise ships is they rarely have a ton of electrical plugins. We love this Belkin Outlet Adapter with a rotating plug. We have been able to use it on every cruise.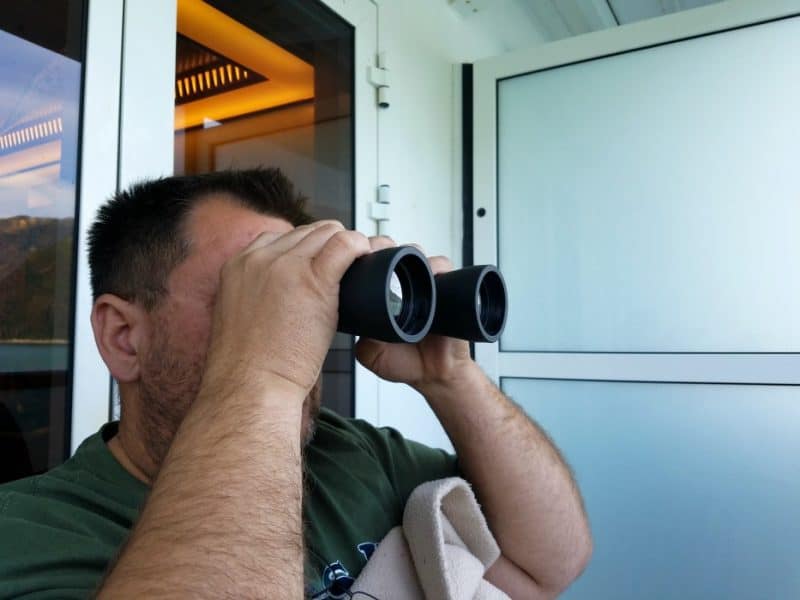 Alaska Cruise Packing List - Miscellaneous
Alaska Inside Passage Wildlife Guide -If you want help identifying the wildlife you see on your cruise we love these guide books.
Water Bottle
Coffee Mug - We carry coffee mugs on every cruise. It is so nice having a large cup of coffee or tea with us and not having to leave our comfy room or chairs to go and grab more.
If you are a chai tea fan I LOVE these Oregon Chai single packets. All you need is hot water which you can get easily and you have a delicious Chai Latte!
Every ship we have been on has had coffee available 24/7 while on board. One thing to know is it isn't always the best coffee. If you are a coffee snob like my husband you may want to pack Starbucks VIA packs or your favorite instant coffee.
Laundry soap - We try to use the travel laundry sheets that are flat and pack easy. They don't take up a ton of space and there is no liquid to explode in your suitcase.
Wrinkle Release Spray - Cruise ships do not allow you to pack a steamer or iron for in your cabin. There is normally an iron available in the laundry room but you may have to wait a bit. Having a bit of wrinkle release spray can save you time and energy.
Cruise Lanyard - If you don't want to worry about your cruise card you can keep them in a lanyard around your neck. This is an easy way to always make sure you have your card with you.
Water-resistant day pack - I really like these small backpacks that fold up into a small pouch. They are water-resistant since it will most likely rain at some point on your Alaska cruise.
$1-$5 bills are good for tipping. You won't need them on the ship but they are great for while you are in port.
Travel alarm clock - Most cruise ship staterooms do not have clocks or alarm clocks. One thing about traveling to Alaska during the summer is it can be light for most of the day and night. We like having a clock we can glance at for the time.
Ziploc Bags - We try to always have a few gallon size Ziploc bags with us. They work great for a last-minute dry bag.
Wine Diapers - If you plan on buying any wine or alcohol from duty-free you will want to have a set of wine diapers with you. We like this set because they are reusable.
Foldable backup duffel bag - One thing we have found in Alaska is we tend to buy more souvenirs and miscellaneous things than we really planned on buying. Having an extra duffel bag makes packing and getting everything home a lot easier. These foldable duffel bags take up little space in your bag.
Luggage Scale - If you are worried your suitcase will be too heavy for the flight home you may want to pack a digital luggage scale. This will save a lot of stress when you get to the airport.
Travel jewelry organizer - This is the jewelry organizer I have been using for years. I love that it hangs in the closet and I can easily get pieces in and out of it.
Travel umbrella - It is going to rain at some point during your cruise. Having a travel umbrella with you is always a good idea.
Alaska Cruise Packing List - Toiletries
When it comes to toiletries I always suggest overpacking a bit. I like to carry any medication I may possibly need. While most cruise lines have essentials available in their stores I will tell you they are not cheap or discounted.
We try to carry any medications we may need including cold meds, headache meds, stomach meds, band-aids, etc. The last thing I want to do is have to go to the medical center for meds that I could have easily brought with me.
Though I will say cruise ship medical centers are amazing if you do need to visit one. I had pneumonia on a Carnival Cruise and the medical center was truly amazing. You can read about my cruise ship medical center experience.
Antacid - If you are like us you probably don't eat out 3 meals a day. We find having antacid with us makes our cruises a lot nicer.
Feminine Products - If there is even a small chance you will need them during your cruise I would pack enough to get you to your next port day. Don't make the mistake I did and end up having to pay $7.99 for 10 tampons on our last cruise.
Anti-Nausea Bands/Patches - I always feel better knowing I have sea bands in our suitcases. I hope to never use them but at least I know I have them if the seas get a bit rough.
Dramamine - I always carry non-drowsy Dramamine just in case. They also make Dramamine for Kids.
Poo-Pourri - Let's be honest and admit that most cruise staterooms are not that big. If you are worried about certain scents wafting into the main portion of the room you may want to pack a travel-size bottle of Poo-Pourri.
Hairbands/headbands - If you have hair that tends to fly all over the place having a great headband can be a lifesaver.
Pain meds
Travel first aid kit - We ended up paying $3.99 for a tiny itty bitty pack of band-aids on a cruise. Save yourself a bit of money and stress and pack a small travel first aid kit.
Lipbalm
Sunscreen
Deodorant
Hairbrush
Makeup and makeup remover wipes
Cold Medication
Bug Spray -  We like pre-treating our clothes with permethrin spray ahead of traveling so we know that we always have a bit of protection.
Shampoo/Conditioner/Bodywash - Most cruise ships we have been on have shampoo and body wash available in the shower. I still carry travel containers of my favorite products just in case.
Cruise Cabin Packing List
Magnetic Hooks - Magnetic hooks work great on most stateroom doors and walls. You can hang your jackets, sweatshirts and wet gear off the door so it doesn't drip on your other clothes.
Stateroom Door Magnetic Dry Erase Board - On our last cruise a couple of cabins had dry erase boards and a pen near their doors. It was so fun to see the cool messages other passengers shared with them.
Cruise Luggage Tag Holders - I love that these luggage tag holders are reusable and have a metal ring to keep them attached to your suitcase along with being sealed so they don't get damaged in the rain.
Carry On Bag
If you are checking your suitcase with a porter these are the items I would make sure are in your carry on bag.
Passports
Cruise Documentation
Copy of your luggage tags
Travel Insurance Documents
Camera and tech gear
Medication
Back up set of clothes
Charging cables for phone and camera
Please let us know if there are any essentials we are missing from our Alaska Cruise packing list. We want to make sure that you have a truly amazing cruise.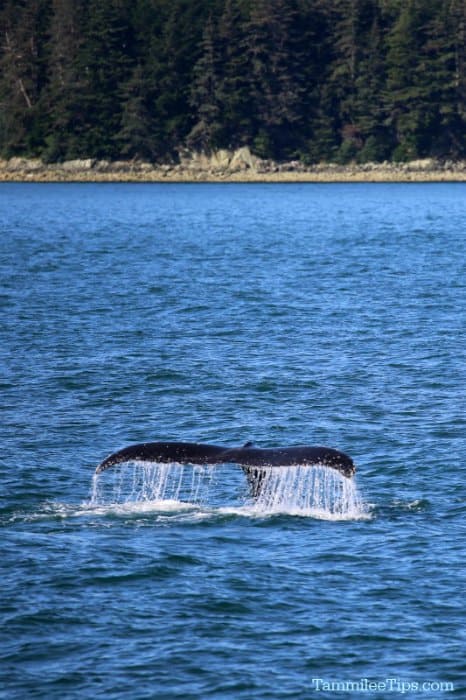 Additional Alaska Cruise resources
First-time cruise questions answered
Cruising to Alaska National Parks 
Tracy Arm Fjord
Tracy Arm Fjord Glacier Explorer Excursion
Juneau, Alaska
An evening at the Red Dog Saloon, Juneau Alaska
Visiting Mendenhall Glacier outside of Juneau Alaska
Our day in Juneau on our Alaska Cruise
Skagway, Alaska
See bears on the Wildlife Expedition Excursion
Driving to the Yukon Territory from Skagway on our Alaska Cruise
A stop at Yukon Brewing in Whitehorse during our Alaska Cruise
Red Onion Saloon, Skagway Alaska
Klondike Gold Rush Visitor Center in Skagway Alaska
A day in Skagway on our Alaska Cruise
Ketchikan, Alaska
Spending the day in Ketchikan on our Alaska Cruise
Great Alaskan Lumberjack Show in Ketchikan
Seattle, Washington
Leaving Seattle on our Alaska Cruise
Alaska Cruise Ships
Carnival Freedom – Photo and video tour along with info on this great cruise ship.
Carnival Miracle – Photo and video tour of the ship coming soon. Check out our Carnival Miracle Alaska Cruise.
Tour of the Holland America Westerdam
10 things we loved on the Golden Princess
Post originally shared August 7, 2013, updated on February 24, 2020