Epic Guide to the Mount Roberts Tramway in Juneau, Alaska including what to expect during the ride, top things to see and do, restaurant review, raptor center, and more.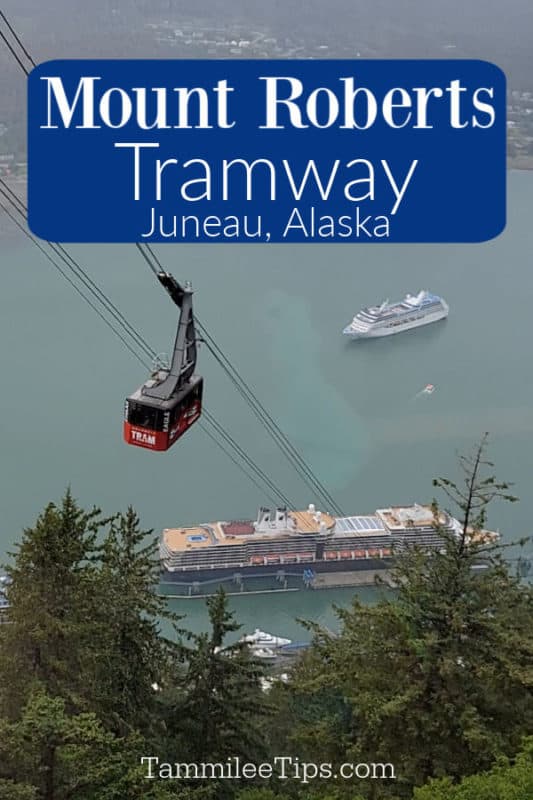 Mount Roberts Tramway
You can't miss seeing the bright red trams of the Mt. Roberts Tramway as they ascend and descend from the cruise port in Juneau, Alaska.

Also known as the Goldbelt Mount Roberts Tramway depending on who you talk with this is one of the most popular Juneau cruise activities.
The tram is a must do attraction while in Downtown Juneau and well worth enjoying even on a grey cloudy day. The views from the top are spectacular.
It is the only aerial tramway in Southeast Alaska making it one of Juneau's top attractions. Traveling to the 1,800-foot level of Mount Roberts this is a scenic adventure you do not want to miss.
We have been wanting to ride the tram for years and finally made it happen during our Holland America Alaska Cruise on the Eurodam.
The cruise ship docked directly next to the entrance to the tram which felt like a sign it was time to finally make it happen.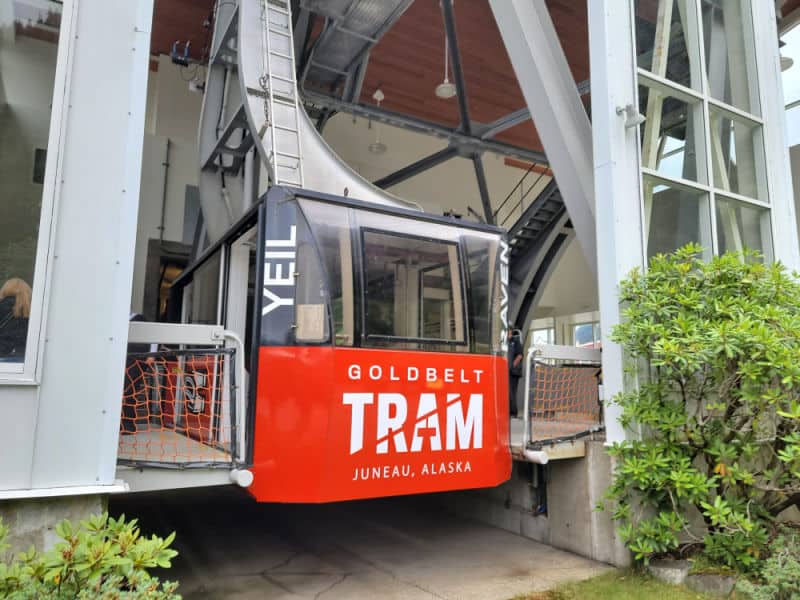 On previous visits to Juneau, we ended up missing the tram or having time to do it because we booked extended excursions including Juneau Whale Watching.
The weather was grey and cloudy with some rain but we decided to still take the tram to the top and it was so worth it!
It is quick and easy to buy a ticket at the visitor entrance to the tramway. There is a small coffee shop inside and a desk to purchase tickets.
Since we went in the late afternoon there was no line and we were able to walk right up to the entrance area.
Trams depart every 5-10 minutes so there is usually not a long wait.
We walked onto the tram within a few minutes and then it was time to head up the mountain. If you can get a spot near the windows looking out over Gastineau Channel I highly recommend it.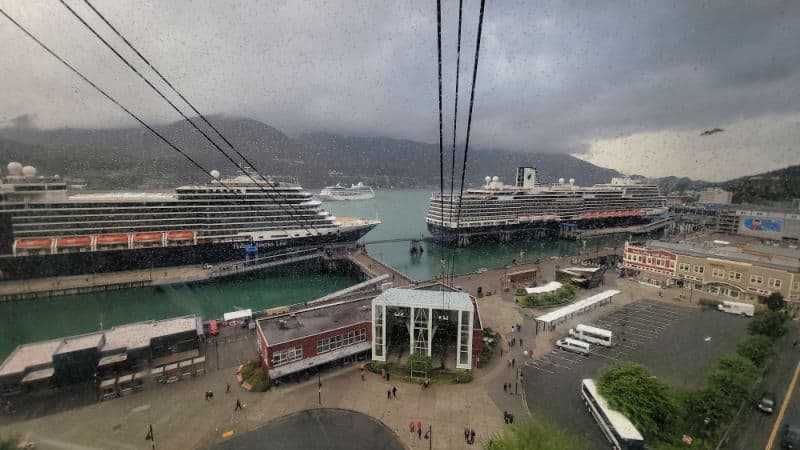 I will say be prepared for the oh my goodness we are really doing this feeling as you start going up the mountain.
The tram does rock a bit at first which can be a bit unsettling but that is only for the first few seconds as it gets ready to head up the mountain.
The breathtaking views are truly amazing. There is an audio tour playing in the background with great information on the area.
It is about a five-minute ride to reach the top of the mountain and dock the tram at the station. Again when the tram is docking at the top there is a bit of shifting as it gets into place.
Something to be aware of especially if you are traveling with anyone who has a fear of heights or doesn't like enclosed spaces.
The tram travels from 56 feet above see level to the 1,800 feet on Mount Roberts traveling over lush temperate rainforest.
Once the tram is docked you can walk out and enjoy quite a few activities. It is a quick short walk from the tram on a covered walkway to the restaurant, gift shop, and theater area.
Outside of the main building you can visit Lady Baltimore a Bald Eagle that was shot and has been cared for by the raptor team at the center.
You can also view Totem carvings by a Tinglit tribal member when they are available.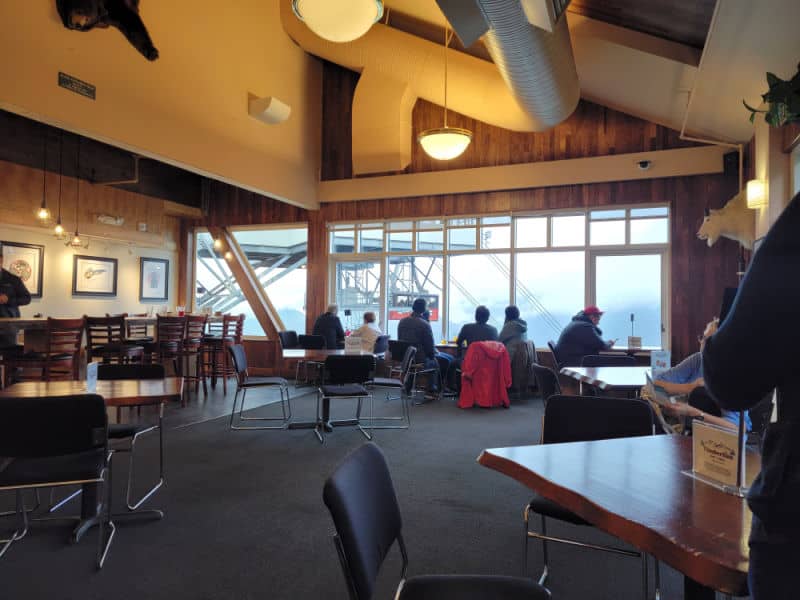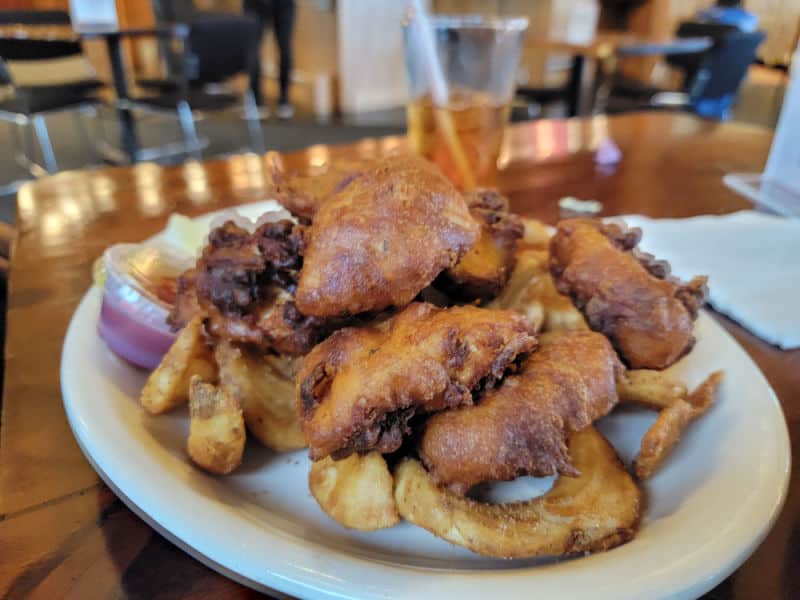 Timberline Bar & Grill Restaurant
We decided to have dinner at the restaurant and it was truly fantastic. My husband has been wanting epic Alaskan Halibut and the halibut and chips did not disappoint.
You can order Alaska Size or the smaller Texas Size halibut fish and chips. They also have sliders, nachos, and a few other options on the menu.
Vegetarians can enjoy the grilled cheese sandwich off of the kids menu. It was great.
The restaurant has a full bar with specialty drinks based on the area. You can't beat the epic views from the restaurant watching the tram move up and down the mountain and views of the Gastineau Channel.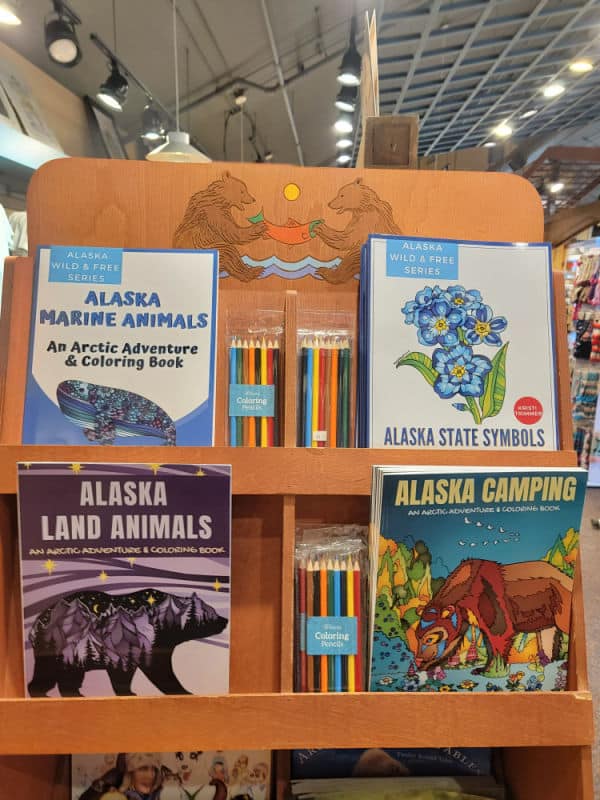 Gift Shop
There is a large retail shop filled with amazing souvenirs and artwork. Make sure to pick up one of the Alaska Wild and Free coloring books from our friend Kristi Trimmer.
She lives in Alaska and has created an amazing series of coloring books and stickers. We were so excited to see the coloring books available in the store.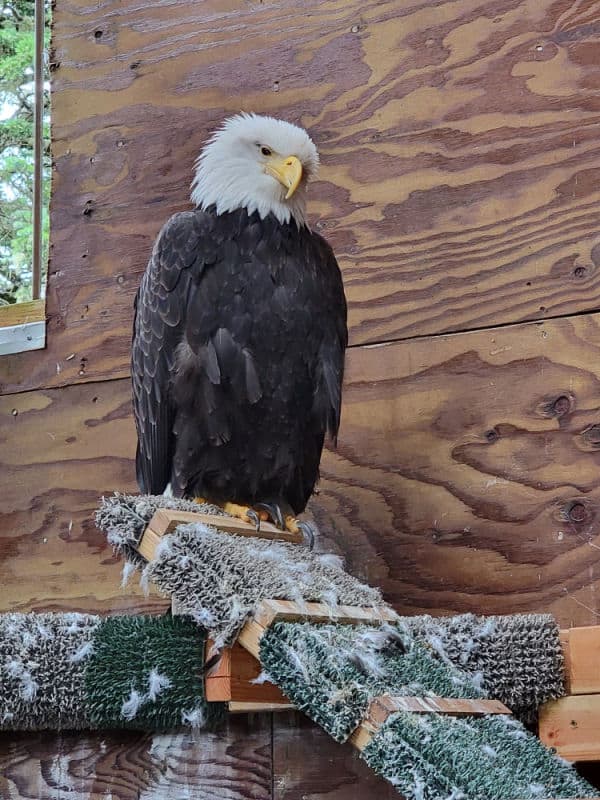 Juneau Raptor Center Exhibit
The raptor area is right outside of the main building. There are a few stairs to reach the platform or an accessible walkway around the building.
You can see Lady Baltimore a Bald Eagle who was shot and blinded in one eye. The raptor center has worked to take care of her and continues to make sure she gets the best care possible.
She has a reconstructed beak and has had eye surgeries. She currently needs cataract surgery to help her one good eye.
Visitors can leave donations to help fund the cataract surgery.
The raptor center employee is amazing and can answer all of your questions about her care and bald eagles.
Chilkat Theater
There is a theater on site that shows a Tlingit ceremony. The Tlingit film lasts 18-minutes and shares the Tlingit history and culture.
The movie plays in the Chilkat Theater on the hour and half hour. The film is included in the cost of the tram ticket.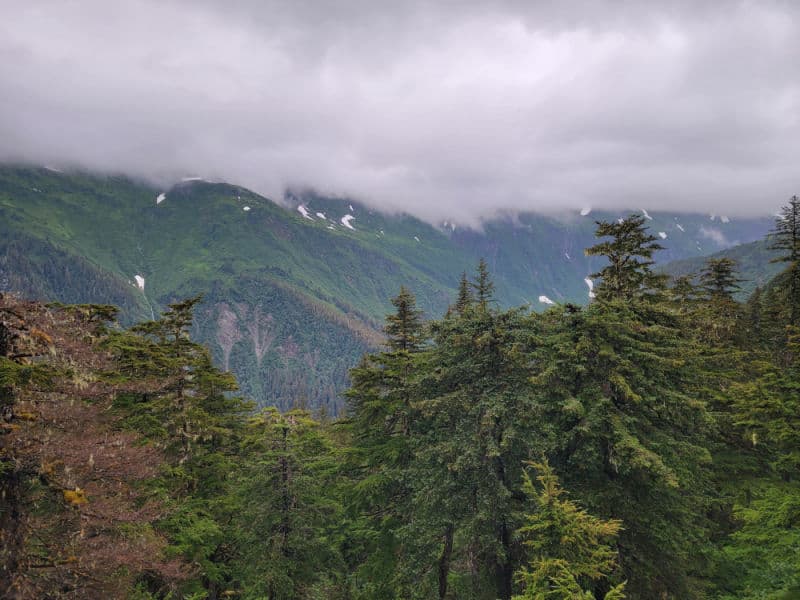 Hiking Trails
There are quite a few hiking trails that can be enjoyed on a nice day. Make sure to be bear aware while on the hiking trails.
The Nature Center atop Mount Roberts has trail maps and information.
Mount Roberts Trail - 2 miles
Perseverance Trail - 3 miles
Granite Creek Trail - 7 miles
With a $15 receipt from anywhere at Goldbelt Tram, hikers can receive a ride to the lower terminal.
Wildlife
Wildlife is abundant on Mount Roberts so keep an eye out while riding the tram and exploring the hiking trails.
We saw a Bald Eagle on our ride down in a tree next to the tramway. There are wildlife viewing platforms that offer epic views.
Other wildlife includes black bears, marmots, grouse, mountain goats, porcupines, deer, Ptarmigan, Sitka Black-tail deer, sparrows, common raven, and more.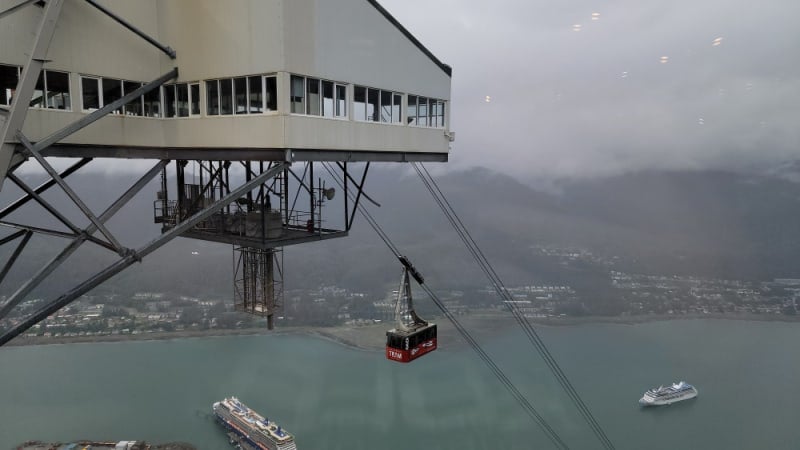 Things to know when planning a trip on the Mount Roberts Tramway
Cost - $49 as of July 2022 purchased at the Tramway.
Some cruise lines include the tramway as part of their cruise excursions.
Hours - The hours appear to vary depending on the time of year and how late cruise ships are docked in port.
Accessibility - The tram is wheelchair accessible as well as the pathways to the restaurant and gift shop. There is an elevator in the main building.
Where is the Mount Roberts Tramway?
The Mt. Roberts Tramway is located near the Juneau Cruise Ship Dock.
It is officially called the Goldbelt tram.
Don't forget to bring your camera so you can grab epic photos of the wildlife, wildflowers, views of Douglas Island, Admiralty Island, Downtown Juneau, and more.
Where to stay in Juneau
Check out epic cruise deals on Expedia
Silverbow Inn Hotel & Suites  - Take advantage of free self-serve breakfast, a free daily manager's reception, and a terrace at Silverbow Inn Hotel & Suites. For some rest and relaxation, visit the hot tub. Free in-room Wi-Fi is available to all guests, along with a firepit and a garden
Four Points by Sheraton Juneau - You can look forward to dry cleaning/laundry services, a bar, and a gym at Four Points by Sheraton Juneau. The onsite American cuisine restaurant, McGivney's Sports Bar and, features brunch. Free in-room Wi-Fi and a 24-hour business center are available to all guests.
Aspen Suites Hotel Juneau  - Aspen Suites Hotel Juneau provides amenities like dry cleaning/laundry services and a business center. Guests can connect to free in-room Wi-Fi.
Ramada by Wyndham Juneau - A terrace, a coffee shop/café, and dry cleaning/laundry services are just a few of the amenities provided at Ramada by Wyndham Juneau. The onsite seafood restaurant, T.K. Maguires, features brunch. Stay connected with free in-room Wi-Fi, and guests can find other amenities such as a bar and a gym.
Best Western Country Lane Inn - You can look forward to free continental breakfast, a free roundtrip airport shuttle, and a garden at Best Western Country Lane Inn. In addition to dry cleaning/laundry services and a business center, guests can connect to free in-room Wi-Fi.
Click on the map below for additional vacation rental and lodging options in Juneau, Alaska

Additional Alaska Cruise Articles
Sitka National Historical Park
Check out all of our Alaska Cruise Articles