Happy Halloween! I hope these Halloween Jokes will hopefully tickle your funny bone and keep you giggling all day long! What better way to get your kids smiling in the morning than a cheesy Halloween Joke or two. They would be so much fun written as lunchbox notes as a surprise. So many cute fun ways to get a giggle and a laugh as we head towards Halloween!
Do you know what you are dressing up as this year? I can't wait to hear about it! If you are planning a Halloween Party we put together a huge list of FUN Halloween Games for all ages!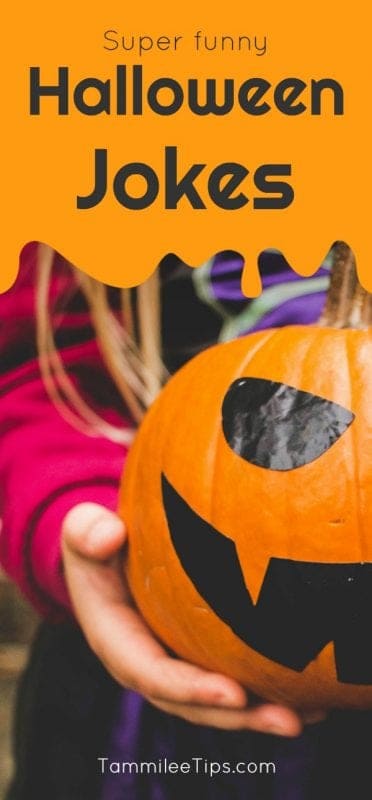 Halloween Jokes
What do goblins and ghosts drink when they're hot and thirsty on Halloween?
Ghoul-aid!
What is a mummies favorite type of music?
Wrap
What's a monster's favorite bean?
A Human Bean
What do ghost say when something is really neat?
Ghoul
Why did the game warden arrest the ghost?
he didn't have a haunting license
Why didn't the skeleton dance at the party?
He had no body to dance with
Where does Count Dracula usually eat his lunch?
At the Casketeria
What happens when a ghost gets lost in the fog?
He is mist
Why doesn't Dracula mind the doctor looking at his throat?
Because of the coffin
Why is a ghost such a messy eater?
Because he is always goblin
Why did the vampire go to the orthodontist?
To improve his bite
What do you get when you cross a vampire and a snowman?
Frostbite
Why do witches use brooms to fly on?
Because vacuum cleaners are too heavy
Do zombies eat popcorn with their fingers?
No, they eat the fingers separately
Why don't skeletons ever go out on the town?
Because they don't have anybody to go out with
What did one ghost say to the other ghost?
Do you believe in People?
Why do mummies have trouble keeping friends?
They're so wrapped up in themselves
What type of dogs do vampires like the best?
Bloodhounds
What is a skeleton's favorite musical instrument?
trombone
Why do vampires need mouthwash?
They have bat breath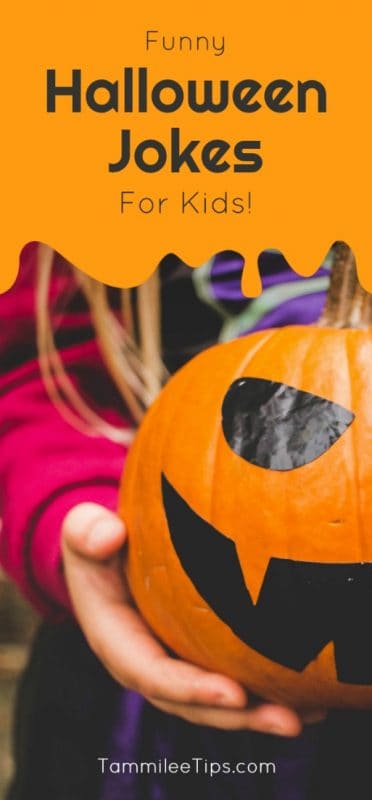 Halloween Jokes for Kids
What do you call a goblin who gets to close to a bonfire?
a toasty ghosty
What tops off a ghost's ice cream sundae?
Whipped scream
What kind of makeup do ghosts wear?
Mas-scare-a
Why did the skeleton cross the road?
To go to the body shop
What happens when 2 vampires meet?
It was love at first bite!
What do you call two spiders that just got married?
Newlywebbed
What did the ghost say to the man at the coffee shop?
Scream or sugar!
Which building does Dracula visit in New York?
The Vampire State Building
What pasta should you eat on Halloween?
Fettuccine Afraid-O
Why didn't the skeleton cross the road?
He had no guts!
What do ghosts eat for supper?
Spooketi
What kinds of mistakes do spooks make?
Boo Boos
What did the ghost say to the other ghost?
Do you believe in humans?
What kinds of cereal do monsters eat?
Ghost-toasties
Funny Halloween Jokes
What pie do ghosts like?
Boo-berry
What is a dinosaur ghost called?
A terror-dactyl
What eye makeup do ghosts us?
Ma-scare-a
Why don't ghosts like the rain?
It dampens their spirits
Did you hear at the Werewolf Halloween party?
It was a howling success!
What's a cheesy Halloween dance?
The Meunster Mash or Monster Mash
What does Frankenstein eat with beans?
Frankenfurters
What kind of hotdogs do monsters like?
Hallo-weiners
What is a bat in a belfy called?
A ding-bat
Who sails a haunted ship?
A skeleton crew
Why can't you arrest ghosts?
It is hard to pin something on them!
What plants do ghosts like?
Bam-boo
Why did the boy go out on Halloween with a clock and a bird?
He was tick-or-tweeting
What sound do crying witches make?
Brew-hoo Brew-Hoo
Why did the ghost go to the hospital?
For an apparition
Who are the werewolves cousins?
The Who, Which, What and When Wolves
On what day do vampires bite you?
Wince-day
What did the teenager witch say to her mother?
Can I have the keys to the broom tonight?
What television show do demons like?
Fiends
How do you compute the circumference of a jack o lantern?
With Pumpkin Pi!
Did you hear about the small, mad vampire?
He was a little batty!

Corny Halloween Jokes
Why was the ghost arrested?
It didn't have a haunting license
Why did the ghost go into the lift?
To elevate his spirits
Why did the parents of witch twins get confused?
They didn't know which witch was which
What's the best way to talk to a werewolf?
By telephone!
What monster flew his kite into a thunderstorm?
Benjamin Frankenstein
Where does a monster sit at the movies?
Anywhere he wants to!
Is Dracula married?
Nope, he is a bat-chelor
What do you call a witch with poison ivy?
An itchy witch
Why are witches like candles?
They are both wicked to the core
Why do witches ride on broomsticks?
It's faster than walking
What play do monsters like?
Romea and Ghouliette
Why are cemeteries fenced?
People are dying to get in!
What do they serve at a ghost bar?
Spirits!
How does a witch tell time?
With a witch watch
What happens when a baby ghost gets hurt?
They have a Boo-Boo
What game do little ghosts play?
Hide and shriek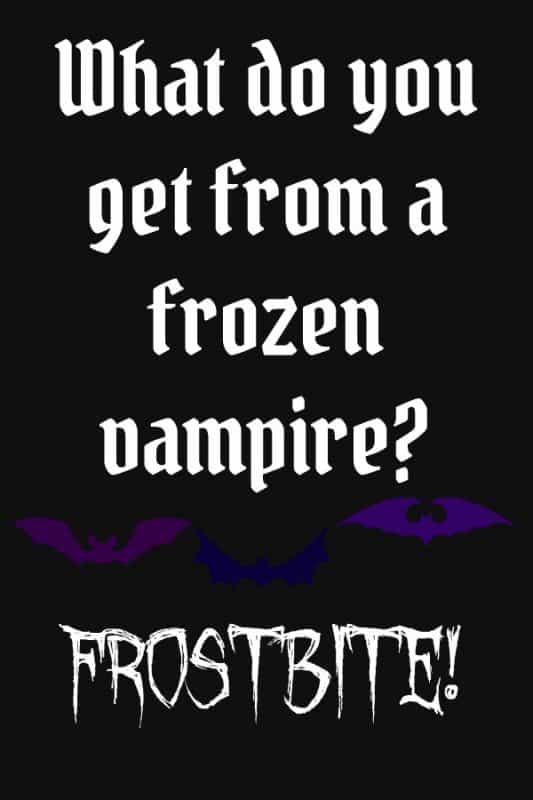 What do you get from a frozen vampire?
Frostbite!
What pants do ghosts wear?
Boo jeans!
What music do mummies like?
Wrap Music
Why was the mummy tense?
He was all wound up!
What do you call a ghost's eyeglasses?
Spookticles
What does a vampire teacher give?
Blood tests
Why can't ghosts lie?
Because you can see right through them
What do you call it when a ghost makes a mistake?
A boo boo
Check out these great Halloween articles perfect recipes and fun for Halloween parties and fun at home!
Green Glitter Glue Slime from MomSpark
Green Cocktail for adults from my amazing husband Park Ranger John!
Halloween Pinata from Mom Spark
Our favorite Candy Corn Cocktail recipe!
Super cute and easy Mummy Cake Pops
Now back to the funny Halloween Jokes that could probably be called Halloween Dad Jokes but really anyone can share these punny moments! LOL!

Why did the witches go on strike?
They wanted sweeping reform!
What do you put on a Halloween bagel?
Scream cheese
What do ghosts have for dinner?
Gloul-ash!
What does a skeleton say before eating?
Bone-Appetit!
What position do ghosts play in hockey?
Ghoulie!
Where do ghosts buy food?
At the ghost-ery store!
Why don't skeletons like to go to parties?
They have no body to dance with!
What is a ghost's favorite beach?
Maliboo!
Where does Dracula keep his valuables?
In a Blood Bank!
Why don't witches wear baseball caps?
There's no point to them
What does a witch do in a dark room?
Turn on the light-witch
What does a vampire learn in first grade?
The alpha-bat
What do ghosts wear to get dressed up?
A BOO Tie!
Where do Ghosts go for Vacation?
The Dead Sea!
What newspaper do vampire reads?
The ones with the best circulation!
Why aren't mummies good friends?
Because they are all wrapped up in themselves
How does a goblin make a touchdown?
By getting the ball over the ghoul line!
What kind of rocks do ghosts collect?
Tomb-stones!
How do ghosts wash their hair?
With sham-boo
Why did the ghost go to the astrologer?
To get his horror-scope
What kind of beans do ghouls eat?
Human beans!
What do ghosts like on their sundaes?
Whipped screams!
Why couldn't the witch sing?
She had a frog in her throat!
Who does the monster go to the movies with?
His Ghoul-Friend!
Halloween One Liner Jokes
When a vampire kisses you, it's a pain in the neck!
When Dracula fell in love, it was love at first bite!
The Doctor told the sick witch that after resting, she could get up for a spell!
I met twin witches but I couldn't tell which witch was which!
Witches tell time on their Witch Watches
A woman wanted to marry a ghost...I don't know what possessed her!
A gorgeous witch can sweep a man off his feet!
When witches have a race...they use vroom-sticks!
Witches don't live alone..they have broom-mates!
When ghosts go shopping they are...Bargain Haunters!
Did you know a ghost's house has a..scare case between floors!
Halloween Knock Knock Jokes
Knock Knock...
Who's there?
Ivana
Ivana who?
Ivana suck your blood!
Knock, Knock…
Who's there?
Olive!
Olive who?
Olive Halloween!
Knock, Knock…
Who's there?
Boo!
Boo who?
Don't cry… it's Halloween!
Knock Knock...
Who's there?
Ice Cream.
Ice cream who?
Ice cream every time I see a ghost!
We hope that these Halloween Jokes and Riddles made you giggle even a little bit! We have been laughing a ton working on this post! Let us know your favorite kid-friendly Halloween Jokes so we can add them!
🎃HAPPY HALLOWEEN!!!!