Complete Guide to Layered Shots and how to pour them perfectly! These layered shot recipes are great for parties, holidays, or when you want to try a new cocktail shooter.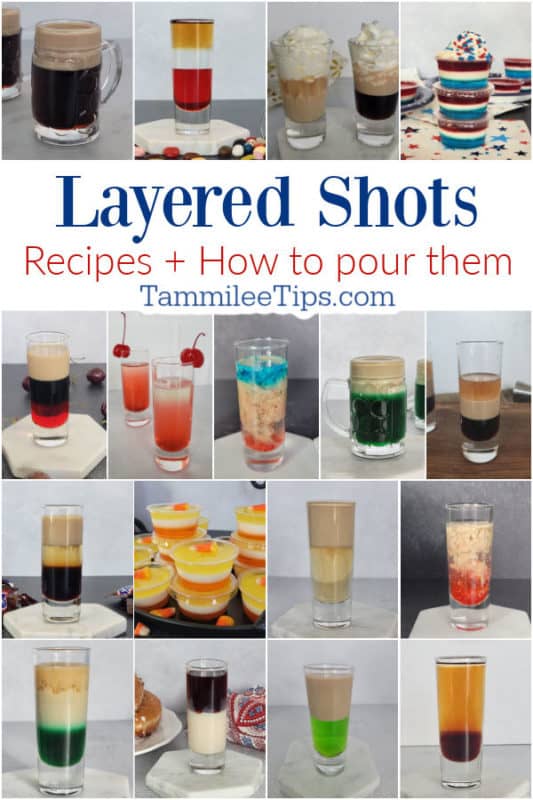 Best Layered Shots and how to make them!
While many wouldn't dare do a round beyond their party days, layered shots are beautiful to create and watch. Here's your guide to shot layering 101, along with a roundup of the layered shooters we've shared throughout the years.
We are so excited to share our best tips and tricks for pouring the perfect layered shot!
How to Pour Layered Shots (Tips)
Layered shots involve the bartending 101 technique of floating liquors and mixers on top of one another.
It takes a bit of skill and a few practice rounds to master the art of layering shots, but the results are worth it.
The ability to pour steadily and carefully to maintain separation between layers is crucial to a stellar layered shot.
It is also critical to consider the liquor density of your liquor or liqueur. Liquors containing less alcohol but more sugar have a higher gravity (aka densest) and should be poured first.
To put this in context, grenadine is a sugar-heavy mixer on the higher end of the gravity spectrum, while plain vodka is a low-gravity spirit.
Determine the density of your liquors, then use the highest-gravity liquor as your base layer. Pour the liquids according to how many layers are in your shot. For example, pour halfway for a two-layer shooter and to the one-third mark for a three-layered shooter.
With your first layer applied, it's now time to layer. Place a bartender spoon concave side down just above your base, then pour your next-densest layer steadily over the back of a spoon. The spoon's width breaks the flow of the liquor, dispersing it to form a layer that sits above the 1st layer.
Repeat step two for each remaining layer.
Drink! You did all the work here, so we'll toast to that. 🙂
Tools for Cocktail Layering
Here are the tools of the trade you'll need for this artsy form of mixology.
Bartender Spoon
Bar Spoons are designed for drink making. They feature a long handle and a dainty teaspoon for stirred drinks. The teaspoon also doubles as a measurement instrument and muddler for herbs and fruits that are commonplace in craft cocktails today.
Don't have a bartending spoon handy? Use any regular teaspoon you have available. Just make sure it will fit into the shot glass without shaking it or tipping it over.
We suggest wiping off the bar spoon between each layer so you start with a clean spoon before laying the next densest liquor.
A cocktail shaker is a must for mixing ingredients to perfection. You want to get a cocktail shaker that you are comfortable holding and shaking.
Jigger
The jigger is a two-sided measuring essential that ensures that your layered pours are proportionate.
Although this varies by manufacturer, the standard jigger holds 0.75 ounces in its smaller cup and 1.5 ounces in its larger cup. 1.5 ounces is the size of a single shot.
OXO angled jiggers are our go-to measuring tools for cocktails. They work perfectly for pouring in layers for cocktails.
You can place pourers into your liquor bottles to help control the flow but they do take some getting used to.
You want to be sure you can carefully pour the liquor in the center of the glass and not have it run down the side of the glass. When the liquor hits the side of the glass it can mix with the next layer and cause blurry lines in your layered shot.
Shot Glasses
We love these 2 ounce shot glasses especially for layered shots. They are tall and slim which helps show off the amazing layers in your cocktail shot.
Layered Shot Recipes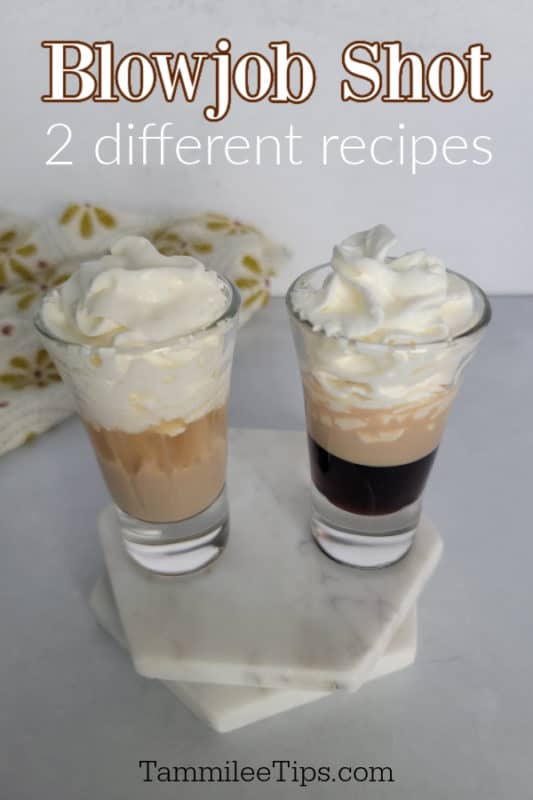 Ingredients: Kahlua Coffee Liqueur, Bailey's Irish Cream
In the Blowjob Shot, Kahlúa and Bailey's are masterfully layered and topped with whipped cream. Like many shots made famous during the 1980s and 1990s, this shot has a cheeky name. The Bailey's in this recipe can be swapped for amaretto.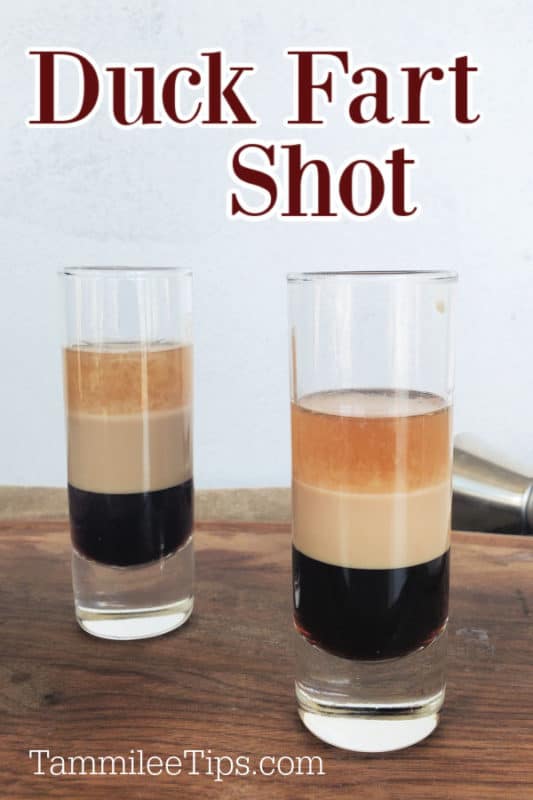 Ingredients: Kahlúa Coffee Liqueur, Bailey's Irish Cream, Crown Royal Canadian Whisky
We discovered the Duck Fart Shot at the Red Dog Saloon in Juneau, Alaska. True to form, this take on the B52 shot swaps Kahlúa for Crown Royal.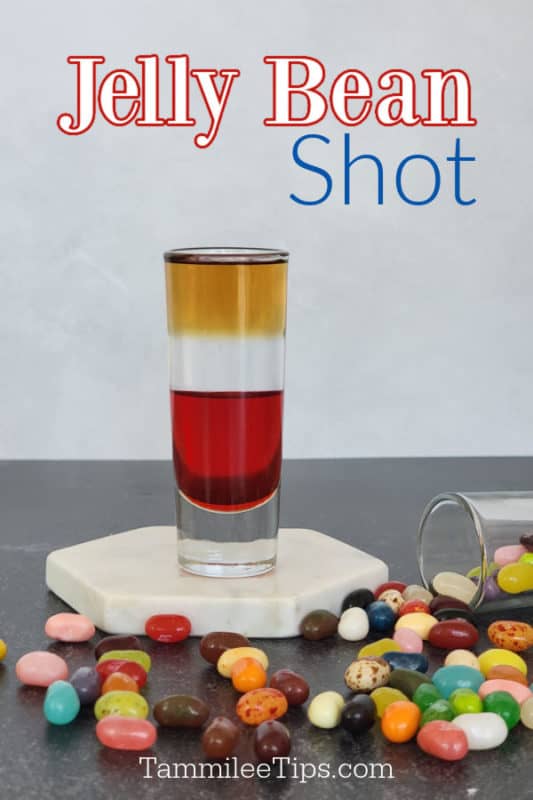 Ingredients: Grenadine, Sambuca Liqueur, Southern Comfort
Licorice lovers will love the anise-flavored sambuca that makes this shot a winner.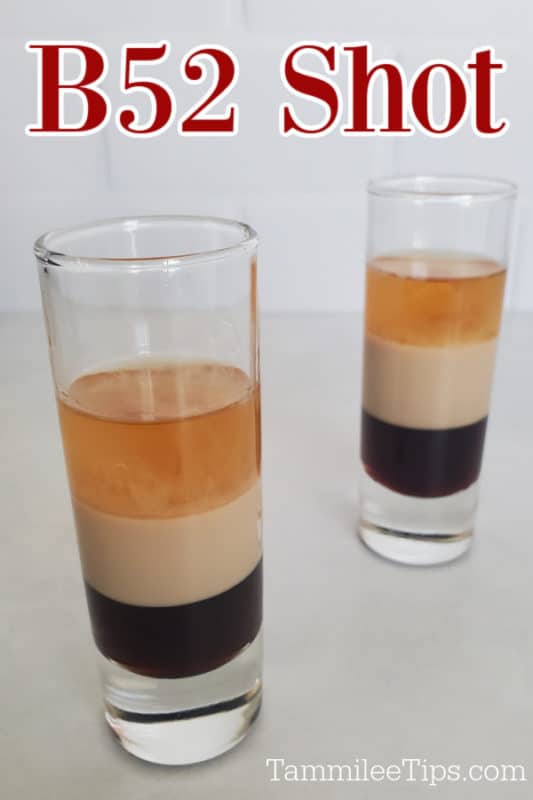 Ingredients: Kahlúa, Bailey's Irish Cream, Grand Marnier
Named after the B52 bomber, this classic layered shot blends Kahlúa, Bailey's, and Grand Marnier for a delicious experience. Drizzle high-proof liquor and light it on fire with caution to create a flaming B52 shot.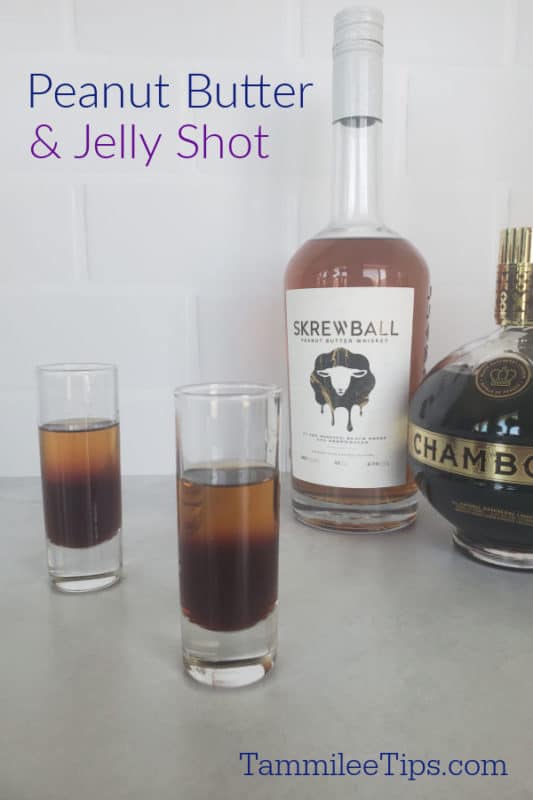 Ingredients: Chambord Liqueur, Peanut Butter Whiskey
It takes only two ingredients to create this PB&J-inspired layered shot.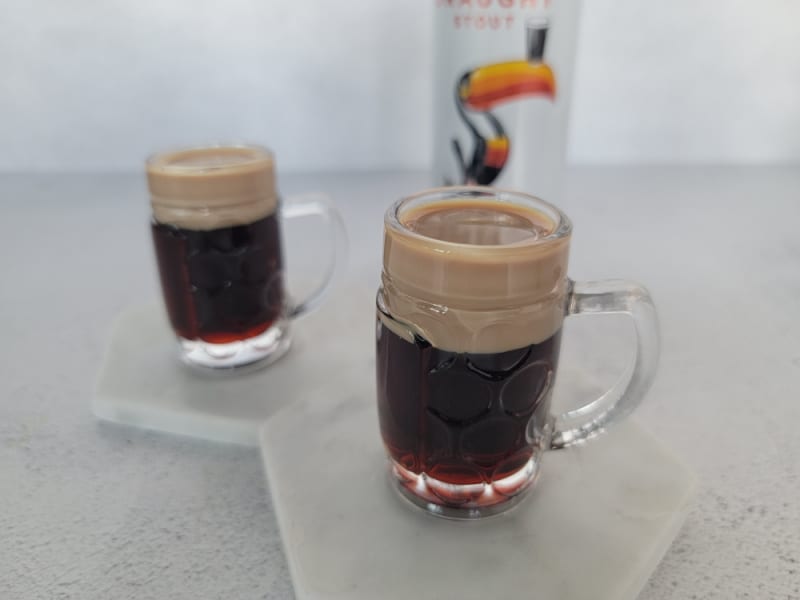 Ingredients: Kahlúa Coffee Liqueur, Bailey's Irish Cream
When served in our mini beer shot glasses, these Kahlúa and Bailey's shots looked like fresh-from-the-tap pours of Guinness.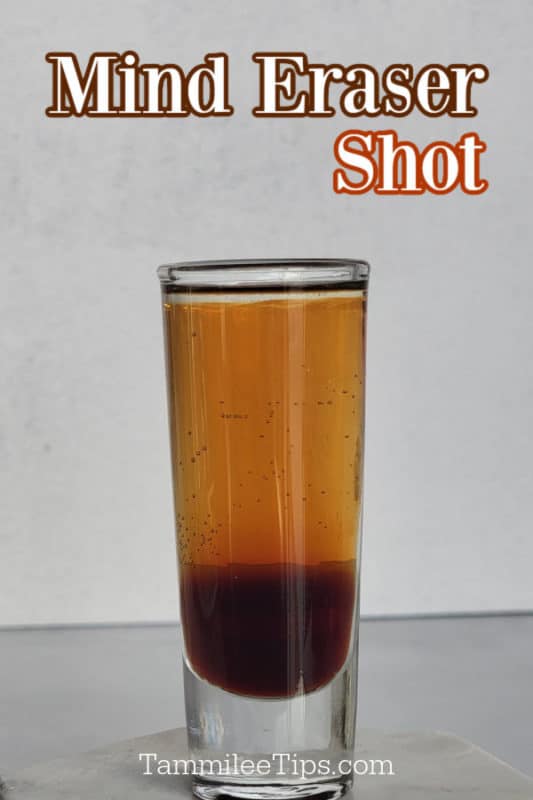 Ingredients: Kahlúa Coffee Liqueur, Vodka, Club Soda
This shooter, which layers equal parts of Kahlúa and vodka before being topped off with club soda, is a bubbly twist on the Black Russian cocktail. It is another gem from the 80s.
This cocktail shot is also featured in our collection of funny drink names.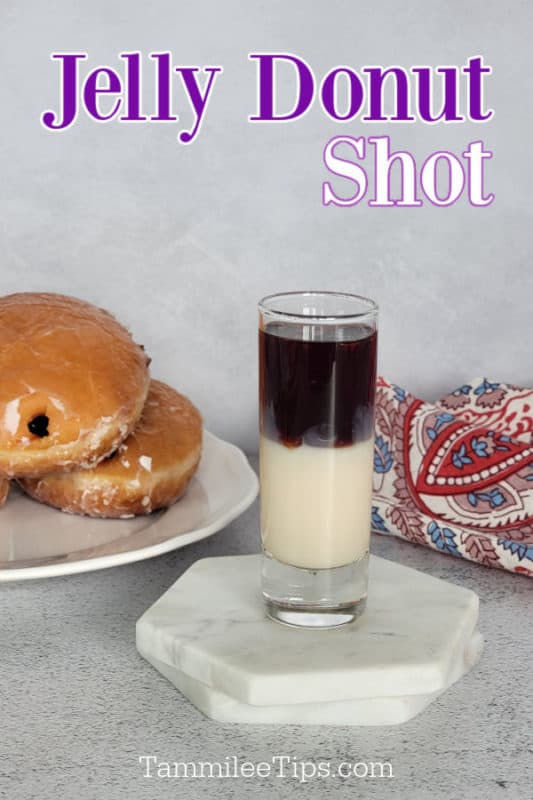 Ingredients: RumChata, Chambord Liqueur
This decadent and fun layered shooter tastes like a jelly-filled pastry.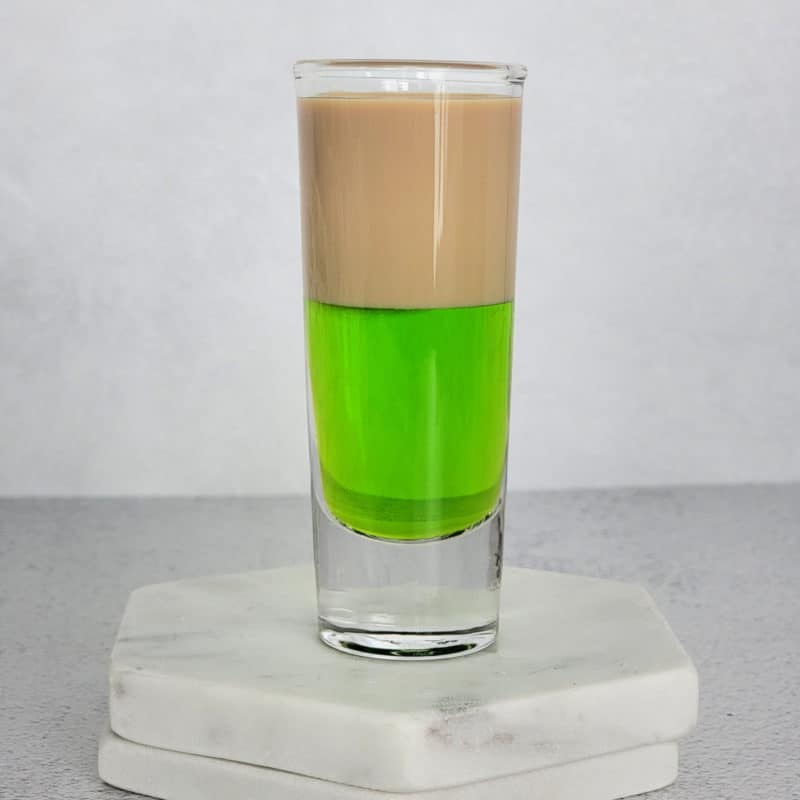 Ingredients: Midori, Bailey's Irish Cream
Midori and Bailey's combine to create a creamy and fruity layered shot you will remember for St. Patrick's Days to come. This is one of our favorite St. Patrick's Day shots!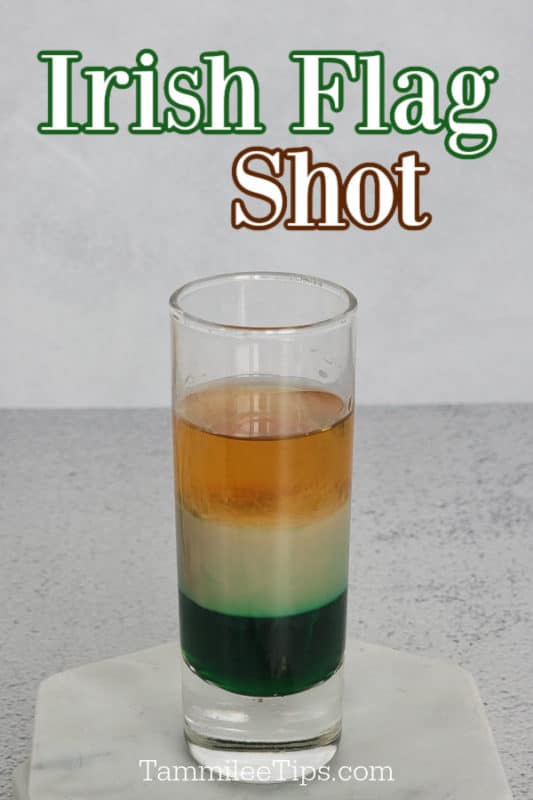 Ingredients: Green Creme de Menthe, Bailey's Irish Cream, Grand Marnier Orange Liqueur
The substitution of Kahlúa for green creme de menthe makes this layered shooter a St. Patrick's Day-friendly version of the flaming B52 shot.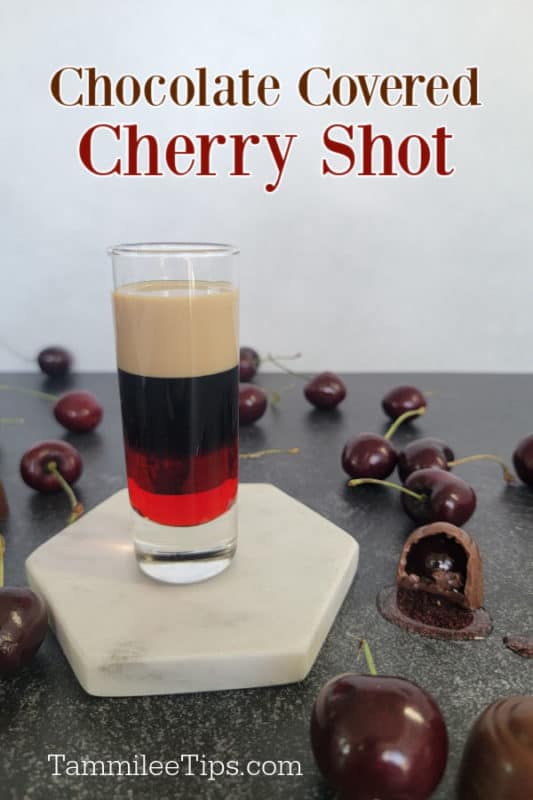 Ingredients: Grenadine, Kahlúa Coffee Liqueur, Bailey's Irish Cream
This dessert-themed shot will sweeten your Valentine's Day - or any day, for that matter.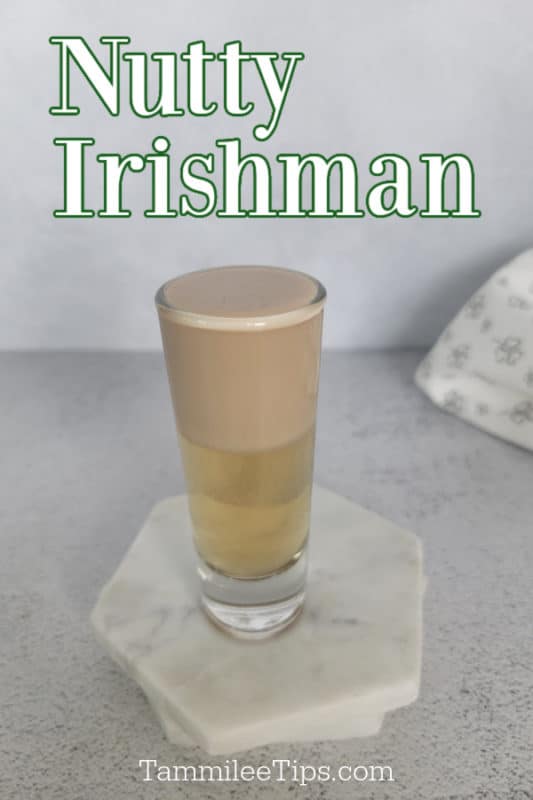 Ingredients: Frangelico Hazelnut Liqueur, Bailey's Irish Cream
The Nutty Irishman is a layered shot of creamy hazelnut goodness.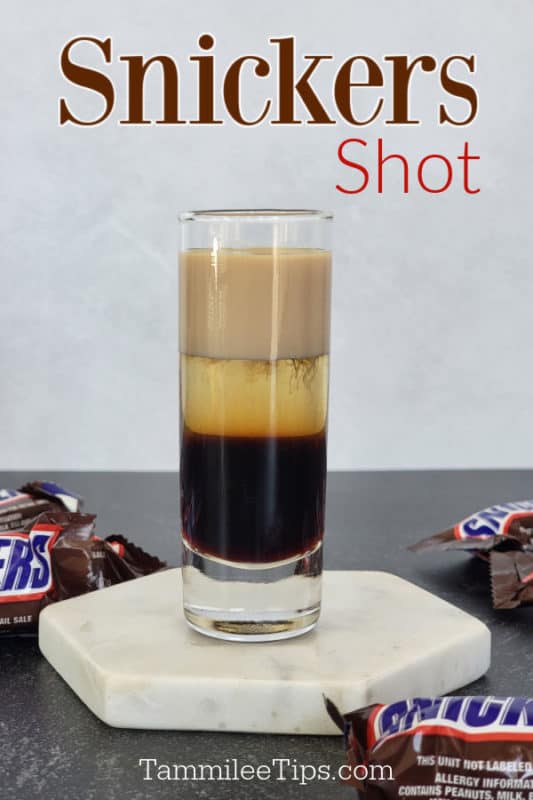 Ingredients: Kahlúa Coffee Liqueur, Frangelico, Bailey's Irish Cream Liqueur
The trifecta of Kahlúa, Frangelico, and Bailey's Irish Cream combine to make this Snickers shot.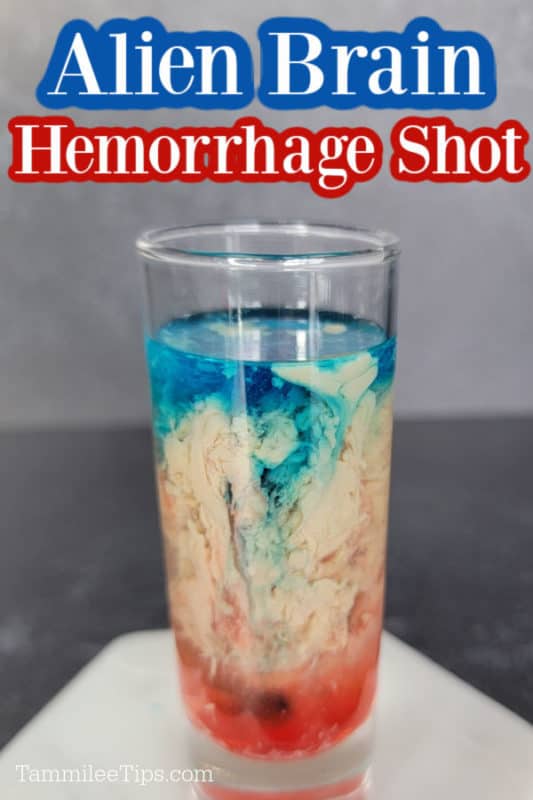 Ingredients: Peach Schnapps, Bailey's Irish Cream, Grenadine, Blue Curaçao
Blue Curaçao and grenadine syrup turn our Brain Hemorrhage Shot into a colorful and visually-pleasing experience. Since the fun colors swirling throughout your shot glass do not resemble anything of this planet, we affectionally named this our Alien Brain Hemorrhage Shot.
We've crafted two other Brain Hemorrhage shots - our original Brain Hemorrhage Shot and our Zombie Brain Shot. Check these out if you enjoy this Alien Brain Hemorrhage Shot.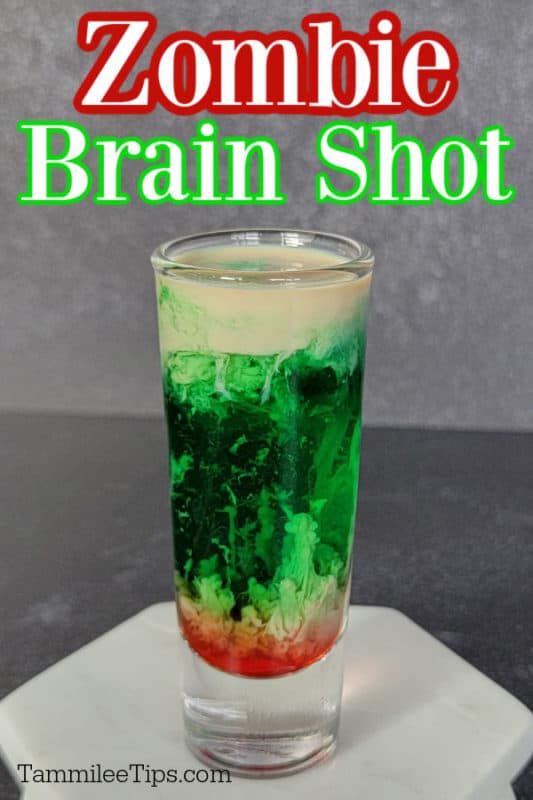 Ingredients: Peach Schnapps, Creme de Menthe, Bailey's Irish Cream, Grenadine
Peach, mint, and Irish cream combine to form a zombie-themed shot, making it a hit for any Halloween party.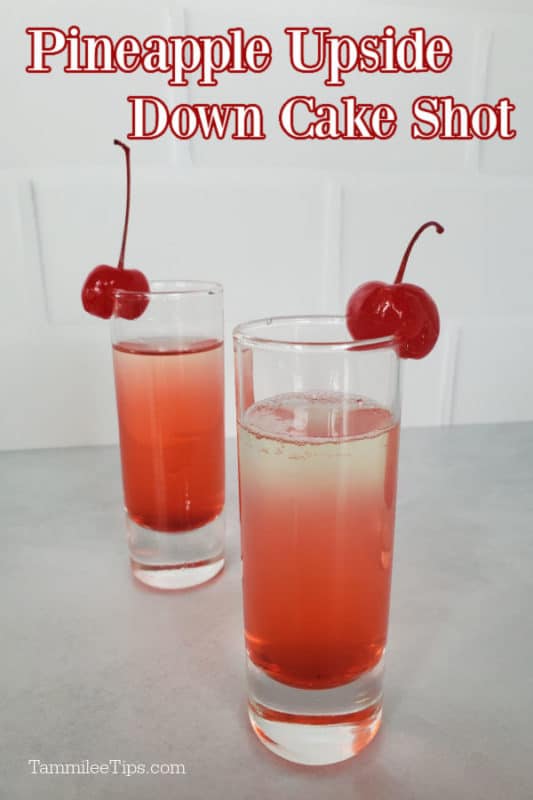 Ingredients: Vanilla Vodka, Pineapple Juice, Grenadine
Try this tropical dessert in shot or cocktail form - you won't be disappointed by the smooth blend of vanilla vodka, pineapple juice, and grenadine. Garnish this shooter with maraschino cherries as you would a pineapple upside-down cake. For a full-sized martini, increase the proportions according to the size of your glass.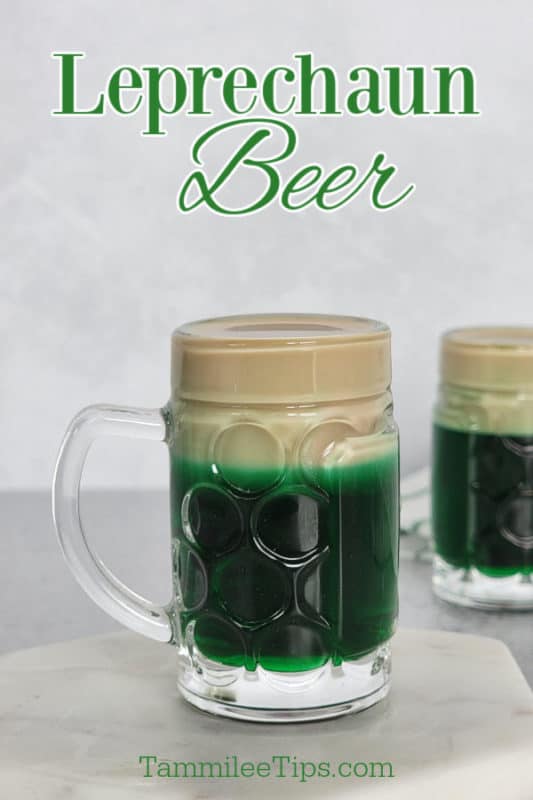 Ingredients: Green Creme de Menthe, Bailey's Irish Cream
While you aren't likely to find this combination of green creme de menthe and Bailey's in a Dublin pub, you can still make a toast to fond memories, happiness, and laughter with this yummy and cheery shot perfect for St. Patrick's Day.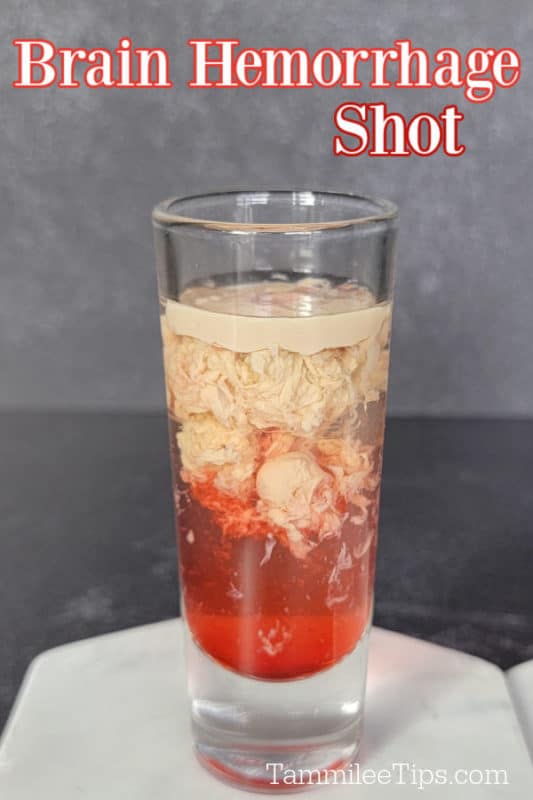 Ingredients: Peach Schnapps, Bailey's Irish Cream Liqueur, Grenadine
The Brain Hemorrhage Shot intentionally uses peach schnapps to curdle the cream in Bailey's, resulting in a creepy yet fun visual.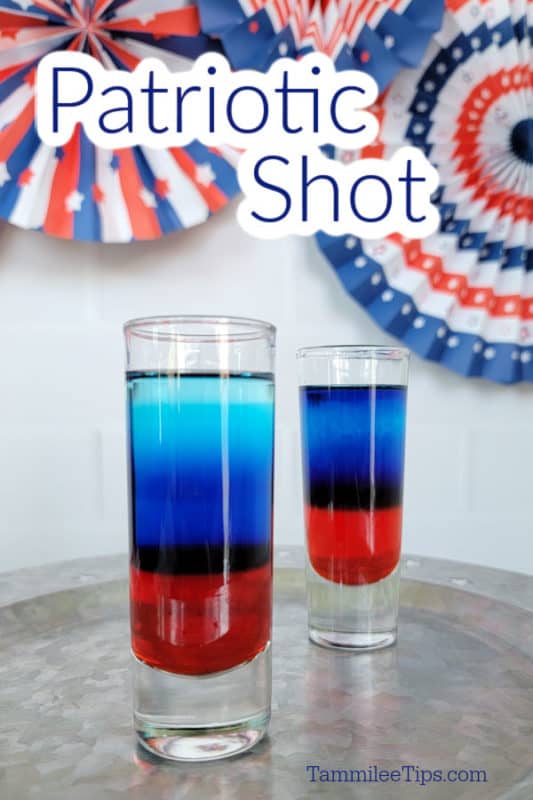 Ingredients: Grenadine, Blue Curacao, Vodka
Grenadine, vodka, and blue Curaçao combine to make this Fourth of July-inspired red white and blue layered shot. It is also colloquially known as the Captain America Shot.
You'll need a shot glass per serving, so you'll need multiples for serving a group. You'll also need a bartending spoon to layer the grenadine, blue curaçao, and vodka. Fear not if you have yet to master layered drinks, as you can use a drink syringe to create the same effect.
For a sweeter shooter experience, swap the vodka for peach schnapps. Peach schnapps is a colorless liqueur that, while lacking the alcohol content of vodka, will add a welcome burst of juicy peach to your shots.
Layered Jello Shots
Layered Jello shots take more finesse than their standard counterpart. Each Jello layer has to be boiled, poured into Jello shot cups, and set in the refrigerator before the next layer can be applied.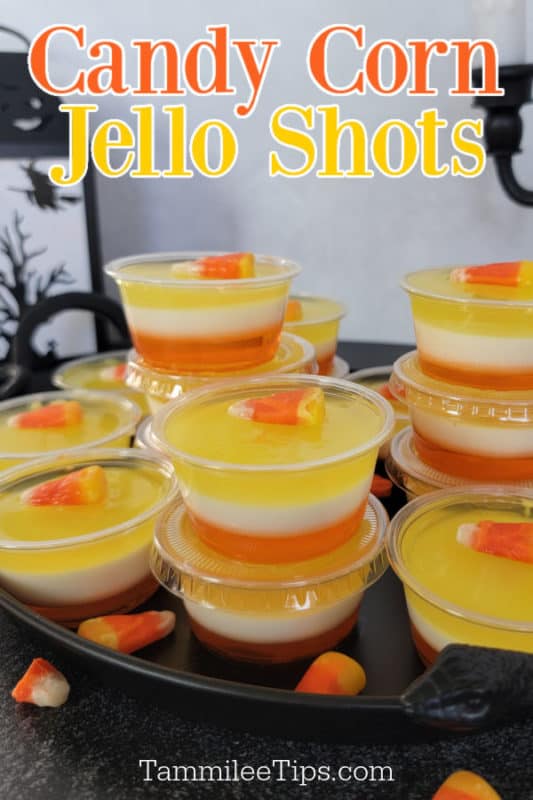 Ingredients: Orange Jell-O, Unflavored Gelatin, Sweetened Condensed Milk, Yellow Lemon Jell-O, Vodka; Candy Corn, Whipped Cream, and Sprinkles for Garnish
These Candy Corn Jello shots are layered with orange Jell-O, flavorless gelatin sweetened with condensed milk, and lemon Jell-O, much like the colors of the classic Halloween candy. Dress them in candy corn and whipped cream or sprinkles to create extra magic.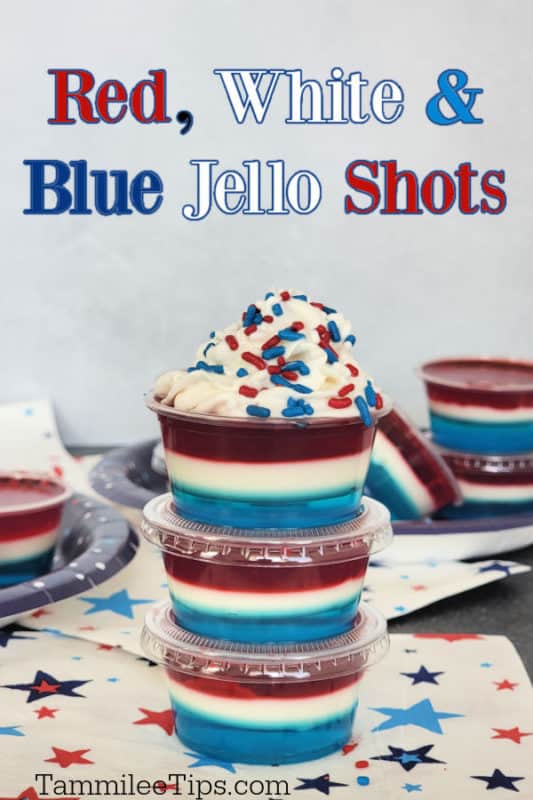 Ingredients: Cherry Jell-O, Berry Blue Jell-O, Unflavored Gelatin, Vodka, Sweetened Condensed Milk
This Jell-O version of our Patriotic Shot transports easily, making it a no-brainer for celebrating America's birthday.
Tips for Layering Jello Shots
You'll need Jell-O shot cups, an angled measuring cup, and a baking tray to prepare layered Jell-O shots. It's also helpful to have a large mixing bowl for combining and blooming the gelatin.
For easy prep, we recommend placing the empty shot cups across an entire baking tray before prepping so that the tray can be placed in the fridge to set. Doing so also acts as a net for spillage from pouring the shots.
Feel free to experiment with different colors of Jell-O - after all, it's the color you're after, and many fruit flavors complement each other in unique ways.
Red layers, for instance, can be flavored with cherry, strawberry, raspberry, cranberry, and black cherry Jell-O. We recommend choosing your favorite flavor, as this will come through in your shots.
Tequila and coconut rum can be used in place of vodka if you prefer a different base spirit. Vanilla or whipped cream vodka is also great for elevating and sweetening layered shots.
The easiest way to make layered shots shine is by having fun with your garnishes. Add whipped cream, maraschino cherries, or sprinkles or candies in colors that fit your theme. You can use as few or as many as you like.
Printable recipe card instructions are in each individual post, just click on the title of the layered shot to go to the blog post.
Nutrition information, including calories, protein, calcium, carbohydrates, fiber, vitamin c, potassium, cholesterol, sodium, trans fat, monounsaturated fat, polyunsaturated fat, and more, will vary depending on the products used.