Halloween Drinks, Cocktails, and Shots that are easy to make and taste great! They may look frightful but they taste delightful. Perfect for Halloween Parties!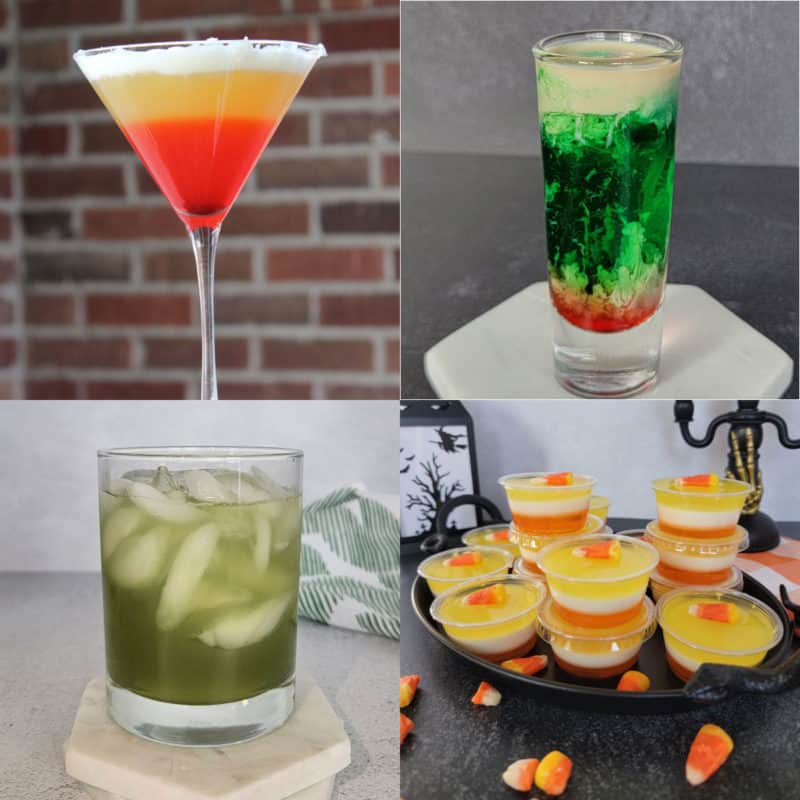 Halloween Drinks and Cocktails
There'll be lots of bubbly, but no toil and trouble with these easy Halloween libations! Whether you want a trick or a treat, we've got options that'll sweeten your taste buds and delight that side that still loves celebrating all the spooky, frightful, and fantastic Halloween offers us every year.
Even better, some take only minutes to come together, and some need ingredients already in your pantry or bar cabinet.
From fun twists on a classic cocktail to witches brew you will find great Halloween drinks everyone will enjoy.
Fun Halloween cocktail garnishes include gummy eyeballs, gummy worms, lychees made to look like eyes, and more.
Don't forget our massive list of 100+ Halloween Jokes and Games that'll keep the party rolling all night long!
Will you be dressing up as a witch, goblins, vampire, warlock, or a kitty cat this year?
And, with that, a Happy Halloween to all!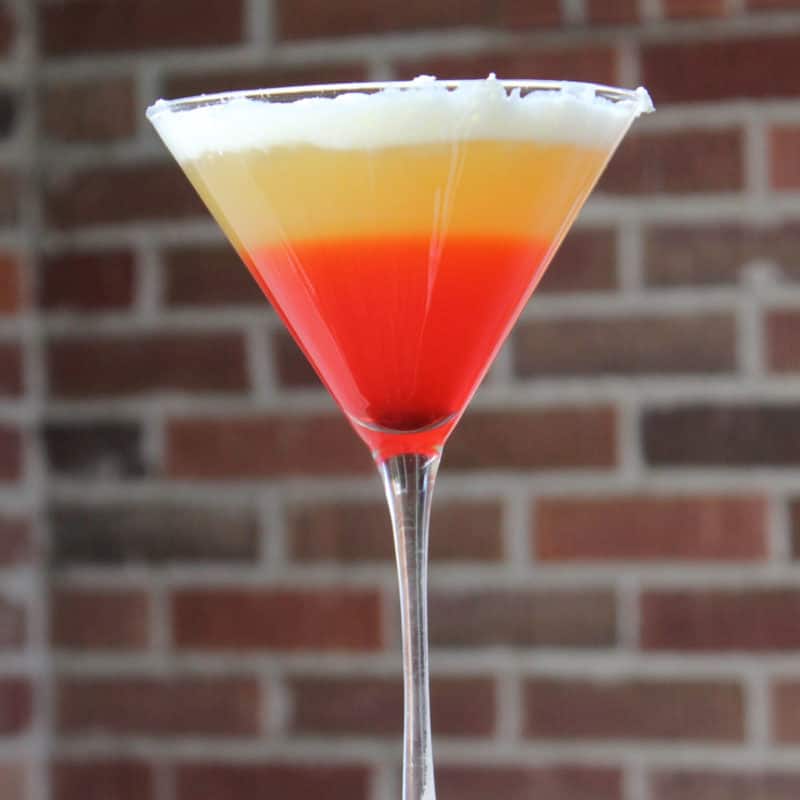 Ingredients: Smirnoff Whipped Cream Vodka, Sweet and Sour Mix, Pineapple Juice, Grenadine, Whipped Cream

Here's a grown-up version of a classic Halloween and fall fairground treat! This fruity layered cocktail uses Smirnoff whipped cream vodka for flavor and grenadine, pineapple juice, and a generous dollop of whipped cream for fruitiness and candy corn colors. Need a refresher on layering your drinks to perfection? We have a guide for you
here
.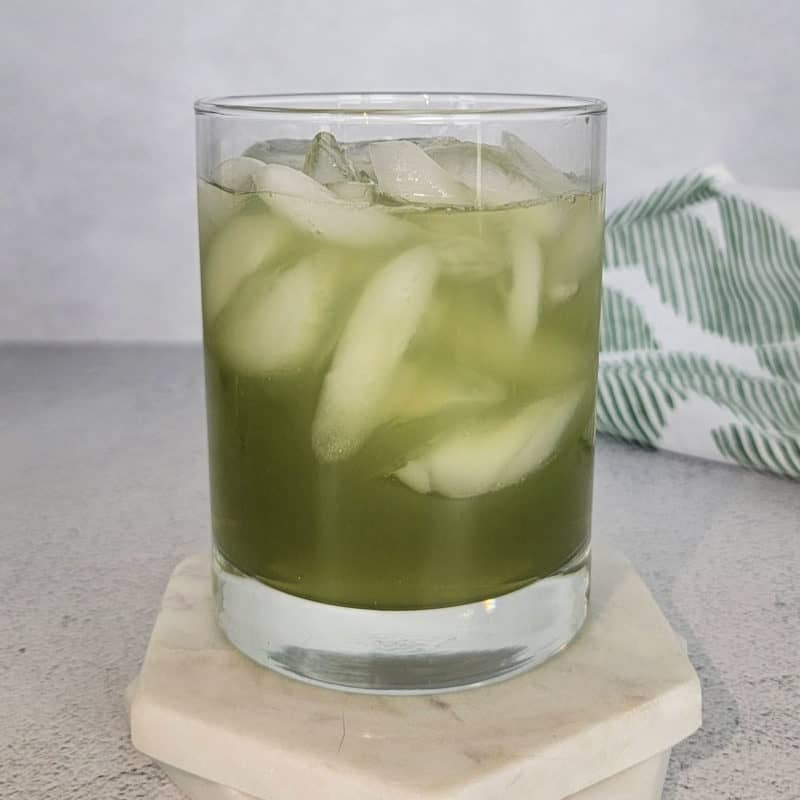 Ingredients: Hpnotiq, Hennessy Cognac
This cocktail's signature ingredients give it an elevated, mixologist-approved feel, while the pour-and-serve preparation makes it easy to batch-prepare and prepare for yourself in minutes. While you can adjust the proportions to taste, we recommend sticking with equal parts to keep it green, as more Hpnotiq will turn it blue, and more Hennessy will muddy the color. Serve this themed cocktail for your next Marvel movie night or adult superhero party!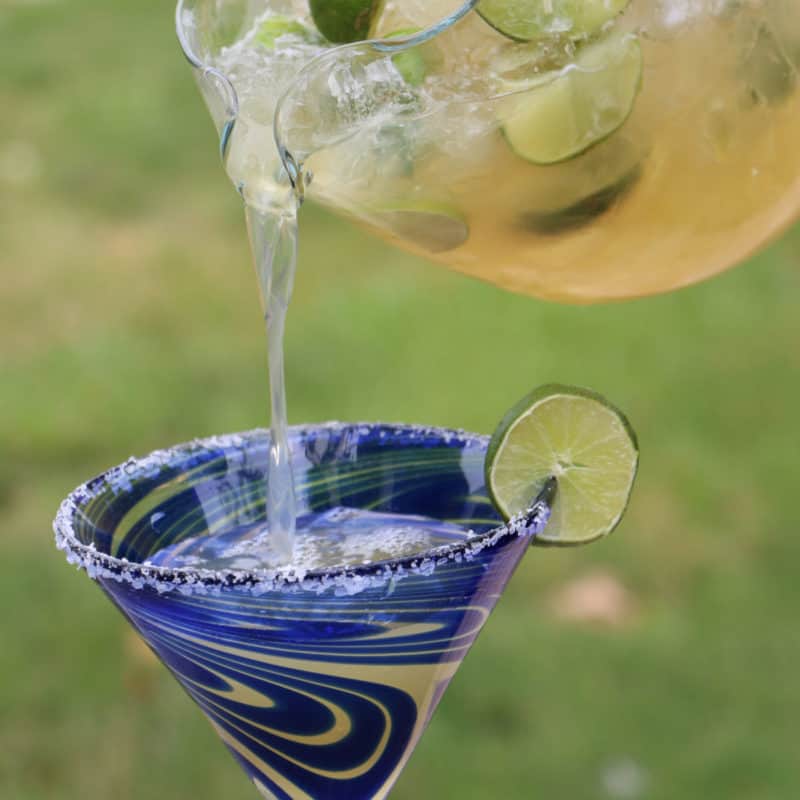 Ingredients: Lime Wedges, Corona, Frozen Limeade Concentrate, Tequila, Ice
Football season and Halloween coincide yearly, so why not enjoy both with some Beer Margaritas that ensure you'll never have to decide whether you want a beer or a margarita to be your next round? They are a breeze to prepare pitcher-style and scale up quickly to the size of the crowd you're serving, which makes them fantastic for parties where you need to keep the booze flowing frightfully all night long.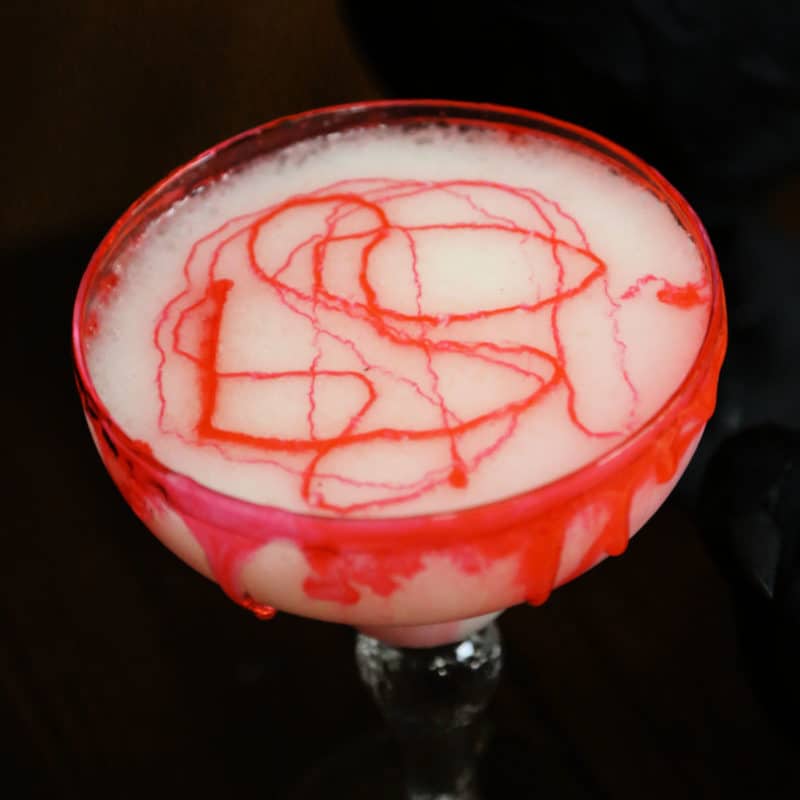 Ingredients: Piña Colada Mix, Ice, White Rum, Karo Syrup, Red Food Coloring
This ghoulish take on the classic piña colada that makes it look like unspeakable things were done to your drink would be a frightfully delicious part of your next Halloween cocktail night! Check out our recipe for edible blood if you want to use it for other Halloween goodies or drinks that need some spook factor.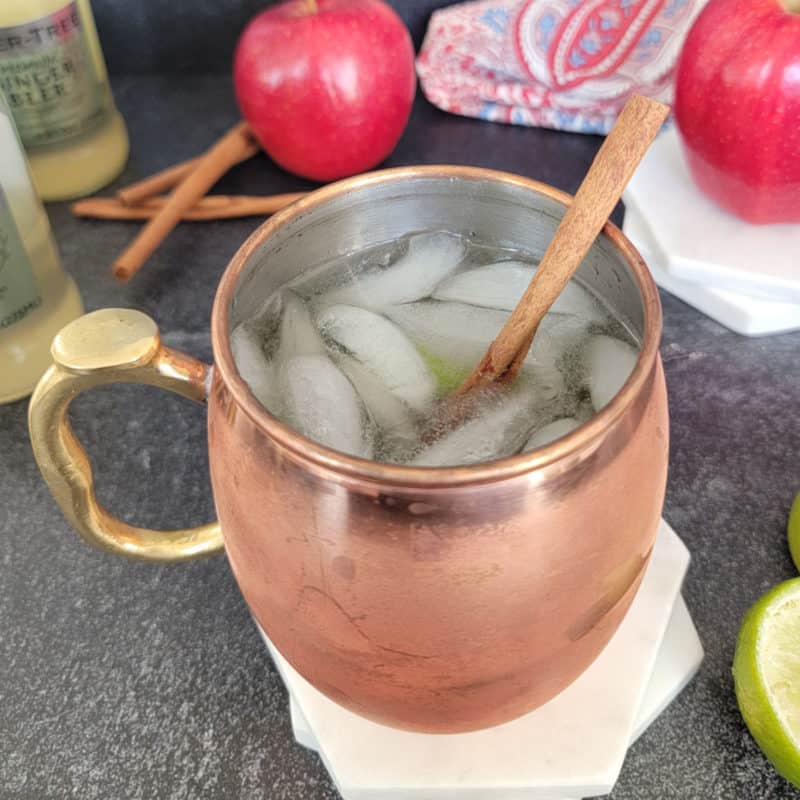 Ingredients: Vodka, Apple Cider, Lime Juice, Ginger Beer
Apple cider and ginger beer are surprisingly complementary flavors in this fall take on the classic Moscow mule cocktail. Use a hard apple cider, such as Angry Orchard, instead of non-alcoholic apple cider for a boozier drink that'll keep you toasty as lowering fall temps threaten to chill your bones.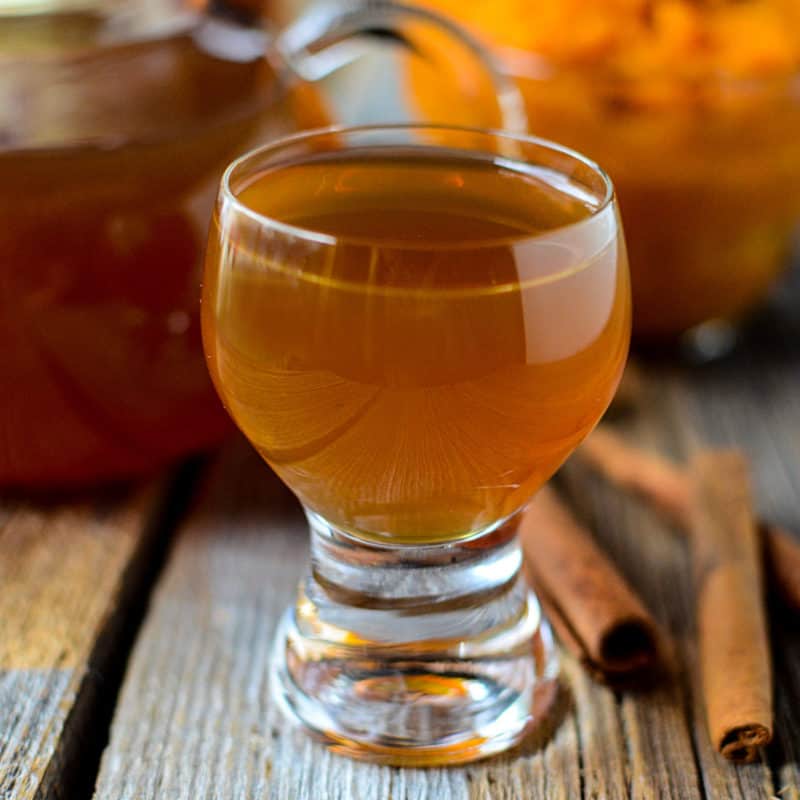 Ingredients: Water, Brown Sugar, Pumpkin Puree, Cinnamon Sticks, Pumpkin Pie Spice, Rum
Do you have a can of pumpkin puree and a bottle of rum in your kitchen? If so, you're halfway to this homemade pumpkin liqueur made entirely in your CrockPot! Use it in any cocktail or adult beverage that could benefit from pumpkin goodness, including our slow cooker pumpkin spice latte! You can keep your CrockPot set to "warm" during the party if you want to use your slow cooker as a serving "cauldron."
Halloween Shots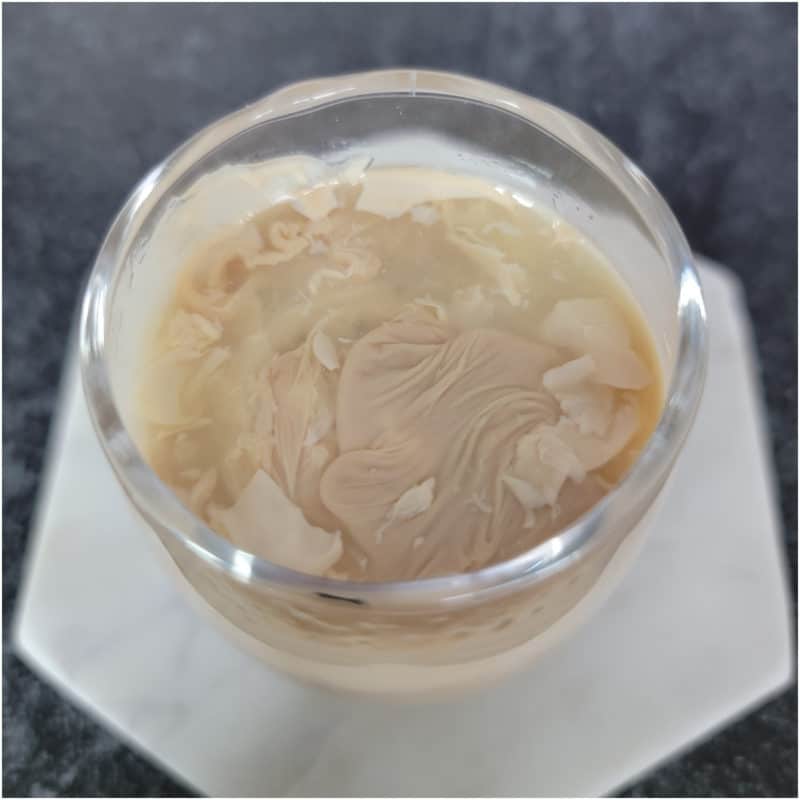 Ingredients: Bailey's Irish Cream Liqueur, Lime Juice
Spooky season is all about strange and mysterious happenings, and the icky texture of this Irish cream and lime juice shot that mimics uncured cement fits right in! While watching this shot come together and seeing folks shoot it back is fun, we don't recommend taking the Cement Mixer shot on an empty stomach.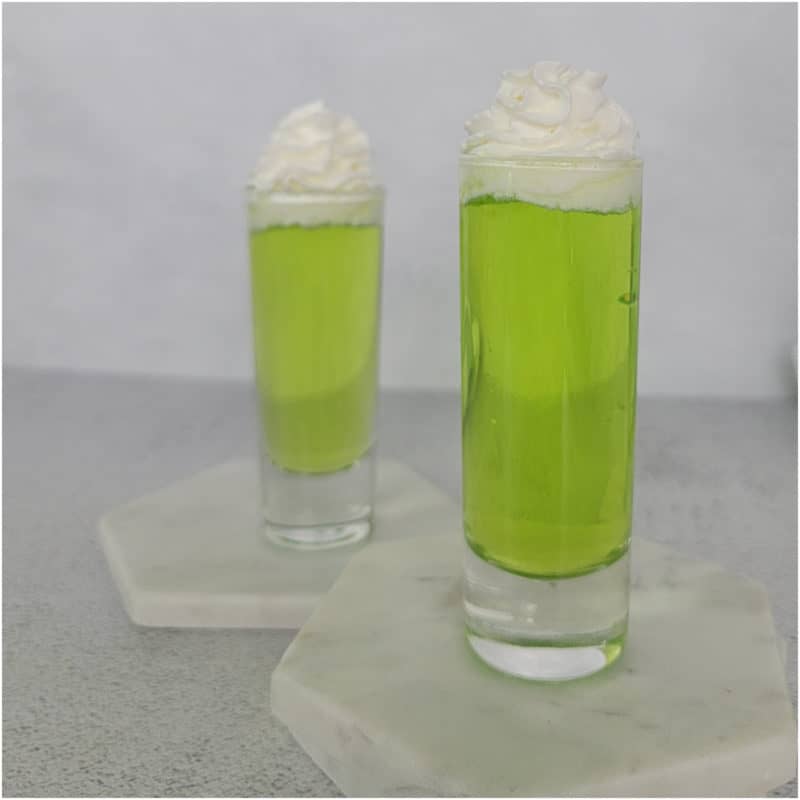 Ingredients: Malibu Coconut Rum, Banana Liqueur, Melon Liqueur, Pineapple Juice, Whipped Cream
Say "zoinks" as you and the crew cheer to this tropical banana, melon, pineapple, and rum shot inspired by Scooby-Doo and the Mystery Gang, one of our favorite Saturday morning cartoons to watch when we grew up. You can control the level of green in this shot through the amount of melon liqueur you add, and you can choose whether to serve it as an indulgent treat with whipped cream. Scooby, Shaggy, Velma, Daphne, and Fred costumes, mysterious that need solving, and nefarious ghouls that need apprehending: not included.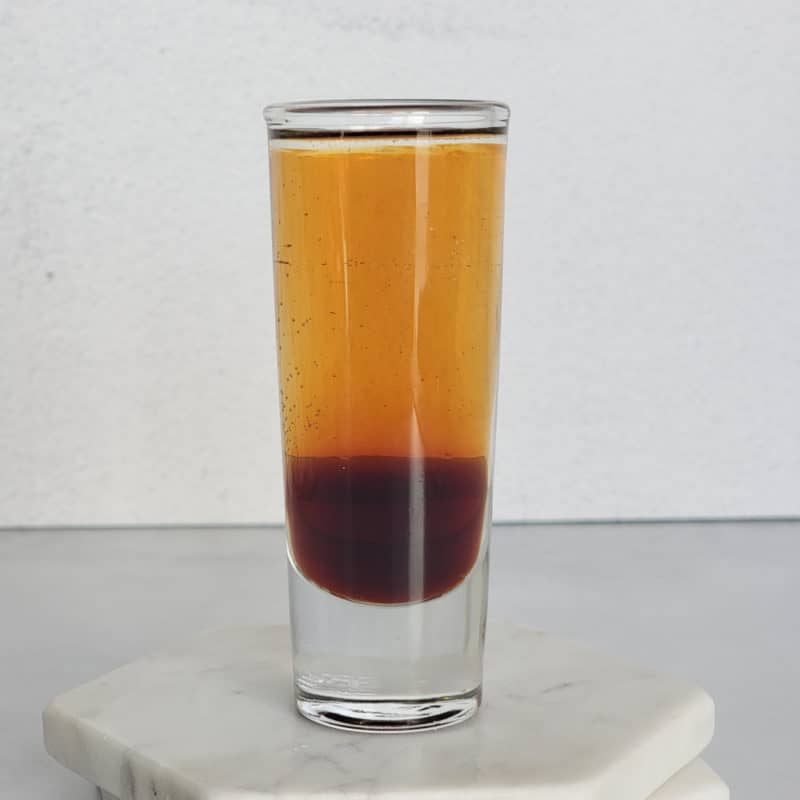 Ingredients: Kahlúa Coffee Liqueur, Vodka, Club Soda
This fizzy vodka-Kahlúa shot gets its name because it's so tasty that you won't realize when you've had one too many. We don't know how much caffeine it contains, but if there's truth to the placebo effect, the coffee flavor from the Kahlúa will help you enjoy any spooky fest a little bit longer.
You can use any coffee liqueur you enjoy if you don't have Kahlúa or want to try something different, as well as another clear soda if you don't have club soda. The recipe post includes instructions for the layered shooter and cocktail and contains variations using different mixers.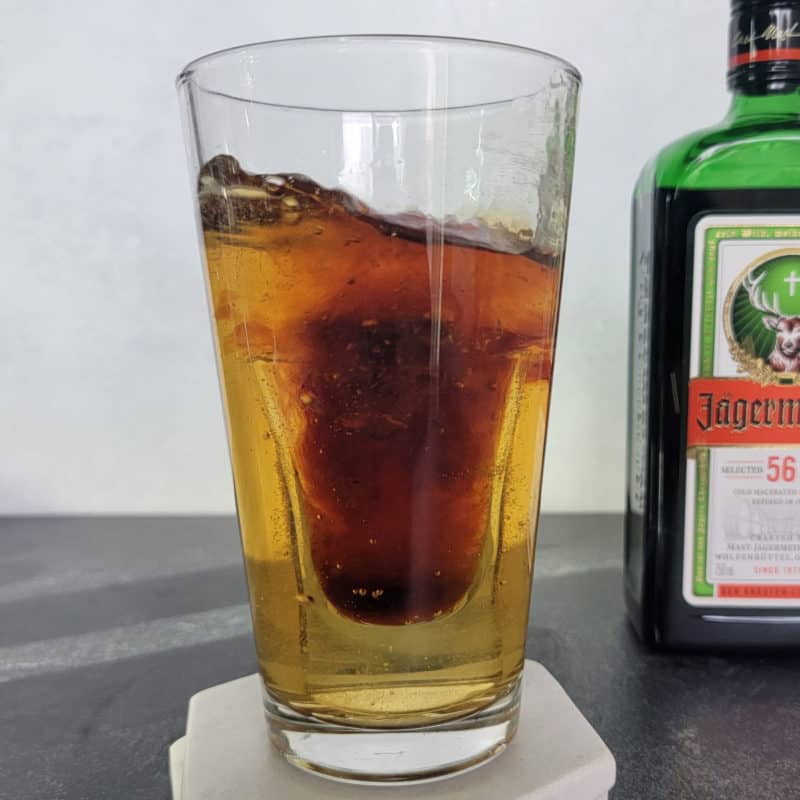 Ingredients: Jägermeister Liqueur, Red Bull
The Jäger Bomb has made waves in party scenes everywhere for its speedball effect, which involves countering a shot of anise-flavored, 35-percent-ABV Jagermeister with the self-professed "energy drink that gives you wings.
" The "bomb" effect comes from its preparation, which we photographed in the recipe post. While you may think it was invented in a high-octane party destination like Vegas, sources trace its origins back to the 1997 Tahoe area.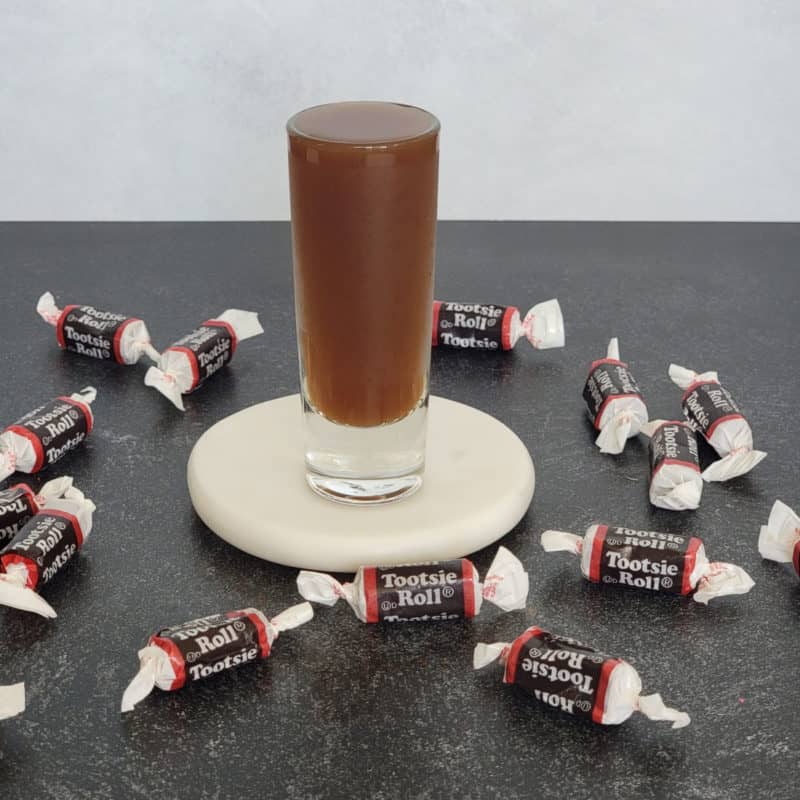 Ingredients: Kahlúa Coffee Liqueur, Orange Juice
If you've followed our site for some time, you may have noticed how much we love sweet treats with appropriate doses of nostalgia, especially with drinks!
Coffee liqueur and orange juice seem like an unlikely pairing, but together, they create the taste of a Tootsie Roll candy. When taking this two-ingredient shot, we recommend pulp-free orange juice for the smoothest experience.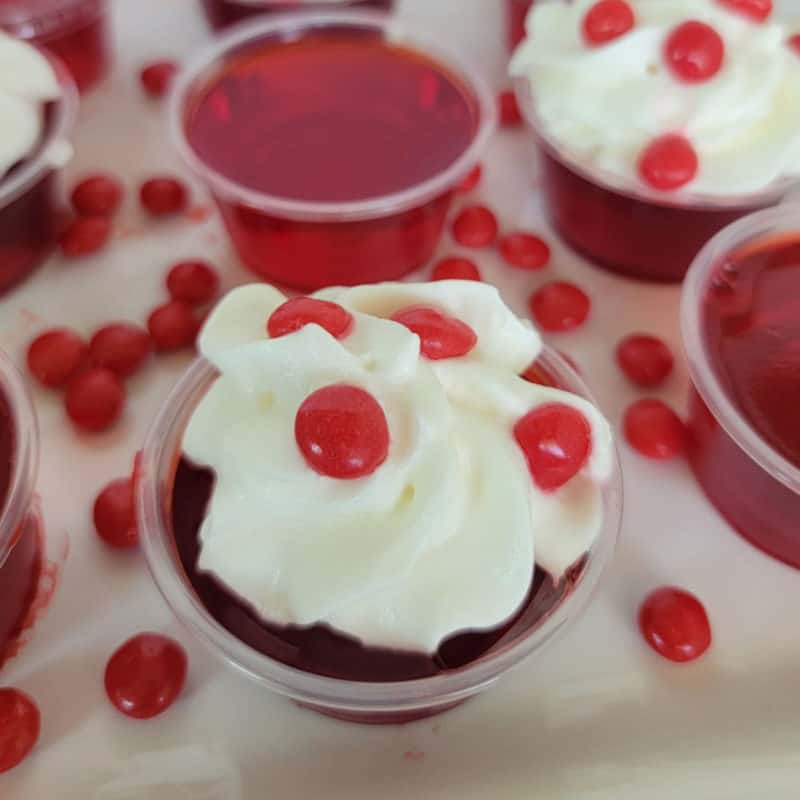 Ingredients: Cherry Jell-O, Fireball Whisky, Water
Fireball Whisky is a niche product that we love for its unmistakable spicy kick and cinnamon flavor. In this Jell-O shot, tart cherry gelatin, warm cinnamon, and Red Hots candies mix to create a taste experience you'll remember even after the party ends. Thanks to the cherry Jell-O, the shots are also a festive red you can serve during the holiday season, Valentine's Day, and any other celebration of this dominant, eye-catching color!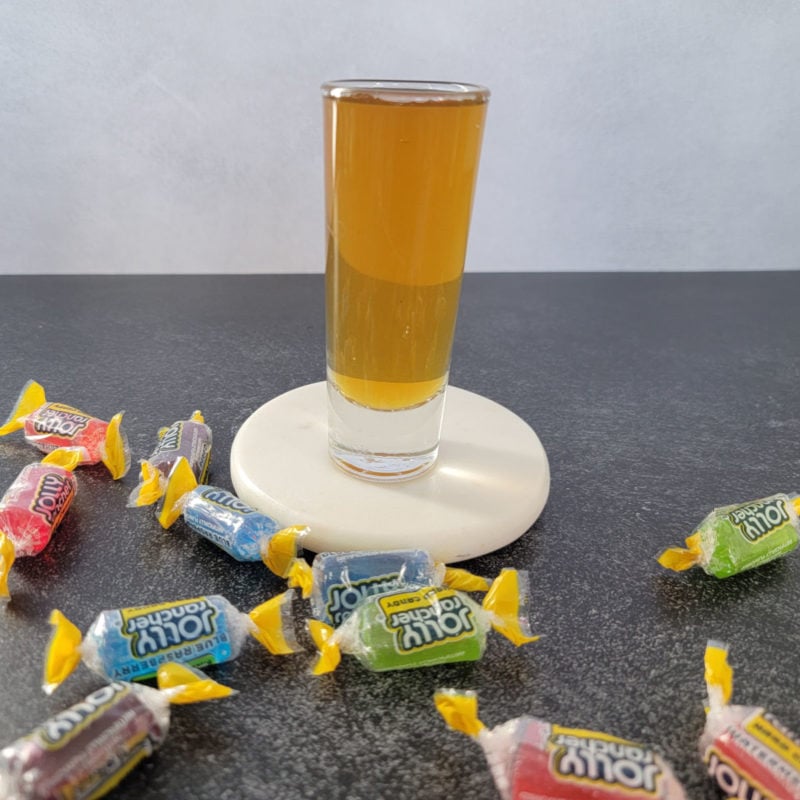 Ingredients: Midori Melon Liqueur, Peach Schnapps, Sweet and Sour Mix, Grenadine
Here's a four-ingredient shot inspired by a time-honored candy you've likely found in a trick-or-treat basket! We've included recipe variations if you want a particular Jolly Rancher flavor. This recipe upsizes well if you wish to enjoy it as a cocktail or make a large batch for a group.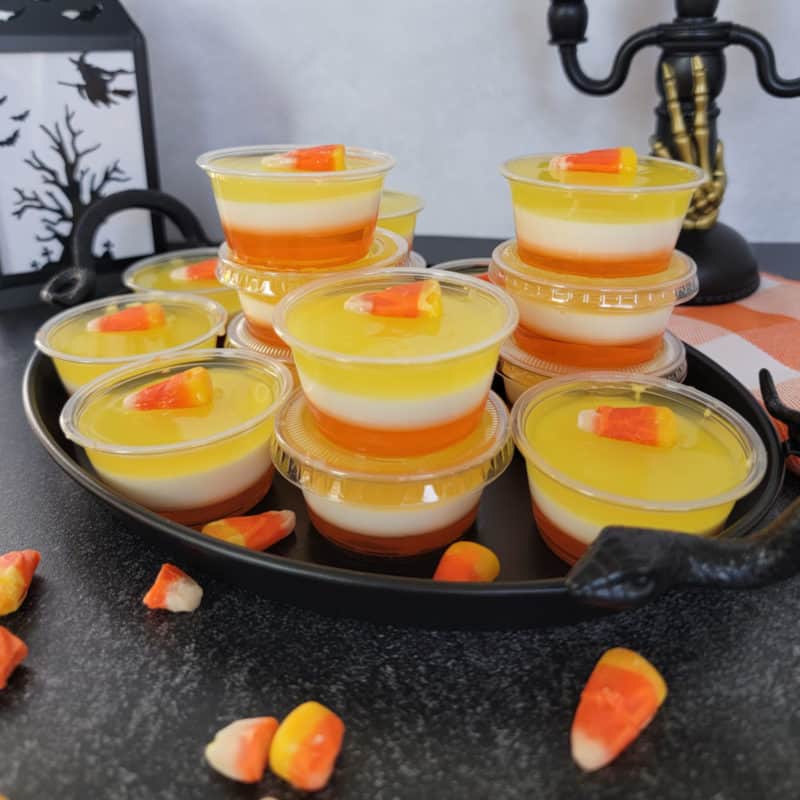 Ingredients: Orange Jell-O, Clear/Unflavored Gelatin, Sweetened Condensed Milk, Yellow/Lemon Jell-O, Vodka
In this roundup's second candy corn entry, the namesake fall candy favorite inspires the colors in these layered Jell-O shots that would be perfect for a Halloween party! Swap the vodka for another clear liquor, like rum or tequila, for a different taste, and feel free to use yellow and orange food dye for more vibrant colors. Any orange and yellow-colored gelatin mix works in this recipe; make sure you like the combination of flavors before rolling up your sleeves. As with our other Jell-O shot recipes, sweetened condensed milk ensures the stability and sweet taste everyone will enjoy.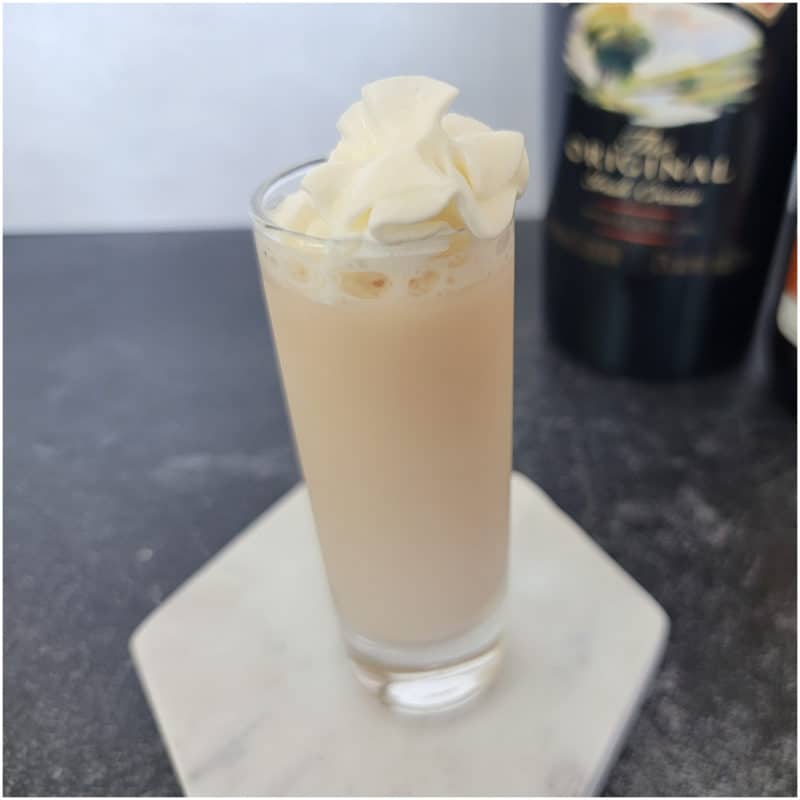 Ingredients: Bailey's Irish Cream, Butterscotch Schnapps, Optional Whipped Cream for Garnish
This decadent shot featuring sweet Irish cream and warm, brown sugar-flavored butterscotch schnapps is one of many retro cocktails that emerged in the 80s with suggestive names, and we encourage you to use your imagination about how this flesh-colored one got its forward name. We have other drinks with funny names for a themed night that will have everyone rolling as they learn the names of their beverages!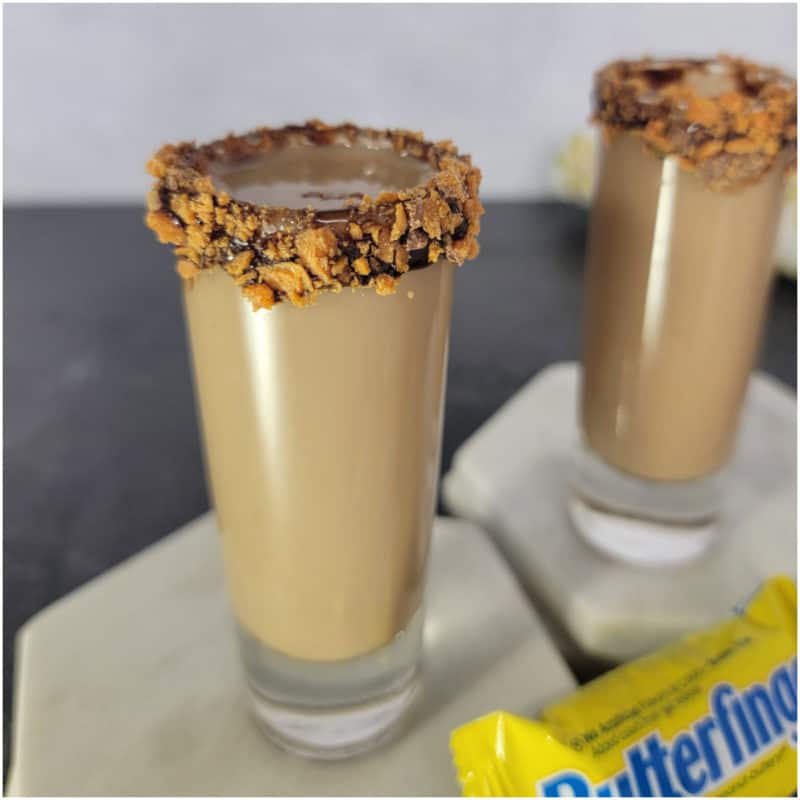 Ingredients: Kahlúa Coffee Liqueur, Butterscotch Schnapps, Bailey's Irish Cream
We love fruity drinks and shooters like any sweet tooth, but chocolate has a special place in our hearts and is a satisfying fill-in when we want something sweet to drink but need a change of pace. We love garnishing this candy-inspired shot with chocolate syrup and Butterfinger pieces on the rim, and they look fantastic served that way on a Halloween cocktail platter. It's a chocolate lover's delight come true!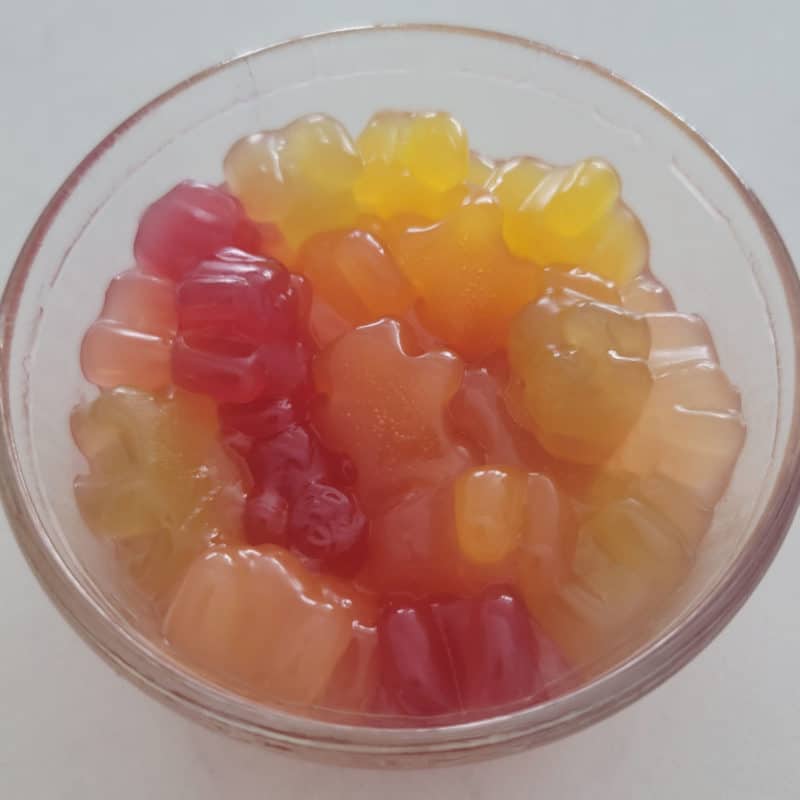 Ingredients: Vodka, Gummy Bears
I have over twenty years of experience making this time-honored twist on the humble gummy bear, beginning with college parties and especially around Halloween time! You can pack these into mini mason jars for DIY Halloween party favors; just be extra, extra sure that you either give them to friends who don't have kids or label them as containing alcohol to keep them out of the hands of anyone who isn't supposed to touch them. You can also make them into "rummy" bears by switching out the vodka for your choice of rum.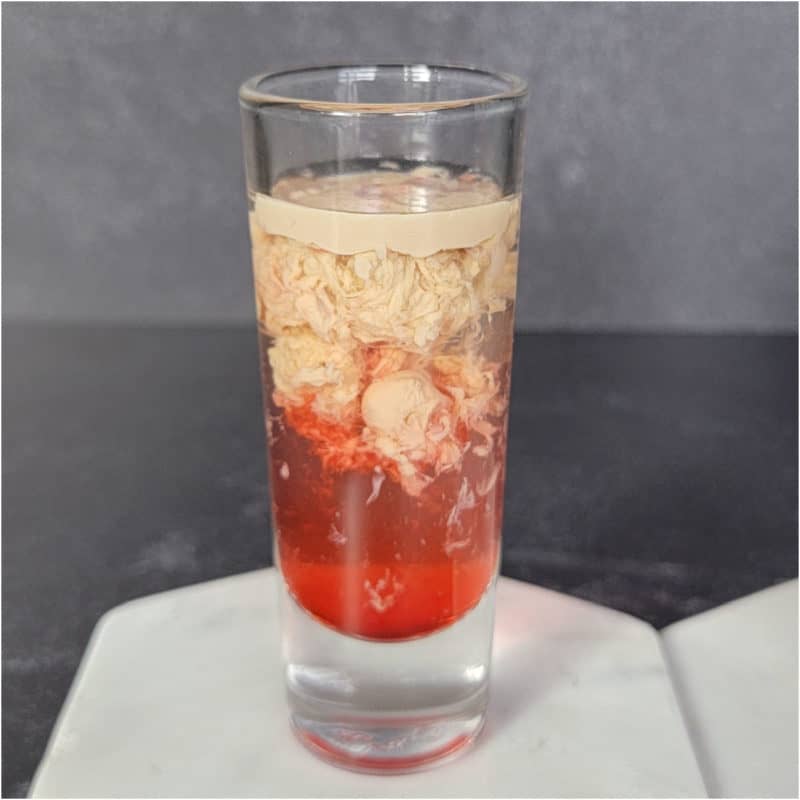 Ingredients: Peach Schnapps, Bailey's Irish Cream Liqueur, Grenadine
With the unique Brain Hemorrhage Shot, you won't need to be a professional bartender to create a layered shot that guests will remember for all the right or wrong reasons, depending on how you look at it! This shot leverages the chemical reaction of peach schnapps and Bailey's Irish Cream for a creepy yet fun visual of "curdled" brains.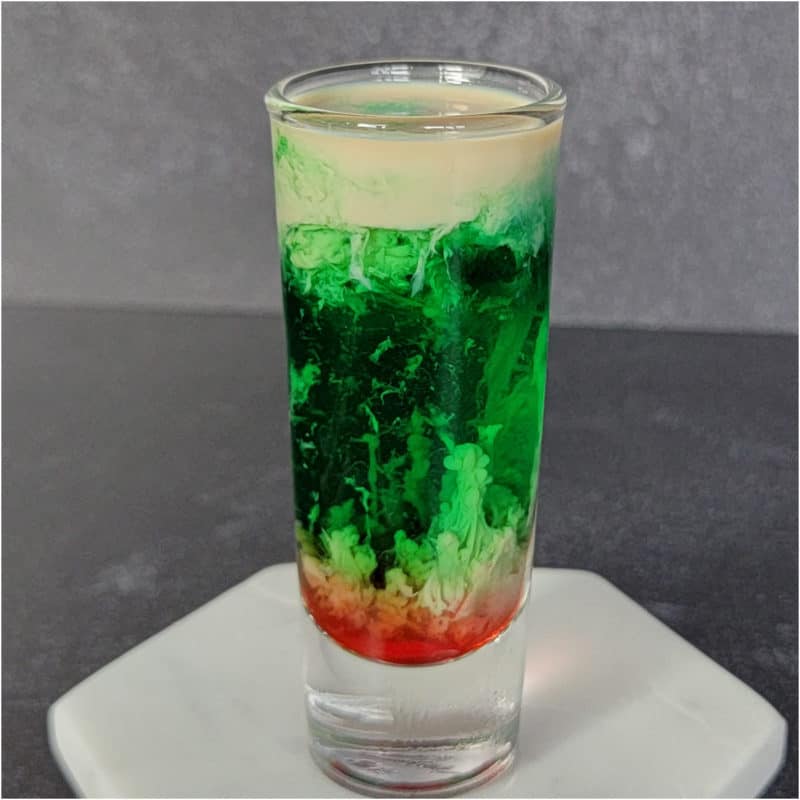 Ingredients: Peach Schnapps, Creme de Menthe, Bailey's Irish Cream, Grenadine
We use green creme de menthe to contrast against the grenadine and, with the Irish cream, create the visual of zombie remains. The sweet peach, refreshing mint, and decadent Irish cream make it a surefire hit at any Halloween or zombie party!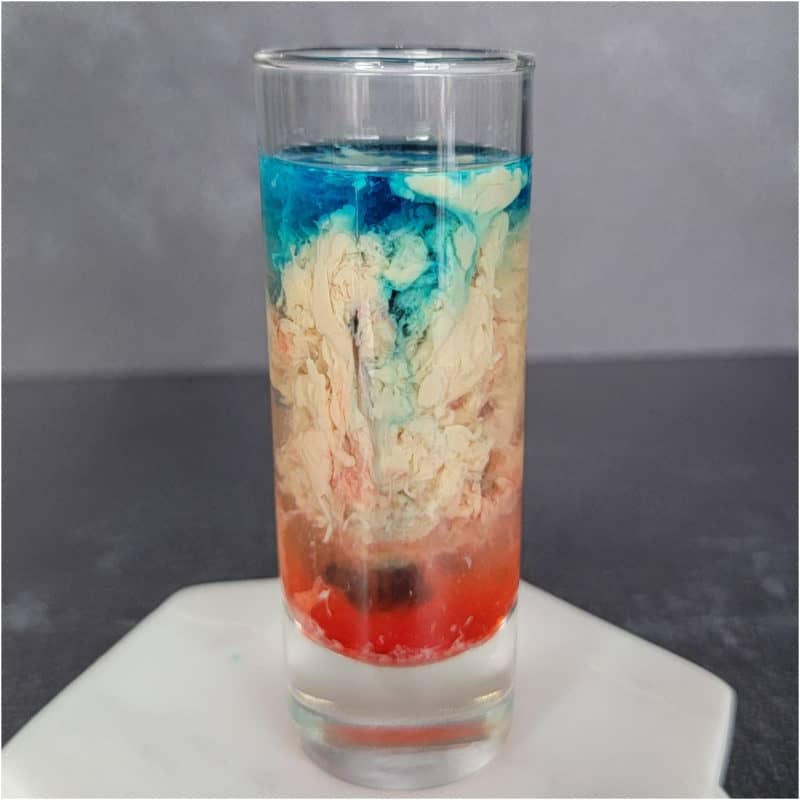 Ingredients: Peach Schnapps, Bailey's Irish Cream, Grenadine, Blue Curaçao Orange Liqueur
Blue Curaçao and grenadine syrup turn our Brain Hemorrhage Shot into a colorful and visually pleasing experience. Since the fun colors swirling throughout your shot glass do not resemble anything of this planet, we affectionally named this our Alien Brain Hemorrhage Shot. Serve it for a sci-fi movie night!
Great Cocktail Tools
2 ounce shot glasses - We love these 2 oz shot glasses especially for layered shots.
Bar Spoon - Bar spoons help to create layers in the cocktail shot. They fit perfectly into the cocktail shot glass.
Cocktail Shaker – This cocktail shaker comes with a fantastic set of tools
Stemless Martini Glasses - These stemless martini glasses are fantastic.
Martini Glass - We like the look of the classic martini glass
Jell-O Shot Cups - We suggest using two-ounce Jell-O shot cups.
OXO angled jiggers - these are our go-to measuring tools for cocktails. They work perfectly for pouring in layers for cocktails.
Margarita Glasses - We like the look of classic margarita glasses but you can use any glass for this great cocktail.
Copper Mule Mugs  - Copper Mule Mugs are the classic way to serve Moscow Mules. The copper mugs keep them nice and cold and look amazing.
Epic Cocktail Recipe Collections
We love mixing with bourbon, absinthe, vodka, ginger ale, simple syrup, maple syrup, tomato juice, apple brandy, vanilla, and more to create delicious cocktails.
Fall Cocktails - All of the best cocktails perfect for celebrating Fall! Hello apple cider and pumpkin.
Great Martini Recipes - Shake or stir your favorite martini with these great recipes.
Vodka Cocktail recipes - Pour yourself an amazing drink featuring vodka.
Moscow Mule Recipes - Try a new variation on the classic Moscow Mule Drink.
Ginger Beer Cocktails - All of our best cocktail recipes made with ginger beer.
Easy Green Cocktails - Bright green cocktails perfect for Halloween parties.
Cranberry Juice Cocktails - Easy Cocktails with Cranberry Juice that taste amazing! These cranberry juice cocktails are perfect year-round.
Check out all of our Cocktail Recipes
We have an entire Halloween category dedicated to Halloween appetizers, Halloween Desserts, and ghoulish delights.
Do you love recipes? Check out our copycat recipes, dessert recipes, and our CrockPot Recipes.
Follow Tammilee Tips on MSN, Facebook, Instagram, and Pinterest, for all of our recipe posts.