Today we are sharing how to make Mummy Cake Pops perfect for Halloween!
I love Halloween treats! I have so many great recipes I can't wait to share with you leading up to Halloween. There is just something so fun about making sweet treats that make Halloween one of my favorite times of the year.
Do you dress up for Halloween or throw a party? I think we will be traveling this year so we are going to celebrate while traveling. Last year we celebrated Halloween in Amsterdam. We had planned to go out and explore the city and see how they celebrated but jet lag kicked in and we woke up the next day. Oops!
We did get to enjoy a couple of themed cocktails at the hotel and watch a few people before we crashed which was nice. This year I am hoping we can really enjoy Halloween.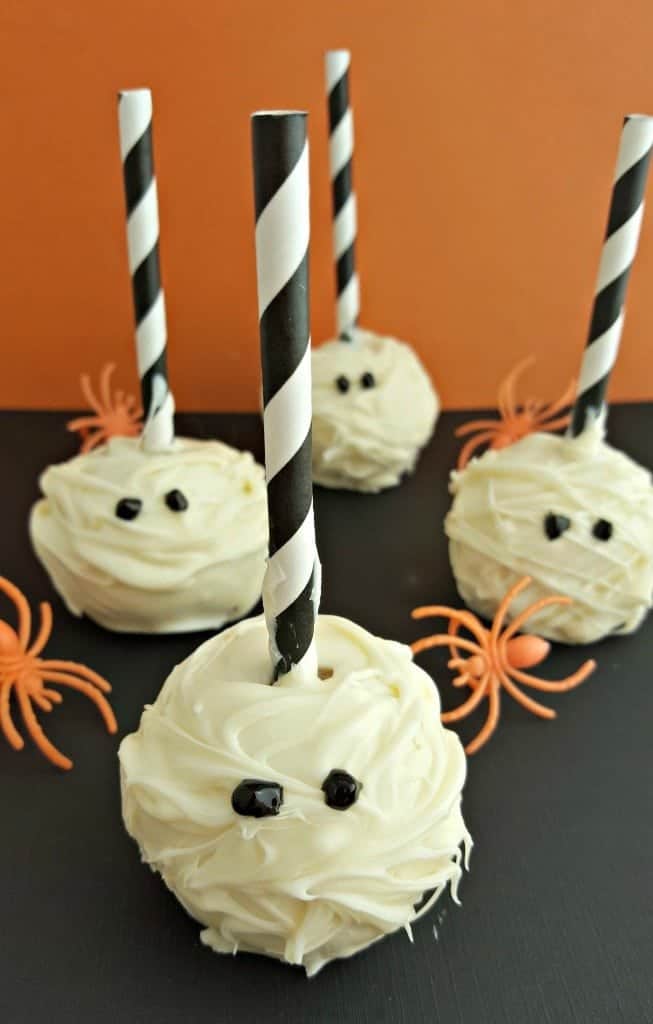 MUMMY CAKE POPS
Yields: 40 cake balls
Ingredients
2 12 oz. packages of white chocolate chips
1 box white cake mix (plus required ingredients)
½ cup vanilla or cream cheese frosting
Black gel writing frosting
Paper straws or lollipop sticks
Directions
Prepare and bake cake as directed on box. Let cool completely.
Crumble cake into a large bowl. Add frosting and mix thoroughly. You may do this using your hands or an electric mixer.
Roll mixture into 1" balls. Place a paper straw or lollipop stick in the top of each cake ball.  Chill in the refrigerator for approximately 1 hour (or freezer for 30 minutes).
Melt white chocolate chips as directed on packaging.  Hold the cake ball by the stick and place into white chocolate. Use a fork to completely coat outside and help to lift it out of the chocolate. Hold the ball over the bowl by the stick, and dip the fork into white chocolate – drizzling back and forth in a criss-cross pattern on the entire outside of the cake ball.
After chocolate has hardened, use black gel writing frosting to draw on two eyes.