Halloween party games are a great way to liven up any Halloween party or to just have a little fun. These games can be played by children or adults and require very little preparation. These Halloween games are not limited in the number of people that can play them and each can be adapted to fit a specific situation or age group.
Scare up some fun for party guests this Halloween with ghoulish games and traditional holiday pastimes. Little goblins will be in for an eerie delight with these creatively spooky Halloween party activities.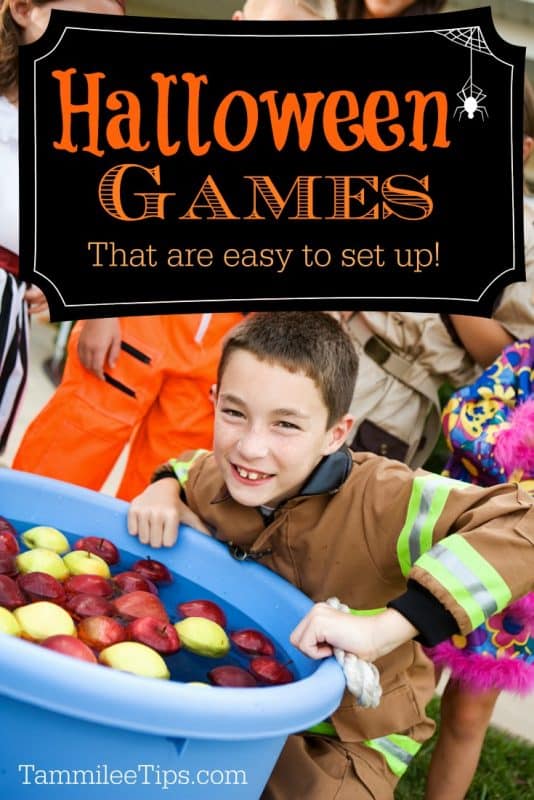 Halloween Games
We hope you enjoy these free Halloween party games ideas! This time of year is amazing and crazy at the same time! We hope you have a wonderful fun Halloween and get to enjoy a few of these games yourself!
Check out these Halloween Jokes to keep the laughs flowing during your party! They are frighteningly funny! LOL!
Mummy Wrap
For children five years old through adults. Opposing teams wrap one player in toilet paper. The first one to be completely wrapped wins. Several variations of this game include blindfolding the wrapper, having three people on a team, and having contestants walk without breaking the toilet paper after being wrapped.
Corn Drop
This game is played with a bag of candy corn, a straight back chair, and an empty glass. Place the glass on the ground behind the chair. Contestants kneel on the chair and drop candy into the glass. The player who gets the most candy in the glass wins. Use a larger glass with straight sides if it is a children's game, or a smaller glass or one with tapered sides for an adult game to increase the challenge.
Marshmallow Bobbing
Instead of using apples for an apple bobbing contest, large marshmallows are used. Each child uses a straw to suction the marshmallow but sucking in on the straw, pick it up and let it go into a small candy bucket or bowl. The child who picks up the most marshmallows in an allotted period of time (usually 15 seconds) wins. Marshmallows must be in the bowl to be included in the count.
Howling Peanut Winds
A starting line and a finishing line are marked on a long flat table and a line down the center of the table vertically is marked to form two lanes. Each player receives a straw and a packing peanut. One at a time, each player must blow gently through the straw to send the packing peanut down the table to the finishing line. Two players play at a time, one on each side of the table. The player whose peanut crosses the finishing line first without being blown off the table progresses to the next round. Each player must keep his peanut on his own side of the table. If it falls off the table or crosses into the other player's playing field, that player must start again if the other player hasn't finished his turn yet. The winner of each competition in round one faces another winner from round one in the second round. Play continues until there is only one winner left.
Bobbing for Candy
A cross between bobbing for apples and playing in slime, bobbing for candy is sure to elicit squeals of excitement, and all those kids who dare stick their hand in the cauldron of slime will be rewarded with a sweet treat! The bobbing for candy Halloween activity is the perfect addition to any child's Halloween party.
Supplies Needed:
* A large plastic witches' cauldron
* Green, purple or orange Jello, enough to fill up the cauldron (approximately five or six packages, depending on the size of your cauldron.)
* Individually packaged Halloween candy
* Hand wipes
How to Play:
1. Prepare Jello, according to package directions. For best results, use the Jello Jigglers recipe variation.
2. Put the Halloween candy in the witches' cauldron.
3. Once all the Jello is set, use your hand to "crumple" it up into pieces.
4. Pour the crumpled pieces of Jello into the witches' cauldron on top of the candy.
5. Using your hands, mix up the Jello and the candy.
6. It's time for candy bobbing! Allow kids to dig their hands into the slime and retrieve a Halloween treat. Keep the hand wipes accessible to clean up sticky hands and candy.
Candy Corn Pumpkin Toss
A Halloween version of a classic carnival game, the candy corn pumpkin toss will delight party-goers and turn up the friendly competition as they try and toss candy corns into plastic pumpkins for points. And everyone gets to eat their candy corns after the game! What could be better than that?
Supplied Needed:
* Large bag of candy corn
* One or more plastic pumpkin trick-or-treat buckets
* Masking tape
* A variety of small prizes, like Halloween pencils and toys.
How to Play:
1. Set up the plastic pumpkin(s) in an open area. If using multiple pumpkins, arrange them similar to bowling pins.
2. Assign a point value to each pumpkin; more points for pumpkins in the back.
3. Make a large X with two pieces of masking tape in front of the pumpkin(s). This will be the spot where participants will stand to toss their candy into the pumpkin.
4. Position the first player on the masking tape X, and give him/her 10 pieces of candy corn.
5. Instruct the player to try and toss his/her candy corn pieces one at a time into the pumpkin(s).
6. Tally up the number of candy corns made into the pumpkin(s) and their point value.
7. Award the player a prize based on the points he/she earned.
Mummy Wrap Relay
The mummy wrap relay is a simple, yet Spooktacular, activity for kids' Halloween parties. Partygoers will have a ball turning one of their fellow players into a toilet paper mummy. So much so they'll probably want to do it more than once!
Supplies Needed:
* Toilet paper (Two rolls for each team)
* Timer
How to Play:
1. Divide kids up into teams of two.
2. Have each team pick one child to be the "mummy."
3. Set the timer for three minutes, and have players wrap their "mummy" in toilet paper from head to toe.
4. Time's up! The team with the best "mummy" wins.
Horror Movie Screaming Contest
All children love to be loud. Girls, especially, love to scream. Bring out the scary movie specialists among the crowd with a horror movie screaming contest. Ask participants at the kid's party to give their best scary movie screech. Ask listeners to vote or for more fun, videotape the screams and play them back to hear the best squeal.
Glow Stick Relay Race
Bring out the sports fans in the group with this relay race. Divide the children into equal teams. Have one child on each team carry a glow stick and race to the second teammate. The children pass the stick and the race continues until all members of the team have raced. The last member of the team must cross the finish line first for the team to win. This game is great fun in a darkened area where the glow stick can be seen. However, ensure that safety comes first. Clear the paths and allow enough light for the children to see when they run.
Mummy Race
For this party games, divide the children into teams. One child on each team should be the mummy. The other children wrap the mummy in toilet paper from head to toe, leaving an open place for the eyes, nose, and mouth. Once the mummy is wrapped, he or she tries to race to a finish line without breaking the toilet paper. The first team that has a mummy child to the end without tearing off the mummy wrap wins.
Pumpkin Seed Spitting Contest
Fair contestants spit watermelon seeds, so why can Halloween contestants not spit pumpkin seeds? Give each child a clean pumpkin seed and ask him or her to spit it as far as possible. Use a marker to indicate how far the seed went in the distance. The child with the furthest seed from the starting point wins.
Gruesome Games
One of Halloween's most popular party pastimes is to fill bowls with different types of foods that feel like certain body parts. Cold spaghetti is usually the food of choice to represent the intestines, and peeled grapes make suitable eyeballs. Blindfolded party guests then try to guess what body parts they think they are sticking their hands into, in this gruesome party game.
* Guess the Anatomy - For this traditional Halloween party game, place the following foods in separate bowls:
1. peeled tomato (heart)
2. cooked cold spaghetti (intestines)
3. two dried apricot slices (ears)
4. pumpkin innards (guts)
5. two peeled grapes (eyeballs)
Blindfold the party guests and have them place their hands into each bowl and guess which body part they think they are feeling.
Zombie Autopsy
For a twist on the traditional Guess the Anatomy game, place a white sheet or plastic tablecloth on a long rectangular table and arrange the following items on top of the sheet to resemble a zombie's body:
1. zombie mask (head)
2. rectangular block of tofu (neck)
3. butternut squash halved lengthwise (shoulders and arms)
4. 2 water chestnuts (elbows)
5. smaller butternut squash halved lengthwise (forearms)
6. two latex gloves filled with water (hands)
7. rhubarb pieces (collar bone & ribs)
8. peeled tomato (heart)
9. cold cooked spaghetti noodles (intestines)
10. red Jello (guts)
11. halved loaf of French bread (thighs)
12. halved turnip (knees)
13. halved French baguette (shins)
14. 2 gourds (feet)
15. 10 soybeans or Lima beans (toes)
Witch Hunt
If your kids love hunting for Easter eggs, they will love the Witch Hunt game. All you need to do is print off and cut out a number of witch hats and hide them throughout your house. You can choose how many witch hats to hide but aim for 3 to 5 per kid. You may also choose to add a bonus level to the game by making two of the witch hats a different color - whoever finds the bonus witch hats gets an extra prize. Make sure you have a few extra prizes handy in case of ties and you may even want to get small prizes to give to those who do not win the game so there are no hurt feelings.
Build a Scarecrow
If you have a large number of kids at your Halloween party then team games usually work well. For the Build a Scarecrow game all you will need is a few poles or broomsticks, a few old shirts and pants or overalls and some newspaper. Divide the kids into groups, limiting each group to four or five members, and give everyone fifteen minutes to create their scarecrow. You may give the groups guidelines for their scarecrows like a goal of creating the silliest or scariest scarecrow. Once the time is up, have everyone put their scarecrows in a line, judge them and declare the winner.
Spooky Story with Props
If you are looking for a Halloween party activity that is fun and entertaining but does not involve kids running wild around the house then this activity may be just what you are looking for. All you need is a little bit of creativity and some food items you probably already have around the house. To prepare for this activity you will need to create a spooky Halloween story or, if you cannot come up with one, you can find one online.
The ideal story for this activity will be one to which you can add props. For example, if you include elements like slimy eyeballs and squirmy worms in your story you can easily accompany it with props like skinned grapes and cold spaghetti. As you tell your story, pass around bowls containing your props so when you mention the slimy eyeballs you can pass around the bowl of skinned grapes. If you tell your story well and utilize your props, kids will find this activity extremely entertaining.
Paper Plate Jack-o-Lanterns
Party crafts do not need to be extravagant to be fun - many kids are bound to like any activity that involves markers or glue. For the paper plate jack-o-lantern craft all you need is a stack of paper plates, markers or crayons, and scissors. If your Halloween party is for young children, allow the kids to create their jack-o-lanterns by drawing faces onto their paper plates and coloring them orange.
If you have a few adults to help you then you can even cut shapes out of the paper plates to make the jack-o-lanterns more authentic. Older children will be able to cut out their jack-o-lanterns themselves. If you want to add some extra fun to this activity you can glue popsicle sticks to the bottom of each jack-o-lantern turning it into a mask or you can string them all together to create a fun Halloween decoration.
Painting Mini Pumpkins
If the children at your Halloween party are at an age where they can use paint responsibly then painting mini pumpkins is an excellent activity. Many grocery stores sell variety bags of mini pumpkins and gourds or you can purchase them individually at farmer's markets or the local pumpkin patch. Be sure to cover the work surface where the children will be painting their pumpkins with newspaper or a plastic tablecloth, then allow their creativity to run wild. You can give the children suggestions about how to paint their pumpkins (scary faces, silly faces, etc) or you can just let them go wherever their imaginations lead them.
Paper Bag Ghosts
This craft is very simple and is great for younger kids. All you need are white paper lunch bags and markers or crayons. If you want to, you can do some preparation beforehand by cutting triangles out of the tops of the paper sacks to give them a more ghostly shape. Then, just let the children draw silly, scary or funny ghost faces on their paper sacks. To make this activity even more fun you can poke a small hole in the bottom of each paper sack and string a length of yarn through it so that each ghost is suspended by a length of a string. Then the children can hang their ghosts up or make them fly.
Terror Tag
This was taken from the film 'The Worst Witch' (a great Halloween movie for under 12's) and has become a favorite. Split your party into two teams. One team hides in the house and the second team try to find them. The point is not in the finding but in what happens when one member finds another. The object of the game is to make your opponents scream.
This can be done by pulling faces, creeping up on them and shouting boo or whatever method suits the age and inclination of your children. The party host (or parent) keeps a score of the screams and the winning team is the one with the most screams elicited from their opponents. The game is great fun if played in the dark but playing in darkness is better kept for older players as young ones may become to 'terrorized'.
Monster Mush
An extremely messy game that will garner as many groans of disgust as it will squeals of delight. Gather a selection of plastic bowls, enough for around five or six per team, depending on the number of players. These can be placed inside boxes or under cloths but the contents of the bowls must be hidden from view.
Fill the bowls with a variety of 'nasty' items. These can include spaghetti (witch's hair), baked beans (stomach contents) and large gumballs floating in tomato sauce (eyeballs in blood, of course). Use your imagination for the bowl contents and Halloween appropriate names. Hide small objects in the gloop in each bowl, cover and let the fun begin.
Make two teams and set one team member in front of each box. For younger players, the object is to simply find the hidden object and the first team to find all their objects is the winner. For older players you can add naming the contents as an extra way to win. Make sure you do this outside or on an easy clean surface and have plenty of paper towels and hand-wipes available for cleaning up.
Mummy Mayhem
Another team game that can have everyone in hysterics. Before the party, you need to gather plenty of material. This can be strips of cloth, ribbons, paper towels, scarves, ties, and toilet tissue. Pile all of this in two heaps in the center of the room and set up your teams. Each team nominates a 'Mummy' (This is most fairly done by drawing straws).
Each team aims to wrap their 'mummy' completely using any and all materials to hand. Remember to remind people that the mummy must be able to breathe! The best-wrapped mummy is the winner (have a parent decide/judge). The chaos and hilarity that this game causes is worth having your camera ready for.
Popcorn Pulling
You will need sturdy thread, a few large-eyed needles and plenty of popcorn. Simply thread a set amount of popcorn onto the thread and tie these popcorn lines to a string tied between two uprights (or from a washing line if you have one. For those who don't like popcorn, pieces of vegetable or candy with holes in it can be used instead.
The idea of the game is for everyone to position themselves beneath a popcorn string and, on the start command, to eat their way up the string until all the popcorn is gone. The rules are flexible but starting at the top and simply stripping all of the popcorn off in one go is considered bad form. Eating one piece at a time and ensuring that all popcorn is eaten before claiming to be the winner are the usual rules.
Who am I?
Write down a selection of suitably Halloween related characters on plain paper. These can be anything from Casper, the friendly ghost to Dracula and all points in between. The only point to note is making the characters match the age range and experience of your guests. Even adults can play this game.
When your guests arrive, pin a character to their back (or tape if you don't want to risk pins, although they do run the danger of falling off). The idea is for your guests to ask other guests questions about their character in an attempt to identify who they are. The only rule is that they are, obviously, not allowed to ask outright for the name of their character. Prizes can either be awarded for the person who guesses their character first or as each individual makes a correct guess.
Haunted Halloween
This is aimed at older guests but can be very much simplified (and aided by parents) for younger children. It is a variation of telling a ghost story which is a great Halloween tradition but is played from person to person. Turn out the lights (if appropriate), sit your guests in a circle and begin by the host narrating the beginning of a ghost story. This can be made up or taken from a book.
The story passes from person to person, each individual adding whatever they want to see happen next. Depending on your guests, each turn can consist of one line or several. Sometimes this can be played with a time limit for each turn, perhaps two or three minutes but this requires a person outside of the circle to keep time.
Stories can become totally enthralling and scary or wander into the realms of hysterical. It all depends on the input of the guests. This game is useful if you want to calm a party down or set an end to your party. Announcing at the beginning of the night that there will be storytelling at the end of the party makes it clear that there is a set end of the party.
There are variations on themes for a lot of the usual party games played at birthday bashes and the like. With a little imagination, you will have lots of ideas for keeping your Halloween Horrors happy and mostly without breaking the bank.
Indoor Halloween Games
Halloween party games for indoors, from a new take on bobbing for apples to searching for zombies in the dark to the magic pumpkin game. It is always a challenge to come up with new ideas for kids' games for parties, and Halloween offers a great opportunity to add some eerie elements that will make it even more fun for the kids. Here are some original party games to try.
Magic Pumpkin Game
Hollow out three small pumpkins. Put a large fake black spider in one and then rotate the pumpkins around, having the kids guess which one has the spider. A more ambitious game would be to take a strong piece of cardboard that can act as a table top, cut out three large holes and place a witches' hat over each hole. Have an adult, with their face made up like a witch, hide under the table with their head poking out of one of the holes. Each child gets a chance to lift a witches' hat and see if the witch is underneath. The person can move to a different hole each time a new child has a turn.
New Take on Bobbing For Apples
Fill a tub with warm water and throw in a dozen red apples and one green apple. Blindfold each child and have them bob for an apple, a special prize if they get the green one.
Spooky Room
If doing the traditional spooky room where a child is walked through a dark room and has to stick their hand in bowls of eyeballs (cherries) and intestines (cooked spaghetti), add a few other twists such as having people hidden in the room to touch them as they walk by, a recording of a scream going off sporadically or a sudden flash of a scary portrait on the wall.
Behind the Mask
Pull one child out of the crowd. Have all of the other children put on a scary mask and stand behind a hanging sheet so that only their heads are showing. Have the child try and guess who each child is. Then let the others take a turn. Whoever gets the most right wins.
 Zombie Search
Amazon.com has a product called Bag O' Zombies Glow in the Dark which are miniature plastic white zombies that glow in the dark. Hide a bunch of the zombies around the room (100 come in a package) then turn off all of the lights. Have the kids try and grab as many of them as possible before the lights come back on. So the kids don't run into each other, have each wear a glow necklace.
Pumpkin Object Surprise
Hollow out a large pumpkin and fill it with Jell-o. Place an object inside the pumpkin – something with a Halloween theme like a small rubber bat, a skull, a black cat, a plastic eyeball. The kids have to stick their hands inside the pumpkin, into the Jell-o and try and guess what the object is. Replace the object every time it is guessed correctly.
From Zombie searches to spooky rooms to bobbing for apples, any of these games are sure to make a Halloween party a big hit.
Halloween Game for a large group
Play this game at a Halloween party or a monster-themed birthday party for kids ages eight and up. You'll want at least eight players, although if you have the entire class, that works as well. This is a very active game, so plan for space without the interference of tables and chairs. The game gets all players to participate in the game and also challenges players to work together to best solve the problem set up by this game's scenario – capturing escaped ghosts.
Materials for this Kids' Game
* For each player you will need a one-gallon plastic milk jug. Before the party, you should cut out the spout section, leaving the handle. If desired, turn this into a craft project by giving the kids permanent markers and stickers with which to decorate their ghost catchers.
* Two tennis balls in different colors or marked with different designs you draw onto the balls.
* Objects to create two boundaries; you can use masking tape on the floor. You want enough space that the kids can move around without bumping into the other players. However, too much space (such as an entire school gymnasium) can cause the kids to be too spread out. The number of players really determines how much space you will need. Play this game indoors or out.
* Stopwatch – Although it isn't necessary to time the game, it does add a challenge to this activity. Sometimes you can even get a second or third round from the game by asking the kids if they think they can improve their time on completing the activity.
* Bowl to represent the ghosts' final home.
Set the Scenario for the Kids' Activity
Explain to the children that a couple of ghosts have escaped into the city and that they, The Ghost Catchers, have been called. The only way to safely transport the ghosts is with the ghost-safes that the children have been given (the jugs). The ghosts must be brought from the city to the ghost house. To stay safe, no Ghost Catcher can touch a ghost. To make certain that the ghost stays trapped in the ghost house, each ghost must go inside each safe, binding it with ghost-trapping energy.
Cooperative Games Kids Play Together
* Set the two tennis balls, the ghostly orbs, behind one of the boundaries. Explain that this is the city. Beyond the other boundary is the ghost house.
* Kids cannot use any body part to move the ghosts (tennis balls) into the ghost safes (the jugs).
* Each ghost must touch the inside of each player's ghost safe to ensure that enough energy is build-up to hold the ghost in the ghost house.
* Any ghost that drops to the ground is considered escaped and the game starts over. (Since it's easier to start over than to have kids remember which ghost they have or haven't captured in a round, you can explain that when a ghost escapes it crashes the energy built up in both ghost safes, requiring everyone to begin again.)
* Start the game with players using the ghost safe jugs to capture the ghosts. Players must figure out how to move the ghosts from jug to jug so both ghosts touch the inside of every ghost safe before they reach the other boundary and are set into the bowl, completing the game.
If you want, you can time this game with a stopwatch. Although it may be tempting to explain to the group how you think they should reach the goal of the game, avoid doing so. You can suggest that the kids do some problem solving before playing the game so they can figure out how to get the ghosts into each player's ghost safe. Don't discourage creative thinking; as long as the children stick to the rules (not body parts can touch the ghosts) allow them to reach an imaginative solution.
Halloween Theater Games
Here are two fun theater games to play with a group of 4 or more kids (2nd grade and up) celebrating this spooky holiday as well as giving students a chance to develop movement.
Movement is an important part of acting. A performer who is comfortable being expressive with his or her body is able to more fully portray a character. Exaggerated movement is especially important when performing on a large stage as the audience is unable to see the performer's facial expressions, but can readily discern the performer's emotions from their large, over the top movements. For younger performers, learning to move creatively and with confidence will help them to be more comfortable on stage and to better characterize their roles.
Spooky Freeze
This game is very similar to traditional Freeze. Find some spooky music, such as an organ fugue or maybe a CD of scary sounds. The students are allowed to move around the room when the music is playing, but when the music is stopped, they must freeze. Students who move when the music is off are out. Students can also get out by touching other students or speaking aloud. Play until there is only one student left.
Walk Across The Room
Have students line up single file. Give each student a different character or environment. Have each student walk across the room one at a time acting as if they are that character or in that environment. When the student has walked across the room, they must go to the end of the line and let the next student have a turn. Here is a list of possible characters and environments:
as a witch
as a zombie
through a haunted wood
as a ghost
through a fierce thunderstorm
through a haunted house
as if the floor is covered in green slime
as if there might be a monster in the classroom closet
as if they are flying on a broomstick
as if they are a bat
as if they are an owl
Invite your students to come up with other spooky characters or environments for them to walk across the room as.
Reminders for these Movement Based Halloween Drama Games
Both of these games work best when students remember to be quiet and good listeners. Make sure that students understand that they can not talk when it is not their turn or during an activity that doesn't involve speaking. Additionally, students should be creative with their movements, but not out of control or touching other students.
These games can also be played all year by being creatively adjusted to fit different seasonal themes, and over time, can help drama students to be more confident on stage and comfortable with creative movement.
When it comes to throwing a great Halloween party the more creative you are the better. Halloween party games and activities do not need to be anything fancy or expensive - you can create great crafts and games using materials you already have at home! The most important thing about throwing a Halloween party is that you and your kids have fun. If everyone goes home happy then that is all you can ask for.
Children of all ages can enjoy a Halloween party. Making a kid's Halloween party successful all depends on age-appropriate games and fun. For older children, choose games that involve more challenging tasks, yet will also keep them laughing.
Celebrate Halloween with themed holiday games, that kids and adults will find absolutely Spooktacular!
Great Halloween Party Ideas
Check out these other great Halloween posts for more fun inspiration!
Don't miss all of these Halloween Recipes for more inspiration!
You can make themed fluffy slime for great party gifts.