Delicious and so easy to make these crockpot sugared walnuts are a great snack! The slow cooker does all the work and you have a sweet and spiced walnut snack.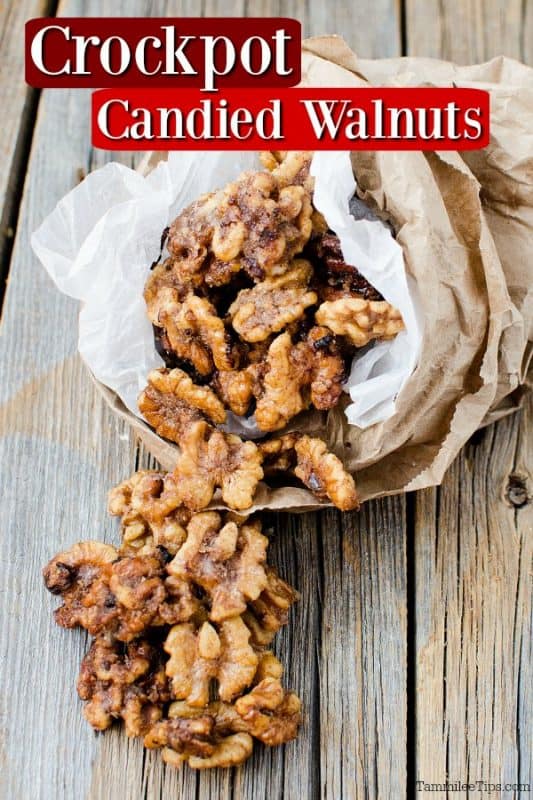 Candied Walnuts
We are getting closer and closer to the holidays! I know it is hard to believe but it is true. I love this time of year, and keep trying to come up with fun gifts I can make for friends and family at home. I want to share my love of cooking and baking with them.
Today's Crock Pot Sugared Candied Walnuts Recipe is one of those fun gifts I plan on giving this year. They look amazing in these glass jars wrapped with ribbons.

These candied walnuts also taste amazing on salads! A great crunchy topping with some sweetness that makes great salads even better.
Ingredients for Crock Pot Candied Walnuts
Walnut Halves
Butter
Powdered sugar
Cinnamon
Ground cloves
Ground ginger
Recipe Tips
1 Pound of walnuts is equal to about 3 ¾ cups of walnuts.
Make sure to stir the walnuts randomly while they are cooking to keep them from joining together.
I like to spread the walnuts on a parchment-lined cookie sheet to allow them to cool down.

Walnuts have a long history in nearly every civilization. It is thought that walnuts grew in Persia, many fossils and preserved walnuts have been found during archaeological digs. The walnuts were used for trade and spread to Europe, Africa and Asia. But, through history the walnut has always been an important food, the Romans thought walnuts were only eaten by the gods and in Persia only royalty was allowed to eat walnuts.
Types of Walnuts
English Walnuts
These are the most common type of walnut and got the name from English traders. The English walnuts were brought to America by Spanish missionaries in the early 1880s. They settled in Central California, which now produces most of the American English walnuts. These are the most popular type of walnut, because of the thin shell and little effort to crack the shell. The walnut meat is soft because of the high-fat content but has a sweet flavor and the skin taste slightly bitter.
Black Walnuts
The black walnuts got their name from their dark, black shells. They grow in the Western part of America. Cracking the shell of black walnut can be difficult because the shell is so thick. Often hammers or pliers must be used to open these thick shells and because of the walnuts oil, hands often get stained. Often, the nuts are soaked in water overnight, so walnut can be shelled easier. It is rare to remove the walnut meat in one piece, because of the shape of the shell. Black walnuts are not often eaten alone but mixed with other dishes, such as candy recipes and ice cream. The walnut meat has a very strong flavor, that is not pleasant to eat alone.
White Walnuts
The white walnut, sometimes called the butternut, grows in mostly the same areas as the black walnut and is closely related to the black walnut. It is a common tree, but the walnuts are not sold for eating. The white walnut extract was used by early American settlers to dye clothing. The shell of the white walnut is an oval shape and it is named after the white seeds that are found inside the shell. The walnut meat can be eaten, some people find the taste very rich, but pleasant.
Heartnut Walnut
This walnut is grown in clusters of nuts, sometimes thirty or more are growing together and will hang down about one foot. The shells are quite thin and the heartnut walnuts can be cracked easily, leaving the walnut meat together in one piece. These walnuts almost have a spicy flavor but are far crunchier than many of the other types of walnuts.
Arizona Walnut
This walnut can be found in Arizona and all the way down to Mexico. The Arizona walnuts are edible. They can be eaten raw, but often used for cooking. This walnut is similar to the black walnut because it produces an oil that will stain your hands and clothing.
Any type of walnut can be eaten daily and is a portion of healthy food. They are a great source of protein, vitamin B, folic acid, and vitamin E. They also have an extremely high level of polyunsaturated fat and are a good source of omega-3 fatty acids
If you are looking for other great DIY Homemade holiday gifts check out a few of our favorites:
Crock Pot Sweet and Spicy Nuts
We have a ton of crockpot vegetarian meals.
Do you love recipes? Check out our copy cat recipes, dessert recipes, and our Crock Pot Recipes.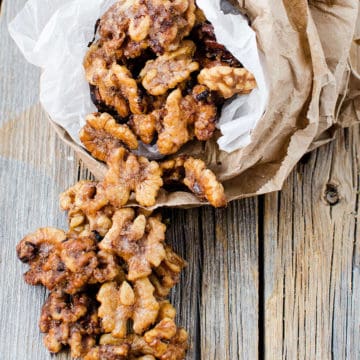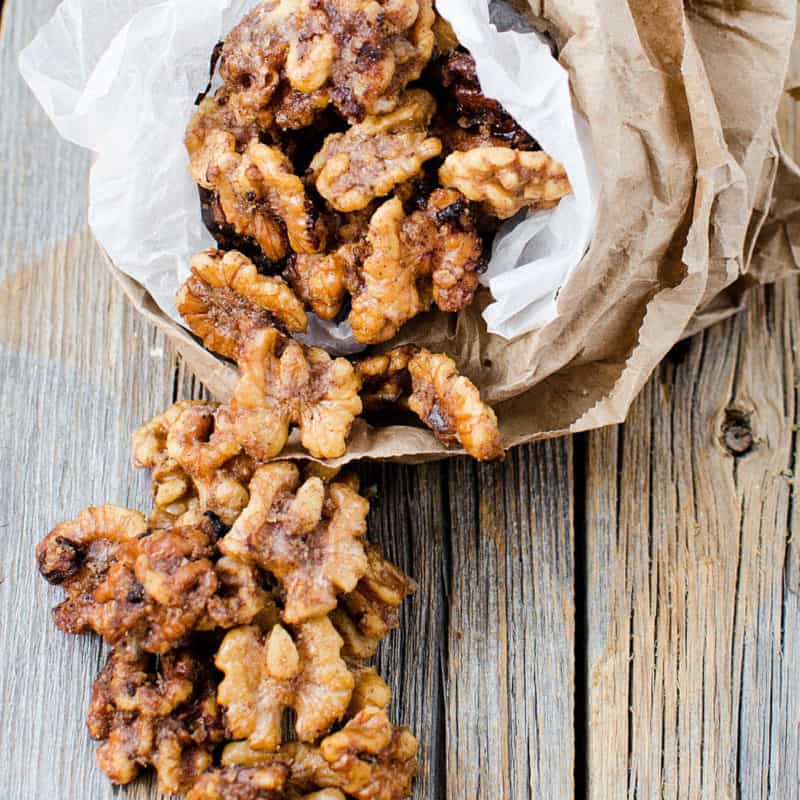 Slow Cooker Crock Pot Sugared Candied Walnuts Recipe
Delicious Slow Cooker Crock Pot Sugared Candied Walnuts are a great gift.
Print
Rate
Instructions
Turn on crock pot to high for 15 minutes while assembling ingredients

Add nuts and butter to the crock pot and stir well

Add powdered sugar and mix until walnuts are evenly coated

Cover and cook on high for 15 minutes

Turn heat down to low and cook uncovered for 2-3 hours, until nuts are coated with a crisp glaze

Carefully transfer walnuts to a serving bowl

Combine Cinnamon, Cloves and Ginger in a small bowl and sprinkle over the cooling nuts

Stir to make sure walnuts are coated evenly.

Cool before serving
Nutrition
Nutrition Facts
Slow Cooker Crock Pot Sugared Candied Walnuts Recipe
Amount Per Serving
Calories 503
Calories from Fat 432
% Daily Value*
Fat 48g74%
Cholesterol 30mg10%
Sodium 102mg4%
Potassium 250mg7%
Carbohydrates 15g5%
Protein 8g16%
Vitamin A 365IU7%
Vitamin C 0.7mg1%
Calcium 64mg6%
Iron 1.7mg9%
* Percent Daily Values are based on a 2000 calorie diet.
Recipe originally shared on October 29, 2017. Updated on May 15, 2020.