What you need to know about the Royal Caribbean Drink Package! How much it costs, what it covers, and if it is worth purchasing.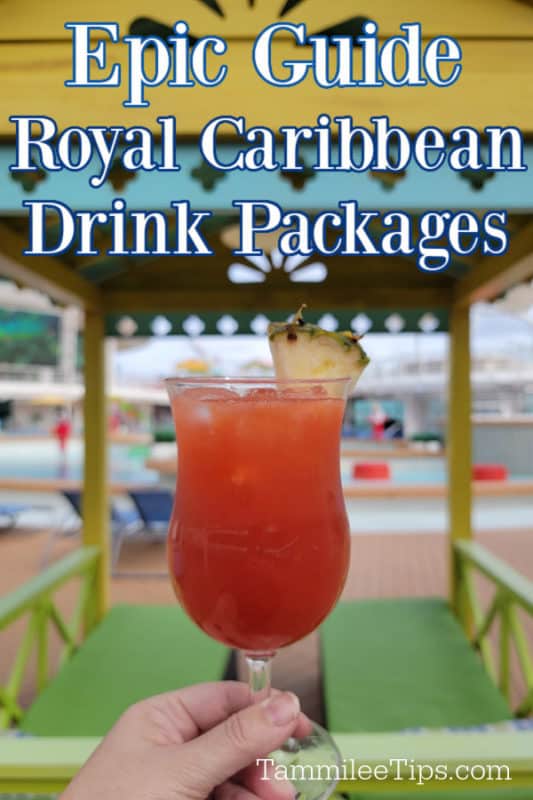 Royal Caribbean Drink Package
Going into our Navigator of the Seas cruise we didn't have plans of purchasing the Royal Caribbean Drink Package. We had seen the pre-cruise prices and didn't think that we would be drinking enough to make it worthwhile purchasing it.
Once on board the ship we quickly realized how fast drinks were going to add up. While waiting for our stateroom to be ready we ordered a Goombay Smash and Painkiller Cocktail from the Lime and Coconut bar on the Lido Deck.
The total for 2 tropical cocktails was $33.35 with tax and gratuity. I added an additional tip not paying attention to the tip already being added which brought the total to $37.35 for 2 drinks.
My husband and I looked at each other and realized that even if we only enjoyed a few Lido deck drinks and a glass of wine or 2 at dinner we could easily be close to the cost of the drinks package.
We did some quick math on our phones calculating how many cocktails and glasses of wine we would need to enjoy on our 3 day cruise to make it worth purchasing.
One thing we found once we were onboard the ship is the bars had a sign with a buy one get one 50% off promotion for the Royal Caribbean Drinks Package. This brought the drinks package down in price for 2 people.
We decided to go for it and use it as an opportunity to try cocktails we have always wondered about but never bought because we didn't know if we would like them or not.
The Navigator of the Seas has a ton of unique bars with fun cocktail menus so it was the perfect time to try fun new to us cocktails.
We didn't want to go crazy with unlimited drinks but we definitely thought it would be fun to try new cocktail recipes.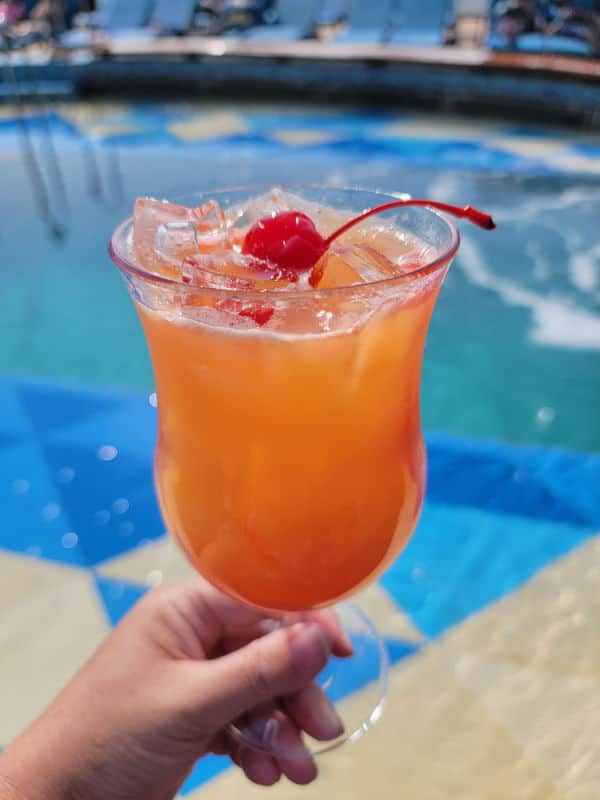 How much is the Drinks package on Royal Caribbean?
The cost of the drinks package honestly depends on when you purchase it. Leading up to the cruise there were discounts available online for pre-buying the drinks package. We also saw black Friday deals for the drinks package.
Once we were on board there was a buy one get one 50 % off offer at the bars on the first day of our 3-day cruise. I don't know if this is offered on every sailing!
Deluxe Beverage Package Cost - Onboard pricing is currently  $63.00 - $89.00/per day for 2021-2022 sailings.
Refreshment Beverage Package Cost - Onboard pricing is currently $29.00 - $38.00/per day for 2021-2022 sailings.
Classic Soda Package Cost - Onboard pricing is currently $12.99 - $15.00/per day for 2021-2022 sailings.
Bottled Water Package - Depends on the number of bottles purchased.
Check out epic cruise deals on Expedia
What drinks are included in the Royal Caribbean Drinks Package?
Royal Caribbean offers three primary drink packages on its cruises.
Deluxe Beverage Package
The Deluxe Package includes unlimited:
Spirits
Liqueurs
Beer
Bottled still and sparkling water
Wine by the glass
Freshly squeezed juice
Non-alcoholic beverages
Coca-Cola souvenir cup
The Deluxe Package includes any single beverage item with a value of up to $12. Plus, receive a 40% discount on bottled wines priced up to $100, and a 20% discount on wines priced above $100.
Refreshment Package
It is worth noting that the refreshment package does not include alcoholic drinks!
The Refreshment Package includes:
Premium coffees and teas
Bottled still and sparkling water
Fresh squeezed orange juice
Non-alcoholic cocktails
Fountain sodas / Coca-Cola Freestyle beverages
Coca-Cola souvenir cup included
Classic Soda Package
The Classic Soda Package includes unlimited fountain soda and refills in any venue, Coca-Cola Freestyle beverages, and a Coca-Cola souvenir cup.
The Coca-Cola Freestyle machines require the Coca-Cola souvenir cup to operate.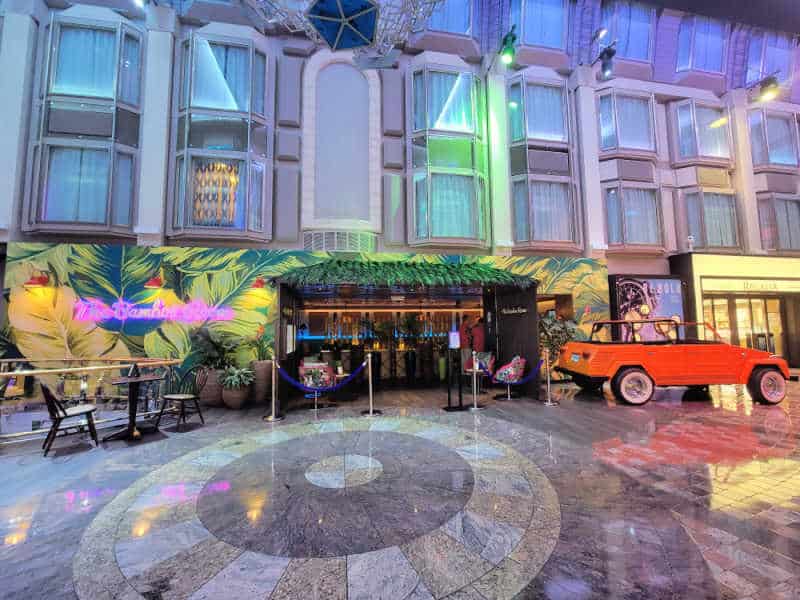 Can you purchase drink packages onboard Royal Caribbean?
You can purchase drink packages any day on the ship until there are less than 4 days remaining on the cruise.
Beverage packages are available on all Royal Caribbean ships, however, some sailings may not offer packages.
Onboard, the all-inclusive packages are available for purchase throughout the voyage with at least 4 days remaining.
Must be purchased for the duration of the cruise; prorated price based on the date of purchase.
Any guest wishing to purchase an alcoholic beverage package must do so for all guests of legal drinking age in the same stateroom.
All other beverage packages can be purchased by individual guests, however, all packages are for single guest use and cannot be shared by multiple people.
If you pre-purchase a drink package it is active the moment you step on board your Royal Caribbean cruise.
Does the Royal Caribbean Drink Package include Coco Cay?
Yes! Beverage packages purchased onboard or on Cruise Planner will be active on the island.
Beverage packages purchased onboard or on Cruise Planner will be active at Coco Beach Club, just as they are on the rest of the island.
Additionally, there is complimentary coffee service in the morning and fruit infused water in the afternoon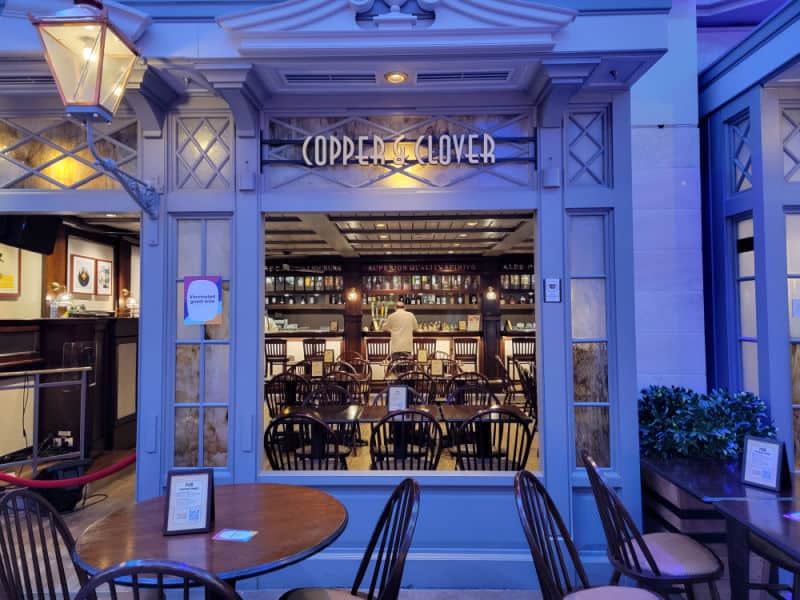 Where does the drink package work on the ship?
The beverage packages are honored at any of our bars or lounges, Windjammer Café, Main Dining Room, and our private destinations during normal business hours.
Room service and a minibar are not included.
Ordering a drink with the drinks package is really easy. When you purchase the package the bartender or server you purchase it from will add a small sticker to your cruise card.
This small sticker shows the cruise line staff that you have purchased a drink package. They can also see it when they run your card through the register.
You must be 21 to order an alcoholic drink.
What Royal Caribbean Ships have the Coke Freestyle Machine?
Coca-Cola® freestyle machines are currently available on the following ships:
Adventure of the Seas
Allure of the Seas
Anthem of the Seas
Enchantment of the Seas
Explorer of the Seas
Freedom of the Seas
Grandeur of the Seas
Harmony of the Seas
Independence of the Seas
Jewel of the Seas
Mariner of the Seas
Oasis of the Seas
Quantum of the Seas
Ovation of the Seas
Rhapsody of the Seas
Symphony of the Seas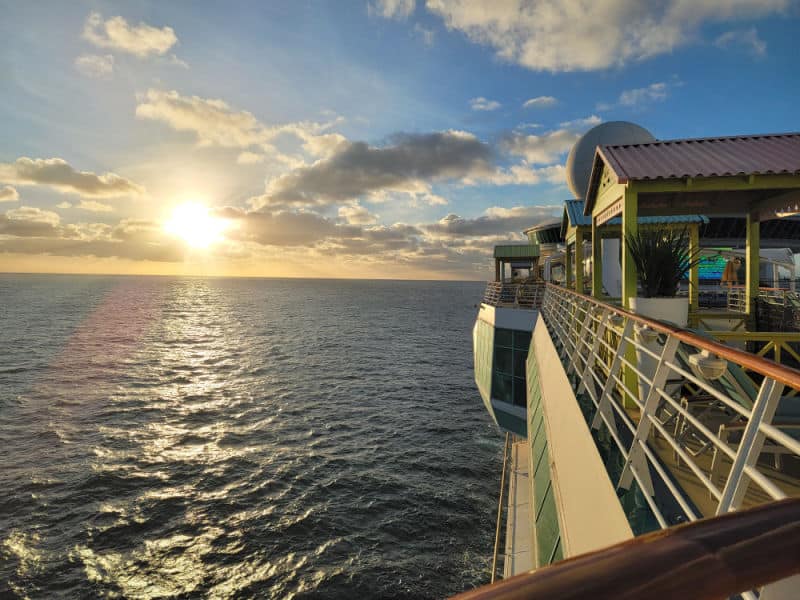 Free Drinks included with a Royal Caribbean Cruise
The free drinks on your Royal Caribbean cruise include:
tap water
milk
tea
coffee (regular and decaf)
iced tea
flavored waters
juices (at breakfast and not fresh squeezed)
Hot chocolate (via instant packets)
Misc. Things to Know
There is not a daily limit for drinks with the Deluxe Beverage Packages.
On a 2 or 3-night cruise, guests must purchase on the first day.
Beverage packages purchased onboard or on Cruise Planner will be active at Labadee.
Starbucks coffee is not included.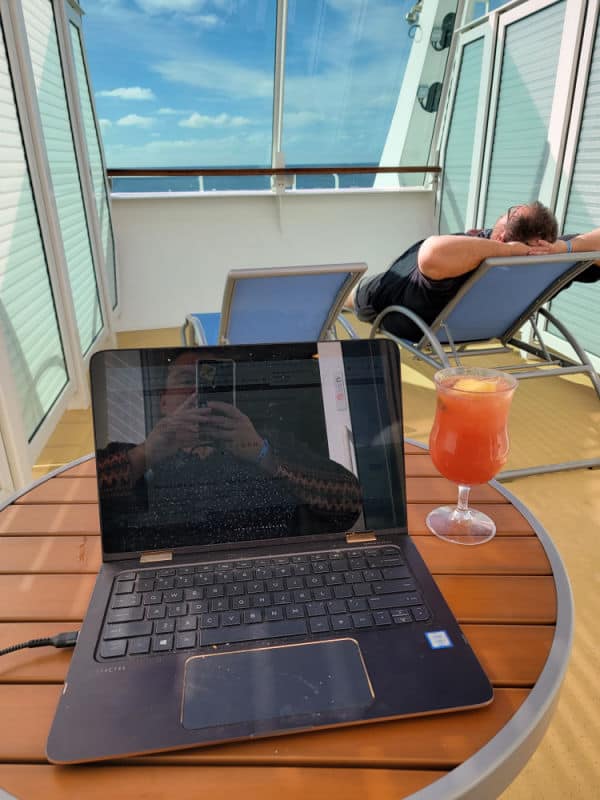 Things to consider when deciding on buying a drinks package
The first thing to consider when trying to decide if it is worth purchasing a Royal Caribbean drinks package is how much time you will be onboard the ship. If you are on a port intensive cruise are you going to be on board enough to enjoy the number of cocktails needed to make the package worthwhile?
Drink sharing is not allowed with a RCL Drink Package.
Every adult in a stateroom will have to purchase the deluxe beverage package. There are a couple of exceptions to this rule including if a passenger is pregnant, has a medical condition, alcohol addiction, or religion. You will want to check with Royal Caribbean ahead of the cruise to find out what documentation you need to show.
While Royal Caribbean's Deluxe Package does not have a limit on alcoholic drinks the bartenders can and will cut you off if you show signs of being too intoxicated. I asked a couple of bartenders and they said they have definitely cut people off for 24 hours because they felt they were not safe and were to intoxicated.
An 18% gratuity is added to the cost of the drink package to help support the staff. You can tip on top of this when you order drinks.
Can you bring drinks onboard Royal Caribbean?
On boarding day, each stateroom may bring up to two 750 ml bottles of wine or champagne, as long as one guest is of legal drinking age.
If guests wish to enjoy their wine or champagne in our dining or bar venues, there will be a corkage fee applied.
Guests may also bring non-alcoholic beverages as carry-on items on boarding day. Non-alcoholic beverages may not exceed 12 standard (17 oz.) cans, bottles or cartons per stateroom.
Milk and distilled water brought on for infant, medical, or dietary use are permitted.
Guests who purchase alcohol bottles onboard, in a port-of-call, or bring more than the two permitted bottles on boarding day, will have their items safely stored by the ship. These bottles will be returned on the last day onboard for enjoyment once home.
Check out all of the rules and current information on RoyalCaribbean.com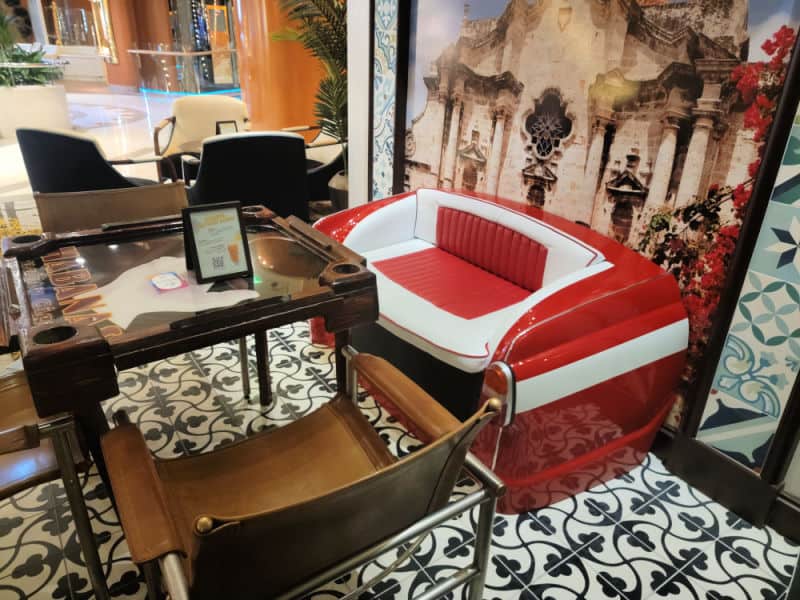 Additional Cruise Articles
Navigator of the Seas Extended Balcony Tour
What happens when you get sick on a cruise ship
Check out all of our cruise articles.
Check out epic cruise deals on Expedia