During our cruise on the Carnival Conquest, things did not go quite as I had them planned in my mind. I pictured taking cruise ship naps, eating amazing food, and just relaxing. Well, most of this happened just not quite the way I had it planned.
Going into the cruise, I was feeling pretty run down. I was exhausted and looking forward to a few cruise ship naps to recover and relax from traveling. I figured jet lag was just wearing me down and I just needed to get through it.
A few days into the cruise I started coughing and feeling blah. I powered through the ports because there was no way I was missing going to the beach in Aruba or exploring Curacao. After we got back from Aruba I fell asleep in our room and just felt like crap. There is no nice term to describe how horrible I was feeling. I told John to just let me sleep and go enjoy the ship.
Overnight I went from feeling pretty horrible to downright miserable. I have to admit though I was scared to go to the ship doctor or visit the medical center on the Carnival Conquest. I had it in my mind that it was going to cost the equivalent of a small car and that I would get kicked off the ship for being sick. So many fears were going through my head. You guys I was hacking up a lung and at the same time googling to see if I could find out what it would cost to go to the medical center.
Finally Friday morning I was done. I honestly didn't care if it cost me a small car or more as long as someone could make me feel better. I called down to the medical center and asked if I needed to make an appointment. They advised me that there were a few people in line at that moment and to come down in 20 to 30 minutes and it should be better. They also told me it was only $125 to see the doctor for an assessment. I almost wept that it was less than my car and that it wasn't going to cost a fortune.
We crawled down to deck 0 and took our first steps into the medical center. I was scared, sick, and just felt horrible. The nursing staff was seriously amazing from the moment we walked in. I filled out some paperwork with our stateroom number and my symptoms and they took me to check my vitals. A quick and easy check of my temp, blood pressure and asking how I was doing.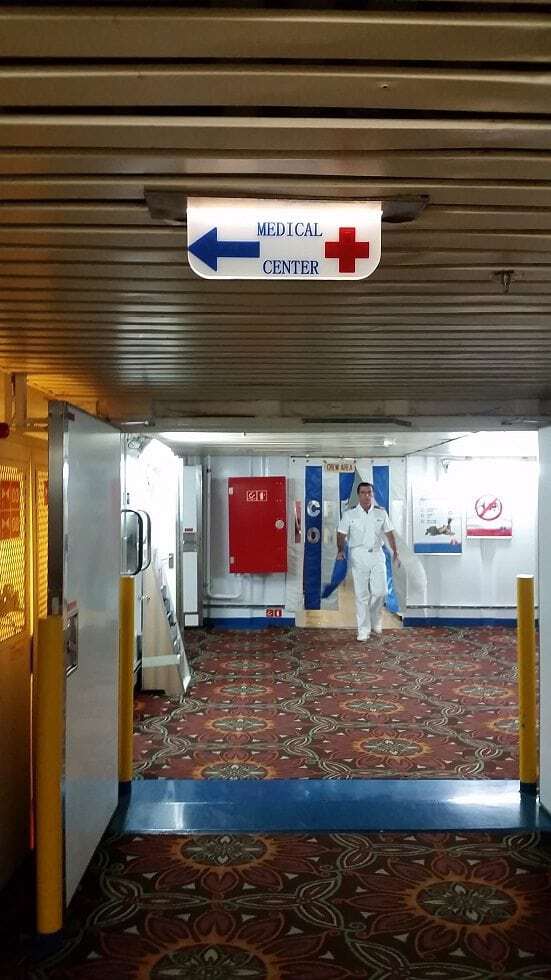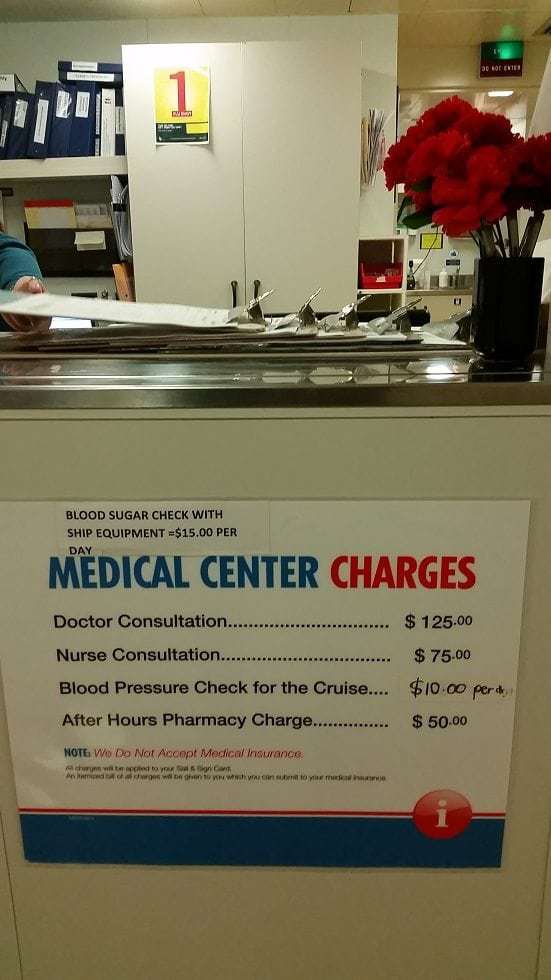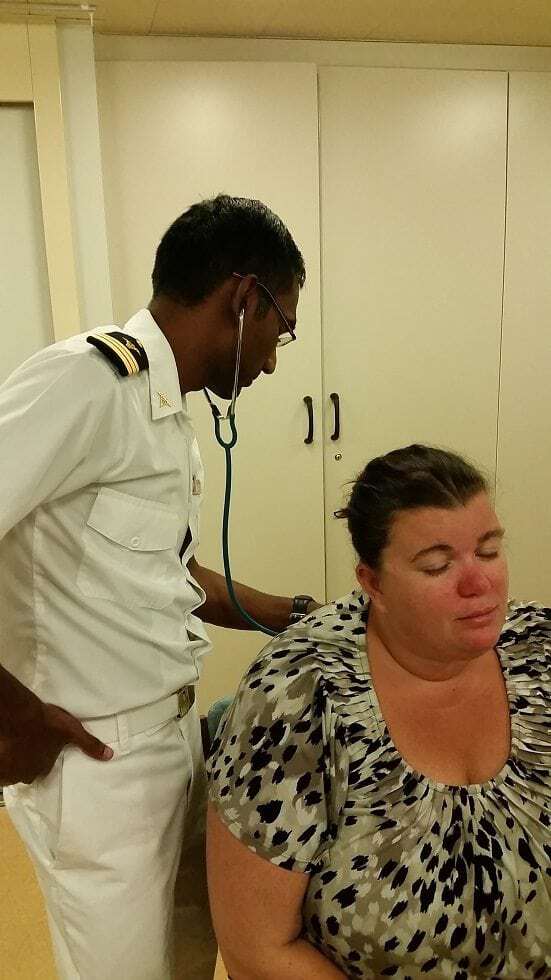 I waited a few minutes and then met with one of the ship doctors Dr. Chenna from India. He had the most calming presence it was wonderful. We talked about my symptoms and he listened to my lungs and heart. He advised that he wanted me to get a chest x-ray to see what was going on. EEK! At this point, I was up for anything but honestly never thought one of my 40 new things before turning 40 would be getting a chest x-ray and IV at sea.
After my chest x-ray, they started me on a breathing treatment and Dr. Chenna came in and told me I had pneumonia, a sinus infection, and tonsillitis. You know a whole trifecta of fun. UGH! He advised that I get IV antibiotics and breathing treatments twice a day while on the ship along with oral antibiotics. He honestly could have told me anything at this point and I would have agreed.
So there I was hooked up to a breathing treatment, getting an IV and blood work while floating along on the Carnival Conquest. You would think that this would be an all-time low in my cruise adventures and travel but it wasn't. The thing is the staff on the Carnival Conquest medical center was amazing.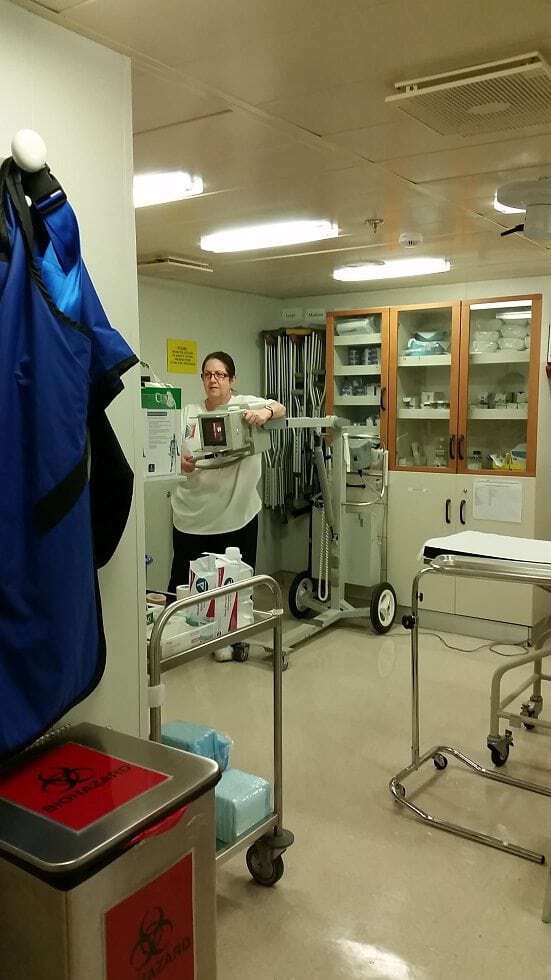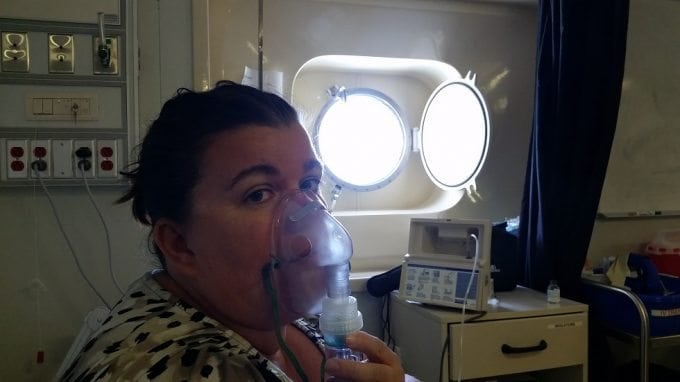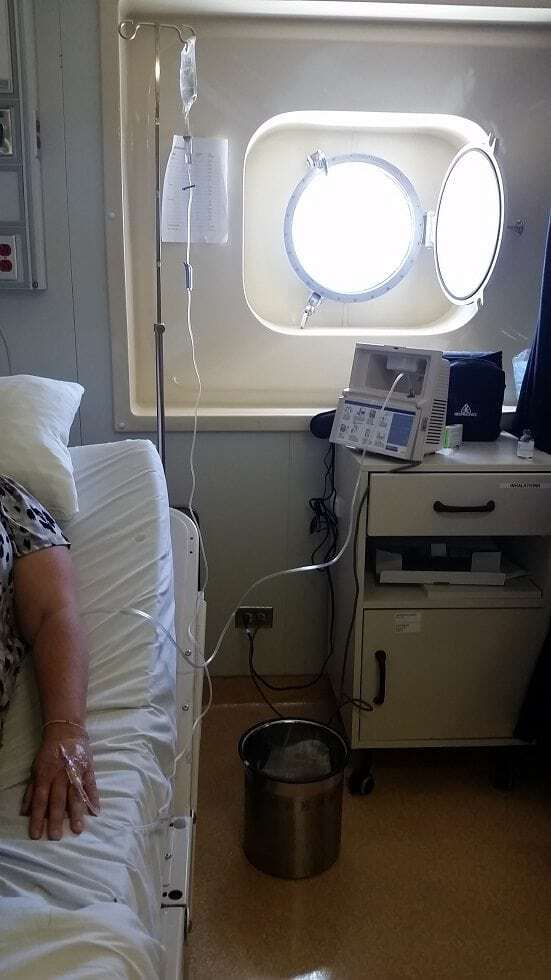 One nurse, in particular, made my time in the medical center more than I could have asked for. Anna from South Africa was amazing. She provided not only amazing medical care but she honestly cared about me, John, and how we were doing. During my 4 visits to the medical center, she always made me smile and laugh even while feeling horrible. We learned that she grew up in Kruger National Park in S. Africa. As a kid, her job was to close the gate for their property to keep the hippos from eating her mom's garden. Can you imagine!
During my treatments I learned about what it is like to be on the ship for months on end, I learned about Anna and her amazing life. I wish I could put into words how amazing the time I spent talking to Anna was. It is so hard to describe being so sick and yet finding someone in the world that gets you and you understand them so deeply. I can't thank Anna and the entire staff of the Carnival Conquest medical center enough for taking such amazing care of me.
They made sure that I had everything I could possibly need to get better as quickly as possible and they did it while floating on a cruise ship in the middle of the ocean. I have always worried about getting sick at sea. I have heard so many friends talk about pushing through being sick or injured because they were worried about visiting the medical center on a cruise ship. Please know that my experience was amazing and I honestly feel like I received better care on the ship than I would have at home. I saw the medical staff 4 times in 48 hours. I received multiple treatments and was constantly being checked on. This wouldn't have happened at home unless I was in the hospital.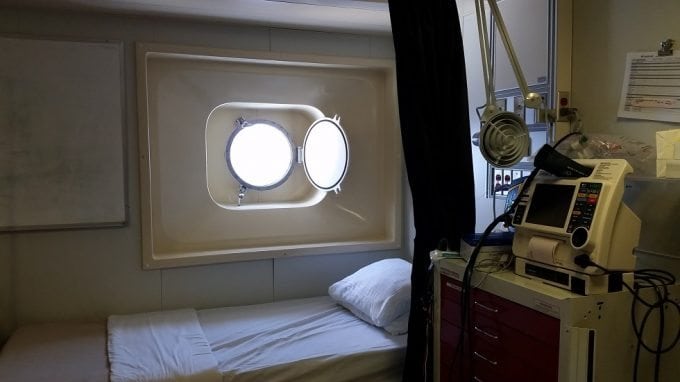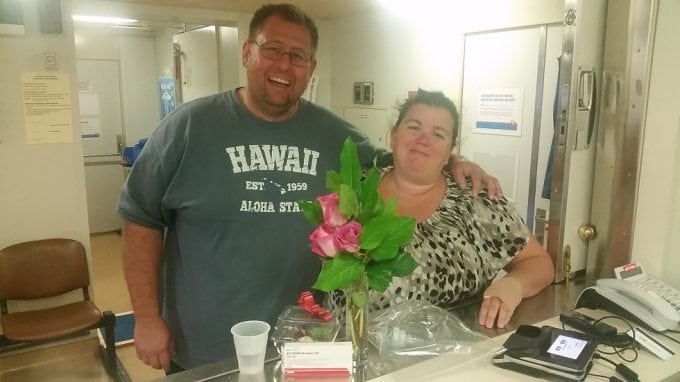 I would never hope to get sick at sea or have anyone have to visit the medical center BUT if you are sick, injured or need medical care know that there is a medical center on the ship that is prepared to help you with the best care possible. It did not cost us the price of a small car or anywhere near what I thought it would cost. When I finished the last treatment on the ship the medical center gave me a copy of all of my medical notes and a list of my charges so I could turn it in to my insurance company.
I truly can't thank the staff of the Carnival Conquest medical center enough for the care they provided for me. They made a crummy situation of being sick while on a cruise ship the best that it could be. They handle not only guest medical needs but the crew needs to. I learned that the medical center truly is the heart of the ship and they see and take care of a lot. If you see them onboard your cruise make sure and thank them. They do more than we will ever know to keep the ship running healthy and smoothly.
Additional Cruise Resources
Caribbean Cruise Packing List
11 Things to consider packing for a cruise
What to pack for an Alaska Cruise
Check out all of our Cruise Travel Guides
We were on a press trip on the Carnival Conquest. All opinions expressed are our own. We paid for our own medical services.