It only takes 3 ingredients to make Copycat Chick fil A Lemonade at home! Fresh squeezed lemons, sugar, and water combine to make the perfect tart drink great for summer or any day of the year!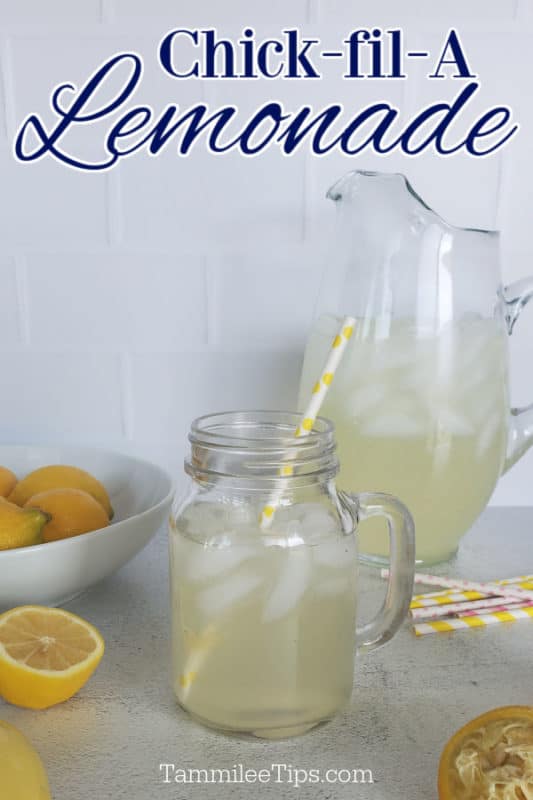 Chick fil A Lemonade
Chick fil A makes their lemonade daily with three simple ingredients: real lemon juice—not from concentrate, cane sugar, and water every day in their restaurants. Diet Lemonade is sweetened with Splenda® No Calorie Sweetener.
We wanted to make a copycat Chick fil A Lemonade that we could all make at home. Until this past year, the only time we got to visit a Chick-fil-A was when we were traveling. I started making their menu items at home since we had to fly to get to one of the restaurants.
Spokane just got a Chick fil A this past year and it is CRAZY BUSY! It is not uncommon for the line to take 30 to 60 minutes to get through. We started making Chick fil A Sauce at home along with Polynesian Sauce.  I haven't quite mastered making their Chick fil A Nuggets or chicken sandwich at home but I am trying.
Chick fil A uses Sunkist Lemons in their housemade lemonade.  You can use Sunkist Lemons or any that you can find at your local grocery store to make this copycat recipe. The restaurants also use filtered water to get the best flavor and a consistent flavor at all of their restaurants.
Back in 2015 Chick fil A was serving 121 million cups of their famous lemonade in a year. Can you imagine what this number is now? One of their blog posts says that in 2015 they used 250 million lemons to make fresh lemonade in stores.
You defiantly do not need to squeeze this many fresh lemons at home but you will want to have a lemon juicer to help get all of the juice you can out of each lemon.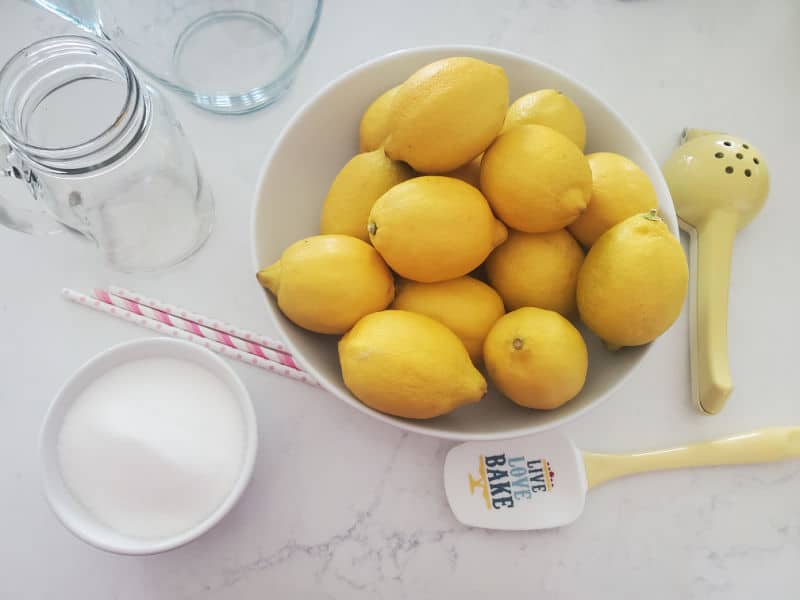 Ingredients Needed
Lemons
Pure Cane Sugar
Filtered Water
Lemons - Chick fil A uses Sunkist brand lemons. If you can find these that is great but you can also use whatever lemons your local grocery store has.
Pure Cane Sugar - This is going to give you the closest match in sweetness to the restaurant's flavor. To make diet lemonade you can use Splenda and add it to taste.
Filtered Water - Using filtered water will cut out any extra flavors your local water may have.
Optional add ons - you can add in strawberries to make strawberry lemonade. Just muddle a few strawberries in the bottom of your glass and stir in the Chick-fil-A lemonade.
Equipment Needed
lemon juicer - make sure to use a lemon juicer that is sturdy enough to squeeze multiple lemons in a row. I had a plastic one and it snapped while juicing lemons. I highly suggest a strong metal juicer.
Lemonade Pitcher - A covered lemonade pitcher is great for storing this refreshing drink in the refrigerator to chill. I like to use a large pitcher so I can make a big batch of lemonade for everyone to enjoy.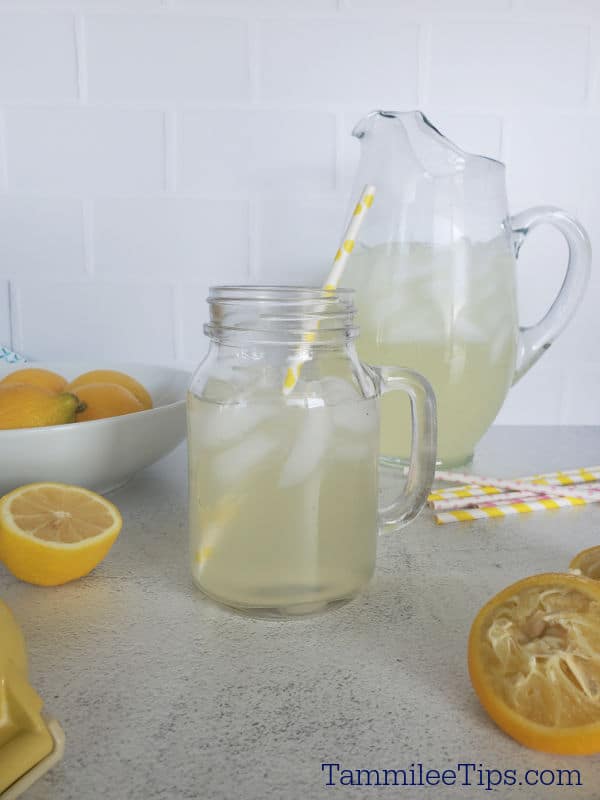 Recipe Tips
This homemade lemonade is best stored in the refrigerator.
I squeezed 6 lemons to get enough lemon juice for this recipe. You will want to have a few extras on hand in case the lemons are not super juicy.
Sunkist Lemons are Eureka and/or Lisbon Lemons. Eureka and Lisbon lemons are the most common lemon varieties,
This recipe can be made with store-bought lemon juice. You may need to lower the amount used based on how strong the lemon juice is.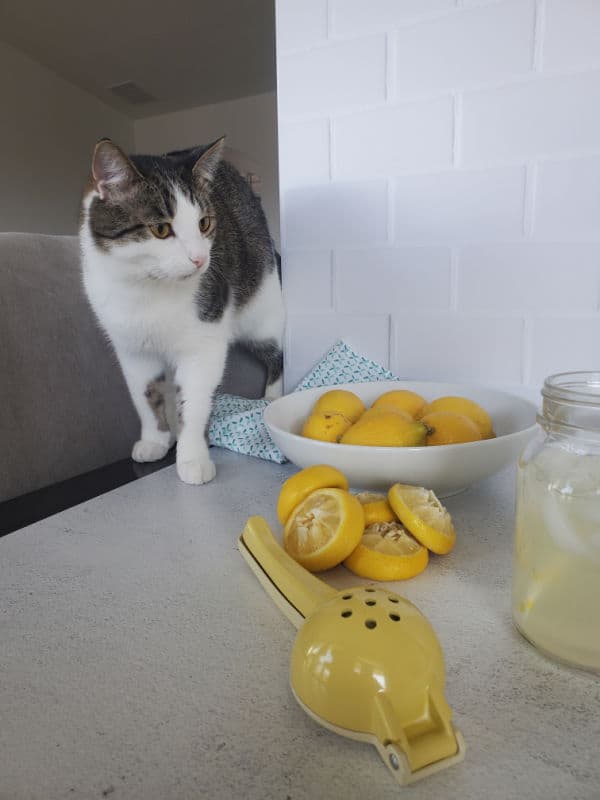 The kitten assistant was back on the job! He kept an eye out on what I was doing and definitely made his presence known.
Great Copycat Recipes
Starbucks Passion Tea Lemonade
Carnival Cruise Mocha Chocolate Getaway
Do you love recipes? Check out our copy cat recipes, dessert recipes, and our Crock Pot Recipes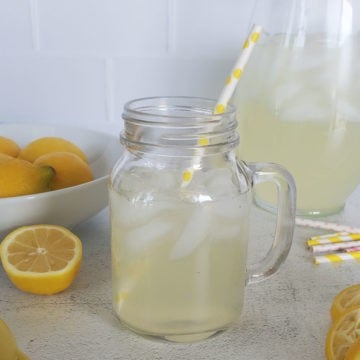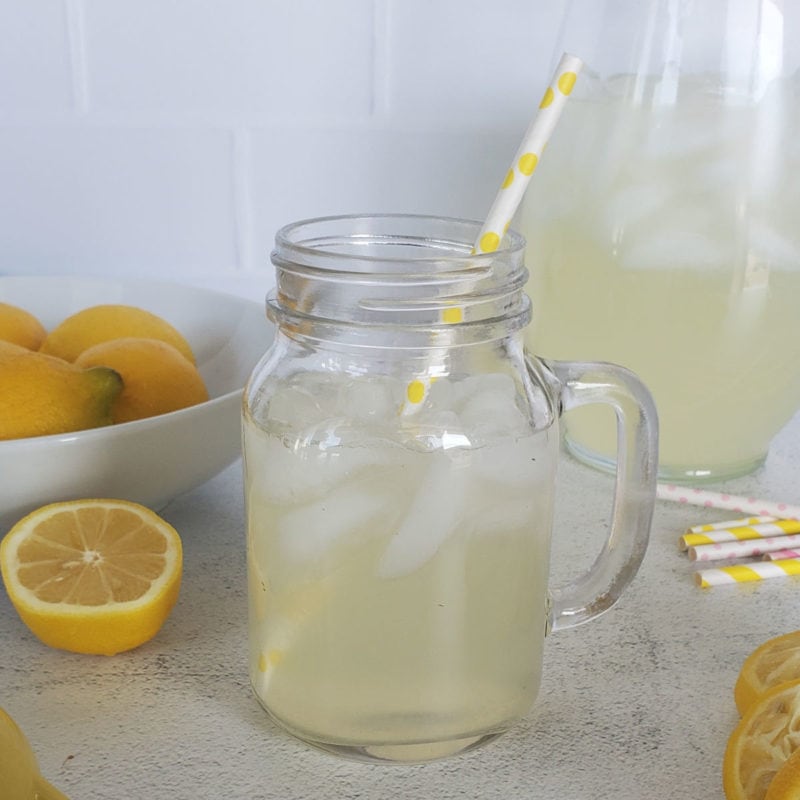 Chick fil A Lemonade
Copycat Chick fil A Lemonade Recipe takes only 3 ingredients to make a delicious summer drink.
Print
Rate
Instructions
Freshly squeeze lemons for the juice

Mix lemon juice with sugar and stir to combine. Pour in water and stir to combine

Chill in refrigerator at least an hour.
Nutrition
Nutrition Facts
Chick fil A Lemonade
Amount Per Serving
Calories 217
Calories from Fat 9
% Daily Value*
Fat 1g2%
Sodium 19mg1%
Potassium 111mg3%
Carbohydrates 57g19%
Protein 1g2%
Vitamin A 6IU0%
Vitamin C 41mg50%
Calcium 18mg2%
Iron 1mg6%
* Percent Daily Values are based on a 2000 calorie diet.