I am super excited to share with you the 3 night Ensenada cruise we took on the Navigator of the Seas. This was our first Royal Caribbean cruise in over 10 years.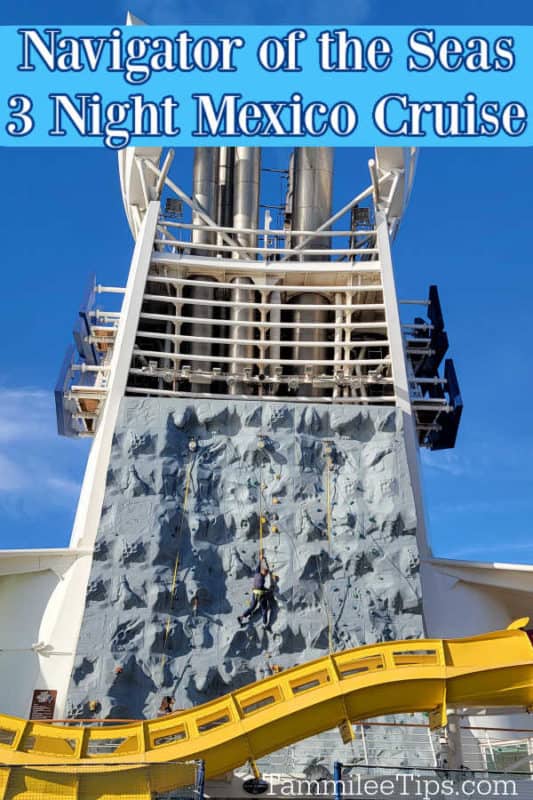 Our last cruise with Royal Caribbean was a Baltic Sea Cruise on the Vision of the Sea and it was interesting.
We wanted to give Royal Caribbean another chance and see what cruising one of their newer ships was like. Honestly, the Baltic Sea Cruise was not the best experience so we went into this cruise hopeful but also pretty cautious.
For this cruise, we booked a Balcony Stateroom on deck 11 at the front of the ship. We upgraded our room so we could have an extended balcony and experience sailing at the front of the ship.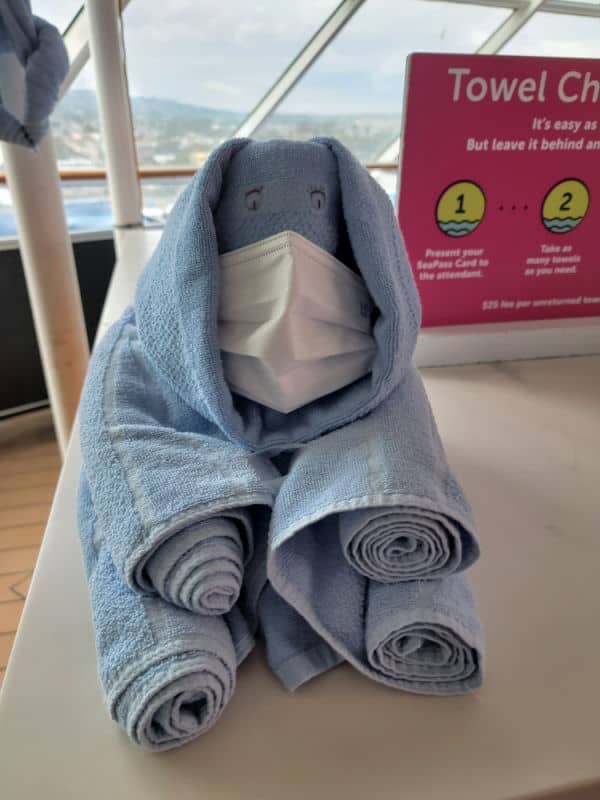 Pre-Cruise
Prior to our Navigator of the Seas cruise, we downloaded the Royal Caribbean App so we could fill out our health forms and update our personal information. The cruise app is really easy to work through and guides you through all of the information that is needed before your cruise.
We did need a covid test within 3 days of boarding the ship. We also had to bring with us our vaccination cards, passports, and fill out a health screening on the Royal Caribbean App 24 hours before boarding.
Prior to the cruise, we made sure to set up a reservation at Jamie's Italian by Jamie Oliver. We knew this was one of the specialty restaurants on board we did not want to miss during our cruise.
We also set up onboard internet service prior to the cruise. There was a nice discount for setting it up ahead of time we made sure to take advantage of.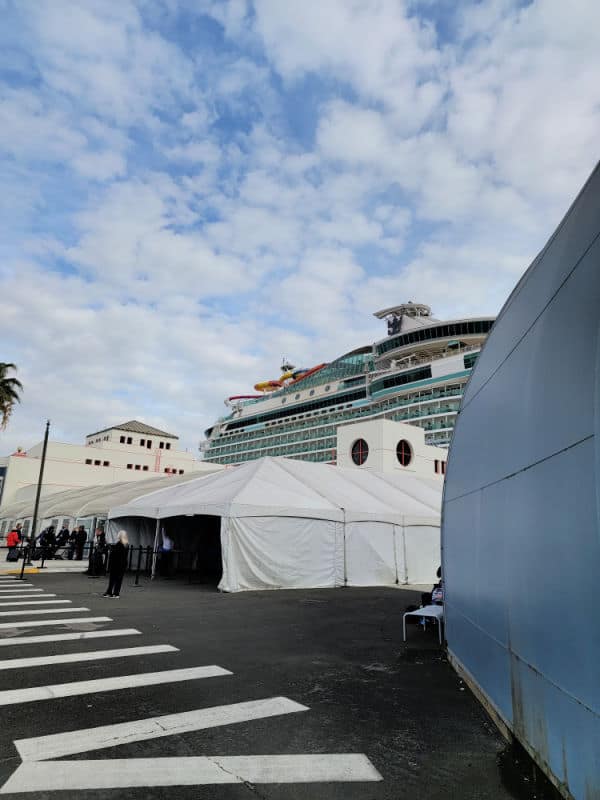 Embarkation - Los Angeles, California
Getting onto the Navigator of the Seas was one of the smoothest embarkations we have experienced in 20+ cruises. I kept waiting for the delays or to have to slow down and there were none.
We walked up at our scheduled embarkation time and were on the ship in less than 15 minutes. It was a breeze getting through security, health screening, and everything else.
Once on board we were able to walk right over to our muster station and complete the muster drill on our own time. Within 40ish minutes of arriving at the World Port Terminal we had a Goombay Smash and Mai Tai in hand and were celebrating our long weekend on the ship.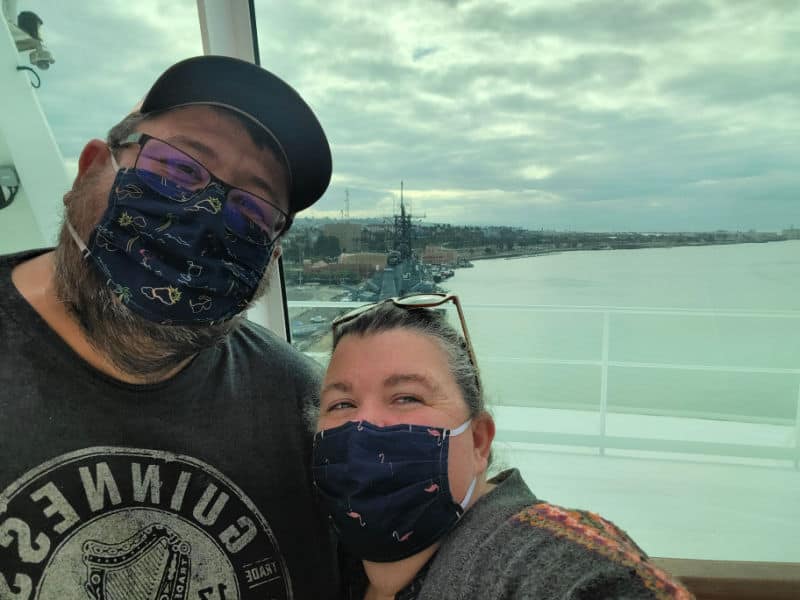 Day 1 - Onboard
We have a 12pm arrival time so our stateroom was not quite ready yet when we boarded. We fully expected this so we headed up to the Lido deck to grab a cocktail and relax until the room was ready.
I have to admit that after seeing the total for two tropical cocktails with tips we started to think about getting the Royal Caribbean drinks package.
We ended up deciding to purchase the package after seeing it was buy one get one 50% off for the cruise if we purchased on day 1.
John and I sat down and did some quick math on how many drinks it would take to make it pay off buying the drink package and went ahead and purchased it.
We didn't plan on drinking a ton on the ship but realized that even with getting a glass of wine at dinner and a few cocktails during the day it would pay off. I also like not having to calculate how much we have spent on the cruise day by day. It is nice knowing what our final total will be from the start.
The other bonus of the drink package is you can try cocktails you have always wondered about and if you hate them or don't want to drink all of it you don't feel guilty putting it down and walking away from it.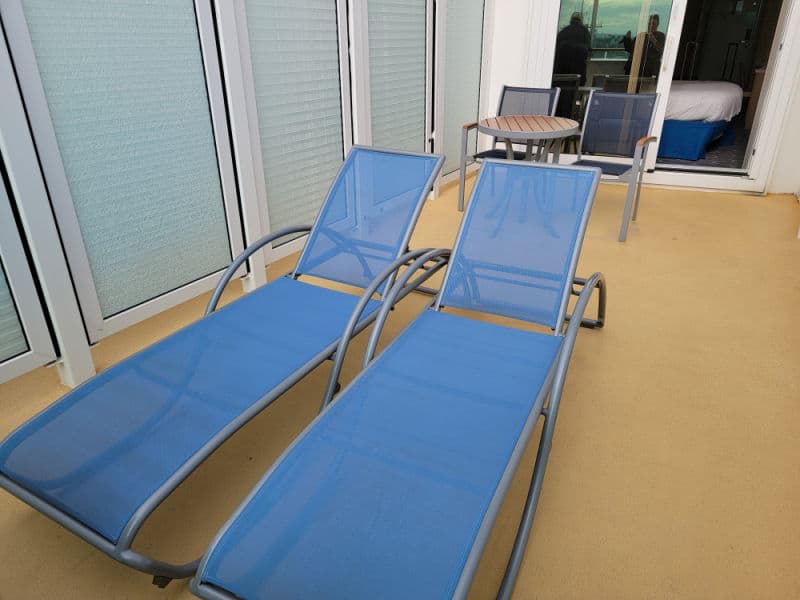 Our stateroom was ready around 1pm so we headed to check out our front extended balcony. This is the first cruise we have upgraded to a front balcony and it was so big.
The extended balcony has 2 lounge chairs, 2 regular chairs and a nice table with a great view off the front of the ship.
After relaxing in the extended balcony stateroom for a while we headed out to explore this new to us ship. WOW! There is so much to see.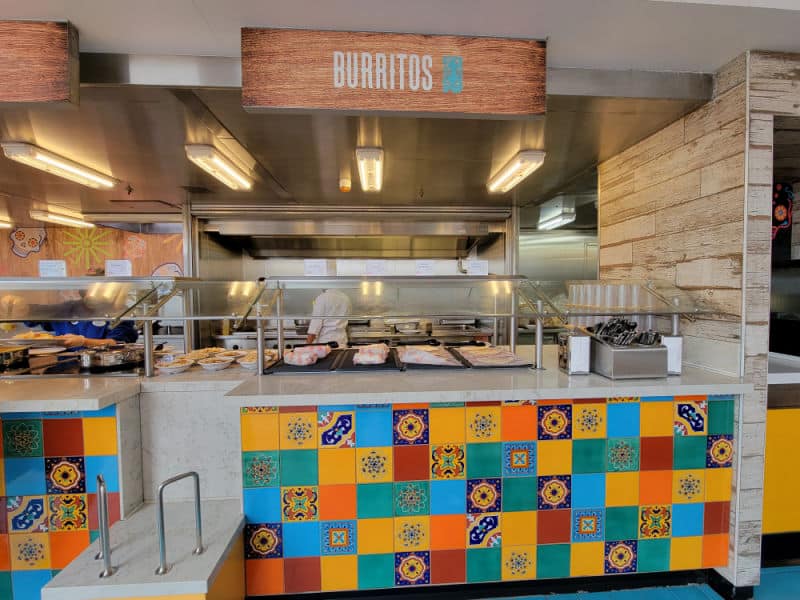 First up the Lido Deck to grab something to eat and see what we have to try during the cruise. We stopped into Loco Fresh and grabbed some nachos and quesadillas for a quick snack.
John loved being able to customize a plate of nachos with taco meat and cheese plus all the guacamole.
The Windjammer Buffet honestly amazed us. There is a huge handwashing station right when you walk in and cruise attendants make sure everyone washes their hands.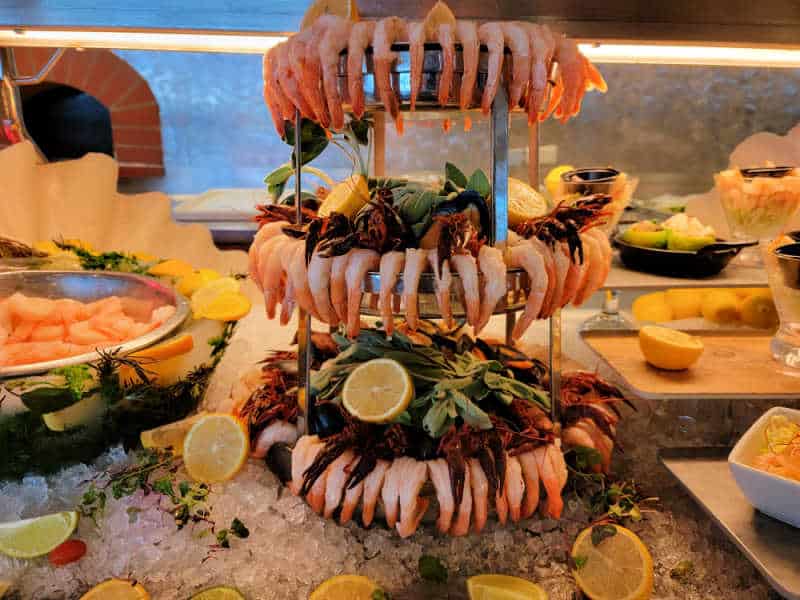 Once in the buffet, I was shocked at everything that was available. From huge shrimp towers to fresh fruit there were so many options we have never seen on a cruise ship.
I was able to enjoy rambutan fresh fruit which I haven't seen since I was in Thailand. They also had dragon fruit and other tropical fruit I had never seen.
It was so great seeing an entire buffet station that was gluten-free. Every single item in the section was 100% gluten-free and there was a ton to choose from. They also had a great light section with lower-calorie fresh meals.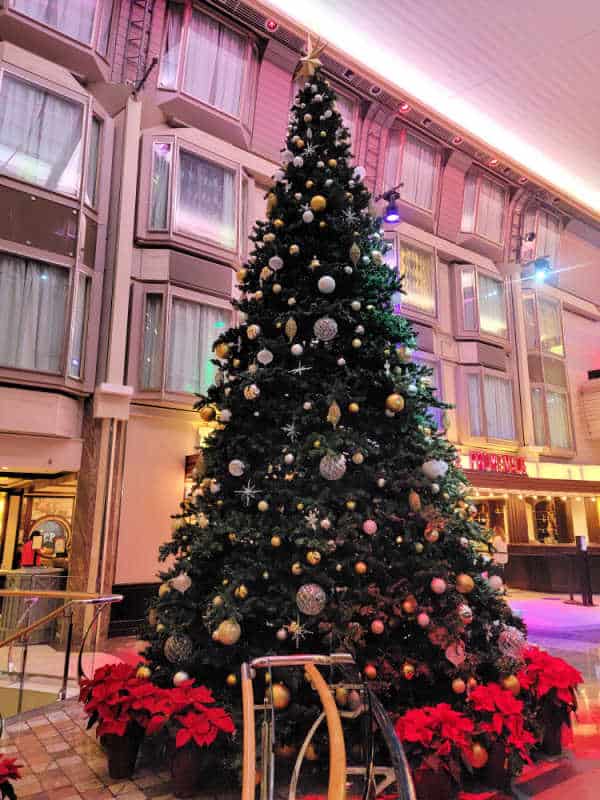 We headed down to deck 5 to check out the Royal Promenade. The ship is decorated for Christmas and so beautiful. From the giant tree on the Royal Promenade to the epic gingerbread houses in the Windjammer Buffet.
Our first stop was The Bamboo Room tiki bar! It felt like we stepped into old Hawaii but on a cruise ship. I am pretty sure John now wants to build a Tiki Room in our house. LOL!
The Bamboo Room has a mix of old school Hawaiian Cocktails along with some fun new cocktails. We sampled a few cocktails with my favorite being The Saturn Cocktail.
This cocktail blew me away and I am going to admit that I plan to make it at home soon!.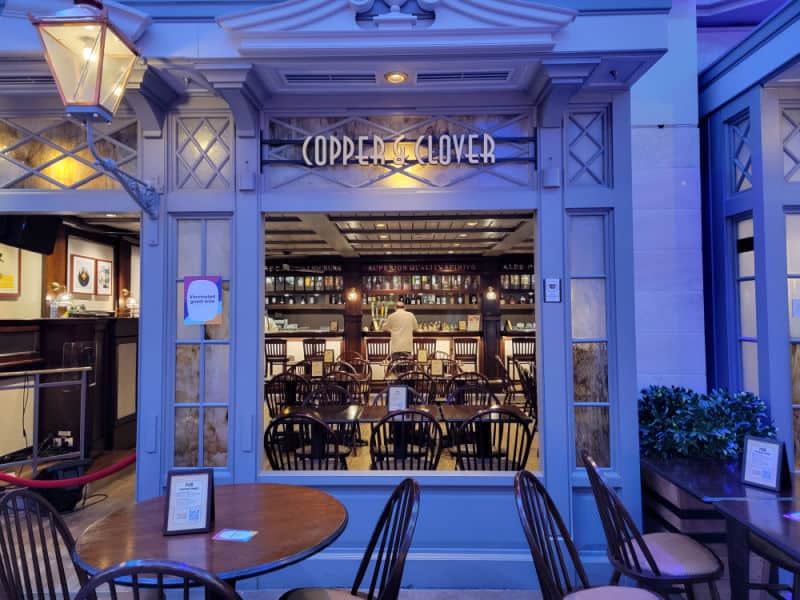 Next up was the Copper and Clover British Pub to try a James Bond Martini. I have always wondered what a James Bond Martini actually tasted like and I have to say it was a lot stronger than I really anticipated.
It was fun being able to try it and not having to worry that it was so strong I couldn't actually drink much of it.
One thing we thankfully realized early is you can make reservations for anytime dining in the Royal Caribbean App so we had set up dinner before we hit up a couple of bars.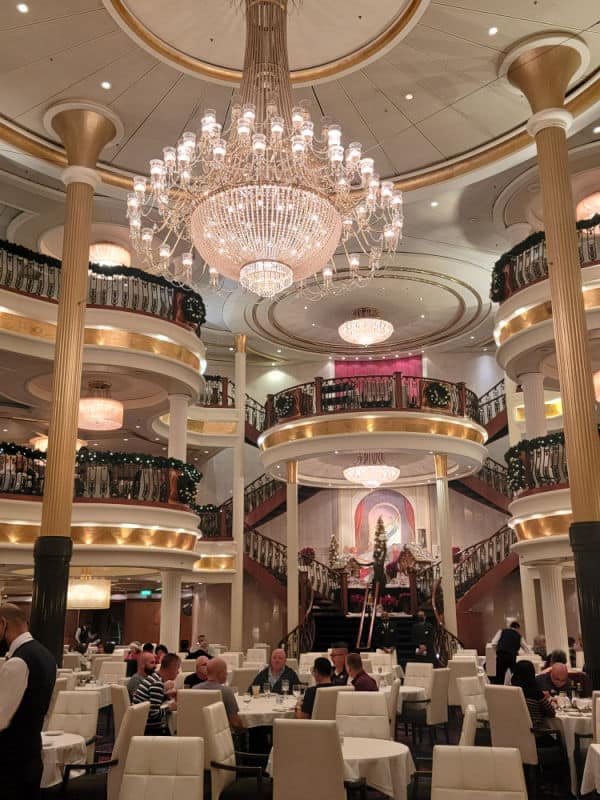 Dinner was in the Navigator of the Seas main dining room which is absolutely gorgeous. 3 stories of dining all decorated for the holidays in an elegant manner.
I have to say this was such an epic change from the Royal Caribbean ship we sailed on 10 years ago in the Baltic. The food was delicious and the atmosphere a really relaxed elegant experience.
John enjoyed French onion soup, prime rib and key lime pie and said everything was absolutely delicious.
I had a cheese plate, spaghetti marinara and epic crème brulee which was fantastic. Our server Vimi was great and had us laughing while she made sure we had everything we needed.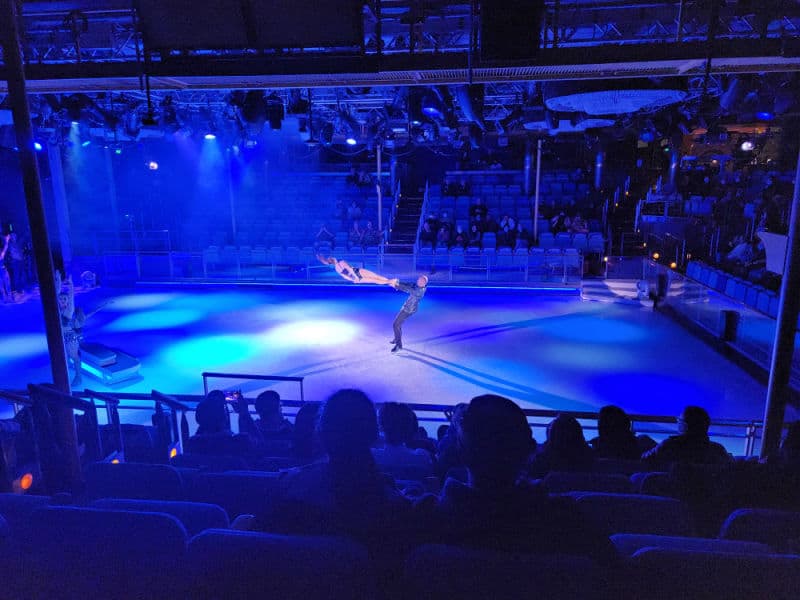 Our final stop for the night was to see an ice skating show! This was the first time we have seen ice skating on a cruise ship and the iSkate program was great.
It started off with an epic drone production before the ice skaters hit the ice. We were entranced for the entire 30+ minute production. I can't imagine what it takes to ice skate on a moving cruise ship.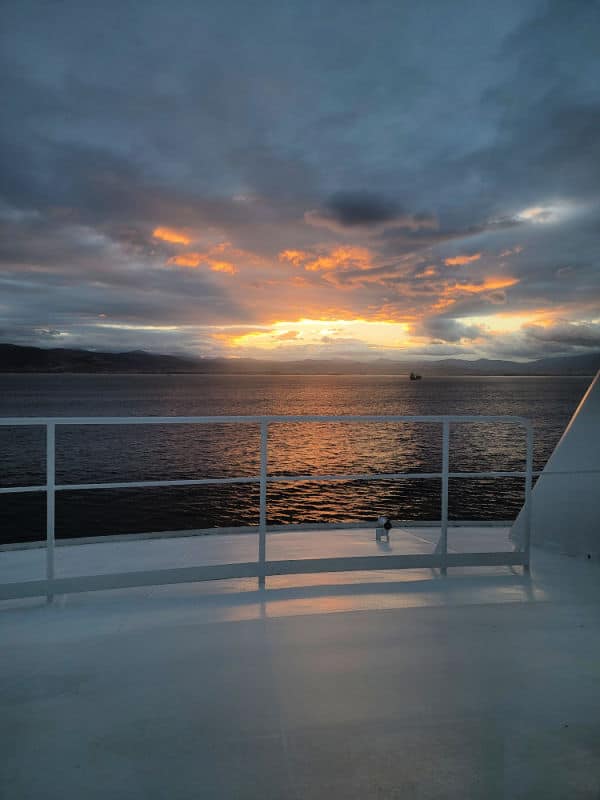 Day 2 - Ensenada, Mexico
I have to admit we had an interesting 1st nigh to sleep on the Navigator of the Seas. It was so windy at one point that somehow our balcony door came open.
John woke me up when he started asking if I was walking on the balcony at 2am. I was not but did end up getting up to figure out how to lock the balcony door again. Half of the curtains were flapping in the wind which definitely helped explain the weird dreams I was having before then. LOL!
Since we have been to Ensenada a few times we decided to stay on the ship and enjoy a really chill day. We kicked it off with breakfast in the main dining room.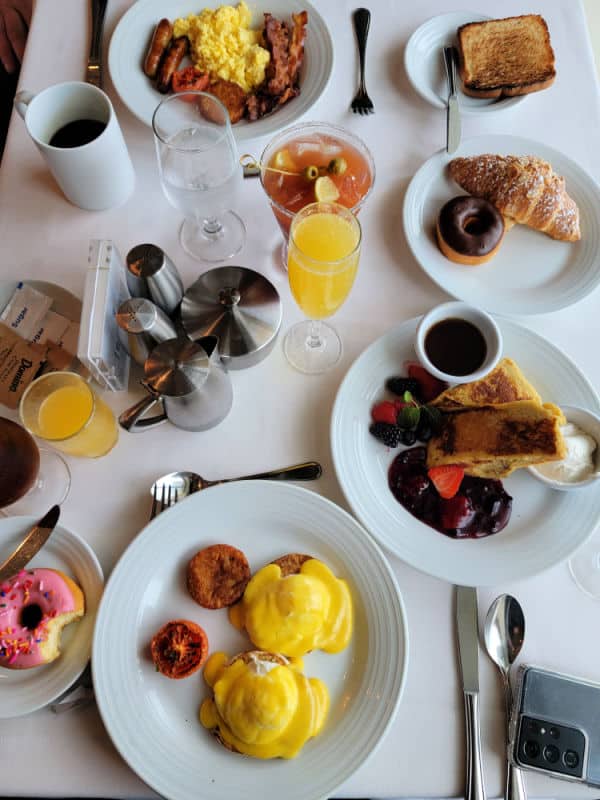 They have a great breakfast menu of all the classics. We went with eggs benedict, French toast, and all the sides. We paired breakfast with a mimosa and bloody Mary to have a true vacation breakfast. LOL!
After breakfast we did a bit of wandering before ending up playing trivia at the Schooner Bar. I would love to say that we kicked ass at trivia but that would be a flat out lie. We maybe got 6 points out of 15 and that was working for it.
The lounge was super comfy so we decided to taste a couple of popular cocktails to see what we thought of them. I am now a huge Tom Collins fan. Wow who would have thought gin was so good in this drink.
John enjoyed a Brandy Alexander and was amazed at the flavors. Having the drink package has been the perfect opportunity to sample our way through classic cocktails and not feel stress if we don't like them.
We spent part of the afternoon enjoying one of our favorite cruise ship activities....cruise ship nap!!!!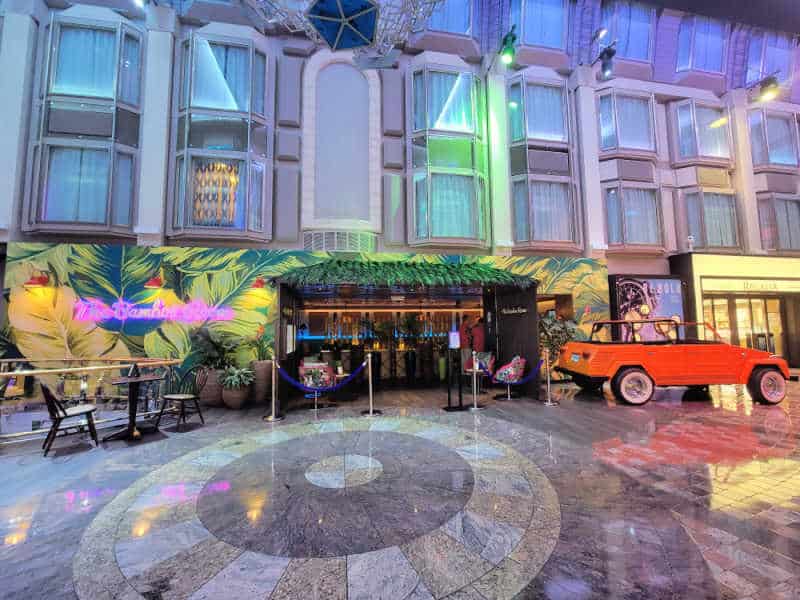 After a really long cruise ship nap that was beyond relaxing we headed back to The Bamboo room to try a few more tropical drinks.
I am loving the Saturn Cocktail made with gin.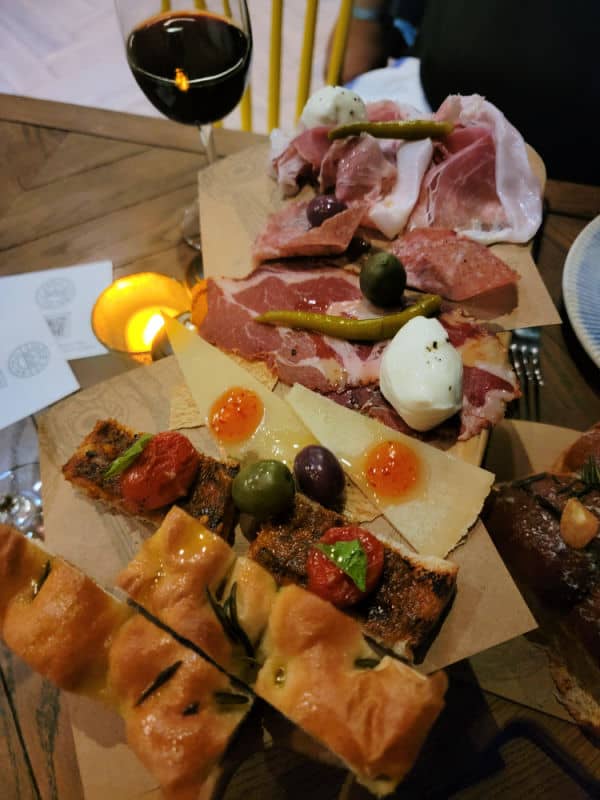 For dinner we had made reservations at Jamie's Italian and it was epic! Oh my goodness so much food and it all tasted amazing.
Our meal was so good that we made reservations for lunch the next day while still enjoying dinner.
From the garlic bread to the daily fresh made pasta and epic pavlova for dinner we were in foodie heaven.
We had made reservations to see a show but after a 4 course Italian meal and the seas being a bit rough we decided to head back to the room to relax.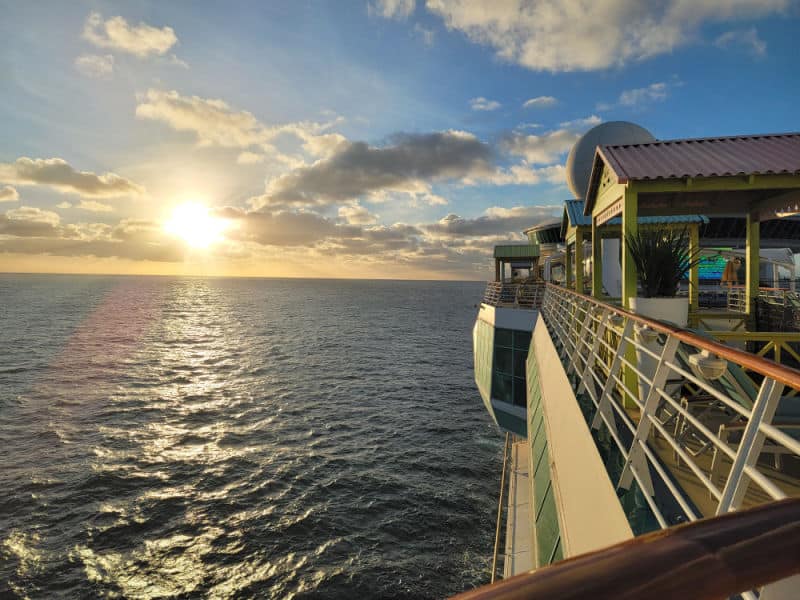 Day 3 - Sea Day
One of my favorite things about cruising is not having to worry about being on a schedule. We ended up sleeping over 10+ hours even with some rough seas.
Having a stateroom at the absolute front of the ship is amazing for the balcony and view but you definitely feel the motion of the ocean a lot more than if your stateroom is midship.
We rocked and rolled most of the night but thankfully woke up to gorgeous sunshine and semi calm seas.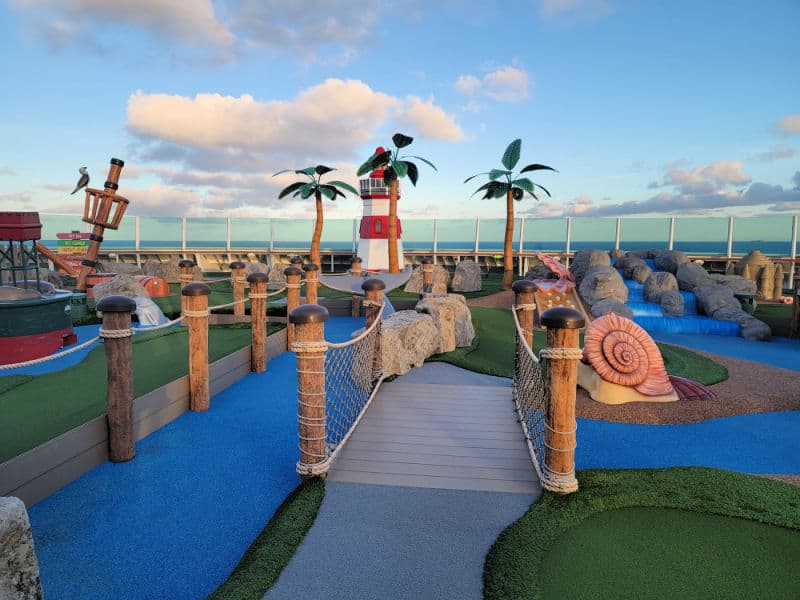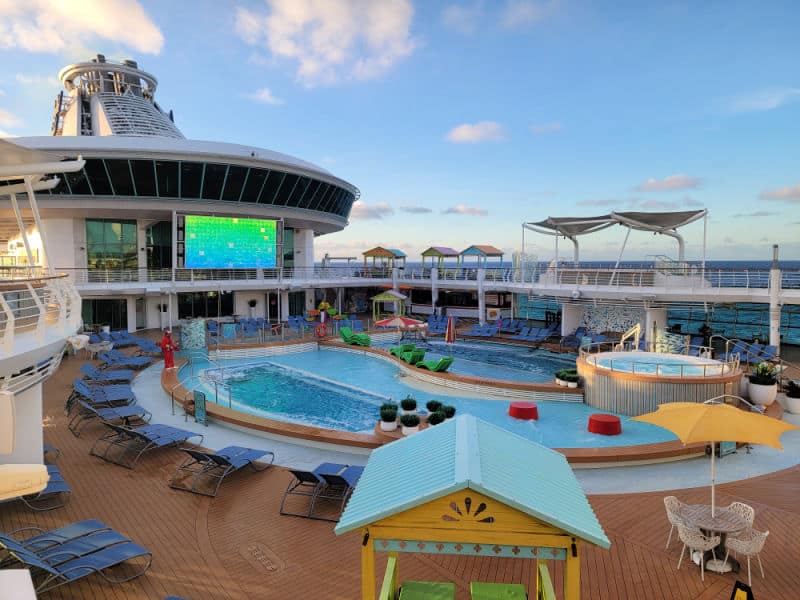 After spending time exploring the Navigator of the Seas a bit more and checking out all of the epic things to do we headed down to the main dining room for breakfast.
I did check out the buffet to see what they offered for breakfast but in the end the eggs benedict in the main dining room won out.
I was really impressed with the options offered at the buffet for breakfast. A few of the things I had to take pictures of to google later because I had never heard of them.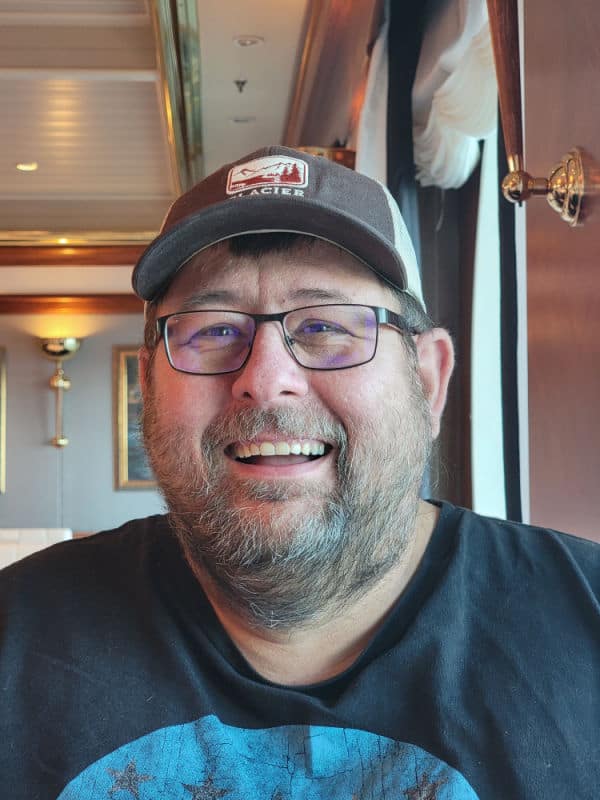 The one thing about a 3 day cruise to Ensenada is by the time you reach the sea day you are wishing you had booked a week long cruise.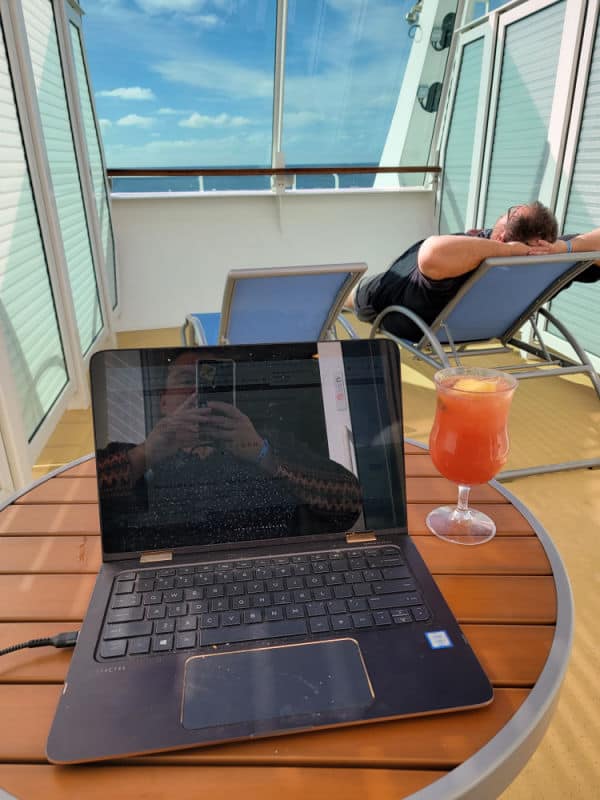 We spent our entire morning relaxing on our balcony. Soaking in as much vitamin D as humanly possible knowing we are returning to snow and cold in Spokane.
For lunch, we headed back to Jamie's Italian. Our dinner was so good that we decided to enjoy it again. Lunch was just as amazing as dinner!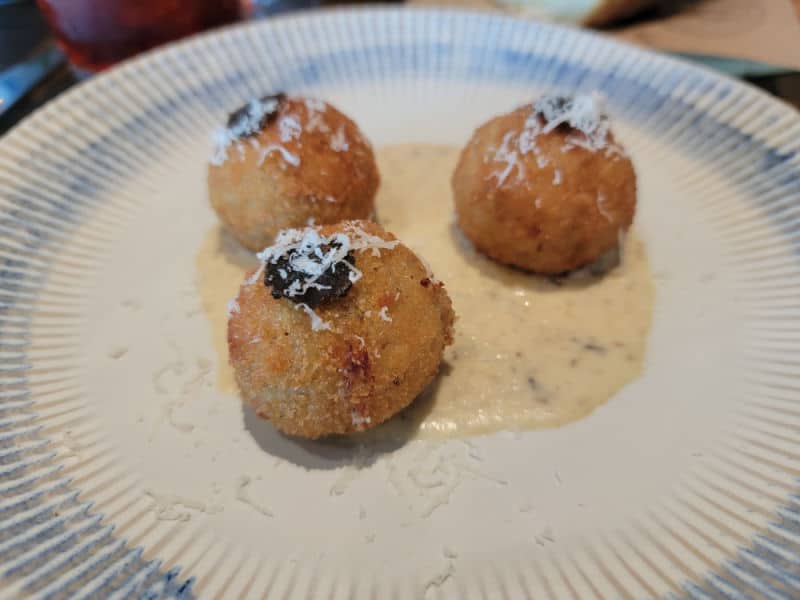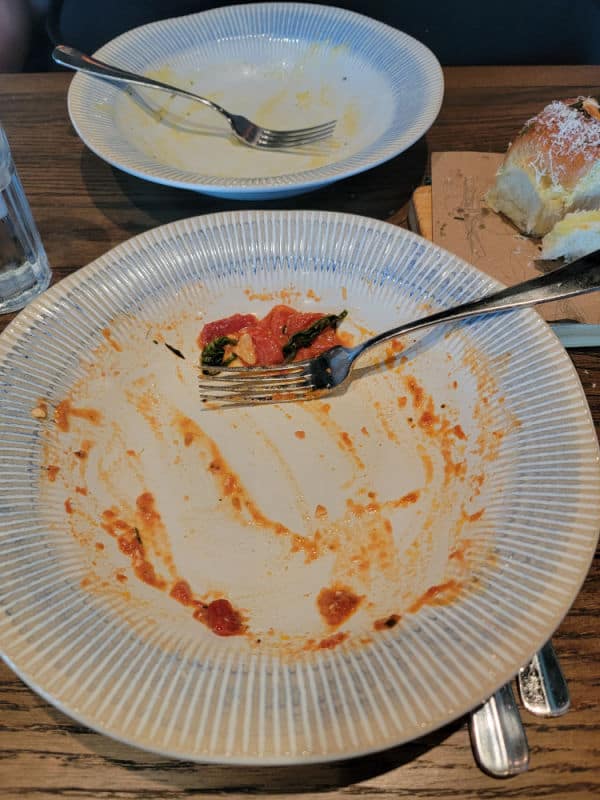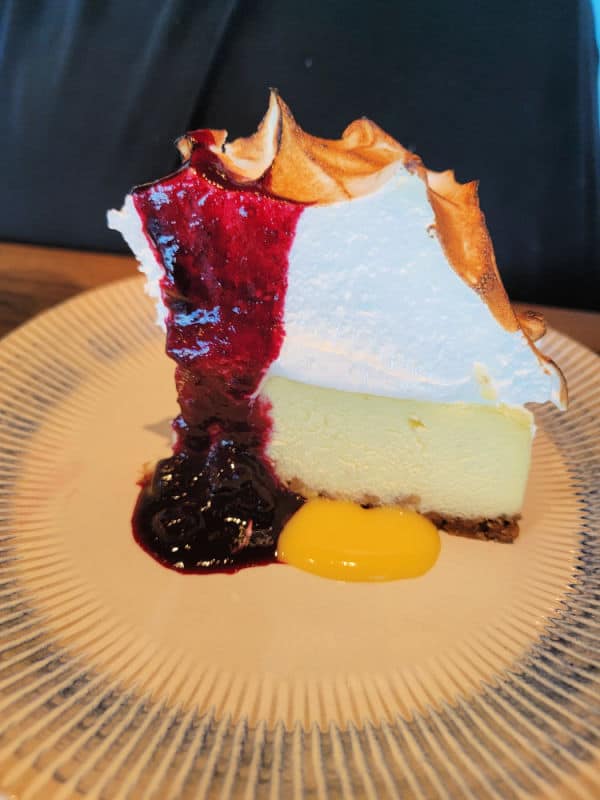 We ended up trying a few different dishes including Truffle Tagliatelle and the Epic Brownies.
After lunch, we walked around the ship to work off a tiny bit of the lunch we had just enjoyed. The ship is filled with so many things to see and do it is hard to fit it all in on a 3-day cruise.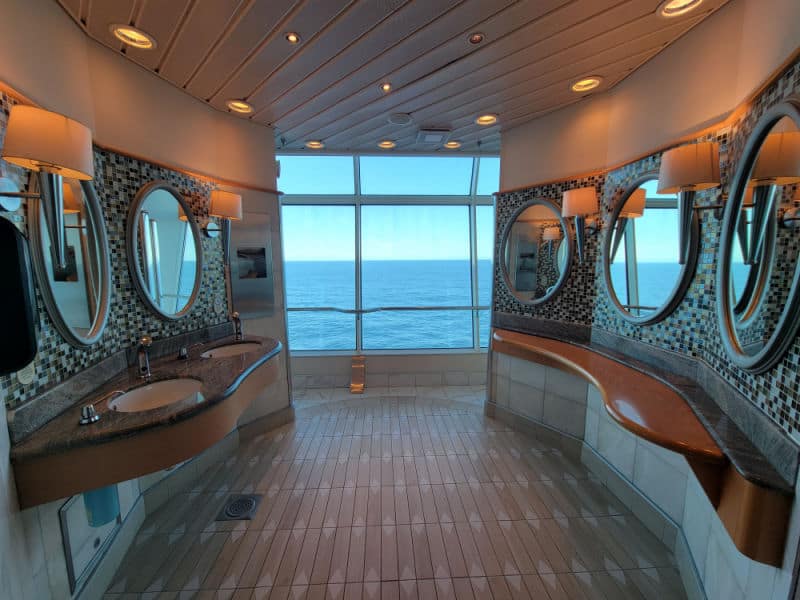 This bathroom view blew my mind! LOL! I walked in and was so happy no one else was in the bathroom because I fully said WOW quite loudly.
It has hard to believe this is the last day of the cruise already. We never really unpacked it is such a quick trip.
We finished off the night with a light dinner from the Promenade. We were still so full from our epic Italian meal at Jamie's.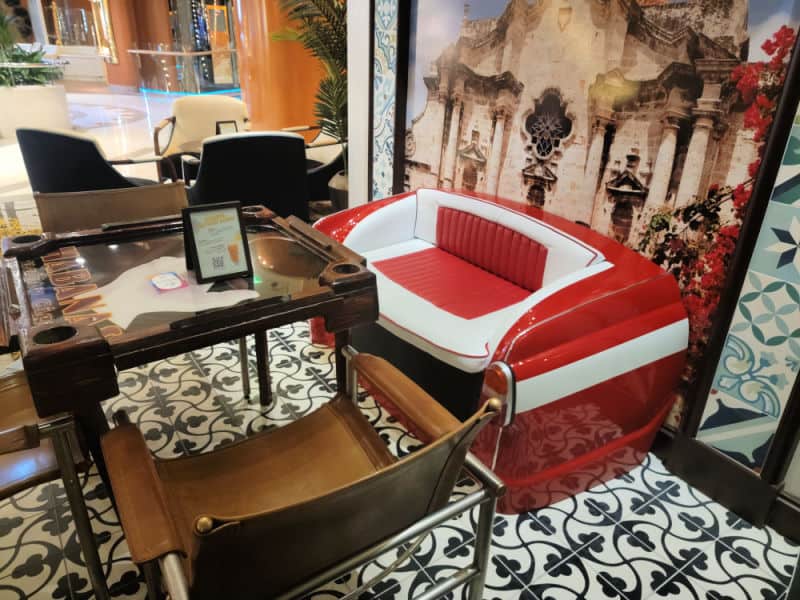 There was Latin music at Boleros so we relaxed and tried a couple of other cocktails including an epic coconut mojito, the Dark n Stormy, and a Caipirinha cocktail.
The music was fun and a great way to relax on our last night on board the Navigator of the Seas.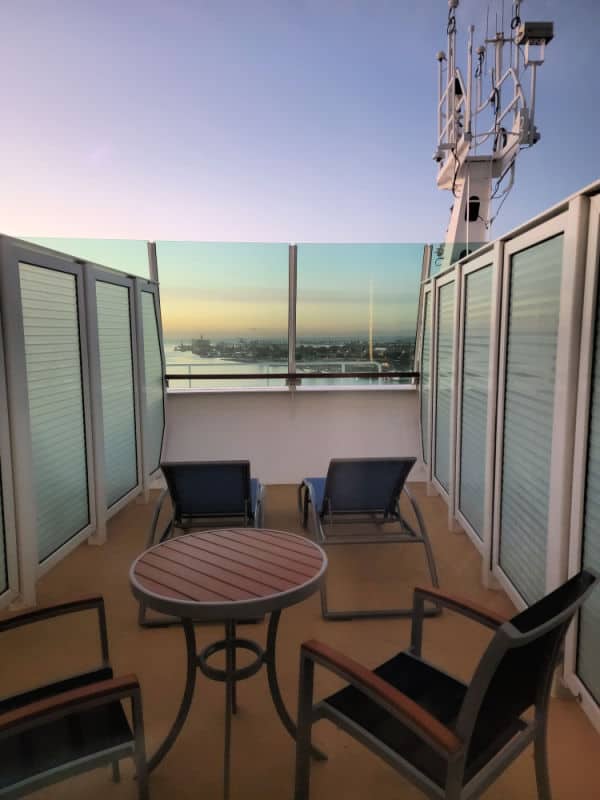 Disembarkation - Los Angeles, California
We woke up early expecting disembarkation to be a process and it turned out to be so smooth.
After breakfast at the Lido Buffet which was delicious. The waffles with fresh fruit were amazing and I would happily go back every morning for them.
Disembarkation was honestly so smooth. We grabbed our bags and took the elevator down to deck 4, immediately walking off the Navigator of the Seas and down to customs.
There wasn't a single delay from leaving our stateroom to exiting customs.
The one thing I will say is getting an Uber turned out to be difficult. After 20 minutes the app said that there were no drivers available.
Thankfully I was able to get a Lyft scheduled right after that. It was a quick 45 minutes drive to LAX for our flight home.
We are already talking about when we can book another getaway on a Royal Caribbean ship. This was the perfect weekend away!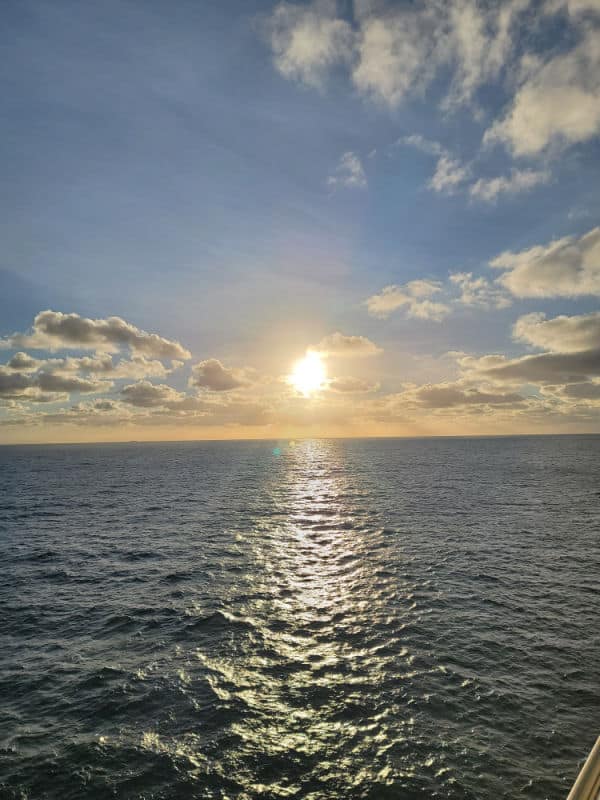 Additional Cruise Articles
Catalina Island - Cruise Guide
Don't forget to pack these for your cruise!
Check out all of our Cruise Guides
Check out epic cruise deals on Expedia