You can't get much closer to the heart of Marvel Studios than President Kevin Feige. He is at the heart of the Marvel Cinematic Universe and truly a driving force in our favorite movies and shows. I had the amazing opportunity to sit down and interview him as part of the Thor Ragnarok press junket.
Exclusive Interview with Marvel Studios President Kevin Feige
We kicked off the interview by asking Kevin how he feels having both Guardians of the Galaxy and Thor come out this year:
Kevin: It's pretty awesome and I love that little Peter Parker in high school is in the middle of all that.  It's pretty cool and it indicates, what I've always wanted people to understand that just because something's based on a comic doesn't mean they're all the same.  Doesn't mean they all inhabit the same exact tone.  You know, tonal world and that those were, these were our three movies this year.  I always knew and was hoping would be pretty exciting.
Will Guardians of the Galaxy meet Thor in the future?
Kevin: Yes, and it comes out in May of next year.
Is it going to be a major set up or a cameo?
Kevin: No, Infinity War is a pretty meeting of those minds, and Thor, in particular, with the Guardians, we've already shot some very fun scenes, between them.  The cosmic adventurers spend a lot of time together in that movie.
Is that filming in Atlanta?
We have finished Avengers: Infinity War.  They are currently filming Untitled Avengers.  We started in January of this year and we go through January of next year filming.  Nonstop.  Black Panther has started and finished.  Ant-Man and The Wasp have started and almost finished while that's all going on.
When is Infinity Wars trailer dropping?
Someday.  Someday.  Yeah.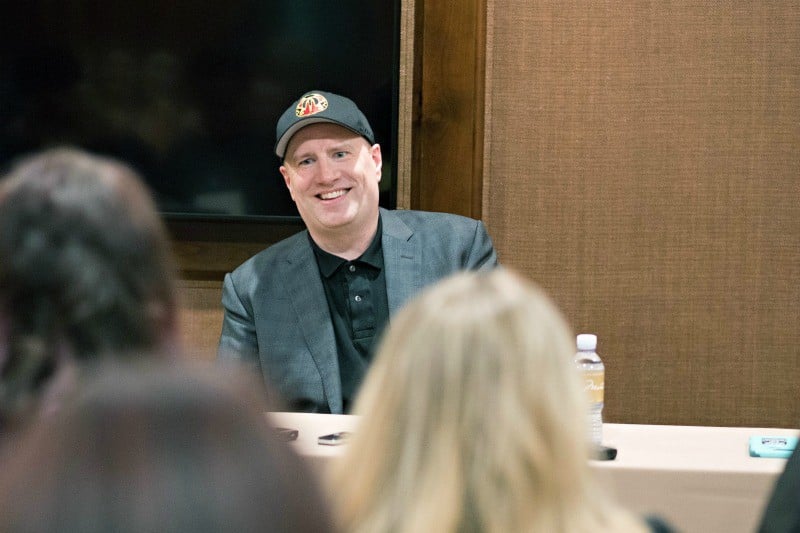 Why does this Thor has such a different look and feel?
That was our idea perfected and improved by Taika.  We wanted to, as we always do in our movies, go to a new place.  Go to an unexpected place.  Look at what we did with Shane Black's Iron Man 3, the third Captain American film, with Civil War and we always look at a third film, Infinity War in the case of Avengers coming up, as an opportunity to, to take what the fans like, that they're willing to go with us and take them to a totally unexpected fun place.
Also, Mr. Hemsworth and if you talk to him, he'll mention this probably, used to say, hey, mate, Captain America has got Iron Man in his movie, has got Black Widow in his movie, who am I getting? I'd go, ha.  I'd go, oh, I know, ha, and I'd go, I think he's right.  I think he's right.  And the fun thing about Thor is he's got amazing characters in his own comics, so Hela and Valkyrie from his books., from the mythology.
We knew we wanted to bring in there, but thinking about who else we could bring in from the universe and very quickly we realized Hulk would be that guy, but seeing Thor and Hulk battle it out together is great.  Seeing Banner and Thor being fish out of water is even better.  So, suddenly, you have this great dynamic between them, so we decided well, I guess Hulk when we last saw him on a Quinn jet heading up into the atmosphere, he kept going and he got caught in a wormhole and he ended up on Sakaar.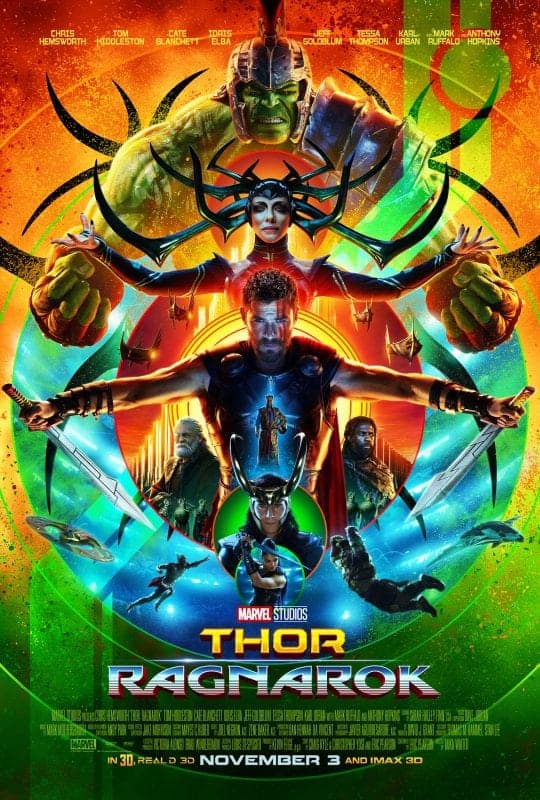 In Marvel Studios' "Thor: Ragnarok," Thor is imprisoned on the other side of the universe without his mighty hammer and finds himself in a race against time to get back to Asgard to stop Ragnarok—the destruction of his homeworld and the end of Asgardian civilization—at the hands of an all-powerful new threat, the ruthless Hela. But first, he must survive a deadly gladiatorial contest that pits him against his former ally and fellow Avenger—the Incredible Hulk!
"Thor: Ragnarok" is directed by Taika Waititi and returns Chris Hemsworth starring as Thor and Tom Hiddleston reprising his role as Loki. They are joined by Cate Blanchett, Idris Elba, Jeff Goldblum, Tessa Thompson and Karl Urban, with Mark Ruffalo and Anthony Hopkins.  Kevin Feige is producing with Louis D'Esposito, Victoria Alonso, Brad Winderbaum, Thomas M. Hammel and Stan Lee serving as executive producers. Eric Pearson and Craig Kyle & Christopher L. Yost wrote the screenplay. Marvel Studios' "Thor: Ragnarok" thunders into U.S. theaters on November 3, 2017.
Like on Facebook: Facebook.com/Thor
Follow on Twitter: @ThorOfficial
Instagram: Instagram.com/Marvel