Imagine sitting in a room that is filled with anticipation, a lot of hope, excitement, and nervousness. That is exactly what it felt like waiting for our Avengers Age of Ultron interview with Chris Hemsworth and Chris Evans to kick off. We had heard there was a chance the interview might be canceled due to other interviews running late and the upcoming press junket. We were all really scared that this would happen. Thankfully after waiting and wondering in walked two pretty darn great looking guys!
Hello Chris Evans and Chris Hemsworth!
I am not going to spend a lot of time talking about how good looking they are but I wanted to mention that they are just as good looking in person as they are on screen. In fact, they are so funny, witty and down to earth, I think they might be even better looking than I thought they were.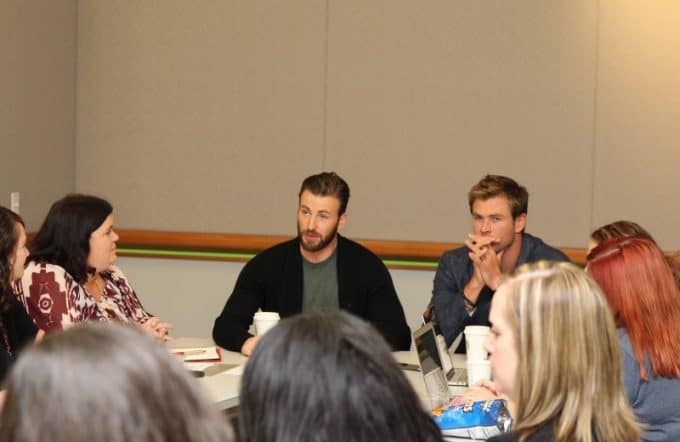 Interview with Chris Hemsworth and Chris Evans
Trust me I had an up close look at both of them. That is me in the red pattern shirt in the left corner next to Chris Evans. I won the blogger lottery this day and ended up at the head of the table. Which is both exciting and nerve wracking.
I didn't want to make them feel like I was in their personal bubble sitting so close. One thing I quickly learned is Chris Evans is a very energetic speaker and talks a lot with his hands. I kept moving back little by little so I didn't get in his way or bump into him.
Can I share with you the best line from our entire interview to start! I hope you don't mind but it is a doozy!
CHRIS HEMSWORTH  ~ Honey, let's bring the thunder.
Just imagine hearing that with Chris Hemsworth Thor voice....yep, I will give you a minute to enjoy that.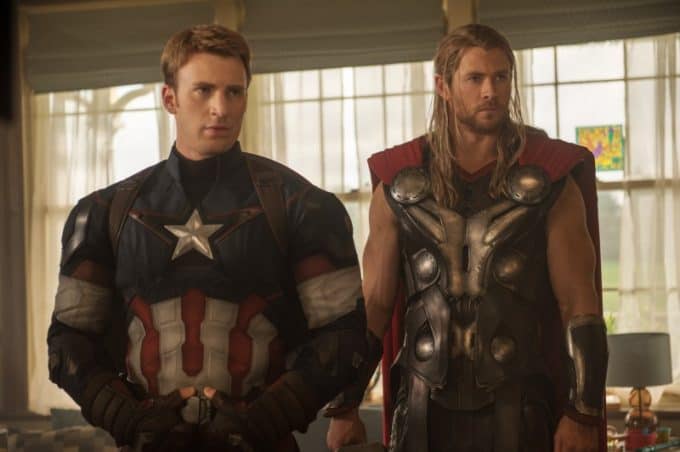 Chris Evans plays Steve Rogers aka Captain America and Chris Hemsworth plays Thor in Marvel Avengers Age of Ultron. Our interview with them was fun!
So here we go!
Tell us about your favorite fight scene in the movie?  
CHRIS HEMSWORTH   ~  Hmm, favorite fight scene.
CHRIS EVANS  ~ In my favorite one I wasn't even in, the Hulk Buster and the Hulk. I mean that's my favorite one.
CHRIS HEMSWORTH  ~  Yeah.
CHRIS EVANS ~  That's a long fight scene, too.  this is great but God, it's long.  It keeps going.
CHRIS HEMSWORTH   ~   Yip.  I haven't seen that scene.  I haven't seen the movie. But from the trailer what looked cool was the kind of tie in shot between all of us. And at the very beginning of the film where it cuts from each of our individual fight. And it looks like it's one big tracking shot.  I mean, that kind of, that blew my mind as to how they even did that. Yeah.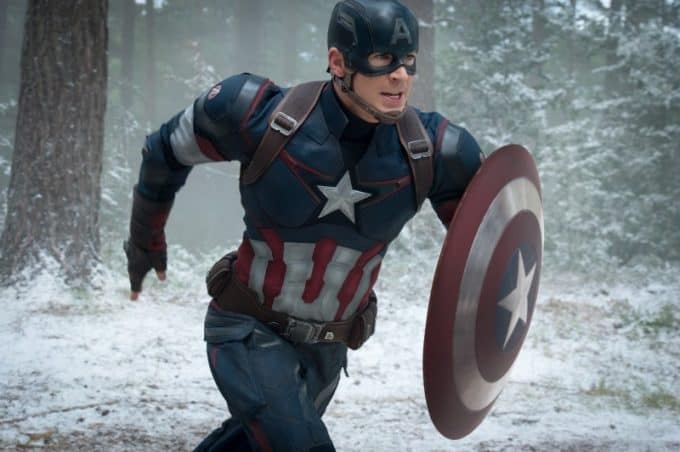 Do you guys find something that you discover about your characters each time you put on the costume? Or do you feel like you really know the character by now?
CHRIS EVANS ~Well, you know the character but you hope there's always new challenges. You hope as an actor there's always a new hurdle to jump in a new arch to kind of discover.  So, even though you kind of feel --.  You know the first couple of movies you try to read as many comic books as possible to make sure the built-in audience, the fan base is going to be satisfied with what you bring to the screen. But then in terms of where the character is going that's up to the director and the writer and Joss and the Russo's, whoever's doing it. And that's always new and that's what makes these exciting to come back to.  If it weren't new, it would get old, stagnant and the audience would feel it.
Do you feel that playing Capt. America has made you more wholesome?
CHRIS EVANS ~ If that's even possible. I mean, I'm already a Goddamn boy scout. (This was said with a smile and a laugh)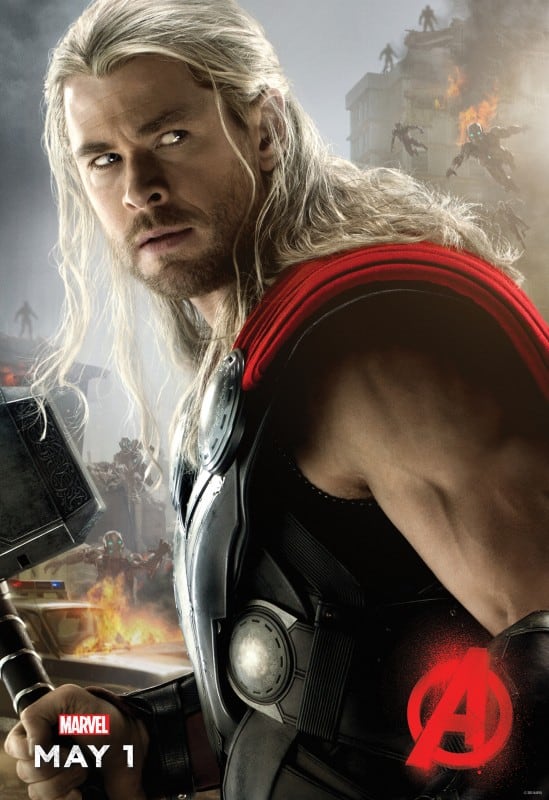 Do you think that's changed you as a person at all?
CHRIS EVANS ~ Sure. I mean, there's no denying.  Any actor will tell you if you have to live in any headspace for an extended period of time it's going to, you're going to take some of it home with you.  Now it's, you know, there's no way to sound right saying this but you hope, you hope that some of the character comes home with you. You hope to see more of yourself, you hope to see more of Steve Rogers in who you are on a day-to-day basis.  So yeah, absolutely.
CHRIS HEMSWORTH ~ Unless you're playing Hannibal Lecter.  You want to eat a person.
CHRIS EVANS  ~ Sometimes you get hungry for people and look, it's.....
Question from the group ~ Did either of you ....
CHRIS EVANS ~ Did either of you ever eat a person?
CHRIS HEMSWORTH  ~  Just this once.  Tastes like chicken.
CHRIS EVANS   ~ Once I was in the Philippines.
As you can imagine the whole room was laughing at this point as Chris Evans and Chris Hemsworth played off of each other.
What aspects of Capt. America's personality are coming from you and what are the most difficult to portray?
CHRIS EVANS  ~ I'm not sure --.  Well I think every character has to come a little bit from you.  I mean, the truth is you got to, no matter who you play and one of the things I do as an actor is try to adjust who I'm speaking to.  You know, there's always going to be whether you plan I mean --.  Obviously, if you're not playing like some pedophile or something that like there's always something.  I do believe there's always something that you can tap into for every role because you have to make it your own.  You can't be too foreign off base because you know, you have to make it something familiar.
I took a lot of --.  I grew up with a kid named Charlie Morris and you can all right that down because he'll love it.  And this was a kid who was an Eagle Scout.  You know what it takes to be an Eagle Scout as a kid? This is a kid who was 18 years old and was going on like his Eagle Scout thing. He was just the best guy I knew, just a good guy.  And so a lot of times you kind of draw parallels to what Charlie would do but the trickiest thing is to try to make him likable. You know, he doesn't joke, he's not fun.  His not like sassy or loud or anything.
So you try to play this guy and not come across as boring you know, which is the most dangerous thing about the character.  So I mean, it's fun because it's not me. I'm a very open guy.  I wear my emotions right on my sleeve and this guy is a little more inside himself.  But that's what makes it like a fun challenge and you know, like I said, you do draw on parts of yourself.  But I also lean on Charlie quite a bit, too, so.  Write that down, Charlie Morris.  He's a good guy.
Just a good guy. Like you just don't meet --.  He's just a good guy. He just does what's right.
Q    :    Is he on twitter so we can all tweet?
CHRIS EVANS   ~ No, probably not. He's too good for twitter. You know what I mean?  He's not doing that shit.  He's like a good guy.  He's like helping women across streets.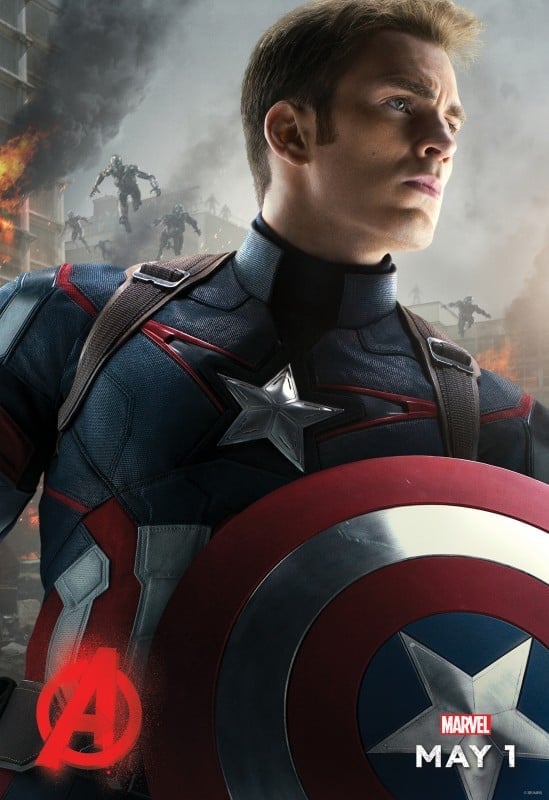 Did you have a favorite superhero growing up?
CHRIS HEMSWORTH  ~ Superman was mine.  It's probably the only film that I really was --.  It was probably the first of the superhero films, wasn't it?
CHRIS EVANS  ~ I mean when you're a kid you kind of like what you're given to play with.  So I had a Spiderman toy and so that was kind of my thing.  I never really watched Spiderman comics but he was my guy. He was battling ninja turtles a lot.
Who would you play outside of our movies?  What character would you love to play?
CHRIS EVANS  ~ Outside, as a superhero?   To be honest, I'd love to play like an Ironman. You know, Steve Rogers is such an internal guy and he --.  I just want to make some jokes.  Can I just make some jokes? I don't get any jokes and you know, Ironman this fun, free, loose guy. And it was a lot like when I was doing the fantastic four movies. It's fun to play someone who wears their emotions on their sleeve. And Steve's not exactly that way. So any other superhero who gets to be a little more sassy I would take.  Yeah, Cap's not sassy.
CHRIS HEMSWORTH  ~  So, black widow?
CHRIS EVANS ~   Yeah.  I'd look good in that black outfit.
Audience responds~   Yeah, you would.  We agree.
CHRIS HEMSWORTH  ~  Me too.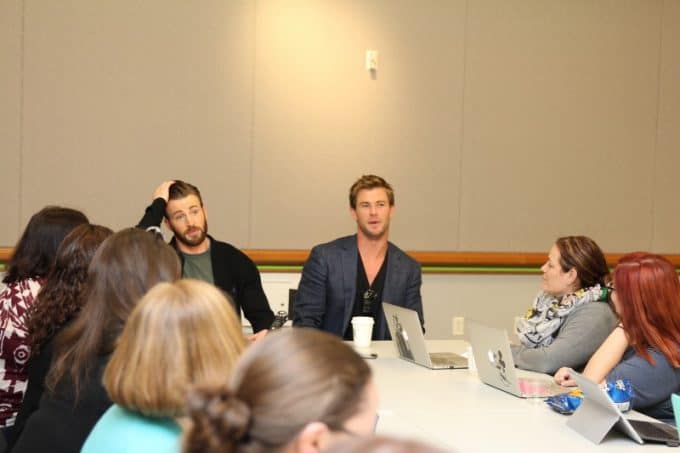 A little boy who is a victim of bullying.  He has a question for you. He wants to know if you think it's okay for a boy to have long hair?
CHRIS HEMSWORTH  ~ To have long hair?
Audience ~ because you're Thor.
CHRIS HEMSWORTH   ~ Of course it is.  God, yeah.  Absolutely. My dad had long hair for years. In fact, was asked to play for a football team, invited down to a big league in Australian football. It was quite a big opportunity. And the coach said, yeah, cool but you've got to cut your hair because he had a ponytail.
And he said no and walked away. And gave up that dream and did something else, honestly.
CHRIS EVANS  ~ Wow.
CHRIS HEMSWORTH   ~ And what was really kind of impressed me --.  And he, I think part of him sort of says, I should have just cut my hair.  But, you know, moral point and I think absolutely.  God, why not?  What is the issue there? And I think people who --, if anyone is narrow-minded enough to and limited in their thinking to think that that is an issue or you know, then they've got the problem. And you wait, in a few years' time that kid will understand that that other kid has larger problems, you know?
CHRIS EVANS  ~ Anytime I see a kid with long hair I'm like, that kid is so much cooler than anything I have ever was.
CHRIS HEMSWORTH  ~ Girls love long hair so tell him that.  Yeah, there you go.  He'll be fine. He's going to clean up in a few years' time.  And that bully who's teasing him is going to get nothing.
CHRIS EVANS   ~ Yeah.
How much fun was it to have the scene around Thor's hammer?
CHRIS EVANS  ~ It was a good scene.
CHRIS HEMSWORTH   ~ Fine with me because I couldn't pick it up. It was great. It was good to see us all in normal clothes and not you know, being superheroes. And for me personally you know, Thor can get so kind of stuck being the godly you know, prince or king or whatever he is.  And, I can't keep up either.  You know, it's nice to be in civilian clothes. And what do these guys do when they're not saving the world?
You know, I think people --.  It's relatable for people in the audience. And that was exciting to read and be a part of.
CHRIS EVANS  ~ Well said.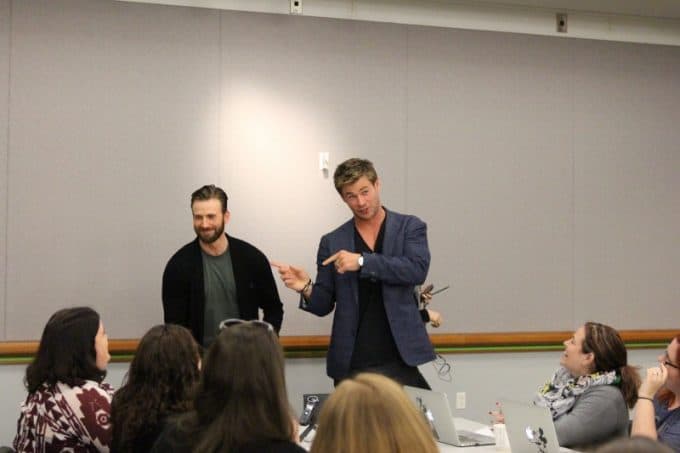 Do you guys hang out after the movie?
CHRIS EVANS  ~ Oh yeah.
CHRIS HEMSWORTH   ~ We try not to.  We try to save it for the screen.
CHRIS EVANS  ~ I mean, truly sick of everybody.  No, absolutely. I mean, that's one of the best parts of this job. I mean, any movie you're going to get stuck doing a franchise with there's a lot of variables that could go south whether or not the movie --.  I mean, the movies could just be lousy or you could hate the director or you could hate the cast.  Luckily, I don't know how it happened but none of that has happened.  We got great movies, love the directors and the cast has become family. So absolutely. Outside of filming we all hang out, we all cause trouble.
CHRIS HEMSWORTH  ~ I can't tell you how many people when I was about to do avengers went, oh, good luck on that set.
CHRIS EVANS  ~Don't work with Chris Evans.
CHRIS HEMSWORTH    ~ The egos, yeah, especially him.  But about like the egos and wouldn't want to maintain that set.  I swear to God, like it, I didn't see any of that and I still haven't.  And I don't know if no one wants to be the dick or the one who kind of you know,
CHRIS EVANS ~ I'll be the dick.
CHRIS HEMSWORTH  ~ But as Chris said, we got lucky and we do honestly have a great time.  You know?
Are you ready for the best part of the entire interview! I wish I had a video of this moment in time. WOW! Never thought I would hear these words during and interview. The entire room was in hysterics and couldn't stop laughing!
Do you ever kind of go into God-speak every so often?
CHRIS HEMSWORTH   ~ Just when things need to get done.  No.  Just when the lights go off, yeah.  Honey.
CHRIS EVANS   ~ Best answer ever.  There's no answer that is going to be better than that one ever.  I was going to make a horrible joke about like putting the cap back on the toothpaste.  That is so much better.  Oh man, I'm not Thor.  There it is.  That's the best answer of the day.
CHRIS HEMSWORTH  ~ Honey, let's bring the thunder.  Too far? Too far?
CHRIS EVANS   ~ Oh, Jesus.
CHRIS HEMSWORTH  ~ Let's make it rain in here.
CHRIS EVANS   ~ That's phenomenal.  God.  What's Cap speak?  Uh.
CHRIS HEMSWORTH   ~Let's talk about this.
CHRIS EVANS ~Right this way.  Least sexy ever.  Jesus.  God.
Marvel Studios presents "Avengers: Age of Ultron," the epic follow-up to the biggest Super Hero movie of all time. When Tony Stark tries to jumpstart a dormant peacekeeping program, things go awry and Earth's Mightiest Heroes, including Iron Man, Captain America, Thor, The Incredible Hulk, Black Widow and Hawkeye, are put to the ultimate test as the fate of the planet hangs in the balance. As the villainous Ultron emerges, it is up to The Avengers to stop him from enacting his terrible plans, and soon uneasy alliances and unexpected action pave the way for an epic and unique global adventure.
Marvel's "Avengers: Age of Ultron" stars Robert Downey Jr., who returns as Iron Man, along with Chris Hemsworth as Thor, Mark Ruffalo as Hulk and Chris Evans as Captain America. Together with Scarlett Johansson as Black Widow and Jeremy Renner as Hawkeye, and with the additional support of Don Cheadle as James Rhodes/War Machine, Cobie Smulders as Agent Maria Hill, Stellan Skarsgård as Erik Selvig and Samuel L. Jackson as Nick Fury, the team must reassemble to defeat James Spader as Ultron, a terrifying technological villain hell-bent on human extinction. Along the way, they confront two mysterious and powerful newcomers, Pietro Maximoff, played by Aaron Taylor-Johnson, and Wanda Maximoff, played by Elizabeth Olsen and meet an old friend in a new form when Paul Bettany becomes Vision.
Written and directed by Joss Whedon and produced by Kevin Feige, p.g.a., Marvel's "Avengers: Age of Ultron" is based on the ever-popular Marvel comic book series "The Avengers," first published in 1963. Louis D'Esposito, Alan Fine, Victoria Alonso, Jeremy Latcham, Patricia Whitcher, Stan Lee and Jon Favreau serve as executive producers.
Get set for an action-packed thrill ride when The Avengers return in Marvel's "Avengers: Age of Ultron" on May 1, 2015.
Additional Marvel Articles