Easy two ingredients Incredible Hulk Drink recipe is a great green cocktail! All you need is Hpnotiq and Hennessey to make this great drink.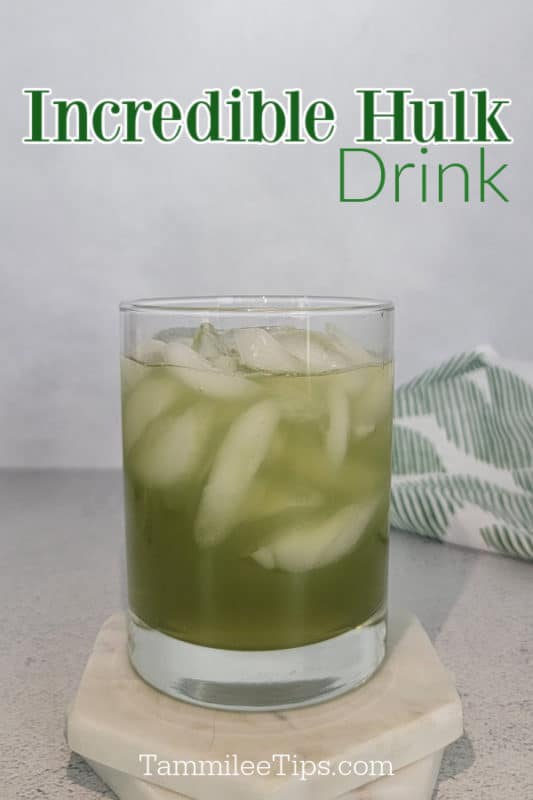 Incredible Hulk Drink
This drink has a pale green color depending on the proportion of hypnotiq to Hennessey that is mixed. The more hpnotiq the greener it will become.

One thing to know is it isn't the bright green that many photos make it look like. Even changing the proportions of the brown/tan color of the Hennessey does dilute the green vibrancy in this Incredible Hulk Cocktail.
We made this cocktail with equal parts Hpnotiq and Hennessey, and then changed the variation of amounts, and it never turned out as bright green color you see on the internet.
When you change the proportions of the drink, the flavor also changes. If you want more of a sweet taste, then pour heavier with the Hpnotiq.
Most of the bright green drinks look like they are mixed with Midori but that alcohol is not actually in this cocktail.
This drink was made in New York City by a great bartender Victor Alvarez at the Hpnotiq launch event held at the restaurant Justin. The restaurant was owned by Sean Combs "Diddy" before it closed.
One thing to note is this drink packs a Hulk like punch! It is 4 ounces of booze in one cocktail.
This green-colored cocktail is perfect for an adult superhero party or maybe for a Marvel Movie Night.
No need to smash anything or even shake this drink! You will love how quick and easy the instructions are!
This green cocktail would be fantastic for a Halloween Party!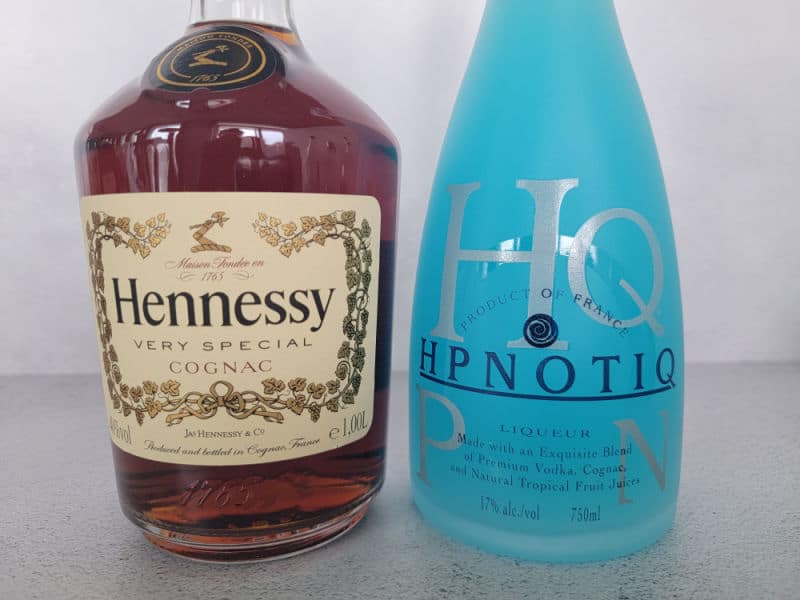 Ingredients
This is a quick overview of the simple ingredients that you'll need to make an epic Incredible Hulk Drink! Specific measurements and step-by-step instructions are included in the printable recipe card at the bottom of the post.
Optional Garnish - Lime slice or lime wheel
Hpnotiq - This blue liqueur is a blend of vodka, cognac, and tropical fruit juices including passionfruit and mango. 17% ABV (30 proof)
Hennessey - We use Hennessy V.S which is matured in oak barrels. The flavor profile includes vanilla, spices, and caramel notes with an oaky finish.
Equipment Needed
Rocks/Lowball Glass - The rocks glass, also known as a lowball glass, has a thick, flat bottom and fits in your hand, making it perfect for a drink heavy in ice and liquor.
Ice Cube Maker - This ice cube maker produces the most fantastic ice cubes, perfect for cocktails. It easily fits in the freezer, and you can make up to three trays of round-ball ice at a time.
Bar Spoon - Bar spoons help to create layers in the cocktail shot. They fit perfectly into the cocktail shot glass.
OXO Angled Jiggers - These are our go-to measuring tools for cocktails. They work perfectly for pouring in layers for cocktails.
How to make an Incredible Hulk Drink
I've included complete instructions in the printable recipe card at the bottom of the post, but here's a quick version.
Total Time - 2 minutes
Step 1 - Fill a low ball/rocks glass with ice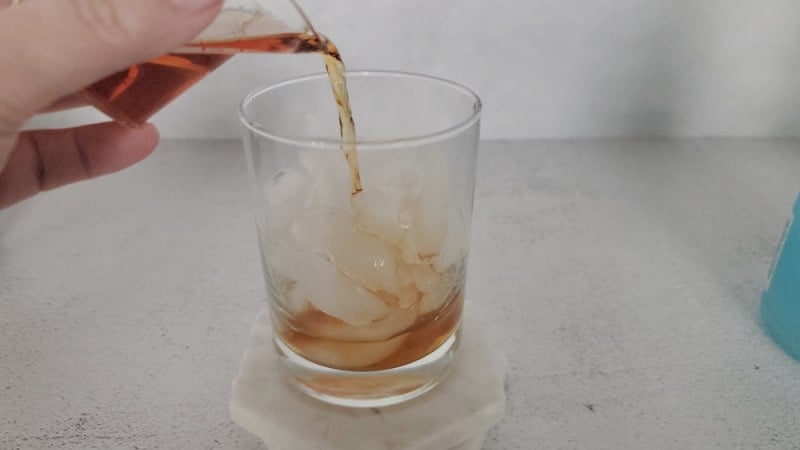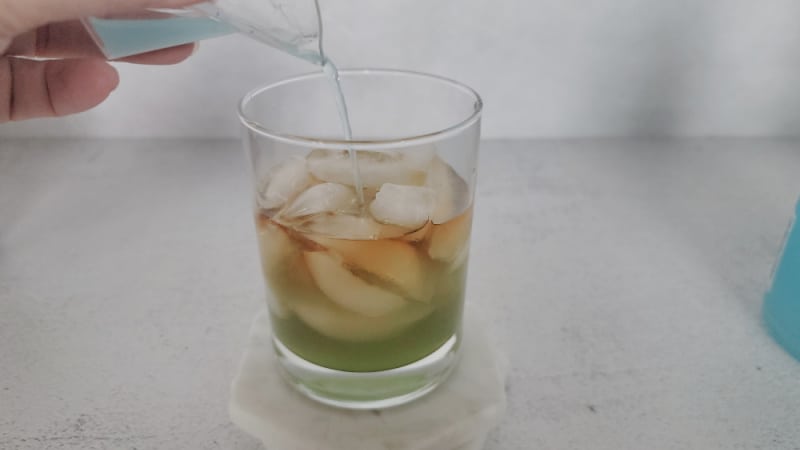 Step 2 - Pour in Hpnotiq and Hennessey. Use a bartending spoon to stir together.
Enjoy
We use equal parts of Hpnotiq and cognac, but you can change the proportions to create a more fruity drink.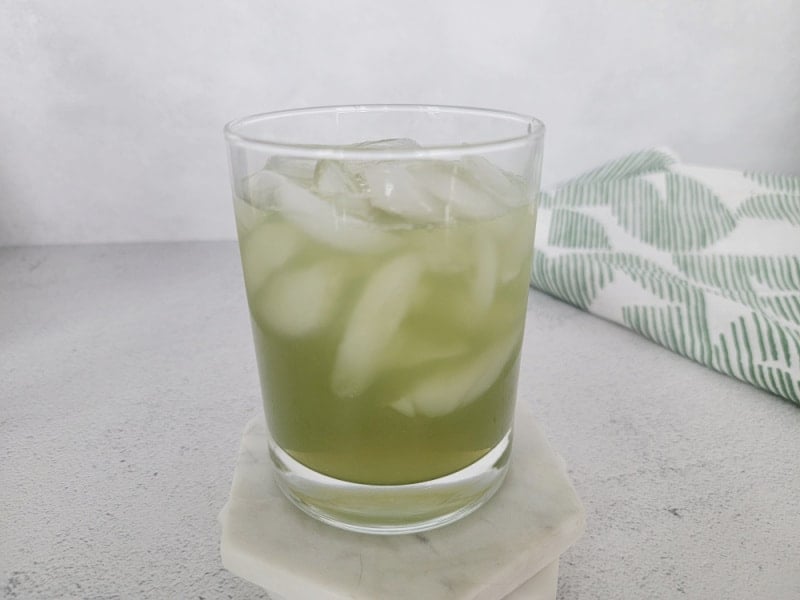 Preparation and Storage
Substitutions - Add tonic water or club soda to make this drink bubbly. Some versions of this Incredible Hulk cocktail call for a few dashes of orange bitters for additional flavor.
Don't have Hennessy? Just use any other cognac you have. The fruity flavor of the Hpnotiq overpowers a lot of the cognac flavor.
We don't recommend substituting the Hpnotiq, as the vodka-based liqueur is essential to this two-ingredient drink's green color and passion fruit and mango taste.
Jello Shots – Make Incredible Hulk Jello shots by mixing the ingredients with lime jello. Combine ½ cup cold water with ¼ cup of Hpnotiq and ¼ cup of Hennessey. Combine 3-ounce lime jello with one cup of boiling water, stir ingredients, and pour into jello shot cups. Refrigerate until set.
Blended/Frozen Drink–We've seen blended versions made slushie-style with chunks of ice or pre-frozen limeade.
Vegetarian/Vegan Options - According to Barnivore, a vegan beer, wine, and liquor guide, Hpnotiq Liqueur and Hennessy Cognac are made with no animal or animal by-products and are thus vegetarian and vegan-friendly.
Gluten-Free - Vodka, cognac, and fruit juice, the ingredients in Hpnotiq, do not contain gluten. Similarly, pure, distilled cognacs such as Hennesy are grape or fruit-based, making them safe for a gluten-free diet.
Alcohol-Free Option – Fortunately for those who don't consume alcohol, there are kid-friendly recipes inspired by the Marvel comic character. This recipe uses Sprite, piña colada mix, and green and purple food coloring, while this one swaps the cocktail mix for lemon-lime Kool-Aid mix, purple food coloring for yellow food dye, and adds fresh limes.
Make it Spicy – We haven't seen any spicy versions of the Incredible Hulk cocktail.
Smaller Serving Size – This recipe makes one cocktail, but you can make a petite version by lowering the outlined proportions in the recipe card below.
Larger Group/More Servings – Serve this cocktail in a pitcher or punch bowl for larger groups. Just increase the ingredients proportionately.
Sugar-Free – We haven't found any sugar-free substitutes for this drink's Hpnotiq and Hennessy Cognac.
Recipe Tips
This green cocktail is also called a Green Eyed Monster, Shrock, or Hip and Hen.
We do not use a cocktail shaker for this recipe.
We use both ingredients in a 1:1 ratio. However, Hpnotiq and Hennessy have unique flavor profiles and characteristics that adjust easily to taste or desired effect. Add more Hpnotiq for a lighter, brighter green drink, and increase the amount of cognac if you prefer a boozier, honey-hued cocktail.
Nutrition information, including calories, protein, calcium, carbohydrates, fiber, vitamin c, potassium, cholesterol, sodium, trans fat, monounsaturated fat, polyunsaturated fat, and more, will vary depending on the products used.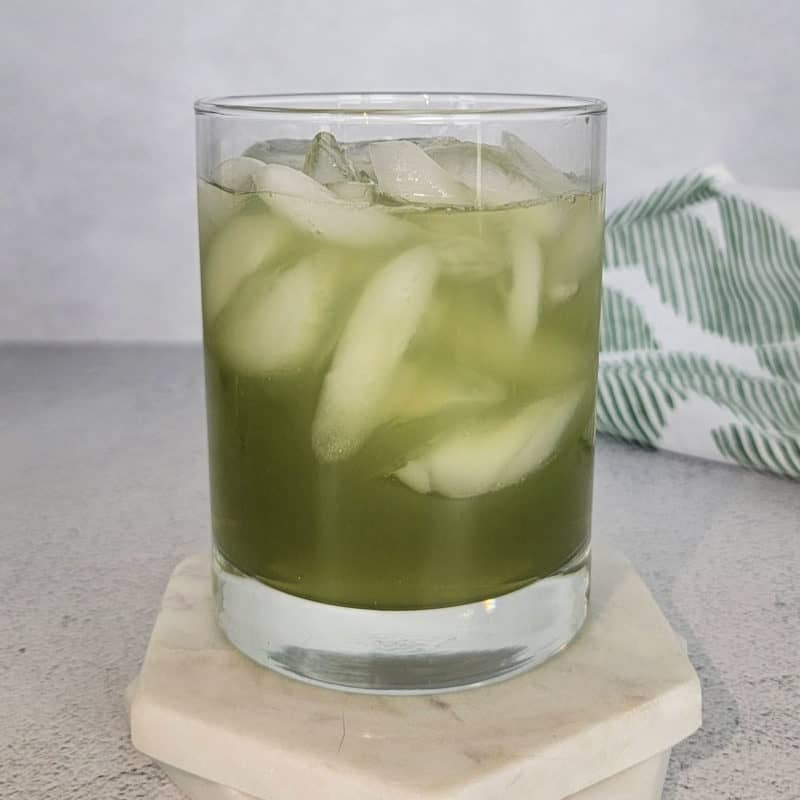 When to serve
Marvel Movie Marathon
Halloween Party
Cocktail Party
Barbecue
St. Patrick's Day
The bright-eyed Incredible Hulk cocktail is at home at any celebration of the color green, such as St. Patrick's Day. These suggestions pair well with the drink's oaky vanilla and mango-passion fruit notes.
Sides
Main Dishes
Desserts
Drinks
These yummy boozy libations feature similar fruity flavors:
Great Cocktail Recipes
Don't miss all of our Green-Colored Cocktails  and St. Patrick's Day cocktails!
Funny Drink Names - Check out our entire collection of cocktails and mocktails with funny names.
Check out all of our Cocktail Recipes
Do you love recipes? Check out our copycat recipes, dessert recipes, and our CrockPot Recipes.
Follow Tammilee Tips on MSN, Facebook, Instagram, Pinterest, and Twitter for all of our recipe posts.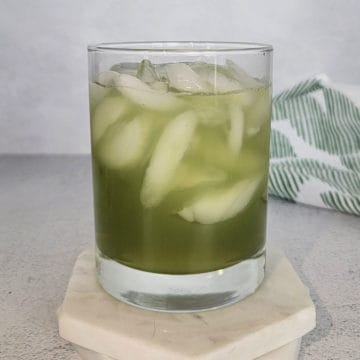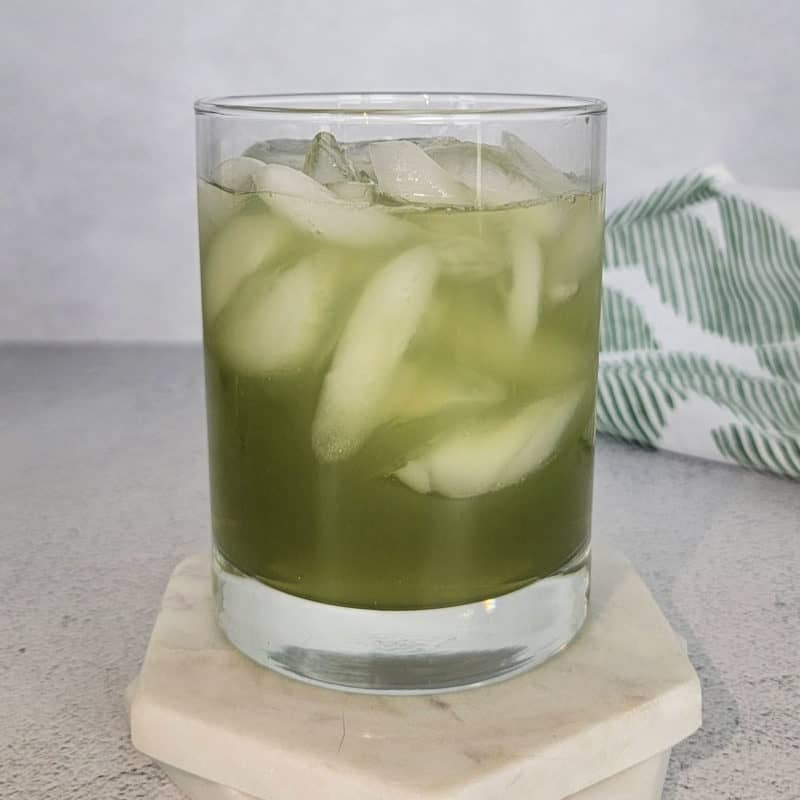 The Incredible Hulk Drink
Easy two ingredient Incredible Hulk Drink is a fantastic fruity cocktail
Print
Rate
Ingredients
2

Ounce

Hpnotiq

2

Ounce

Hennessey Cognac
Instructions
Fill a lowball glass with ice.

Pour in Hpnotiq and Hennessey, stir with a bartending spoon.
Nutrition
Nutrition Facts
The Incredible Hulk Drink
Amount Per Serving
Calories 262
% Daily Value*
Sodium 1mg0%
Potassium 2mg0%
Iron 0.03mg0%
* Percent Daily Values are based on a 2000 calorie diet.