During my second trip to Thailand, I finally had the opportunity to explore the Grand Palace in Bangkok. Visiting the Grand Palace has been on my bucket list ever since I saw pictures of the grounds. WOW!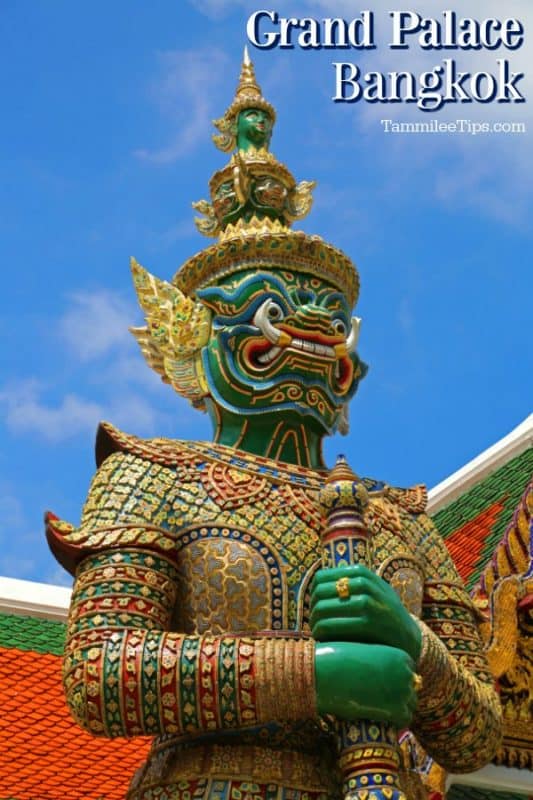 Grand Palace in Bangkok, Thailand
Photos really don't prepare you for the immense size of the Grand Palace. I was so in awe during our tour of the statues, buildings, and architecture within the Grand Palace. I could have easily spent hours wandering around and taking pictures.
One thing to know if you are planning a visit to the Grand Palace in Bangkok is to make sure you are dressed appropriately or they will not let you in the gate. There are security guards next to the main gate that checks everyone who walks in. You have to have your shoulders and knees covered.
During my visit, it cost 500 Thai Bhat to enter the Grand Palace. We were advised to not bring in any large bags or extra bags because it extends your time in security.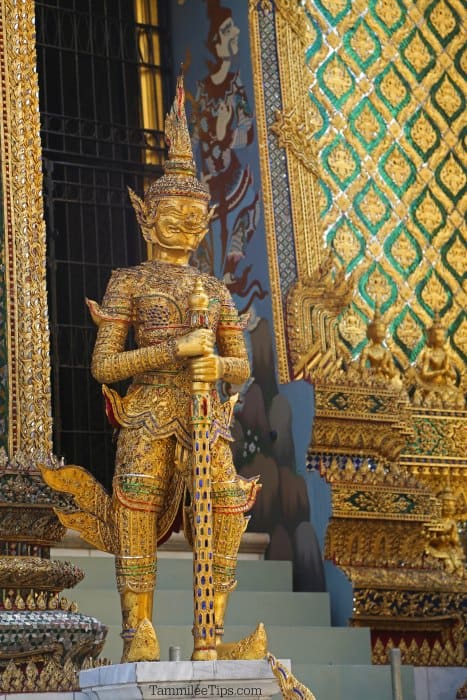 Make sure you have extra camera batteries and memory cards for your visit! I ended up taking 100's of photos during our tour.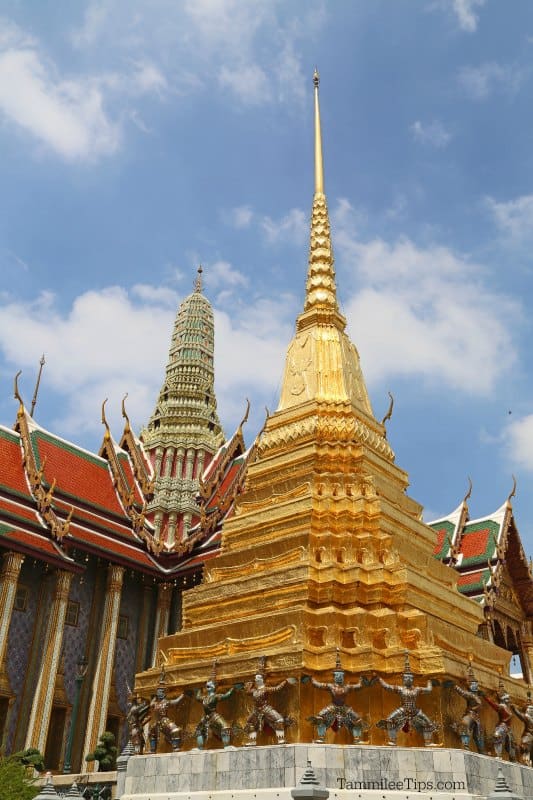 The Grand Palace complex was established in 1782 and it consists of the royal residence, throne halls, government offices, and the Temple of the Emerald Buddha.
The Grand Palace covers an amazing 218,000 square meters and is surrounded by four walls, 1900 meters in length.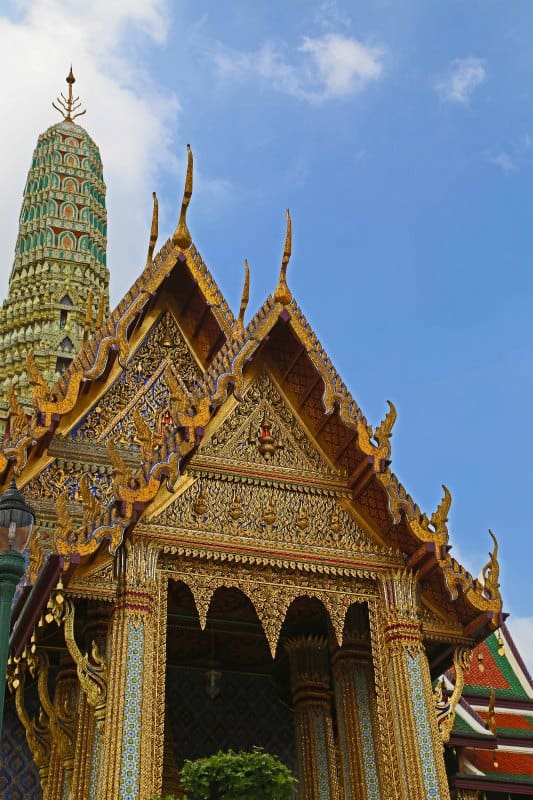 Depending on the time of year you visit the Grand Palace be prepared for large crowds and heat. There is some shade but a lot of the areas you walk through are out in the open. Even during October, it was really warm and we had to find the shade a few times.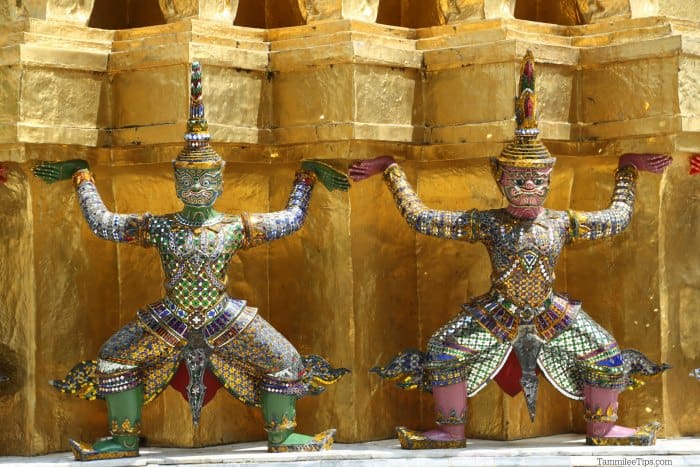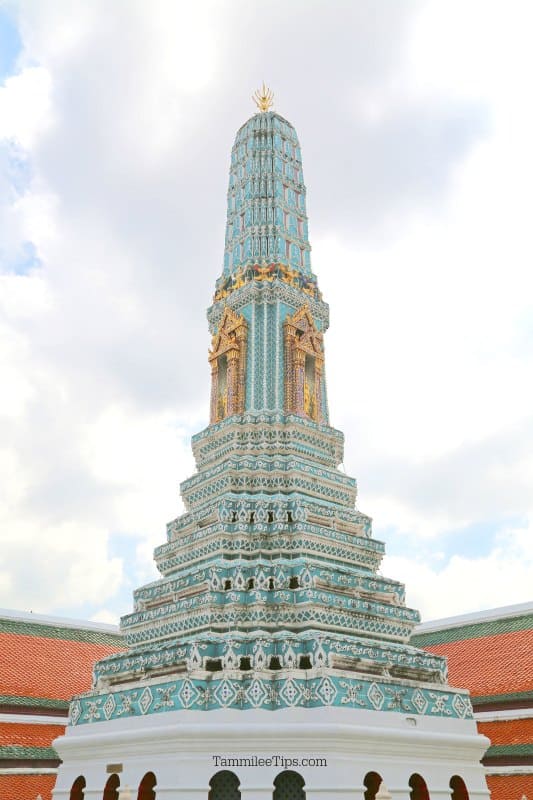 Within the Grand Palace is Wat Phra Kaeo. The temple is Thailand's holiest shrine, but unlike other Thai wats, there are no resident monks in Wat Phra Kaeo.
Wat Phra Kaeo is also known as the Temple of the Emerald Buddha. There are no photos allowed inside the temple. It is well worth taking the time to visit and reflect within the temple. There are lotus flowers outside the temple that can be dipped in holy water and sprinkled above your head to signify a blessing.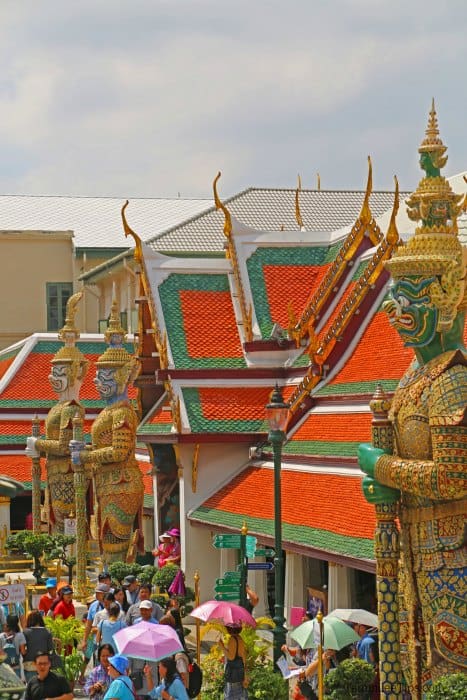 Tips for planning a trip to the Grand Palance Bangkok, Thailand!
-Be prepared for the crowd! The earlier you get to the Grand Palace the better! Plus if you are there in the heat of the day it can get a bit draining.
-Make sure you have dressed appropriately! They do check at the entrances to make sure your shoulders and knees are covered. Many guests have turned away and had to buy a last-minute outfit at a store across the street.
- Bring a large bottle of water with you. While I was there I did not see anyplace to buy water on site. The complex is HUGE and you need to make sure you are hydrated.
-Bring enough Bhat to cover your entrance fee. It was $500 Baht when I visited in 2015/16. The Grand Palace only excepts cash.
-Be aware that many taxi drivers, tuk-tuk drivers, and random people will tell you that the palace is closed and try to convince you to go to another area. Forge ahead and visit the Grand Palace. This is one of the top travel scams in the area.
-Bring a hat and sunglasses! Trust me you will be so happy you have them.  Sunscreen is also your friend.
Overall, plan to have an amazing time and be in awe of the Grand Palace Bangkok! Give yourself more time than you think you are going to need!
I could have spent days wandering around the Grand Palace taking photos. Also make sure you have a charged battery, extra memory cards, and a smile!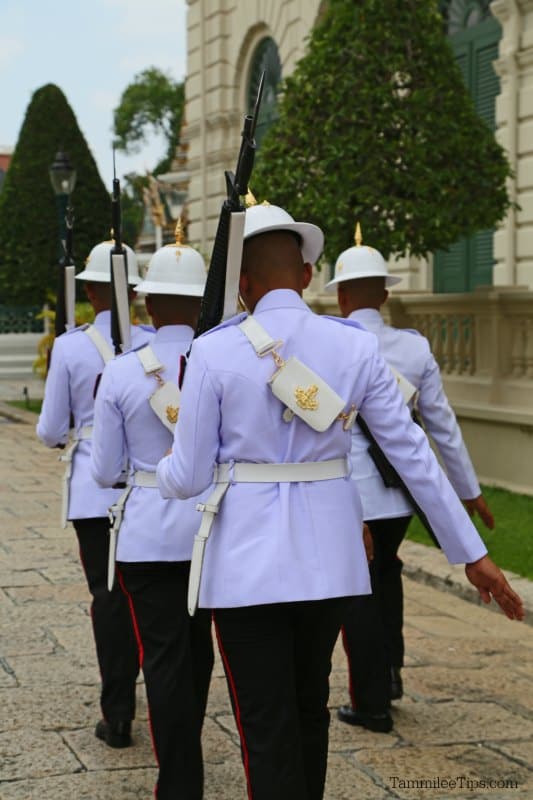 Additional Thailand Travel Articles
St. Regis Bangkok Afternoon Tea
Check out all of our Thailand Travel Guides