Last week we talked about the boat ride I took along the Chayo River in Bangkok. Today I am excited to share what visiting Wat Arun in Bangkok, Thailand was like. This temple is truly spectacular.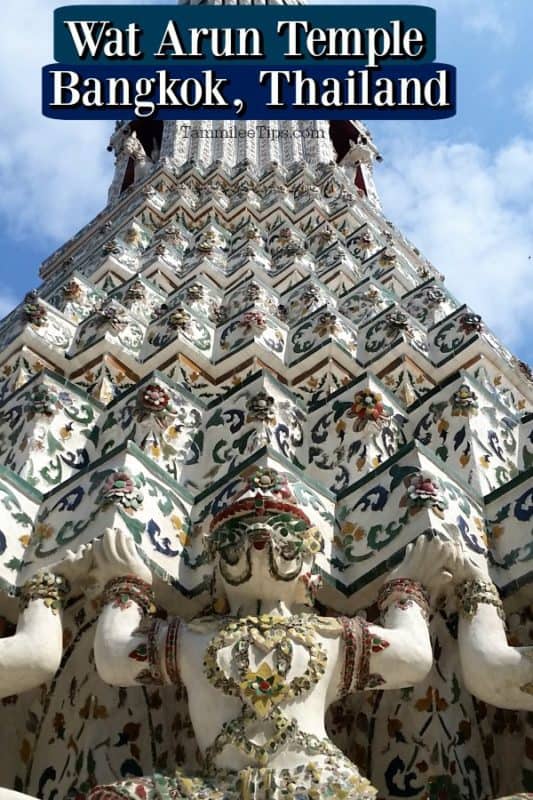 Wat Arun Temple, Bangkok
A large portion of the Wat Arun temple was under rehabilitation during my visit. Our guide said that this was ongoing work to take care of the temple.
Wat Arun Ratchawararam Ratchawaramahawihan is locally known as Wat Chaeng.
This epic temple is located on the west (Thonburi) bank of the Chao Phraya river.
Wat Arun means The Temple of Dawn.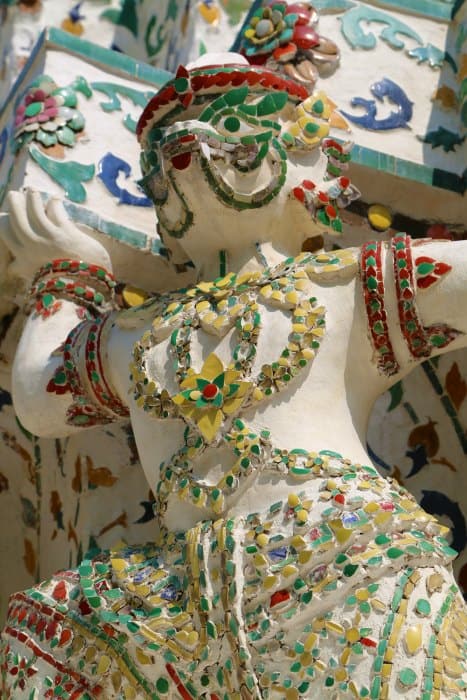 The ornamentation you see on the prang pictured above was made with broken pieces of porcelain. Most of the porcelain decorations were donated by local people. The flowers above and below the "demon bears" are said to evoke the vegetation of Mount Meru, home of the gods.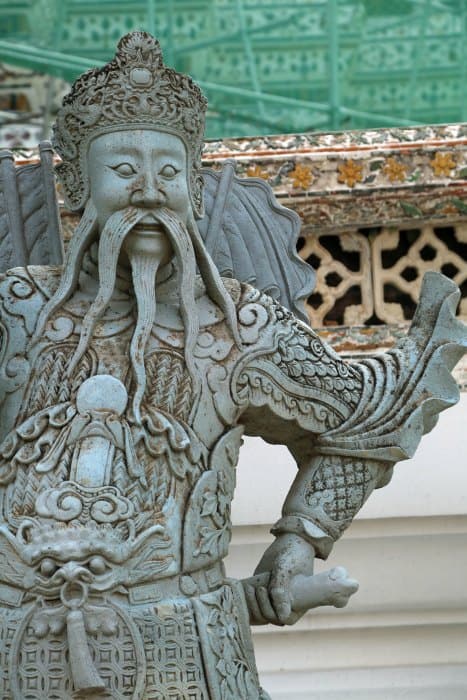 These Chinese guards are found at the entrances to the terrace. There are eight entrances to the temple area.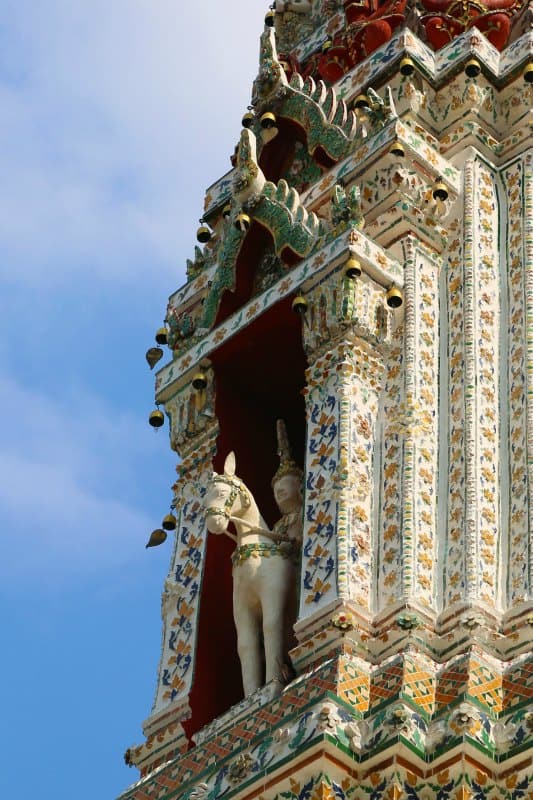 Inside the niches of each of the minor prangs, you will see the statue of Nayu, the god of wind, on horseback.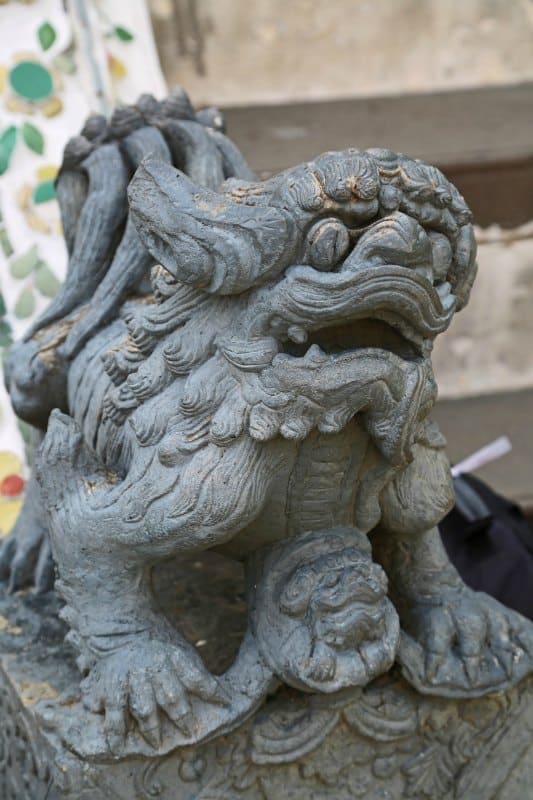 There are some small stands on-site selling souvenirs, water, snacks, and costumes. We saw a few people dressed up in regalia that you could have your photo taken with.
The Central Monument of Wat Arun was undercover during our visit because of the rehab work. Unfortunately, our guide did not tell us how long this work would be going on.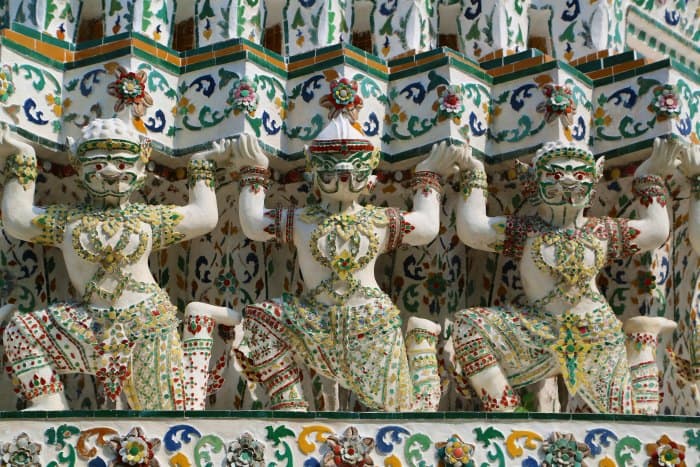 It is still worth visiting Wat Arun. The temple complex is gorgeous and makes for amazing photos.
Travel Tips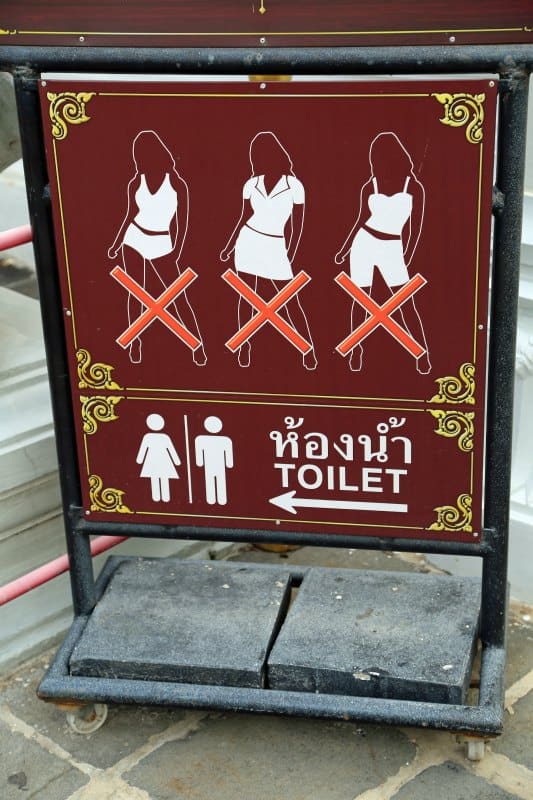 Like all temples within Thailand, you need to be properly dressed to visit Wat Arun.
There is a restroom on site but be prepared to pay a few Bhat for access and toilet paper.
The temple complex is open every day between 8 am – 5:30 pm.
How to get to Wat Arun?
You can take the ferry from the Tha Tien Pier near Wat Pho and cross to the other side.
From Saphan Taksin boat pier you can take a riverboat that stops at Pier 8. From here, a small shuttle boat takes you from one side of the river to the other.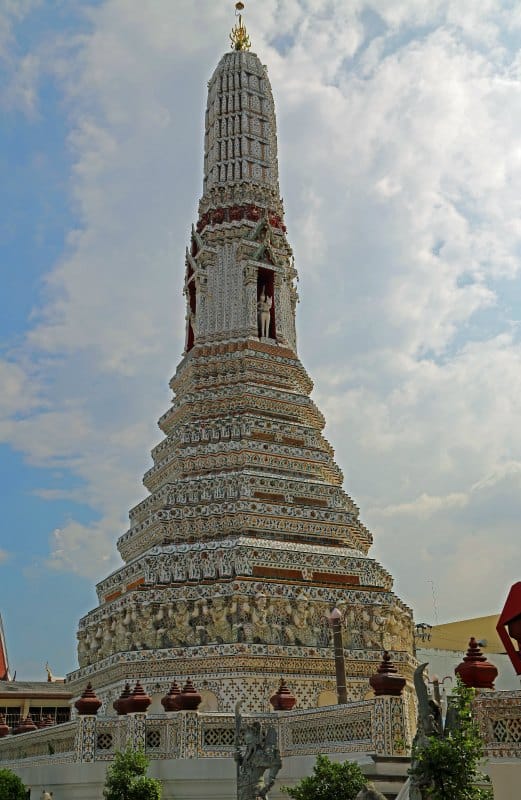 Additional Thailand Travel Resources
Check out all of our Thailand Travel Guides