If you are like me the idea of someone jumping out at you dressed up as a scary clown or carrying a chainsaw is enough to freak you out. Actually going to a place where this is reality is pushing yourself outside of your comfort zone by a lot. Don't worry I felt the same way heading into my trip to Halloween Horror Nights at Universal Orlando Resort. I was plain and simply freaked out and couldn't believe I was actually putting myself in the position of going to this event. Now that I have survived the event I wanted to share our Halloween Horror Nights at Universal Orlando Resort Survival Guide.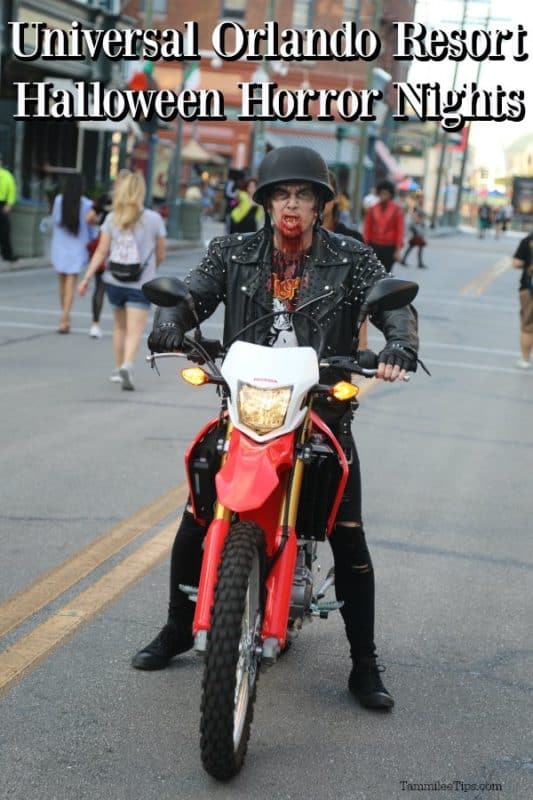 Halloween Horror Nights at Universal Orlando Resort Survival Guide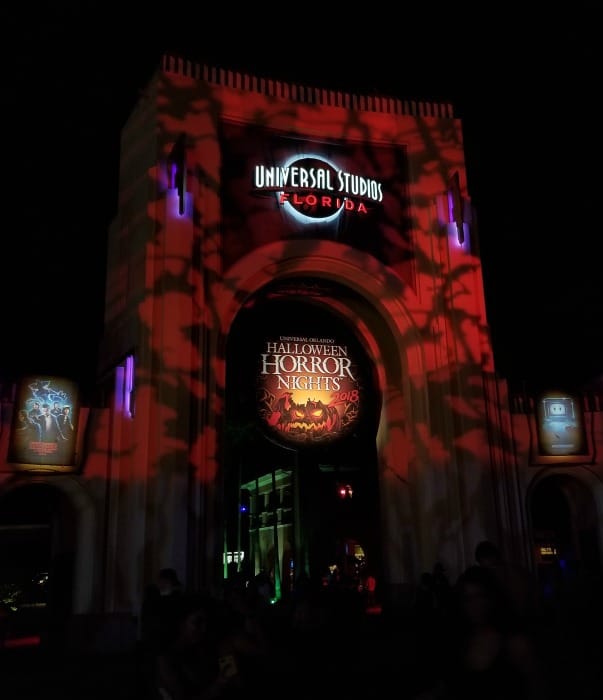 This is all the information you need to know to have a great time at HHN and not pee your pants hopefully in fright. Though a friend did tell me her best tip was to wear pantyliner's and to cover your eyes if you have too. LOL
Universal Orlando's Halloween Horror Nights 2018 runs for a record-breaking 36 select nights from September 14 to November 3!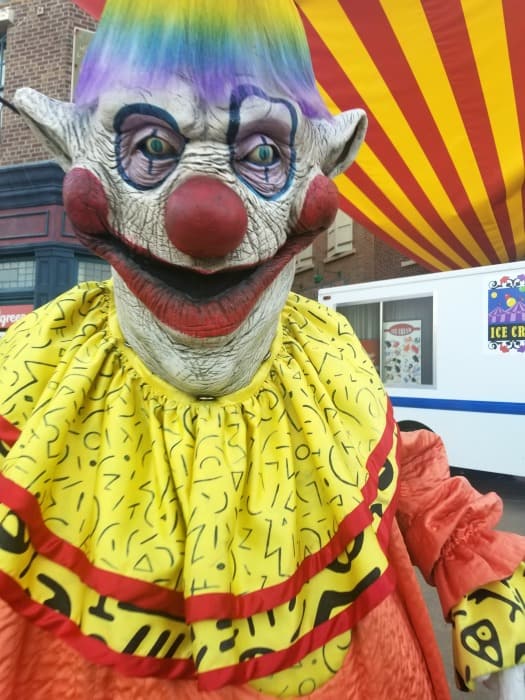 My biggest tip is to buy your tickets early! This event is extremely popular so you want to make sure you can get tickets!!!
If you are already visiting the park during the day STAY IN THE PARK! Yes, I know the park closes early to prep for HHN but you can stay in specific areas of the park during the transition time. We stayed at Finnegan's Irish Restaurant and it was fantastic. We were able to get a great meal and a drink or two before heading right into the event.
Get the Halloween Horror Nights express pass! This will help make sure you get to all of the houses you want to visit and still have time for the scare zones and Academy of Villains.
The Stranger Things house was SUPER POPULAR the night we visited. Head to this house first to get in line as quickly as you can. We saw wait times from 15 to 105 minutes as the night went on.
Go early! Even if it is daylight out the houses are still dark and scary! Arrive early and miss the mad rush! Sure there will be a line at the front right when the park opens but trust me people keep pouring into the park. When we left late in the evening there were still people just getting to the park.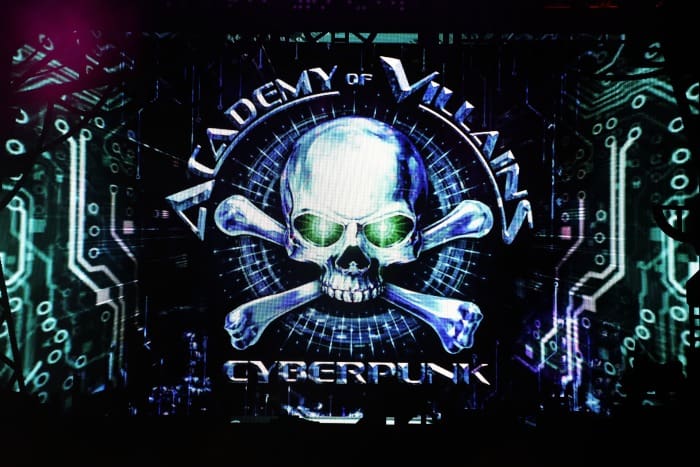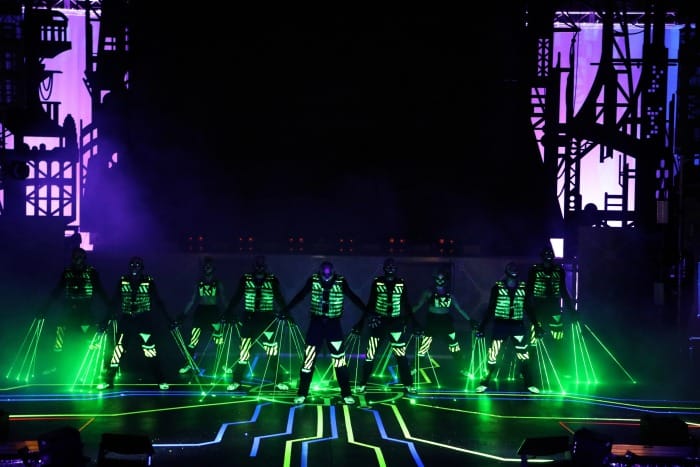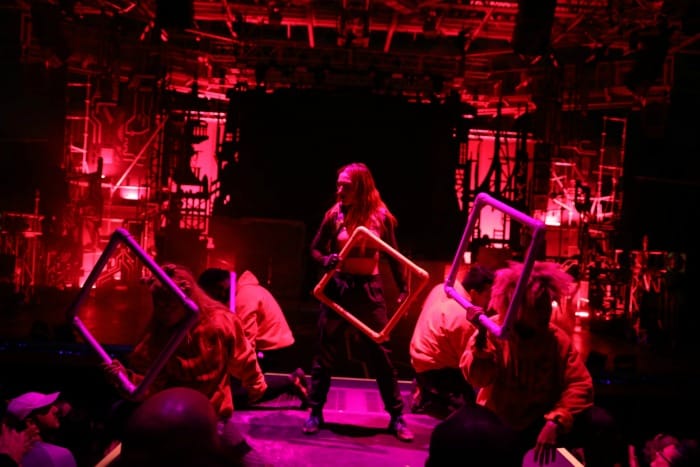 Academy of Villains: Cyberpunk
Our first piece of advice is to go to a minimum of one of Academy of Villians: Cyberpunk shows if not two or three. I wish we would have gone to more than one of them. The show is truly fantastic! High energy and I promise you won't be able to look away.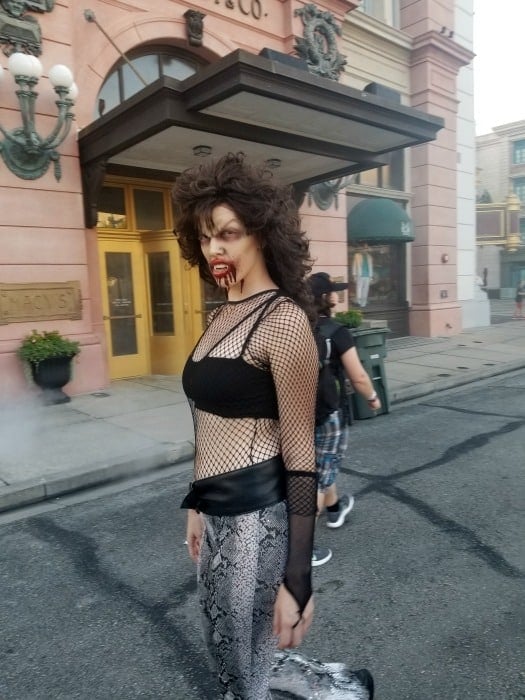 Halloween Horror Night Houses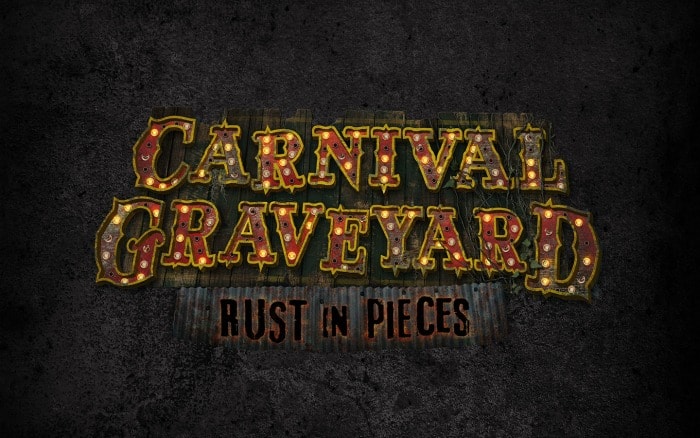 Carnival Graveyard: Rust in Pieces

.
As guests trespass into a dilapidated carnival, they will find a maze of decayed rides and games – and soon discover they are not alone. Horrifying guard dogs, a grotesque 'tunnel of love', gleefully vicious performers loaded with deadly weapons fabricated from old rides and more will stalk guests' every move as they try their best to escape.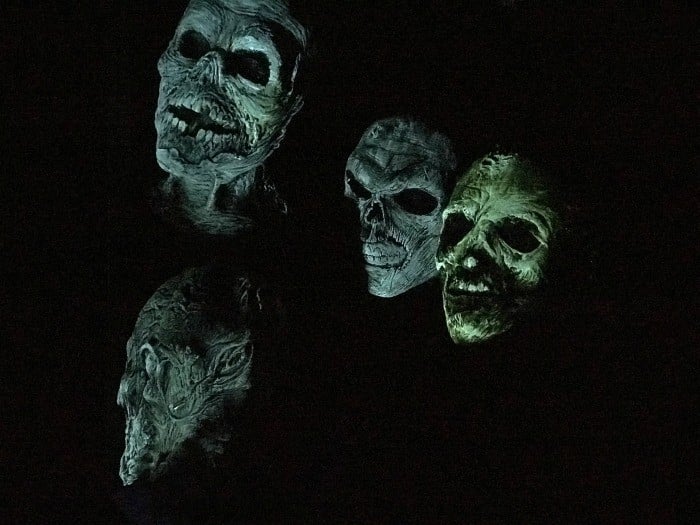 Dead Exposure: Patient Zero
Guests will be thrust into Paris in 1982, where a virus is turning people into vicious zombies. As they try to escape the living dead, they will be engulfed in darkness where they will only see what's lurking in the shadows under bright flashes of UV lights. But beware – guests will never know where someone or something may be hiding…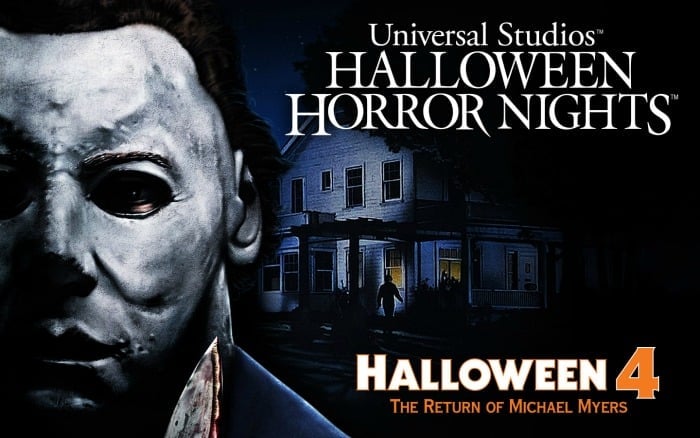 Halloween 4: The Return of Michael Myers
Guests will follow Myers as he escapes the mental hospital, encounters his first victims at Penney's Gas Station and Diner, and wreaks terror on Haddonfield, all set to Alan Howarth's ominous score. The maze will include horrifying scares by Myers in his classic featureless white mask and navy jumpsuit, with guests dodging his bloody knife at every turn. Halloween fanatics can expect a cameo by Myer's psychiatrist Dr. Loomis and other famous characters from the film as they try to escape the bloodbath.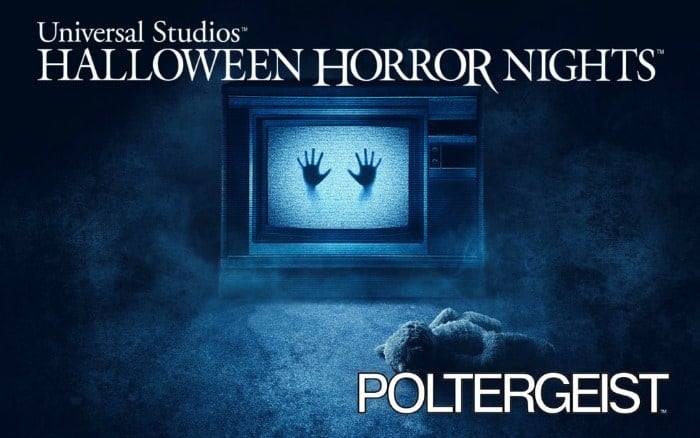 Poltergeist
The mazes will lure guests to the Freeling family house built atop a cemetery where malicious ghosts threaten the lives within.  From the underground graveyard to ghostly apparitions, guests will come face to face with infamous scenes from the film including the iconic flickering TV screen, menacing Beast from beyond and pool filled with floating corpses. As guests cross into the 'light,' they will find themselves surrounded by a surreal landscape of vanishing walls, floating furniture and a creepy clown with a menacing smile.  In a rush against time, guests will be forced to make it back to the world of the living or forever be trapped…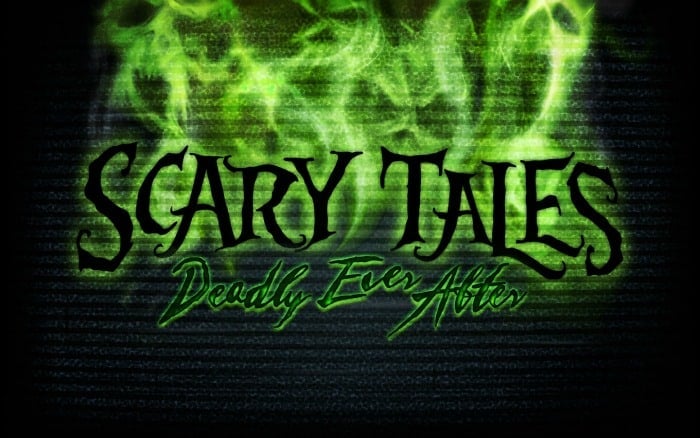 ScaryTales: Deadly Ever After
Guests will encounter The Wicked Witch of the West, who has seized control of the fairytale realm and is tormenting treasured storybook characters in hideous and cruel alternate storylines. As guests venture through this nightmarish bedtime story, they'll see familiar characters now turned evil including Hansel and Gretel salivating for human flesh, a splattered Humpty Dumpty and more.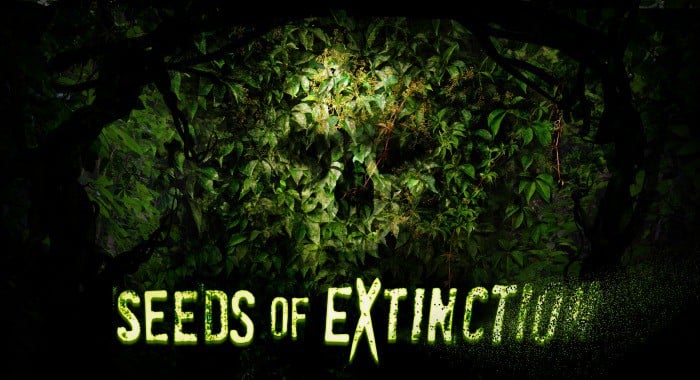 Seeds of Extinction
Seeds of Extinction places guests on Earth moments after a meteor has hit, causing immediate mass destruction across the entire planet. Guests will come face-to-face with horrific, humanoid plants, strangling vines, deadly blooms and more. They will have no place to hide as they find a way to escape the invasive vegetation overtaking the place they once called home.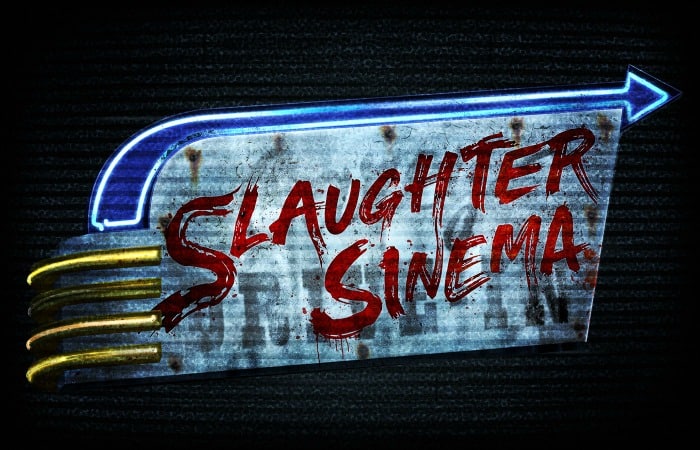 Slaughter Sinema
– an all-new original haunted house
Guests enter a decrepit drive-in movie theater and jump through the screens of original storylines filled with monsters and nightmares inspired by 80s horror B-movies. They will come face-to-face with terrifying creatures with razor-sharp teeth in Midnight Snacks 2: The House Swarming; deadly werewolf bikers in Devil Dogs; a lethal barber in Barber Chop and more.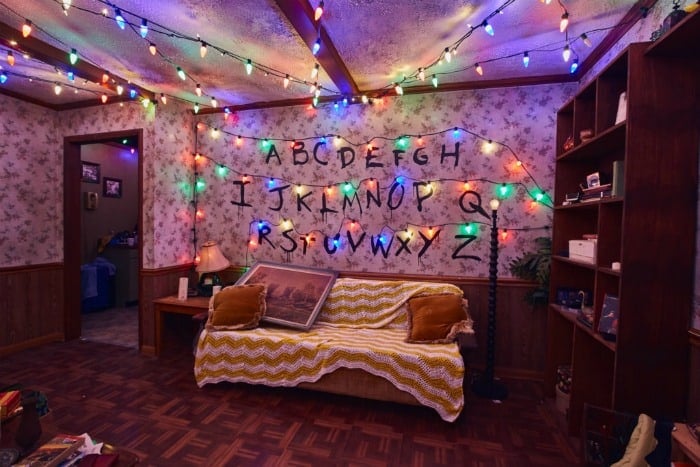 Stranger Things
Guests have the chance to brave the Upside Down and encounter iconic scenes, characters, and environments from season one of the critically-acclaimed series Stranger Things.  Also check out the Stranger Things themed food!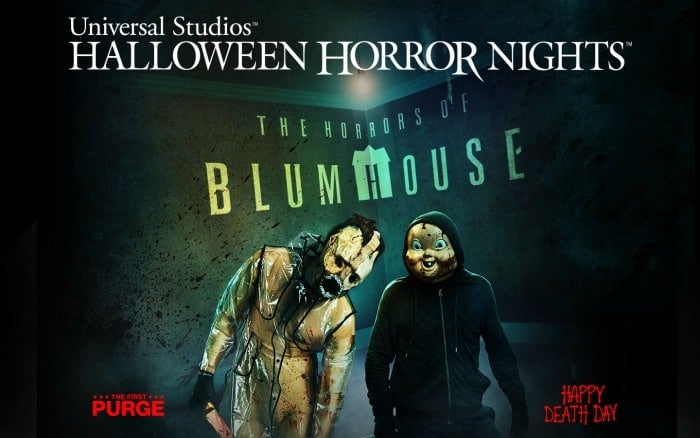 The Horrors of Blumhouse
Guests are brought face-to-face with the most gruesome scenes from the déjà vu thriller Happy Death Day, as well as from The First Purge, the newly-released prequel to The Purge series. In Happy Death Day, guests will be transported to the film's college town, where they will be forced to relive the last day of a student's life over and over again…until she breaks the murderous cycle.
Then, in The First Purge, guests will run for their lives as menacing citizens from the film hunt them as part of the first barbaric government experiment where all crime is declared legal for 12 hours.
Trick 'r Treat
"Trick 'r Treat" maze will transport guests to Warren Valley, Ohio on Halloween night to celebrate the holiday's dark traditions. Recreating some of the anthology's most iconic scenes, the disturbing new maze invites brave thrill-seekers to become entwined within the secrets of this sleepy suburban town.
Guests will experience some of the film's most grisly scenes and encounter hauntingly familiar characters. They will meander through Mr. Kreeg's infamous house, watch as college students viciously transform into bloodthirsty werewolves and dismember the town, as well as come face-to-face with Sam – the spirit of Halloween – who readies to punish those who break the holiday's tradition.
Halloween Horror Nights Scare Zones
There are 5 highly-themed Halloween Horror Nights scare zones this year. The scare zones were my favorite part of Halloween Horror Nights! They were truly amazing! We talked about going back for a 2nd night just to hang out in the scare zones for longer.
If you want some fun sit on a park bench and watch everyone get scared.  We sat for an hour near the Chucky scare zone and had so much fun watching people.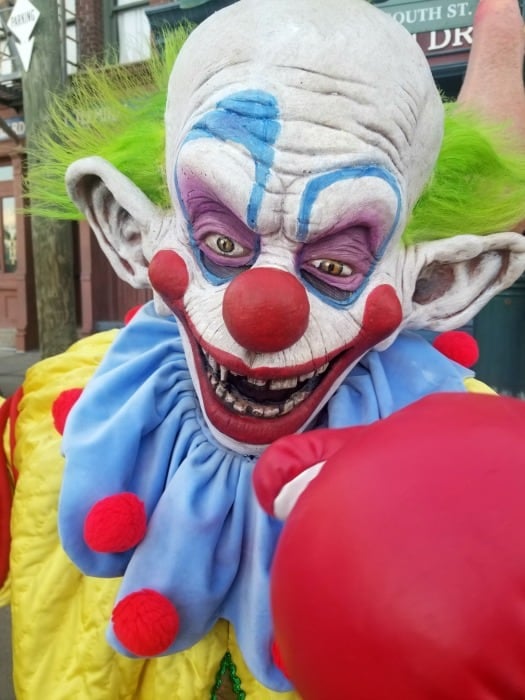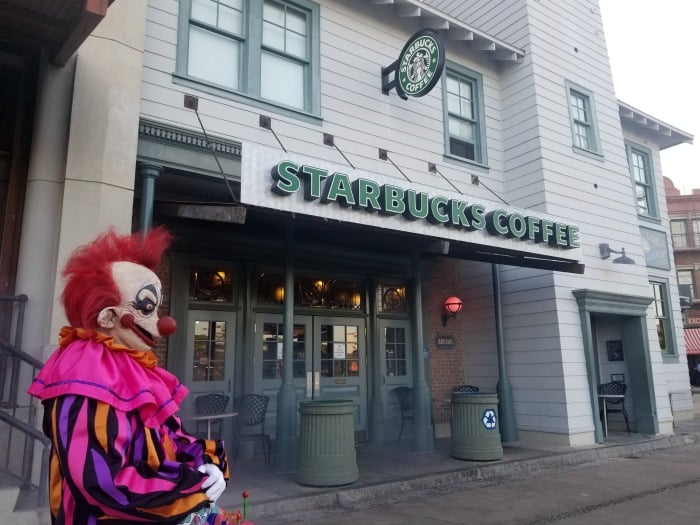 Killer Klowns from Outer Space
An interstellar circus tent filled with the otherworldly klowns from Metro Goldwyn Mayer Pictures' hit horror sci-fi film has landed in the streets of Universal Studios.
The sweet smell of cotton candy will invite guests inside – but they will soon realize that the treats are spun from unsuspecting victims, and they're next on the list. Guests will try to escape the killer klowns or face the wrath of their ray guns, which will turn them into grotesque cotton candy snacks.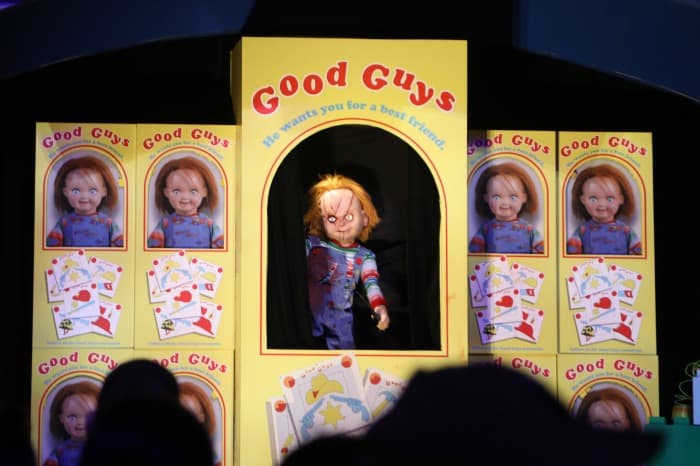 Revenge of Chucky
Guests will enter a toy fair turned lethal, filled with diabolical twists on childhood toys from the past. They will be stalked by possessed toys – such as murderous monkeys, a board game turned deadly, and more.
And, guests will come face-to-face with the world's deadliest doll.  You need to give yourself time to check out Chucky in person! WOW! The live commentary based off of the crowd is amazing. Keep an eye out for possessed toys that may creep up behind you.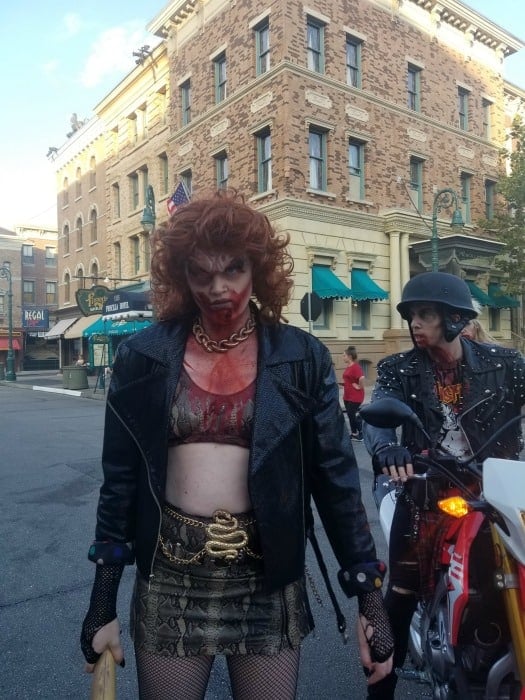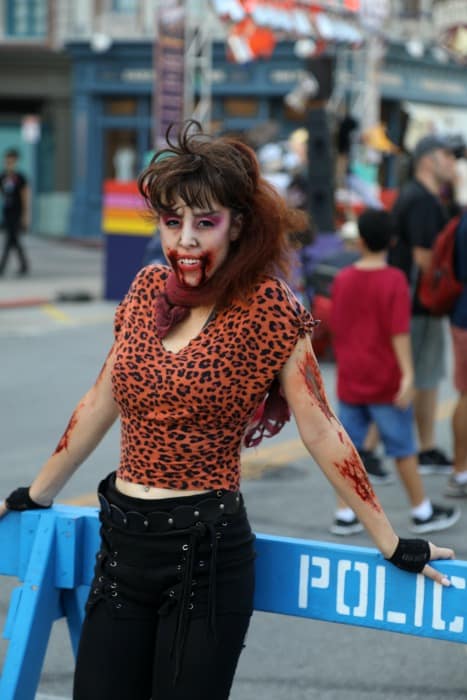 Vamp 85: New Year's Eve
Take a step back in time and check out the vampires from 1985 as they celebrate New Years' Eve! This area is amazing and a must-visit! Check out the New Years' Eve celebration you will not soon forget!
The Harvest
This scare zone is right after you walk through the main gates. Keep an eye out for pumpkin heads and creatures you won't believe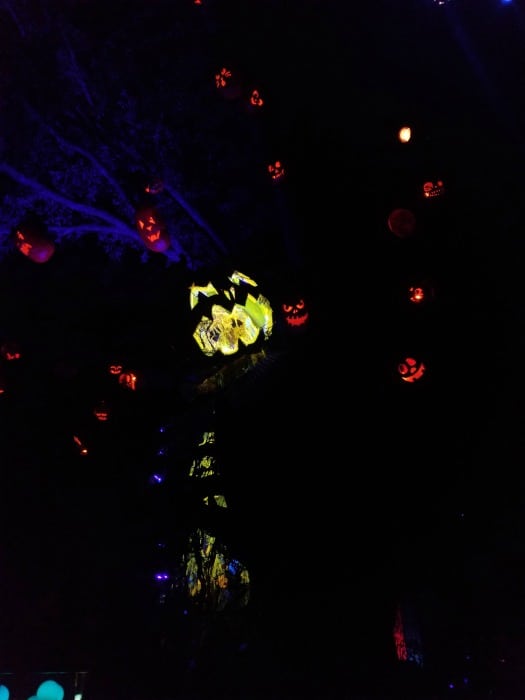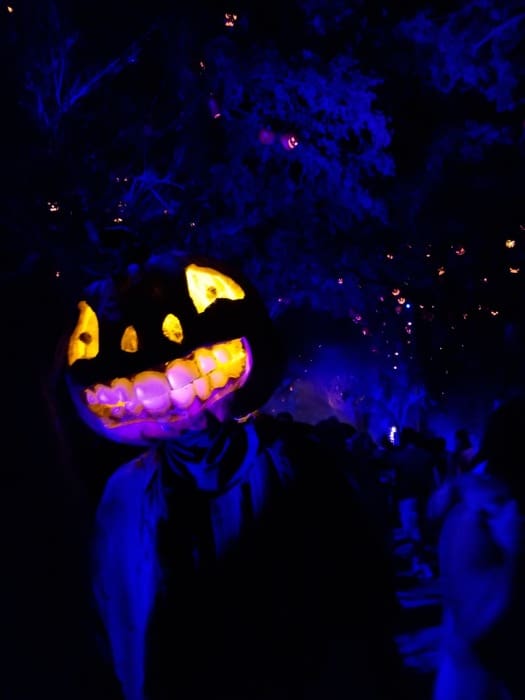 Twisted Tradition
Check out the glowing pumpkins and lighted trees in this amazing scare zone. I was so in awe of all of the pumpkins I never really thought to be scared.
Halloween Horror Nights Food and Sweet Treats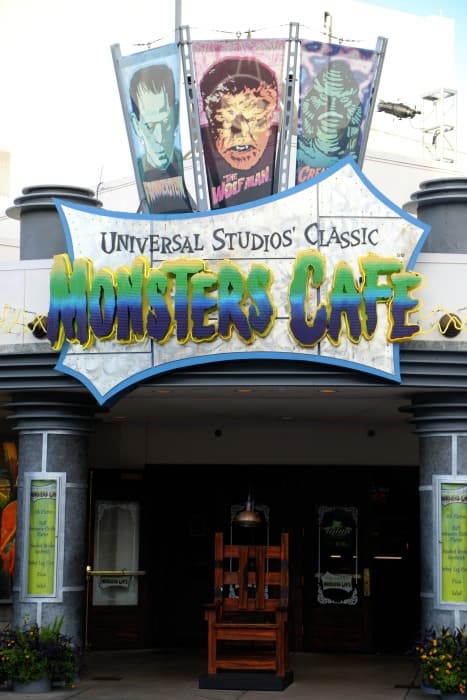 Halloween Horror Nights Scareactor Dining Experience
One way to ease into the Halloween Horror Nights event is by booking the Scareactor Dining Experience. Get up close and personal with the scare-actors with the benefit of seeing them in a fully lit restaurant. You also get to enjoy a themed buffet dinner and photo opportunities!
You'll need both a Halloween Horror Nights™ ticket and a Scareactor Dining Experience ticket for the date you plan to attend. Advance reservations required.  The Scareactor Dining Experience is held at the aptly themed Monster Cafe.
Make sure and book your tickets for this early to make sure you can get a seat!
Halloween Horror Nights Stranger Things Inspired Food
Enjoy foods inspired by Netflix's "Stranger Things" that also complement the terrifying "Stranger Things" mazes debuting at both parks.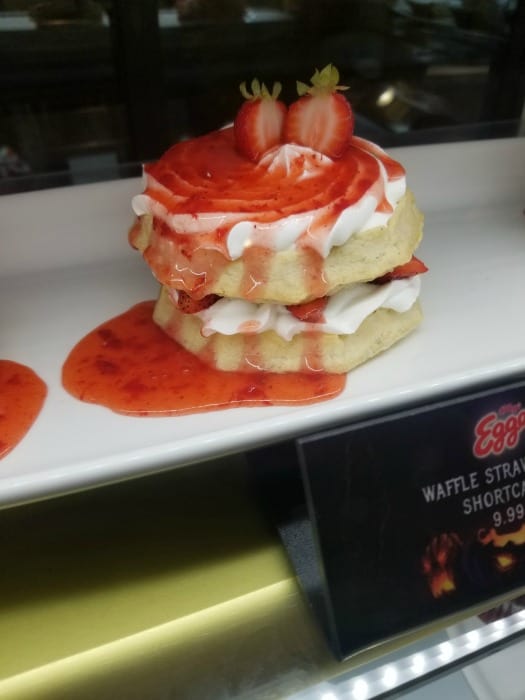 Waffles Galore!
All inspired by Eleven's favorite food, guests can enjoy a variety of waffle treats at "Halloween Horror Nights," including a Fudge Dipped Waffle on a Stick topped with peanuts and sprinkles; a Waffle Ice Cream Pocket Sundae which features two chocolate chip waffles stuffed with strawberry ice cream and topped with whipped cream, chocolate sauce, caramel sauce, sprinkles, chopped peanuts, and cherry; the Triple Decker Extravaganza, which is Orlando's version of Eleven's Waffle Extravaganza – and more.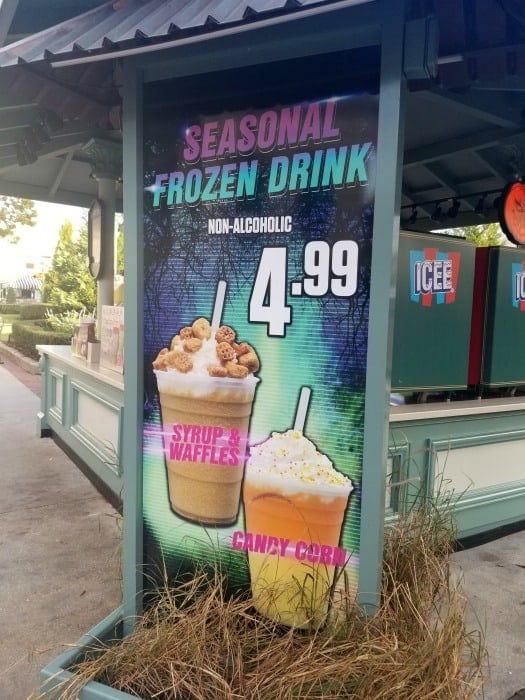 Syrup & Waffles
Enjoy Eleven's favorite food…beverage-style! This non-alcoholic frozen drink is a delicious blend of syrup flavors with tiny waffles on top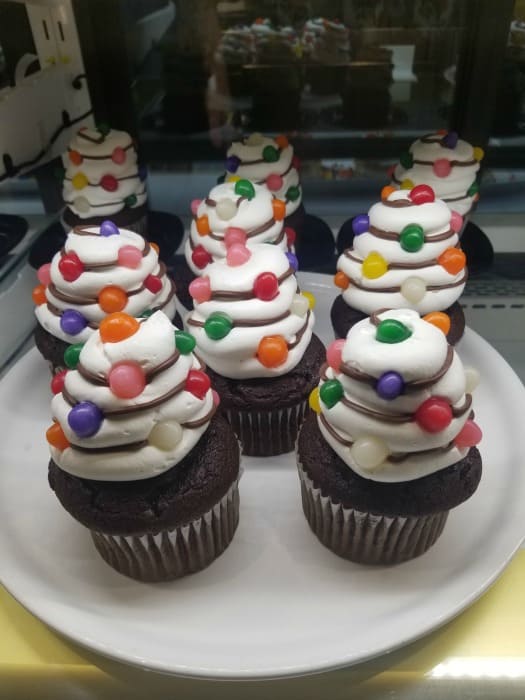 Christmas Tree Light Cupcakes
Inspired by the iconic scene from "Stranger Things" where Joyce uses Christmas lights to communicate with Will, guests can choose from chocolate or red velvet cupcakes, each topped with whipped cream frosting and covered with jelly beans to resemble the colorful lights
11 Mini Donuts
These donuts are covered in powdered sugar or cinnamon and topped with red frosting – inspired by the nosebleed Eleven typically has when she uses her telekinesis powers
Pepperoni & Sausage Pizza
Inspired by the slice of pizza Dustin offers his crush, Nancy, in the first episode of season one
Benny's Burgers
Universal Orlando will also feature a Benny's Burgers food location, where guests can grab a variety of burgers, chicken sandwiches, and more
Check out the 2022 updates!
Additional Universal Orlando Resort Articles
Wizarding World of Harry Potter Travel Guide
Check out all of our Universal Orlando Travel Guides
We have to give a huge thank you to Universal Orlando Resort for inviting us to be members of the Universal Orlando Resort Blog Squad this year! We are so excited to share our experiences!