Top things to do in Orange Beach and Gulf Shores, Alabama, including dolphin cruises, sunset and sunrise spots, charter fishing, The Wharf, and so much more.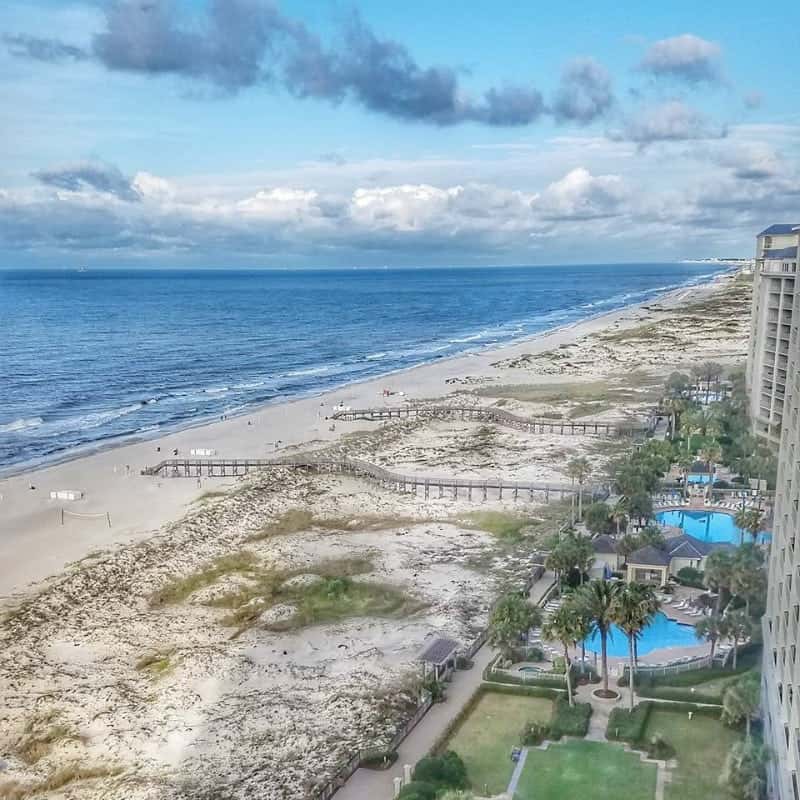 Things to do in Gulf Shores & Orange Beach
Today we are excited to share our top things to do in Gulf Shores and Orange Beach, Alabama!
We first started visiting the area years ago and truly fell in love with it. After many trips we decided it was time to move to the Gulf Coast.
We are now live in Gulf Shores and get to explore daily all of the epic things to do, attractions, dolphin cruises, and so much more!
There are so many fun adventure spots and plenty of things to do from the white sand beaches, water sports, epic amusement park, and so much more.
Getting to Gulf Shores and Orange Beach Alabama
Flying to Gulf Shores and Orange Beach
We tend to fly into New Orleans when we are heading to Gulf Shores and Orange Beach. We pick up a rental car, a few beignets and hit the road. It is an easy drive to Gulf Shores and we can grab a direct flight from Seattle.
You can also fly into nearby Mobile Regional and Pensacola International Airports.
Driving to Gulf Shores and Orange Beach
The Baldwin Beach Express originates at I-10 (exit 49) and ends in the heart of Orange Beach at Canal Road. A toll bridge is located at the south end of the Beach Express.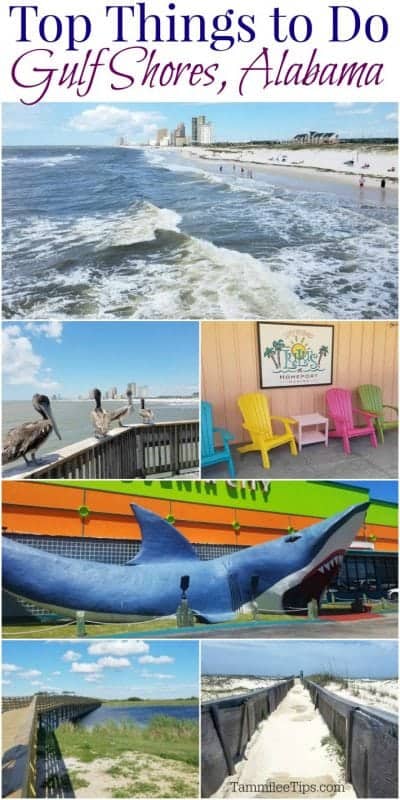 I am so excited to share these Top Things to Do In Gulf Shores, Alabama with all of you!!!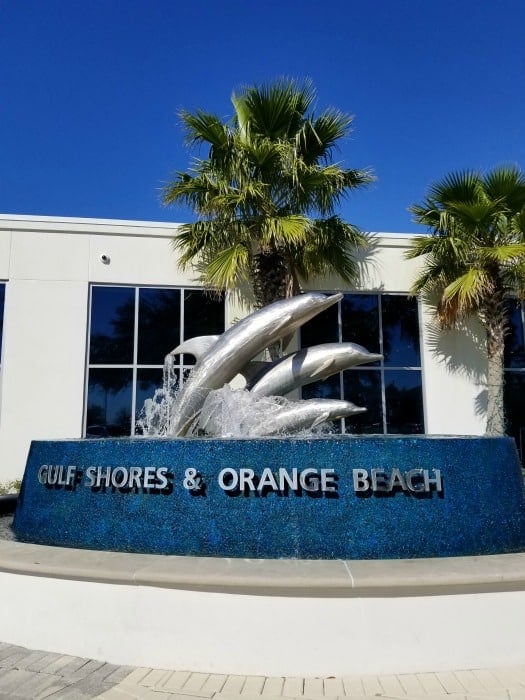 Gulf Shores & Orange Beach Welcome Centers
There are two Gulf Shores and Orange Beach welcome centers run by Gulf Shores & Orange Beach Tourism. These welcome centers are the perfect place to start your beach vacation! You can get updates on beach conditions, what is happening in town, and find out any fun new things to do in town.
Gulf Shore Welcome Center: 3459 Gulf Shores Parkway
North of the Intracoastal Bridge on Highway 59
Orange Beach Welcome Center: 23685 Perdido Beach Boulevard
Approximately four miles east of the Highway 59 and 182 intersection on the beach road
Learn more here and make sure to visit the visitor centers for great info!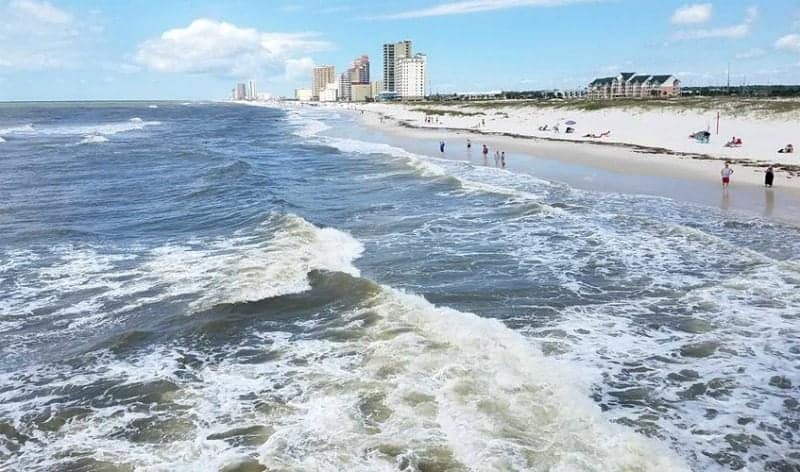 Gulf Shores Beaches
First and easily reachable from the condo or almost anywhere in Gulf Shores is the BEACH! Sugar white sand awaits your toes along with gorgeous views of the Gulf of Mexico.
Dip your toes in the water, build a sandcastle, or watch the birds along the shoreline.
You might even spot an endangered dune mouse as you sit on the beach. One thing to know is most beaches have boardwalks that guide you out to the beach. This is to protect the dunes and the grasses.
These areas are so important to land health and hurricane safety.
Gulf Shores is really focused on making sure they are taking care of the environment and protecting important animal species. They do ask that you remove all of your beach items each night to help protect the sea turtles that come up on the beach to lay eggs.
One thing I love is Gulf Shores just rolled out an "Access Mat" at the West End of Gulf Place Public Beach. The Access Mat is described on its website as "an ADA Compliant beach accessibility surface."
This pedestrian pathway will make the beach more accessible for beachgoers of all ability, elderly people, wheelchair users, and parents with strollers. I love that Gulf Shores is taking care of its visitors and making the beaches more accessible.
Cotton Bayou Beach Access is a great easy access to the beach in Orange Beach.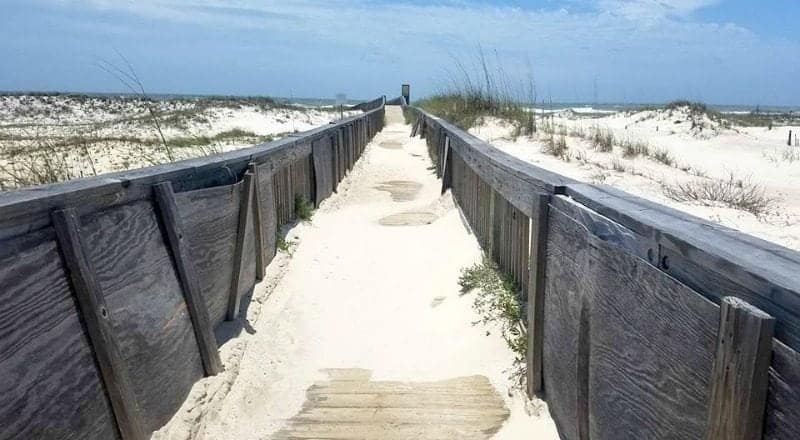 Bon Secour Wildlife Refuge
If you want to learn more about the wildlife and nature in Gulf Shores head to Bon Secour Wildlife Refuge. This wildlife refuge includes both beach access, sand dunes, and a great trail system. You can go for a short walk or a couple of hour hike depending on your mood.
The Bon Secour Wildlife Refuge has a great visitor center with information on the flora and fauna from the area.
The Refuge Office and Visitor Center are located on State Highway 180 on the Fort Morgan Peninsula in Gulf Shores, Alabama.
The refuge is open to visitors year-round, during daylight hours only. The Visitor Center is open from 9:00 a.m. to 2:00 p.m. Monday through Friday. The Visitor Center is closed on federal holidays.
Refuge Phone: (251) 540-7720
Address: 12295 State Highway 180, Gulf Shores, AL 36542
Entrance to Bon Secour National Wildlife Refuge is fee-free.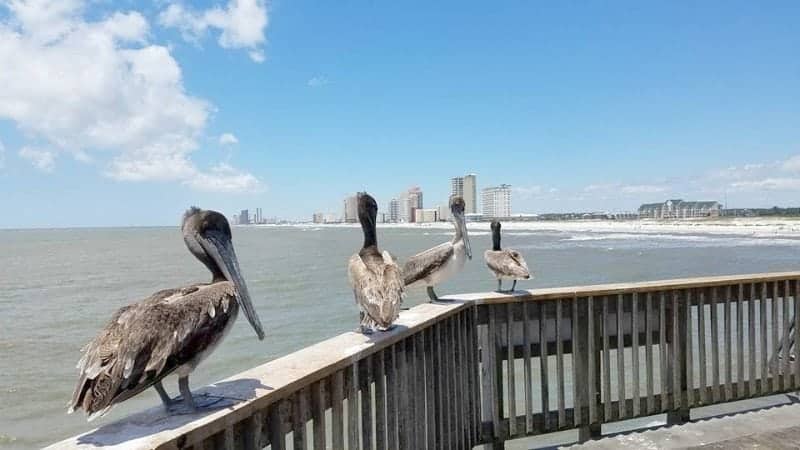 Speaking of birds if you want to see pelicans up close and personal head to Gulf State Park Pier and you can't miss them hanging out waiting for a fish or two. We also saw Great Blue Herons walking along the pier with everyone looking for fish.
The pier only costs $3 for a one-time visit per person and is a great way to look for dolphins in the bay, get a great view of Gulf Shores and hear a fish tale or two from a local fisherman. They also offer yoga on the pier and other great programs through Gulf State Park.  The 1,540-foot fishing pier was added to the beach recently as part of the repairs after Hurricane Ivan.
Gulf State Park Pier is one of the best sunset spots in Gulf Shores! You can get amazing photos with the water and city in the background.
Make sure to pay for a parking pass and leave the receipt on your dashboard.
Address: 20800 E. Beach Blvd., Gulf Shores, AL 36542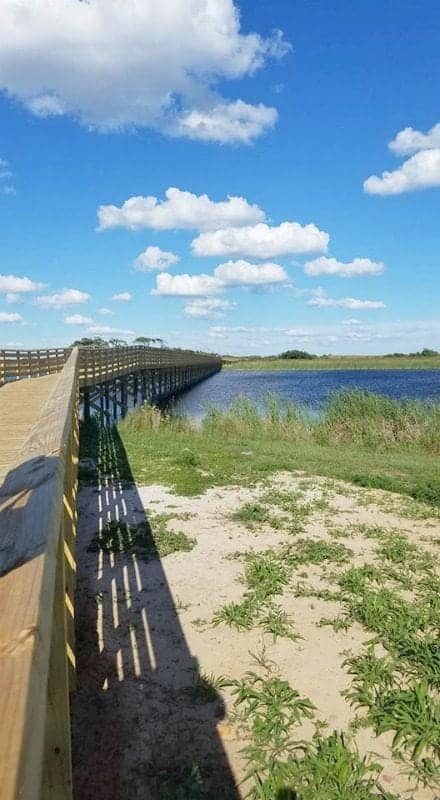 Looking to take a walk on the wild side? Head to Gulf State Park and walk/hike one of their 25 miles of trails including a gorgeous boardwalk over the water. Gulf State Park also offers Segway tours of the park which looked like so much fun!
They also offer RV camping and tent camping along with cabins in the park. Check out Park Ranger John's Gulf State Park Camping guide to learn more!
Need a break from the kids? Don't worry we won't judge… check out the day camps that are offered at Gulf State Park. You can sign the kids up for day camp and have an adult day in Gulf Shores! Woohoo!
If you want to head out on the water you have so many choices in Gulf Shores! From Charter fishing to an eco boat ride.
Both of these options we sadly did not get to do due to weather and the wind during our trip but they sound absolutely amazing! The photos and stories we heard from these tours sounded amazing! A must-do on our next visit!
Check out the dog park at Lake Shelby, nature center, and more!
Eagle Cottage at Gulf State Park are an amazing lodging option within the park.
Address: 20115 AL-135, Gulf Shores, AL 36542
Hugh S. Branyon Back Country Trail
The Hugh S. Branyon Back Country Trail includes more than 25 miles of paved trails perfect for spending the day biking or exploring.
The trail connects Gulf Shores and Orange Beach so you can peddler from one great part of town to another.
This is a great way to get away from the crowds and enjoy nature! Keep an eye out for birds and local wildlife along the trail.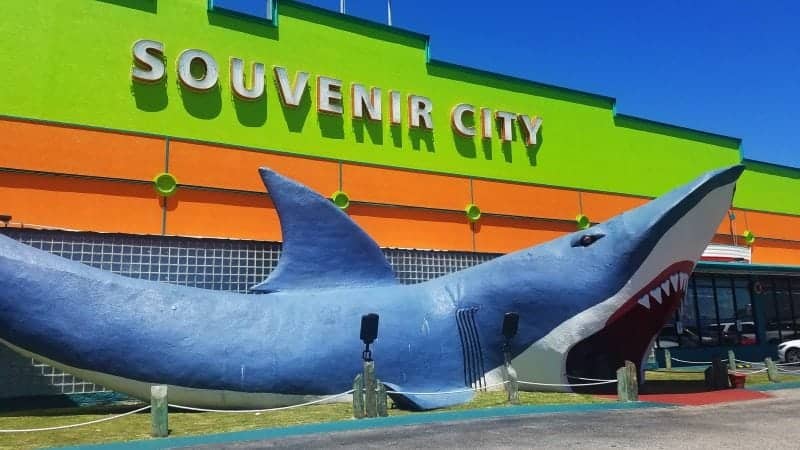 Grab a photo with the Souvenir City Shark
You can also head out to one of the putt-putt golf courses, go-kart tracks, or get a photo with a giant shark at souvenir city!
We had to stop and get a pic of the shark! John remembers getting family photos under the shark when he was a kid. Now I am on a hunt to find those photos and compare them to our photos. LOL!
This is also a great place to pick up a souvenir of your trip to Coastal Alabama! They have a little bit of everything and more!
Address: 217 Gulf Shores Pkwy, Gulf Shores, AL 36542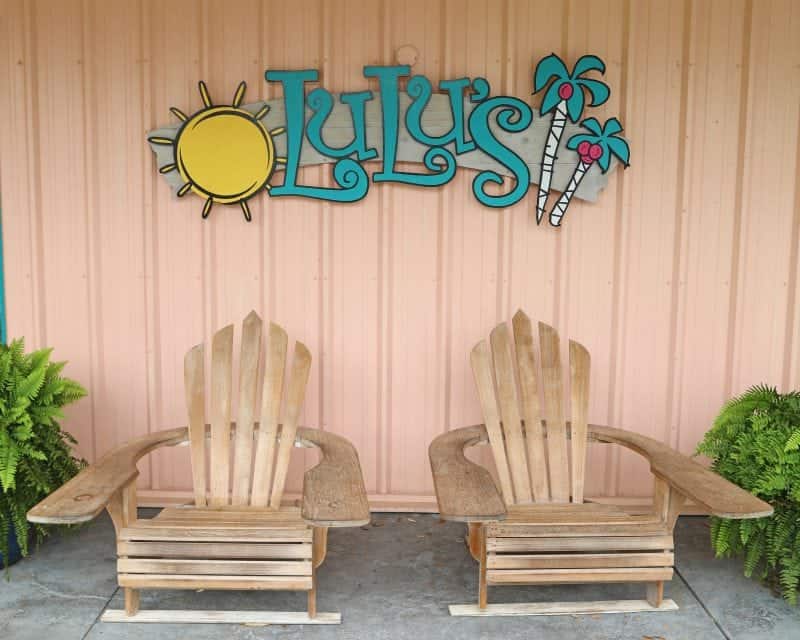 LuLu's is a Gulf Shores tradition that has to happen during every trip at least once if not multiple times. A beach vacation to Gulf Shores and Orange Beach is not complete without a slice of LuLu's key lime pie!
Kids will love the Mountain of Youth ropes course next to the restaurant! There is even Munchkin Mountain a ropes course for kids under 48 inches tall! LuLu's truly has something for the entire family!
Make sure and try a delicious Bama Breeze Cocktail or a great Bushwacker during your visit!
Address: 200 East 25th Avenue, Gulf Shores, AL US
Fort Morgan
Want to learn a bit of history during your trip to Gulf Shores? Head over to Fort Morgan to learn more about how this fort played a part in US history.
This is a great place for stretching your legs, having the kids wander about on the lawn, and learning about history. Fort Morgan played a significant role in the Battle of Mobile Bay in August 1864.  The fort was also sporadically used during the Spanish American War, World War I, and World War II.
Fort Morgan offers a ton of programs including re-enactments, a museum, and walking tours.
Address: 110 AL-180, Gulf Shores, AL 36542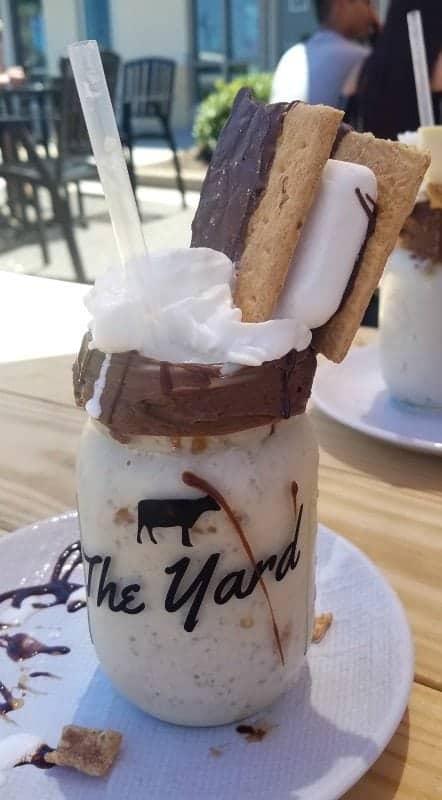 Enjoy a Sweet Treat
After all of this activity if you have worked up a sweet tooth check out our list of Sweet treats you need to try in Gulf Shores, Alabama! Trust me these sweet treats will make any sweet tooth happy.
From huge milkshakes at The Yard to bread pudding and key lime pie you can't go wrong indulging in a sweet dessert or three during your vacation to Gulf Shores.
I am going to admit that I am deeply madly in love with the key lime pie at LuLu's.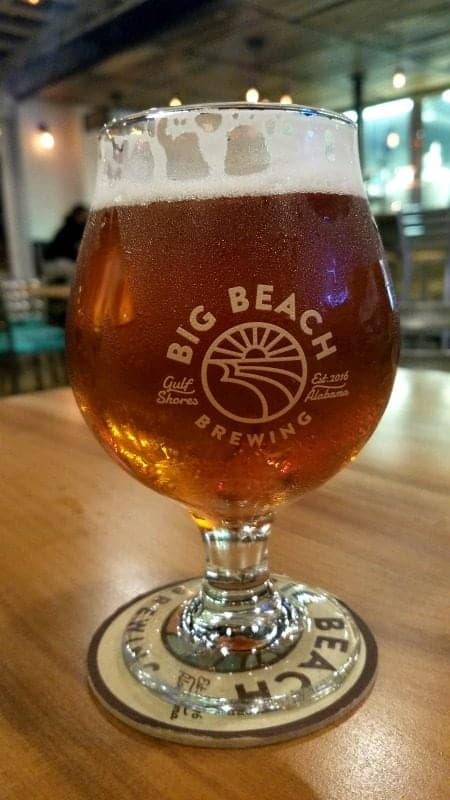 Grab a local Beer at Big Beach Brewing
Craving a good beer? Head over to Big Beach Brewing for a great atmosphere and a wide selection of beers including Rod's Reel Cream Ale, Small Town Brown Ale, Dixie's Heart Red Ale, Better Watch Out Stout, Kiss Me I'm Irish Stout, and Hundred Daze IPA to name a few. We loved the relaxed atmosphere of the brewery during our visit.
Big Beach Brewing Address: 300 E 24th Ave, Gulf Shores, AL 36542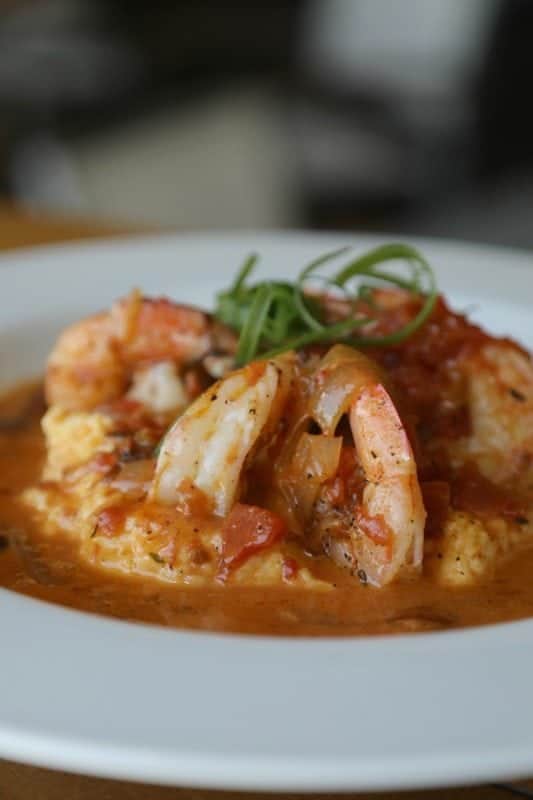 Enjoy an amazing Gulf Shores Restaurant!
There are so many great Gulf Shores Restaurants to explore and check out! From fine dining to down-home cooking you can find the perfect restaurant for your family!
Now that we live in Gulf Shores we are even more impressed with all of the local restaurants and places to eat.
Just driving down the street I find amazing places I can't wait to try out. There are truly so many good restaurants in the area it can be hard to decide where to go and how to fit it all in.
Gulf Shores Orange Beach Coffee Shops - Check out all of the epic coffee shops we love in Gulf Shores and Orange Beach, Alabama. From free Wi-Fi to dessert and sweets these coffee shops are the perfect place to relax.
Best Ice Cream Gulf Shores, AL - Check out the best ice cream shops you do not want to miss. Plus where to find gelato Italian Ice Cream!
Best Doughnut Shops Gulf Shores- Are you looking for a great donut or beignet? Don't worry we have tried all the local shops so you can get the finest pastries on the Gulf Coast.
Gulf Shores and Orange Beach Restaurants on the Beach - The best Orange Beach and Gulf Shores Restaurants on the Beach and or with a Waterview!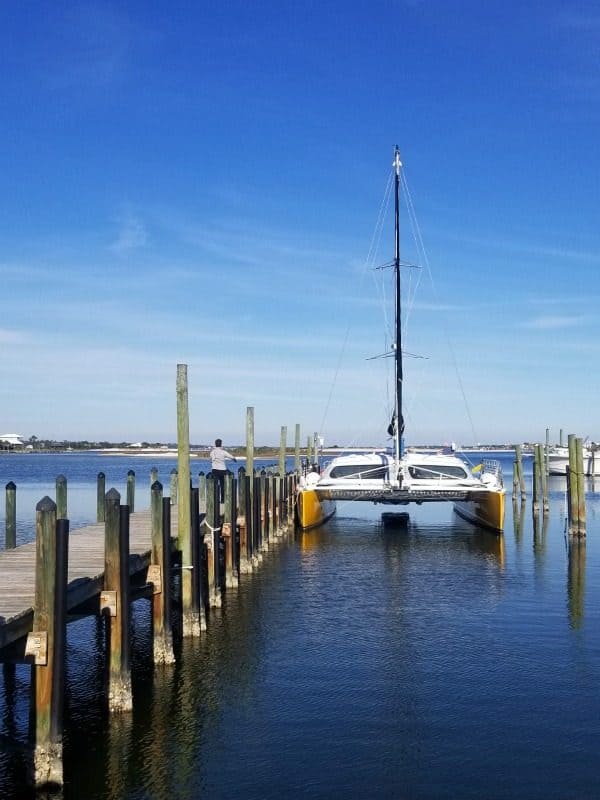 Sail Wild Hearts Dolphin Cruise
We enjoyed an amazing dolphin cruise in Orange Beach with Sail Wild Hearts! There is something so magical about being out on the water and looking for bottlenose dolphins! So peaceful and relaxing. Plus you get another view of Gulf Shores and Orange Beach from the water!
They even have dolphin cruises that include seeing the Blue Angels practicing over the water. Talk about the perfect day out on the water!
Check out our full article on Sail Wild Hearts!
The Gulf Shores Zoo is a must visit during a trip to the Alabama Gulf Coast. This is one of our top things to do in Gulf Shores!
I am also in love with the fact that you can get up close and learn more about sloths, lemurs, and kangaroos. They have animal encounters programs that get you up close and personal with amazing animals including sloths, kangaroos, and lemurs!
You can also feed a giraffe, see an interactive zoo keepers program, and so much more.
Address: 1204 Gulf Shores Pkwy. Gulf Shores, AL 36542
The zoo is open daily from 9 a.m. to 4 p.m. (last guest allowed entry at 3:30 p.m.).
Closed on Thanksgiving, Christmas Day, and New Year's Day.
The Wharf Orange Beach
The Wharf is a shopping, dining, entertainment, and things to do must visit in Orange Beach! Truly an attraction all on its own.
If you are looking for a family friendly spot where every one will find something to make them happy this is the place to visit!
The Wharf Amphitheater has amazing concerts in an outdoor amphitheater.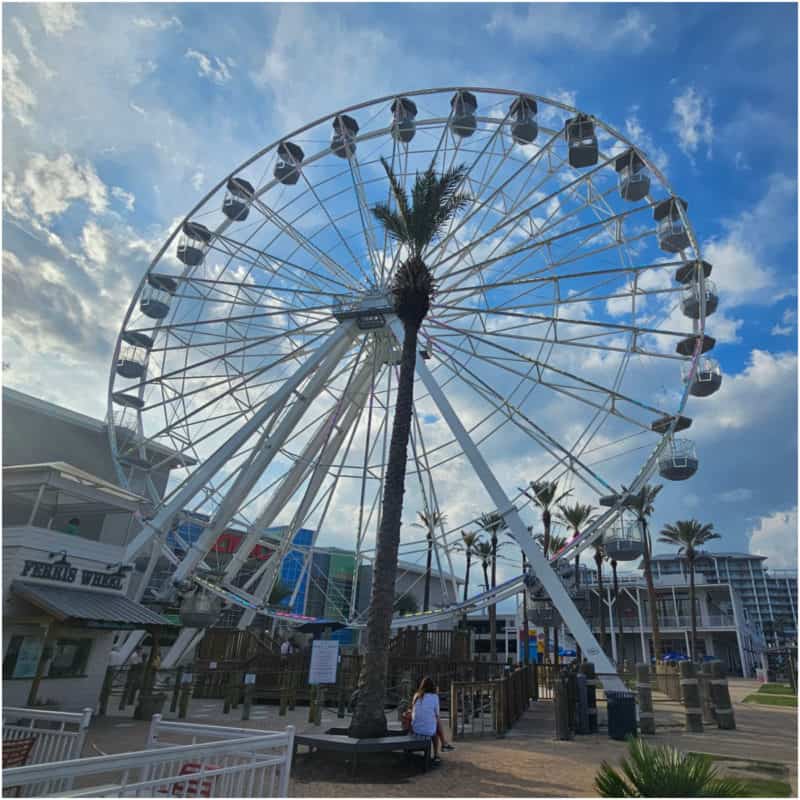 Take a ride 112 feet up in one of the 24 gondolas on the Ferris Wheel at the Wharf. This is the perfect way to relax after wandering around the Wharf checking out the amazing stores and great restaurants.
Don't miss coffee at Southern Grind Coffee Shop!
Address: 23101 Canal Rd. Orange Beach, AL 36561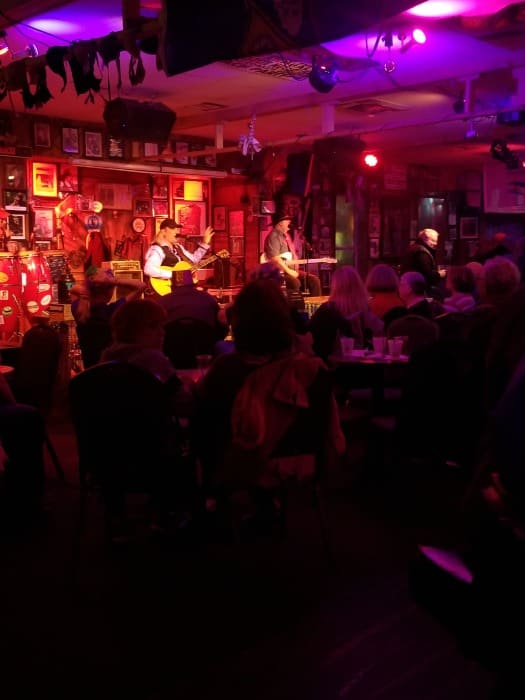 Flora Bama
Flora-Bama is world-famous for being open 365 days a year! Located on the Orange Beach, Alabama, and Perdido Key, Florida state line this restaurant/bar/club/must-see attraction is a place you will not soon forget.
I am going to admit I was actually a bit nervous the first time we drove to Flora Bama. I had this crazy image in my head of an over the top roadhouse bar that I would not feel comfortable in.
This stopped me from visiting the first time and I hated that I let fear stop me from going.
During our next trip to Gulf Shores, I made sure that we visited Flora Bama! You guys it is a fun, large bar with five stages and a ton of fun character. I never felt uncomfortable or worried while I was there.
They even hold church services on Sundays at Flora Bama.
This was a reminder to not always let fear and anxiety stop you from checking out a new place while traveling!
Address: 17401 Perdido Key Dr. Perdido Key, FL 32507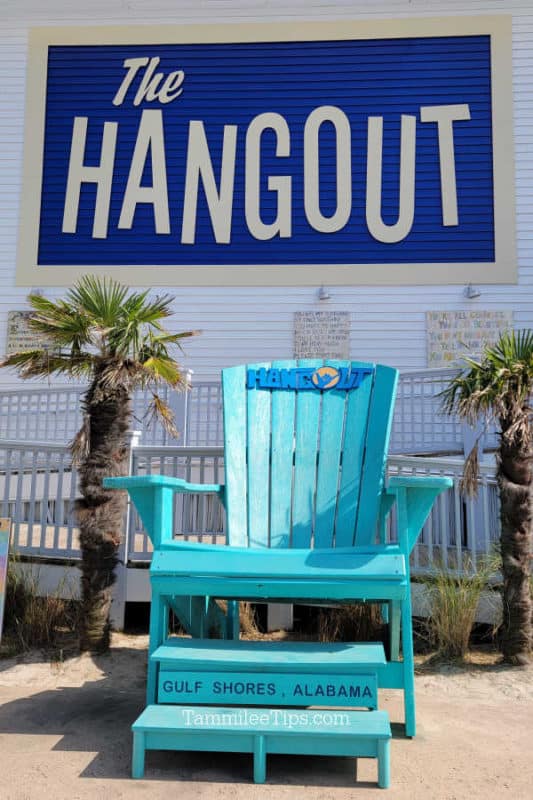 The Hangout is a great beach bar extravaganza! They have amazing photo opps, great food, fun live music, foam parties and so much more. In the morning they have pirate and princess parties perfect for the entire family.
This is one of those beach bars everyone will love. Great for all ages.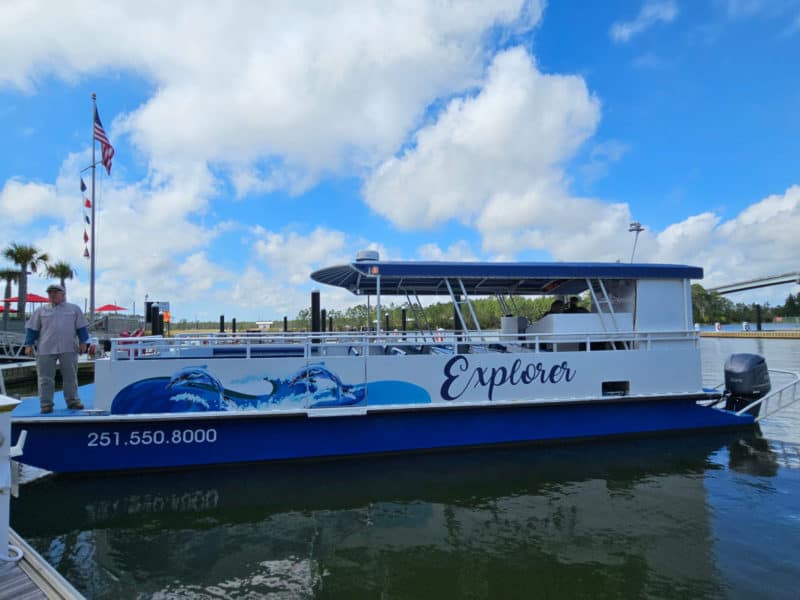 Hop on board the Explorer for an amazing dolphin cruise from The Wharf in Orange Beach. Cetacean Cruises offers both 90 minutes and 2 hour dolphin cruises that cruise the intercoastal waterway and Wolf Bay. We saw more dolphins than I could count during our epic dolphin cruise.
It took less than 5 minutes to see the 1st dolphin once we pulled out of The Wharf Marina. The Cetacean Cruises staff was amazing and made our dolphin cruise experience so much fun!
We highly suggest reserving a dolphin cruise with Cetacean Cruises! You will not be dissapointed in how much fun you have and all of the wildlife you see while on board!
You can book a Cetacean Cruise Dolphin Excursion Book online HERE
Deep-Sea Fishing
There are over 100 fishing charters available in Gulf Shores and Orange Beach! You can book a charter and head out into the gulf to catch your next epic fishing story!
You can sign up for the quarterly Gulf Shores Fishing Newsletter - Sign up here to get updates on what is biting and what fish are in season.
Many local Gulf Shores restaurants will cook your fresh seafood.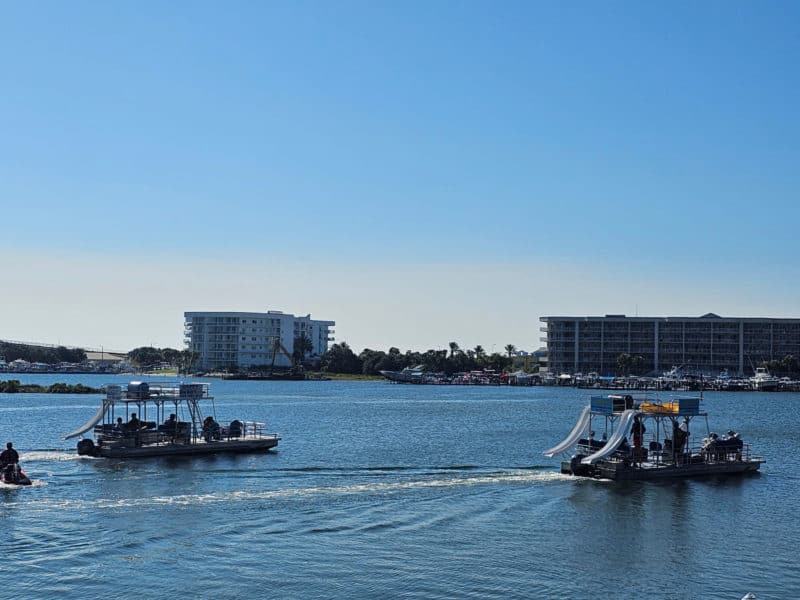 Pontoon Boat Rental
Want to head out on the water for a day of fun? Why not rent a pontoon boat for a half day or full day in Orange Beach!
These epic pontoon boats have slides, benches to relax on, and are the perfect to explore Bird Island, Robinson Island, and Rabbit Island.
The 40 foot double decker pontoon boats have 2 slides! So much fun.
Jet Skiing, Parasailing, and Beach Rentals
Want a thrill while soaking up the sun in Gulf Shore and Orange Beach? Why not go jet skiing, parasailing or kayaking from the beach!
Miniature Golf
There are quite a few miniature golf courses in the area.
Pirate's Island Adventure Golf - Located in Gulf Shores
Beachside Mini Golf - Located in Orange Beach
Jurassic Golf - Indoor mini golf course in Gulf Shores. Perfect for a rainy day.
Shrimpy's Grill and Golf - Located in Gulf Shores
Zooland Mini Golf - Located in Gulf Shores
Adventure Island - Located in Orange Beach
Waterville USA Water Parks
Waterville USA Waterpark in Gulf Shores is a 20 acre waterpark and amusement park.
You can enjoy the dune race 6 lane racer slide, Top golf swing suites, cabana cove, Flowrider, Go cart racing, splash n strike ultimate arcade bowling, and the escape house!
Address - 906 Gulf Shores Pkwy, Gulf Shores, AL 36542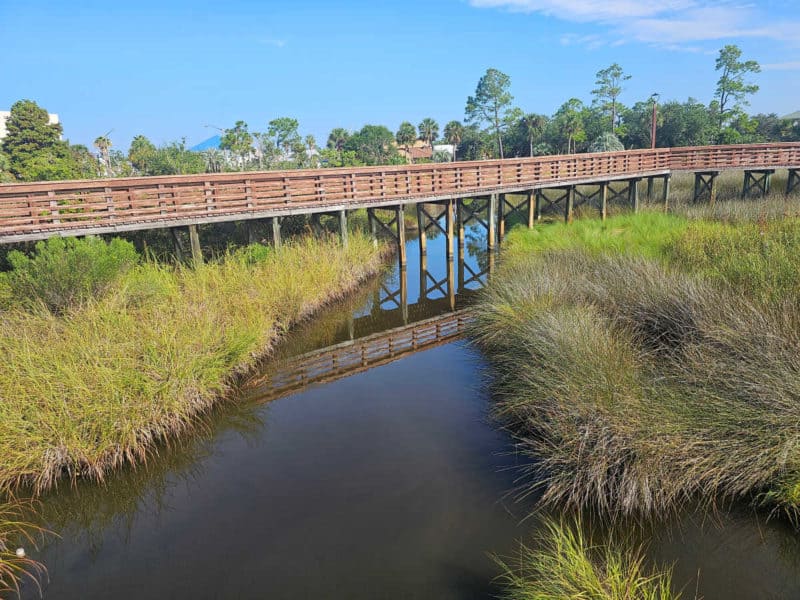 If you are looking for a Free thing to do in Gulf Shores check out Wade Ward Nature Park.
There is a wooden boardwalk trail that leads you over the swamp perfect for birdwatching and looking for gators.
Things to do near Gulf Shores and Orange Beach, AL
Alligator Alley - Head a little bit north of town and check out the epic gators!
Holmes Medical Museum (Foley) - The free museum shares the history of Baldwin County's first hospital.
Lady in the Lake Alabama - The Lady in the Lake Alabama is a fun roadside attraction located near the tiny town of Elberta, Alabama along the Gulf Coast.
Lambert's Cafe - home of throwed rolls, pass arounds, generous portions, and a must-visit on the Gulf Coast.
Fairhope, Alabama - We love visiting Fairhope for a day of exploring the Fairhope Castles, Great Fairhope restaurants, and shopping.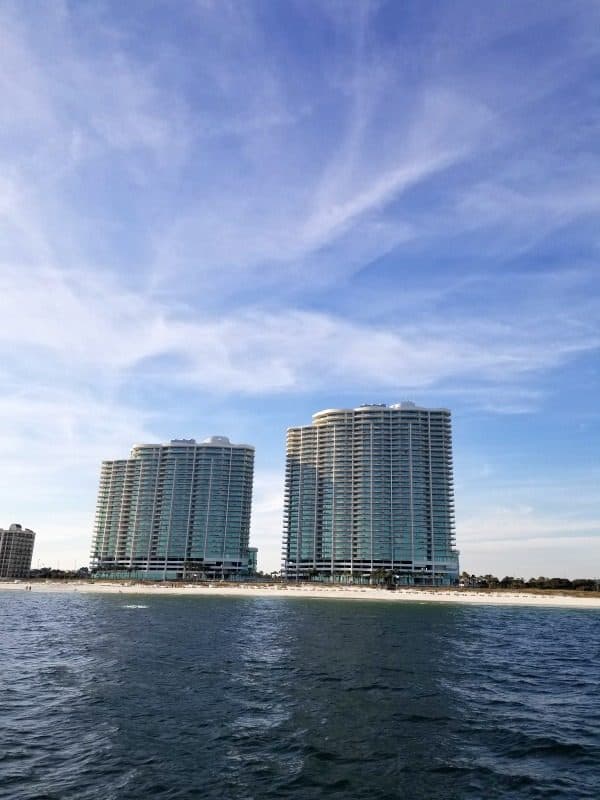 Where to stay in Gulf Shores
Eagle Cottages at Gulf State Park - Stay in the heart of Gulf State Park! These cottages are amazing.
Turquoise Place in Orange Beach - Our favorite luxury vacation rental right on the beach.
SpringHill Suites at The Wharf - located next to The Wharf making it a central location to stay during your Alabama's Gulf Coast Vacation!
Gulf State Park Campground - Located near the sugar sand beaches of Gulf Shores and Orange Beach the Gulf State Park Campground is perfect for both RV and Tent Camping.
Additional Gulf Shores Travel Articles
Check out a few of my favorite travel bloggers articles about Things to do in Gulf Shores and Orange Beach!!!
The amazing Cory Lee shared wheelchair accessible attractions in Gulf Shores!
Check out the amazing flight Sara from Travels with Sara took with Beach Flight Aviation!
What are your favorite things to do in Gulf Shores?