During our last trip to Gulf Shores and Orange Beach, I had one thing I just had to do...a dolphin cruise! During our first visit, we were not able to make a dolphin cruise Gulf Shores happen so it had to happen during this trip.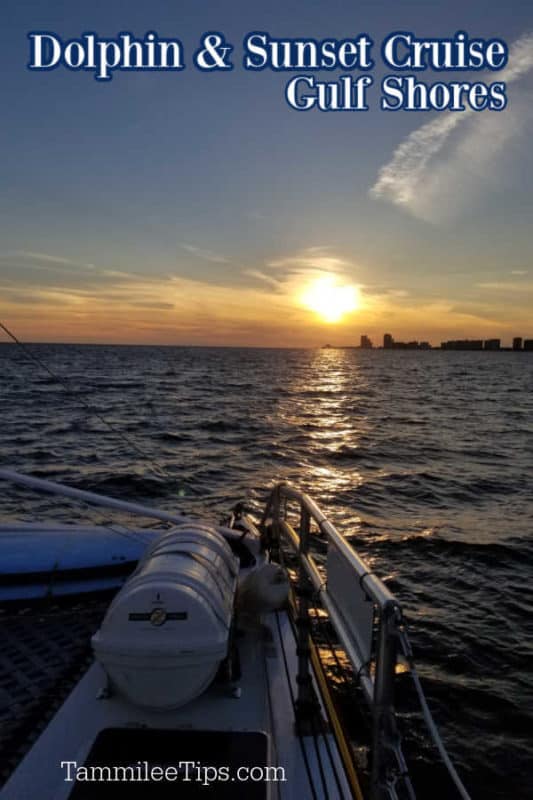 Sail Wild Hearts Dolphin Cruise Gulf Shores
There is just something magical about being out on the water waiting to see if dolphins will grace you with their presence.  We sailed with Sail Wild Hearts on a sunny afternoon in March. Wild Hearts Sailing is one of the first companies to start offering Orange Beach dolphin cruises after the winter slow season.
After enjoying a gorgeous dolphin cruise with Sail Wild Hearts I have to admit I now have a new goal for the next time we visit Gulf Shores and Orange Beach...A dolphin and Blue Angels Cruise!! YES! The Blue Angels that you see on TV doing amazing aerial acrobatics with fighter jets! They are based near Pensacola, Florida and you can take a cruise with Sail Wild Heart to see them practicing over the Gulf of Mexico. EEK! So cool!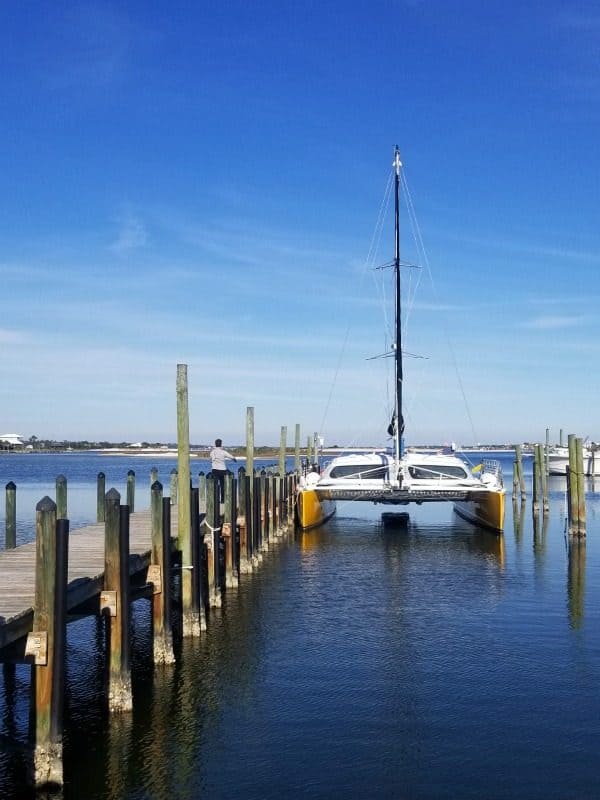 We sailed on this gorgeous catamaran for our two-hour dolphin sunset cruise.  The Sail Wild Hearts catamaran offers inside and deck seating. You can lounge in the front if you want to enjoy the spray of the water and cool breeze or inside undercover.
They set out a lovely snack buffet with fresh fruit, cheese, and crackers, along with a few sweet treats. They also offered soda and water for guests. The staff was incredibly friendly and made our sailing so much fun.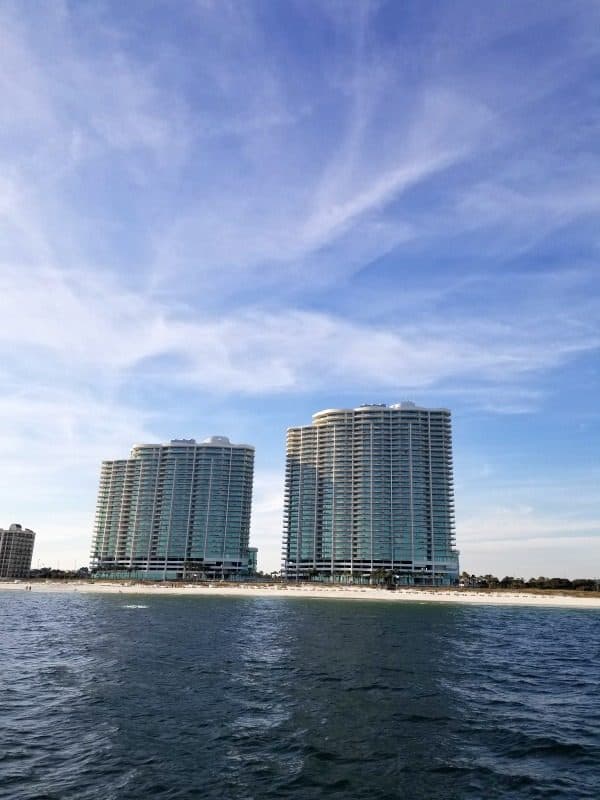 We enjoyed gorgeous views of Gulf Shores and Orange Beach from the catamaran while we looked for dolphins.
I had high hopes of sharing amazing dolphin photos with you...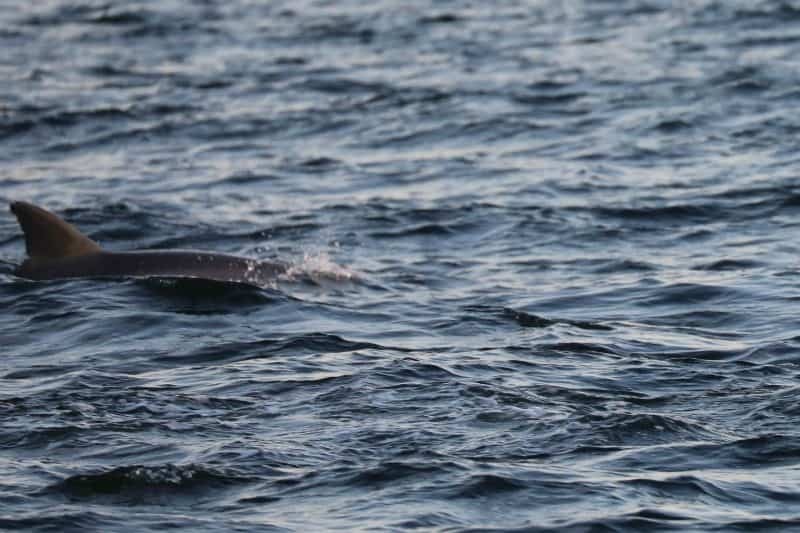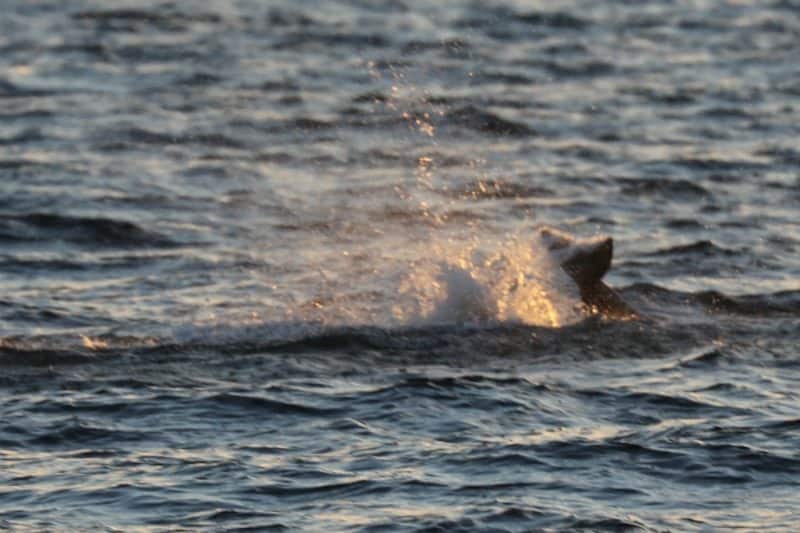 And well while I think they are pretty cool they are not the amazing dolphin photos I had hoped for. The Bottlenose Dolphins we saw were pretty darn camera shy.
They put on a show a ways away from the catamaran but every time they were up close I honestly missed taking the shot because I was so excited to watch them.
There is just something amazing about watching bottlenose dolphins frolic in the Gulf of Mexico. It reminds me of working with Bottlenose Dolphins in Hawaii during my undergraduate degree work. I would spend hours every day documenting their behavior and watched two babies be born.
Every time I am lucky enough to be on a dolphin cruise I am reminded of just how amazing they are.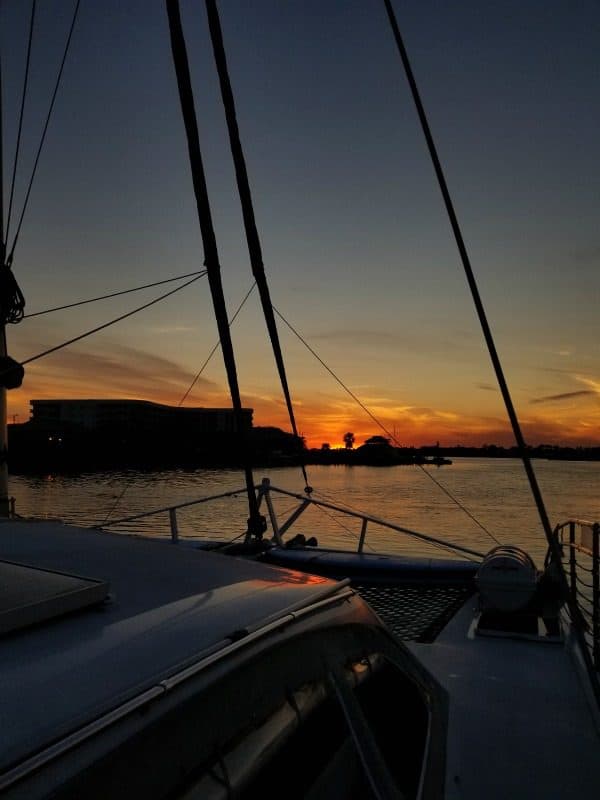 One of my favorite parts of our sailing adventure was having the chance to see the sunset from the water. Gulf Shores and Orange Beach rarely disappoint when it comes to amazing sunsets. Being able to see one from the water is so amazing.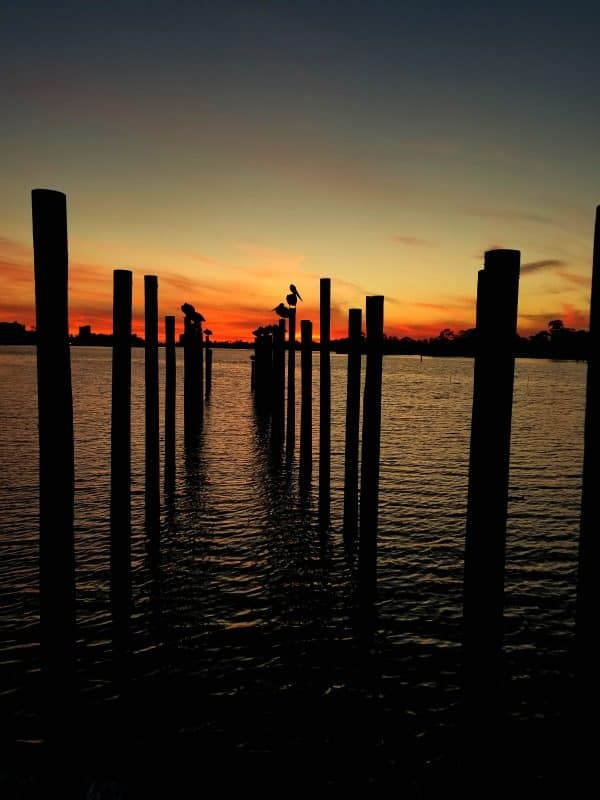 I mean wow! This pic was from the Sail Wild Hearts pier in Orange Beach.
We are adding this Dolphin Cruise to our favorite things to do in Orange Beach!
Things to know when booking a Gulf Shore/Orange Beach Dolphin Cruise
Make sure you dress in layers!!!
Bring sunglasses and sunscreen to hopefully help to not get sunburned.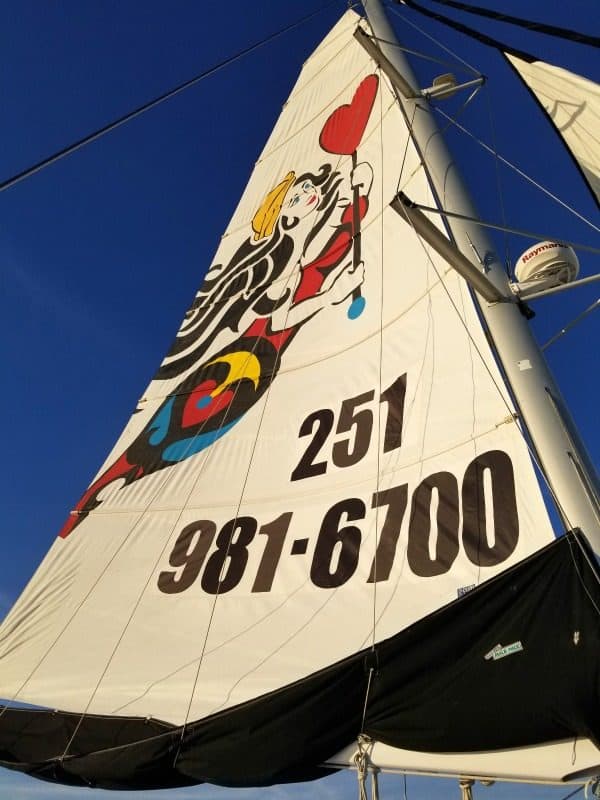 Sail Wild Hearts
Phone - 251-981-6700
When you head to your Sail Wild Hearts cruise make sure you do not follow GPS directions and end up at the companies office.
The Sail Wild Hearts pier is located just before the bridge in Orange Beach across from  Perdido Beach Resort.
From Gulf Shores - Take Hwy 182 and head east towards Orange Beach. Look for the Perdido Beach Resort on the right side of the road (before you get to the Perdido Pass Bridge). Wild Hearts is located on the left side of the road directly across the street from the Perdido Beach Resort and before SanRoc Cay. Just look for the Wild Hearts signs directing you to the parking area.
Additional Gulf Shores Travel Articles
Epic restaurants in Gulf Shores
Best things to do in Gulf Shores
Eagle Cottages at Gulf State Park
Check out all of our Alabama Travel Guides
Make sure to check out the Visit Alabama Beaches website for more information on things to do and places to visit during your beach vacation!
We have to give a huge thank you to the Gulf Shores/Orange Beach visitor center for hosting our trip and providing us the opportunity to Sail with Wild Hearts!