I can't wait to hear what you think about these Gulf Shores Restaurants you need to try!  One thing is for sure you are not going to go hungry in Gulf Shores, Alabama!
Trust me on this! Today we are sharing Restaurants in Gulf Shores-Orange Beach you need to try! These are our favorite restaurants we have tried in Gulf Shores and would happily go back to!
I know that many of them are actually in Orange Beach but adding Orange Beach to the title made for a really long title and quite a mouthful.
One thing I really enjoyed about dining in Gulf Shores was the southern hospitality! I was so impressed with how friendly and welcoming everyone was from our servers to the people we met in restaurants.
Plus you just can't go wrong with Southern food served near the beach. I can't wait to return to Gulf Shores and Orange Beach and add to this list of Restaurants in Gulf Shores, Al.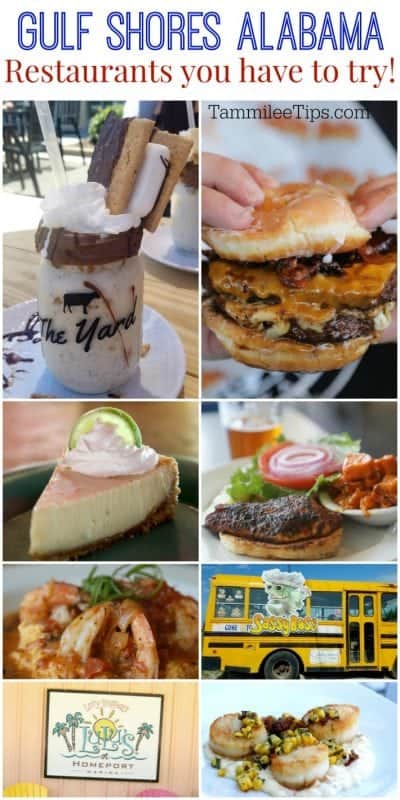 Gulf Shores Restaurants
I hope you have your stretchy pants ready because I can guarantee you will not go hungry in Gulf Shores or Orange Beach, Alabama!
We have been to the Gulf Shores/Orange Beach area twice now and each time we leave with an even longer list of restaurants we want to visit. During our last visit, I had a list of goal restaurants before we even left Spokane. We visited a ton of my goal restaurants and now I honestly have so many more I want to go back and try.
As we were driving around Gulf Shores and Orange Beach I felt like every block had a new amazing restaurant we needed to visit. This list is the restaurants that we have fallen in love with and would happily return too.
One thing I want to mention is we visit these restaurants as regular customers most of the time. The restaurants do not know that we are writers. Our goal is to make sure you have the best experience possible when you visit a restaurant.
We do partner with the Gulf Shores/Orange Beach visitor bureau during our visits but we pick where we eat out and which restaurants we want to highlight.
If we have a bad experience, bad food or really anything odd we simply leave them off the list. We want to make sure that when you visit a restaurant and spend money you are getting the best experience possible!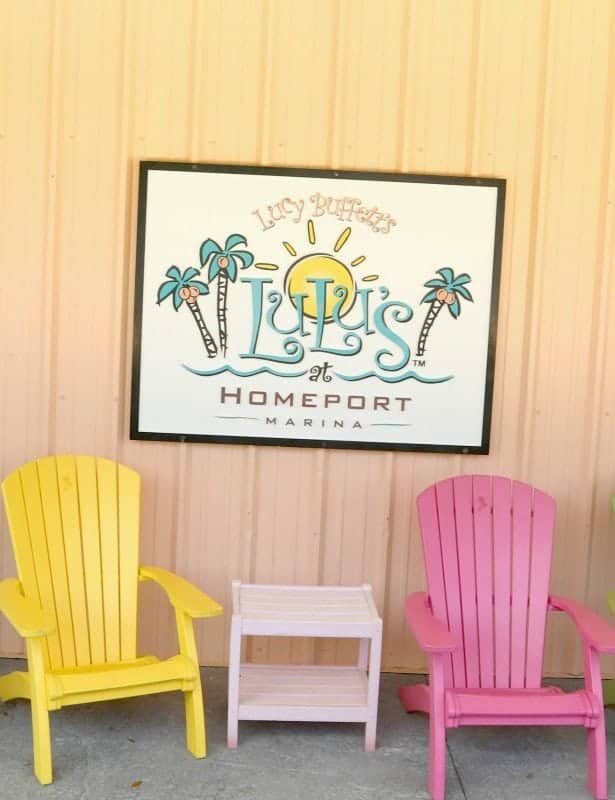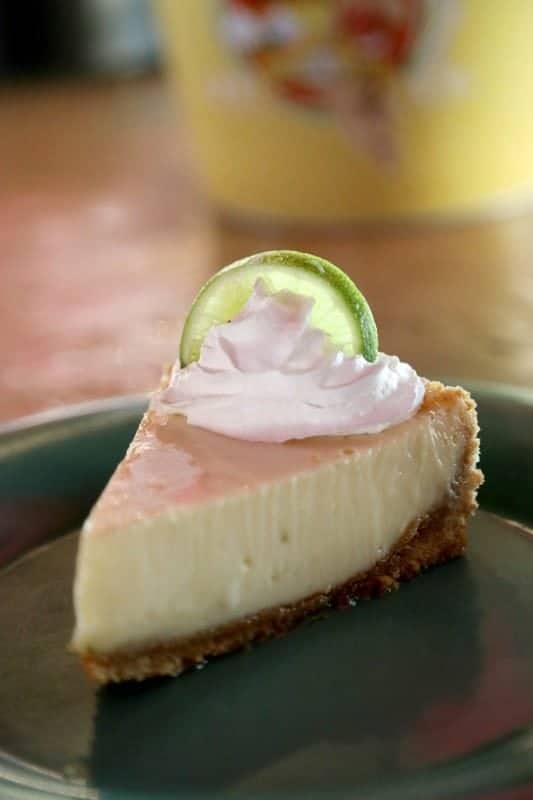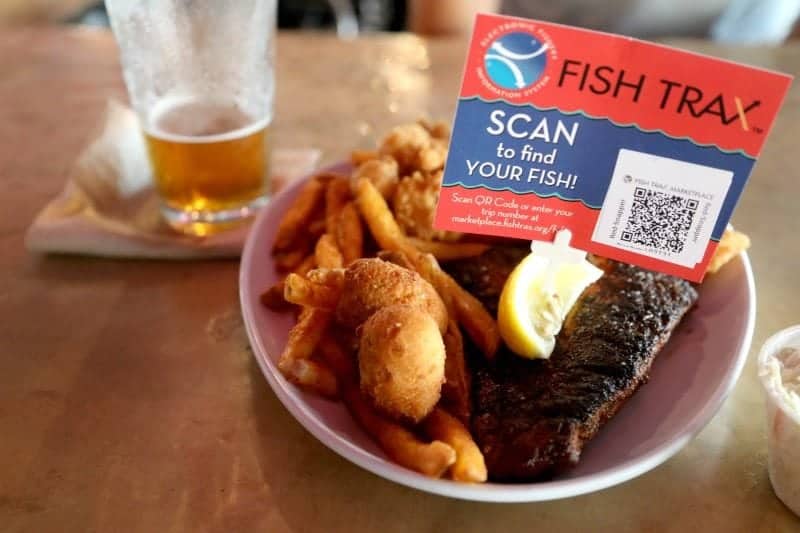 Lulus is a Gulf Shores tradition for a reason! Serving amazing food and drinks right on the river! You can't go wrong with a meal from LuLu's! Their Key Lime Pie made our must-try sweet treats in Gulf Shores list!
Make sure and give yourself a bit of time just in case there is a wait to get into the restaurants. Plus you want to have time to check out all of the activities that are available on-site including the cool gift shop, sand area and kids play area.
All allergy menu items are prepared in a separate kitchen that is overseen by a member of management.  LuLu's goal is for you to be able to enjoy your vacation without having to stress about what is being served to you.
Time Saving Tip - If you know when you want to dine at LuLu' make sure to hop online and reserve your seat! You can beat the sometimes 2.5-hour wait by getting in line ahead of reaching the restaurant. This is not a reservation but does help you skip part of the line!
Address: 200 East 25th Avenue, Gulf Shores, AL US
Phone: (251) 967-LULU (5858)
Check out the Bama Breeze Cocktail Recipe from LuLu's!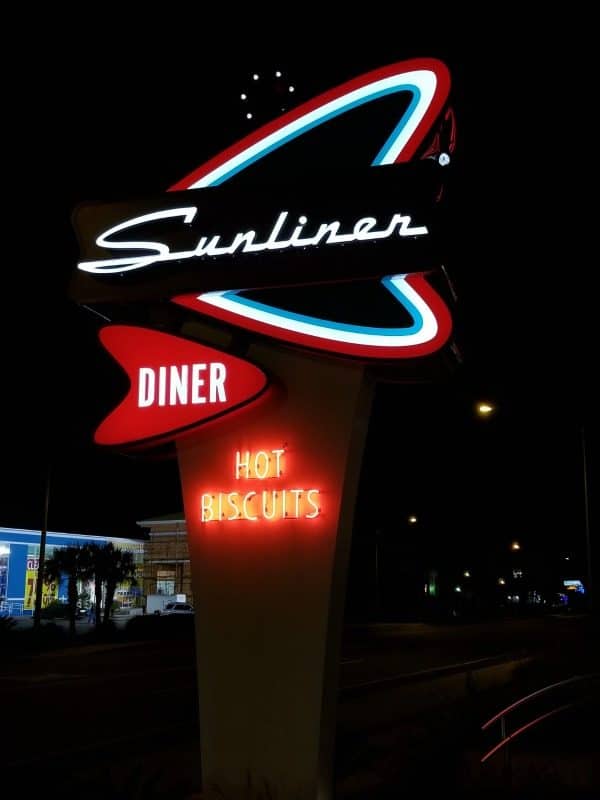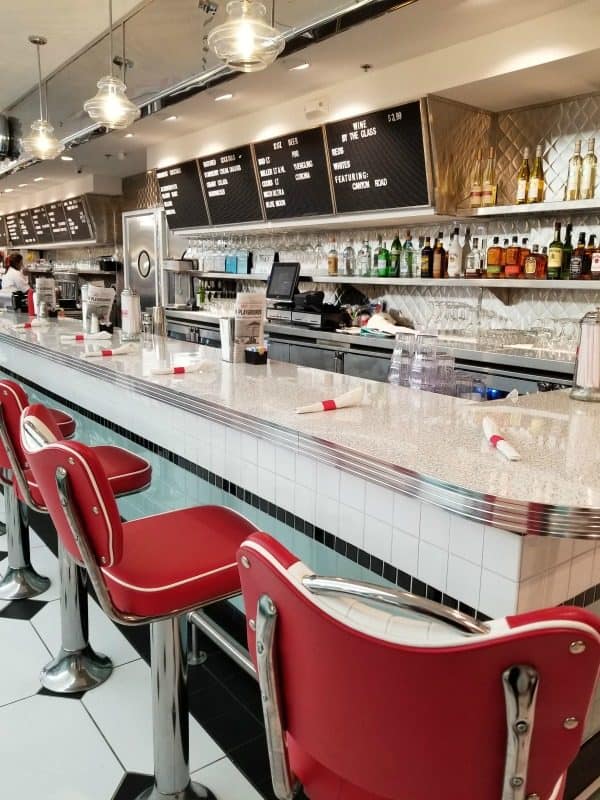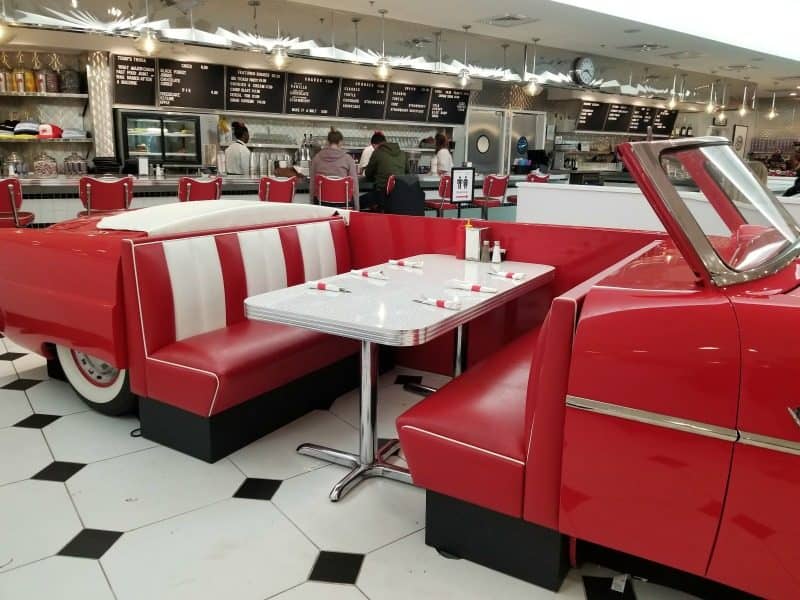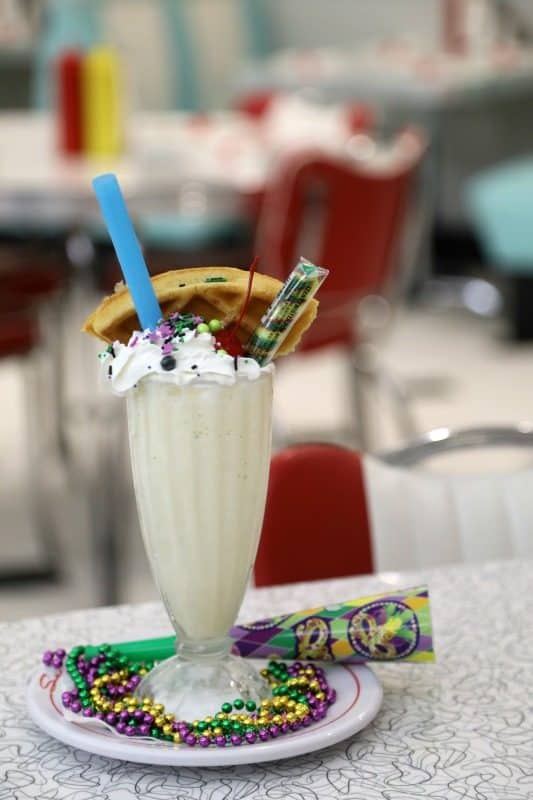 The Sunliner Diner in Gulf Shores transports you back to the 1950s and the days of carhops, cool Catz, and so much more! You don't want to be a party pooper and miss a visit to the Sunliner Diner!
One thing to know is you should plan for your meal to take a bit of time. This is a restaurant that does not move in a super fast speed.
We heard from a friend who went a few days after us that it took 45 minutes to get her order taken.
While we were there it took a bit but not that as long as our friend experienced. Definitely, plan to spend time enjoying the atmosphere and time together when you head to the Sunliner Diner.
Menu items not to miss:
Big Tickle Party Milkshake - This is a shake for the adventurer! Let us dazzle and surprise you. You won't be sorry. You choose chocolate, strawberry, or vanilla ice cream and leave the rest up to us.
The 1950'S Cereal Yum Milkshake - Choose Trix with vanilla ice cream or Cocoa Puffs with chocolate ice cream. Complete with a banana on top for a perfectly balanced breakfast!
Buttermilk Fried Chicken - Crispy fried bone-in chicken breast served with mashed potatoes and gravy and green beans. Hey, it's fried fresh and worth the wait!
Address: 100 E 2nd Ave, Gulf Shores, AL 36542
Phone: (251) 937-6590
Hours:
Sun – Thu: 7 AM to 11 PM
Fri – Sat: 7 AM to 12 AM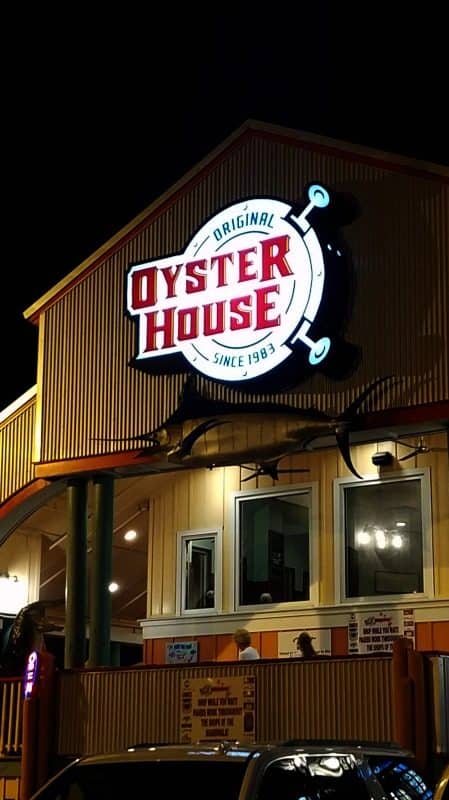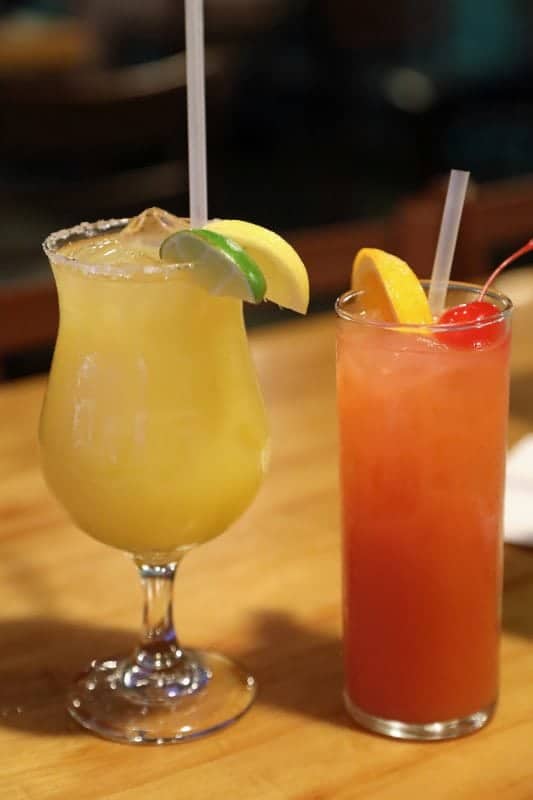 Original Oyster House
The Original Oyster House is a family tradition for many visitors to Gulf Shores. During our visit, we loved seeing huge families eating together and laughing together. They offer everything from oysters, I know that is a shock with the restaurant name to a giant salad bar and local fish entrees.
We heard that their Key Lime Pie is amazing! We were so stuffed from dinner we couldn't even manage a bit of dessert. Which is saying something about how much my Husband lives for key lime pie.
Address: 701 Gulf Shores Pkwy, Gulf Shores, AL 36542
Phone:  (251) 948-2445
Hours: Monday - Sunday 11:00 a.m. - 10:00 p.m.
Winter Hours - October 17th - February - Monday - Sunday 11:00 a.m. to 9:00 p.m.
Closed the Sunday after Labor Day, Easter, Thanksgiving, Christmas Eve and Christmas Day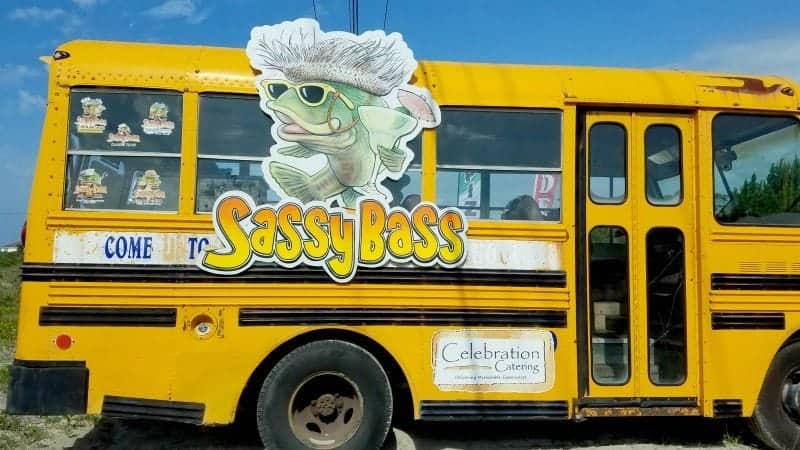 Sassy Bass
There is also the Sassy Bass which offers breakfast, lunch, and dinner along with giant fishbowl drinks.
We enjoyed a great breakfast at the Sassy Bass and would love to go back for dinner and a drink. The owner was super chill and so nice during our visit. It was great hearing about their menu and the love that has gone into creating each of their restaurants.
Make sure and try the porridge! It is not what you expect at all.
They have a great breakfast buffet that has been rated one of the top buffets in Alabama.
Menu Items not to miss:
Savory Porridge - 3 Eggs scrambled in beef pork n' oatmeal & home fries, with toast, butter, and jelly
Shrimp n' Gouda Cheese Grits
Succulent shrimp sautéed over Gouda cheese grits covered with a creamy bacon, mushroom gravy
Sassy Bass has four different restaurants in Gulf Shores! If you try all of them and keep your receipts you can turn them in at the last restaurant to be entered to win a prize.
Amazin Grill Address - 5160 Highway 180, Gulf Shores, AL 36542
Phone - 251-975-1010
Hours - 8:00 am to 9:00 pm Daily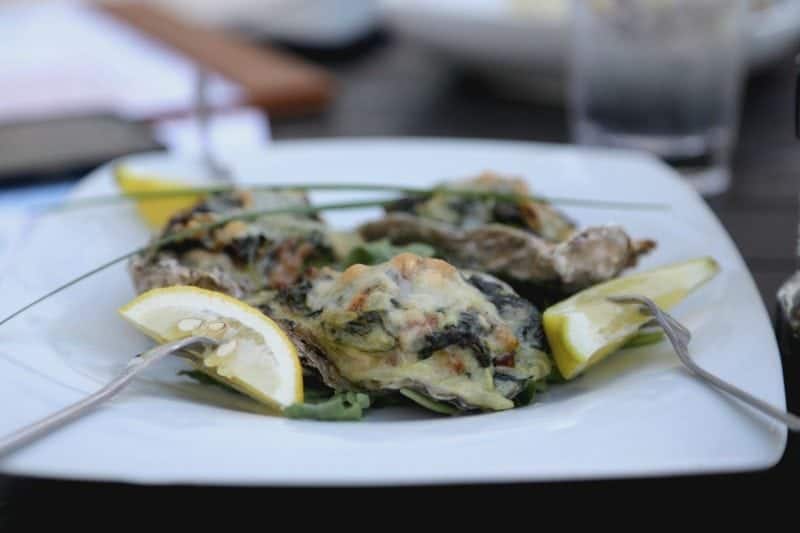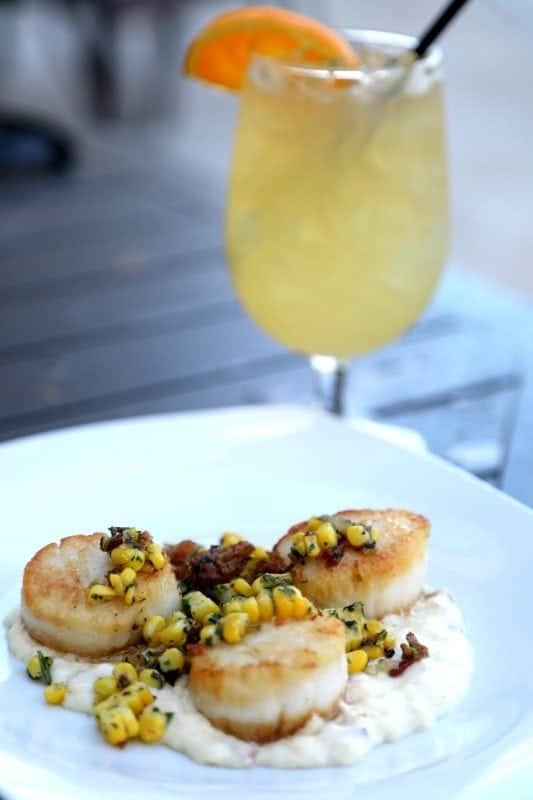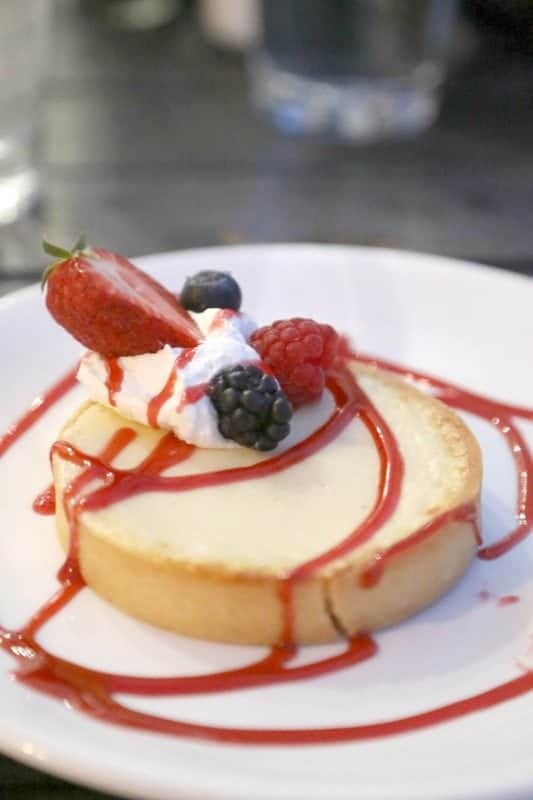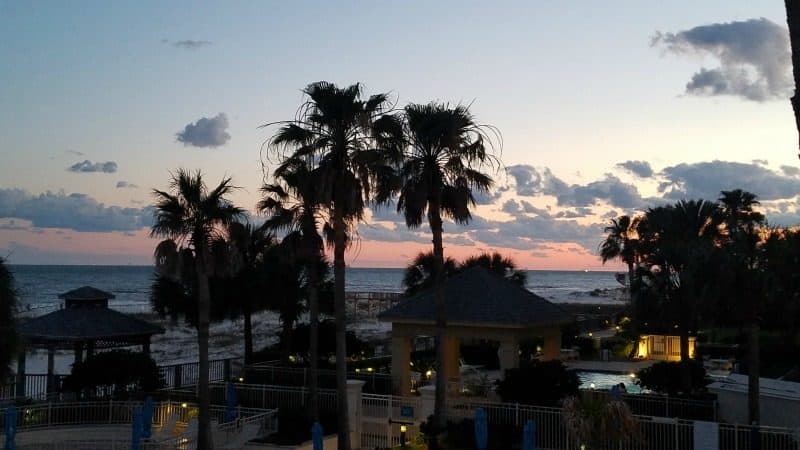 Oh my yum! Coast offers a menu that is focused on Gulf Cuisine including fresh fish, oysters, and shrimp. They even have a sushi menu. The Caprese pasta was filled with fresh basil and tomatoes.
The Coast Restaurant & Sushi Bar at The Beach Club is located at Spectrum Resorts but is open to anyone who wishes to dine there. The view from the deck over the Gulf is spectacular! This was one of our favorite places to watch the sunset.
Don't miss the key lime tart for dessert! It made our must-try Best Desserts in Gulf Shores list for a reason.
Address: 453 Beach Club Trail, Gulf Shores, AL 36542
Phone: (251) 224-3600
Hours
Sunday and Monday - closed
Tuesday: 6 PM – 10 PM
Wednesday: 6 PM – 10 PM
Thursday: 6 PM – 10 PM
Friday: 6 PM – 10 PM
Saturday: 6 PM – 10 PM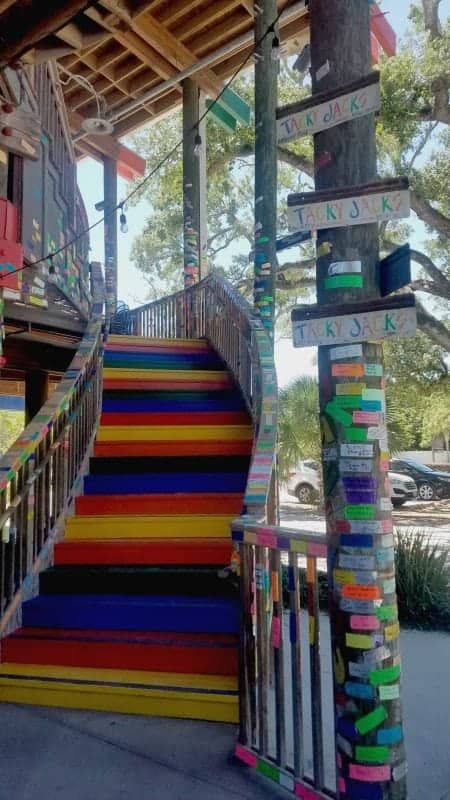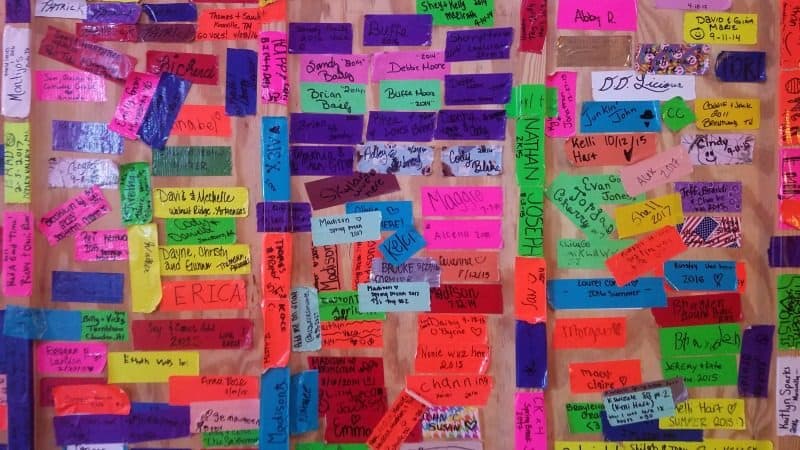 Tacky Jacks
So Tacky Jacks is pretty well tacky. Lol! This restaurant specializes in a beach bum vibe with quite interesting décor. You can write on a piece of duck tape and stick it all over the restaurant.  Everywhere you look there are messages from previous guests stuck to the wall.
This restaurant has the look of a bit of a party scene with bucket drinks and bright colors. We had breakfast at Tacky Jacks but did hear that it can get very festive as the day goes on.  There are three Tacky Jacks in the Gulf Shores/Orange Beach area! You can't miss the restaurant with its vibrant colors and fun decor.
The restaurants have events including live music and epic views!
Menu items not to miss:
Crab Claws - fried or steamed
Po boys, sandwiches, and wraps are available including shrimp, crawfish, oyster and firecracker shrimp.
Fish tacos including flaky fish, crab, gulf grouper and mahi-mahi.
Address:
Orange Beach - 27206 Safe Harbor Dr. Orange Beach, AL 36561
Gulf Shores - 240 E 24th Ave Gulf Shores, AL36542
Fort Morgan - 1577 AL-180, Gulf Shores, AL 36542
Phone:
Orange Beach - (251) 981-4144
Gulf Shores - (251) 948-8881
Fort Morgan - (251) 968-8341
Hours:
Orange Beach - opens at 7 am
Gulf Shores - opens at 7:30 am
Fort Morgan - opens at 8 am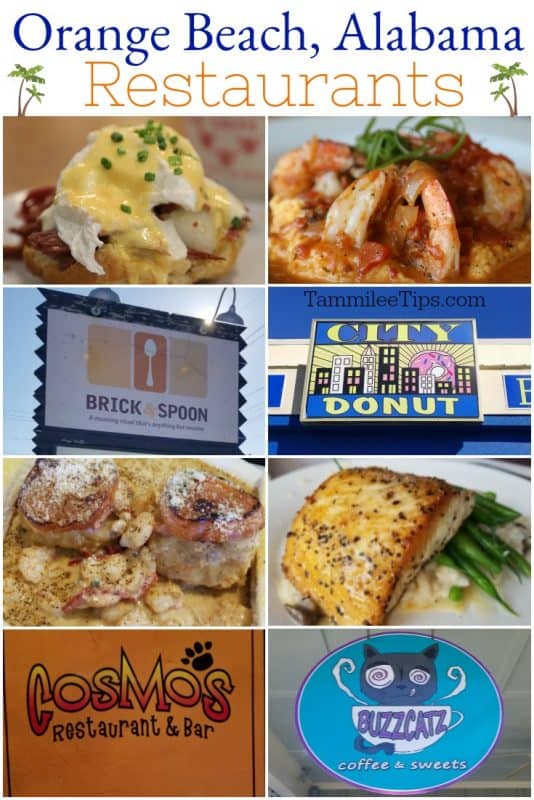 Orange Beach Restaurants
These are the restaurants in Orange Beach, Al you do not want to miss! From fine dining to Alabama Beach causal these restaurants serve up the best of gulf cuisine! You can't go wrong with fresh gulf shrimp, fresh mahi-mahi, or bread pudding.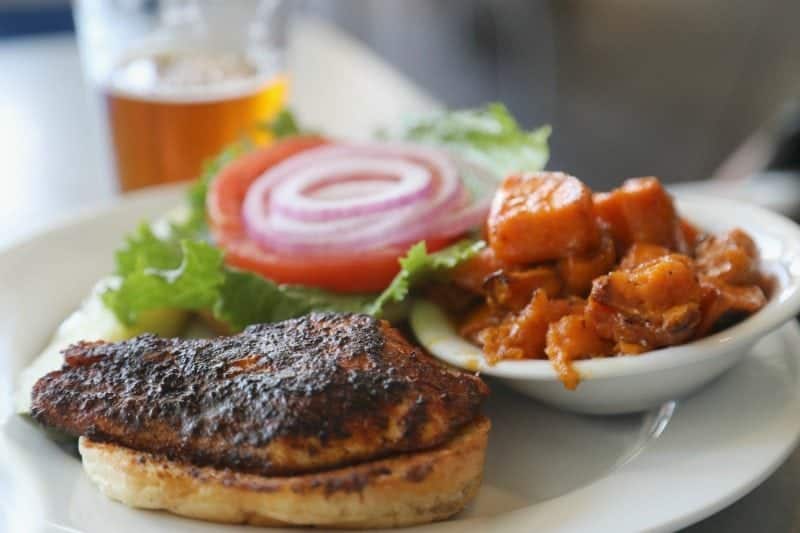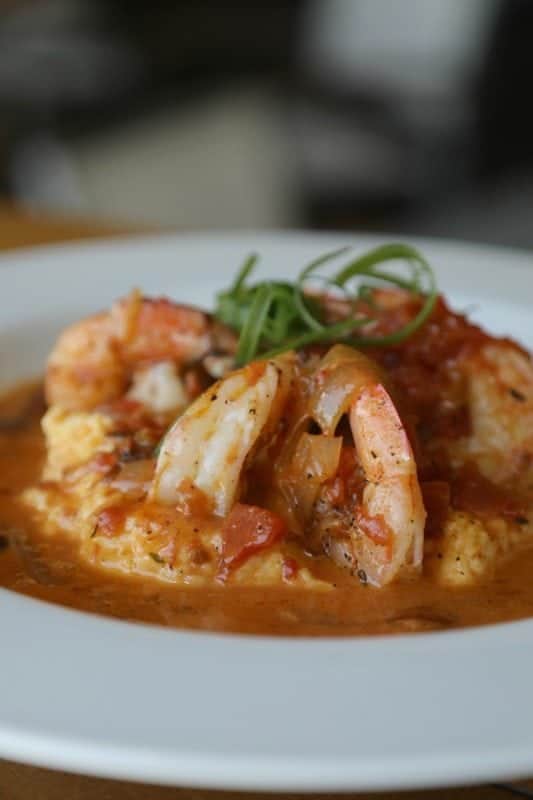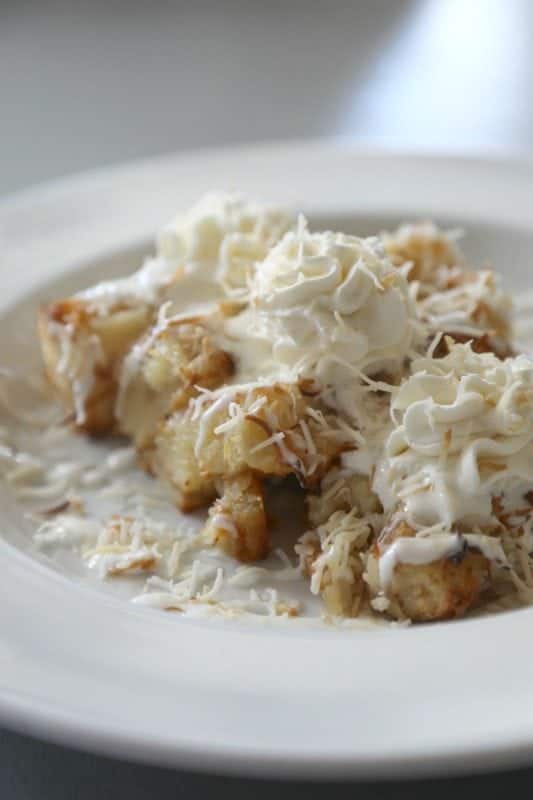 Fisher's Orange Beach
Dockside Restaurant
Looking for an upscale lunch that won't break the bank but tastes amazing! Check out Fishers Dockside! One of the things we loved about this restaurant is seeing their James Beard award-winning chef working on the TV so guests would have a tv to watch. This is southern home cooking that you will love.
Chef Bill Briand told us that the recipes are passed down from his Mom and are full of comfort food along with seasonally appropriate dishes depending on the weather. You can't go wrong with the shrimp and grits!
Menu Items not to miss:
Shrimp and Grits - Half dozen gulf shrimp, stone-ground yellow grits, Tasso tomato Gravy
White Chocolate Coconut Bread Pudding
Address: 27075 Marina Rd #100, Orange Beach, AL 36561
Phone: (251) 981-7308
If you are looking for a bit more of a fine dining atmosphere head upstairs to Fisher's Upstair restaurant.
Get On The List! Call ahead for Dockside seating (251) 981-7308
Hours:
Sunday - Thursday: 11 am - 9 pm
Friday & Saturday: 11 am - 10 pm
Sunday Brunch: 10 am - 2 pm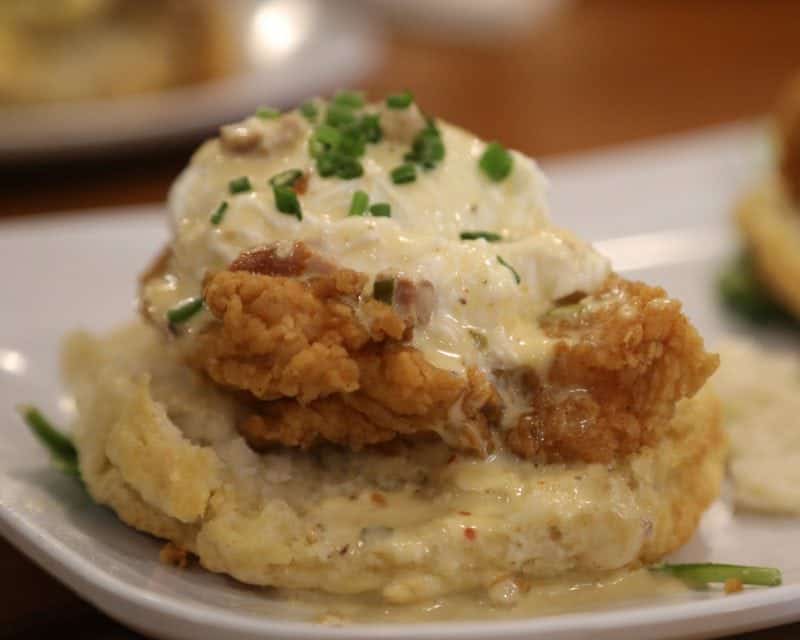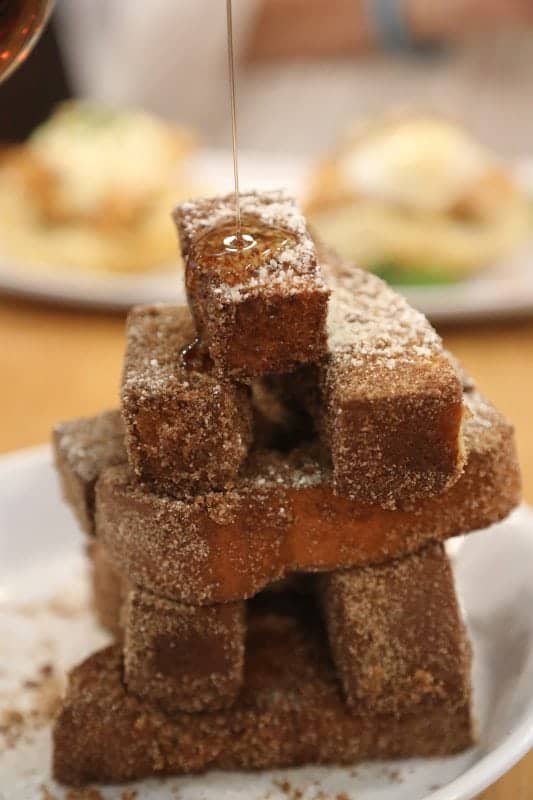 French Toast Batons - Brioche French toast sticks, fried and tossed in cinnamon sugar
The Ruby Slipper - Orange Beach
Do you love eggs benedicts? This is the restaurant for you! They offer amazing eggs benedicts in flavors you probably haven't seen before. This is not your normal eggs benedict.
Pictures a benedict with pulled pork or one with corned beef. They also offer chicken benedict and more.
Try the Shimp Boogaloo Benedict or the peacemaker that lets you pick any two signature benedicts.
Not really a benedict person don't worry they have a full menu! Their French toast looks like a giant plate of French toast Jenga and is pretty darn fun to eat!
Menu item not to miss:
BBQ Shrimp and Grits - Sauteed Gulf shrimp with beer & rosemary butter reduction, over creamy stone-ground grits, served with a buttermilk biscuit
Chicken St. Charles - Fried chicken breast served over a buttermilk biscuit, topped with two poached eggs, finished with a pork tasso cream sauce
Bananas Foster Pain Perdu - French bread-based French toast with rum-flambéed bananas & raisins
Bacon Praline Pancakes - Classic buttermilk pancakes with crispy bacon pieces, toasted pecans topped with warm praline sauce
Address: 24151 Perdido Beach Blvd, Orange Beach, AL 36561
Phone: (251) 800-7470
Hours: 7 Days a Week: 7:00 AM - 2:00 PM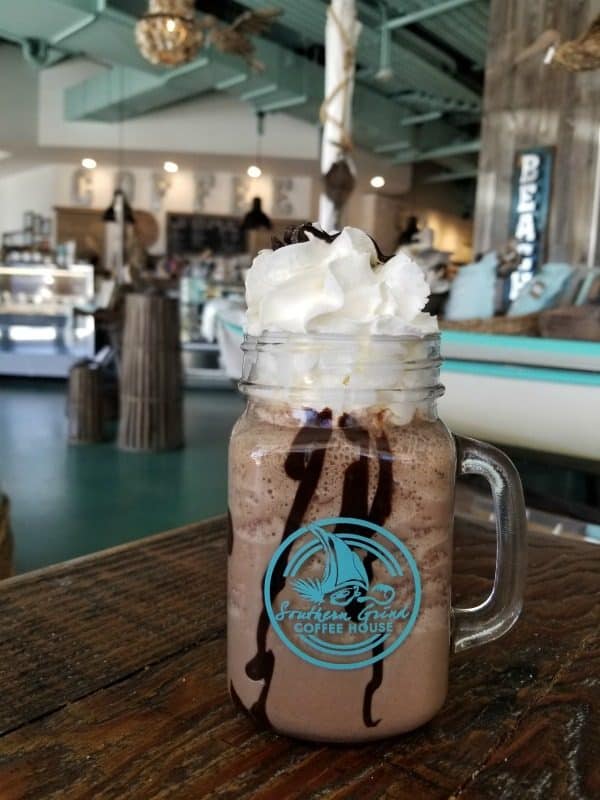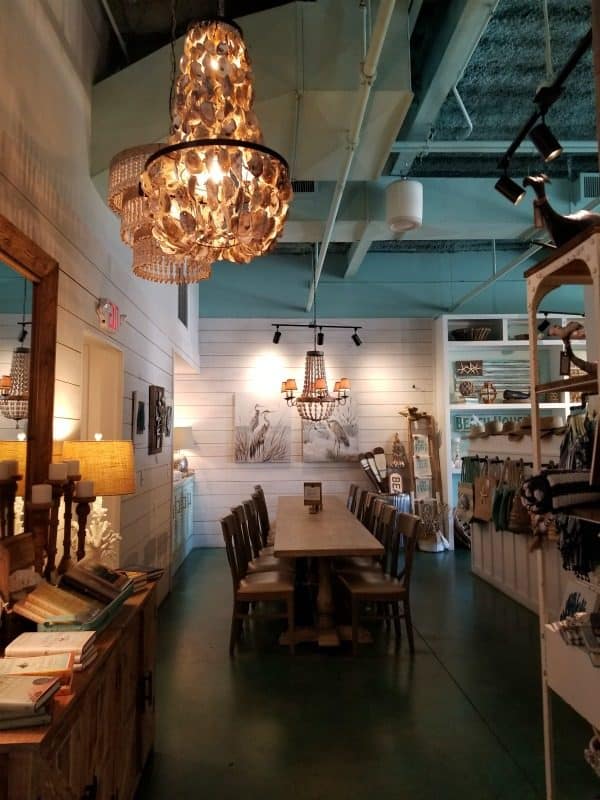 The Southern Grind Coffee House - Orange Beach
I could easily visit The Southern Grind Coffee House daily and love it every time. This is a coffee shop/restaurant you do not want to miss! The Gulf Coast beach decor is amazing and the best part is most of it is for sale so you can bring it home with you.
I told John that at some point when we have a beach home in Gulf Shores we will be decorating it with all the amazing things we find at The Southern Grind. I am guessing you did not come to this article for home decor so let's talk about the delicious food, to die for salted caramel cookies, and coffee you can find at The Southern Grind!
Menu items not to miss:
Salted Caramel Cookie - so good I had to mention it twice
Breakfast - biscuit or croissant sandwich, Belgian waffles, french toast, avocado egg melt...all of it..amazing!
Lunch - Bourbon chicken sandwich, chicken club panini, hummus veggie bagel, jumbo lump crab cake sandwich
Gelato - 18 flavors of gelato to choose from
Frappes - So good on a hot summer day! These sweet cold drinks are the perfect break and treat when you leave the beach.
Address:
The Wharf -  Main Street Suite 116, Orange Beach, Al
Hotel Indigo - 22843 Perdido Beach Blvd, Orange Beach, Al
Phone:
The Wharf - 251-923-3265
Hotel Indigo - 251-975-2883
Hours: Open 6:30 am 7 days a week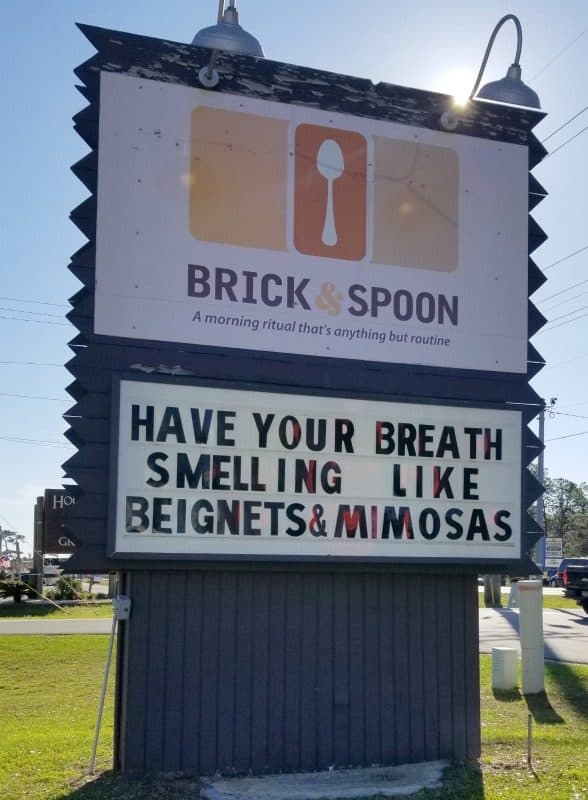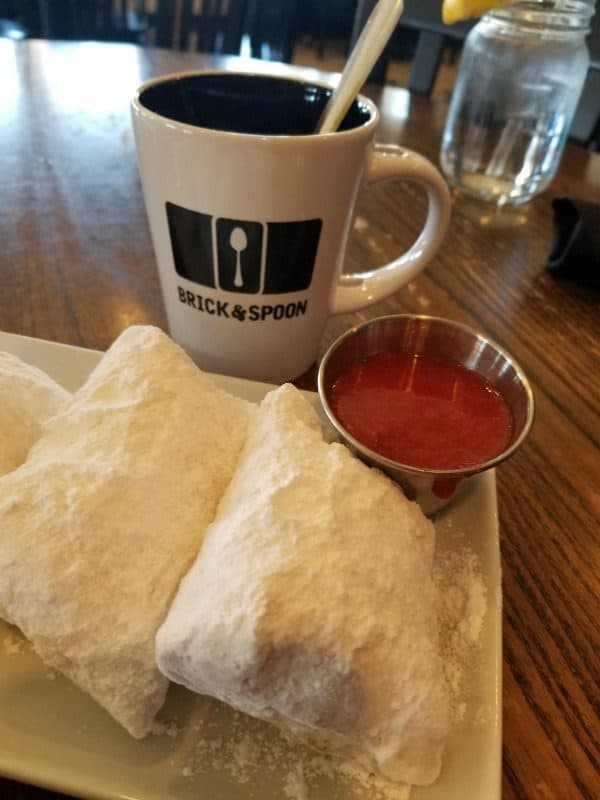 Fresh hot beignets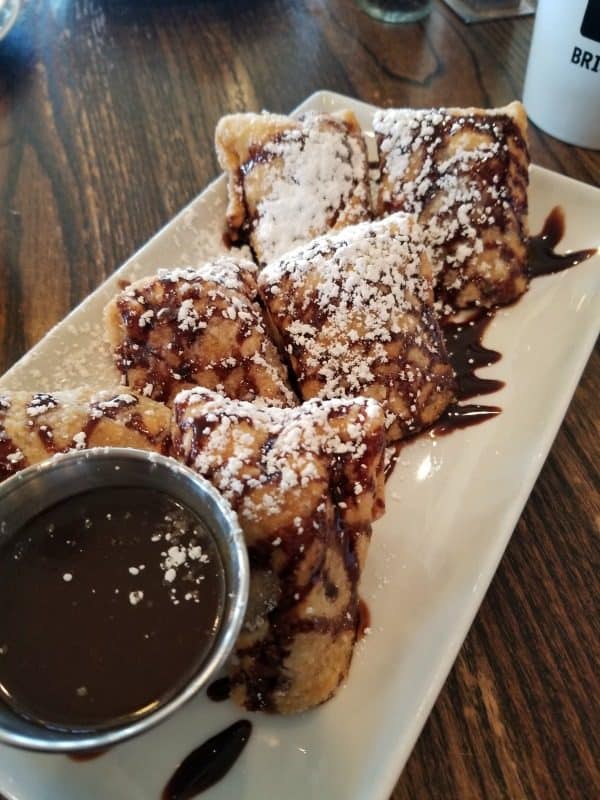 Bananas in Pajamas - Bananas wrapped in egg rolls, fried, served with banana foster sauce
Brick & Spoon - Orange Beach
As soon as we heard that Brick and Spoon had been voted one of the ten best breakfast restaurants in the United States we knew we had to go!
I have to tell you that Brick & Spoon did not disappoint! We could have easily had breakfast here every day during our visit and not run out of things to order. Every time a waitress walked by with a plate we were adding new things to our must-try list.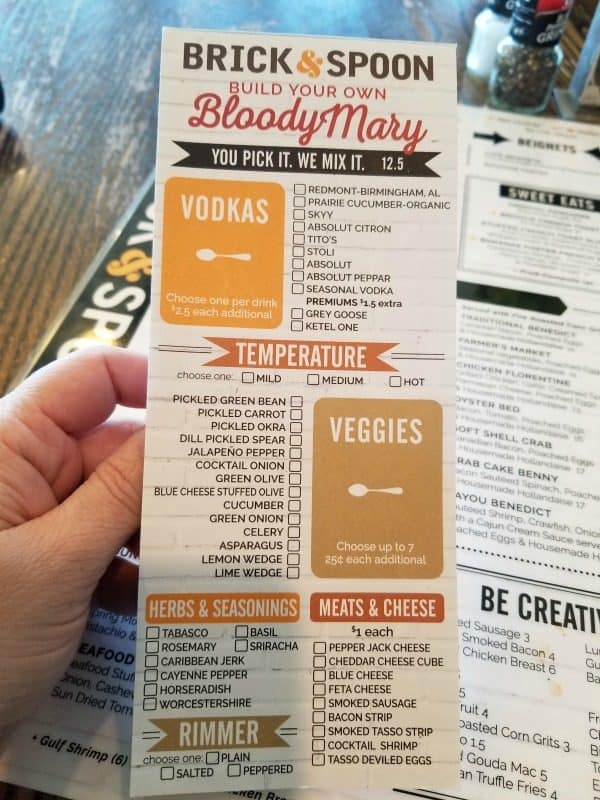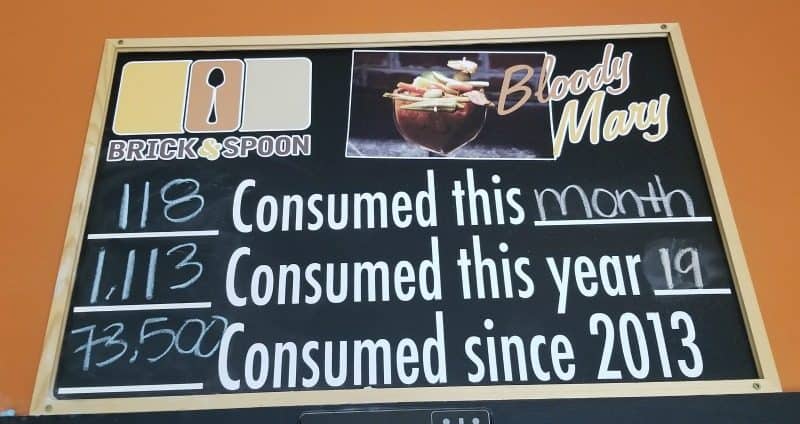 Brick & Spoon is known for their bloody mary's! We visited on the 5th of March and 118 of them had already been consumed in the 1st four days of the month! We saw many diners enjoying them during our visit. We sadly skipped trying one since we were due to get to the Mardi Gras parade and didn't want to get started too early on a day we knew would include a few Hurricane cocktails.
We started our breakfast with bananas in pajamas because how can you not order bananas in pajamas. The name is just too fun! We also had fresh hot beignets that were beyond delicious. I would go back just for the beignets.
I enjoyed the breakfast tacos while John had the bayou benedict which was amazing! We left so full and happy! This was one of our must-visit breakfast restaurants in Gulf Shore/Orange Beach!
Address: 24705 Canal Rd, Orange Beach, AL 36561
Phone: (251) 981-7772
Hours: 7:00 AM - 2:00 PM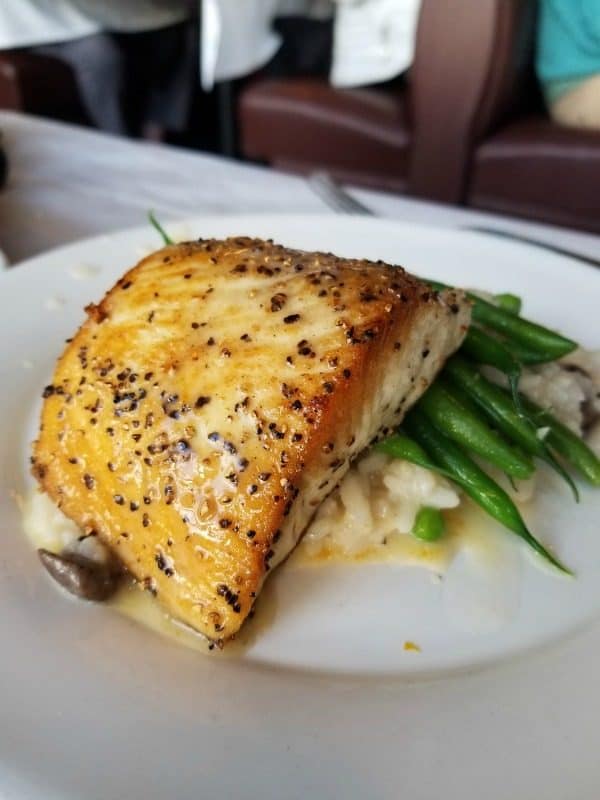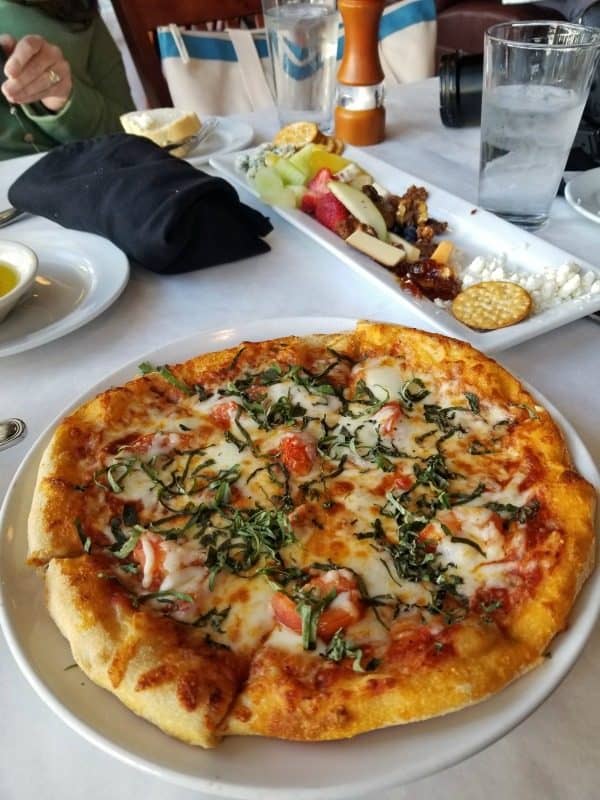 Margherita Pizza - Marinara, Roasted Garlic,Tomatoes, Fresh Basil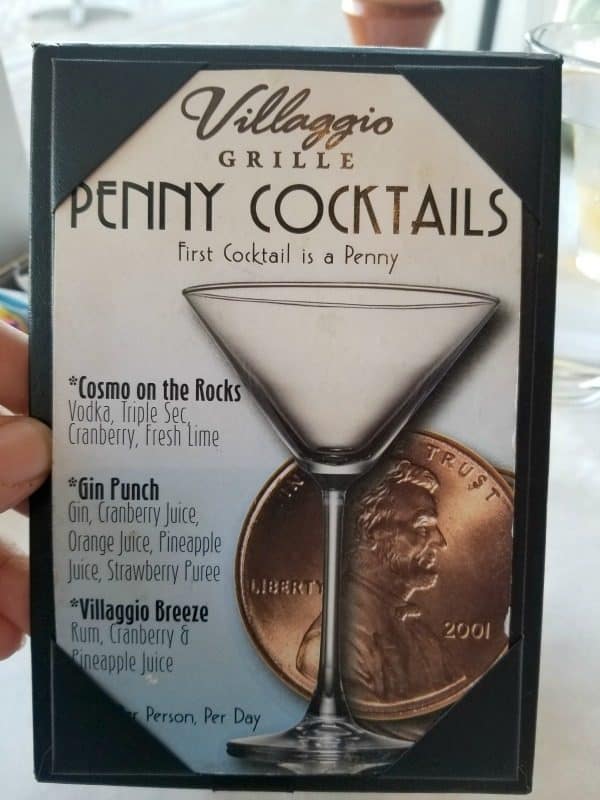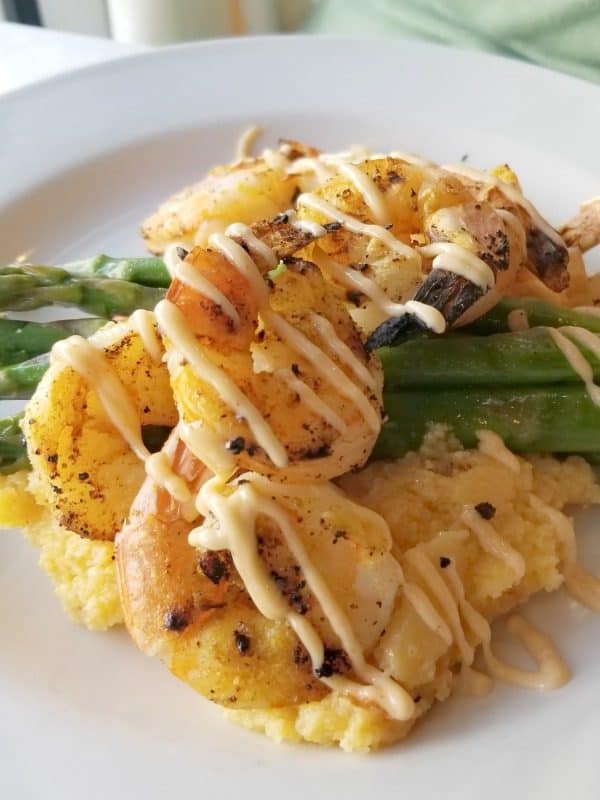 Villaggio Grille - The Wharf, Orange Beach
Villagio Grill is located at The Wharf in Orange Beach and served delicious Italian meals! You can't go wrong with lunch or dinner at this great restaurant. You can enjoy a penny cocktail with your meal. Yes! Your first cocktail is a penny if you order a Cosmo on the Rocks, Gin Punch or Villaggio Breeze!
The fruit and cheese platter was delicious. I could have easily just enjoyed that for lunch but we all know that didn't happen. The Margherita pizza was fresh and flavorful. It was large enough that I ended up taking most of it back to our Eagle Cottage at Gulf State Park to enjoy later in the day.
John enjoyed the fish of the day which was Mahi Mahi and said it was one of the best pieces of fish he had enjoyed anywhere. He had to keep putting his fork down on his plate to slow down eating the fish so he could savor each bite.
Address: 4790 Main St f108, Orange Beach, AL 36561
Phone: (251) 224-6510
Hours:
Sunday - Thursday: 11 am - 9 pm
Friday - Saturday: 11 am - 10 pm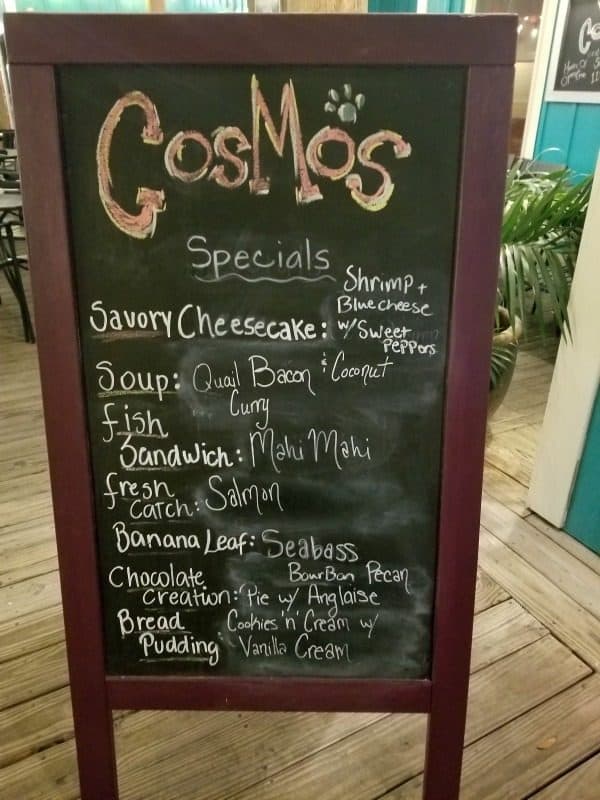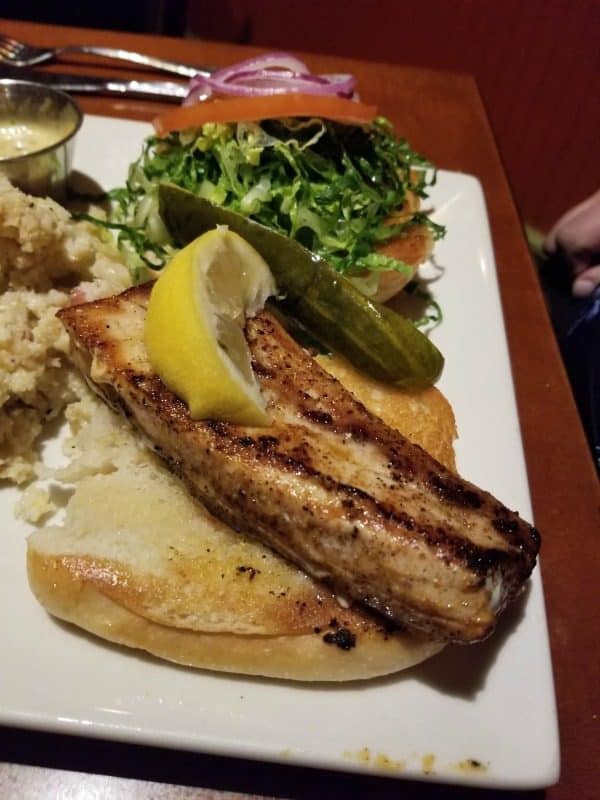 Cosmos Orange Beach
We visited Cosmo's Restaurant after enjoying our Gulf Shores Dolphin Tour. We were so hungry and excited for a great meal.
Cosmo's was recommended to us from a local friend who said that it was one of their favorites. We could see why they loved it so much.
The service was great and the restaurant has a laid back relaxed vibe that is perfect after a day out on the water or at the beach.
The restaurant was filled with locals enjoying dinner and seeing each other. John enjoyed the Mahi Mahi sandwich and said it was great. I have to admit that I had the Fettuccine Alfredo and took a break from Southern Comfort Food for some Italian comfort food instead.
Menu items not to miss:
Cheese dip - Made with local Sweet Home Farm cheese. A silky blend of Swiss, Parmesan & locally made Elberta cheeses. Topped with feta & roasted tomato relish, served with pita chips.
Address: 25753 Canal Rd, Orange Beach, AL 36561
Phone: (251) 948-9663
Hours:
Sunday - Thursday 11 a.m. to 9:30 p.m.
Friday - Saturday 11 a.m. to 10:00 p.m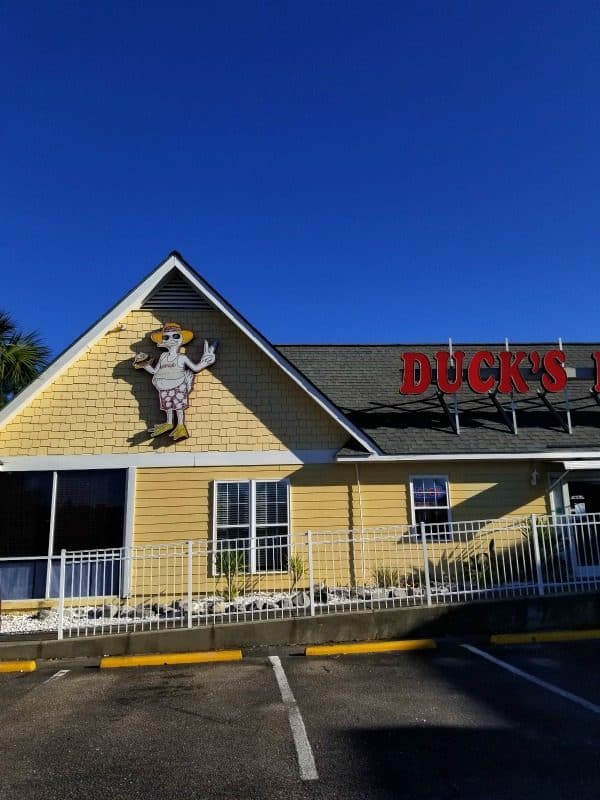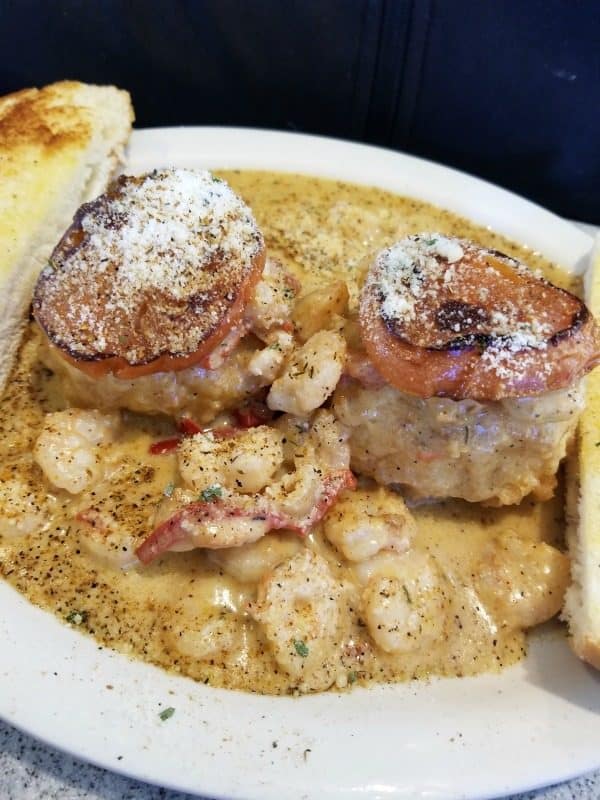 Creole Shrimp and Grit Cakes Ducks Diner Orange Beach Al
We enjoyed breakfast at Duck's Diner on our final morning in Gulf Shore/Orange Beach. It is probably a good thing we went on our last day or we may have been there every morning of our trip.
John said the Creole Shrimp and Grit Cakes was one of the best breakfasts he has had anywhere in the world. The server joked that he could drink the creole sauce straight from the pan and John agreed. It was that good!
Duck's Diner is super casual and great for families. The restaurant is located in Orange Beach and really easy to get to. There is a ton of parking in front of the restaurant. This is definitely a breakfast spot not to miss during your trip to the Alabama Beaches!
Menu Items not to miss:
Creole Shrimp and Grit Cakes - Grilled shrimp over fried grit cakes infused with gouda cheese, topped with grilled tomatoes, and drizzled with a homemade creole sauce!
Biscuits and Gravy
Address: 4560 Easy St, Orange Beach, AL 36561
Phone: (251) 948-9191
Hours: 7 am to 1:30 pm
I feel like you would honestly have to try to go hungry in Gulf Shores and Orange Beach, Alabama. There are so many restaurants to choose from!
We talked with quite a few locals during our trip and they all gave us a huge list of favorite restaurants.
Everything from fresh oysters to pizza was on the list.  This city truly has something for everyone.
Additional Gulf Shores Resources
Wondering what else to do during your vacation to Gulf Shores?
Check out our top things to do in Gulf Shores for great vacation ideas!
Sail Wild Hearts Dolphin Cruise - a great way to get out on the water and watch dolphins.
Gulf State Park Campground - Check out this epic state park campground in the heart of Gulf Shores.
Gulf State Park - All of the epic things to do in Gulf State Park.
We have to say a HUGE THANK YOU to the Gulf Shores Visitor Bureau for hosting our trip