Things you will love at The Hangout Gulf Shores, Alabama! This epic Alabama Beach Bar is the perfect place to relax and soak in the Gulf Coast atmosphere.
This Gulf Coast Beach Bar is family-friendly fun during the day and a great live music party at night. There is truly fun for the whole family with foam parties, line dancing, epic beach views,  killer cocktails, and photo fun.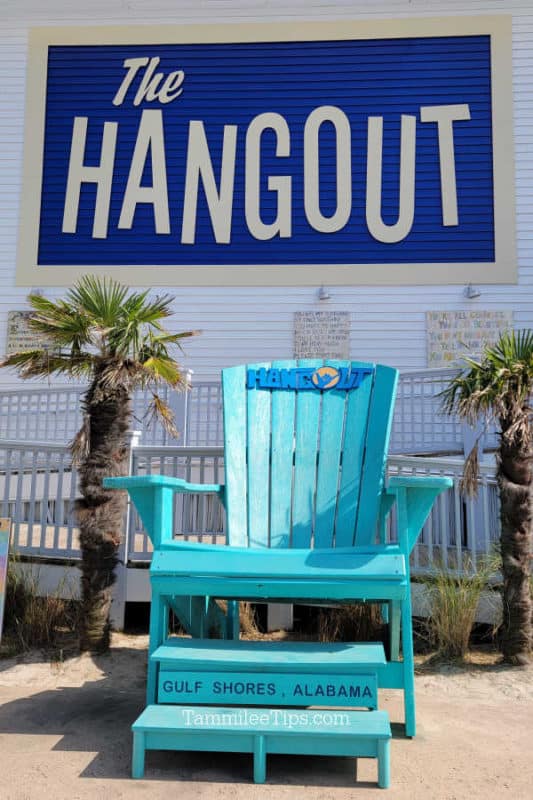 The Hangout, Gulf Shores
This beach bar is a gulf coast favorite for a reason! There is something for everyone of all ages!
We had such a great time relaxing at The Hangout! You have to get a Shark Bite cocktail and toast to your time in Gulf Shores, Alabama.
Plan time just to wander around the complex and check out all of the unique features. This is a beach hangout that you need to have your phone camera or regular camera with you!
Trust me you will want photos of your experience here!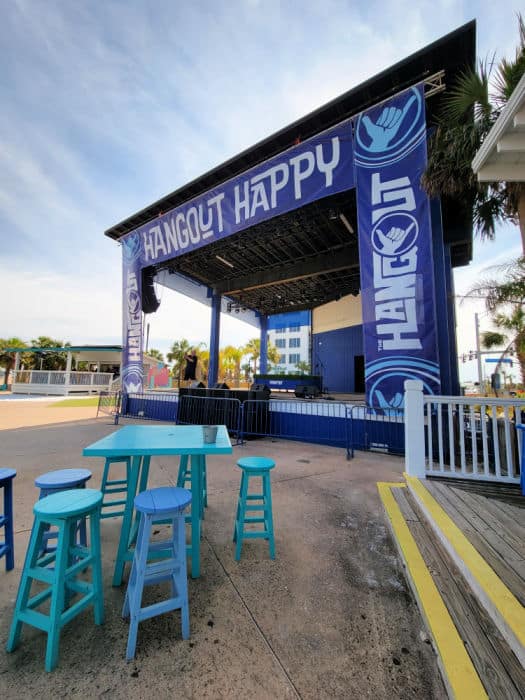 Live Music
The Hangout has live music all year long at the Main Stage. When there isn't live music going the DJ has killer tunes playing and the entire place has a great fun beach vibe.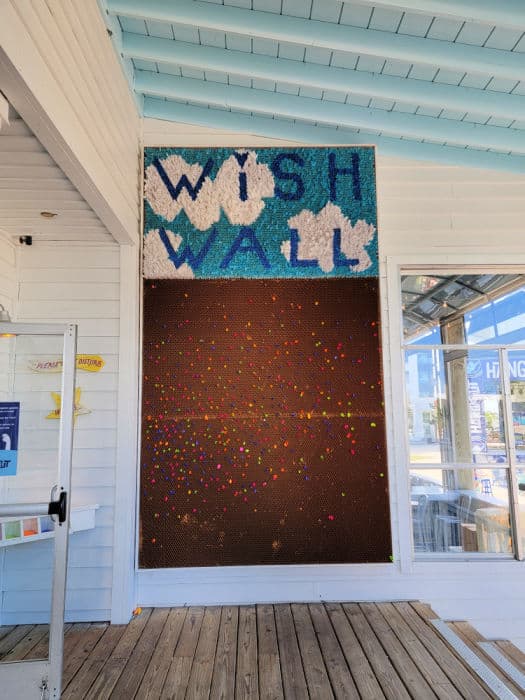 Wish Wall
Located just outside of the main eating area is an amazing wish wall! You can write your wish on a piece of paper and place it in an opening and hope it comes true!
There is paper and pencils ready for you to make a wish!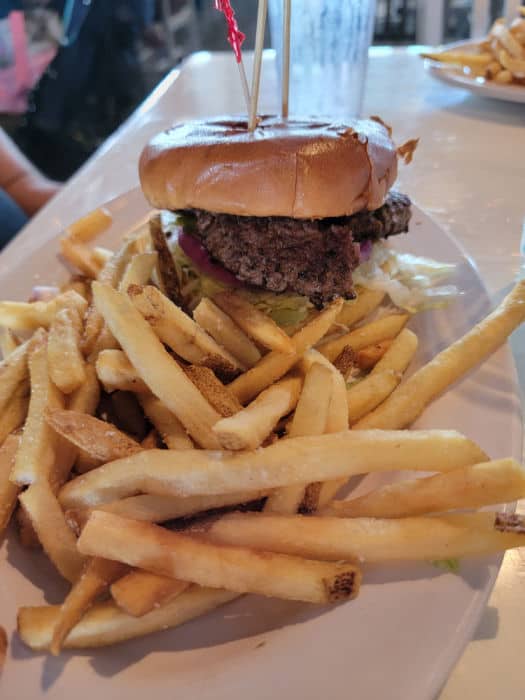 Great Food
The Hangout offers an amazing menu including Gulf Seafood, chicken nachos, Hangout Wings, Fried Green Tomatoes, and those are just the appetizers.
Main entrees include seafood boil, grilled shrimp skewers, smothered Mahi-Mahi, crawfish boil, Fish & Chips, and more.
Great burgers include:
The Lifeguard - 2 of their signature ½ pound burgers, topped with cheddar and Pepper Jack cheese, stacked with
fried green tomato, fried egg, thick-sliced bacon, and fried pickles. Served on a brioche bun and garnished with lettuce, tomato, onions, and pickles.
Shaka Burger - Knife and fork burger with fried shrimp, rémoulade, Shaka cheese sauce. Topped with lettuce, tomato,
onions, and pickles. Served with fries.
Bama BBQ - Alabama white bbq sauce, cheddar cheese, coleslaw, and onion straws. Served with fries
Alabama Wagyu - Hangout Exclusive - Alabama Wagyu™, our herd is a direct descendant of the world-renowned
"Red Emperor" from Kobe Japan and is locally and sustainably farmed right here in Gulf Shores, AL. The cattle are raised in an all-natural, stress-free, hormone and antibiotic-free environment. This results in superior signature marbling that has won many awards! Topped with lettuce, tomato, onions, and pickles. Served with fries. To unveil its delicacy, the chef recommends keeping it a little pink!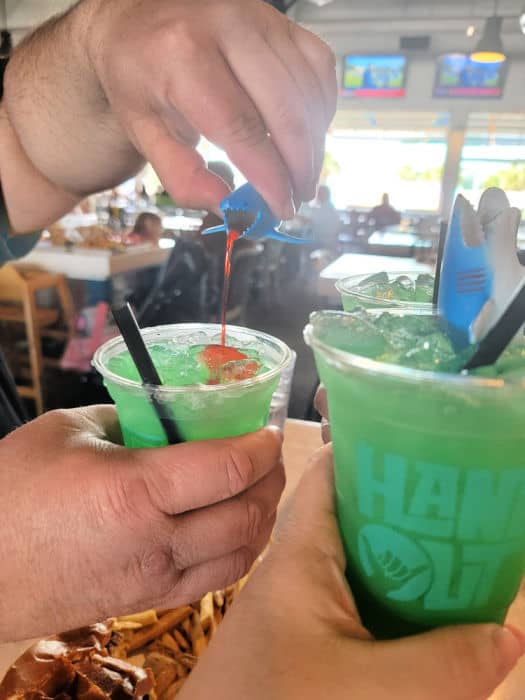 Epic Cocktails
You have to try a Shark Bite! This signature cocktail comes with a shark in it that holds a bloody treat. Ok, it is not blood it is grenadine but when you pour it out it looks pretty fun coming out of the shark's mouth into your cocktail.
Plus the Shark Bite tastes like adult Kool-Aid. It is one of those beach cocktails you will happily order a 2nd one of.
They also have an amazing Bushwacker and so many more tropical cocktails!!! If you are looking for a frosty cool beverage they have you covered.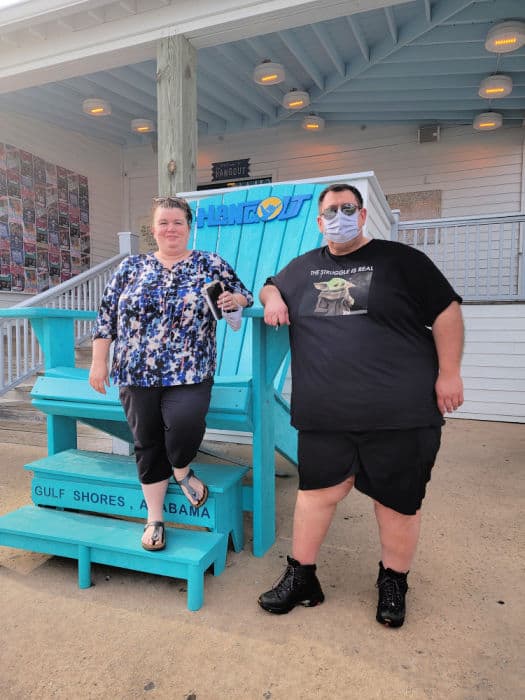 Giant Beach Chairs
There are multiple giant Adirondack chairs around the property perfect for family and friend photos! These are the perfect Instagram pics to share your vacation fun!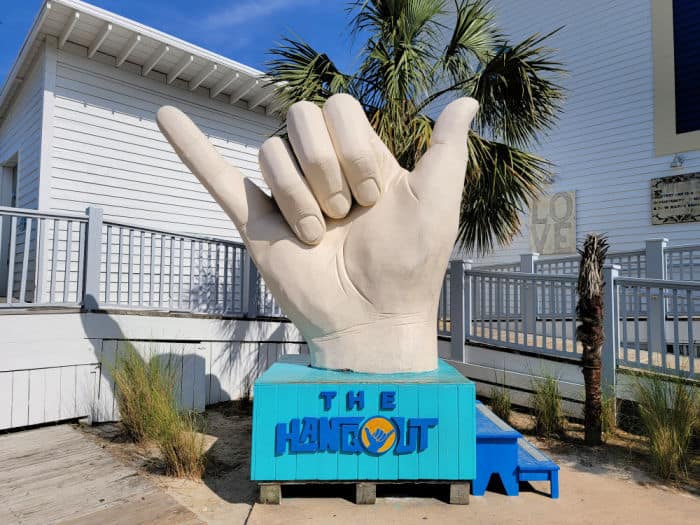 Giant Shaka Hand
Another fun photo op is the giant Shaka hands! There is a step up so you can pose and have a ton of fun.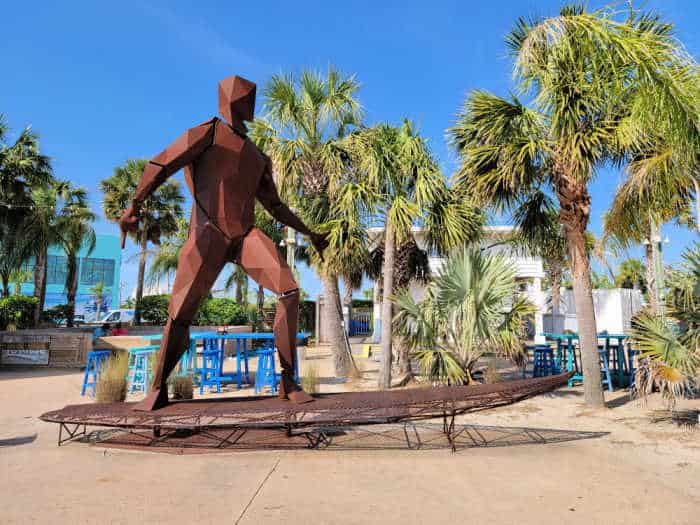 Giant Surfer Statue
Another fun photo opp! Catch a wave with this giant metal surfer and surfboard.
Pirate and Princess Breakfast
Every day in the summer the entire family can enjoy the Pirate and Princess Breakfast. This fun breakfast includes an all-you-can-eat breakfast buffet.
Family fun includes sing-along songs, games, treasure hunts, magic tricks, and so much more.
Showtimes are at 8 am, 9 am, and 10 am Daily. You can book a reservation online for free to make sure you have seats.
Foam Parties
Every hour you can enjoy a fun foam party in the outdoor courtyard! You may want to make sure kids are in clothes that can get covered in foam bubbles.
We watched kids come in so excited they were covered in foam bubbles.
Line Dancing and Birthday Fun!
If you are celebrating a birthday be ready to have fun! Even if it isn't your birthday you can enjoy fun with a DJ/MC entertaining the crowd and getting everyone hooping and hollering.
Get ready for some fun!
One thing to know is the birthday fun can include climbing up on the table. If you are not comfortable dancing on a chair or table you may want to gracefully bow out of celebrating your birthday.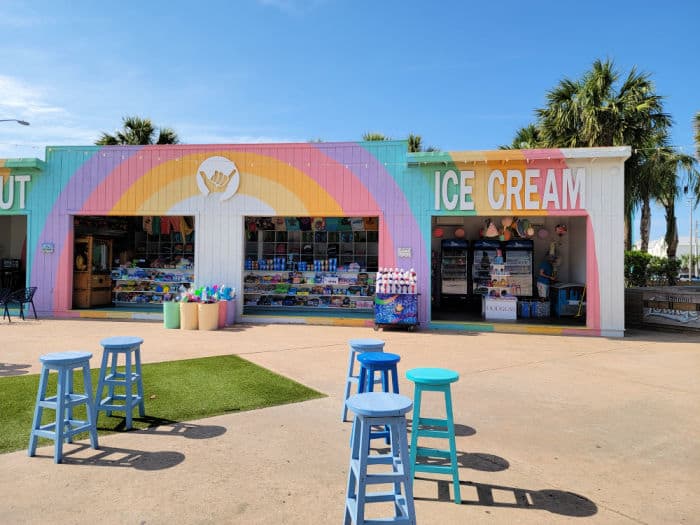 Courtyard Games
Have fun playing giant Jenga, ping pong, or foosball with family and friends.
Sand Pit
If you have kids that need to release a bit of energy. There is a fun sandpit area with huge plastic culverts that kids can play in. There is also a great area for parents to relax.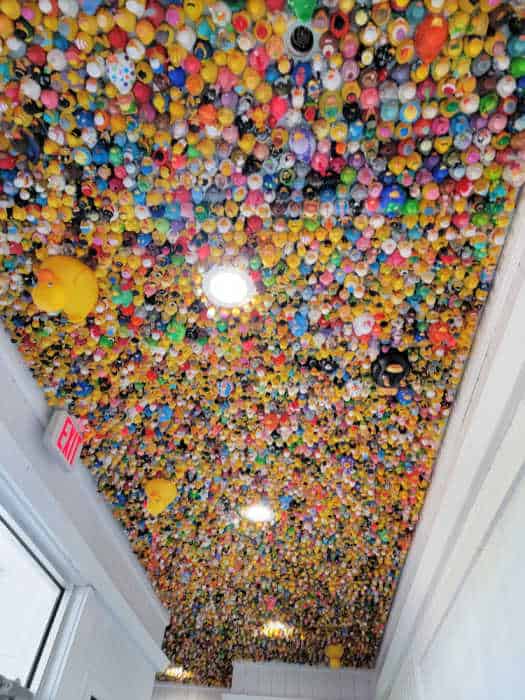 Walls of Fun
The Hangout Gulf Shores has the most amazing collections of random fun things! Where else can you see a ceiling of rubber duckies, or a DJ booth of PEZ dispensers, window frames made with matchbox cars, and walls decorated with metal lunchboxes just to name a few things?
Plus be inspired by the fun quotes and warm-hearted sayings on the wall. You will not be bored looking around this great Gulf Shores Restaurant.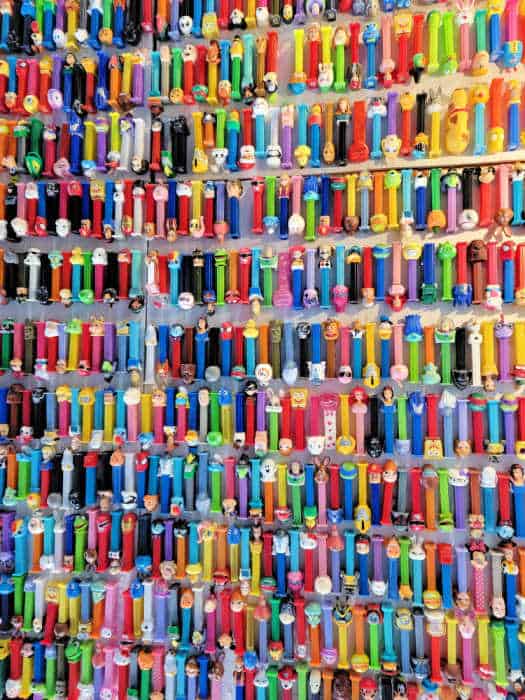 Easy Beach Access
The Hangout is located directly across from a beautiful white sand beach! You can easily enjoy lunch or a cocktail and head back to the beach easily.
Hangout Music Festival
Every year when possible the Hangout Music Festival occurs in May.
They are still working on figuring out the 2021 Hangout Music Festival and if they will be able to host it in the Fall. They may have to delay until 2022 depending on how the world looks.
All ages are welcome at the festival though anyone 17 and under needs to be accompanied by a ticketed adult over 21.
Past musicians have included Post Malone, Billie Eilish, Lana Del Ray, Kane Brown, Doja Cat, and Red Hot Chili Peppers.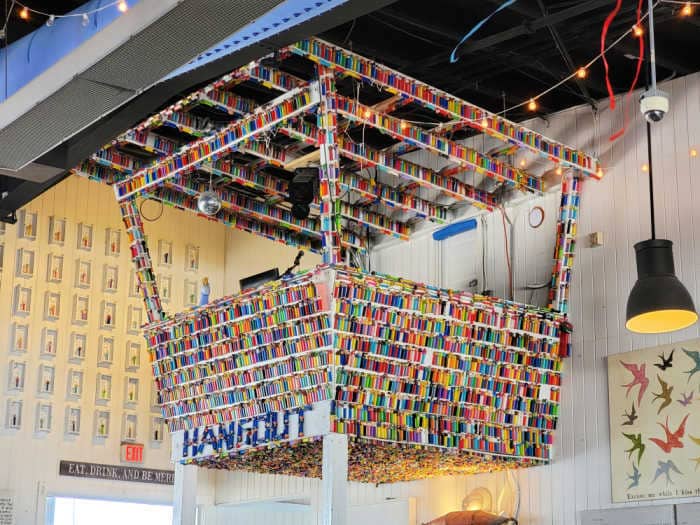 Things to know when planning a visit to The Hangout
Address - 101 E. Beach Blvd in Gulf Shores, AL
Open daily from 11 am to 11 pm
Parking - There is some street parking right next to the restaurant. You will need to pay for a parking ticket for either $5 or $10 depending on how long you plan to be parked. There is also a parking lot next to the restaurant marked for The Hangout.
Phone - 251.948.3030
Additional Gulf Shores/Orange Beach Articles
Top things to do in Gulf Shores and Orange Beach