Visiting Juneau on an Alaska Cruise? These are our best tips, tools, and things to do while in port! Juneau is amazing and there is so much to see and do!  These are the top things to do in Juneau from the cruise ship!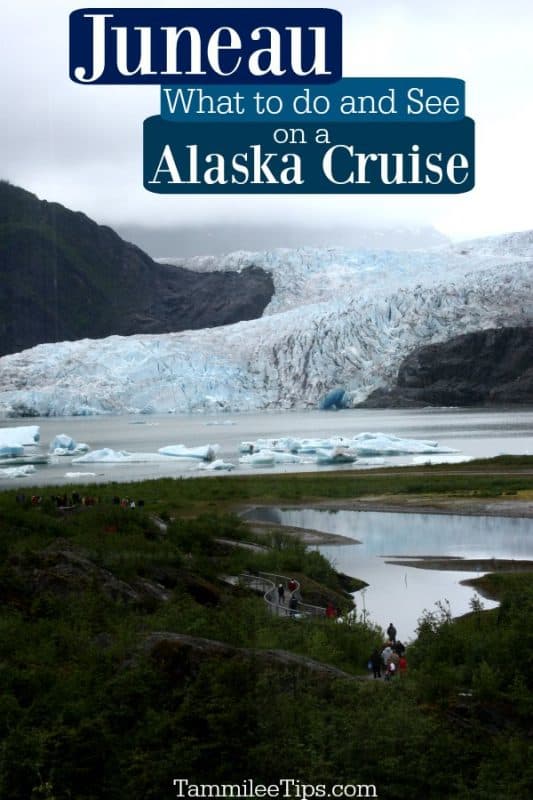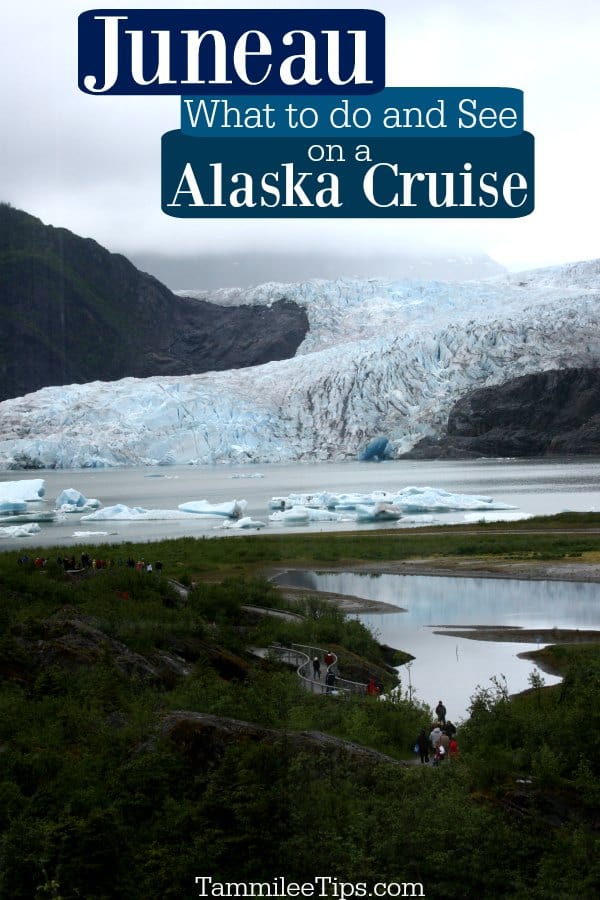 Juneau on an Alaska Cruise
Heading to Juneau on an Alaska Cruise this summer? You are in for such a treat! The city of Juneau is absolutely amazing and there is so much to see and do in the short time you are there. Every time we visit we tell each other that we need to plan a trip to Juneau and spend more than a day in the city. Today I am sharing tips for visiting Juneau on an Alaska Cruise!
We have visited Juneau a couple of times during the Alaska cruises we have taken and feel like we still have more we want to see and do. My best advice is to plan a bit ahead of time so you can maximize your time in this amazing city. We have done the city on our own and done cruise excursions. Both methods led to amazing days and so much fun.
The cruise ships dock right in town, and you can easily walk into the main tourist section of town. This area includes souvenir shops, jewelry shops, restaurants, and the Mount Roberts Tram tour.
The Mount Roberts Tram Tour is on our must-do list for our next visit to Juneau. This past trip we took an amazing Juneau whale watching excursion and didn't have time to also fit in a ride on the tram.
During our first Alaska Cruise, we decided to rent a car in Juneau so we could explore on our own. Our first stop was the Mendenhall Glacier. The Mendenhall Glacier is about 15 minutes outside of town. It was really easy to find and so beautiful. There are tons of hiking trails around Mendenhall Glacier. The visitor center is filled with really cool displays and knowledgeable staff.
We decided to drive the road out of town and see just how far it went. I have to say there is not much at the end of the road except for a sign that says "end". The drive was really pretty even with all of the construction. You drive along the coastline and can see out over the water and mountains. We watched seals in the water and had a great picnic overlooking the water.
One of my favorite parts of Juneau is the Bald Eagles. They are everywhere. When we went and picked up our rental car I mentioned how excited I was to see them to the car rental agent. She said that they are like crows and by the end of the day I will not even notice them. I thought this was crazy when she told me. I have to say by the end of the day though I could see what she meant. We were sitting in the Costco parking lot and they were everywhere. I just sat back and watched them fly by. I really wish I could have gotten a great picture of one. They were always just out of reach of my camera lens for a great photo.
We dropped the car off and headed back to the boat to drop off all of our purchases. The great thing about Juneau is the boat is docked within walking distance of the city. We were able to drop everything off and walk back into town. The town is a super easy 5-10 minute walk along a paved sidewalk.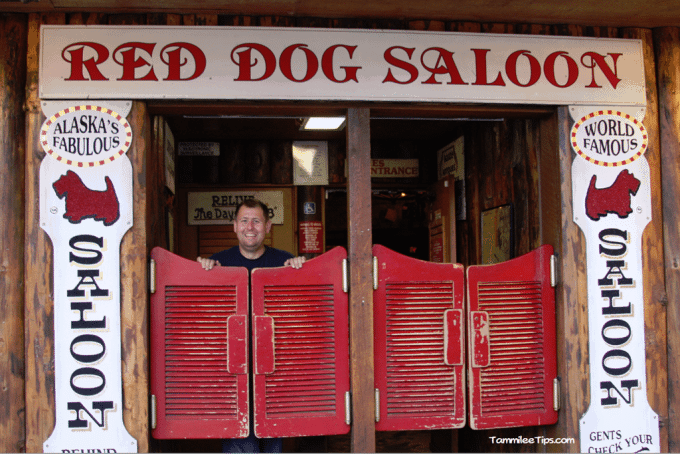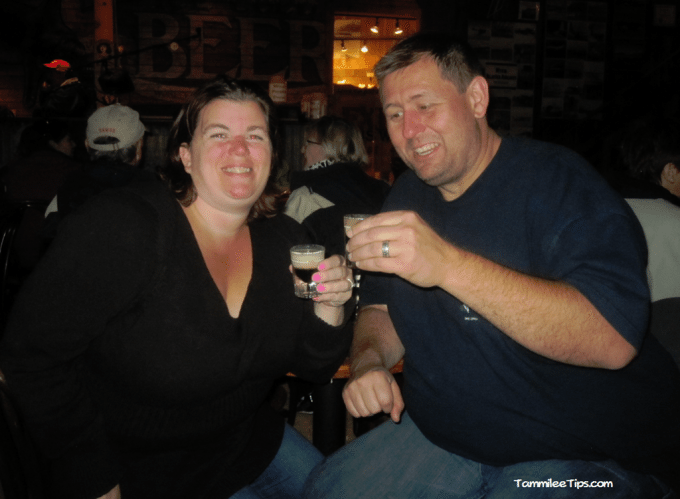 We walked through the stores and headed to the Red Dog Saloon. You cannot miss the Red Dog Saloon while you are walking through town. The bright red swinging doors beckon you to check it out. Oh my goodness this is a true Alaska classic. There is sawdust on the floor, animals on the walls, interesting characters working at the bar and great music. We indulged in a classic Alaska drink….the Duck Fart. I have to admit that we forgot to get a picture the first time we drank the Duck Fart shot so we had to order a 2nd round. We ended up drinking 3 rounds of Duck Farts just to make sure we had this great photo.
I was very warm on the inside and relaxed after 3 rounds of Duck Farts. There was a great singer at the Red Dog Saloon. He was quite the character and had rotating tip buckets including his blind puppy fund and Viagra fund.
Juneau was is one of our favorite stops on an Alaska cruise. The scenery is beautiful, the people were really friendly and it is so easy to get around.
The city is a really easy city to walk around in. You can easily access great shopping and restaurants from the boat. On our next trip to Juneau, I can't wait to spend more time exploring the city.
During our last visit, we stopped by a crepe food stand and had the most amazing crepes while soaking up the sunshine. It was absolute perfection!
We were able to rent a car through the Costco website on one of our visits for a great price. We loved being able to drive around town and explore on our own. Since the road literally ends in a stand of trees you can't really get lost. We were able to visit Costco, Walmart, and local grocery stores while we had the car. We picked up picnic supplies and drove out of town to a park that had picnic tables. It was a great day watching the seals play in the water while enjoying a picnic lunch and just enjoying being in Alaska. We also saw a bear right off the side of the road which made for great pictures.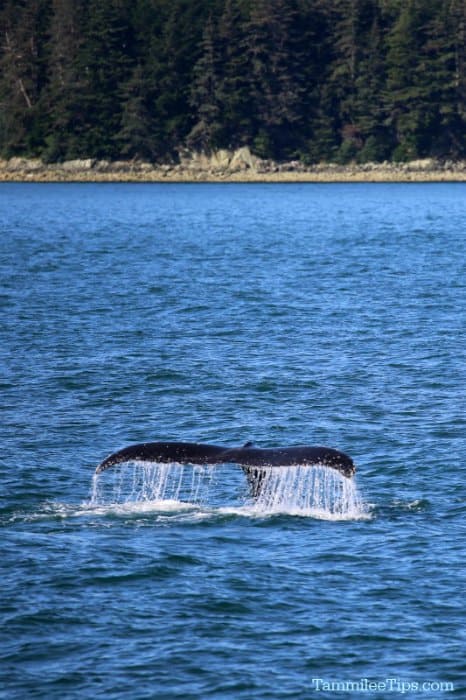 Top things to do in Juneau
Whale watching in Juneau is amazing! This is a port that you will want to be out looking for whales as you sail in and out of port. We saw so many whales as we were leaving the port and sitting at dinner.
There are amazing Whale Watching excursions offered from Carnival and other cruise ships. The big thing you want to look at is how long the excursion is. The prices vary depending on what type of boat you are on and how long you are out.
We really like the 4-hour whale watching excursion and would honestly take a longer one if we had time. The views are gorgeous and the whales are just plain amazing.
I do suggest dressing in layers because it can be quite chilly while out watching for whales.
Mendenhall Glacier is located about 15 minutes from the cruise port. You can visit on your own or take a cruise excursion. If you think you will want to explore the hiking trails around the glacier and spend more than an hour exploring the glacier I would suggest renting a car, shuttle or taking an uber to Mendenhall Glacier so you have enough time.
When I looked up an Uber from the port terminal to Mendenhall Glacier it ranges from $38 - $58.
Mendenhall Glacier is a half-mile wide, with ice 300 to 1,800 feet deep! Every time you visit the views will shift a little bit as the glacier continues to calf and change. While we were there it was amazing to listen to the creaks of the glacier.
The Red Dog Saloon started back in the heyday of Juneau's Mining Era. Walking into the bar feels a bit like stepping back in time.
For an Alaskan treat try a reindeer sausage corndog. One thing about being in Alaska is you can bring your kids with you to the Red Dog Saloon if you want to.
Open daily from 11:00 am – 1100 pm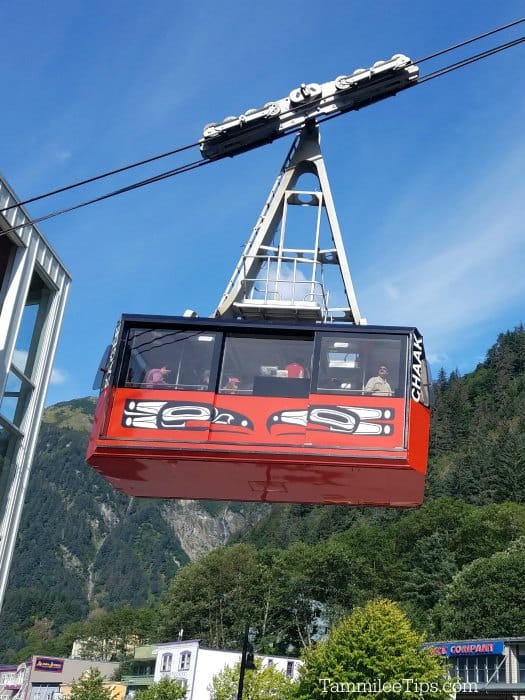 The Mount Roberts Tram is located right next to the cruise terminal. You can easily walk from the ship to the tram. I would suggest going a little later in the day to let the crowds go first. This is a super popular thing to do in Juneau and there always seems to be a mad rush right when the ship gets into port.
There are no online ticket sales but you can buy them at the tram or from the shore excursion desk on your cruise ship.
The Mount Roberts Tram Cars rise 1,800 feet from the cruise ship dock in downtown Juneau through the rain forest to the Mountain House.  You can enjoy epic views of Juneau and Gastineau Channel on the tram ride.
One great thing is your ticket is good all day. If the weather isn't the best when you go up the first time you can always head back later in the day.
Alaska Brewing Company
Alaskan Brewing Company is located in Juneau. The shop/brewery is sadly not within walking distance of the port terminal.
Cruise passengers can take a direct shuttle from the Alaskan Brewing Depot to the Brewery Tour Hall. The shuttle is free with the purchase of a $25 guided tasting.  The shuttle departs from the Depot every day at 40 minutes past each hour, from 11:40 am to 4:40 pm. Seats are limited to 12 passengers per departure.
You can reserve a shuttle tour ahead of time or by stopping at the Alaska Brewing Depot in town on the day you are in port.
The Brewery Tour Hall is located 5 miles from downtown Juneau
For $25, you get a tasting with six 4-ounce samples while learning the history of Alaskan Brewing Co. The guided tastings start on the hour at the brewery.  The last tasting is at 6 pm.
Shopping
If you are looking forward to souvenir shopping you will not be disappointed with shopping in Juneau. The main street is lined with souvenir shops. You can find a little bit of everything here.
Keep an eye out while in other Alaska ports for the shopping coupon booklets. We have found them in random gift stores. They normally have great coupons for each of the ports.
What to pack for your day in Juneau
Water-resistant backpack - If you plan on exploring in town or doing any shopping having a water-resistant backpack will make your day a lot easier.
Compact Binoculars - We loving have a small pair of binoculars in our bag. With all of the whales and Bald Eagles near Juneau, they are great for getting a closer look at the wildlife.
Rain Jacket - Having a rain jacket with you will hopefully mean it doesn't rain while you are in port. You could also pack one of these cute travel rain ponchos.
Alaska Inside Passage Wildlife Guide - If you want help identifying the wildlife you see on your cruise we love these guide books.
Check out our What to pack for an Alaska Cruise post filled with all of the things we wished we would have packed on our first cruise. Don't make the same mistakes we did.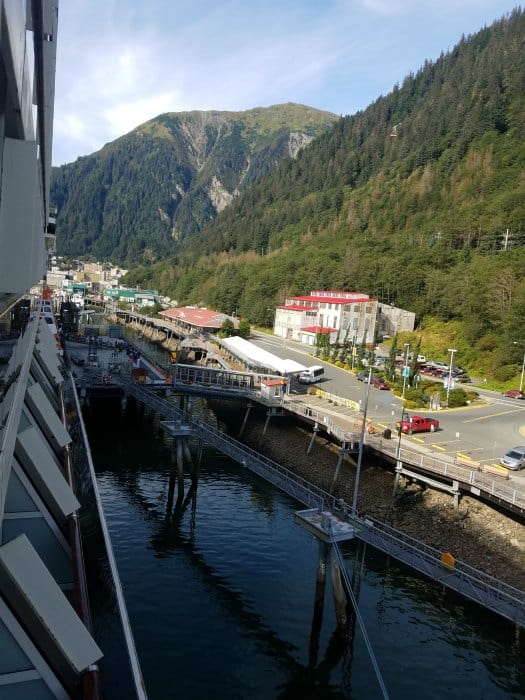 Tips for your day in Juneau during Alaska Cruise!
These are things we wish we would have known during our cruise!
Disembarkation and other announcements are not made on outside decks. Juneau has a noise regulation so the ship cannot announce when you are clear to leave the ship. You must be inside the ship to hear any announcements in this port.
Juneau is very easy to get around.  We were able to rent a car and spend the day exploring Juneau.
There is no road out of Juneau. The road literally ends and you have to turn around and head back into town.
Juneau is only accessible by boat or plane. There are no roads that go out of town.
What time zone is Juneau?
Juneau is located in the Alaska Time Zone, which is one hour earlier than the Pacific Time Zone. Alaska does follow Daylight Savings Time
What should I bring to wear?
Layers are your friend in Juneau no matter what time of year you visit. The weather can go from sunny and gorgeous to cool and cold in a matter of moments.
Waterproof footwear is also a really great idea.
How many hours of daylight are there in Juneau?
The longest day in Juneau is June 21st and there will be 18 hours and 18 minutes of daylight. The shortest day is December 21st with 6 hours and 21 minutes of daylight.
Do I need a fishing license to fish in Juneau?
Yes, a fishing license is required if you are over 16 years old. You can visit the Alaska Department of Fish and Game website for information on licenses, permits, and regulations. Permits and licenses can be purchased online and by mail if you want to buy them before your trip.
How much snow does Juneau get?
Juneau averages 85 inches of snow each year
How much rain does Juneau get?
Juneau averages about 62 inches of rain annually.
Some form of precipitation falls on average 230 days a year. The driest part of the year is May to July.
Juneau Alaska Population?
As of 2019, there are 30,388 residents in Juneau.
Additional Juneau Resources
An evening at the Red Dog Saloon
Visiting Mendenhall Glacier outside of Juneau Alaska is really easy! We rented a car and were able to drive there before the rest of the cruise excursions arrived. You can also take an excursion from the ship to visit the glacier.
You can also visit the Travel Juneau web page for more information. They also post on Facebook, Youtube, Instagram, and Twitter
I really like the local lingo page on the Travel Juneau web page. It is great info for knowing the local verbiage and terms.
Additional Alaska Cruise Resources
Visiting Skagway on an Alaska Cruise
Glacier Bay - What to expect during your scenic cruising day
Free things to do in Seattle - Great things to do before you leave on your cruise
Driving to the Yukon Territory - Rent a car in Skagway and head north to experience the Yukon Territory
Carnival Freedom - Photo and video tour along with info on this great cruise ship.
Carnival Miracle - Photo and video tour of the ship coming soon.