I have always wanted to try deep-sea fishing!  The thought of going back to work and sharing photos of my prized fish to everyone, watching as they drool over it had me booking the Deep Sea Fishing in Grand Turk excursion right away!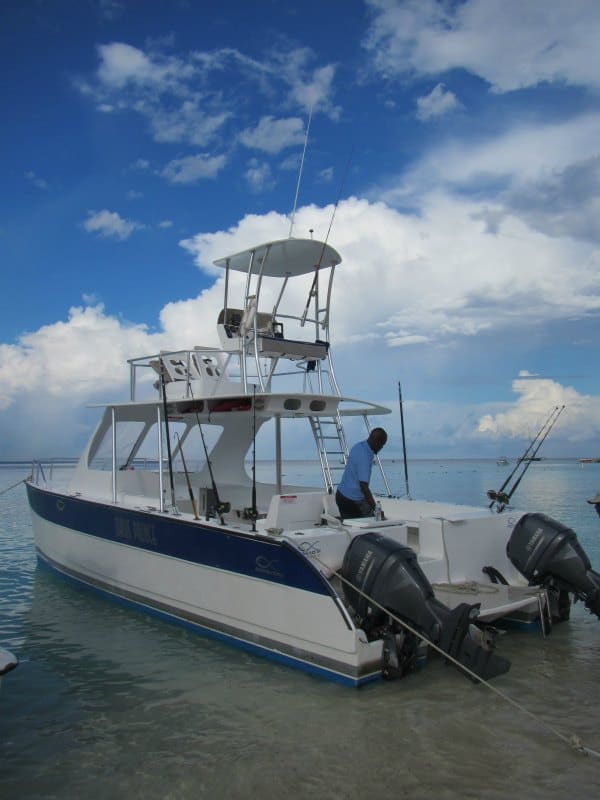 Deep-Sea Fishing in Grand Turk
I already have the perfect wall space picked out in my head so that every time a co-worker walks past they have had my prized fish staring back at them. I was so excited to get out and get fishing! 
I started out early in the morning hoping my one opportunity did not pass me by as it was pouring down rain and lightning as we docked into port at Grand Turk.
There were eight others sitting around patiently seeing if the weather would clear. We finally got our break and off we went!
The nice part was getting onto the boat and catching a rainbow out of the corner of the picture! The blue skies had everyone excited and ready to fish. Soon we were heading out and was trying to get out little ways to avoid any other storms.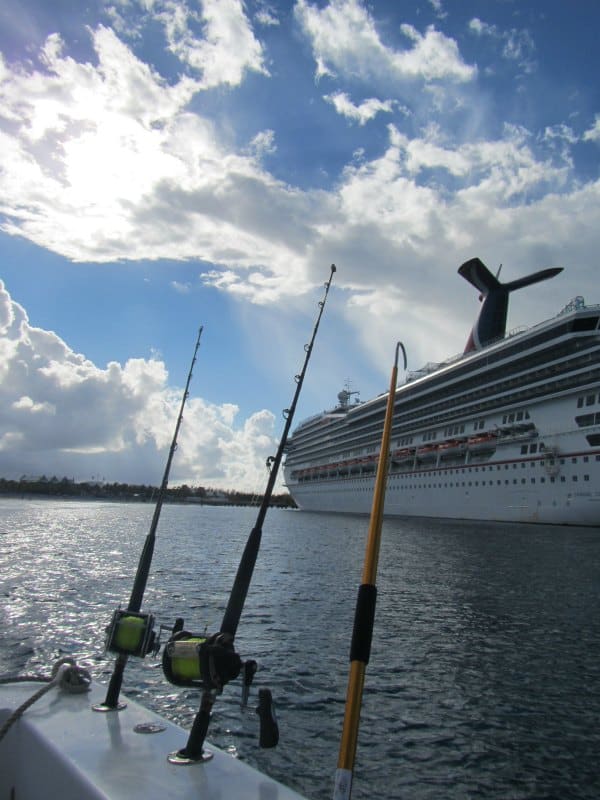 The water looked great and it was looking like we were in for a great time. Our captain got our boat in high gear so we could get to chasing the big ones!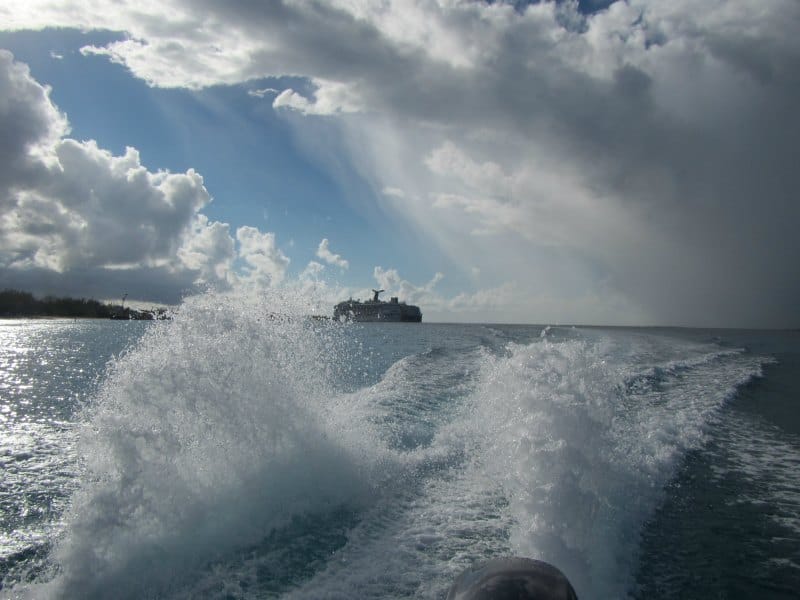 His assistant began prepping the four fishing poles as we were heading out and gave a brief overview. He reminded us that they kept what we caught so please catch lots of fish!
The nice part is that all we had to do is show up. Everything was taken care of for us. There is no need for obtaining fishing licenses, bringing water or sodas.
Just be ready to reel in the big one!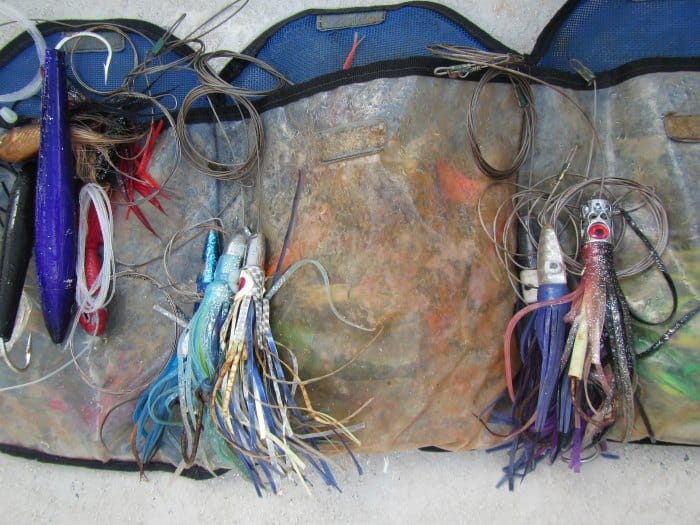 We sat back patiently anticipating the bite to begin. The chair was calling all our names, wanting to bring in the big one! The first bite was set and someone quickly jumped into the chair.
The fight was on and soon he was reeling in a barracuda. A few pictures were taken and we were off again in search of the big one.
We hit the open water outside the protection of the island and quickly realized the seas were not kind with the storm. We found ourselves holding onto the seats or whatever else as the boat sailed high on top of the waves only to come crashing down hitting hard onto the water.
After catching yourself you saw the next wave of blue coming towards you taller than the boat and again lifting up as if you were on an amusement ride.
Again you felt like the floor fell from underneath you as you came crashing back down onto the water. Water splashed all over us as we sat there holding on.
The next bite took and the next person hopped into the seat. Several people looked like they were getting sick and were in no hurry to move.
I was also getting sick at this point. I had already put my camera away and removed my glasses in anticipation of leaning over the side. I held it together and kept telling myself I could not be the first to yak!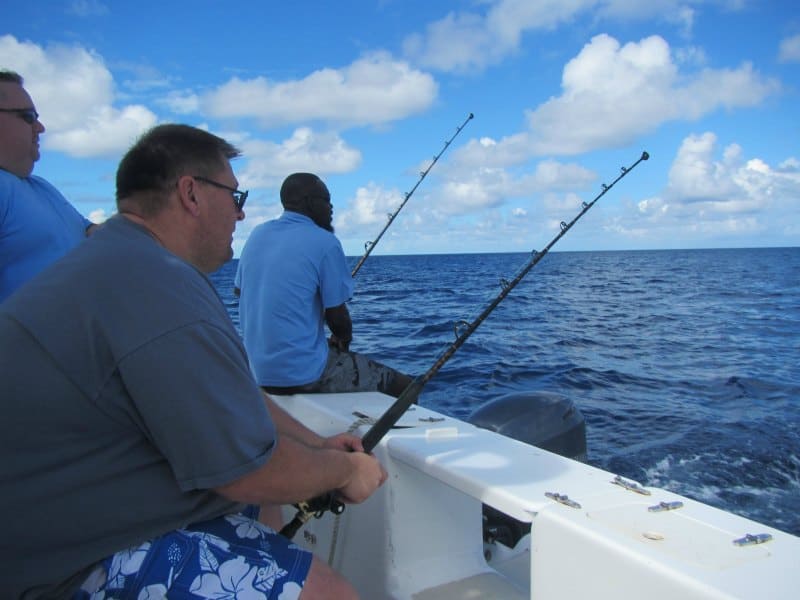 Soon we saw the second barracuda come in. I think most people were ready for shore at this time but the captain kept pushing on!
We finally found calm seas again as we were heading back towards the ship. I was finally starting to shake off the motion sickness and noticed some laying down on the benches while others had their eyes closed.
I knew this look as I was there not so long ago!
All of a sudden there was a bite! I jumped into the seat determined to not get skunked! I need this fish!
I needed my prized photo hanging above my desk at work! I needed my story to tell at work. I began reeling as if my life depended on it.
I kept looking out hoping to see the elusive Blue Marlin jump high into the air as I kept reeling! There was no jumping but I could see the line was way out there and had a way to go before landing the big one!
My arms were tiring but I was not giving up. Soon I could see my line approach the back of the boat and saw the assistant pull out my prized fish!
It is a Blackfin Tuna! The only tuna of the day and the last fish to be pulled in before stepping back onshore in Grand Turk.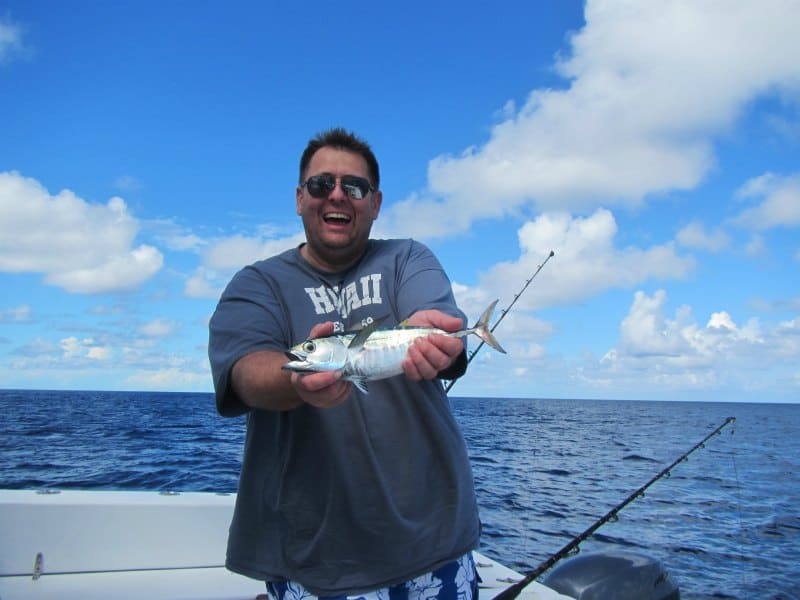 The question is would I do this again? Absolutely but next time I want to go fishing for a Halibut in Alaska!
I quickly found out that deep sea fishing is not for the weak! Then again the prized fish is not going to go ashore and jump into your arms either.
So if you have aspirations of catching the big one then get yourself out there the next time you go on a ship.
You can guarantee I have told everyone on the Carnival Conquest about my prized Blackfin Tuna while deep sea fishing yesterday! I have even noticed people pointing out to their friends that I am the one who reeled in the "big one"!
Additional Caribbean Cruise Resources
What to pack for a Caribbean Cruise
Cruise excursion questions answered
Check out all of our Caribbean Cruise Travel Guides.