Cruising the Caribbean is one of the most popular vacations you can take. These Caribbean Cruise Tips will hopefully make your cruise the best vacation you have had!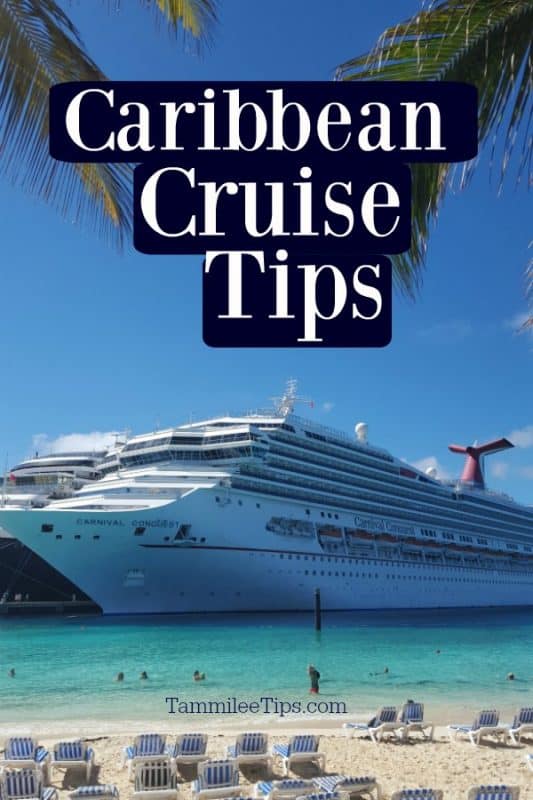 Caribbean Cruise Tips
These cruise tips come from cruising the Caribbean multiple times. We have seen the good, the bad, the ugly, and weird during our cruises and want to make sure you have the best experience possible.
Whether you are cruising with Holland America, Carnival, Royal Caribbean, Disney or another line these cruise tips are great for 1st-time cruisers and guests who have cruised before.
Don't mark yourself as a target, Leave the bling on the boat. Make sure to use the room safe.
Don't wear your cruise card around your neck. This makes you really easy to pick out of a crowd for pickpockets, street sellers, and well anyone.
If you buy something wait to show it off until you are in your room.
Hold onto your stuff, Make sure you don't set it down and forget it.
Look around for the best prices
Walk down the beach a couple of minutes to save money on beach chairs
If you are looking for free wi-fi watch where the crew walks to.
Make sure and pack sunscreen! It is hot and the sun can fry you without you realizing it.
Many ships allow you to bring a bottle of wine to enjoy during your cruise. Check to see if guests 21+ can bring 1 bottle on.
If you plan on enjoying a specialty restaurant check to see if they have specials for the 1st night of your cruise. On Carnival Cruise Line the steakhouse offers a free bottle of wine at steakhouse on the 1st night.
Make sure to get reservations for any specialty restaurants early. By the end of the cruise, most of them will be full with reservations.
Plan your shore excursions early so you know you can get in on the ones you want. We have reviews of multiple shore excursions at the bottom of this post.
On Embarkation Day pack your swimsuit and other things you will want that day before your suitcase is delivered to your room. Make sure to pack a change of clothes, medication, and essentials just in case there is a delay with your luggage.
Check your ship's deck plans ahead of time so you have an idea where everything is.
Room service is a great option if you are exhausted and don't want to deal with the main dining room.
Ship Cabins are not huge. To save space store your suitcase under the bed and use all of the drawers and cabinets you can.
Know the service charges your ship will add to your bill so you are not surprised on the last day of the cruise. We like to check our ship charges on a daily basis so we know what we have spent.
Check with your cell phone provider before you leave on your cruise. If you have T-mobile most of the islands should be included in your plan. It is still worth checking to make sure so you don't end up with expensive cell phone charges.
Pack a light jacket or windbreaker. It can get chilly on deck in the evenings after spending the afternoon in the sun. Rainstorms are not uncommon in the Caribbean and having a light cover will make it a little easier to handle. This mini umbrella is small and easy to pack
Carry a variety of small bills if you plan on purchasing from beach sellers and small stores. Having change will make it easier to bargain and not worry about how much change you are due.
The cruise ship bag with their name across it is great when you get home but remember using it in port marks you as a cruise passenger.
I hope that our security cruise tips are not scaring you from taking a Caribbean Cruise. We have just seen a difference in people's experiences when they are wearing their cruise cards or carrying a cruise branded bag.
These passengers quickly gained the attention of street sellers and tour guides. Other passengers who were dressed casually and just walked off the boat were able to wander the streets without too many interruptions.
My biggest tip is to make sure you are ready to have fun, relax and soak up the Caribbean sun!
Pack your sunscreen, aloe, sunglasses, swimsuit, and beach accessories as soon as you can to make sure you don't forget anything!
I made the mistake of not using enough sunscreen on a cruise and ended up looking like a raccoon for the majority of the cruise. You can pick up extra sunscreen in the ship store but it is going to be a lot more expensive than buying it at your local store.
If you plan on buying alcohol during your trip make sure and check prices in your home town.

Some of the alcohol is priced great others are only a $1 or $2 cheaper and it may not be worth packing it home.
If you plan on bringing any alcohol home make sure to bring bottle bags so they do not leak in your bag. We brought blue curacao back from Curacao and these bottle bags saved our clothes from turning blue when half the bottle leaked inside one.
Bring cash with you
Pack low denomination cash with you for tips and taxi rides. This also gives you the chance to buy something in town and not have to worry about getting a large amount of change back from the vendor.
Choose the right ship for you!
Each cruise line offers a variety of entertainment and options. It is well worth checking out each cruise line before booking your cruise. Some ships are party ships while others are retirement ships. Make sure the ship you choose is perfect for your cruise vacation.
Research the port you plan to visit
Some ports like Grand Turk are super easy and you just walk off the ship and you are at the beach. Other ports take more effort to reach a nice beach or shopping area.
Definitely check out the cruise ports to make sure they offer what you are looking for on your cruise.
Have fun!
Visiting the Caribbean on a cruise is an absolutely fantastic way to travel! You get the chance to explore multiple destinations during one cruise.
When is Hurricane Season in the Caribbean?
Hurricane season officially runs from June 1st to November 30th.
What happens if there is a hurricane?
The ship may miss a port based on the weather. The ship will maneuver to a safer area to miss the hurricane whenever possible.
When is the high season for Caribbean Cruises?
The high season is generally mid-December until mid-April. During the high season, the weather is amazing but the prices are higher and the beaches will be packed with people.
What are the most expensive times to take a Caribbean Cruise?
The holidays! Christmas, New Years', Presidents Day, and Easter are normally the busiest and most expensive times to take a cruise!
What months are considered the low season and have great deals?
September, October, and early November are considered the low season. Some years there is a lull in mid-January after the holidays.
Do I need to pack a beach towel?
No! Most ships provide you with beach towels in your room and will change them out daily for you. This is good and bad. The great thing is you don't need to think about packing a towel. One thing to note is the beach towels also easily mark you as a ship passenger.
The positive thing is taxi drivers will hopefully stick around to take you back to the ship. The negative thing is you can become an easy mark for theft. Make sure and only bring what you need for the day off the ship.
Use a Waterproof pouch to carry your phone, ship card, and cash on you at all times.
Bring a bag for your purchases.
Depending on the area some street/beach vendors may not have bags for their products. Bringing a carry bag with you will make it a lot easier to transport your purchases back to the boat.
A cute beach bag is a great way to go. It blends in and does not scream that you are carrying anything valuable.
Don't forget to pack 
Poo-Pourri - Let's all be honest and admit that cruise ship staterooms are not large. There is not a lot of areas for certain scents to dissipate.
Small backpack - this backpack folds into a small pouch making it really easy to pack.
Cruise Luggage Tag Holders - If you are worried about your luggage tag coming off and being lost before it gets to your room these work great.
Sea-Bands - These work great to help with nausea on the cruise
Non-Drowsy Dramamine - I always pack this just in case. I rarely have to use it but I feel better having it in my bag.
Towel Holders - These bands wrap around the beach chair to hold your towel in place.
Insulated Coffee Mug - If you like to have hot coffee with you this is a great way to make sure you can carry it around the ship and know which mug is yours.
Travel Hangers - If you think you will run out of hangers or don't want to ask for more you can pack these travel hangers with you.
Cruise Lanyards - these lanyards make it easy to carry your cruise card with you at all times.
Collapsible Water Bottle - This is a great way to make sure you are always hydrated in the Caribbean heat.
Hanging Toiletry Bag - this is a great way to save space in your bathroom. Especially if you are traveling with multiple people.
Downy Wrinkle Releaser - They do have irons in the laundry areas but this wrinkle releaser works great for last-minute wrinkles.
Travel Alarm Clock - If you do not want to use your phone for your daily alarm this small travel alarm clock works great. There are no clocks in most cruise staterooms.
Hello Sunshine Hat - Looking for the perfect beach Instagram photo? Check out this super cute Hello Sunshine floppy hat. I also like this Do Not Disturb hat.
Cruise Hair don't care baseball hat - this is so cute! Perfect for coming back from the beach or a snorkeling excursion.
Get Shipfaced Banner - If you are celebrating a bachelorette party onboard this is super cute for decorations.
Power Outlet - Most staterooms only have 1 maybe 2 power outlets in them. This Belkin Power Outlet has a rotating plugin so it can fit the space you need it to.
First Aid Kit - A travel first aid kit is a great safety kit in case you have a cut or something happen. There is great medical care on the cruise ship but you don't want to have to run there for basic needs.
Hand Sanitizer Wipes - There are a lot of people and germs you will run into. These small sanitizer wipes make it easy to wipe down tables, trays, and other areas.
Travel Containers - Don't take up your entire suitcase with your toiletries. These small leak-proof containers work great.
Travel Perfume Spray - Instead of packing your large bottle of perfume these travel perfume sprays work great.
Caribbean Cruise Ports!
Here are our best cruise tips by port. These include the things we wish we would have known the first time we took a Caribbean Cruise.
Cruise tips to make your vacation amazing
What not to pack on your cruise
1st-time cruise questions answered
Cruise excursion questions answered
Don't forget to pack these things on your cruise
Don't forget to do these things before you leave on vacation
How to plan a multi-generational family trip
Antigua
Aruba
What to do with 5 hours in Aruba
Aruba de Palm Island Excursion
Bahamas
Balmoral Island Private Beach Excursion
Barbados
Belize
Altun Ha Mayan Ruins Excursion
Snorkeling Belize Barrier Reef Excursion
Bonaire
Curacao
Best things to do in Curacao on a cruise
Dominican Republic
Bayahibe Beach Excursion - from La Romana
Grand Cayman
Grand Turk
Grenada
Jamaica
Puerto Rico
Puerto Rico National Park Sites 
Roatan
St. Maarten
Things to do in St. Maarten on a cruise
Beautiful beaches of St. Maarten
St. Vincent
US Virgin Islands
US Virgin Islands National Park Sites
Mexican Cruise Ports
Costa Maya
Chacchoben Mayan Ruin Excursion
Costa Maya Port Terminal Guide
Cozumel
Deluxe Beach Catamaran Excursion
Salsa Salsa Margarita Excursion
US Cruise Ports
Key West
Miami
Anhinga Trail in the Everglades
Bird Watching in the Everglades
Everglades National Park Travel Tips
Things to do in the Everglades
Things to do Biscayne National Park
South American Cruise Ports
Cartagena
We hope that these Caribbean Cruise Tips help you have an amazing vacation!
If you have other cruise tips please feel free to comment on this post so we can add them! We want to make sure you can enjoy the gorgeous weather, tropical water, and sunshine without dealing with anything crazy.
If you are flying into Miami don't miss these great things to do in Miami.