Are you headed out on your first cruise? Are you wondering what the excursions will be like, what you need to pack, how you know when to go and all sorts of other questions that keep swirling in your head! Don't worry I am going to try and answer all of the FAQ about Cruise Excursions that we get often. We have been on over 20 cruises and love them.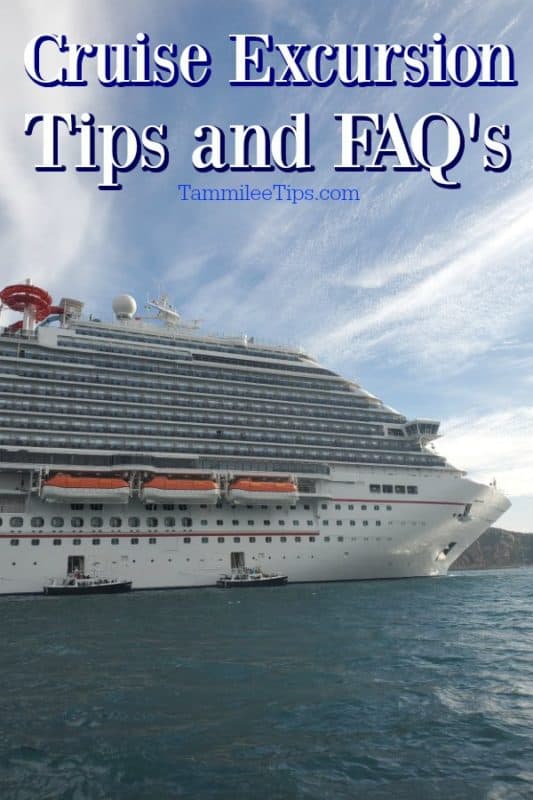 Cruise Excursions Frequently Asked Questions FAQ's
Excursions are a fantastic way to get off the ship and explore a great destination. There are a few things you want to be aware of as you book your excursions and plan your trip! Please let us know if we can answer any other questions for you!
If you are planning a cruise vacation you may also want to check out these posts:
10 Things not to forget to pack for your cruise vacation
What not to pack for your cruise vacation.
10 Tips for First-time cruisers
FAQ about Cruise Excursions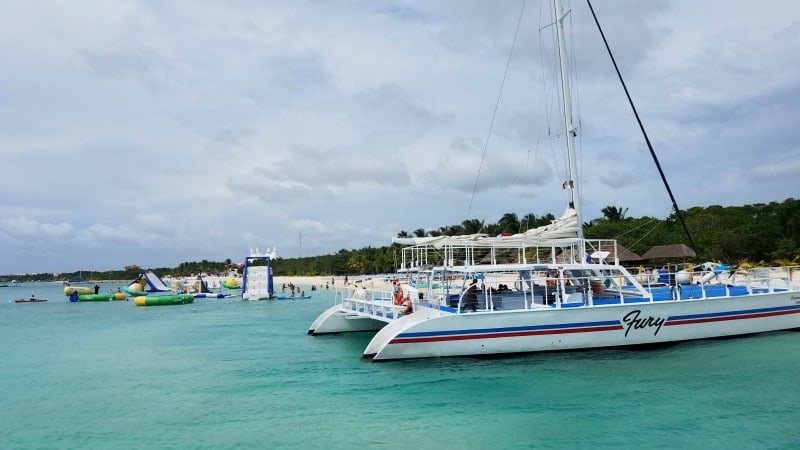 How do you know where to go?
When your tickets are delivered to your stateroom they will say what time you need to meet and where on the ship or in port to meet. We suggest getting there a few minutes early in case there is a back up of people trying to get on excursions.
Do we all leave the ship at the same time?
The ship will coordinate getting all of the excursion groups of the ship in a timely and efficient manner. They stagger the excursion meeting times to make sure there is not a mad rush of people trying to get onto their excursions.
What Should I bring with me?
It really depends on the type of excursion you are going on. We normally pick up bottled water on our way off the ship so we have one with us. We also bring a spare bag that folds up so we have something for random souvenir purchases.
Do I need to bring my passport?
We normally do not carry our passport off of the ship. We bring our driver's license and cruise card with us at all times.
Should I bring cash with me?
I always think it is good to have some cash and a credit card with you. I like to have an emergency fund with me at all times. Plus you never know when you are going to see a souvenir you just can't live without.
What do I wear?
This also depends on your excursion. I like to bring a light jacket that can cover my shoulders in case I pick up too much sunshine on an excursion.
Will the ship wait if we are late?
It honestly depends. If you are on an excursion you booked with the cruise line then the ship should stay and wait for you.
If you booked an excursion with a 3rd party vendor and go on your own then most likely the ship will not wait for you.
Are shore excursions included in my cruise price?
For most cruises, the price of excursions is not included in your cruise price. There are some river cruises and specialty cruises that include excursions in the cost of the cruise. You definitely want to ask when you book what is included in your cruise price.
Do I have to book Shore Excursions before our cruise or can I book on the ship?
If you are looking for specific excursions you will most likely want to book before you board the ship. Popular ship excursions can sell out before the cruise. If the cruise excursions you are interested in is sold out keep checking the cruise ships website and check once you are on board. Many times guests will cancel excursions before the cruise.
Are there age restrictions on Shore Excursions?
Yes, some excursions do have restrictions based on age. Each excursion should have details on the cruise companies' website detailing any restrictions.
Are there weight restrictions on Shore Excursions?
Yes, depending on the type of cruise excursion there are weight restrictions. You will see these on helicopter tours, Segway tours or any tour that uses equipment that may be affected by weight.
On helicopter excursions a lot of times they charge 1.5 seats if the guest is over 250 pounds. Definitely, check each excursions restrictions so you know before you book that excursion.
Do I have to tip on a Cruise Excursion?
Tipping is completely up to you. Most excursions will put out a bucket/jar at the end of the trip for guests to leave a gratuity.
Are there kids rates for Cruise Excursions?
Most cruise lines offer a kids rate based on age. It may depend on the type of excursion and time of year.
Will weather affect my shore excursion?
Potentially weather can affect your cruise excursion! Keep an eye out for updates once you are on board and if you have any questions check with the shore excursion desk. We have had excursions cancelled due to weather on a few cruises. Safety definitely comes first when deciding to run an excursion.
Do cruise excursions include meals?
Cruise excursions may include meals but it usually depends on the length and type of excursions. Most cruise excursion details should say if they have a meal included. It is always advised to bring some cash with you just in case. We have been on excursions that stopped for meals but we had to pay for them out of pocket.
Great Cruise Excursions
Sail and Snorkel Fiesta – Cabo San Lucas Shore excursion
Dolphin Excursion - Catalina Island
Balmoral Island  Private Island Beach Day Excursion - Nassau, Bahamas
Tracy Arm Fjord Glacier Explorer Excursion - Alaska
Chacchoben Mayans Ruins Excursion - Costa Maya, Mexico
If you are heading to Catalina Island check out the Dolphin Excursions!