Way back in October 2016 I headed to Atlanta for a super secret movie set visit. I couldn't tell anyone what I was doing in Atlanta which was a bit hard but oh so worth it. We had the opportunity to spend the day on the set of Melissa McCarthy's new movie Life of the Party which is hitting theaters on May 11th!!!!
During the day we watched about 6 hours of filming which will equal maybe three minutes of actual film time. The filming was 30+ days into their 43-day filming schedule. You read that right it only takes 43ish days to film some movies. Crazy right!
One of the best parts of the day was having the chance to sit down with Melissa and talk to her about this heartfelt yet funny movie. I finally asked a question I have been meaning to ask in every movie event I attend.
Melissa was everything I could have hoped she would be. Open, funny, warm, sincere and welcoming. She looked each of us in the eye when she answered questions and asked us questions about our lives. She was fully focused on being with us and was not distracted by everything happening around her.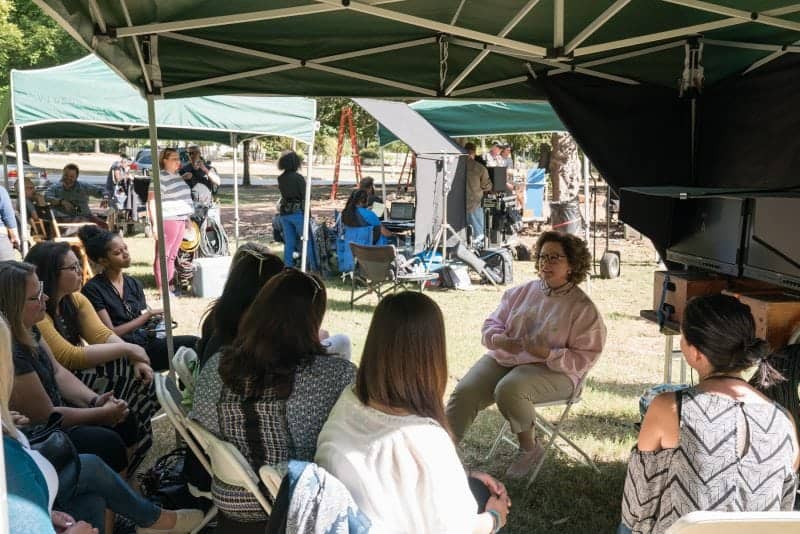 Secret set visit to Life of the Party with Melissa McCarthy
I can't tell you how much I appreciate how open and warm she was. She truly was the person I dreamed she would be in person. Also, I think John and I could quite easily have dinner with her and her husband Ben Falcone along with Producer Steve Mallory and laugh the entire night away.
They truly are the type of people you just want to hang out with and soak in the moment. Ben Falcone is the director of the movie along with co-writing it with Melissa. They work together to make sure that every facet of the movie tells the story that they created together.
I asked Melissa the question I have really wanted to ask multiple movie stars….How does it feel when you drive down the street and see a billboard for your movie and you are on it. She told me that she feels like stomping on the brakes and just looking at it in wonder. After 20 years of working three jobs, taking classes, performing whenever she could her dream is bigger than she could have hoped it would be.
She talked about the work and time that has gone into her craft and how making these movies is truly a dream come true. I love that many of the movies we know and love including Tammy and this one were written at their kitchen table with their kids playing around them.
We learned that for the movie Tammy they would drive their car a block or two from their house so they could hash out the movie without the kids trying to help them type on their laptops.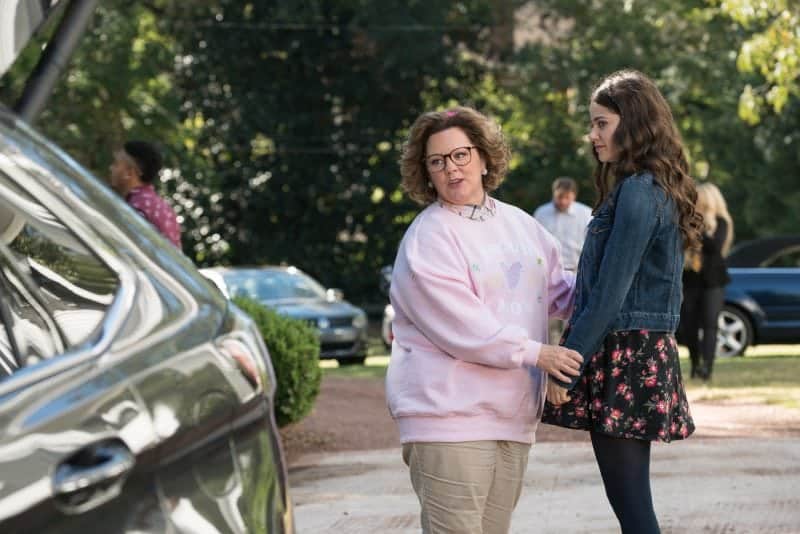 The Life of the Party is a heartfelt movie that showcases not only the love between a mom and her daughter but the ability of a Mom to realize her own goals. Melissa said part of the inspiration for the movie came from talking to other moms and hearing them say they were too old to do something. They were too old to go for their dream, or they were too old to try something new. She didn't want to be that person that stopped growing or learning.
Imagine what it would be like to drop your daughter off for her senior year of college at your alma mater and hop in the car thinking you are leaving on your dream vacation with your husband. As you drive away your husband tells you that he has been having an affair and wants a divorce. Your entire life as you know it is ripped from you in a matter of moments. That is exactly what happens to Melissa's character Deanna.
She goes back to school with her daughter and finishes the senior year she never had. During the day of filming that we attended they were filming the pivotal first scene of the movie. The scene that sets the tone for the entire day.
We watched the scene being done as the script called for it and then the actors started playing with alternative lines and adlibbing the scene. This was amazing to watch. So crazy to hear how quickly the actors are able to play off of each other and come up with a new line that has you giggling.
One of the things about being on set is you have to be super quiet when they are rolling film. Let me tell you when Melissa McCarthy is adlibbing lines it is seriously difficult to not laugh out loud and giggle. I had to cover my mouth at one point because the lines were getting so funny.
I can't wait to see what made it into the movie.
Melissa shared with us that her character was inspired partially by her Mom. She said her Mom will love the outfits that appear in the movie and is one of the most amazing people she knows. Her two daughters also have parts in the movie.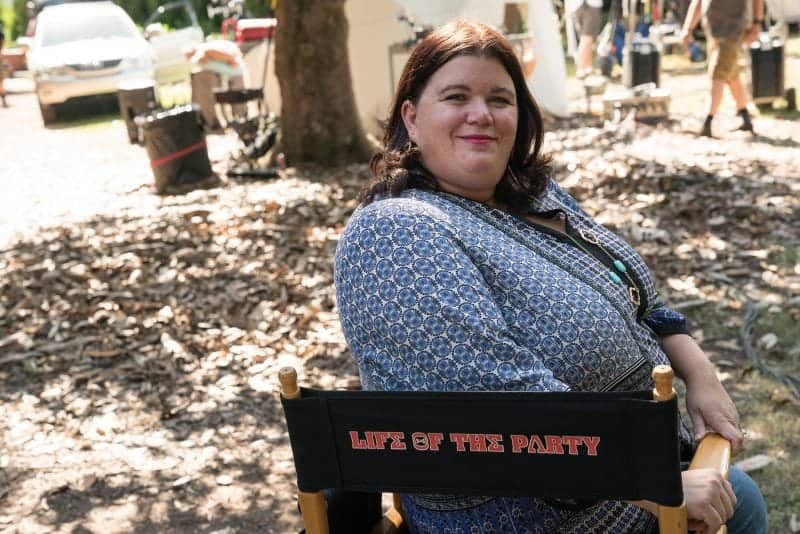 The set had a true family feeling among all of the cast and crew. You could see how well everyone got along and enjoyed spending time together. There were hugs, laughter, and joy throughout the entire set.
You could see and hear how much everyone loved working with Melissa and Ben. We had the chance to interview the actresses playing sorority girls in the movie and every single one of them talked about how blessed they were to be working with Melissa and Ben.
They said that they were learning so much daily and loved being a part of the movie. The love and affection that the actors and crew have for each other can be seen in the movie.
The Life of the Party is coming out on Mother's Day and is the perfect movie to take your Mom and the entire family too. This movie is going to have you giggling while still pulling at your heartstrings and making you think about your life, dreams, and goals.
Don't miss the Raspberry lemonade Moscato cocktail we made in honor of this great movie
Check out this trailer!!! So funny!!!!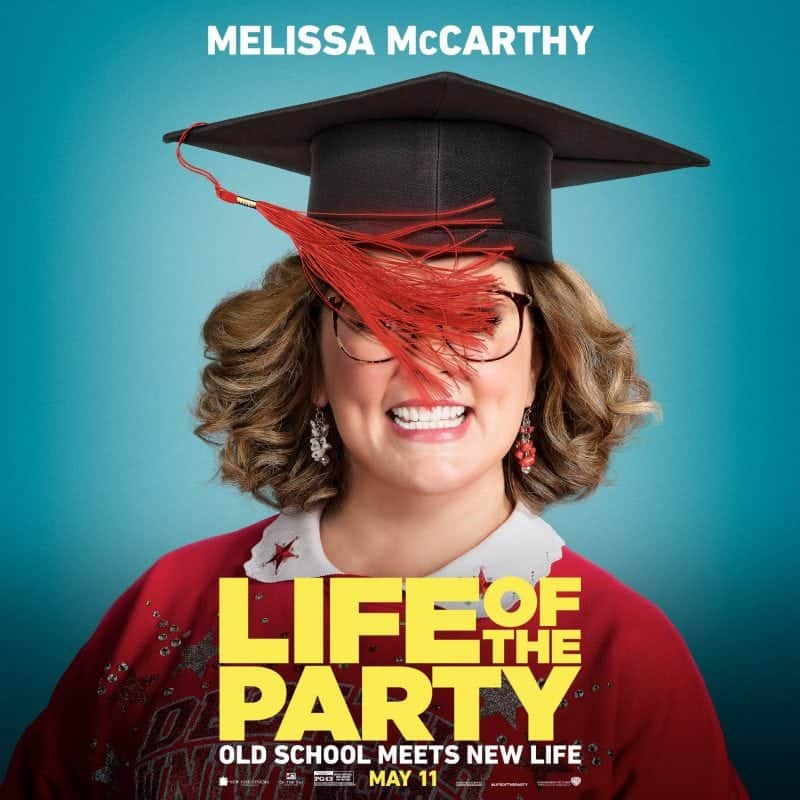 LIFE OF THE PARTY – In Theaters May 11
Facebook | Twitter | Instagram | #LifeOfTheParty
When her husband suddenly dumps her, longtime dedicated housewife Deanna (McCarthy) turns regret into re-set by going back to college…landing in the same class and school as her daughter, who's not entirely sold on the idea. Plunging headlong into the campus experience, the increasingly outspoken Deanna—now Dee Rock—embraces freedom, fun, and frat boys on her own terms, finding her true self in a senior year no one ever expected.
Alongside McCarthy, the film also stars Gillian Jacobs ("Don't Think Twice," Netflix's "Love," TV's "Community"), Maya Rudolph ("Bridesmaids," "Sisters"), Julie Bowen (ABC's "Modern Family"), Matt Walsh (HBO's "Veep," "Ghostbusters"), Molly Gordon ("Love the Coopers," TNT's "Animal Kingdom"), with Stephen Root ("Mike and Dave Need Wedding Dates"), and Oscar nominee Jacki Weaver ("Silver Linings Playbook," "Animal Kingdom"), Jessie Ennis (AMC's "Better Call Saul"), Adria Arjona (HBO's "True Detective," NBC's upcoming "Emerald City"), Debby Ryan (Disney Channel's "Jessie") and Jimmy O. Yang (HBO's "Silicon Valley").
McCarthy and Falcone co-wrote the screenplay and produce through their production company, On the Day Production. Chris Henchy is also producing the film, with David Siegel serving as executive producer.
Falcone's behind-the-scenes creative team includes director of photography Julio Macat ("The Boss," "Horrible Bosses 2," "Daddy's Home"); production designer Rusty Smith ("The Boss"); editor Brian Olds ("Central Intelligence"); and costume designer Louise Mingenbach (the "The Hangover" franchises) with music by Fil Eisler "How to Be Single," TV's "Empire"), A New Line Cinema production, "Life of the Party" will be distributed worldwide by Warner Bros. Pictures, a Warner Bros. Entertainment Company.
Travel and accommodations provided by Warner Bros. Pictures.