Carnival Mardi Gras
Carnival Cruise Lines newest ship to hit the seas in 2020 will be the Carnival Mardi Gras!
Currently, under construction at the Meyer Turku shipyard in Turku, Finland, Mardi Gras is slated to enter service in Europe Aug. 31, 2020, before repositioning to New York for a series of voyages then shift to Port Canaveral for year-round seven-day Caribbean cruises beginning in Oct. 2020.
We are still learning all we can about this brand new ship but here is what we know for now!
Mardi Gras will be the largest Carnival Cruise Line ship ever constructed and the first in North America to be powered by Liquefied Natural Gas (LNG), part of Carnival Corporation's green cruising platform.  At 180,000 tons, the new Mardi Gras will be more than six times the size of its namesake.
Itineraries for Mardi Gras will be announced in January and go on sale later that same month.  Carnival Cruise Line fans who want to be the first to book on Mardi Gras can get a head start by clicking here where they can register to get a "first to know" alert and special promotional offer when itineraries are opened for sale.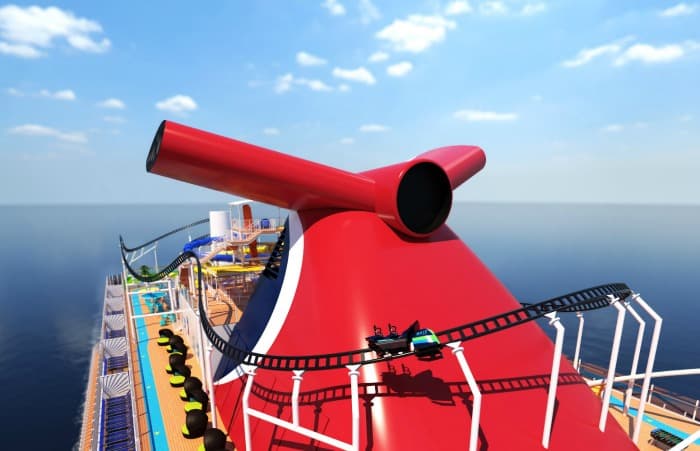 1st ever Roller Coaster at Sea - BOLT™: Ultimate Sea Coaster™
This coaster is going to offer nearly 800 feet of exhilarating twists, turns and drops with riders reaching speeds of nearly 40 miles per hour.
BOLT is an all-electric roller coaster that allows two riders in a motorcycle-like vehicle to race along a track 187 feet above sea level, enabling guests to experience the sea in an exciting new way with breathtaking 360-degree views.
BOLT begins with an action-packed launch where riders can achieve race car-like levels of acceleration and culminate with a high-powered hair-pin turn around Carnival's iconic funnel.  Riders' speeds are posted after the race, and just like land-based roller coasters, guests have their photo taken during the ride for a memorable keepsake.  And since guests choose their own speed, each ride is unique.
FAMILY FEUD LIVE™
Family Feud Live aboard Mardi Gras will feature the same format and signature set as the TV show. Two five-person teams will battle it out in rounds including Face Off and Fast Money by naming the most popular answers to survey questions for a chance to win a host of prizes in high-energy gameplay.
The onboard version of Family Feud Live on Mardi Gras will be hosted by the ship's cruise director. Several variations of the show will be played and designed to be both family-friendly and adult-oriented. Family Feud Live will be just one of the many all-ages entertainment offerings presented in Mardi Gras' Grand Central zone and other new venues.
Six Exciting and Distinctive Zones Add to the Fun
The six zones of Mardi Gras' design will invite guests to stroll throughout the ship to enjoy new only-on-Mardi Gras features along with signature elements that have made Carnival America's Cruise Line, all enjoyed amidst a festive, social and community-driven atmosphere with opportunities for guests to relax, recharge and reconnect with family and friends.  The six areas will be themed around Grand Central, French Quarter, La Piazza, Summer Landing, Lido, and The Ultimate Playground and highlights include: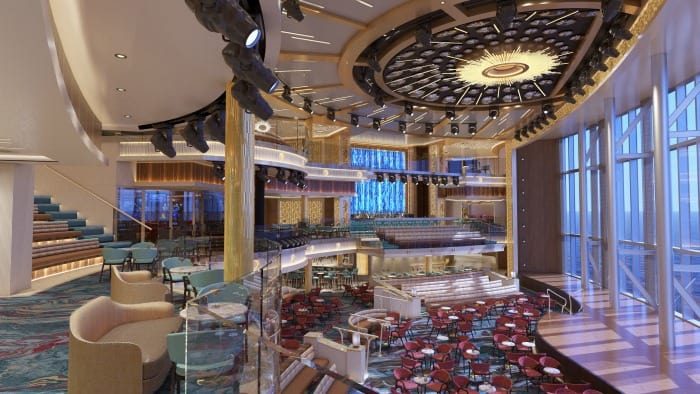 Grand Central (Decks 6-8, mid-ship)
Creating a sense of wonder the moment guests step on board, the transformative Grand Central takes the traditional atrium concept to new heights, combining a day-to-night entertainment complex with spectacular three-deck-high floor-to-ceiling windows and a bar overlooking the starboard side of the ship that will be the perfect venue for socializing and people watching amid sweeping ocean vistas.
Steps away are Bonsai Sushi and Bonsai Teppanyaki which are being expanded from designs on existing ships to reflect their popularity with guests.  There's also the first-ever dedicated Punchliner Comedy Club where guests can enjoy nightly shows, and the always popular Piano Bar 88 for sing-a-longs that bring guests together in an intimate feel-good setting.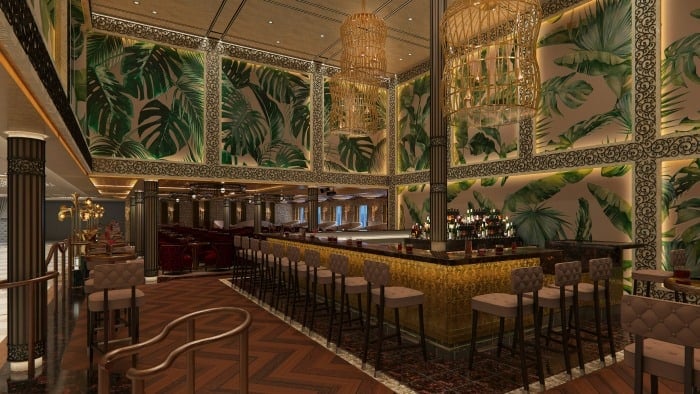 French Quarter (Deck 6, aft)
In a nod to the New Orleans' culture that combines live entertainment with an unparalleled food scene, French Quarter will be lined with new bars, music, and eateries that perfectly capture the festive spirit of the Big Easy.
And since the spirit of New Orleans is so closely tied to the jazz scene, this neighborhood is linked via a two-deck-high promenade leading to a traditional New Orleans jazz club with live entertainment and refreshing hand-crafted libations.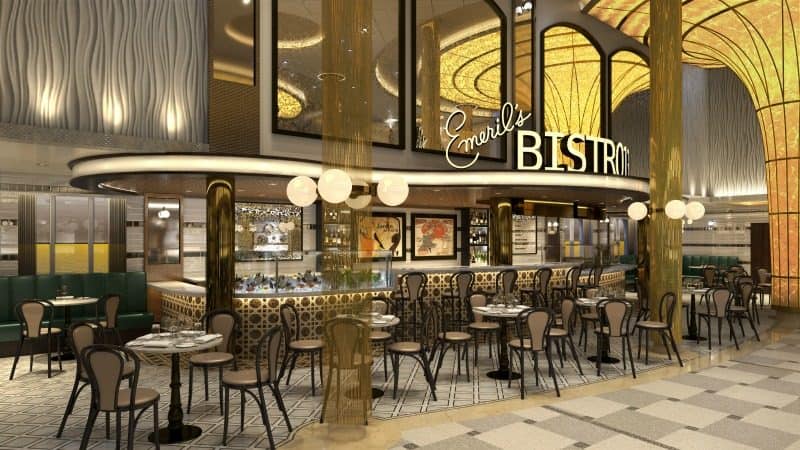 Emeril's Bistro 1396
Located in the heart of Mardi Gras' French Quarter zone, Emeril's Bistro 1396 will showcase the chef's signature dishes that earned him the reputation as one of New Orleans' most acclaimed and respected chefs.
Named after Mardi Gras' hull number at the Meyer Turku shipyard in Finland, the bistro will celebrate New Orleans' rich culture with Creole favorites and daily specials.
The menu will include oyster and cochon de lait po-boys, muffuletta sandwiches, Emeril's signature barbecue shrimp, fresh seafood ceviche, roasted duck & Andouille sausage gumbo, jambalaya, and complements such as Creole potato salad with diced scallions, and red beans and "jazz-man" rice.
Breakfast offerings will feature shrimp and grits and a shrimp Creole omelet.
The New Orleans classic Bananas Foster and lemon icebox pie will be available for dessert.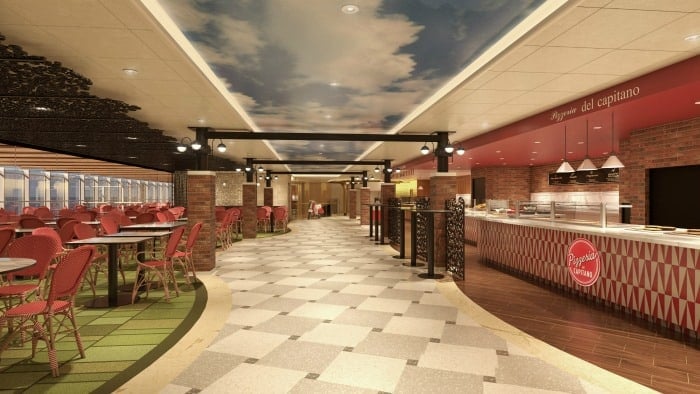 La Piazza (Deck 8, mid-ship)
At La Piazza, guests are transported to Italy where they celebrate the rich heritage of Carnival's senior officers with authentic cuisine from the casual family-style Cucina del Capitano and 24/7 Pizzeria del Capitano to a new Mediterranean-themed seafood restaurant.
There's also a bar where guests can savor cappuccino by day or classic Italian cocktails at night while roaming musicians keep everyone entertained.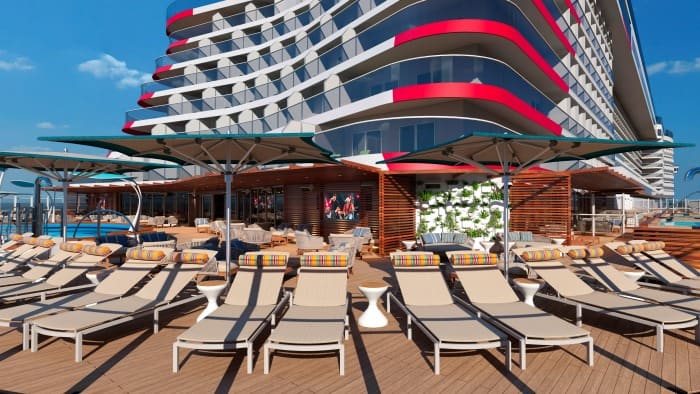 Summer Landing (Deck 8, aft)
Designed as the ultimate chill spot, Summer Landing will be home to an expanded Guy's Pig & Anchor Smokehouse Brewhouse with smoked-on-board barbecue favorites created by longtime Carnival partner Guy Fieri, along with the line's exclusive ParchedPig craft beers brewed right on board.
For outdoor summer-inspired fun, there will be a pool and whirlpools, a new bar, the lunch counter for the Smokehouse Brewhouse along with ample lounging spaces and hangouts, making this the ideal spot to enjoy all the fun that a Carnival vacation experience delivers.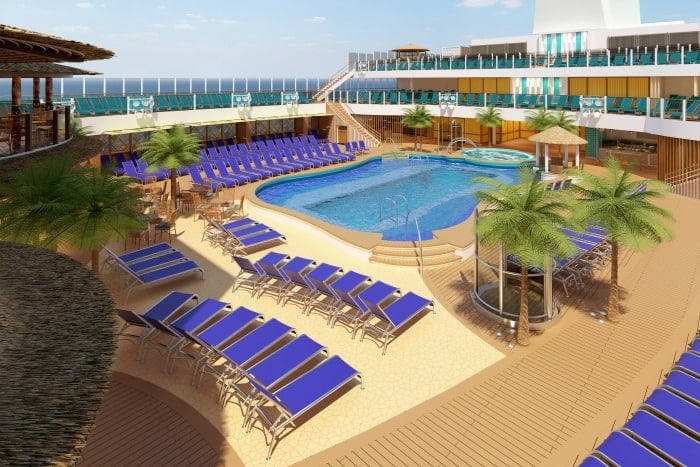 Lido (Deck 16-17, aft)
Carnival is already known for its varied casual poolside restaurants and Mardi Gras' expanded Lido will take this to a whole new level with existing Carnival favorites like Guy's Burger Joint, the New England-inspired Seafood Shack, and BlueIguana Cantina Mexican eatery, along with some new concepts to be announced at a later date that are sure to inspire foodie fans.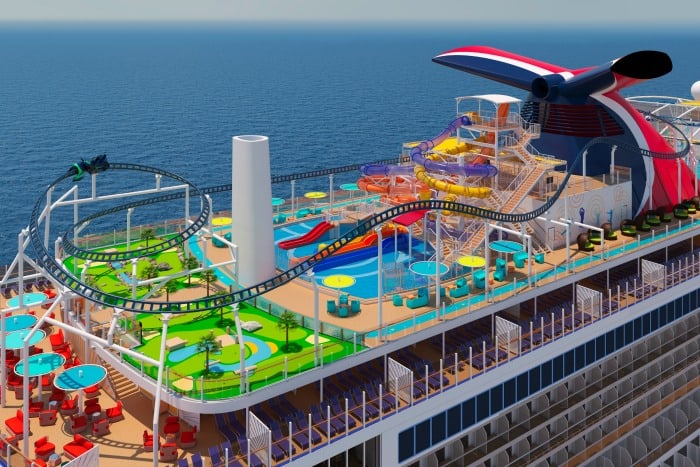 The Ultimate Playground (Decks 18-20, aft)
The aptly named Ultimate Playground will span Decks 18-20 and offer guests amazing sea vistas as they soak up the sun and the fun in this spacious family-friendly play area highlighted by the largest and most elaborate Carnival WaterWorks aqua park in the fleet, along with an expanded SportSquare.
The Ultimate Playground is also where guests will find the much-anticipated BOLT: Ultimate Sea Coaster, the first rollercoaster at sea announced in December 2018, where riders race along an 800-foot-long track achieving speeds of nearly 40 miles per hour.
Mardi Gras will also incorporate all of the line's most popular signature features from its nearly completed $2 billion fleet enhancement program that has brought a consistent level of experiences to the more than five million passengers who annually sail on Carnival, such as Alchemy Bar, Fahrenheit 555 Steakhouse, and the Serenity adult-only retreat, among others – many of which will offer an exciting twist, along with a variety of new innovations exclusive to this vessel.
Carnival Mardi Gras, which will be the ultimate playground at sea for fun seekers of all ages.
Carnival Mardi Gras Staterooms
Distinguished by muted turquoise hues, the staterooms' are enhanced by design touches that include:
Floor-to-ceiling glass sliding doors on nearly all verandahs for easier balcony access;
New sofas that "flip" into a bed and foot stools that open up for storage;
Clear glass doors on the in-room mini-refrigerators to see what's inside;
More 110V power outlets and USB connections both on the vanity and by the bed as well as more shelf space to accommodate electronic devices;
Flexible bedside reading lamps that allow guests to read without disturbing others;
A larger, customizable wardrobe with two pull-out bins, a sliding shoe rack, folding shelves and storage under the bed for luggage.
Spacious bathrooms with glass shower doors, a first for the line, along with an in-shower shaving bar.
Mardi Gras will offer the widest variety of accommodations of any Carnival ship with more than 70 percent of staterooms featuring an ocean view or balcony, along with 300 pairs of connecting staterooms, for large families or groups.
In addition to the newly redesigned staterooms with more balcony, ocean view and interior choices than ever before, Mardi Gras will offer favorites introduced on Carnival's Vista-class including:
The tropics-inspired Havana staterooms feature vibrant interiors and outdoor patio space.  These staterooms have access to an exclusive open deck with sun loungers, Cuban-themed bar, and a relaxation pool.
Extra-roomy Family Harbor accommodations with their nautical décor are located near Camp Ocean, the children's facility, and have access to the Family Harbor Lounge, an exclusive spot with breakfast and snacks throughout the day, plus board games, family movies, video games and more.
Cloud 9 Spa staterooms feature exclusive, soothing décor, spa bathrobes, and slippers as well as Elemis toiletries. These accommodations offer privileges to the ship's spa.
Mardi Gras will also offer the most suites of any Carnival ship, a total of more than 180 of varying size and locations.
Carnival Excel Suites
New Premium Level Carnival Excel Suites
The new premium suite level on Mardi Gras includes 32 suites in four categories:
Carnival Excel Presidential Suite –Two Presidential Suites – the largest in the fleet – located on Deck 17 that feature spacious living, dining and sleeping areas along with the fleet's most expansive balconies with vast sea views, large sunbed and lounging areas, as well as a private outdoor hot tub and shower. These suites also include access to the spa's thermal suite and the Havana pool area.
Carnival Excel Aft Suite – Twelve suites overlooking Summer Landing and boasting separate living rooms and bedrooms with large wraparound balconies offering impressive ocean views, as well as a private outdoor hot tub and areas for al fresco dining and relaxing.
Carnival Excel Corner Suite – Twelve suites on the port and starboard sides of the ship featuring separate sleeping and lounging areas, a wet bar and wraparound balconies with lounging and dining areas.
Carnival Excel Suite – Six suites on Decks 10, 11 and 12 with sleeping, dining and relaxing areas. The spacious balconies include loungers and a dining area.
Exclusive New Suite-Level Amenities
All suites onboard Mardi Gras will include an amenities package that includes priority boarding and debarkation, priority main dining room seating, plush bathrobes and bottled water upon arrival.
Guests in the 32 Carnival Excel suites will enjoy standard suite amenities plus the following:
Unlimited access to Loft 19
Dedicated concierge phone line
Guaranteed specialty dining times (with the exception of Bonsai Teppanyaki and the Chef's Table)
Complimentary Bottomless Bubbles soda package, room service and laundry
Sparkling wine and fresh fruit basket upon arrival
Upgraded bathroom amenities
All New 'Loft 19'
Located on the ship's highest deck, Loft 19 is a brand new concept for Carnival Cruise Line – a secluded retreat modeled after the world's finest resorts with full bar service, a private pool surrounded by sun loungers and spacious cabanas, available for rent. Cabanas are fully stocked with beverages, plush robes and chilled towels, fresh fruit, lunch delivery, and dedicated concierge service. Carnival Excel suite guests will receive priority when reserving Loft 19 cabanas.
Additional Suite Options
In addition to the Carnival Excel class suites, Mardi Gras will also feature:
Ocean Suites –separate sleeping and lounging areas with ergonomically-friendly design.
Tropics-inspired Havana Suites – private patios with a swing chair and direct access to The Lanai.
Extra-roomy Family Harbor Suites – nautical décor, large-scale windows, and toddler benches.
Cloud 9 Spa Suites – with special spa privileges such as two fitness classes, access to the ship's Thermal Suite and a scrub kit.
Innovative and Spacious Stateroom Design
The new suite options are in addition to the wide-ranging Mardi Gras accommodations previously announced, which are distinguished by turquoise hues and enhanced by design touches like floor-to-ceiling glass sliding doors; new sofas that "flip" into beds; more 110V power outlets and USB connections than on any other ship; flexible bedside reading lamps; a larger, more customizable wardrobe with extensive storage options; and spacious bathrooms with glass shower doors, a first for the line, along with an in-shower shaving bar.
"Our first ship Mardi Gras was a historic vessel, introducing a brand new style of cruising to the vacationing public. What better way to pay tribute to our company's nearly 50-year history of creating wonderful vacation memories than by naming this groundbreaking vessel after our original and beloved 'Fun Ship,'" said Christine Duffy, president of Carnival Cruise Line.
"The new Mardi Gras will follow the trailblazing lead of her predecessor, introducing features and technological innovations that have never been seen before on a cruise ship while setting a new standard for seagoing vacations."
Carnival previously announced that the ship will be based in Port Canaveral, Fla., which will feature a new state-of-the-art terminal.
A second XL ship will start construction in 2020 and be delivered in 2022 to mark the 50th anniversary of Carnival Cruise Line's founding.
To learn more about Carnival Cruise Line, visit Carnival.com. For reservations, contact any travel agent or call 1-800-CARNIVAL. Carnival can also be found on Facebook, Instagram, Twitter, and YouTube.
Carnival Mardi Gras Atrium
Atriums have been an important part of cruise ship design for decades but leave it to Carnival Cruise Line to break the mold with Grand Central, a transformational three-deck-high space that is one of six themed zones on Mardi Gras, set to debut in February.
A unique twist on the traditional atrium, Grand Central spans Decks 6, 7, and 8 with massive 3,000-square-foot glass panels built into the starboard side of the ship providing guests with impressive views of the ocean and ports of call as they relax in comfortable seating or stroll throughout the space.
According to Glenn Aprile, Carnival's director of new build product development and part of the design team that developed the groundbreaking venue, the idea was to create a space that was as functional as it was eye-catching while providing guests with that "take your breath away" moment when they first board the vessel.
"Building an atrium into the side of a cruise ship is no easy task and it was a total team effort between our new build management team, engineers, designers, and hotel and entertainment teams to create a space that is as beautiful as it is functional," Aprile said.
During the day, Grand Central serves as a relaxing spot for guests to enjoy a coffee, drink, or light fare, people watch, listen to live music or partake in trivia contests and other leisurely pursuits.  At night, Grand Central transforms into an intimate and immersive venue with a rotation of spectacular, soon-to-be-revealed experiences created just for Mardi Gras.  Talented performers will interact with 16 individually controlled six- by 14-foot LED screens displaying video and special effects, as well as lasers and aerial feats to create a truly unforgettable entertainment experience.
Aprile noted that "with a ship as innovative as Mardi Gras we wanted to create a multi-functional dining and entertainment space that guests can enjoy day and night, while at the same time providing an intuitive way to get around the ship and creating a dramatic centerpiece that is worthy of our most innovative ship.   Grand Central provides all that and more.  We are extremely pleased with the results thus far."
Overlooking Grand Central is the multi-level Grand View Bar which like its name implies offers guests a chance to enjoy floor-to-ceiling sea views as they sip custom-cocktails and other libations, amidst awe-inspiring design touches like a virtual waterfall on translucent panels.    There's also the Center Stage Bar on the main level.  Both venues will feature specialty cocktails inspired by the theme of that evening's entertainment.
Steps away is Java Blue, which in addition to serving coffees, cappuccinos and lattes like other Carnival ships, offers a menu of fresh bakery items, wraps, salads and other light fare throughout the day.   The Cherry on Top sweets shop is also nearby for those who want to enjoy a decadent treat, as are the retail shops and casino, providing a variety of fun options for guests to enjoy.
Connecting all of these spaces are a series of spacious and airy promenades and bridges that serve as convenient thoroughfares to other areas of the ship while allowing guests to see all the other happenings on board, adding to the excitement.
Noted Aprile, "We put the engineers and designers to the test here and our teams have taken everything we've learned about shipbuilding and interior design to create a stunning, comfortable and functional environment that truly sets Grand Central apart from other shipboard venues. With its transformation from daytime relaxation to nighttime entertainment, Grand Central is unlike anything that's ever been done on a cruise ship before and our guests are going to love it."
The first North American cruise ship powered by Liquefied Natural Gas (LNG), Mardi Gras is set to debut from Port Canaveral, Fla., Feb. 6, 2021, operating week-long itineraries from the Space Coast.