Dinner at the Cucina Del Capitano is like stepping into an Italian food fantasy while floating on the Carnival Breeze. WOW! The food at Cucina De Capitano is mouthwateringly good.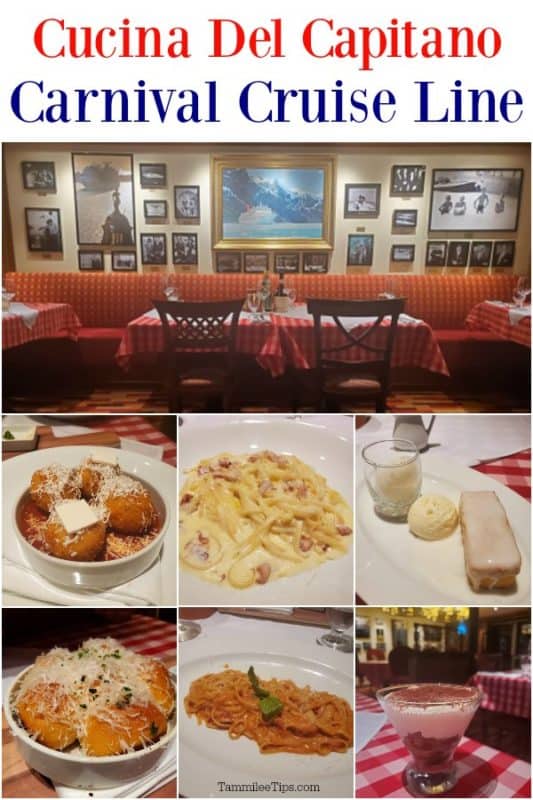 Cucina Del Capitano on the Carnival Cruise Line
I had a hard time deciding what I wanted to order. I felt like saying 1 of each but then I would probably still be sitting on the ship months later trying to eat it all. Yep, you get that much food on a plate!
My pasta dish was huge! John and I could have split it but well that would have meant sharing and we wanted to soak up/enjoy/eat/stuff ourselves with as much Italian yumminess as we possibly could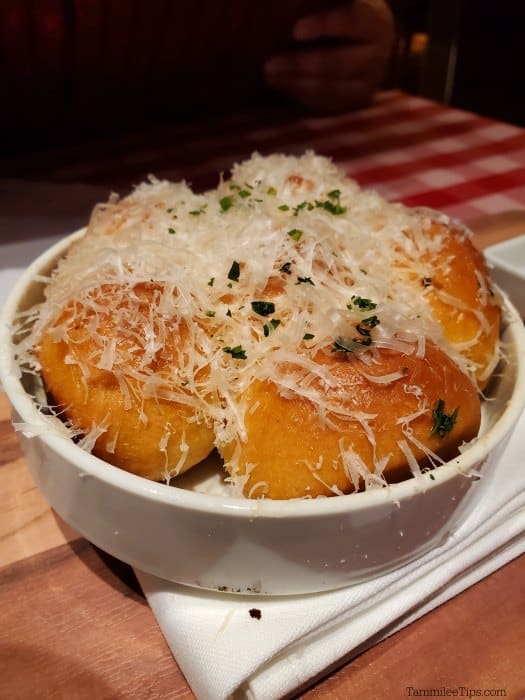 But I am jumping ahead of myself...I have not even told you about the glorious oh my goodness can I please have some more bread that you are served at the Cucina De Capitano.
This bread is crazy good! I would like to import some to Spokane today and enjoy it for lunch. Actually, I would like to transport myself back on the Carnival Breeze so I could enjoy another meal at the Cucina Del Capitano
They have a great wine selection at the restaurant. I just love that it is served in big ole barrel o wine. John went with the red and I went with white wine and they were both lovely.
Did I mention that you get starters that are crazy good? John had a Caprese salad that he is still talking about months later. I tried to recreate it at home but I think I was missing the Caribbean air and warm sun to take it over the top.
The tomato basil soup was divine! Absolute perfection in a bowl!
Our entrees were cooked to perfection. Have you ever heard your spouse make a guttural moan of happiness when they took a bite of their dinner? That is exactly what happened when John took the first bite of his entrée at the  Cucina Del Capitano. Oh my, he had a look of pure bliss on his face!
The Chicken Parmigiana is epic! So decadent and delicious!
The dessert menu is amazing! I had a hard time choosing what to get from the menu. We ended up ordering this apple dessert since the apples were from Washington and we needed to celebrate our home state.
John had the Tiramisu and he said it was decadently good!
We finished dinner with a beautiful cup of coffee and looking out on the Caribbean Sea.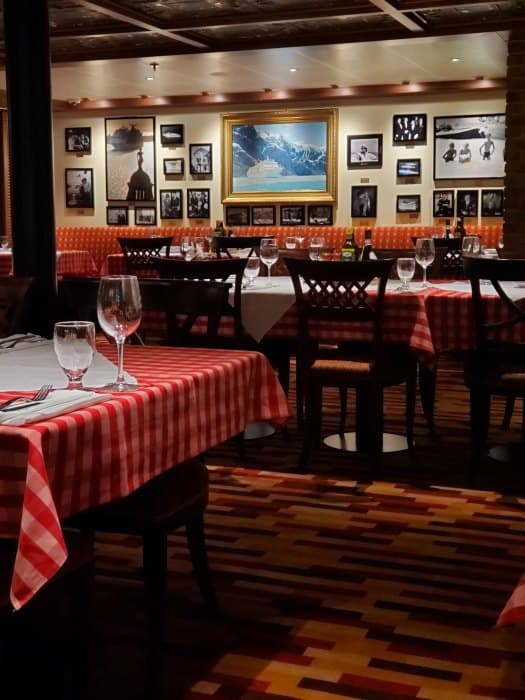 Our meal at Cucina Del Capitano was one of the best meals I have had at sea or on dry land! WOW! The food, the service, the atmosphere were amazing. There is a small charge for dinner at the Cucina Del Capitano but it was so worth it! We actually tried to go back later in our cruise a couple of times and the restaurant was booked for the night.
If you plan on enjoying the Cucina Del Capitano make sure you get a reservation early on your cruise! Trust me you are going to want to go back a 2nd or 3rd time during your cruise.
The Cucina Del Capitano is also open for lunch for free. They have a pasta menu that gives you the option of choosing your pasta, sauce and extras!
Check out the current dinner menu here
Which Carnival Cruise Ships have a Cucina Del Capitano?
Carnival Breeze
Carnival Horizon
Carnival Magic
Carnival Mardi Gras
Carnival Panorama
Carnival Sunshine
Carnival Sunrise
Carnival Vista
Additional Carnival Resources
Balcony Stateroom photos and video