Bonsai Sushi on the Carnival Sunshine is the perfect place to grab a quick meal or enjoy a romantic dinner together.
There are so many options available at Bonsai Sushi. You can choose to order a quick to-go order or sit down and enjoy the Sushi Ship or any number of other amazing menu items.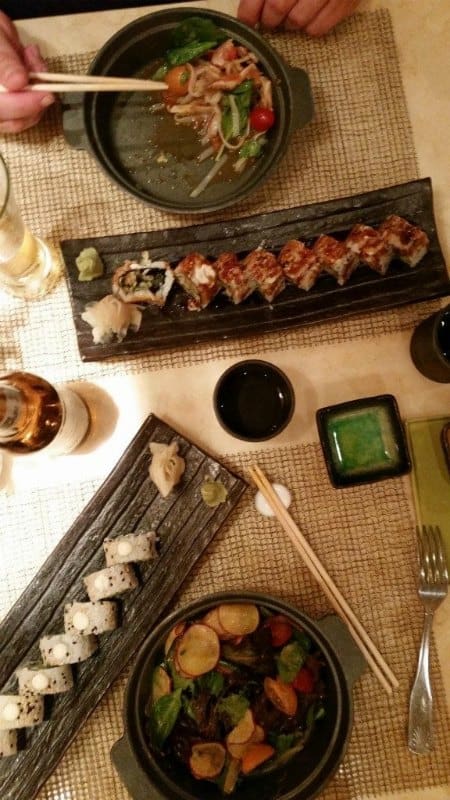 Bonsai Sushi on Carnival Cruise Line
I have to confess that I had never tried sushi prior to our dinner at Bonsai Sushi. I wasn't sure what I would eat as a vegetarian and I was a bit scared to walk into a restaurant and look like a deer in headlights trying to order.
Trying sushi on the Carnival Sunshine was the perfect way to try it without having to worry about being embarrassed. The staff is incredibly well trained and can answer all of your questions. When I mentioned I was vegetarian our server pointed me in the right direction for ordering. She asked how spicy I liked things, what I liked and didn't like, and created a meal that was just for me.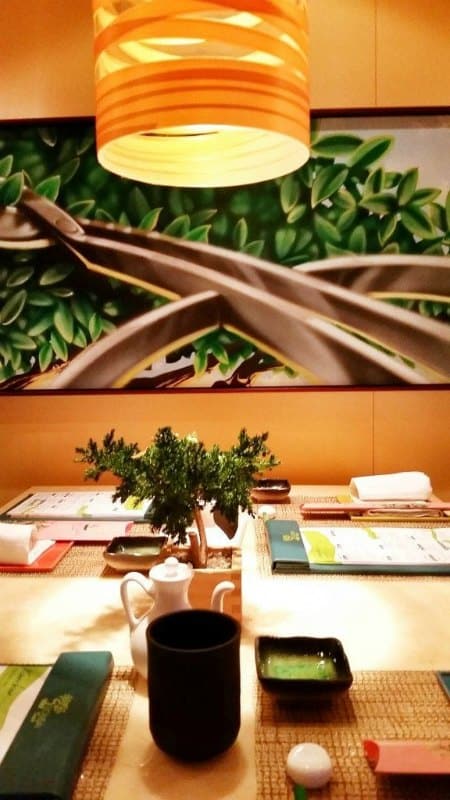 After perusing the menu for a while John and I pretty much ordered a bit of everything. We decided if we were going to try sushi we were going to do it right and try everything we could. Plus the prices at Bonsai Sushi are fantastic.
They range from $1.50 to $17 depending on what you are ordering. The $17 is for the sushi boat that easily feeds 2 people with a combination of miso soup, side salad, Bonsai Triple E Roll, California roll, 6 pieces of sushi including 2 tuna, 2 salmon, and 2 shrimp.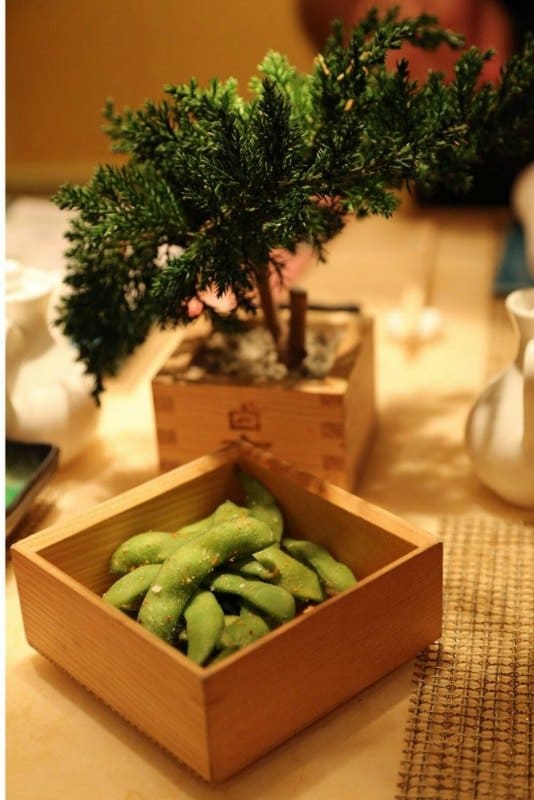 They were able to make a vegetarian version of the California roll without the crab.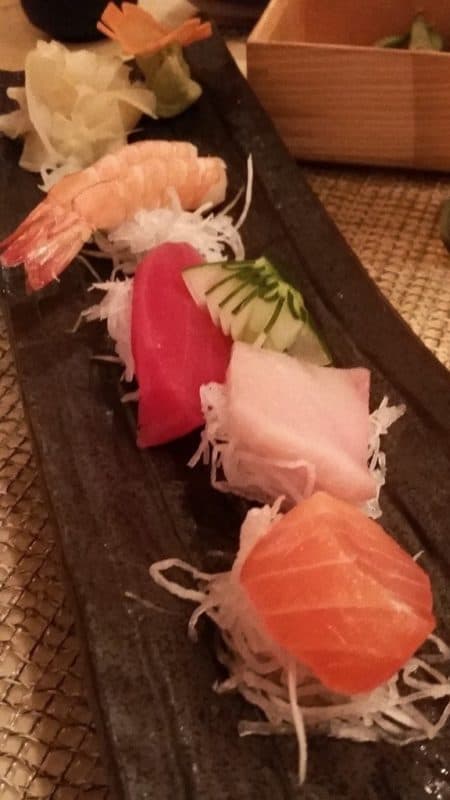 John had a sample platter with a little bit of everything on it. He tried Ebi, Sake, Maguro, Hamachi, and Wagyu Kakuni.
We also tried the Junami Ginjo, Tyku Sake for $25. Oh my! This is a full-size bottle of Sake! If you order a bottle make sure you get it at the beginning of your meal so you have time to enjoy it. We ended up sharing a bit with some other passengers we knew from our trip.
Bonsai Sushi Menu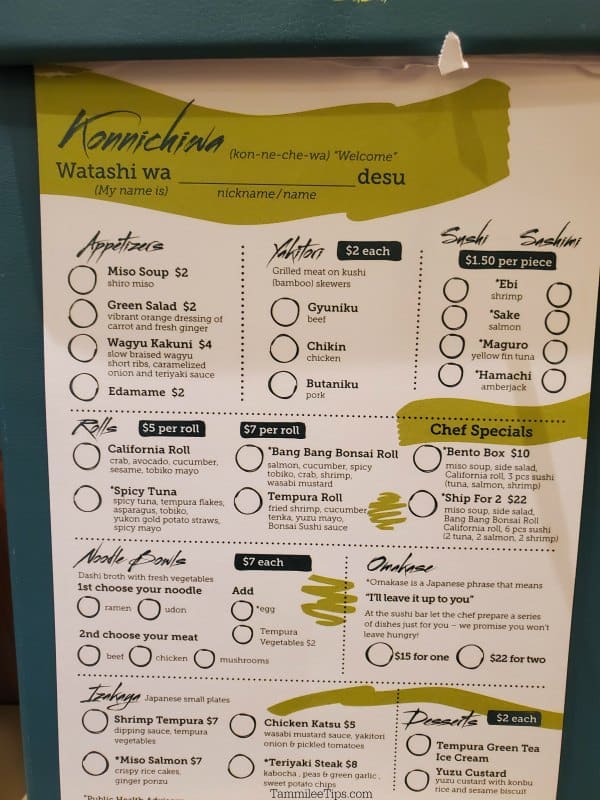 Carnival Cruise Ships with Bonsai Sushi
Carnival Breeze
Carnival Dream
Carnival Horizon
Carnival Legend
Carnival Panorama
Carnival Pride
Carnival Spirit
Carnival Sunrise
Carnival Sunshine
Carnival Vista
Carnival Mardi Gras
Carnival Celebration - Coming Soon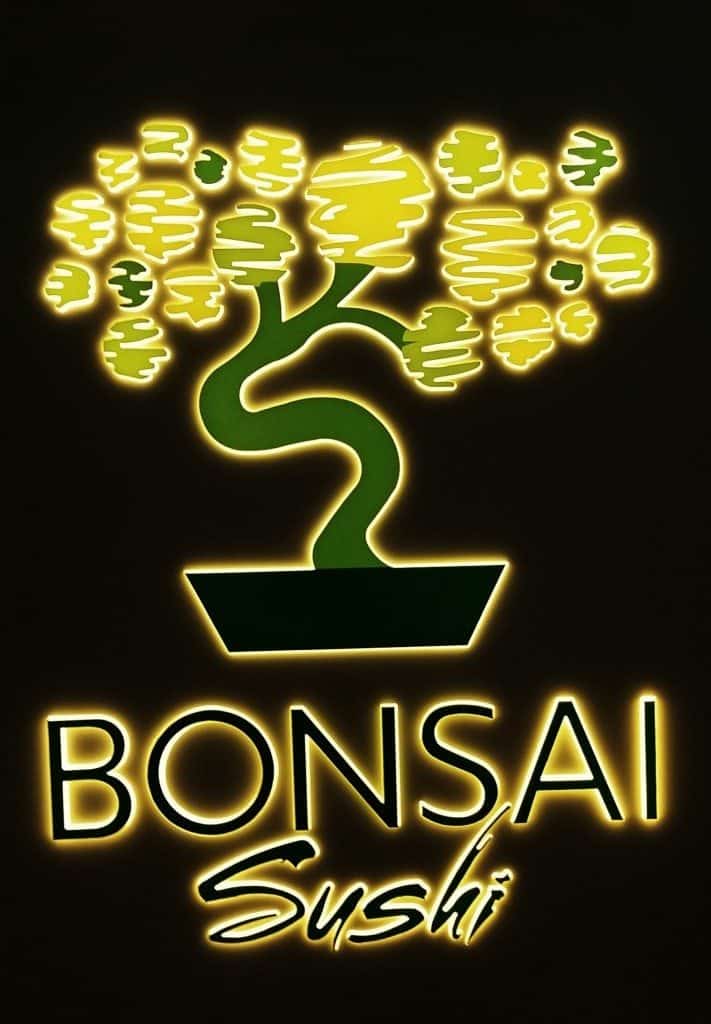 Bonsai Sushi's most popular menu item is the Tempura Roll. Bonsai Sushi is open for lunch and dinner on the Carnival Sunshine. This restaurant is an additional charge but it so worth it!
Additional Carnival Cruise Resources
Check out all of our Carnival Cruise Travel Guides