One thing I have learned from doing 15+ cruises is each ship has a hot spot. A place that turns into the place you want to be every night. On the Carnival Magic, this place is the Alchemy Bar.  The main reason this is the place to be is the amazing bartenders that whip up custom cocktails and cocktails to cure what ails you.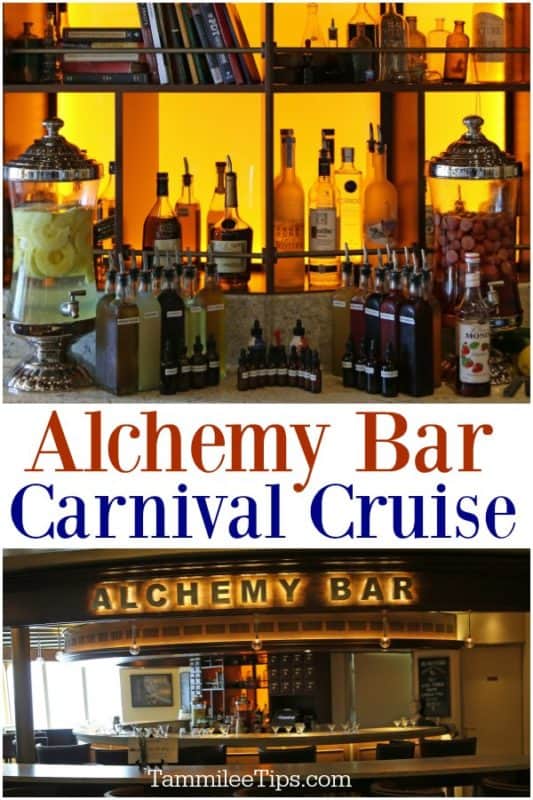 Alchemy Bar on Carnival Cruise Ships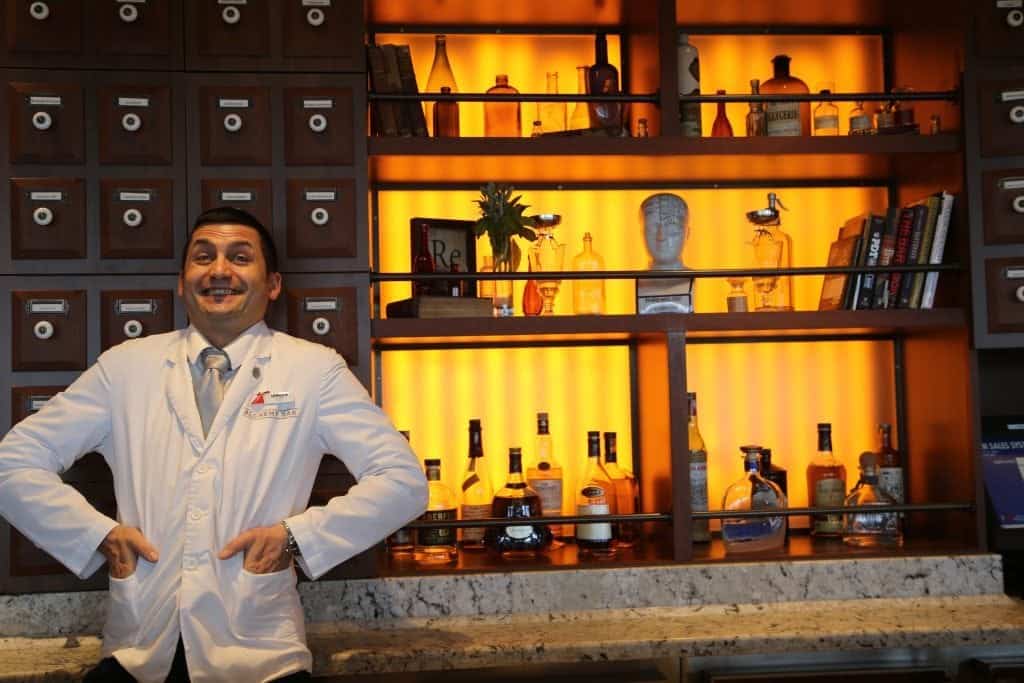 Drazen may just be the best bartender I have seen on a cruise ship or on land. His ability to create a cocktail that so perfectly fits your flavor choices is honestly amazing. I challenged him to make me a custom cocktail unlike any that I had experienced before and he made it happen.
He asked me what flavors I liked, what I didn't like and a few other questions. The next day he presented me with a drink he called a fruity yogurt surprise. Honestly, it was a fruit cocktail in a glass filled with major booze and I LOVED IT!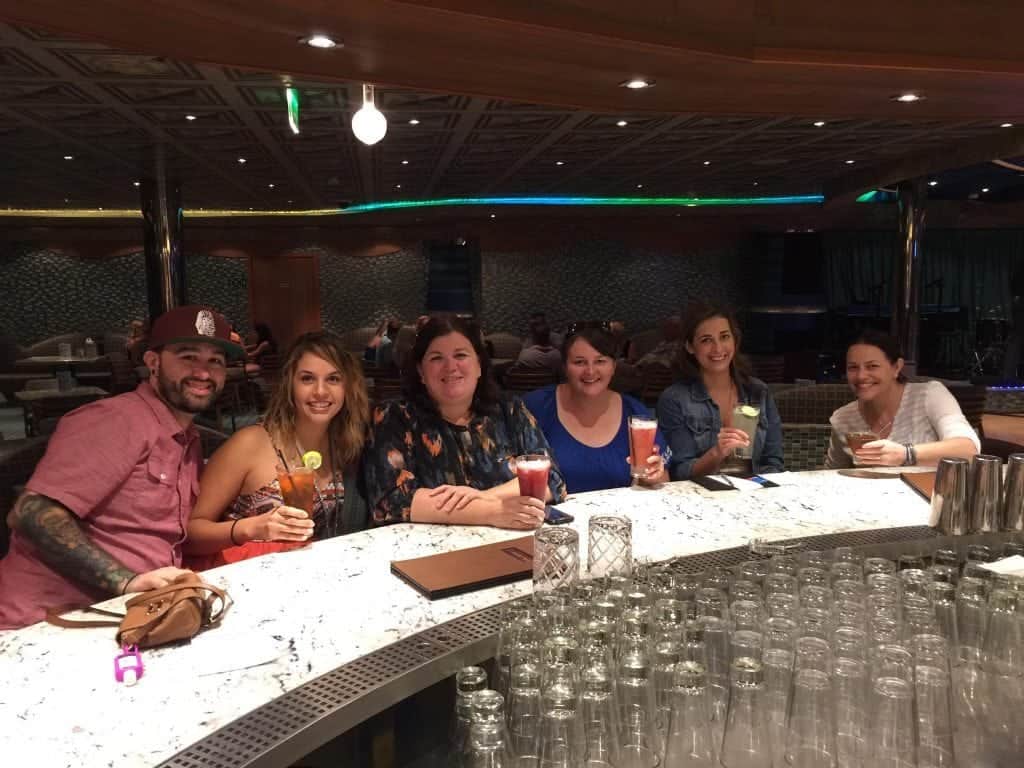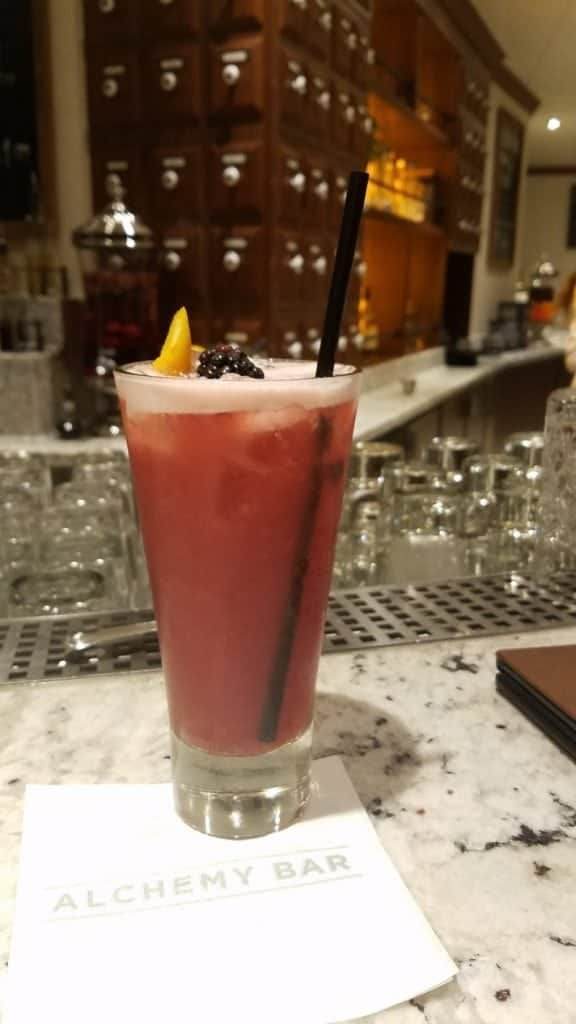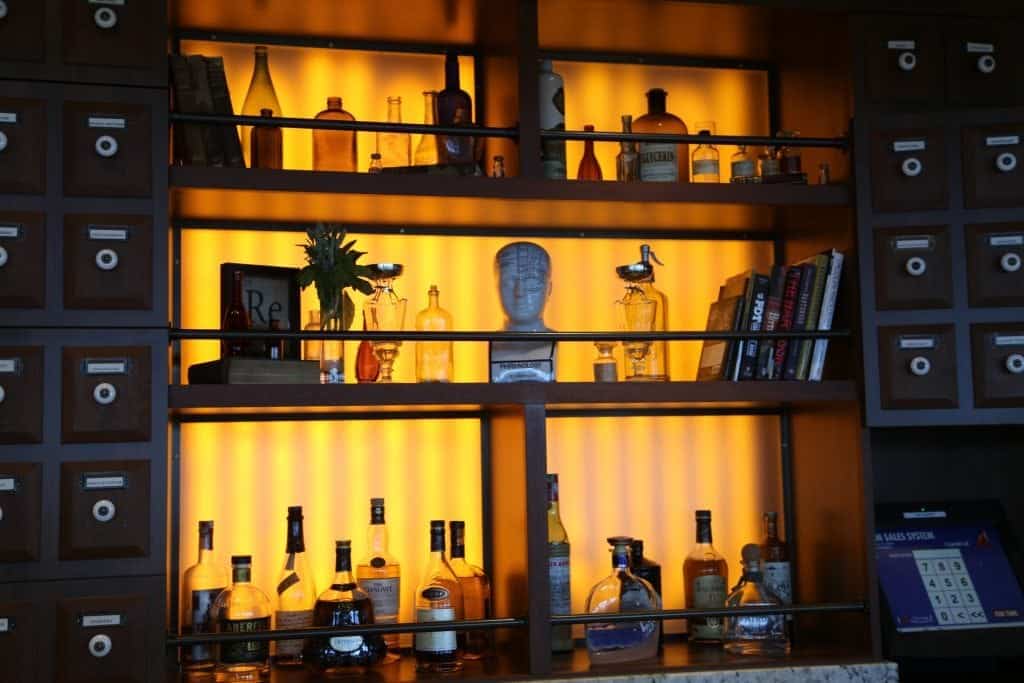 Over the course of a week on the Carnival Magic the group I was with closed down the Alchemy Bar 5 nights in a row! Seriously 5 nights in a row we would look up and realize it was 1 am and we were still sitting talking and having a great time. Every night Drazen and Bojana would have us laughing a lot!
Their quick wit and impressive bartending skills made us migrate to the Alchemy Bar every chance we could. The cool thing about the Alchemy Bar is it is not just custom cocktails. They will whip up a custom mocktail or flavored water if that is your preference. They truly create the cocktail that you have always wanted but never knew what to ask for.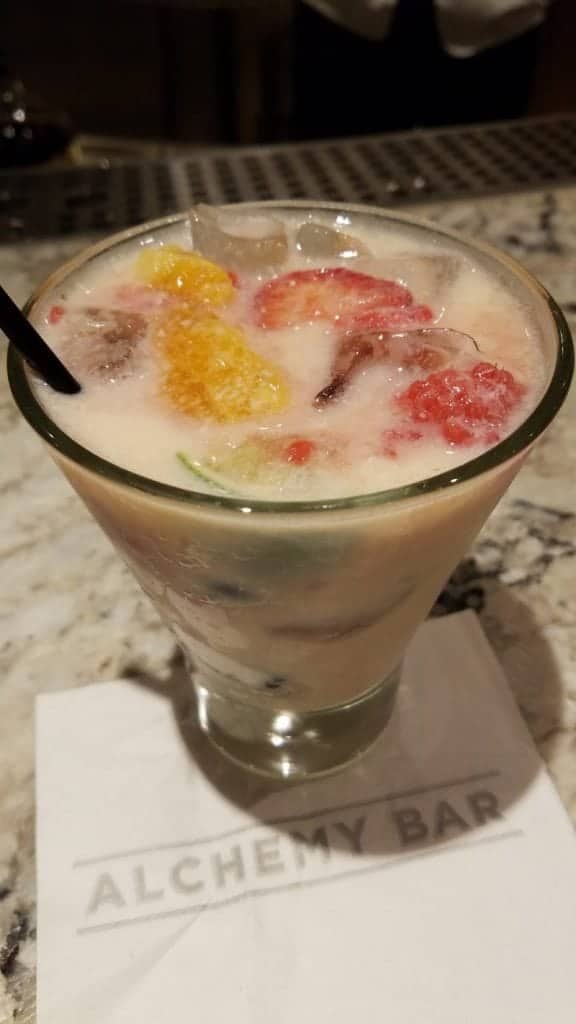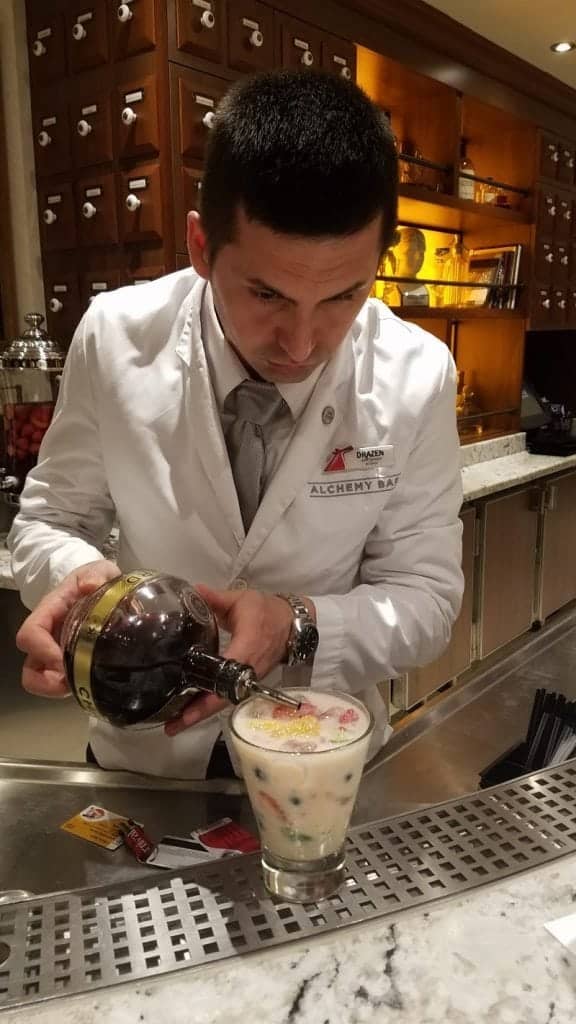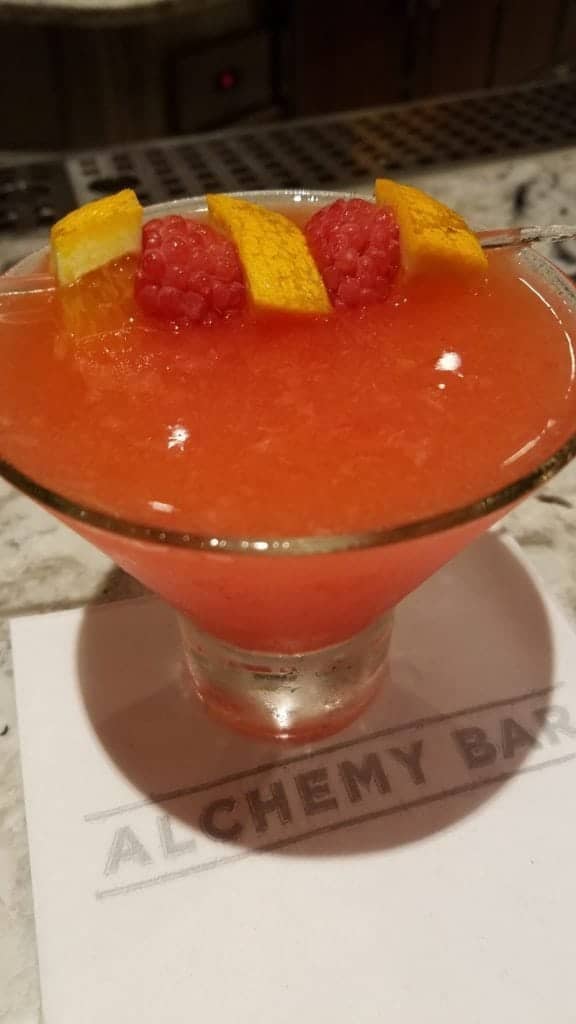 They are master mixologists that understand flavor profiles, mixing and what to add together to make you a cocktail you will love. During the entire week, I am going to admit that between the group we tried many, many cocktails. Some from the Alchemy Bar menu but most of them were custom made by Drazen and the team. Over the week they learned our preferences and fine-tuned our cocktails.
If I could bring them home for my 40th birthday I would in a heartbeat. Heck if I could stash them at my house I would have friends over all the time so they could experience the truly delicious cocktails this team creates.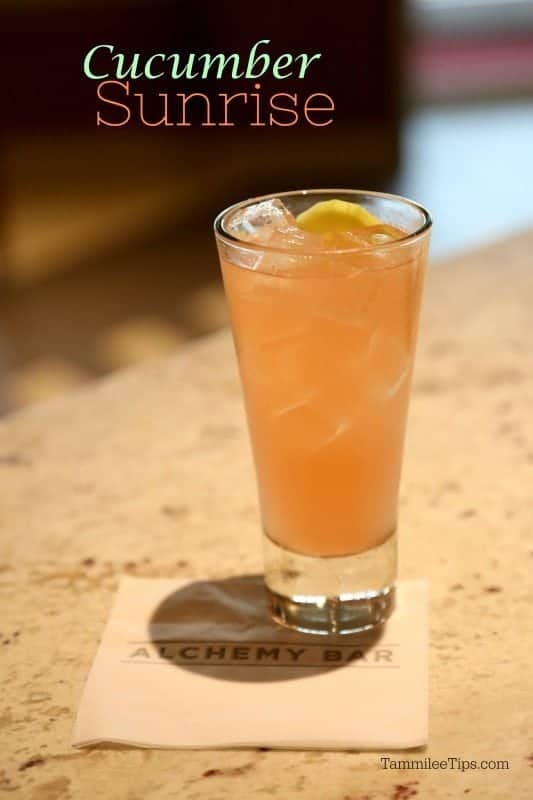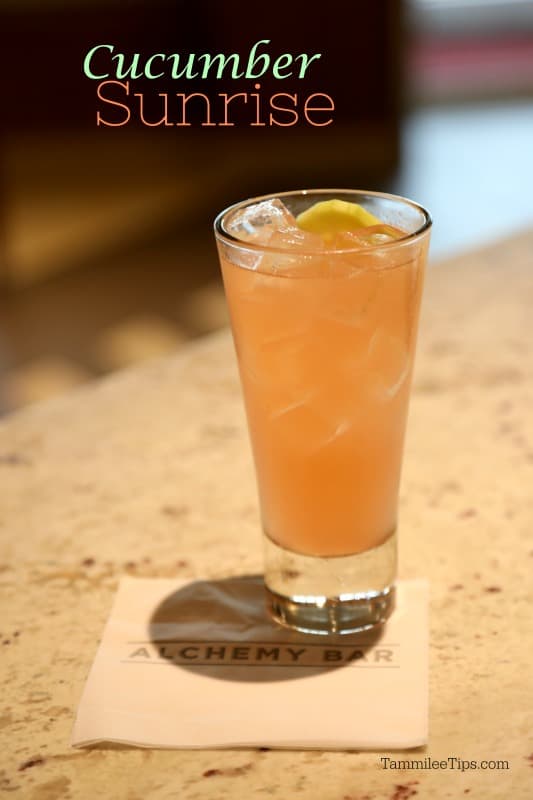 Alchemy Bar Recipes
Alchemy Bar Cucumber Sunrise Cocktail 
Check out all of the Alchemy Bar Recipes we have shared.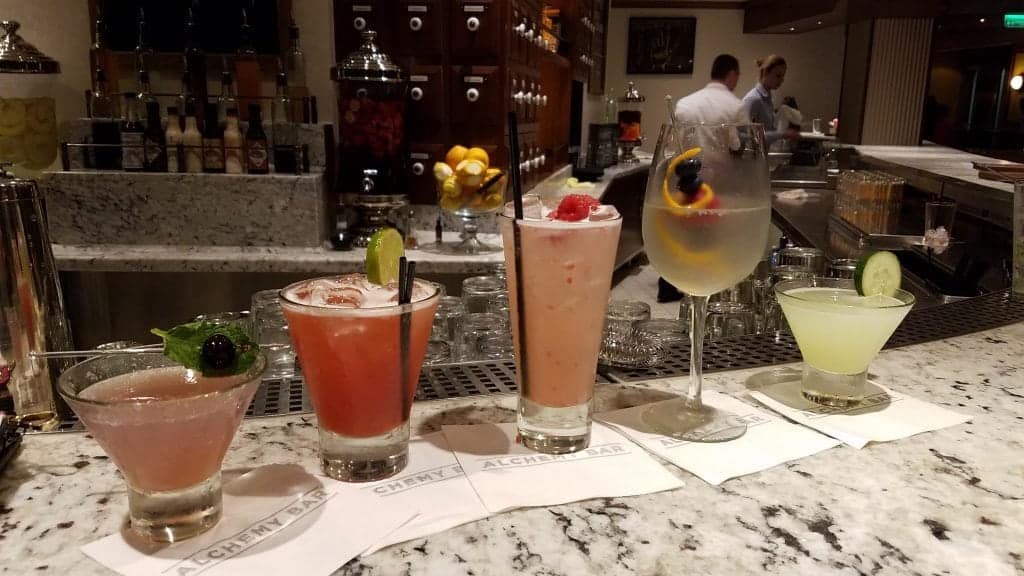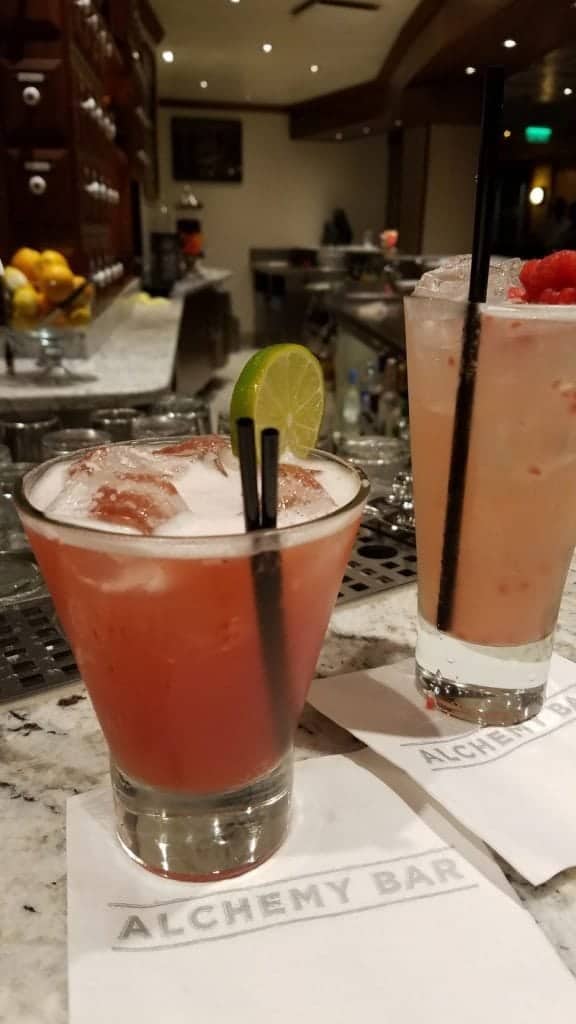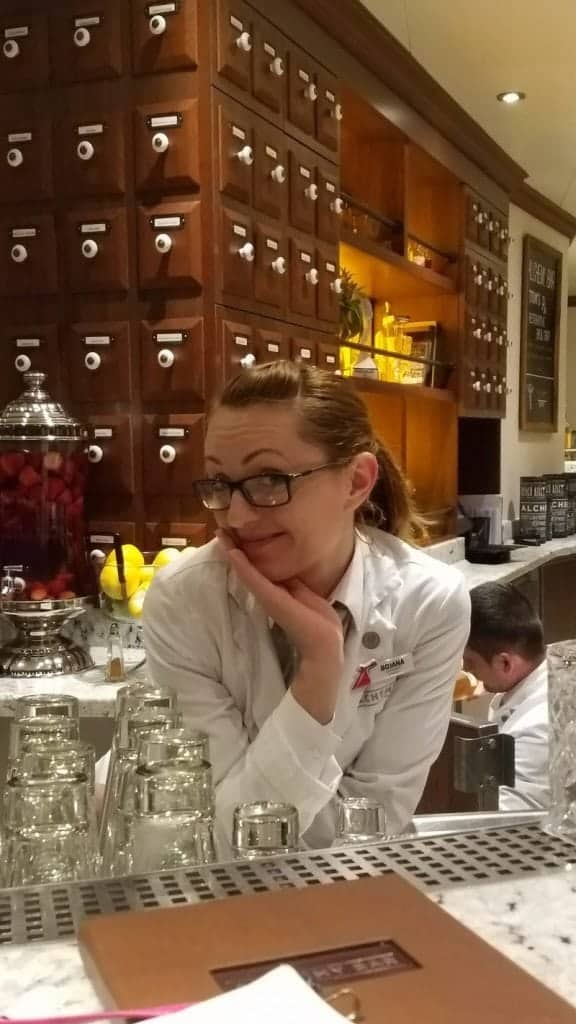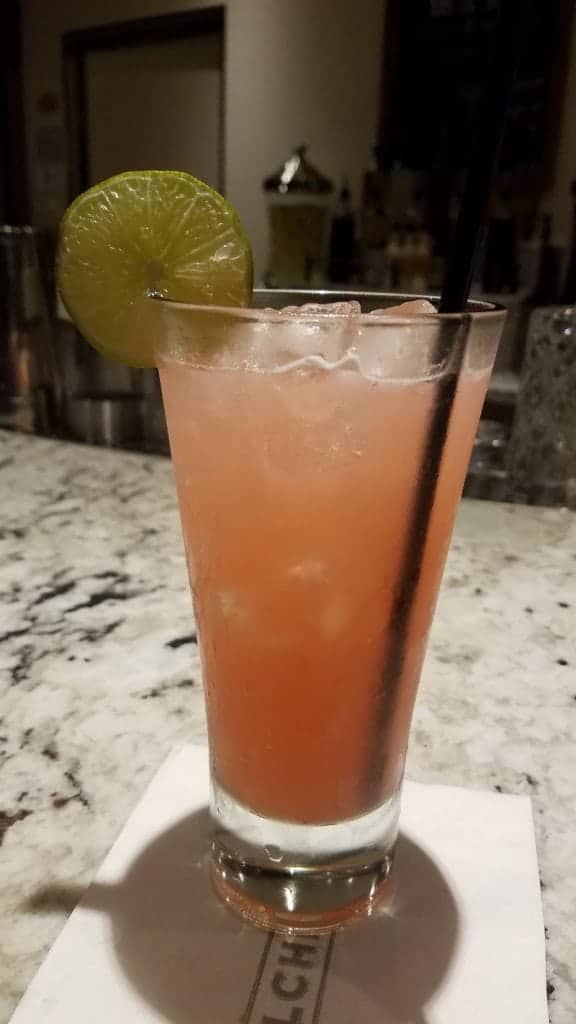 I never thought I would be someone who would ask what ship a bartender was working on but after meeting Drazen and Bojana this week I honestly would. In the future, I would think about asking or looking to see if I could figure out what ship they are working on and book that ship just to hang out at the Alchemy Bar with them.
They made my week on the Carnival Magic so much fun. Their joy in creating cocktails and making sure each guest has an amazing time at the Alchemy Bar is fantastic.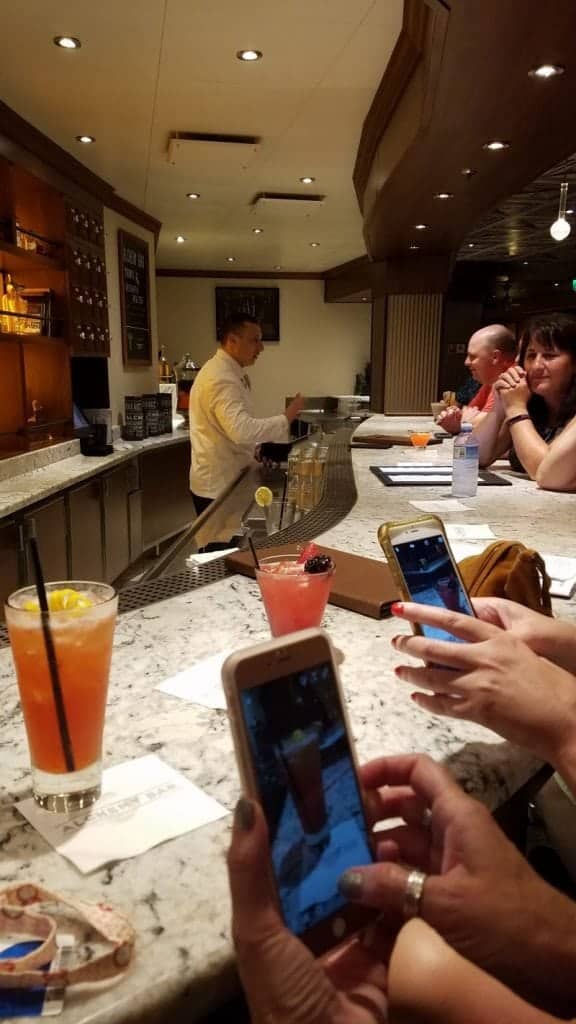 In case you were wondering this is what it looks like when you sit with a group of bloggers/writers.....we all take pics! All the time! lol!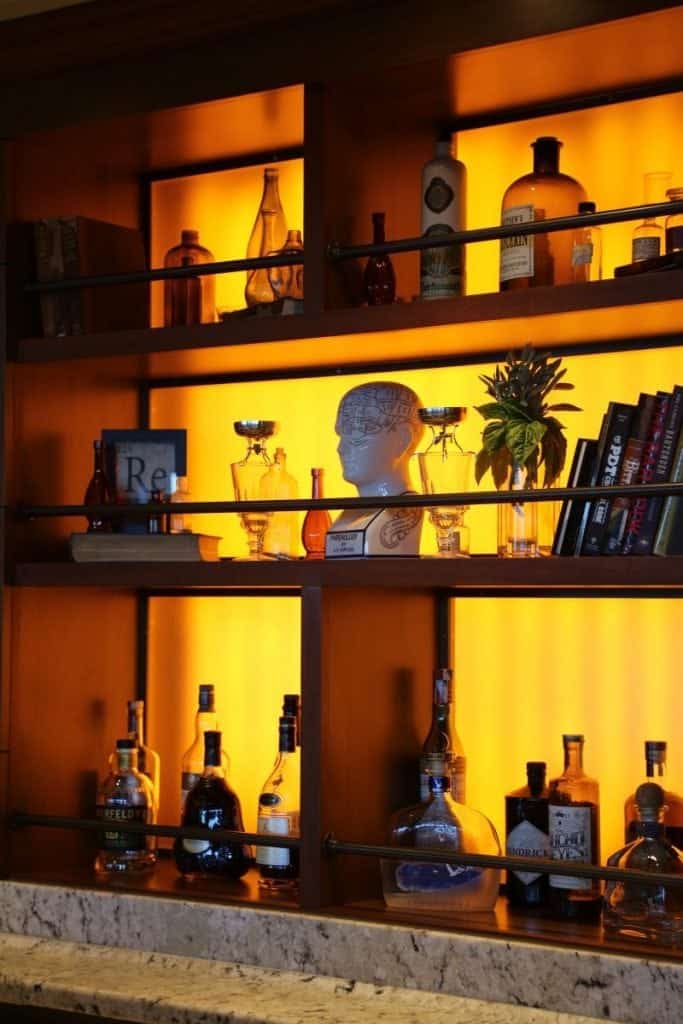 The Alchemy Bar is a step above your normal cruise ship bar. This bar is not about blenders, funky glasses, or loud music. The Alchemy Bar on Carnival Cruises is all about producing an amazing cocktail in a relaxed setting. On the Carnival Freedom, the Alchemy Bar is tucked away at the back of the ship on deck 5. You might run across this bar on your way to a comedy show or to your room. This is one bar I highly suggest seeking out at the beginning of your cruise.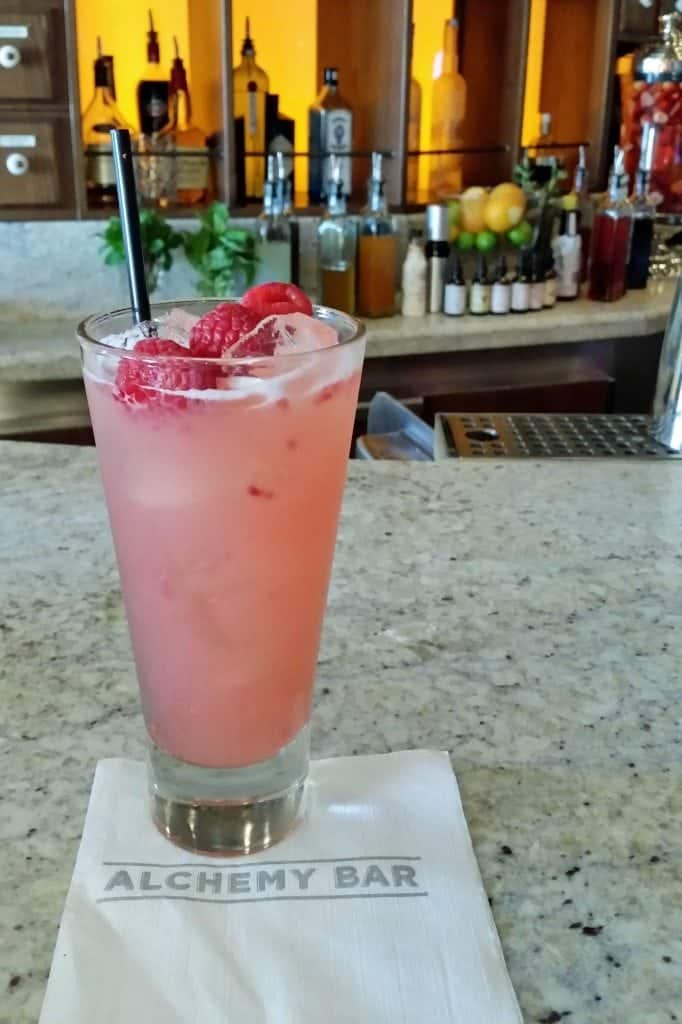 You don't want to find it the last night of your cruise and wish that you had more time to visit the bar. We ended up gravitating to the Alchemy Bar almost nightly on our cruise. The bartenders on the Carnival Freedom were amazing. Adri and Daniel are incredibly well trained and have a love for their jobs.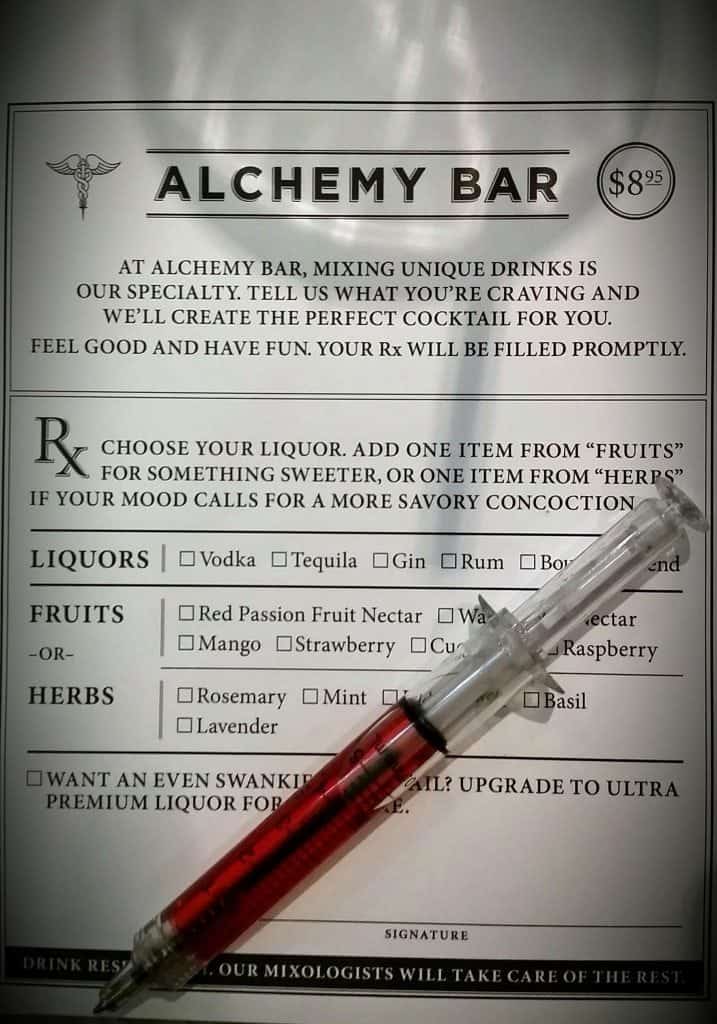 You can choose a cocktail from their menu or fill out a prescription pad letting the bartenders know what you are interested in. We tried multiple different drinks at the Alchemy Bar and each one was amazing. I would tell them that I wanted something fruity or made with tequila and they would whip up a delicious cocktail that I loved.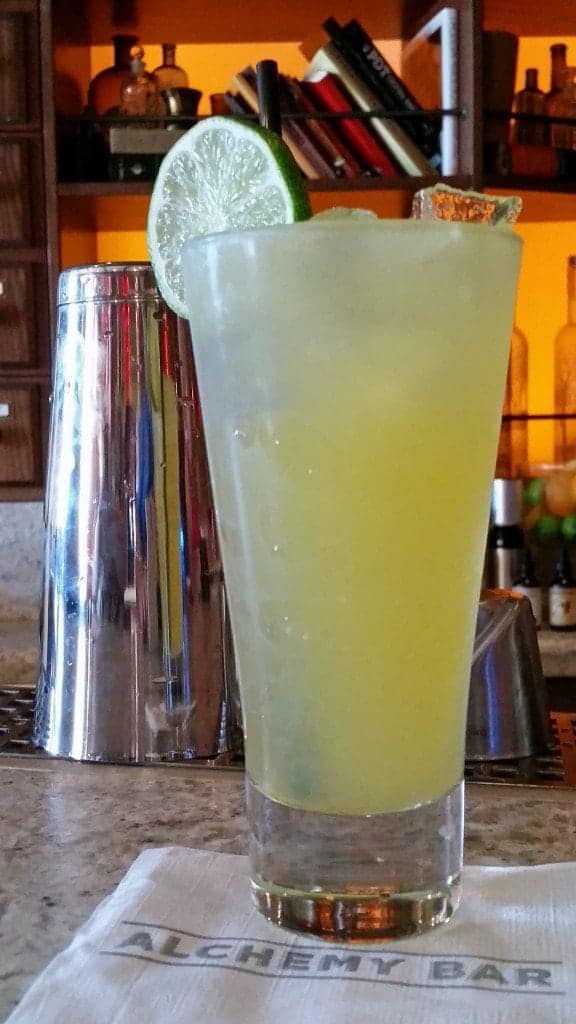 Check out bartender Daniel pouring multiple drinks at the same time!
One of my favorite parts of the Alchemy Bar is the flaming drinks. Because really how can you go wrong with a bit of fire going into your cocktail. Ok, it could go really wrong but thankfully these guys know what they are doing!
The Alchemy Bar can be found on the Carnival Freedom and the Carnival Sunshine along with other 2.0 ships. Definitely check to see if your Carnival Cruise ship has an Alchemy Bar on board. You will not be disappointed in spending time at this bar!
Keep an eye out on their prescription board to see what the daily specials are. You never know what fun drinks they will be whipping up.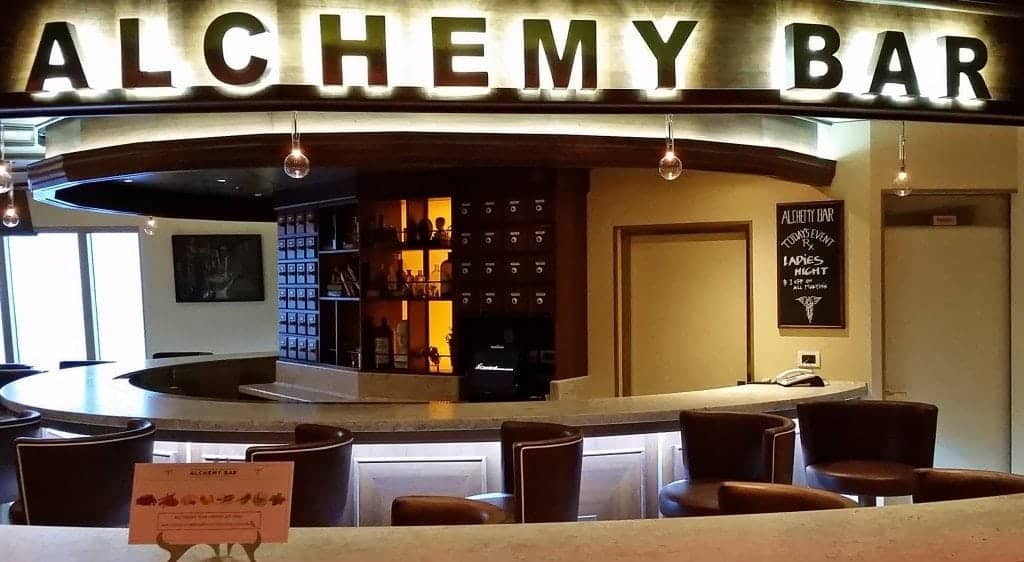 Additional Carnival Cruise Articles
Carnival Camp Ocean Kids Program 
Check out all of our Carnival Cruise Travel Guides